This is how to cook frozen peas on the stove, in the Instant Pot or pressure cooker or in the microwave. Buttered peas are a healthy side dish that pair well for dinner with any meal. If you want to learn how to cook frozen vegetables of all kinds we are here to help!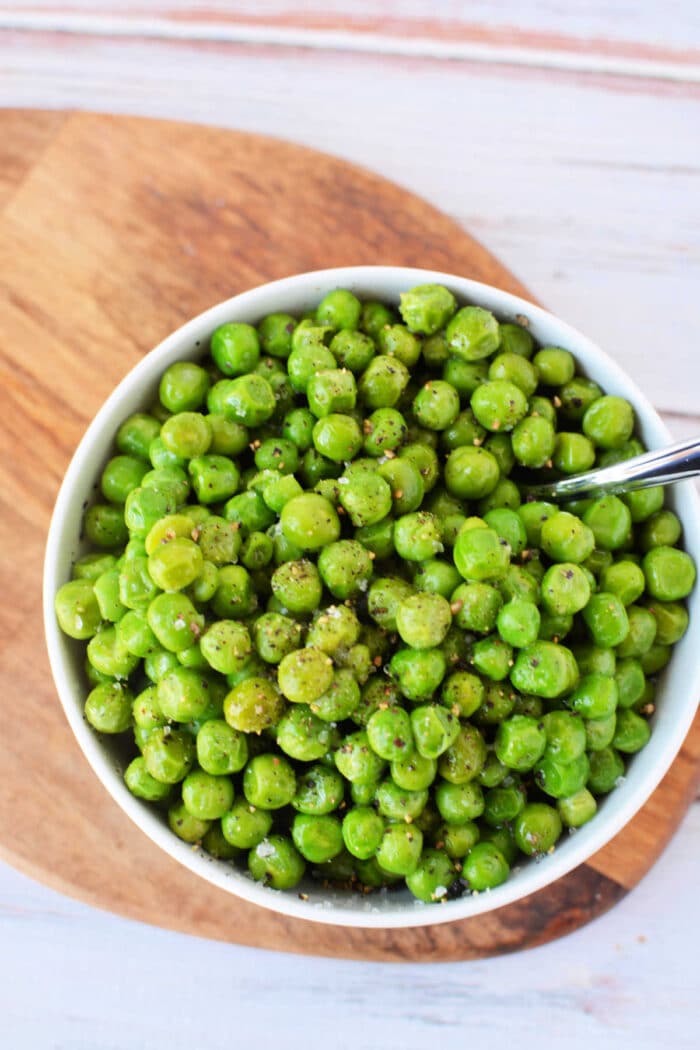 Want to know how to cook peas frozen perfectly? We will show you all the ways it can be done and the cook time for each one. From steaming to sautéing, pressure cooking and more is here. Now you can eat this healthy side dish year round and get your kids to love them! (affiliate links present)
How to Cook Frozen Peas on Stove
Frozen green peas are have been picked, cleaned, and flash-frozen within hours of being harvested. A popular, cheap, frozen vegetable, and a staple in many households. A good source of fiber, protein, vitamins, and minerals, they are low in calories and fat making them a great addition to a healthy diet.
When bought frozen they are a convenient way to add veggies into meals as they can be easily stored in the freezer and quickly cooked or added to dishes. Common ways to use them include making split pea soup, into stews, and casseroles. You can serve them as a side dish with butter and seasonings too.
Use a pan with a lid or large skillet to make them this way over medium heat. Regular size or petite peas will follow the same directions, just the timing will be a bit different obviously. We have directions for this method in the recipe card below. Feel free to hit jump to recipe to get going if you don't want to read along further. 😉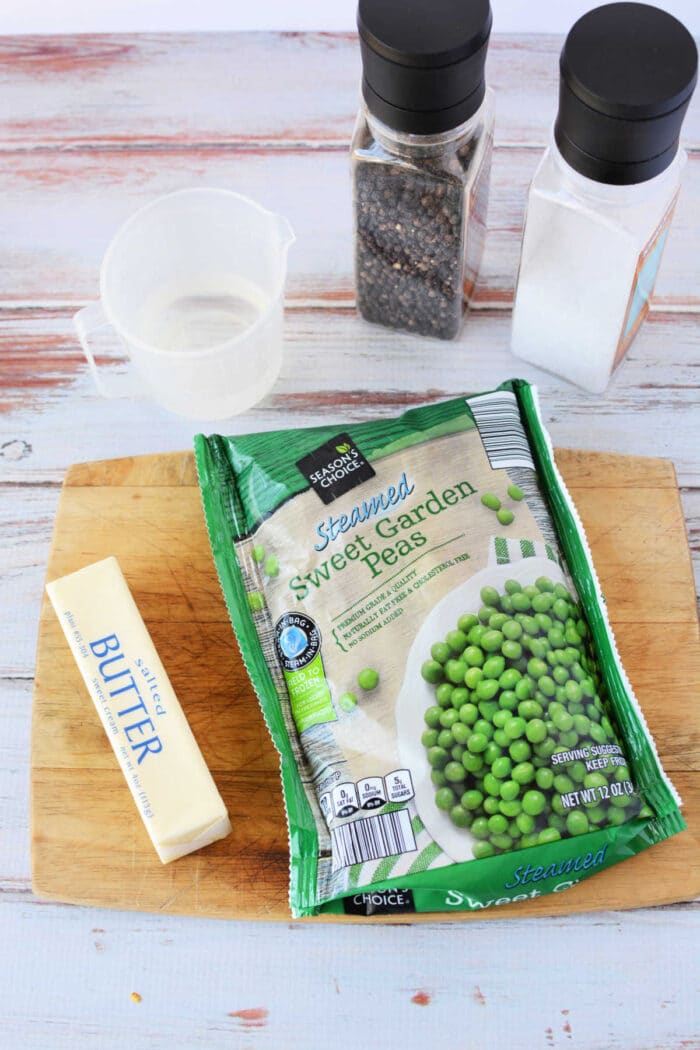 How to Cook Frozen Peas in Microwave
Add 1 cup frozen peas + 1/4 cup of water with a pinch of salt on top to a microwave safe bowl. Cover with a microwave safe lid or a plate and heat on high or normal temp for 4 minutes for fresh peas, and 1-2 minutes for frozen peas. Remove, stir and heat for 1 more minute.
Then drain and add a pat of butter (and maybe some grated parmesan) to the top to melt. It really isn't any different than if you wanted both frozen peas and carrots cooked together at the same time!
Instant Pot Frozen Peas
You can in fact cook frozen vegetables, mixed or just this one in an Instant Pot or Ninja Foodi using the pressure cook button. You will need a trivet and an oven safe dish to do it but works pretty darn well.
Pour 1 cup of water into the pot
Set a trivet inside with a dish on top of that
Pour your peas frozen in there with a pat of butter on top, and sprinkle a bit of salt
Close the lid and steam valve shut and heat on high pressure for 4 minutes with a quick release
We have only done this with 1-2 cups at a time and others work just the same. Love frozen brussel sprouts too? It works the same way with those except to us those need to be crispy and these must be tender so it is not our preference.
Can you cook frozen vegetables in a slow cooker?
You could but the texture will be soft when done. I would use larger firmer produce like frozen carrots, green beans or frozen peas in Crockpot. Add 1/2 cup water + 1-2 bags of veggies + a few pats of butter on top with salt and pepper. Set to low for 4-6 hours stirring halfway thru until tender.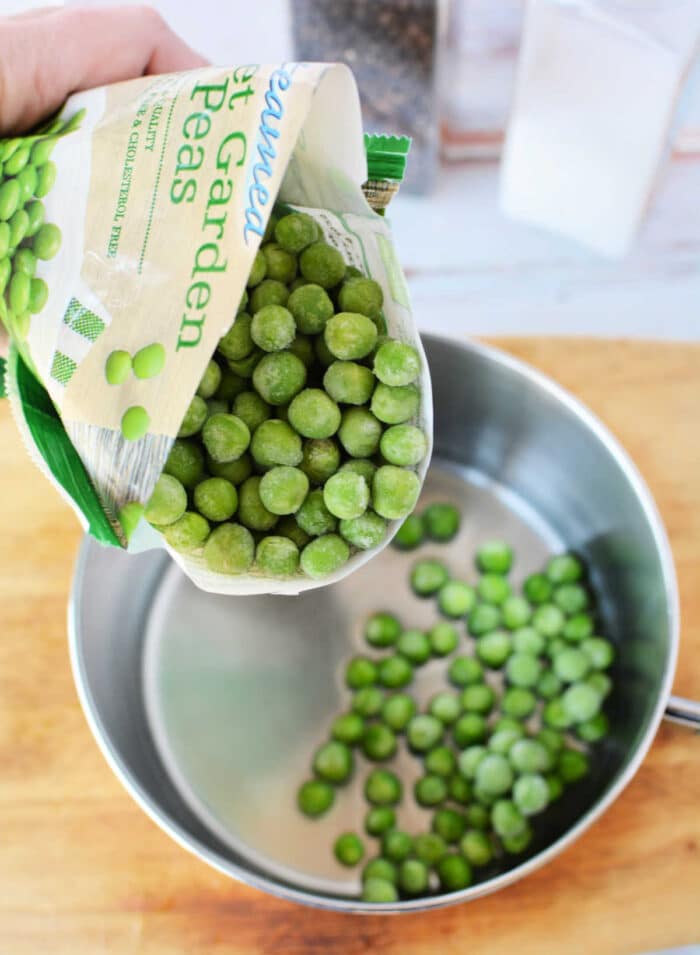 Butter Peas
If you found that you have bought a bag of frozen peas but labeled butter peas, these are different. They are also known as Dixie Lee peas or Southern peas. This is what some of us call this food with butter on top but there is ALSO a type of legume or bean that is commonly grown and eaten in the Southern United States.
Similar looking to black-eyed peas, but have a buttery texture and a slight sweet, nutty taste. They are a good source of protein, fiber, and various vitamins and minerals, served in dishes like salads, soups, stews, and casseroles.
If you are here but want to cook this variety you can follow how to cook lima beans for directions that will work with that specific variety. SO just know that the term can refer to both, we will show you how to make buttered peas, to be more specific.
How Long Should you Boil Frozen Peas?
You shouldn't, boiling vegetables strips nutrients out of them and makes the texture weird. If you insist on doing it the old fashioned way you would boil the water first, then pour in enough to be submerged for 4 minutes. Our way is better though below, steaming vs. boiling rocks.
Instead – add the amount of frozen peas you'd like to make tender directly to pan with seasonings of your choice like garlic or diced shallots + a few tablespoons of butter. Cover pan to trap the hot steam and let the hot heat peas through for about 4 minutes just until tender but still has a pop to them when bit into.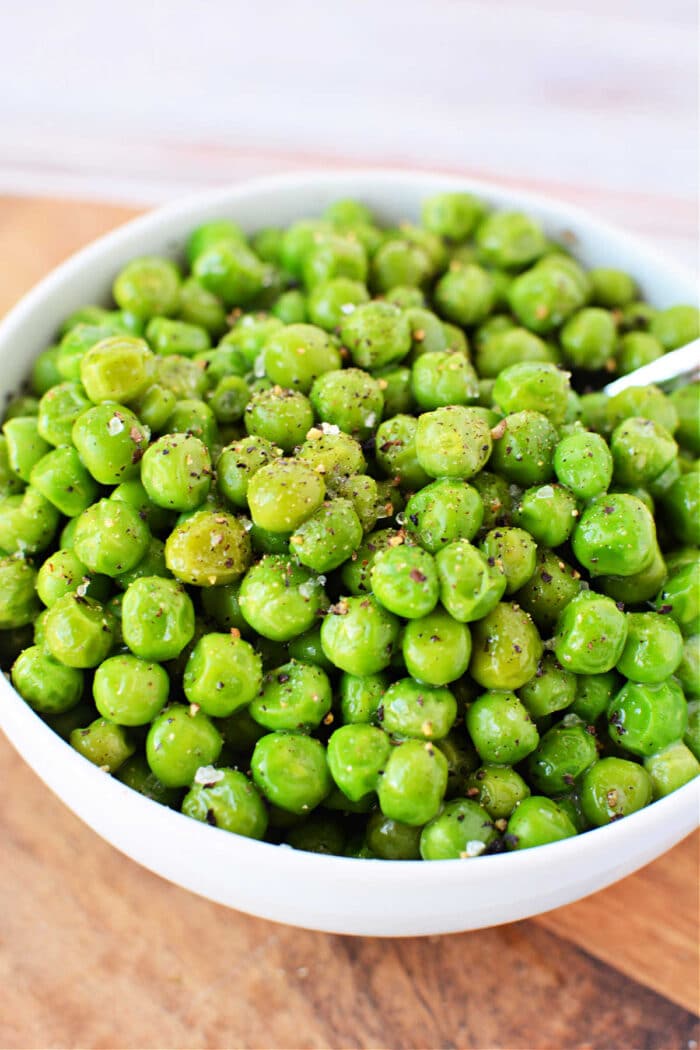 How to Cook Sweet Peas
The actual English variety that this term originates from is actually NOT edible. Sometimes though the regular garden variety pea is sometimes referred to as this and you would use the same peas recipes and directions you see here for really any edible varieties out there.
How Long to Cook Fresh Peas
Follow the same directions below but increase the time to 6-8 minutes. Typically these are a bit larger in size and the outsides are a bit firmer thus the increase in cook time. Not a big difference and yes fresh is always best but I get that frozen is super handy to have.
Note: Olive oil or a vegan dairy free butter alternative can be substituted for salted butter I suggest in all of these options. My all time favorite is Kerrigold salted variety but it is more expensive (totally worth it).
Want to see a few of my favorite things that I am totally obsessed with?? Take a peek and see how many you might already have…twinsies!
Looking for more easy family recipes and tips? LIKE The Typical Mom Facebook page?
Then sign up for my free newsletter, and follow me on Pinterest! 😉
***** If you LOVED this recipe give it 5 Stars below and let everyone know what you thought about it. 😉
Frozen Peas
How to cook frozen peas on stove, in the microwave, steamed, in a pressure cooker or boiled perfectly is here. I bet you're doing it wrong!
Instructions
Add butter cut into 4 pats to the bottom of the pan, turn to medium heat and wait until it melts. Then pour in frozen peas and stir.

Cover pan to trap the hot steam and let the heat pass through for about 4 minutes just until tender but still has a pop to them when bit into.

Lift lid, taste, if not warmed all the way add 1 minute until tender and warmed to your liking. Salt to taste and serve.
Nutrition Facts
Frozen Peas
Amount Per Serving (1 oz)
Calories 130
Calories from Fat 108
% Daily Value*
Fat 12g18%
Cholesterol 30mg10%
Sodium 92mg4%
Potassium 92mg3%
Carbohydrates 5g2%
Protein 2g4%
Vitamin A 627IU13%
Vitamin C 15mg18%
Calcium 12mg1%
Iron 1mg6%
* Percent Daily Values are based on a 2000 calorie diet.