Let's share how to cook lamb shoulder chops also be called the blade or arm chops. A cheaper cut with fat marbling needs a shorter cook time but with the same great flavors you love. This is how to cook lamb in a skillet, the oven or air fryer lamb.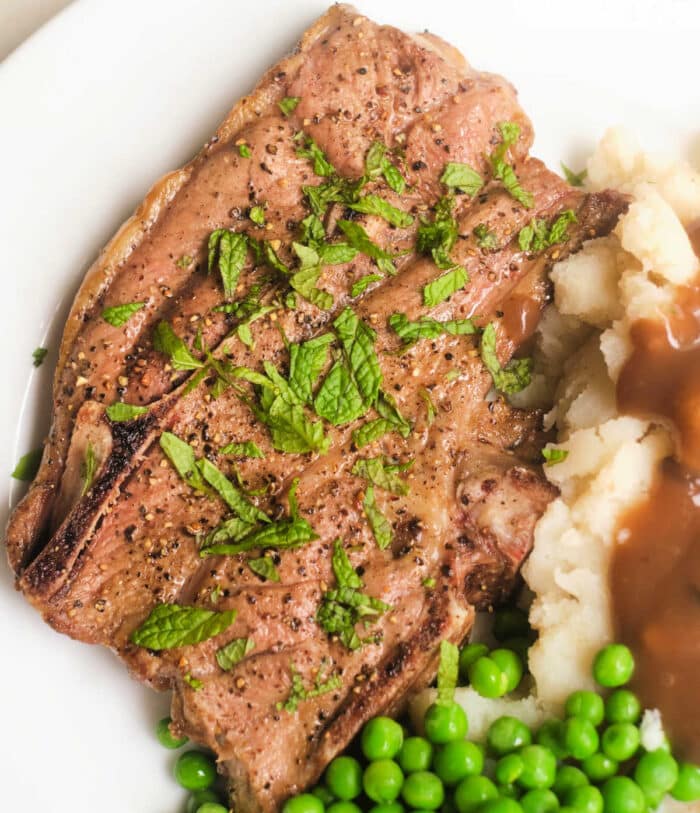 Lamb arm chops as some may call it look a bit different than it's fancier counterpart but are more reasonably priced too. If you love this protein you will have an easier time cooking these. Thin without that big bone sticking out, they may look off but OH MY are they good. (affiliate links present)
Lamb Shoulder Chops
Rib chops is another term you may have heard of in regards to these. Unlike it's thicker counterpart they should be cooked to about 130 degrees F. We talk all about how long to cook lamb chops here as far as timing goes. Tender loin chops are better at 135 F or even 140 degrees. Overcooking it will result in a much chewier and not so pleasant texture to it.
As with all other proteins there are a variety of ways you can get them to temperature. Decide ahead of time which you might prefer and enjoy away. If you have been a fan of my blog for any length of time you would know that I love my countertop appliances so below will be air fryer lamb shoulder chops instructions for you.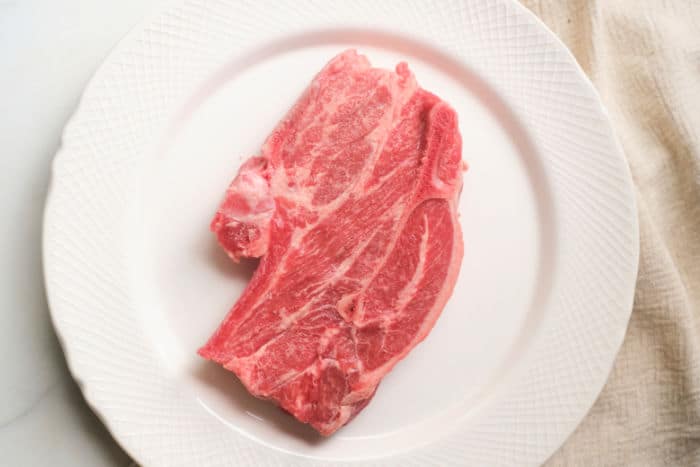 Typically the upper part of the arm is not so desired because most don't know how to cook it. This goes or all animals really.
Once you get the hang of it though you can expand into pork or our beef roast shoulder too. As you can see there is a bit of a sliced bone in the corner that will need to be discarded. Leave it on to begin with though.
How to Cook Lamb Shoulder Chops in a Pan
Lamb chops in a cast iron skillet over medium high heat turn out great. If you like the good "old fashioned" way this doesn't take very long. You could use a regular pan but a seasoned one like this is the best for sure. You just season and cook to your desired doneness.
Over a steady flame you only need a steady 3-4 minutes per side. The salt and pepper will bake right on to the outside and crust on a bit which is nice. Very similar to how to cook lamb ribs too, we love those as well.
You'll get a bit of a sear but stays tender as long as you don't leave it in too long. Remember the temp. will rise another 5 degrees once it is removed from pan. Always let proteins rest for 5-10 minutes before slicing.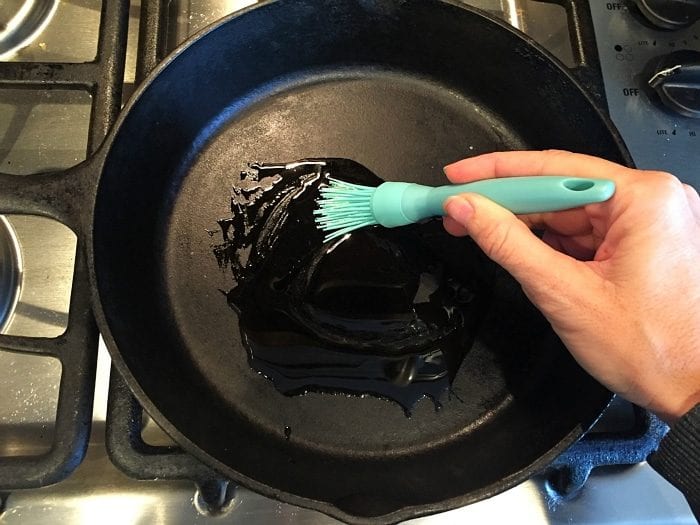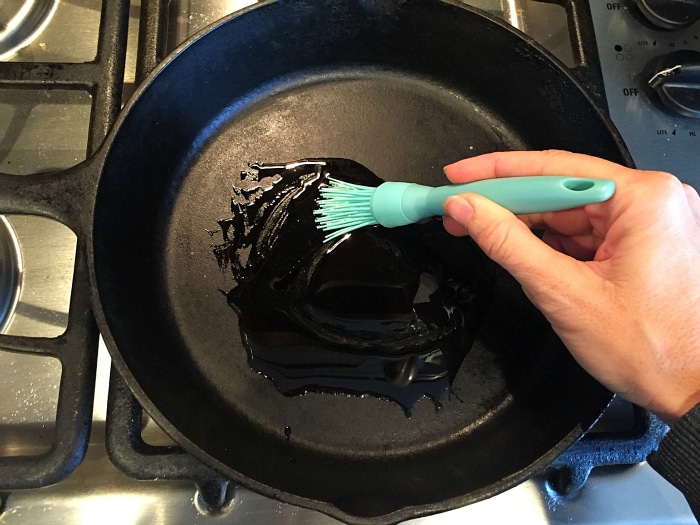 How to Cook Lamb Shoulder Chops in Oven
Another old fashioned favorite method you will love and is fairly simple to do too is here. If you just want to just use a sheet pan but I highly recommend that you sear the outsides first in a skillet first.
Texture is a big deal and if you do this you'll get a thin crisp on both sides which will not only seal in the seasonings on the outside but the moisture as well. Follow these steps;
Lamb Chops in Oven
This works for this cut or lamb loin chops as well. Those are thicker so they take more time but the same steps. Check often as this meat is better on the pinker side of things.
Ideally remove meat from fridge and set on counter to get closer to room temperature, for 20 – 30 minutes or so
Heat 1 tbsp of olive oil or butter in a cast iron skillet (ideally, or pan that is oven safe at least ) over medium high heat.
Preheat oven to 400 degrees F.
Season the lamb and place into the skillet to sear outsides for 2 – 3 minutes on each side, lightly brown the outsides.
Then transfer the pan into the oven and cook for at least 10 minutes for rare (15 minutes for medium).
Internal meat temperature using a meat thermometer should read

125-130 F for rare
135 F medium rare
140 F medium
145 F for medium well done meat
It is important that you don't cook this too long, it is meant to have some pink or it will dry out easily and will not give you the texture you want. As opposed to pork where the longer you cook it the more fall apart melt in your mouth it will become, shoulder chops are quite the opposite.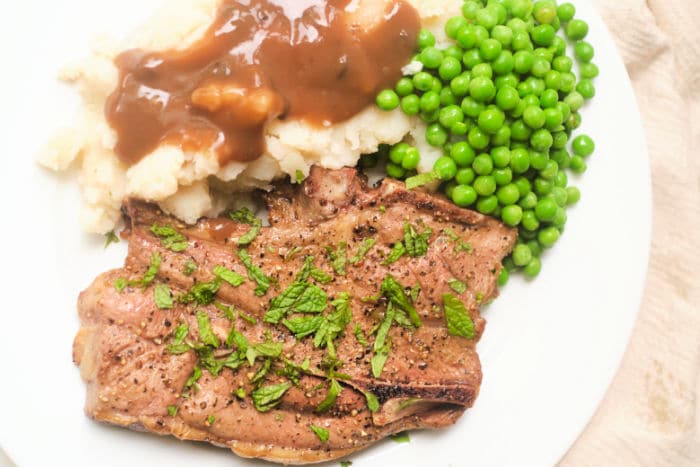 What to serve with lamb is up to you. Think of what you would make with a steak or something. A salad, potatoes made in one way shape or form, or bake up some frozen rolls!
Lamb Arm Chops
This is another name for this cut. Arm, shoulder, you know it is the same area y'all. 😉 Either way when you hear either one of these terms you may get to scratching your head.
I did until I cooked this killer arm roast recipe in a pressure cooker. It was kinda' an experiment of sorts when I first did it but with some balsamic vinegar it is one of my most popular dinners.
After that one I wasn't intimidated any longer when I heard of something that was a bit off the wall, like this one. When you look at this you may not even figure it came from a lamb. The long bone sticking out of the side with a wad of protein on the other end might be the only picture in your mind. Not the case.
Hopefully now you will have 3 different lamb shoulder chops recipes to choose from. All are great as long as you pay close attention to the cook times. Another idea you can use with any of these is to marinate the lamb pieces first. A simple and fresh lemon juice blend with fresh herbs and a few tablespoons of olive oil works well, or even a bit of red wine.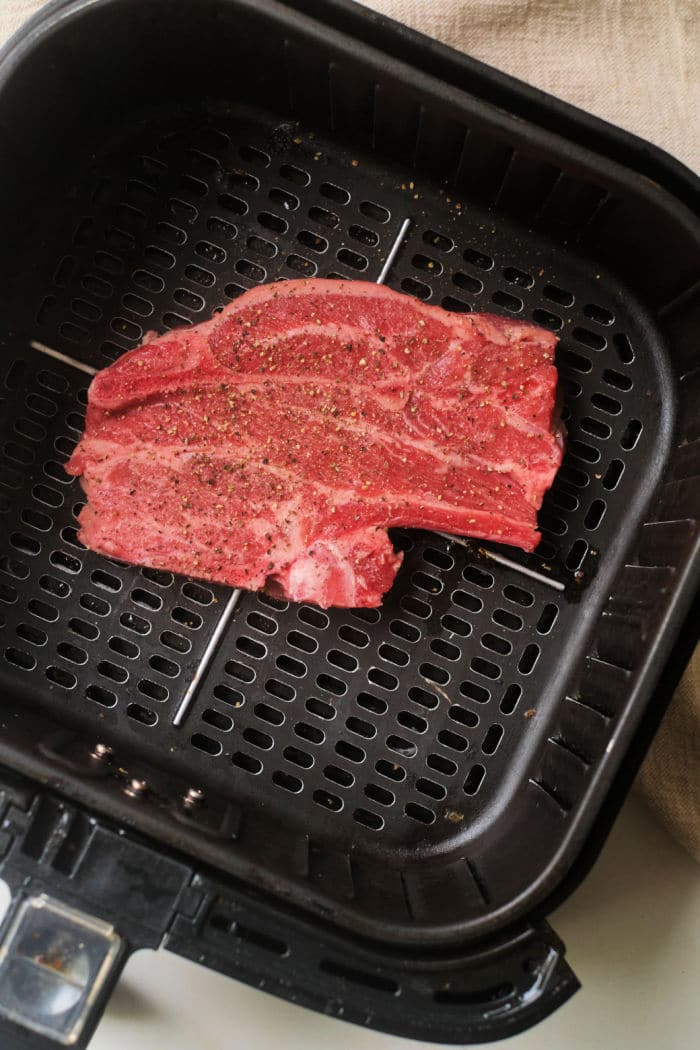 How do you pick a good lamb shoulder chop
You want the color to be a pinkish color, not brown at all. 1 inch thick is ideal and a ring of fat on the outside will add more flavor to the overall dish when cooking. You can trim this later, before serving with sides and mashed potatoes, but leaving it on to cook is idea.
Can you save leftover cooked lamb? Of course, I hate to waste so this is a great question. You should treat this as you would a steak. Wrap it with a piece of foil so it stays as moist as possible. Into the fridge it goes for up to 2 days. To reheat you want to add a bit of moisture. If you put into a pan with 1 tbsp of butter on top and a lid over medium heat for a few minutes, that is best.
A microwave works too but will suck the tenderness out of it more than you'd like. If that is your only method I would do the same with a pat of butter on top it is best if you put on a plate with another plate upside down on the top so it can steam and stay moist.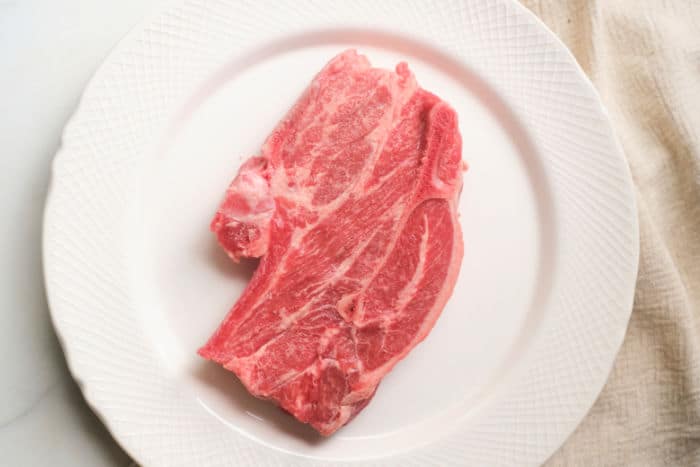 What are the benefits of eating lamb shoulder chops?
Lamb shoulder chops are a good source of protein, iron, and zinc. They are also low in fat and calories
What are some tips for cooking lamb shoulder chops?
1. Make sure the lamb shoulder chops are at room temperature before cooking.
2. Season the lamb shoulder chops with salt, pepper, and your favorite herbs and spices.
3. Cook the lamb shoulder chops until they are cooked through, but still slightly pink in the center.
4. Let the lamb shoulder chops rest for a few minutes before serving.
Where can I buy lamb shoulder chops?
Lamb shoulder chops are typically available at grocery stores and butcher shops. They can also be ordered online.
What are some side dishes that go well with lamb shoulder chops?
1. Roasted vegetables
2. Mashed potatoes
3. Rice
4. Couscous
5. Salad
Want to see a few of my favorite things that I am totally obsessed with?? Take a peek and see how many you might already have…twinsies!
Looking for more easy family recipes and tips? LIKE The Typical Mom Facebook page?
Then sign up for my free newsletter, and follow me on Pinterest! 😉
***** If you LOVED this recipe give it 5 Stars below and let everyone know what you thought about it. 😉
How to Cook Lamb Shoulder Chops
How to cook lamb shoulder shops in air fryer, baked in the oven or pan seared works great to keep them tender and full of flavor.
Instructions
Preheat air fryer to 380 f degrees for 5 minutes. Spray basket with olive oil.

Season top and bottom of chops with salt, pepper and onion powder (or to your liking) and place into the basket without overlapping.

Close and air fry for 7-15 minutes or until the thickest portion reaches 145 degrees internally for the ideal texture and tenderness.

Serve with chopped parsley on top and enjoy.
Nutrition Facts
How to Cook Lamb Shoulder Chops
Amount Per Serving (1 oz)
Calories 2
% Daily Value*
Fat 0.01g0%
Sodium 146mg6%
Potassium 8mg0%
Carbohydrates 0.4g0%
Protein 0.1g0%
Vitamin A 42IU1%
Vitamin C 1mg1%
Calcium 3mg0%
Iron 0.1mg1%
* Percent Daily Values are based on a 2000 calorie diet.