This is how to deglaze your Instant Pot & what to do when your Instant Pot shows the burn message! If you're new to pressure cooking we've got tips to help.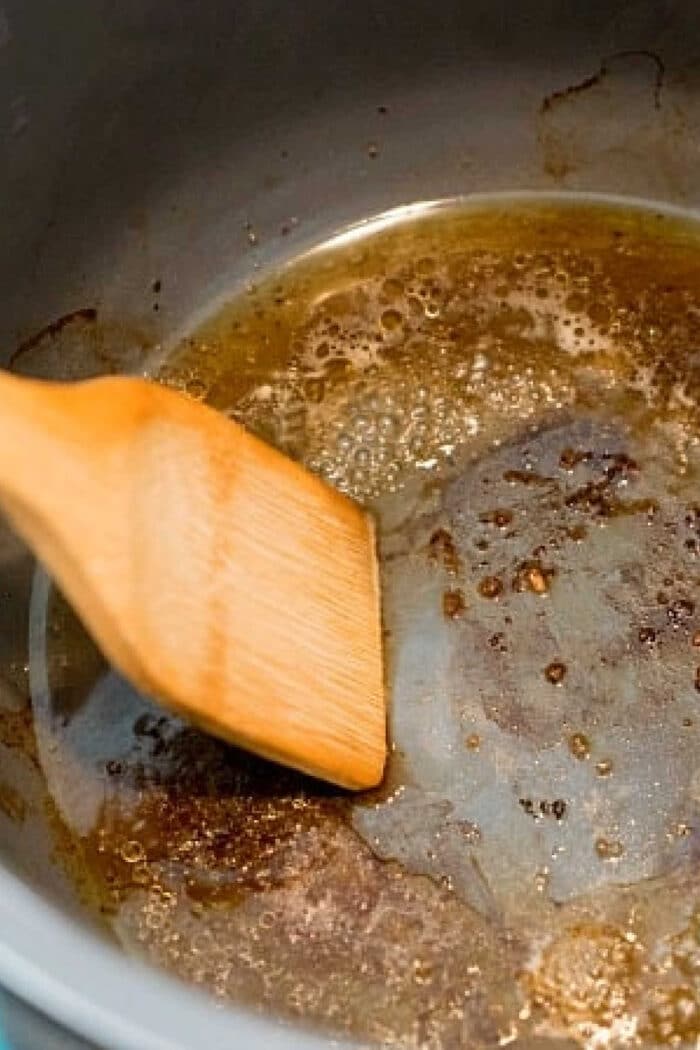 I am here to show you how to deglaze your Instant Pot so you can avoid the dreaded burn message from coming on. It may not be burning at all, but you just forgot one step after searing your meat on saute. Then, problem fixed and you can go on to try our 101+ Instant Pot recipes!! (originally published 6/18, affiliate links present)
Deglazing Instant Pot
Let us share these cooking basics with y'all. I know, this whole pressure cooking thing is overwhelming at first. It was for me!
Once I got the hang of it I wrote about how to use an Instant Pot. Something I wish I had when I started this whole journey.
FIRST – You should sign up for my free newsletter so you get new posts emailed to you twice a week and never miss out on anything! Now let's start with a few basic tips:
Make sure to Bookmark our InstaPot recipes page. We add new ones each week!
Then PRINT this —–> Instant Pot cooking times cheat sheet that will help you understand how long meat, vegetables and beans take to cook in your pressure cooker.
For reference, this is the pressure cooker I have (a 6 quart) and use for all recipe creations.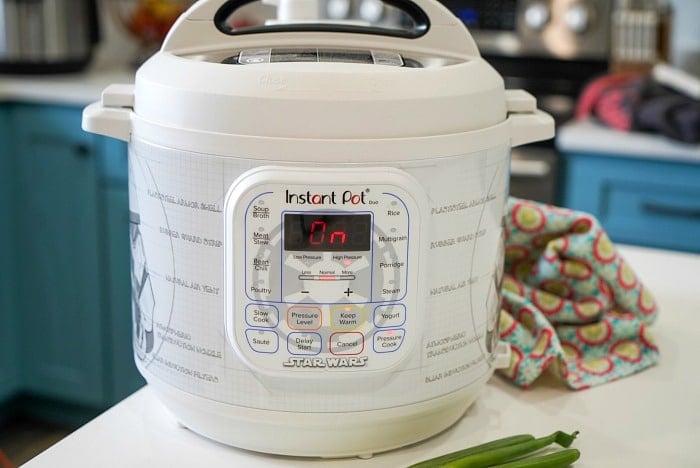 Don't be alarmed, it's usually false….okay unless there is smoke coming out. lol
How to deglaze Instant Pot
How do you deglaze an Instant Pot?
I have a video here showing you how it's done. With a wooden spoon and some liquid it is easy to do. Then you'll avoid the burn notice and you can continue with your cooking time.
What does it mean to deglaze the pot?
Deglazing means that you're getting all of the stuck on bits of food pieces off of the bottom. If not it will trigger the BURN message and stop cooking all together.

We will show you how to do it step by step in a video in this post here.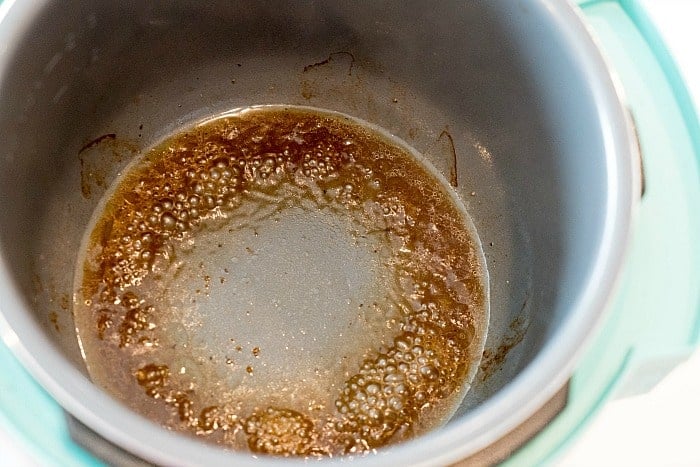 Why does Instant Pot say food burn?
This occurs because the heat sensors sense that it is getting to hot on the bottom of the pot and may burn your food. Sometimes it is incorrect entirely, other times you need to scrape the bottom.

Using a bit of broth or water and a wooden spatula, scrape brown bits of stuck on food off the bottom of the inside of the pressure cooker pot.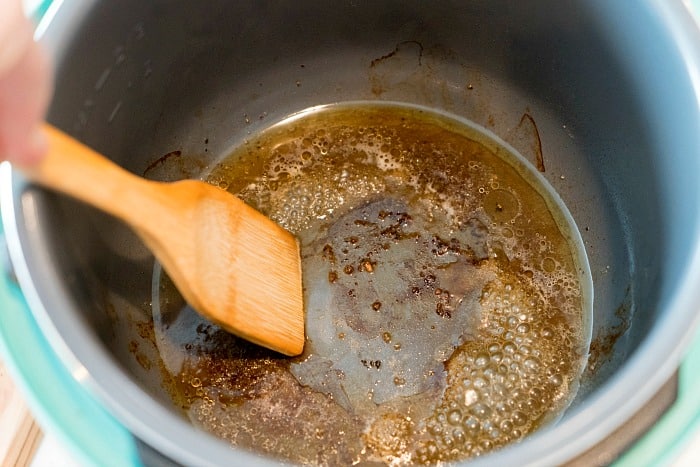 How do I keep the bottom of my pressure cooker from burning?
After sauteeing meat, turn your pot off so it can begin to cool down before pushing high pressure button. Then remove all food sticking to the bottom.

These steps will help you avoid burning an Instant Pot so cooking will continue and not cease part way thru.
What should I deglaze with?
If the recipe calls for broth, I just use about 1/2 a cup of that and do not pour it out. Water works just as well if you want to dump out the contents but quite frankly the bits add flavor to your dish, so leave them.
Watch this quick video showing you how to do it…….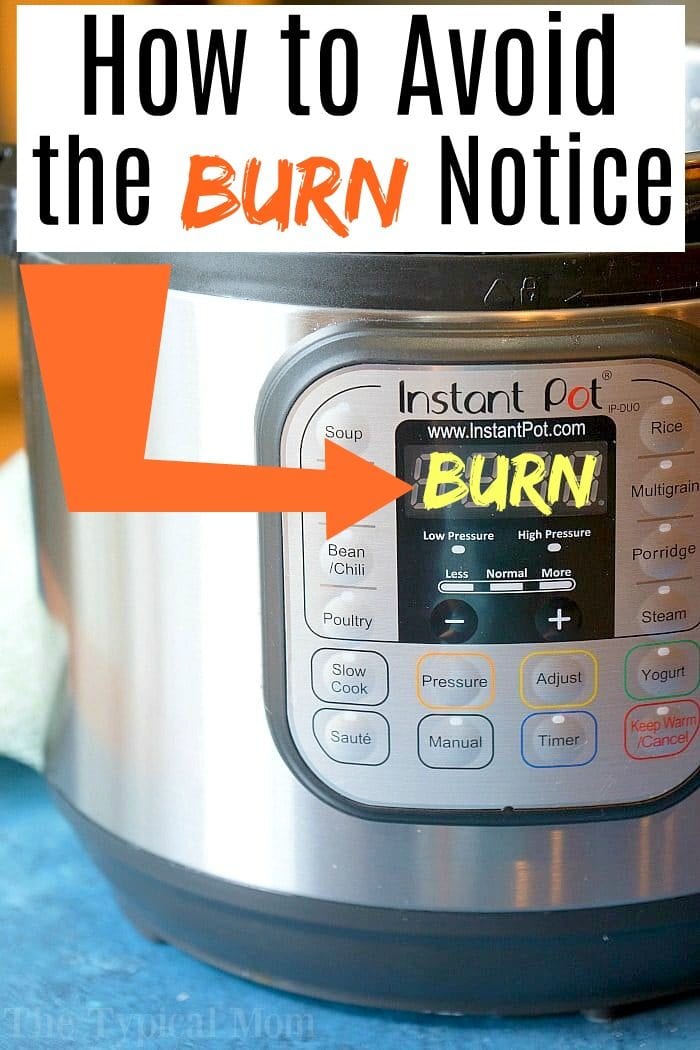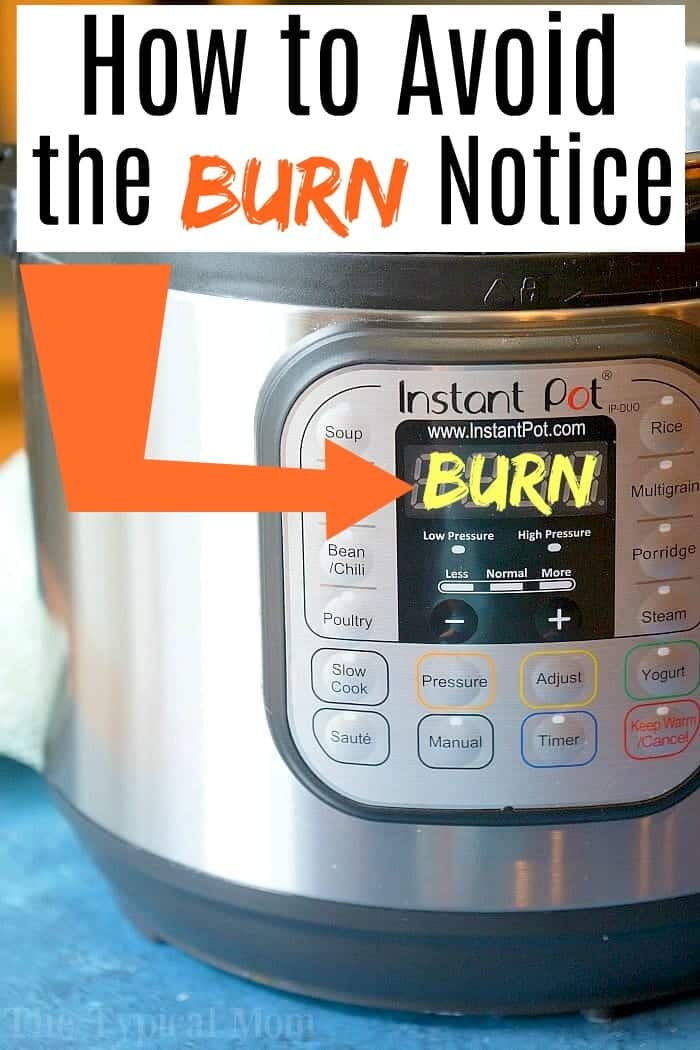 Pretty easy now that you see it done right before you right??!!
Especially if you're cooking a large piece of meat like you see here below, like my Instant Pot pulled pork you'll need to know this.
FIRST off you can avoid this almost entirely if you just use this nonstick pot!! Game Changer!
Then, you really need to deglaze your Instant Pot after browning.
Also let it cool down before turning it from saute to pressure. Those are the two main tips.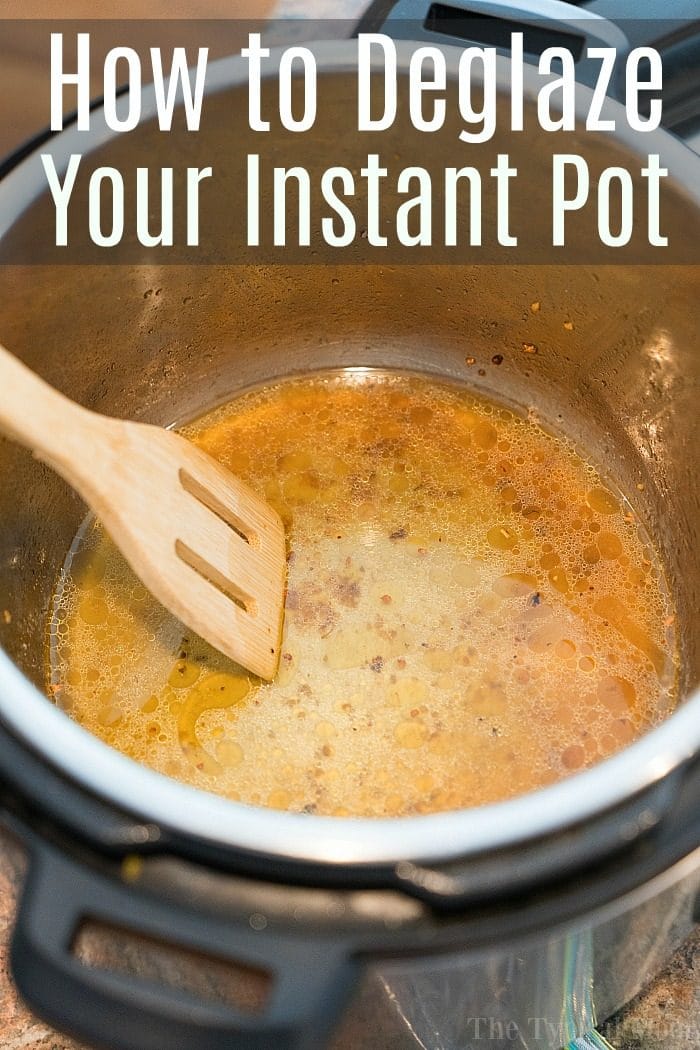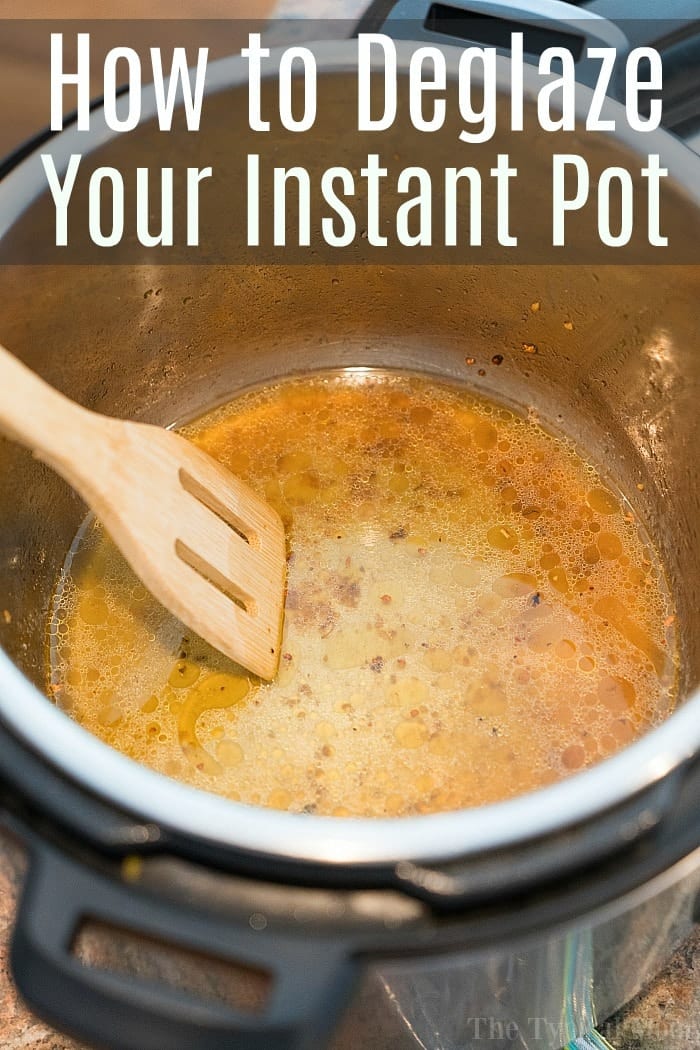 Another thing is to make sure you turn your Instant Pot to OFF/Cancel once you're done sauteeing anything.

It may trigger the burn notice if you don't.

Your machine does this because it thinks the pot is too hot.
This may cause it to not reach pressure at all either.
So just take the extra few minutes and pause in between.
Do not turn it immediately from saute to pressure high/low or it won't give the pot time to cool off. This may give you a falsely burn "alarm" also and freak you out.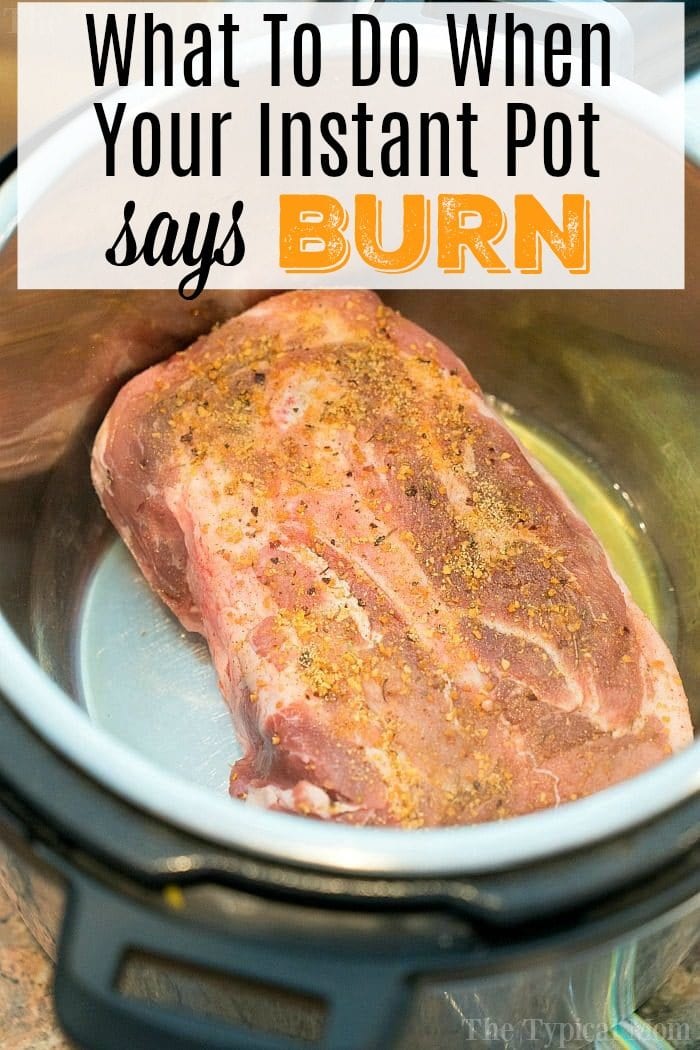 Easy step to follow which will save you some headaches.
The reason it says burn most of the time is that there are bits of meat stuck to the bottom.
A little liquid or broth will loosen them up quickly. Just use a wooden utensil with a flat head to scrape it off and proceed with your recipe.
You can pour this bit of broth or water out but really these bits have a lot of flavor to them so I usually try to leave it. It will add to the overall flavor.
Totally up to you…..
Now that you know what burn on Instant Pot means you can avoid it.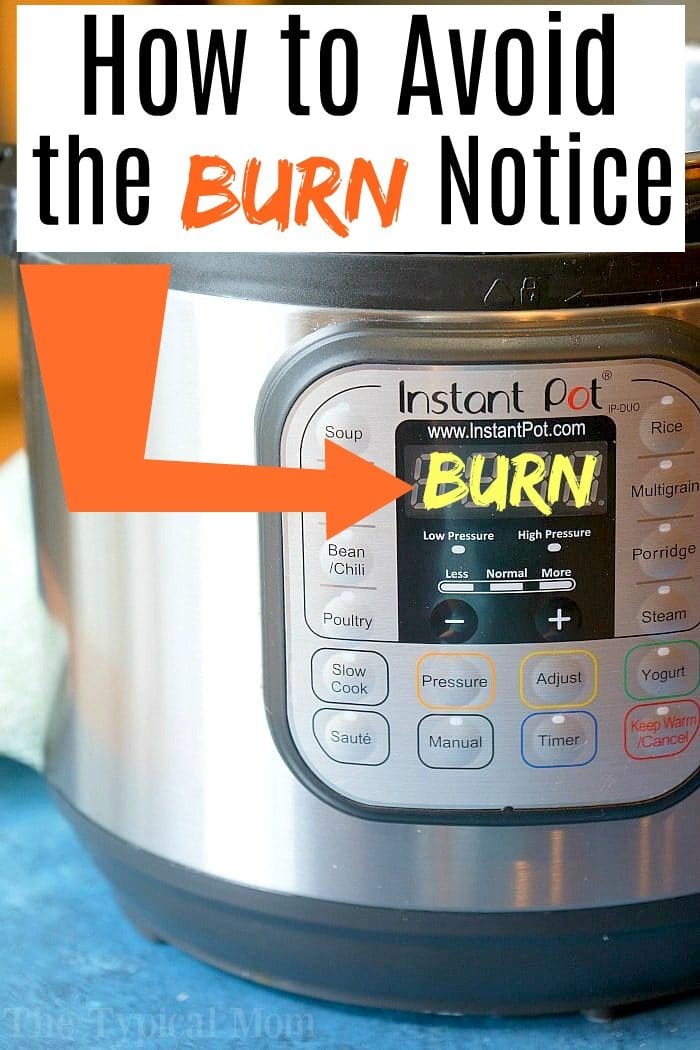 NOW try these easy Instant Pot recipes! Just a few of our faves are below. 😉
AND our most popular dish is Instant Pot spaghetti, because who doesn't like this classic?
Want to see a few of my favorite things that I am totally obsessed with?? Take a peek and see how many you might already have…twinsies!
Looking for more easy family recipes and tips? LIKE The Typical Mom Facebook page?
Then sign up for my free newsletter, and follow me on Pinterest! 😉
***** If you LOVED this recipe give it 5 Stars below and let everyone know what you thought about it. 😉