This sweet Asian Instant Pot pulled pork recipe is amazing! Tender fresh, thawed or frozen pork roast in Instant Pot for an hour and done! You can use any brand of pressure cooker you have like a Crockpot Express or Ninja Foodi to make it too. Topped on rolls this makes the best sliders ever!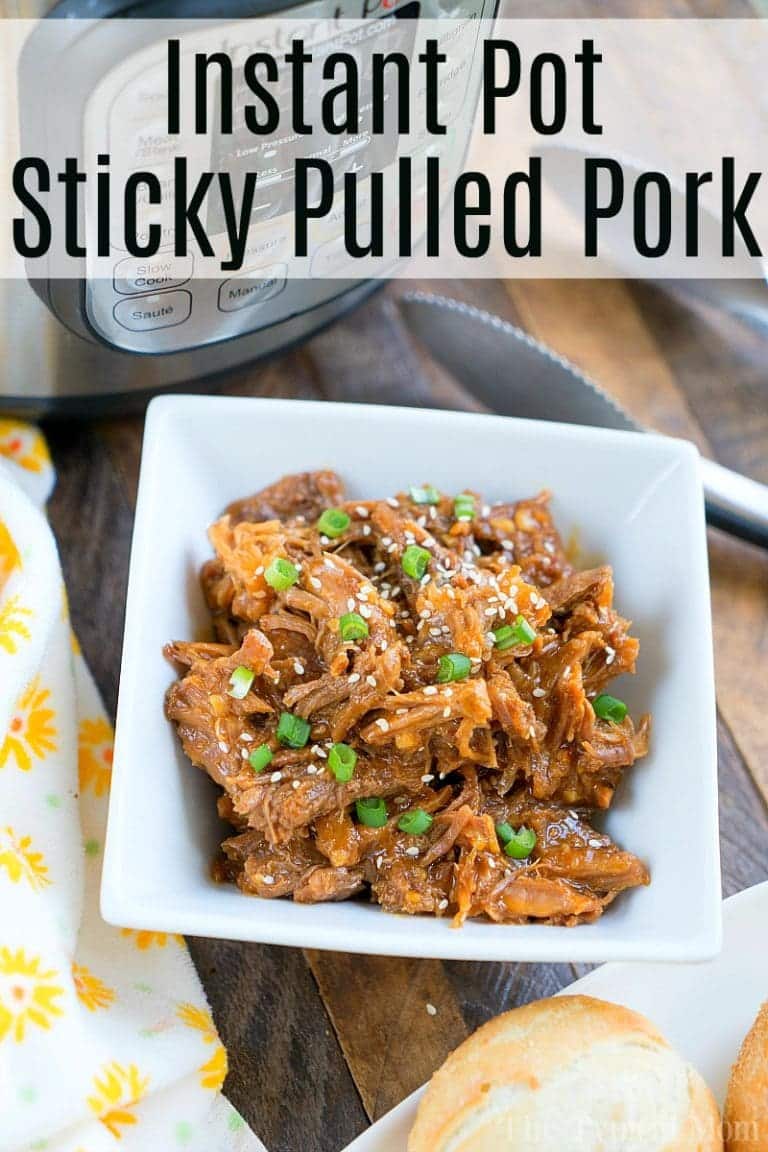 Oh my goodness this Instant Pot pulled pork recipe one of my favorites!! I have made over 101+ easy Instant Pot recipes here on The Typical Mom site but this one is over the top fabulous. (originally published 6/18, affiliate links present)
Asian Instant Pot Pulled Pork
With a sweet sauce with a bit of a kick and cooking pork this way is killer. Under high pressure makes it fork tender and ready to pile up on a soft roll. Served as sliders during your next party or as a sweet dinner idea that even your kids will love.
If you only have a Mealthy or Crockpot Express that machine will work. As long as it is electric and has the high pressure function it will work just the same as an IP. I also have a Ninja Foodi pot that works great as a multifunction machine.
FIRST – You should sign up for my free newsletter so you get new posts emailed to you twice a week and never miss out on anything! Now let's start with a few basic tips:
Make sure to Bookmark our InstaPot recipes page. We add new ones each week!
Then PRINT this —–> Instant Pot cooking times cheat sheet that will help you understand how long meat, vegetables and beans take to cook in your pressure cooker.
For reference, this is the pressure cooker I have (a 6 quart) and use for all recipe creations.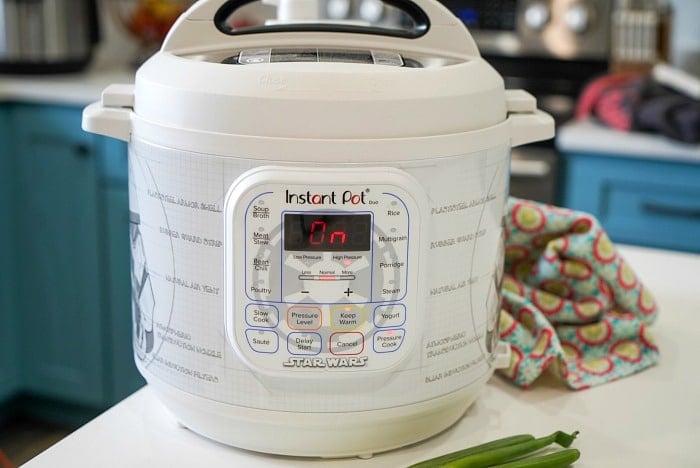 Asian Ninja Foodi Pulled Pork
This and our Instant Pot pad thai will surely become sone of your favorite dinners. I like easy pressure cooker recipes and I also like being able to adjust the spice level. I do like a little spicy but not so overwhelming I can't taste the other flavors so this one is great for everyone.
When cooking pulled pork you really want to add lots of flavor, otherwise it will be rather bland. This version has a rich sweet sauce that is a bit like teriyaki but with the addition of honey and Sriracha. So, it has a nice balance between spicy and sweet that we fell in love with.
Asian Instant Pot pulled pork
We started with a pork roast that was about 2.5 lbs.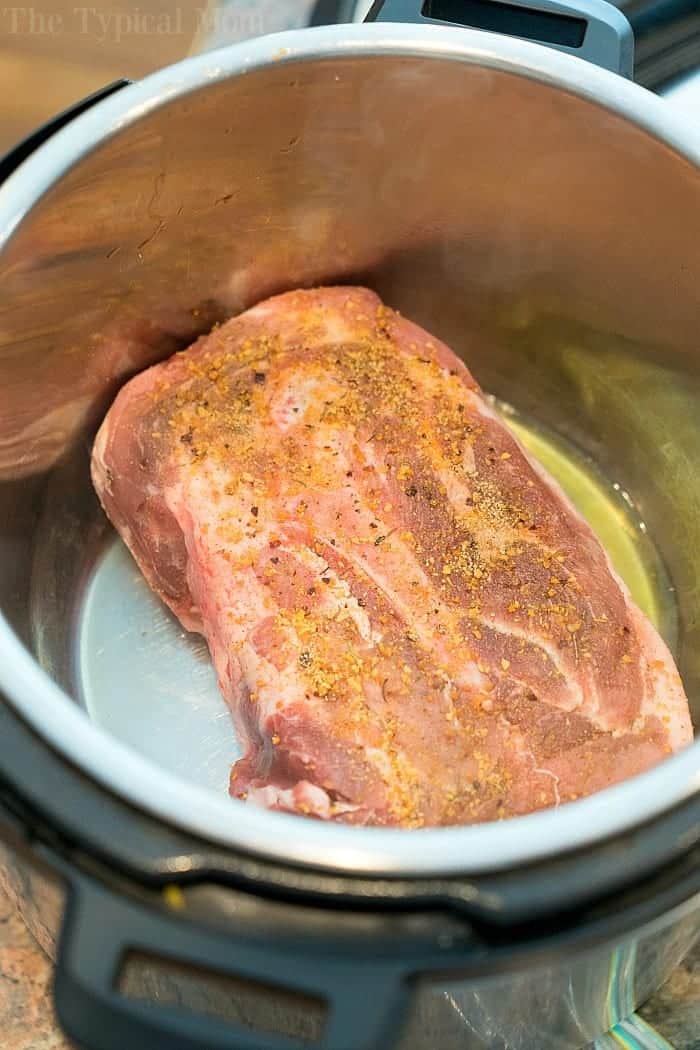 Asian Pressure Cooker Pulled Pork
To say we have a lot of pork is an understatement. We bought a pig from a local organic farm recently and started with this pork roast that is about 2.5 lbs with the bone so let's call it 2 lbs. To make it ultra tender I cut it into 3 equal parts around the bone before turning it on so the meat would become as tender as possible.
If you are using a pork roast that is larger than mine you will need to increase the time a bit. I would also cut it into maybe 4 pieces so it will get as tender as possible.
In order to ensure you don't get the burn notification after searing your roast watch this video on how to deglaze your Instant Pot
Then continue on to the next steps. If you have another brand like a Crockpot Express or Ninja Foodi these directions will work for you as well. 😉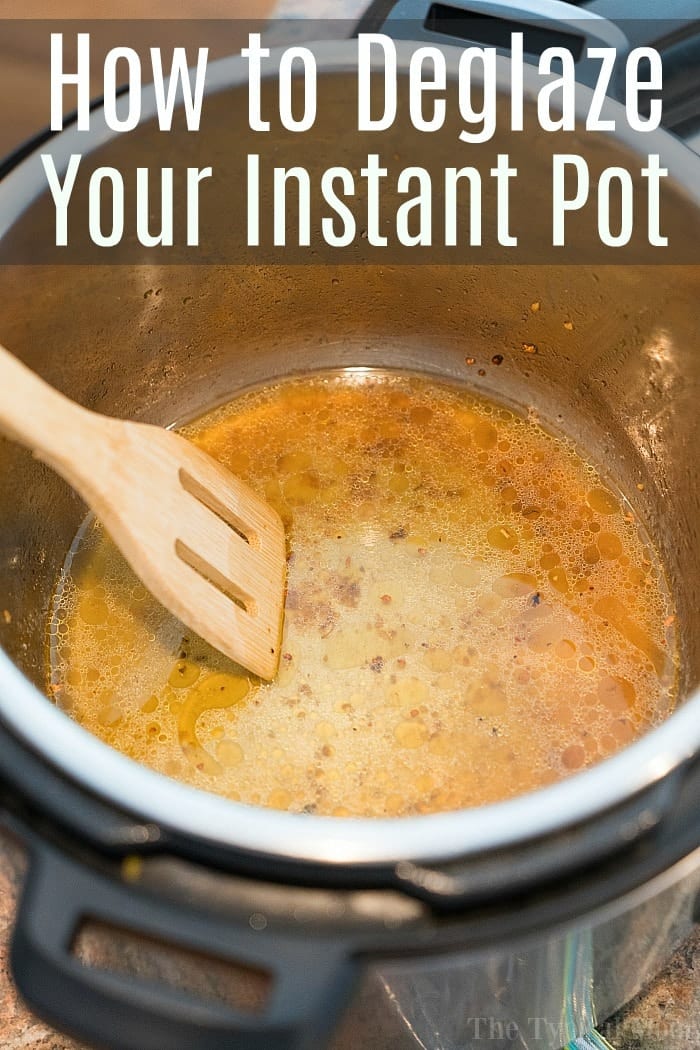 I like onions for their flavor. You can dice them like this or leave them sliced and in larger chunks. Totally up to you and will achieve the same thing so go for whatever you choose.
Cutting your pork roast into 3 or so equal parts will allow it to become really tender when it is cooked in your Instant Pot.
If yours is larger than mine then maybe 4 pieces would work better. Make sure they aren't overlapping.
Here are the basic steps that take approximately 60 minutes to pressure cook to perfection.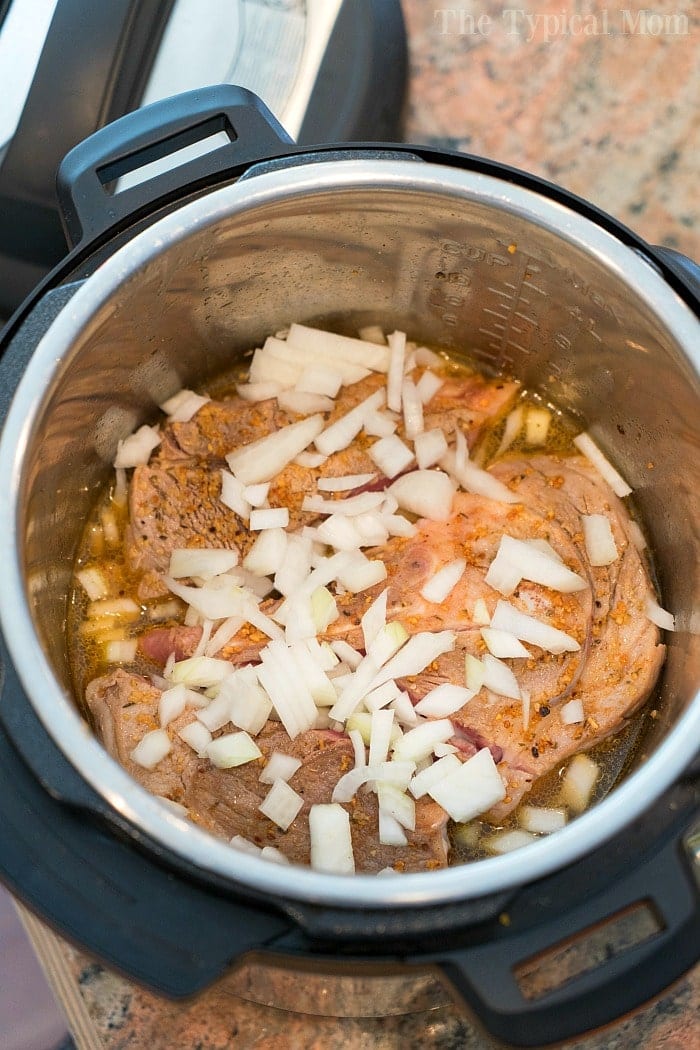 Asian Pulled Pork Recipe
First you'll want to rub the spices on your meat and set your pressure cooker to saute. Add a bit of olive oil and sesame oil at the bottom.
Then brown both sides and turn your pot off. This step will take a total of about 15 minutes to heat up and then deglaze.
If you haven't cut your pork into 3-4 equal pieces, do so now. Smaller pieces will yield meat that is more tender.
Put meat back into your pot with rest of broth and onions and set to high pressure for 60 minutes. This will be enough time to break it down so it becomes fork tender.
Do a natural release! This will take about 20 minutes cooking time and allow the meat to become extremely tender vs. doing a quick release.
Use forks to shred. Discard fat, remaining liquid, and bones.
Whisk together wet ingredients for sauce in a bowl and pour into pot with shredded pork.

you can use bbq sauce instead if you prefer those flavors

Saute until thick and then serve!
This is a great recipe to serve on small slider buns or on top of Instant Pot white rice.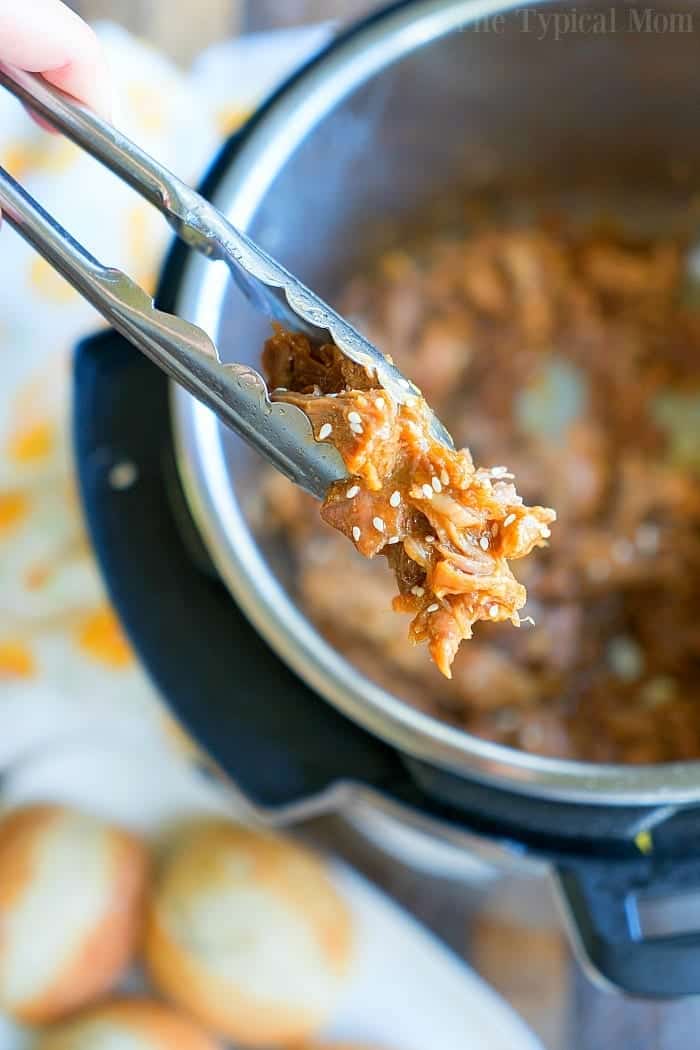 Pulled pork in Instant Pot
We used a piece that was about 2.5 pounds. that is a good size for all 5 of us to eat and sometimes I will have a bit for lunch the next day. It saves quite nicely so you can enjoy it again, I will talk a bit about this below more.
Pork roast – 2-3 lbs fed the 5 of us

used it to make pulled pork sandwiches with a side of corn on the cob
could use a pork butt or pork shoulder

Honey
Soy sauce
Garlic – I use already minced in a jar
Ginger – in produce section, in a jar already minced
Brown sugar
Onion
Cornstarch – to thicken sauce
Sriracha – for a little heat, even a little doesn't make it hot but adds a lot of flavor
Slider buns – can use this easy roll recipe if you would like. My kids love those small sweet Hawaiian rolls at the store too. It is a quick meal that is just mouth watering.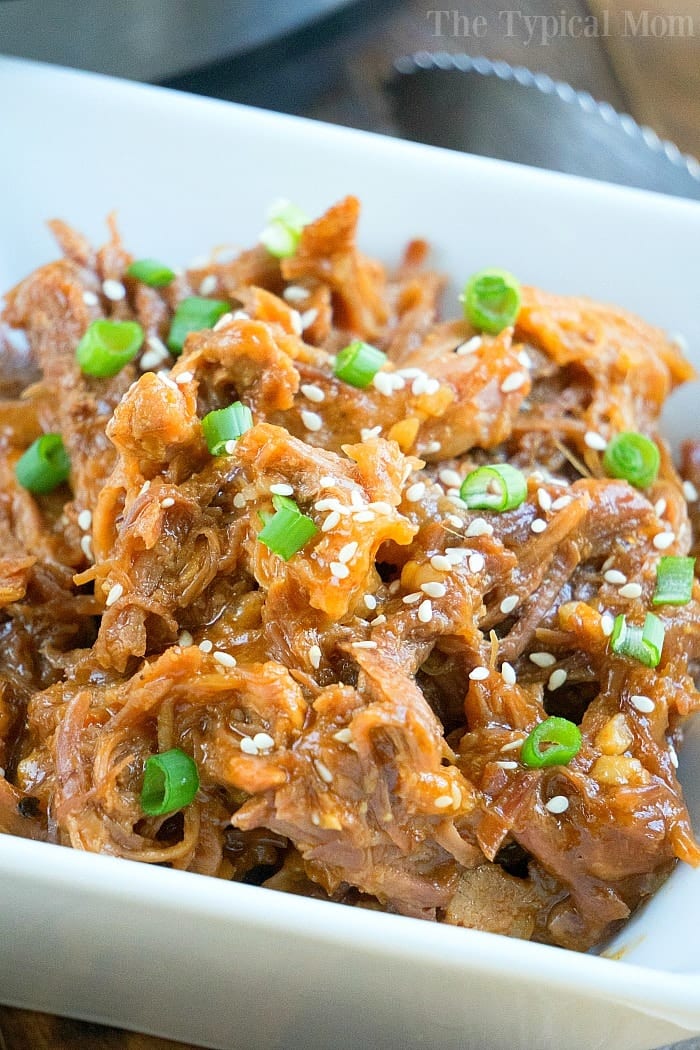 Instant Pot pulled pork recipe
And that is about it my friends. Savory sauces tossed in with tender meats is our fave, point blank. Of course you could use a bottled sauce like Korean bbq that I have seen at the store if you wanted to. Mine is quite simple though and I like how you can adjust the heat levels. If you're looking for other pork recipes try some of our
Pressure cooker pork chops with gravy is quite delicious on top of a bed of mashed potatoes. This Instant Pot lo mein is yummy too if you love that meal at restaurants. It is quite easy to make yourself right at home. That way you can add even more vegetables into the mix, and/or different meats too.
This easy pork roast in oven at 375 degrees is cooked in a Dutch oven if you don't have a pressure cooker yet. That one breaks down quite nicely as well but takes quite a while longer of course.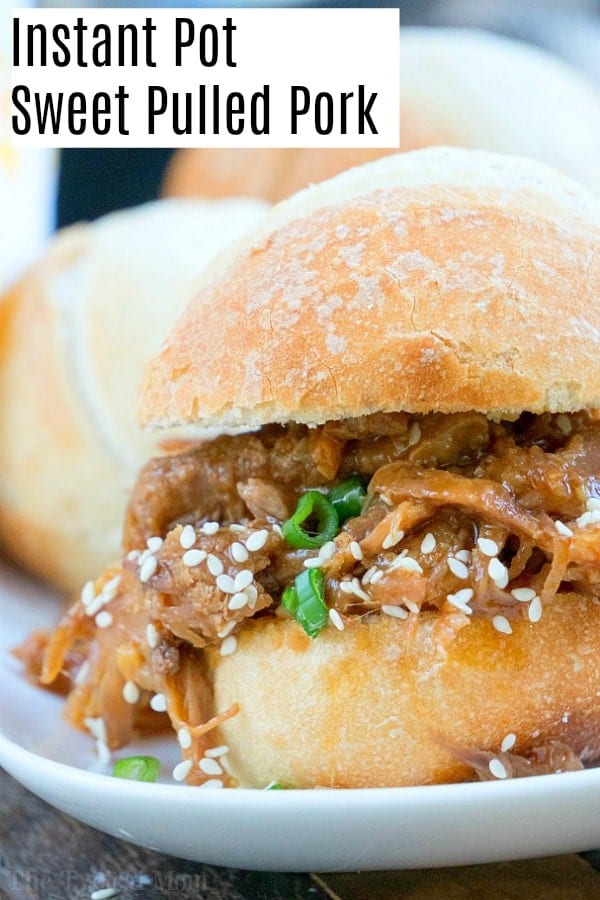 What is the best cut of meat for pulled pork?
Pork shoulders are the most popular typically. I have used a pork butt, which is half of the shoulder, and a center cut pork loin when that is all the store had. All of the above have worked fine.
Does pork tenderloin work for pulled pork?
Many people use this cut in their crockpot. If you can find one large enough, this recipe calls for 3 lbs., then yes. The center cut loin I used in my Instant Pot Hawaiian pulled pork sliders turned out great. (seen below) It turned out tender and has a sweet barbecue sauce taste vs. these Asian teriyaki like flavors.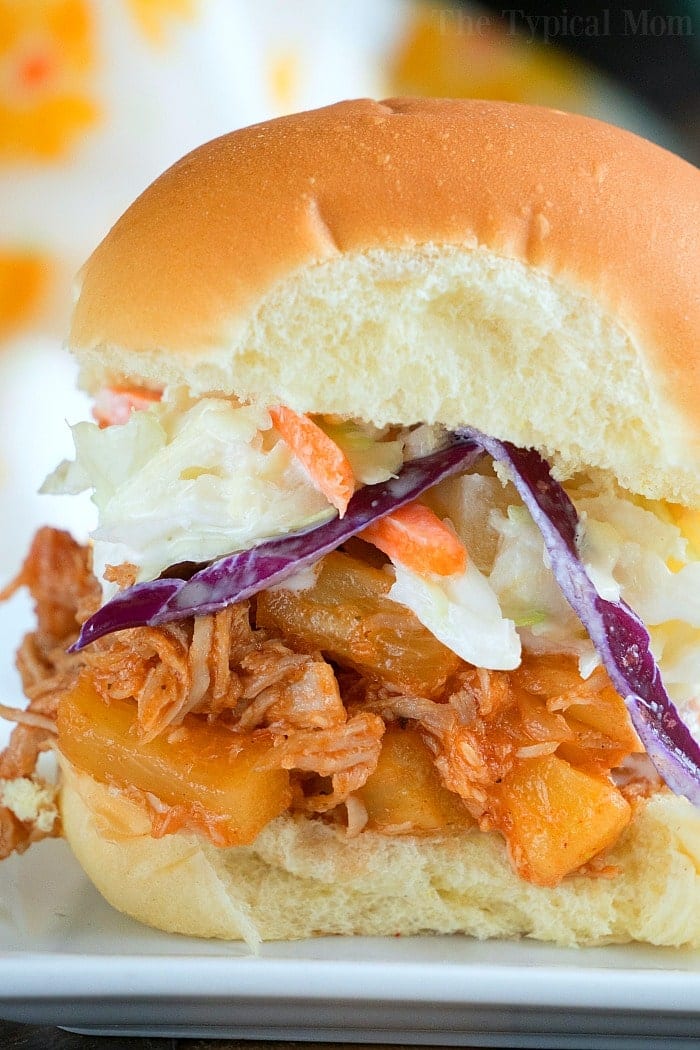 What should I serve with pulled pork?
Shredded pork is fabulous in omelets and inside burritos. You can grab store bought store bought or make your own homemade tortillas.
We typically serve them as sliders topped with cole slaw but the possibilities are endless!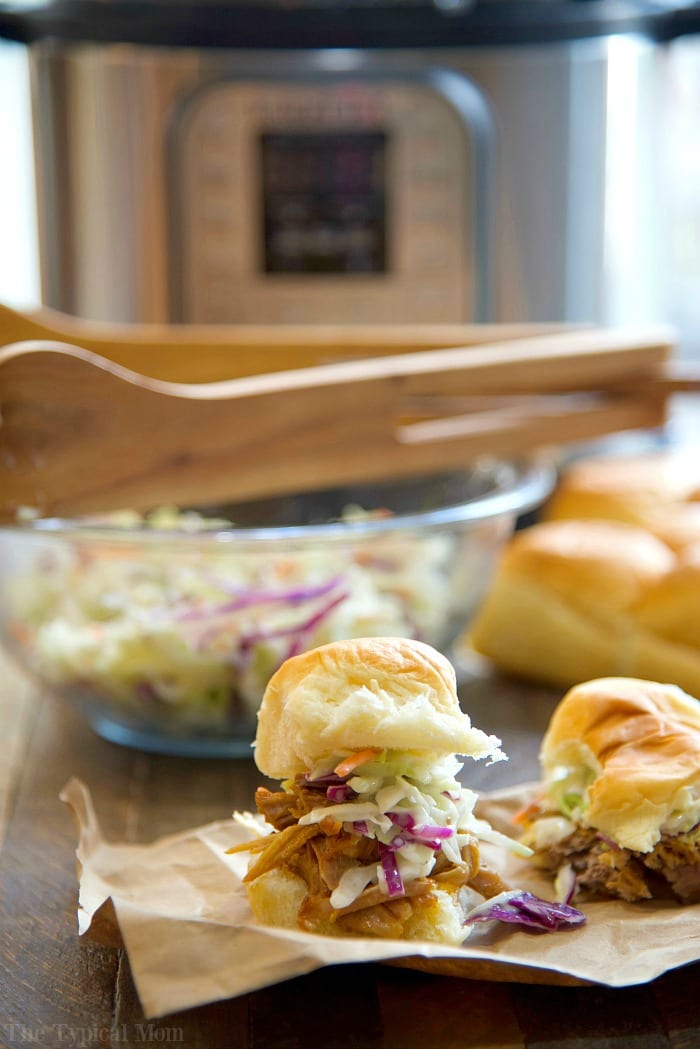 What can I serve with pulled pork besides cole slaw?
Well, that is kinda' our go to. That and macaroni salad but there are plenty of other pulled pork side dishes:
Cornbread
Macaroni and cheese
Corn fritters
Potato salad
Okra
Next you should try this with another protein, like our Instant Pot Asian chicken too. What do you serve with yours?? We'd love to try something new if there's something else that isn't on our list!
Want to see a few of my favorite things that I am totally obsessed with?? Take a peek and see how many you might already have…twinsies!
Looking for more easy family recipes and tips? LIKE The Typical Mom Facebook page?
Then sign up for my free newsletter, and follow me on Pinterest! 😉
***** If you LOVED this recipe give it 5 Stars below and let everyone know what you thought about it. 😉
Asian Instant Pot Pulled Pork
You have got to try this Asian Instant Pot pulled pork recipe! Tender pork roast in an hour using your pressure cooker. The best sliders ever!
Instructions
Set Instant Pot to saute and add olive oil. Rub seasoned salt and roasted garlic and herbs on pork roast on both sides. When hot add pork roast and sear on both sides, turn Instant Pot off.

Take roast out and cut into 3 pcs.

Pour 1 c of your broth into your pressure cooker and use a wooden spoon to loosen the pcs of cooked on meat off of the bottom of your pot (called deglazing your pot so the burn notification doesn't come on later).

Put pork roast pcs back into your pot with diced onions and last cup of broth.

Close lid and steam valve. Set pot to pressure high for 60 minutes.

Allow steam to naturally release.

Open lid. Shred pork with forks, remove fat pieces and discard those. Put shredded pork into a bowl.

Discard remaining liquid left in pressure cooker and put meat back into your pot.

Mix all remaining ingredients above together with a whisk until cornstarch is dissolved.

Put pressure cooker on saute, low, and add sauce mixture.

Put shredded pork in your bowl into your pot and mix with sauce.

Allow to bubble just slightly so sauce thickens a bit and pork is thoroughly coated with sweet sauce.

Serve on top of rice or in slider buns, top with green onions and sesame seeds if desired.
Nutrition Facts
Asian Instant Pot Pulled Pork
Amount Per Serving (3 oz)
Calories 424
Calories from Fat 144
% Daily Value*
Fat 16g25%
Cholesterol 142mg47%
Sodium 1110mg48%
Potassium 890mg25%
Carbohydrates 15g5%
Protein 52g104%
Vitamin A 215IU4%
Vitamin C 2.9mg4%
Calcium 19mg2%
Iron 1.6mg9%
* Percent Daily Values are based on a 2000 calorie diet.