Instant Pot Asian chicken is full of flavor and so easy to make in your Ninja Foodi or pressure cooker. Similar to General Tsos chicken but easier like our Instant Pot teriyaki chicken but with more of a bang of flavors!
I mean you could call this whatever you want but Instant Pot Asian chicken came to mind. A little like General Tso's from Panda Express, but so easy you can make this quick Instant Pot recipe at home yourself. (affiliate links present, originally published 4/21)
Ninja Foodi Asian Chicken
I have use similar flavors in all sorts of different Ninja foodi recipes. It doesn't matter what brand of pressure cooker you have as long as it is electric and not the old fashioned model. Crockpot express is another name that works well too.
We started with Instant Pot hoisin chicken and this Asian pulled pork is amazing too. Maybe because I was born and raised in Hawaii, I just love those deep savory sauces with protein on top of rice.
FIRST – You should sign up for my free newsletter so you get new posts emailed to you twice a week and never miss out on anything! Now let's start with a few basic tips:
Make sure to Bookmark our InstaPot recipes page. We add new ones each week!
Then PRINT this —–> Instant Pot cooking times cheat sheet that will help you understand how long meat, vegetables and beans take to cook in your pressure cooker.
For reference, this is the pressure cooker I have (a 6 quart) and use for all recipe creations.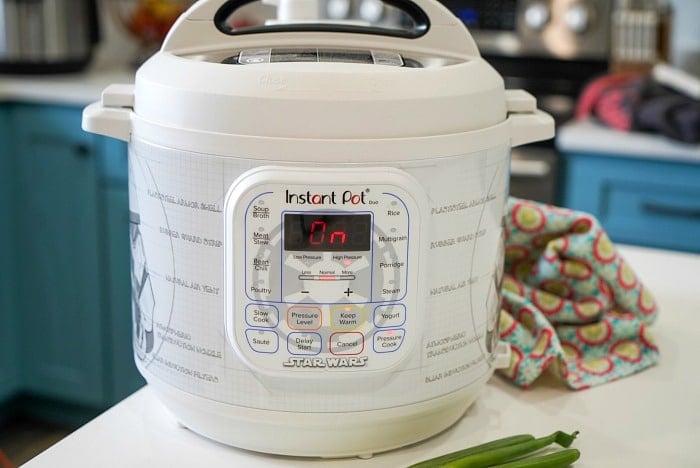 Asian Chicken Instant Pot
Similar to our spicy teriyaki chicken, you can adjust the heat on this dish as well. That is one reason I really love making this myself. I like mild but my husband likes it hot so at the end he can amp his serving up!
Asian Chicken Instant Pot Frozen
If all you have for meat is still rock hard, no worries. I have the answer to that one too. What you will want to do is follow the directions in our pressure cooker frozen chicken breasts post but for 10 minutes instead of 12. Then take it out and dice. Throw it in and you can skip the sautéing step. Add sauce and go from there.
What is Chinese chicken called?
Some may call this sesame chicken which is amazing I do agree. Asian chicken breasts have a deeper thicker sauce though which we love.
What sauce is used a lot in most Asian food?
If you want store bought sauces many use chili, fish, oyster or tamari sauces. It isn't hard to mix soy sauce, honey, brown sugar, rice vinegar and seasonings together though. It's way better than bottled.
Is General Tso's Chicken Spicy?
It does have a kick to it at PF Changs restaurant. When you make it homemade like this you can make it as hot or mild as you wish though.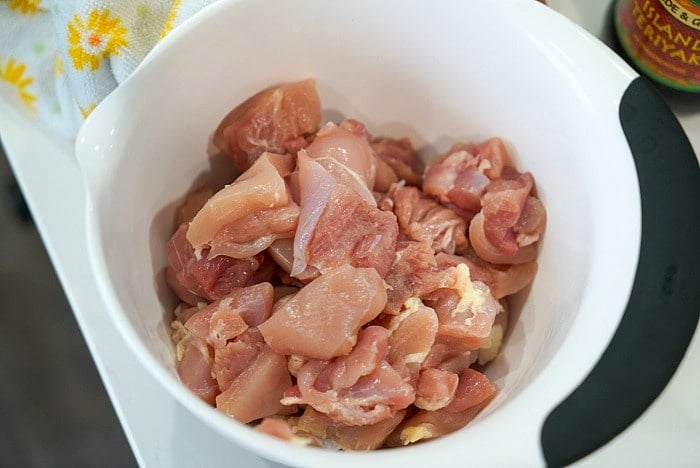 Instant Pot Honey Garlic Chicken
Let's talk about a few tips to start with shall we? I have been pressure cooking since the IP was brand spanking new and there were NO recipes for it online, so I created them myself.
I learned quickly a few tricks of the trade. Mostly I will tell you these came with a lot of trial and error and I want to save you the headaches. The first came when making our pressure cooker chicken and rice.
At first I put the breasts in whole and after a few rounds of that not working out, it sticking, not getting done in the middle and I was frustrated….. The hack was to cube or dice them up as you see above. Use thighs or boneless breast pieces, either way. This is what you're going to need to take out: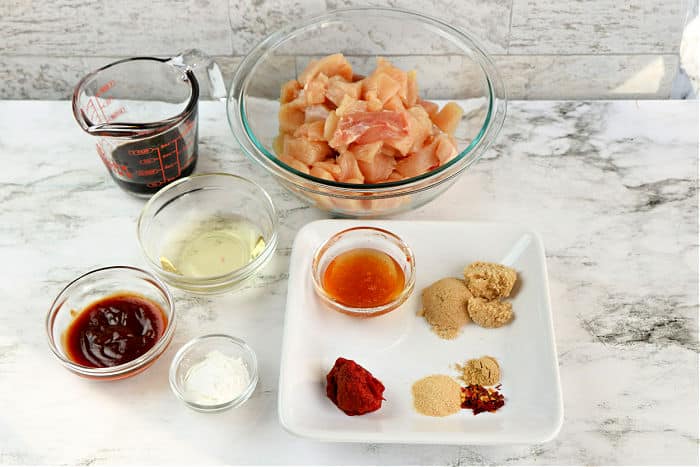 Ninja Foodi General Tsos Chicken
You could use either cubed chicken breasts or chicken thighs, that is your choice. I feel the latter comes out more tender and is typically cheaper as well. Everyone has their preferences though.
Chicken
Soy sauce
Brown sugar
Rice vinegar
Honey
Ginger
Tomato paste
I love hoisin sauce
Add red pepper flakes for some heat
Use a bit of cornstarch at the end to thicken your sauce. You can do this inside the same pot with the meat removed. Just set to saute and it will cook down and become a wonderful "gravy".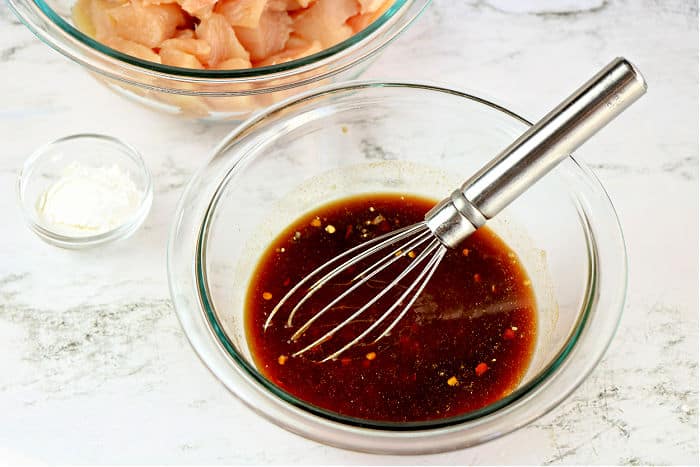 When it comes to Instant Pot dinners like this I love cubing chicken. Not only does the marinade really seep in but the cook time is very short. AND it's easier to eat too, especially if you have little hands at the table.
1″ pieces are perfect. Discard bones and fat while you're trimming it all up and then you're set to serve once it is done.
I started this method when I made my first pressure cooker recipe ever, with teriyaki chicken. Using just bottled sauce that time it made for a quick 5 minute meal that we still make today 4 years later.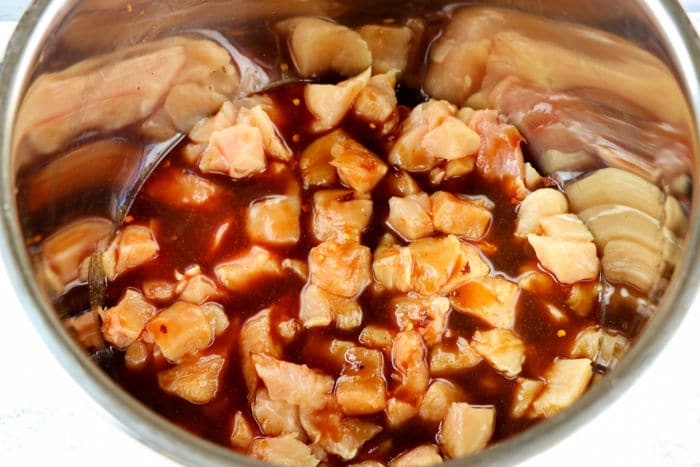 Instant Pot General Tso's Chicken
From there I stick to this rule and others have followed suit. The issue with leaving breasts whole is the thickness. In order to get the middle done appropriately the outside edges tend to get overdone. There is a printable recipe card at the bottom with more specific directions and ingredients below too:
Dice chicken into 1 inch pieces and add the chicken + all other ingredients into your pot EXCEPT cornstarch. Stir together.
Close lid and steam valve, cook on high pressure for 6 minutes cook time. Allow to naturally release steam for 2 minutes when done, then quick release.
Use a slotted spoon to remove chicken and keep covered in a bowl.
Set pot to saute. In a small bowl add some of your hot liquid from the pot + cornstarch. Whisk until smooth.
Pour this cornstarch slurry into your pot, stir and allow sauce to thicken. Turn off. Serve chicken over brown rice with sauce poured over the top.
Here's what it looks like when it is done cooking. You can enjoy as is but I like to thicken the sauce. You'll want to remove the meat before adding the roux.
You could make this similar slow cooker sesame chicken but 6 minutes vs. 6 hours just doesn't make sense. When done sprinkle with some diced green onions or a drizzle of sesame oil and enjoy in a bowl.
How long is cooked chicken good for in the fridge?
The best tip I can give you for this one is to drench the meat in this sauce before storing. Use air tight containers once it is at room temperature. Reheat within 3 days in an oven safe dish in the microwave.
You can also keep it cold and serve it like this asian noodle recipe does. On top of a salad in another idea, or make a fresh pot of quinoa.
What is the best way to freeze cooked chicken?
Pour leftovers into a freezer bag and squeeze out all of the air. Then wrap into aluminum foil and store in the freezer. The best way to reheat is to thaw in the fridge and then warm as desired in oven or air fryer.
Looking for other easy Instant Pot chicken recipes? We have made tons in our 6-quart Instant Pot, Crockpot Express and Mealthy pots over the years. You can make any and all of them with breasts or thighs, either works fabulous.
Do you need to brown chicken before pressure cooking?
No, not always. Many times such as when I am making this copycat General Tsos Instant Pot chicken I will throw all the ingredients into the pot with the sauce and start. It is an easy one pot chicken dinner we all love that takes just 6 minutes to cook to tender perfection.
Can you pressure cook chicken without liquid?
Not really. The meat will emit some liquid and juices so you don't need to add more than 1 cup or so but in order to create high pressure to steam and get tender you do need to add broth or water with your frozen chicken or defrosted meat.
Asian Instant Pot Chicken Thighs
Any size works too. If you have a mini just cut any recipe you find on The Typical Mom blog in half. Use same timing and you'll be good to go. This comes in handy if there are only two of you, or for my college student.
If you have a Instant Pot air fryer lid you should try our air fryer teriyaki chicken too. Jump to recipe below and let us know if you tweaked it at all so we can try your add in as well. Nutritional information with calories and saturated fat is available to you too.
Want to see a few of my favorite things that I am totally obsessed with?? Take a peek and see how many you might already have…twinsies!
Looking for more easy family recipes and tips? LIKE The Typical Mom Facebook page?
Then sign up for my free newsletter, and follow me on Pinterest! 😉
***** If you LOVED this recipe give it 5 Stars below and let everyone know what you thought about it. 😉
Instant Pot Asian Chicken
Instant Pot Asian chicken is full of flavor and so easy to make in your Ninja Foodi or pressure cooker. Like General Tsos chicken but easier.
Instructions
Add all ingredients into your pot EXCEPT cornstarch. Stir together.

Close lid and steam valve, set to high pressure for 6 minutes. Allow to naturally release steam for 2 minutes when done, then quick release.

Use a slotted spoon to remove chicken and keep covered in a bowl.

Set pot to saute. In a small bowl add some of your hot liquid from the pot + cornstarch. Whisk until smooth.

Add this back into your pot, stir and allow to thicken.

Turn off pot. Serve chicken over rice with sauce poured over the top.
Nutrition Facts
Instant Pot Asian Chicken
Amount Per Serving (2 oz)
Calories 64
Calories from Fat 9
% Daily Value*
Fat 1g2%
Cholesterol 1mg0%
Sodium 650mg28%
Potassium 68mg2%
Carbohydrates 15g5%
Protein 1g2%
Vitamin A 66IU1%
Vitamin C 1mg1%
Calcium 9mg1%
Iron 1mg6%
* Percent Daily Values are based on a 2000 calorie diet.