Here is an easy pressure cooker sausage and peppers recipe you can make for under $10. It feeds 5 people and you only need 3 ingredients for a delicious dinner! Try it in your Instant Pot, Crockpot Express or Ninja Foodi tonight. If you loved our Crockpot sausage and vegetables this one is faster!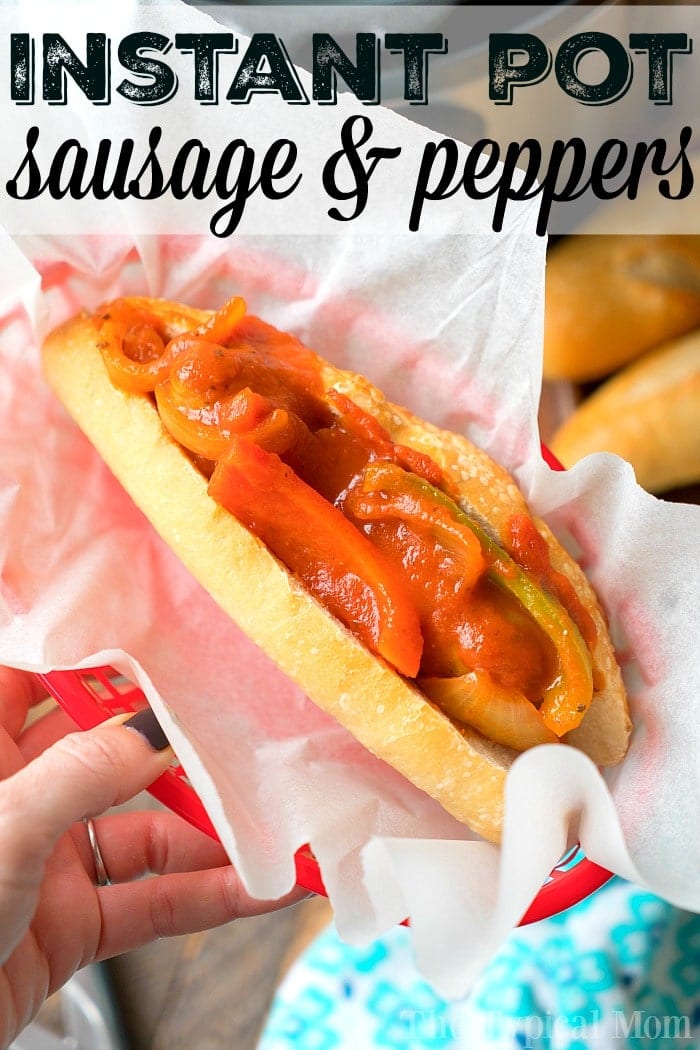 I love an easy recipe with vegetables and some sweet Italian sausage together. That's where this pressure cooker sausage and peppers meal came about. It tasted amazing inside hoagie rolls for dinner the other night! If you're all about easy Instant Pot recipes this is going to go on the top of your list!(originally published 6/18, affiliate links present)
Instant Pot Sausage and Peppers
We have made sausage links in so many ways and love them all. It really is personal preference but if you're ready for a really fast one pot meal, this is it! You can use Italian sausage or if you want some heat there are some great spicy versions out there too.
If all you have is a Crockpot Express or Ninja Foodi that is okay, they work the same way. For the latter use the lid that isn't attached for this sausage recipe.
FIRST – You should sign up for my free newsletter so you get new posts emailed to you twice a week and never miss out on anything! Now let's start with a few basic tips:
Make sure to Bookmark our InstaPot recipes page. We add new ones each week!
Then PRINT this —–> Instant Pot cooking times cheat sheet that will help you understand how long meat, vegetables and beans take to cook in your pressure cooker.
For reference, this is the pressure cooker I have (a 6 quart) and use for all recipe creations.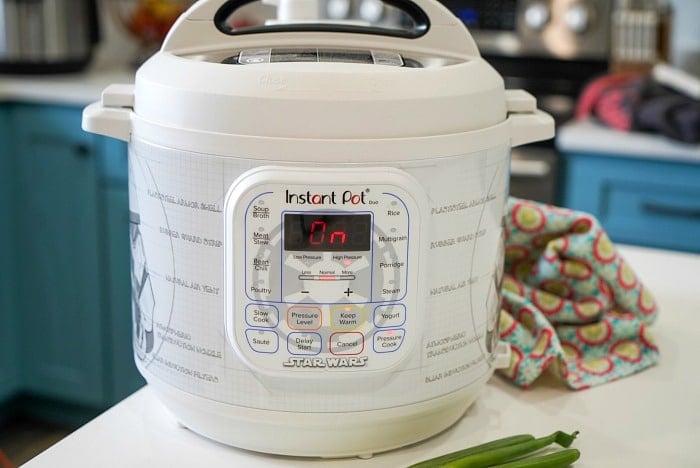 Pressure Cooker Sausage Peppers and Onions
Yes you can make Instant Pot brats all by themselves but if you want to add veggies and a savory thick sauce this is how it is done. Either one can be taken out when done and heaped on to hoagie rolls to eat that way. OR you can serve on a plate with a side dish like rice or a quinoa.
Along with the meat and peppers you can always go with slices of onions too. The thicker you cut them the more firm they will remain. Not hard, they will soften quite a bit but if you don't want them getting too too soft and falling apart I would keep that in mind.
Once you fall in love with this one you can try our smoked sausages and too, there are so many different ways you can cook these babies.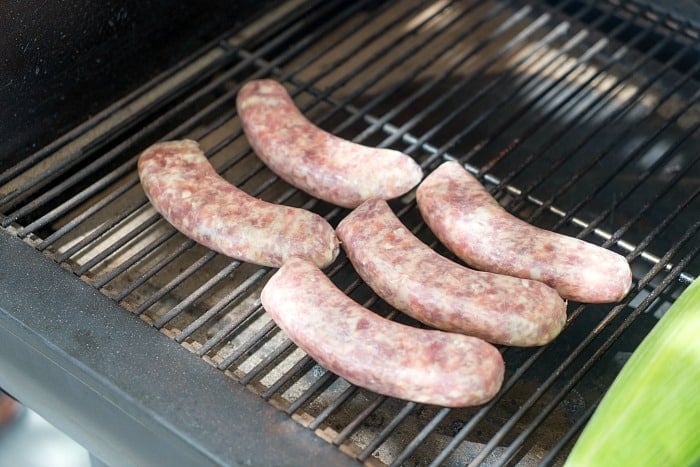 Ninja Foodi Sausage and Peppers
Which brings us to Ninja Foodi sausage where we use the air fryer function to it. You could make either one of these with this pot. It is a pressure cooker too so you could follow the directions below and when done transfer the meat to the top and close the attached lid for a few minutes at 400 just to crisp.
What are sausage links?
They're really a mixture of ground meat, fat, seasoning, and sometimes fillers packed into a casing. Then each one is tied or twisted to create individual links. These days most commercial sausages use synthetic casings.
I chose sweet Johnsonville Italian sausage you see here because it is the style my husband prefers. They offer a spicy sausage version as well if you like a little heat.
The brand of spaghetti sauce really doesn't matter, I get what is on sale. If you want this meal to be really cheap you can usually find a jar at the Dollar Store.
Seriously, electric pressure cookers make this easy dinner possible in under 10 minutes.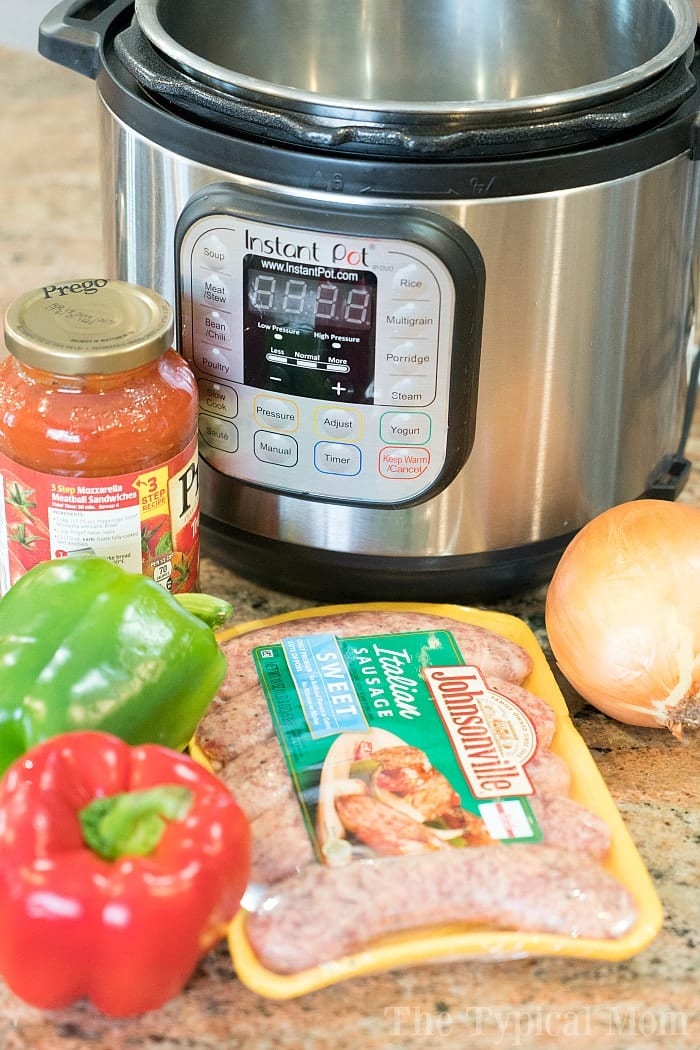 Sausage and Peppers Recipe
Sometimes I grab some hoagie style rolls to put them in. Other times I've served it over rice. I literally see what's on sale and buy that! This is what you need to make this Instant Pot sausage recipe
Electric pressure cooker

I would highly recommend a non stick pot if you don't have one
Or use your Ninja Foodi which already comes with it

5-6 pork sausages

there are 5 in a package when I buy them, you could fit 6 but no more in a 6 qt. without having them overlap
chicken sausage could be used too if they're a similar size

1 jar spaghetti sauce
2 bell peppers

really you can add more peppers and onions if you want
buy extra and make a batch of green pepper jelly with them on the saute function next

1 onion
3/4 cup of water – you'll need to add some liquid in order to get it to come to pressure

beef or chicken broth could be used too
There are many types of links. You can find turkey or chicken versions that may be lower in fat but we typically choose Italian style pork.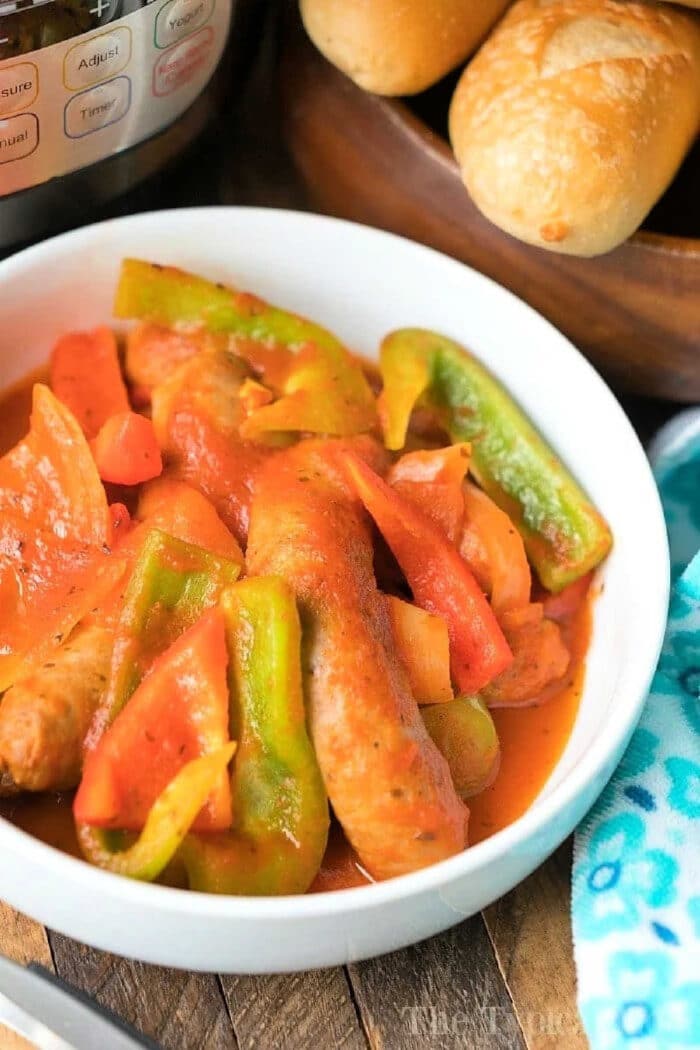 What is the most popular sausage?
There are a lot out there at the store I know. It really doesn't matter which you want to use for this since even if they are raw the high pressure will get them done.
Andouille is often times spicy and has a ton of flavor already inside so rarely needs a lot of other ingredients.
Bratwurst is very popular and known to be eaten often in Germany
Chorizo is used a lot in Mexican dishes and is usually pretty spicy too
Italian Sausage is what I usually buy and used in this pressure cooker recipe
What if your sausage is frozen?
Just ensure that they aren't in 1 huge clump. If they are frozen but you can separate them there shouldn't be an issue.
Add sausages to pot with all other ingredients. Then following instructions below.
Set to high for 8 minutes vs. 6., set valve to sealing
Quick release and slice one in half to ensure they've cooked through
If not just put back in and set pressure cooker to saute
Allow to bubble and finish cooking the sausages, 8 minutes should be plenty though.
Once you've had this you'll love our pressure cooking jambalaya too.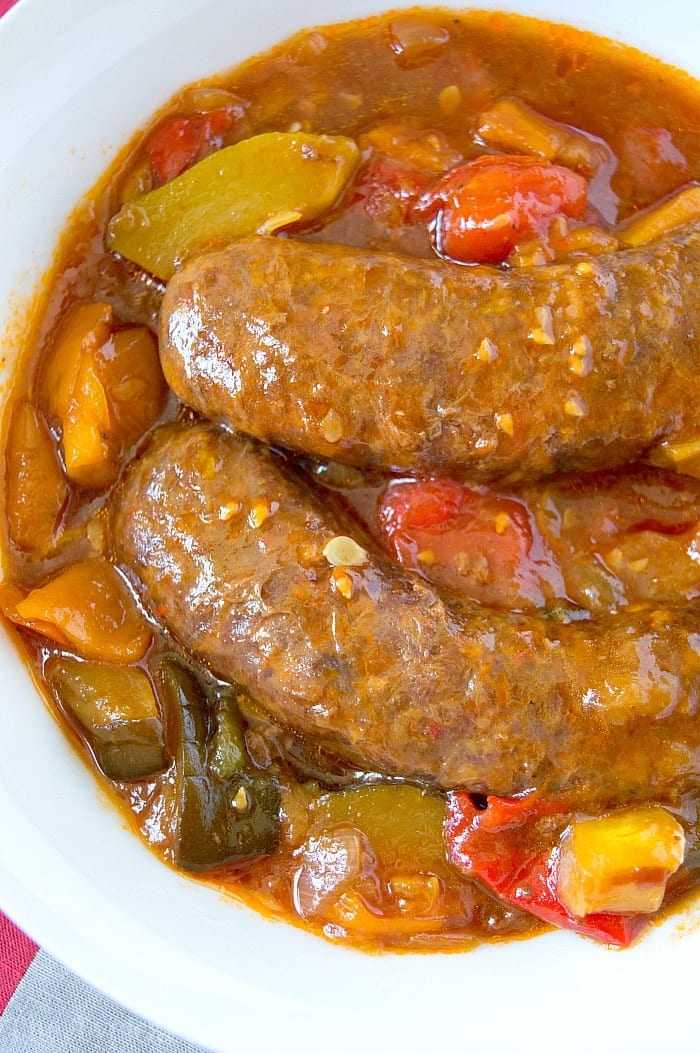 Instant Pot Sausage Peppers and Onions
Want to make stove top sausage and onions? Follow directions below as far as layering your ingredients in a pot. Cover with a lid and set to medium heat. Stir intermittently until sausage is warm in middle, also allow peppers to soften to your liking too.
There is no need for browning the sausages. If you really want to you could with a little olive oil at the beginning on saute.
The sausages I used was medium size. Typical of those in packages in the meat section of your grocery store.
If yours has thicker casings you may want to put it in for 8 minutes. 6 minutes always works well for us.
Want to make Instant Pot sausage and mashed potatoes all cooked together?? Kinda' like bangers and mash I suppose if you've had that.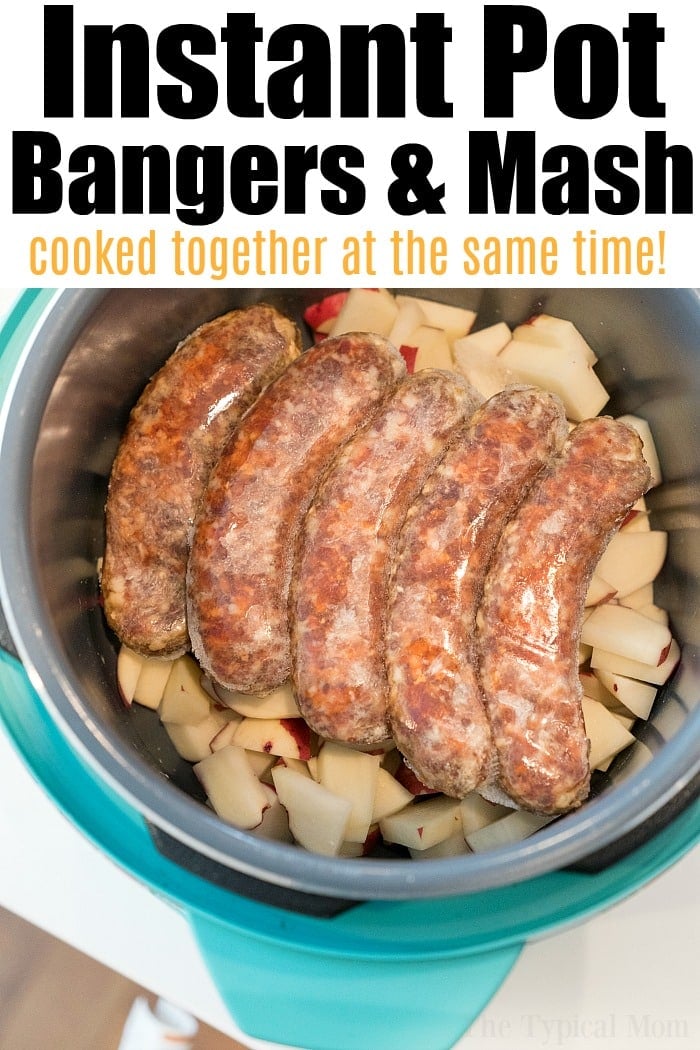 Pressure Cooker Sausage in Ninja Foodi
This is another idea you can take advantage of! We love one pot meals where you have a side dish and protein cooked together at the same time. This one wouldn't be as low carb as the one in the recipe card below but SO good for kids.
How do you cook perfect sausage?
In my opinion it's this way! I like how tender links become under pressure and mixed in with flavorful sausages with some veggies turns out so good.
Here's another way that's awesome because once they're tender, you can also get the outsides get nice and crispy too! I spoke about how to do this above. Let us know what you think of both. There are SO many possibilities I tell you.
What sides to serve with sausage and peppers?
Baked beans literally go with everything I say
French fries are fun especially if you have kids you're serving
Coleslaw ready made or your own recipe brings a coolness to the overall dish
Try a bed of mixed vegetables too
Potato salad is an option
Pressure cooker white rice is easy peasy to make

Want to see a few of my favorite things that I am totally obsessed with?? Take a peek and see how many you might already have…twinsies!
Looking for more easy family recipes and tips? LIKE The Typical Mom Facebook page?
Then sign up for my free newsletter, and follow me on Pinterest! 😉
***** If you LOVED this recipe give it 5 Stars below and let everyone know what you thought about it. 😉
Pressure Cooker Sausage
Here is an easy and cheap pressure cooker sausage and peppers recipe you can make for under $10 and feeds 5 people! You only need just 3 ingredients too!
Instructions
Slice onion and bell peppers.

Pour 1/2 jar of spaghetti sauce into the bottom of your pressure cooker.

Place sausages on top, not overlapping.

Put sliced onions and bell peppers on top and pour the remainder of your spaghetti sauce on top.

Pour 3/4 c of water into your jar of spaghetti sauce, put lid on and shake.

Pour this into your pressure cooker and put the pressure cooker lid on, close steam valve.

Set to pressure high for 6 minutes.

Do a quick release and put sausage into hoagie rolls, on top of rice, or serve as is with peppers and onions from pot. Pour some sauce over the top and serve.
Nutrition Facts
Pressure Cooker Sausage
Amount Per Serving (3 oz)
Calories 361
Calories from Fat 243
% Daily Value*
Fat 27g42%
Cholesterol 73mg24%
Sodium 1365mg59%
Potassium 819mg23%
Carbohydrates 11g4%
Protein 17g34%
Vitamin A 2155IU43%
Vitamin C 71.9mg87%
Calcium 33mg3%
Iron 2.7mg15%
* Percent Daily Values are based on a 2000 calorie diet.