Here's an easy Crockpot sausage and vegetables with peppers recipe that is packed with protein and gluten free! Full of flavor and cooks all day in your slow cooker.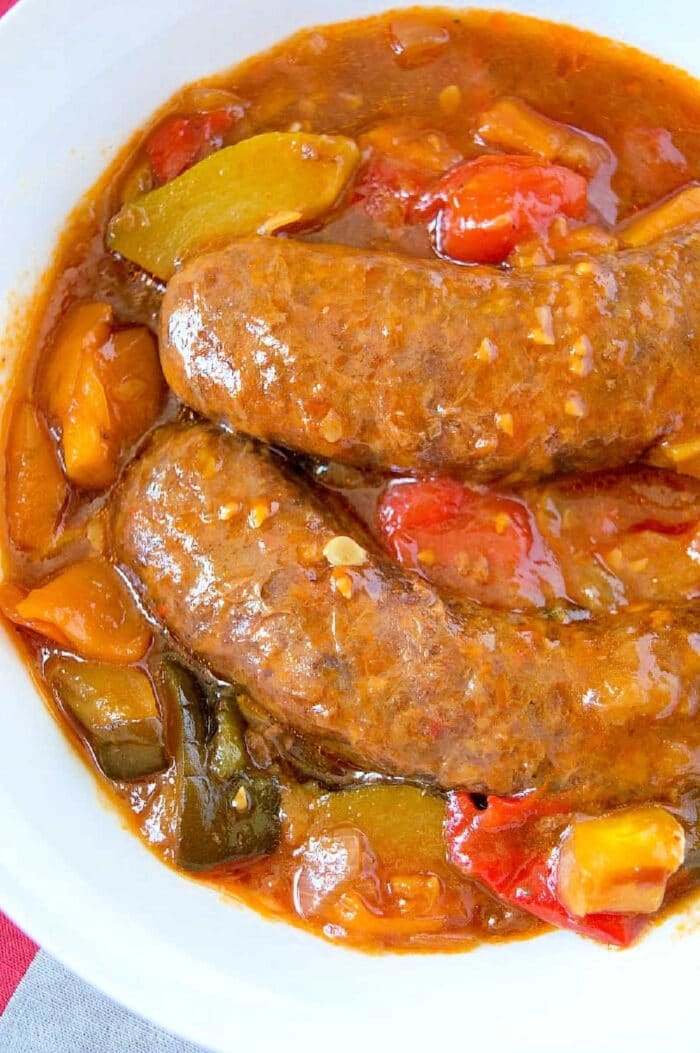 This easy crockpot sausage and vegetables recipe hits all those mark on so many levels. It is healthy, cheap and definitely a family favorite easy crockpot recipe we love. (originally published 8/17, affiliate links present)
Crockpot Sausage and Peppers
I am all about making a crock pot recipe like this year round! I am a busy mom who works full time and quite frankly I'm tired. If I can throw in a protein and veggies in the morning and return at the end of the day with dinner done, I'm all about it.
The flavors just mature and grow as time goes on with this. There is no work required from me really at all other than a bit of prep. Just choose a tray of your favorite sausage and bell peppers and read on folks.
FIRST – You should sign up for my free newsletter so you get new posts emailed to you twice a week and never miss out on anything! Let's talk a little bit about slow cooking shall we?? First off I have a few different varieties and I love them all. Each one has an occasion to be used like….
This is my favorite 6 quart programmable one with a locking lid so it's great for bringing to a potluck too.
If you just want to serve a few appetizers you should get this one that sit side by side one another.
I prefer not to use liners, but rather just spray olive oil inside before adding my food for easier cleanups.
Let me give you a peek of my pretty thang I bought recently. It goes with my kitchen so I can just leave it out on the countertop all the time. 😉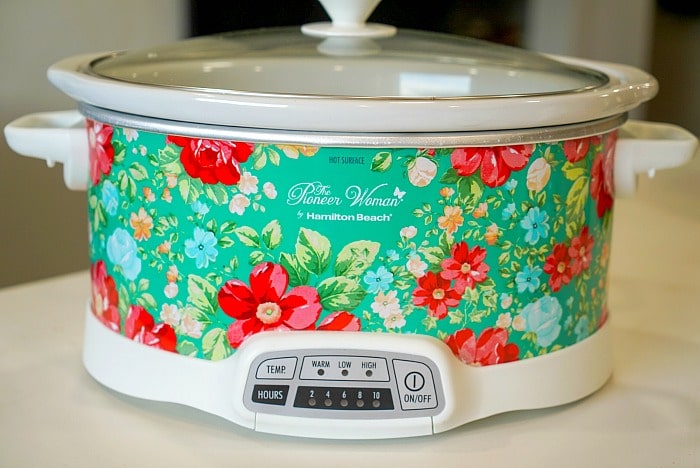 If I can make something packed with veggies my family likes it's a real plus, make it under $20 to feed all 5 of us and it gets an extra plus too!
Crock Pot Sausage and Vegetables
Packed with lots of flavor from the sausage, sauce, and the vegetables it is so yummy by itself or with a side of rice. If you're looking for a yummy gluten free slow cooker recipe this hits that mark too. Let us know what you think!
1 jar barbecue sauce – this style is great and has a little spice
5 or so Italian sausages – refrigerated style links that are raw at the beginning

smoked sausage or turkey sausage work too
these were raw with skins removed, cooked sausage wouldn't take as long

Lots of vegetables – we used bell peppers, onions, cherry tomatoes, squash and zucchini

there's no need to blanch bell peppers ahead of time, they'll soften as time goes on

8 qt. crockpot is what I use
Remember that the smaller your vegetables are sliced the softer they will become. I like it to keep their shape and still have texture to them, not mushy, so mine are kept somewhat on the larger side. You could make a batch of Crockpot brussel sprouts with links too.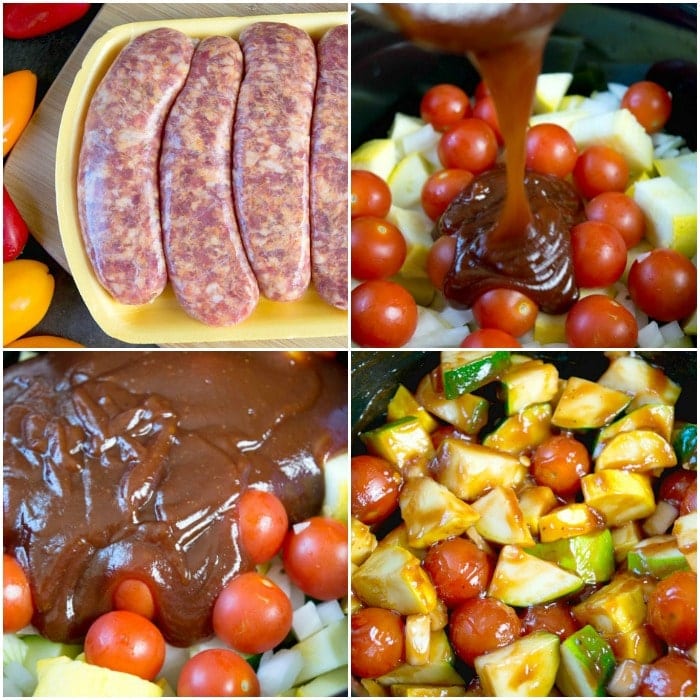 Crockpot Sausage Peppers and Onions with Sauce
Seasonings aren't really necessary because the meat has a lot of it already. Could add red pepper flakes for heat or salt and pepper if desired. This really is a dump and go kind of meal that you can make with as many different vegetables as you like.
If cherry tomatoes are in season get a few more of those, squash doesn't look good. Just omit this time. Using what is in season is key to making it taste super fresh and flavorful. The fresher the ingredients the yummier it is!
You can use your favorite bottled barbecue sauce, or make your own. I added a link to my suggestion above. 😉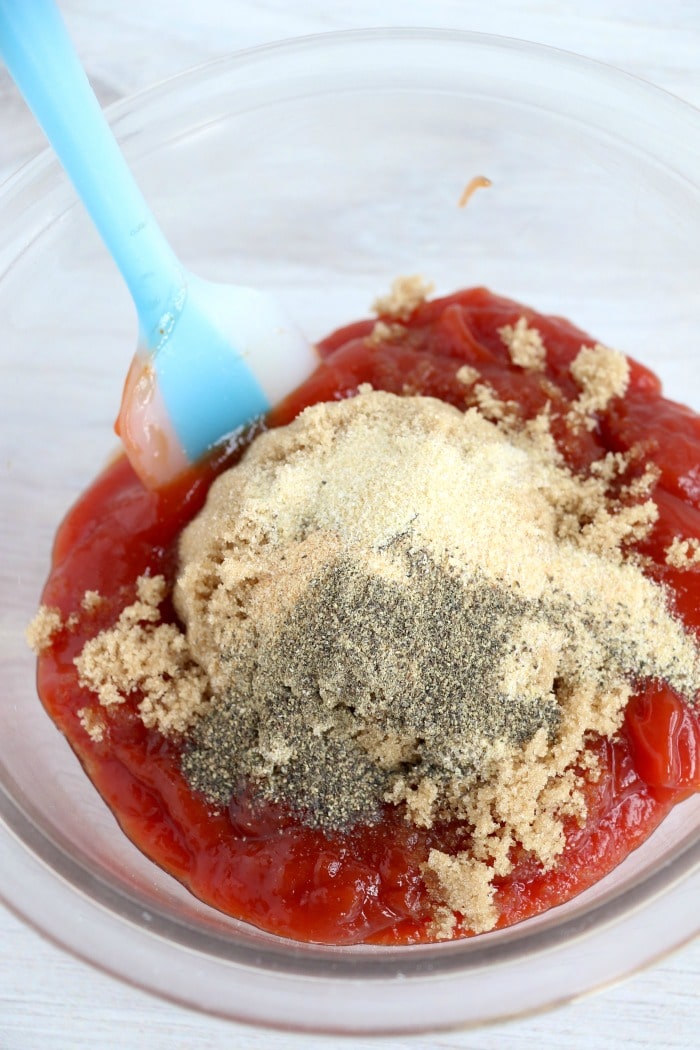 Slow Cooker Sausage
Just throw it all in, similar to our Instant Pot shredded chicken recipe and your dinner will be ready for you in 4 hours if you're in a hurry or 6 if you're willing to wait. I like it on low for a slow and lengthy cook time.
You can find everything you need at your local grocery store. If you want to thin out the sauce a bit just use water or chicken broth.
If you're looking to make smoked sausage with sauce in under 30 minutes. Try our Ninja Foodi sausage, Italian sausage air fryer and air fryer sausage recipes. Both turn out fantastic and much different from this one. This is because these three machines will make the outside nice and crispy. Some prefer that and others would rather have them soft, up to you.
Slow Cooker Sausage and Onions
Here is a quick step by step you can follow but a complete recipe card is at the bottom of this post. You could brown the outsides first on medium heat with olive oil on the stovetop. I generally don't because I'm looking for a throw together meal but go for it if you wish.
This would just add some more texture to the outside of your links and keep a bit more moisture in.
Put sausage links on bottom of your slow cooker. Cut into cubes or dice all of your vegetables. Mix vegetables with your barbecue sauce in a bowl, then pour on top of your sausages.
Cover and cook for 3-4 hours on high or 5-6 hrs. on low. Serve on rolls or over Instant Pot rice.
You can make this a lot faster though in a pressure cooker too. If you did forget to put this together in the morning do not fret. You can use basically the same ingredients and have it done in just 6 minutes!! That is right, throw the sauce, links and peppers inside and cook on high pressure in no time.
Follow our Instant Pot sausage and peppers recipe for those instructions.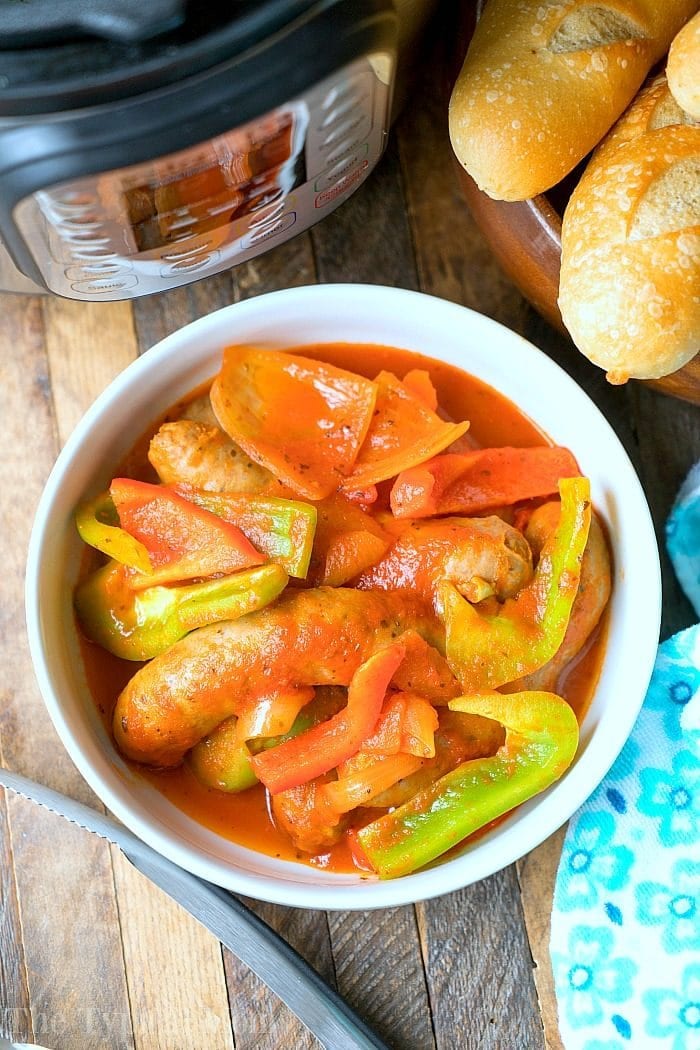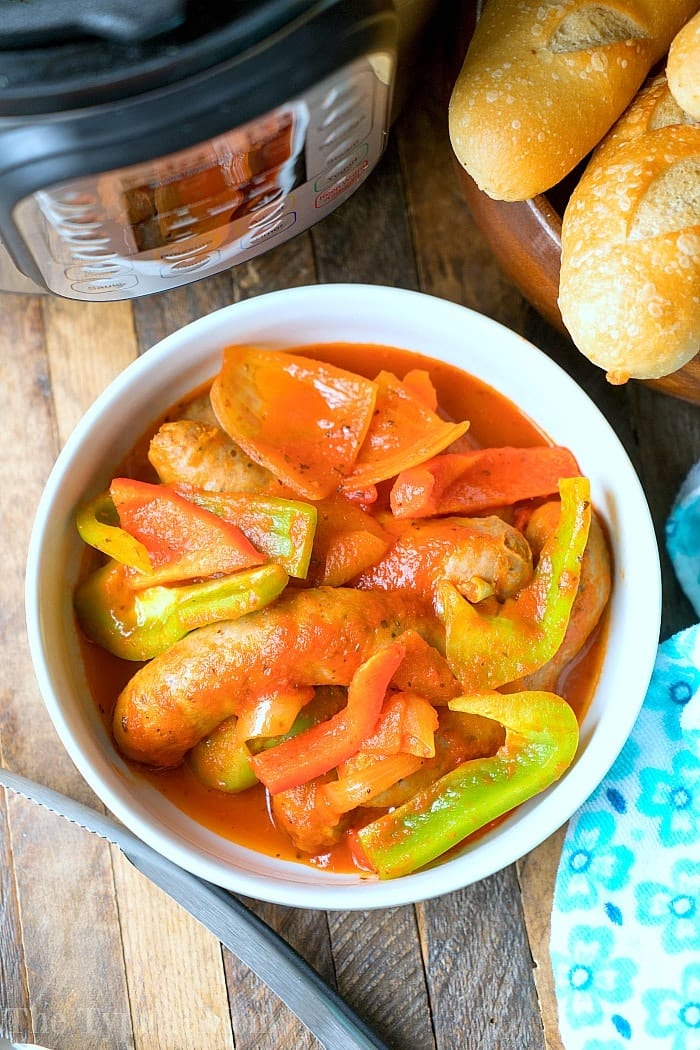 With either of these if you have leftovers they will keep quite well if stored properly. Use airtight containers or pint size freezer bags ideally. When everything is room temperature just spoon it in with as much sauce as possible to keep it moist.
Sausage and Peppers with Barbecue Sauce
Push all of the air out of the bag and seal well. Reheat and enjoy again up to 3 days later. If you don't think you'll eat it that fast it is better to freeze it. Then when you're ready put it in the fridge to thaw out. Once it isn't hard anymore put into a microwave safe dish and heat for 1 minute, stir and then 30 seconds to 1 minute more until warmed.
Slice into bite size pieces and you can stir it into some freshly steamed rice to make a sort of jambalaya creation. With some seasonings it is like a different meal with the same ingredients as the day before. Here's the printable recipe for this crockpot sausage and vegetables dish:
Want to see a few of my favorite things that I am totally obsessed with?? Take a peek and see how many you might already have…twinsies!
Looking for more easy family recipes and tips? LIKE The Typical Mom Facebook page?
Then sign up for my free newsletter, and follow me on Pinterest! 😉
***** If you LOVED this recipe give it 5 Stars below and let everyone know what you thought about it. 😉
Crockpot Sausage and Vegetables
Here's an easy crockpot sausage and vegetables recipe that is packed with protein and gluten free! Full of flavor and cooks all day in your slow cooker.
Instructions
Remove skins from your sausage links.

Cut into cubes or dice all of your vegetables.

Add sausages to bottom of your slow cooker.

Mix vegetables with your barbecue sauce in a bowl, then pour on top of your sausages.

Cover and cook for 3-4 hrs on high or 5-6 hrs. on low. Serve on rolls or over rice.
Nutrition Facts
Crockpot Sausage and Vegetables
Amount Per Serving (8 oz)
Calories 387
Calories from Fat 216
% Daily Value*
Fat 24g37%
Cholesterol 64mg21%
Sodium 949mg41%
Potassium 763mg22%
Carbohydrates 25g8%
Protein 16g32%
Vitamin A 2930IU59%
Vitamin C 123.5mg150%
Calcium 46mg5%
Iron 2.1mg12%
* Percent Daily Values are based on a 2000 calorie diet.