If you're ready to make a batch of cinnamon oatmeal for your family for breakfast this week, we have ALL the ways you can make this. Starting with our slow cooker steel cut oats with apples and cinnamon and sugar, that is just the beginning.
Slow cooker overnight cinnamon oatmeal is our favorite way by far. It is easy to throw together the night before for Christmas breakfast or on the weekend. Dress it up with fresh fruit on top and even your kids will love this Crockpot meal. (affiliate links present)
Overnight Crockpot Oatmeal
Below we will explain this method. If you love slow cooker breakfast ideas this is going to be a hit. On Christmas Eve we started a tradition where we made this the night before. Then when company came over I had an oatmeal bar set up with all the toppings, and served with breakfast quinoa too.
You can let your imagination go with this one. With all different kinds of milk, even chocolate, berries, dried fruit, nuts, pumpkin seeds, etc… It was a great start to the day especially with the kids. All the toppings are healthy so they can "design" their own and pile as much on as they wanted.
Slow Cooker Apple Cinnamon Oatmeal
There really aren't a lot of ingredients needed when you make this. The reason why we don't use quick oats is that they get soft pretty quickly and I wanted to be able to make it the night before. It's just one less thing to think about when you have a lot going on, especially during the holidays.
Water
Milk or almond milk or a dairy free version
Ground cinnamon
2 tbsp maple syrup, honey or brown sugar
1 apple peeled and diced into small bite size pieces, optional of course but super good
If you want to know How to Cook Steel Cut Oats instead we have several methods for you here, those take longer.
Is oatmeal with cinnamon good for you?
Yes! Oatmeal is rich in fiber and sticks with you for a few hours so it is a great way to start your day. Cinnamon supports gut health and lowers blood pressure so the two together is a healthy choice for breakfast or a snack.
Are rolled oats gluten free?
Yes! If you love oatmeal but have told you need to follow a gluten free diet you can still make your favorite oatmeal recipes for breakfast.
If you love a touch of fruit, give our peach baked oatmeal a whirl as well.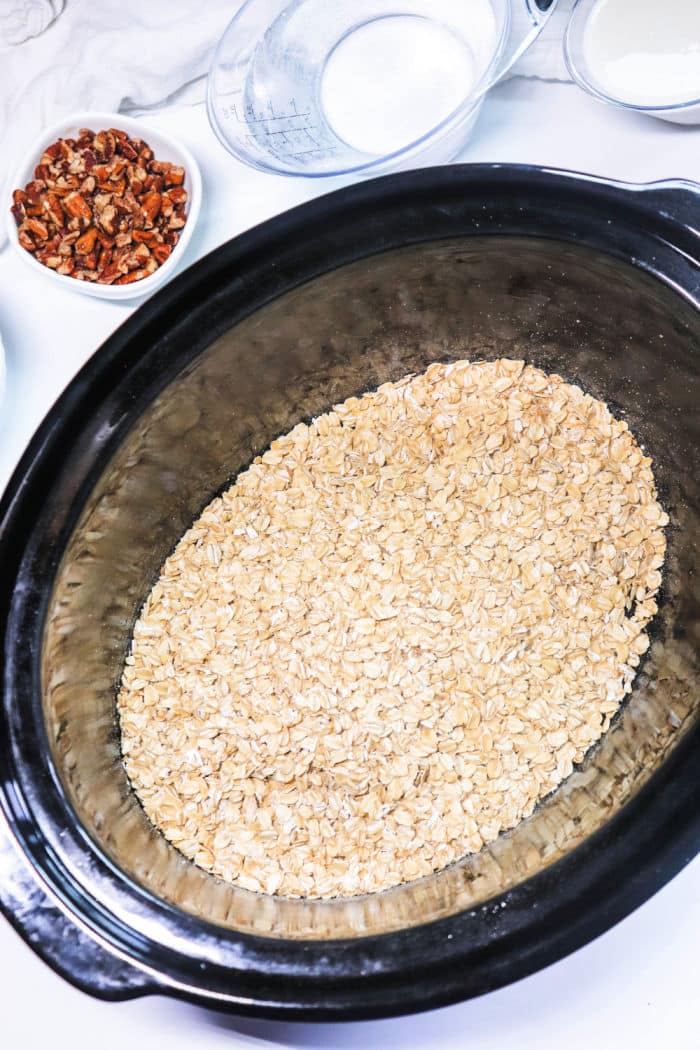 Can you use Instant Oatmeal for Overnight Oats
There are two versions of this term. One is made with milk, yogurt and chia seeds and kept in the fridge over night. This type is served cold with fresh fruit on top usually.
I do not use instant oats for this one either as I think it breaks down too easily. You can follow our easy overnight oats recipe for that.
The two ways I will use quick cooking oats is if I am making Ninja Foodi oatmeal or throwing it into the microwave real fast. It is good for that but after making it the other two ways I do like a bit more "grit" to it and not so soft. In the slow cooker oatmeal is really best with "old fashioned" as it states on the box.
Can you use slow cooker overnight?
It is said to be safe to use this in the 8 hours that you are asleep. Now if you are a fan of This Is Us show you may be hesitant to do so because of that one episode but assuming your electrical is up to date there shouldn't be any issues. 😉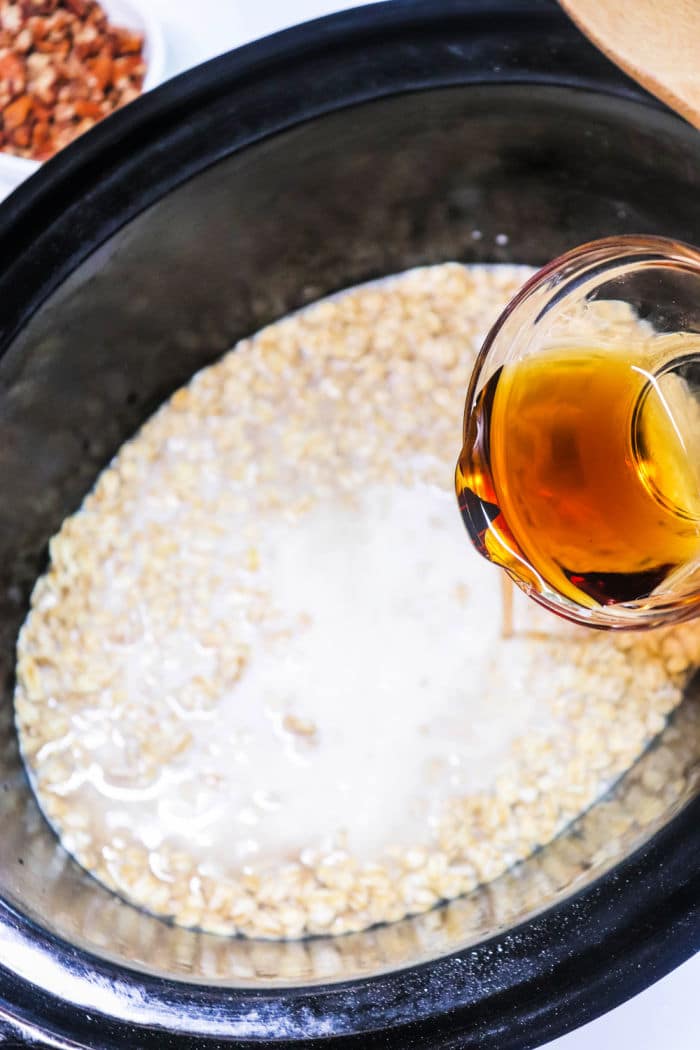 Brown Sugar Oatmeal
Now you're going to want to add in all of the flavors you want to really soak in. The best basic ones would be diced apples, cinnamon and sugar of course. There are others that work quite nicely too like dried cranberries and raisins I like sometimes as well.
How to Make Apple Cinnamon Oatmeal
What happens if you oversleep and it goes longer than this? Well it will begin to dry up more than you'd like but wouldn't be completely ruined. Better an hour less than an hour more but could be saved with some milk on each serving, stir to loosen, and a swirl of whipped cream wouldn't hurt. 😉
Spray the inside of your Crock pot with a bit of olive or coconut oil. Chop apples into small bite size pieces (or omit if you want).

Spread dry old fashioned oats in and then pour your water over the top.

Pour some milk into your pot too. Stir everything together. Add sugar or maple syrup (you can find sugar free brown sugar too if needed), cinnamon and chopped apples. Stir everything together.
Cook overnight (for 8 hours) on low. Scoop your cooked cinnamon roll oatmeal into bowls. You can loosen with a bit of fresh milk on top with some of your favorite fresh fruit, seeds, and even peanut butter!
During the Fall months a dollop of Pumpkin Jam is great on the top to add coolness and flavors.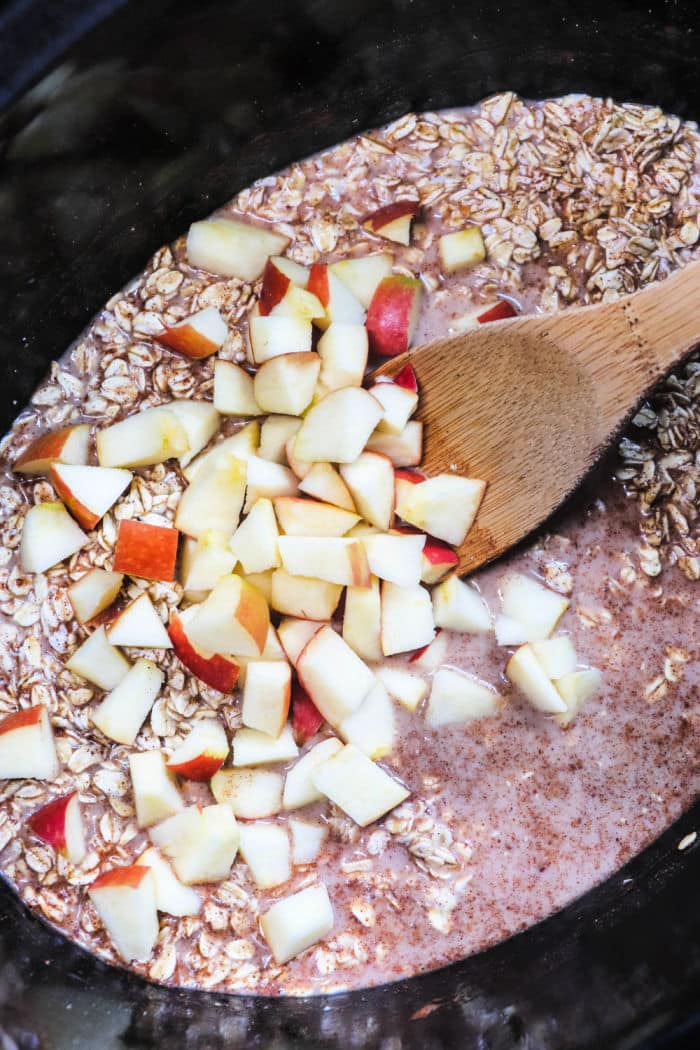 Slow Cooker Cinnamon Oatmeal
If you are making this as a Christmas brunch menu item I will share a few others we have made that are always a hit. You'll want some protein that day too in order to keep everyone going, especially if it is an all day affair. For that I suggest our slow cooker breakfast casserole with eggs, cheese and hashbrowns.
You can make crispy air fryer breakfast potatoes to balance out the softness of this dish.
Feel free to have all different types of fresh fruit as possible available to liven up each bowl with no added sugar but natural sweetness for sure. 1/2 cup for each person is about right if you're planning on shopping for this.
If you have a few who love what grandma made, you can make a pot of our Instant Pot grits too.
And then decorating the table lends to the holiday and fun for everyone too. You can print cinnamon oatmeal recipe below which lists nutritional facts and saturated fat. Keep in mind that only calculates exactly what is listed.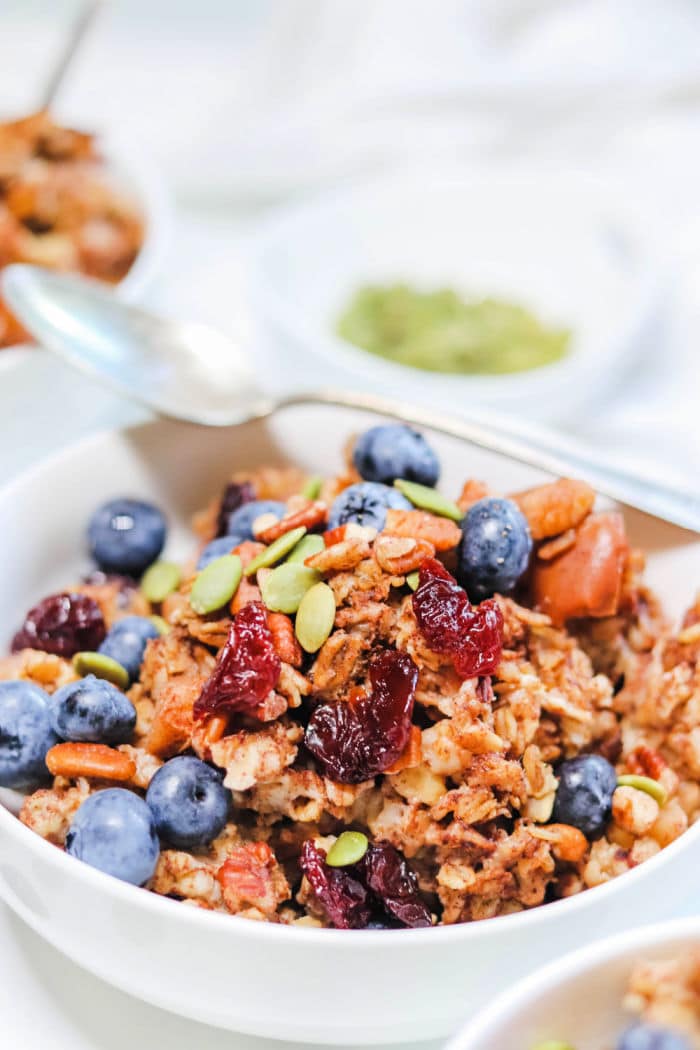 Want to see a few of my favorite things that I am totally obsessed with?? Take a peek and see how many you might already have…twinsies!
Looking for more easy family recipes and tips? LIKE The Typical Mom Facebook page?
Then sign up for my free newsletter, and follow me on Pinterest! 😉
***** If you LOVED this recipe give it 5 Stars below and let everyone know what you thought about it. 😉
Cinnamon Oatmeal
Overnight slow cooker cinnamon oatmeal is a great Christmas breakfast or start to the morning year round. Healthy using Old fashioned oats.
Instructions
Spray inside of crockpot with olive oil. Chop apple into small bite size pieces. Spread dry old fashioned oats into crockpot. Pour water over oatmeal.

Pour milk over oatmeal. Stir everything together. Add maple syrup (or brown sugar), cinnamon and chopped apples. Stir everything together.

Cover and cook overnight for 8 hours on low. Scoop cooked oatmeal into bowls. Can loosen with a bit of fresh milk on top and top with your favorite fresh fruit, seeds, and nut combinations.
Nutrition Facts
Cinnamon Oatmeal
Amount Per Serving (2 oz)
Calories 215
Calories from Fat 36
% Daily Value*
Fat 4g6%
Cholesterol 5mg2%
Sodium 25mg1%
Potassium 261mg7%
Carbohydrates 39g13%
Protein 7g14%
Vitamin A 86IU2%
Vitamin C 1mg1%
Calcium 97mg10%
Iron 2mg11%
* Percent Daily Values are based on a 2000 calorie diet.