Peach baked oatmeal in a casserole dish is a great breakfast with fruit! Using Old fashioned oats it's a creamy dish we love and can be dairy free too.
Instead of making just a quick batch of plain Ninja Foodi oatmeal this weekend, add canned fruit for extra sweetness! Baked oatmeal in the oven this can feed a crowd so it is perfect for larger events like Christmas brunch and baby showers. (affiliate links present, originally published 9/22)
Baked Oatmeal with Peaches
Yes you can make a batch of "regular" cinnamon oatmeal for breakfast and that is wonderful with fruit on top. BUT baked into the dish takes this breakfast item to a whole new level. You could use other varieties too if you wanted. Pear oatmeal, or even fruit cocktail would be a fun surprise inside every bite.
Can oats go in the oven?
Of course. For a dry version you can use it with nuts and sweetness to make homemade granola. For a creamier version, add milk and fruit but instead of boiling on the stovetop it's great baked in a casserole dish for about 30 minutes.
With all the great recipes using a dish like this on my site I like using either a glass or porcelain dish. It is easier to clean later on, and less mess. I'll spray the inside with some non stick spray like olive oil just so it slides out when served. Don't expect for it to slice nicely, it's more of a scoop and serve texture.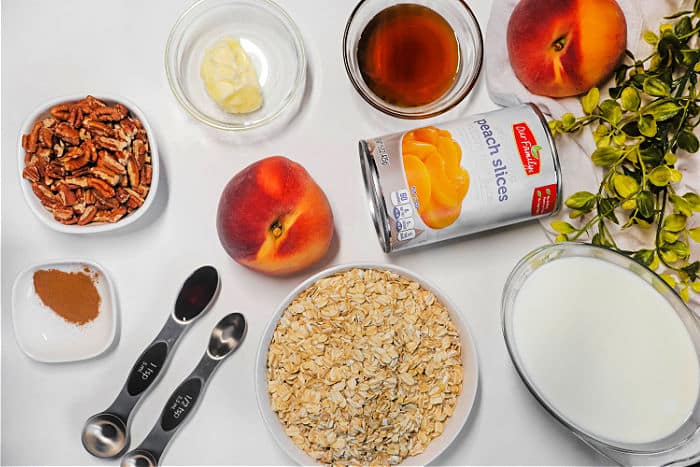 Baked Peach Oatmeal
I suppose you could use diced fresh fruit too like we did in our Cake Peach Cobbler. Peeling is a pain so I generally use canned or defrosted from frozen. 2 would be about right except that it is almost impossible to skin those and I think the texture of the skin would get weird. Fresh apples would be easier, cored and peeled like a potato. This is what we used to make this;
2 c Old fashioned oats, quick oats will get too mushy – don't use those
Almond milk for dairy free or whole / 2% milk
1 can peaches 15 oz drained, or 2 fresh peaches
Ground cinnamon
Vanilla extract
Some almond extract
Maple syrup or honey could be used but will be sweeter
Pecans chopped are optional of course
Butter softened, Country Crock has a dairy free vegetable spread
Used was a 8×11 casserole dish but slightly here or there would be fine. I wouldn't go much smaller but if you only had a 9×13″ then it would just be thinner so I would check a few minutes sooner so it doesn't dry out. Spray some olive or coconut oil inside so it doesn't stick to the sides so much.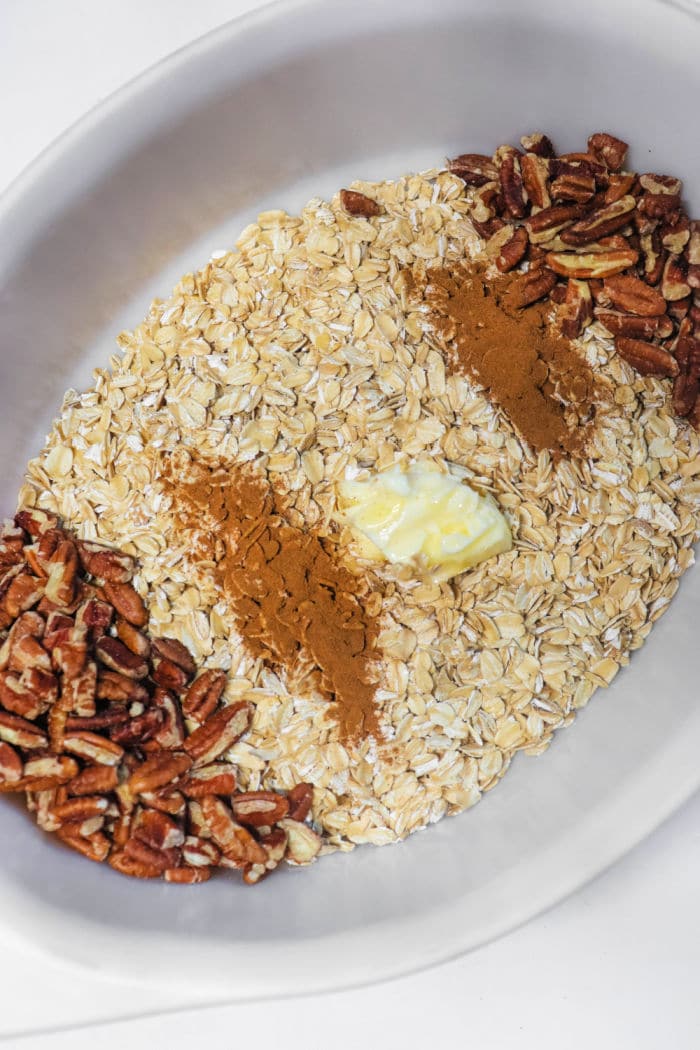 How to Bake Oatmeal in the Oven
This is just like any other sort of breakfast casserole of sorts. You just grease the inside, fold your ingredients together in a bowl (or the dish itself) and bake until the center is set. When it is done it will come out easier and set up a bit more if you allow it to sit and cool for about 10-15 minutes first.
Always spray the inside of your baking dish with non stick spray. Pour the oats inside. Add dry ingredients together; cinnamon, butter, and pecans in there.
Pour in your maple syrup, vanilla, almond extract and stir those oat bake ingredients all together.
Chop canned sliced peach into smaller bite size pieces, mix those in gently so they don't break apart with milk.
Bake at 350° F for about 35 minutes or until it is set in the middle. Serve warm with whipping cream on top.
I mean you could even serve this feel good recipe as a healthier dessert option (with or without a scoop of vanilla ice cream on top. If you were treating it as a breakfast dish some may like it in a bowl so they can pour more milk, or heavy cream over the top. Our pumpkin coffee creamer is even wonderful too.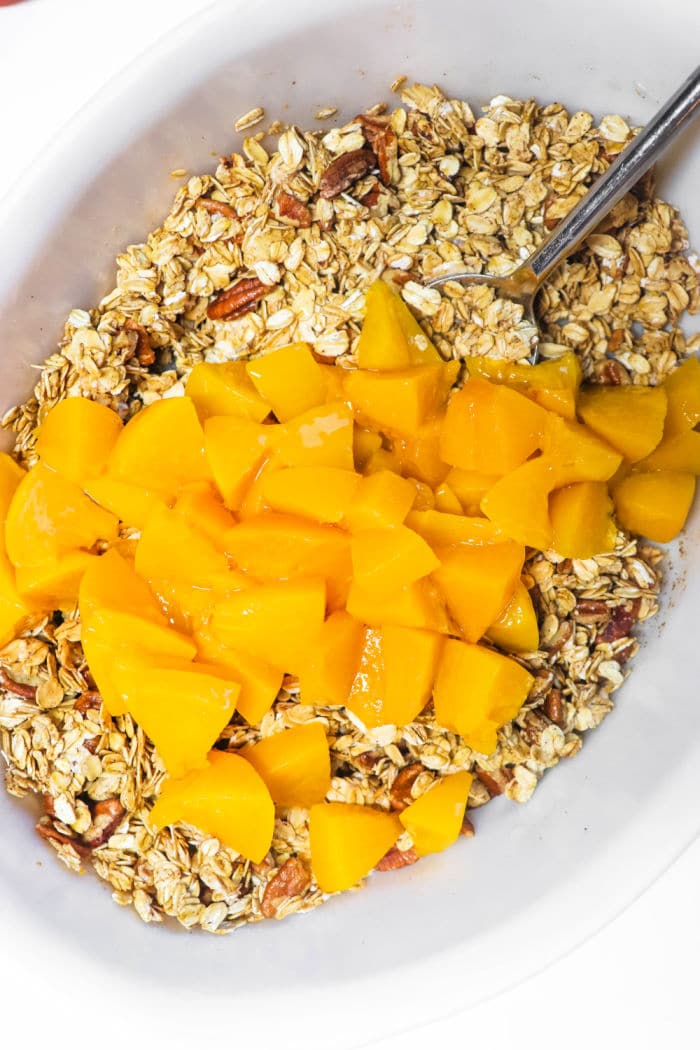 Peaches and Cream Oatmeal
To make more of a peaches and cream variety you'd just want to bake as shown below and then when it is served pour some heavy cream or oat milk over the top, stir some in and a little extra on the top.
This high fiber food can be used in so many other ways too. If you haven't tried savory oatmeal with egg that is another surprisingly wonderful breakfast idea. During the holidays it is really fun to create a breakfast bar with all sorts of choices. If you make a bunch of different varieties of oatmeal you can dress it up hundreds of different ways.
Baked Oatmeal Dillard Family
This is a bit like they make it but when with the whole family it is x4 or more. You could definitely double or triple it but you would need a much larger dish and wouldn't want to make it any thicker than this or it would be difficult to get it done in the middle. Alternatively, make 1 batch of this with 1 bundt peach cobbler pound cake too.
Baked Steel Cut Oatmeal
Instead of rolled oats you could use this very fiber rich alternative. You will need to set the oven to 375 F for this and it will take almost double the time, about 55 minutes or so. To make this get out a 8×8″ pan, spray with cooking spray and mix the following ingredients together, then pour into your greased pan;
3/4 cup steel cut oats
1 tsp baking powder
1/4 tsp salt
1 tsp cinnamon
1/4 tsp nutmeg
2 cups 2% or whole milk
3 tbsp butter melted
1 egg

if you choose to use flax eggs you'd need to use 1 Tbsp flaxseed + 3 Tbsp of water = 1 egg

2 tsp vanilla
1 cup diced canned peaches should be folded in after everything else is mixed so they don't break apart
You can chop nuts and sprinkle those on top before baking too if you like. For added sweetness some brown sugar can be sprinkled on your large bowl full of healthy breakfast goodness. Jump to recipe below and get started y'all. Let us know by leaving a comment below once you enjoy every bite.
Canned Peach Baked Oatmeal
Want to see a few of my favorite things that I am totally obsessed with?? Take a peek and see how many you might already have…twinsies!
Looking for more easy family recipes and tips? LIKE The Typical Mom Facebook page?
Then sign up for my free newsletter, and follow me on Pinterest! 😉
***** If you LOVED this recipe give it 5 Stars below and let everyone know what you thought about it. 😉
Peach Baked Oatmeal
Peach baked oatmeal in a casserole dish is a great breakfast with fruit! Using Old fashioned oats it's creamy and can be dairy free too.
Instructions
Spray inside of casserole dish with non stick spray. Pour oats inside. Add cinnamon, butter, and pecans to oats.

Add maple syrup, vanilla, almond extract and stir together. Chop peaches into bite size pieces, mix those in gently so they don't break apart with milk.

Bake at 350° F for about 35 minutes or until it is set in the middle. Serve warm with whipping cream on top.
Nutrition Facts
Peach Baked Oatmeal
Amount Per Serving (2 oz)
Calories 230
Calories from Fat 108
% Daily Value*
Fat 12g18%
Cholesterol 8mg3%
Sodium 133mg6%
Potassium 203mg6%
Carbohydrates 28g9%
Protein 4g8%
Vitamin A 269IU5%
Vitamin C 2mg2%
Calcium 127mg13%
Iron 1mg6%
* Percent Daily Values are based on a 2000 calorie diet.