Have you tried this 2 ingredient pineapple angel food cake recipe yet? It's a simple throw together dessert that's great when people come over unexpectedly.
I totally forgot about this easy pineapple angel food cake recipe until my daughter and I were throwing out dump cake recipe ideas and I remembered this one from years ago! I just can't resist a good throw together dump cake! For one thing I love dessert, I love easy, and always have to have a treat on hand when someone comes over unannounced (which happens quite frequently nowadays – which I love). Now on the list as one of our favorite easy dump cake recipes! (originally published 9/18, affiliate links present)
Let us know what you think of our cake mix and pineapple recipe!
You literally just TWO ingredients to make this angel food cake mix and crushed pineapple recipe. Some call it the Weight Watchers pineapple cake. I guess because there are very few points to it. 😉 You can find more Weight Watcher recipes here too.
Well that would be pineapple and angel food cake….duhhhhh…..beyond that it doesn't get much more difficult. 😉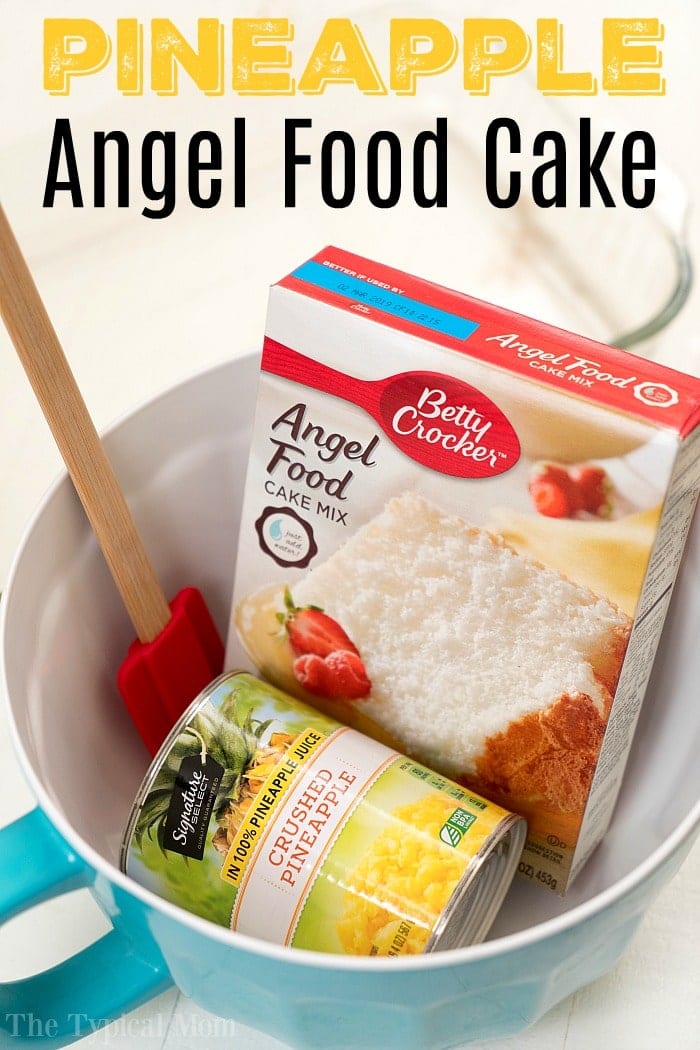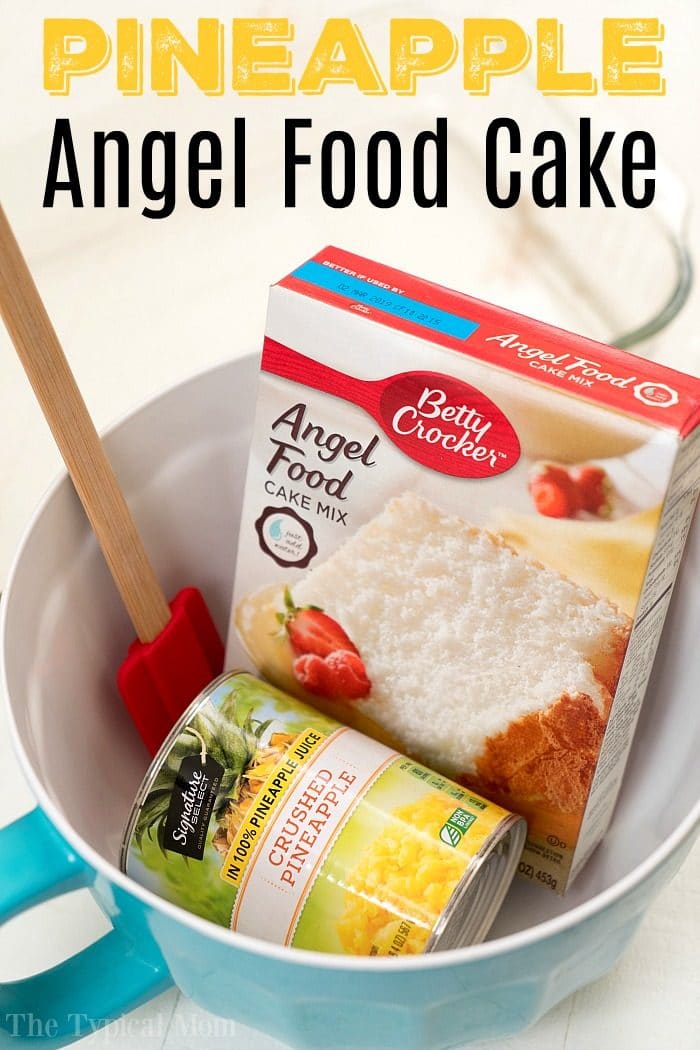 Of course you can use any brands you wish but I typically buy what is on sale, period!
There's no draining or cumbersome mixers required, just what you see here. I prefer a spatula over a spoon on this one because you need to be somewhat gentle with angel food cake mix. Let's just dirty one utensil shall we.
These are the basic steps:
Preheat oven to 350 degrees
In a bowl combine cake mix and can of crushed pineapple
Gently mix until all powder is combined well, do not overmix
Pour into 9 by 13 pan that's been lightly sprayed with non stick spray
When oven is up to temp. bake for 30 – 35 minutes until golden brown on top as seen
Allow to cool completely in pan before slicing
Can you use a 9×13 pan for angel food cake?
I don't unless I am making this.
There is no rule that says you must bake an angel food cake in a tube pan.
It can be made in a 9 X 13!
In a tube pan however it how it gets its height. It sticks to the sides and crawls up the pan.
You cool this version upside down. If using a 9 by 13 you don't invert the pan.
I'm assuming you'd made a traditional angel food cake before right??!!
I will admit I've never made one from scratch because well if I can buy it for under $3 in the store and it tastes fantastic without a lot of work on my part then ummmmm that is what I am going to do.
However….I will say this is my all time FAVORITE cake even as simple as it is mixed with water.
Growing up this was my pick each year my grandmother asked me what kind of cake I wanted for my family birthday dinner celebration. 😉
Of course she/and I always used the special pan to make it but this pineapple angel food cake recipe just needs your 13×9 pan you have right there in your cupboard….I know it's there……I prefer glass.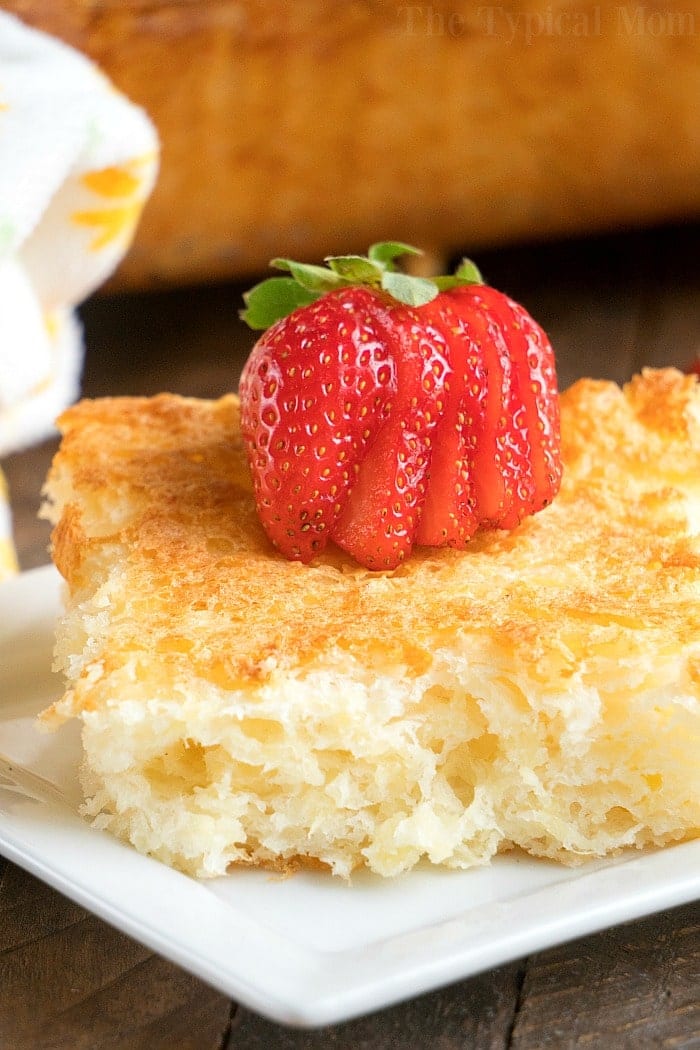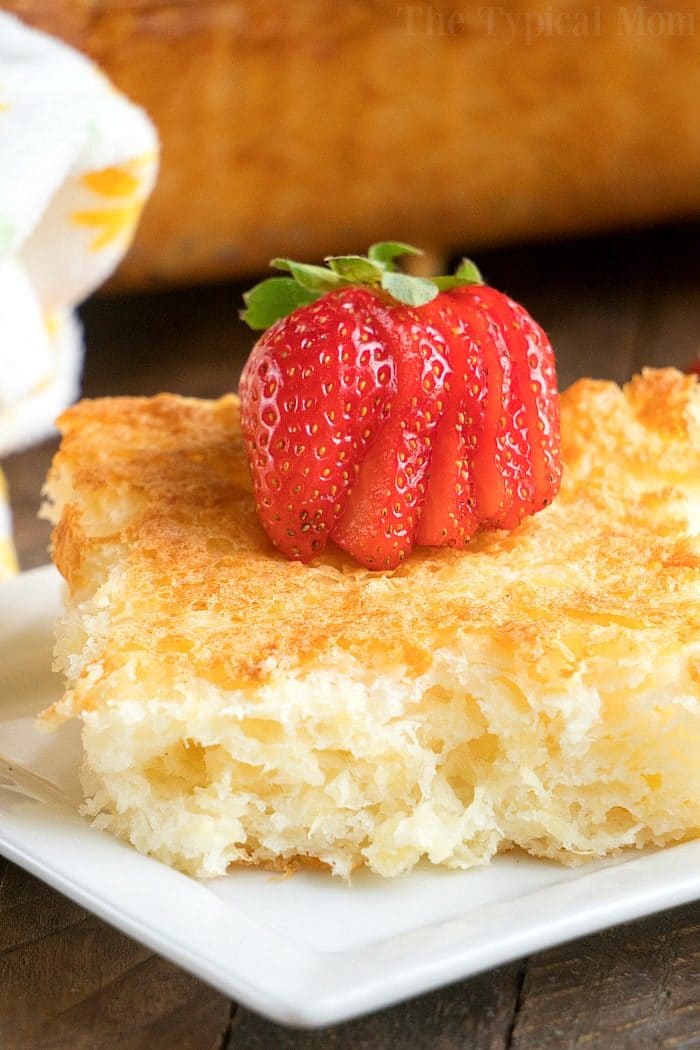 Don't forget to spray the inside with non stick spray because it will stick a bit, and let it cool when it comes out but once that is done it's light and fluffy like you remember but a bit more dense and filled with that yummy pineapple flavor!
I think next time I am going to have it cool, swipe a bit tub of whipped topping across the top and sprinkle it with coconut!!
Sometimes this is called the weight watchers pineapple cake because it's so low in calories but a great treat nontheless. 😉
Talk about taking this pineapple angel food cake recipe to the next level
This is all you need:
Large bowl
box of angel food cake mix
1 can of crushed pineapple
13×9 pan is used vs. a traditional tube pan
Here's a video showing you how I make it:
After you're done enjoying this you should try our other angel food cake recipes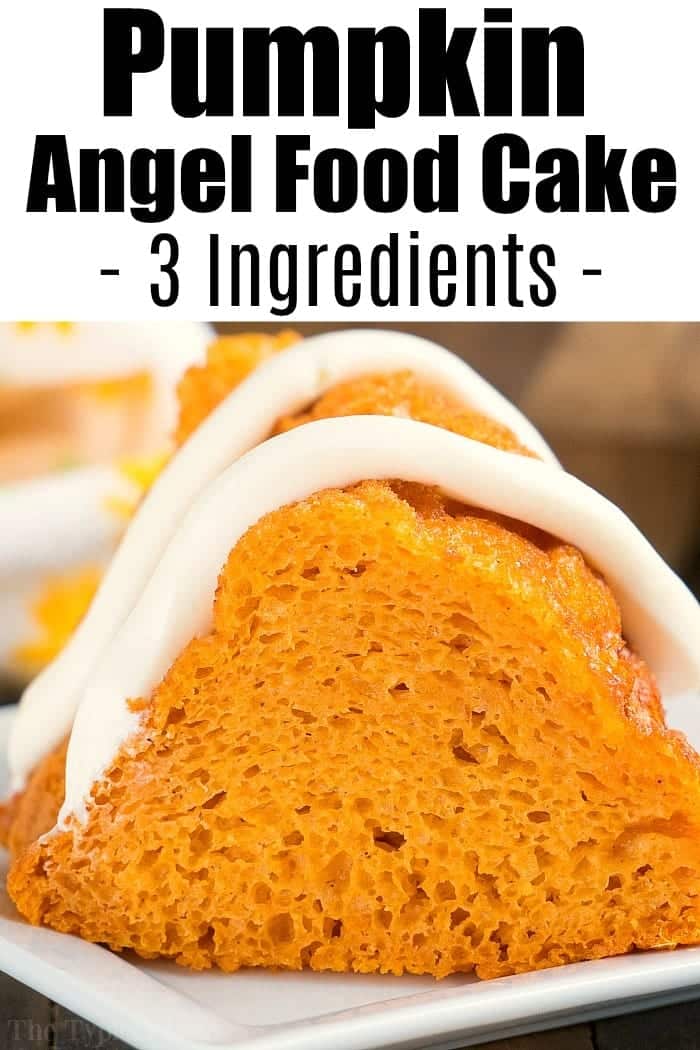 Here's the printable recipe. Nutritional information below. Daily values are based on a 2,000 calorie diet and are calculated by recipe card, not myself.
Pineapple Angel Food Cake Recipe
This 2 ingredient pineapple angel food cake recipe is a simple throw together dessert that's great when people come over unexpectedly.
Instructions
Dump angel food cake mix and crushed pineapple together and gently stir until all powdered mix is mixed in well. Preheat oven to 350 degrees.

Spray a 13x9 pan with non stick spray and pour this batter in, smooth out on top.

Bake for 30-35 minutes or until top is golden brown and middle is firming up when touched.

Allow to cool on cooling rack, cut and serve with berries is good.
Nutrition Facts
Pineapple Angel Food Cake Recipe
Amount Per Serving (3 oz)
Calories 199
% Daily Value*
Sodium 372mg16%
Potassium 111mg3%
Carbohydrates 47g16%
Protein 3g6%
Vitamin A 30IU1%
Vitamin C 5.4mg7%
Calcium 78mg8%
Iron 0.3mg2%
* Percent Daily Values are based on a 2000 calorie diet.
For more easy recipes, tips and free printables please LIKE The Typical Mom on Facebook and follow me on Pinterest! You can also sign up for my free weekly newsletter which is packed with goodies I know you'll love. 😉