Easy Angel Food Cake in a Mug recipe that takes just 1 minute and it's done to perfection! Perfect fat free dessert for one in a mug that's a guilt free treat.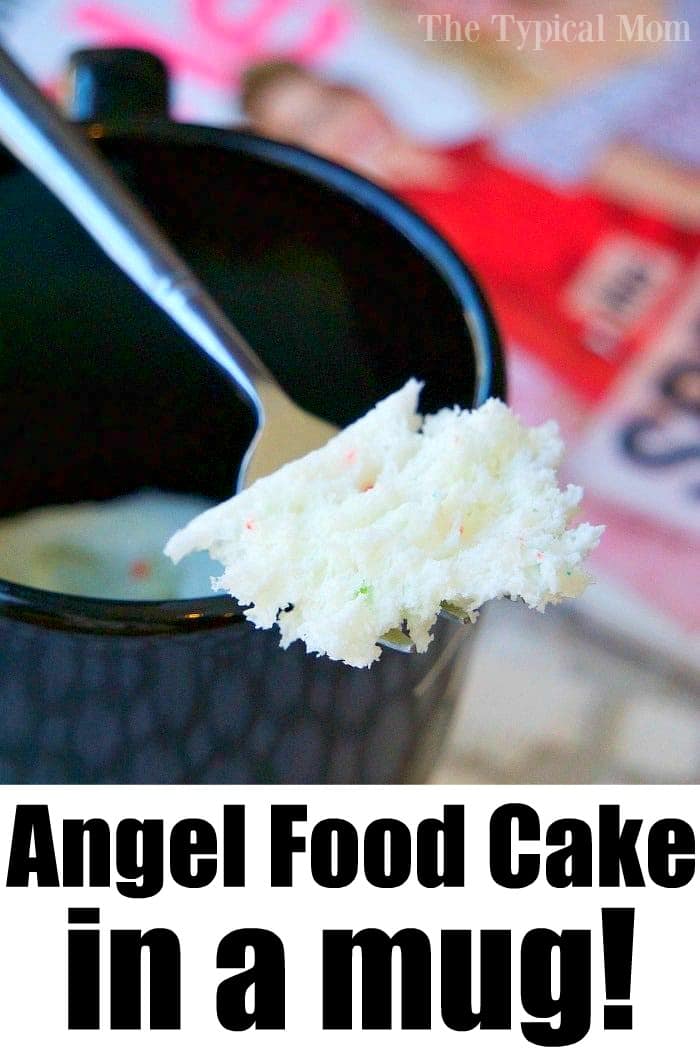 This angel food cake in a mug is just the perfect treat. My grandma used to make angel food cake for me on my birthday with strawberries on top so I guess it has added memories for me. I think it's just one of the best treats ever. Of course you can make the whole box but we are taking a ME moment. This is how to make a cake all to yourself. Sponsored by Kroger and StyleWatch. It's one of our favorite mug recipes. (originally published 3/17, affiliate links present)
Ok….so I'm a mom and most activities, thoughts, and purchases usually focus on my 3 girls but I deserve some ME time!! Let's just say we all do. 😉
There are a lot of things I enjoy doing but when I have just a few minutes to myself I love making myself something sweet and enjoying a few of my favorite magazines. I can see you nodding your head with me now….right??!!
How can you make Angel Food Cake in a Mug in just 1 minute?? I've got you covered!
I think as moms we all need to take a bit of time out for ourselves. I know for me it gives me time to clear my head, relax, and become a bit more creative.
At times like this I get the best ideas of places I'd like to go on our next family vacation, recipes I'd like to try (like this one), and just clear my head for the next day to start. Here's how you make this easy mug dessert so you can enjoy it on your free time too.
How to make Angel Food Cake in a Mug
Add 3 tbsp. angel food cake mix into a large mug
Add 2 tbsp. water
Stir well until combined, will froth up a bit
Microwave for 1 minute
Enjoy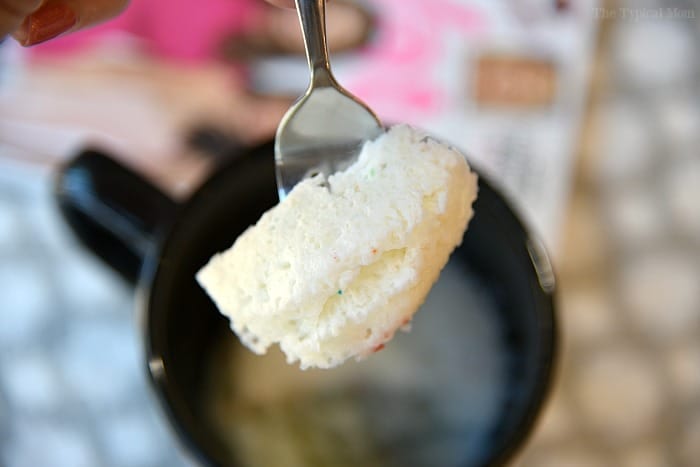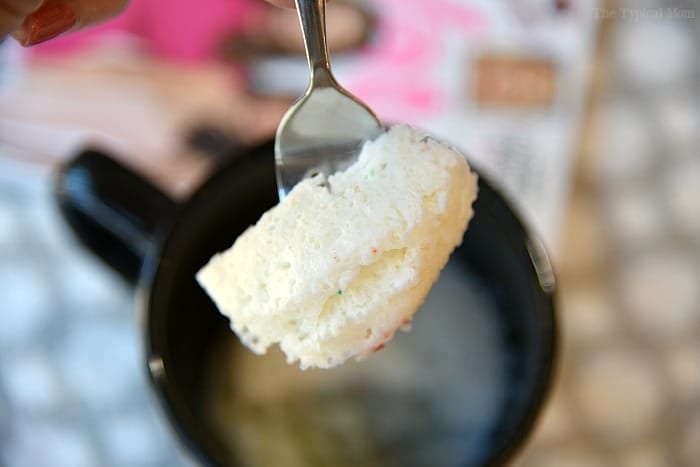 It's the perfect fat free dessert for one and you don't have to feel guilty because it's only a few bites! The time I have to actually sit down and read is so sporadic that I would rather have a magazine I can flip through, read a few articles, and save the rest until I have time to dig in again. These are perfect for that!
If you've never flipped thru this magazine it has really cute ideas of what shoes go with what, ways to transition a casual outfit to a more formal one easily, & easy ways to take care of yourself.
I personally like the tips on must haves when you're on a budget, 161 in this issue…..so you don't feel guilty "spoiling" yourself. 😉
Yes I do share. Since I have 3 girls they love flipping thru the pages too (especially my 16 year old). It goes thru 4 hands before landing on our coffee table for others to enjoy.
I've taught them the angel food cake in a mug trick too so they can make a treat themselves occasionally. It's a win win for everyone. 😉
But wait!!! We have other angel food cake mix recipes to try too!
Our peach angel food cake is very popular with everyone.
Angel Food Cake in a Mug
Ingredients
3

tbsp

angel food cake mix

2

tbsp

water
Instructions
Add 3 tbsp of angel food cake mix into a large mug

Add 2 tbsp. water. Stir well until combined, will froth up a bit

Microwave for 1 minute. Enjoy
Video
Nutrition Facts
Angel Food Cake in a Mug
Amount Per Serving (1 oz)
Calories 162
Calories from Fat 9
% Daily Value*
Fat 1g2%
Sodium 366mg16%
Potassium 40mg1%
Carbohydrates 38g13%
Protein 3g6%
Calcium 68mg7%
* Percent Daily Values are based on a 2000 calorie diet.