2 ingredient cookies made with angel food cake mix are fun! A light dessert with just 5 Weight Watchers Smart Points, you can use any flavor of soda pop you like. One of our favorite cake mix hacks we make often on the weekends for a quick treat.
Have you ever made these 2 ingredient angel food cake mix cookies? If you have soda pop and this cake mix you can make an endless variety of desserts in no time. Let us know which combination you try! (affiliate links present)
Angel Food Cookies
SO this came about after I mistakingly ordered 3 boxes of angel food cake mix twice. Needless to say we needed to do a little experimenting. We made this 2 ingredient cake once and thought that might work with this. BUT thought we'd try cookies instead! Using some pineapple soda we had, they turned out really good, so we thought we'd share with you.
Sweet for sure. Soft and chewy they were, and had a hint of fruit flavor at the end. There really are a lot of angel food cake mix recipes, beyond just the fluffy cake you had as a kid.
Angel Food Cake Mix Cookies
Literally all you do is mix the two together gently, just so the dry mix is incorporated, and dollop it on. I like using a non stick baking sheet of course because it makes clean up easier. They are a bit tacky, just like when you make the cake so if it isn't just spray it with a bit of olive oil spray.
2 Ingredient Cookies
Talk about easy peasy right? I mean takes 5 minutes to fold together gently and there are tons and tons of flavors you can create depending on what soda you use. If you are pure Coca Cola fans then go with that for a sweet and deep flavor. You can now find all kind of fruit flavors too though like strawberry or grape.
1/2 cup Soda

any flavor will work
strawberry, pineapple or grape are fun

Baking sheet

non stick, or use parchment paper
If you love super easy cookie recipes so you can cook with your kids, these are perfect for that. Get your non stick cookie sheet out and get going.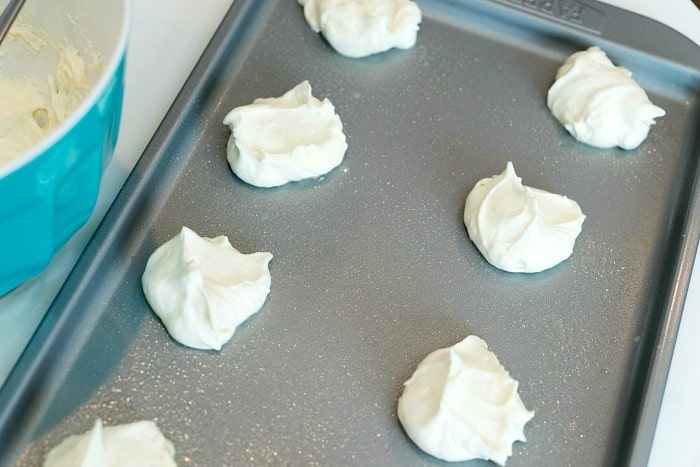 2 Ingredient Sugar Cookies
I have found other 2 ingredient cookie recipes using quick oats or old fashioned oats. I personally prefer to bake those really. To me the texture is just too much if not softened in the oven with overripe bananas or peanut butter or something.
As far as making something without brown sugar, and just 2 pantry ingredients, these were great. You can throw them together in about 15 minutes and enjoy a treat together. Another plus is that this mix is gluten free and flexible with the flavor of soda pop you use.
Soda Pop Cookies
Our pumpkin angel food cake is amazing too, but if a peach cake is more like it we have that too! There are just so many ways to tweak the flavors of this otherwise plain dry mix found in a box.
Our 4 ingredient banana bread is always a family favorite.

feel free to add a handful of mini chocolate chips to this also to make it really over the top YUM

Have more mashed bananas? Make our banana zucchini muffins too.
This cherry pineapple dump cake is a throw together after dinner treat too. I use yellow regular mix for this one to get it denser and can hold up with the pie filling included within it.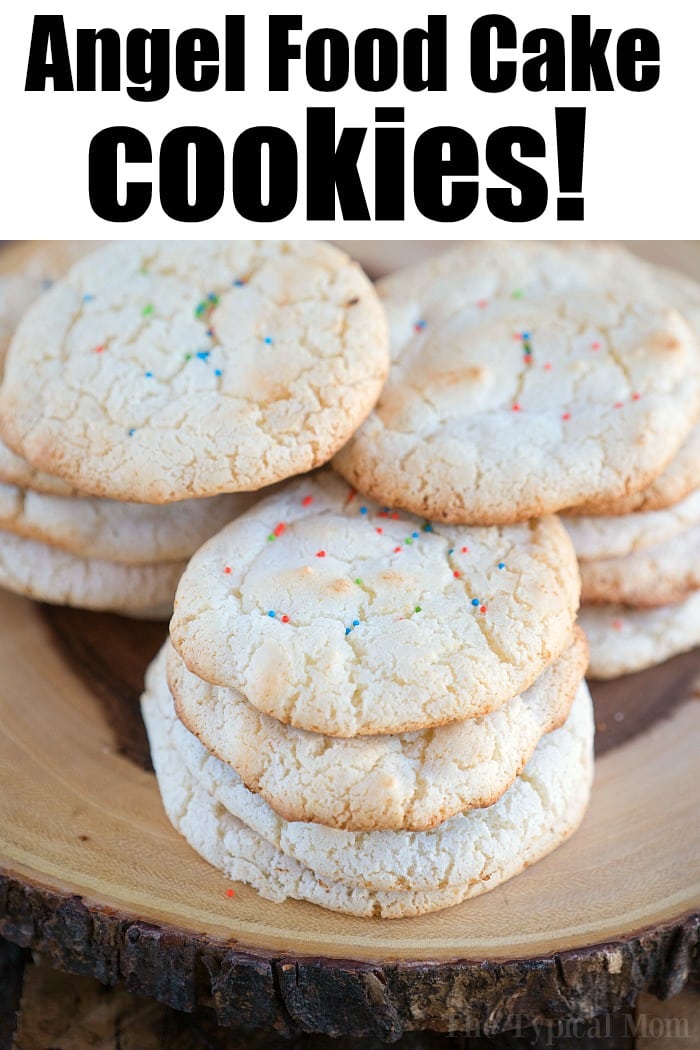 Cookies with Angel Food Cake Mix
Want to make a smaller batch of this in another form? Try our strawberry cake in a mug that only needs 2 ingredients too. Angel food cake mix is a convenient and versatile baking mix that simplifies the process of making it. Here's some information about it.
This type of light airy mix typically includes ingredients such as superfine sugar, cake flour, and powdered egg whites. Some mixes may also contain stabilizers and leavening agents.
Using a boxed cake mix can save you time and effort compared to making angel food cake from scratch. It eliminates the need to separate eggs, sift ingredients, and measure everything precisely.
Most mixes come with detailed instructions on the packaging. These instructions typically involve adding water to the mix and beating the mixture until it reaches the desired consistency.
While classic mix has a light and fluffy texture with a mild vanilla flavor, you can customize your cake mix by adding extracts, flavorings, or mix-ins like we did with our chocolate angel food cake, add citrus zest, or crushed nuts to create unique variations.
This can be enjoyed on its own, topped with fresh berries and whipped cream, or used as a base for other desserts like trifle or strawberry shortcake. It's a low-fat and cholesterol-free dessert option.
If you have dietary restrictions or preferences, you can find mixes that are sugar-free, gluten-free, or made with organic ingredients.
Store dry cake mix in a cool, dry place in an airtight container or its original packaging. Be sure to check the expiration date for freshness.
These dry mixes make it easier for home bakers to enjoy this classic, light, and airy cake without the complexity of traditional recipes. They are a convenient option for both beginners and experienced bakers looking for a quick and delicious dessert option.
Once you've fallen in love with this, you'll have to try our pineapple angel food cake too!! With just 2 ingredients (not the same as this one) it is incredibly moist.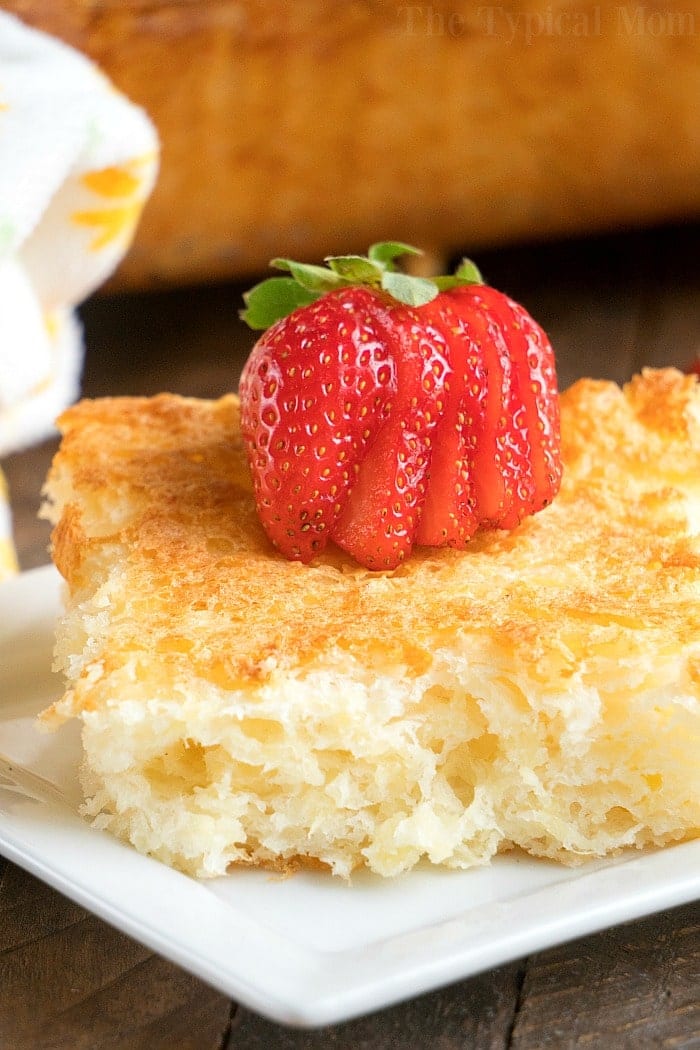 Want to see a few of my favorite things that I am totally obsessed with?? Take a peek and see how many you might already have…twinsies!
Looking for more easy family recipes and tips? LIKE The Typical Mom Facebook page?
Then sign up for my free newsletter, and follow me on Pinterest! 😉
***** If you LOVED this recipe give it 5 Stars below and let everyone know what you thought about it. 😉
Angel Food Cake Mix Cookies
Angel food cake mix cookies only need 2 ingredients! A light dessert with just 5 Weight Watchers Smart Points, you can use any flavors you like.
Ingredients
1

box

angel food cake mix

if yours has a separate packet of egg whites, mix those in well before adding liquids.

1/2

c

soda

we used pineapple soda
Instructions
Preheat oven to 350 degrees.

Use a hand mixer to blend soda with angel food cake mix, just enough until combined, light and fluffy.

Spray non stick spray on a cookie sheet and put a heaping tablespoon of cookie mix on sheet. It will spread out quite a bit so don't put them close together.

Bake for approx. 9 minutes or until tops get very lightly golden brown. Remove and allow to cool on cookie sheet to firm up a bit.
Nutrition Facts
Angel Food Cake Mix Cookies
Amount Per Serving (2 oz)
Calories 138
% Daily Value*
Sodium 312mg14%
Potassium 34mg1%
Carbohydrates 32g11%
Protein 2g4%
Calcium 58mg6%
Iron 0.1mg1%
* Percent Daily Values are based on a 2000 calorie diet.