This 2 ingredient strawberry cake is amazing and so easy to make! It's egg free, moist, and lower in calories, but you won't miss a thing.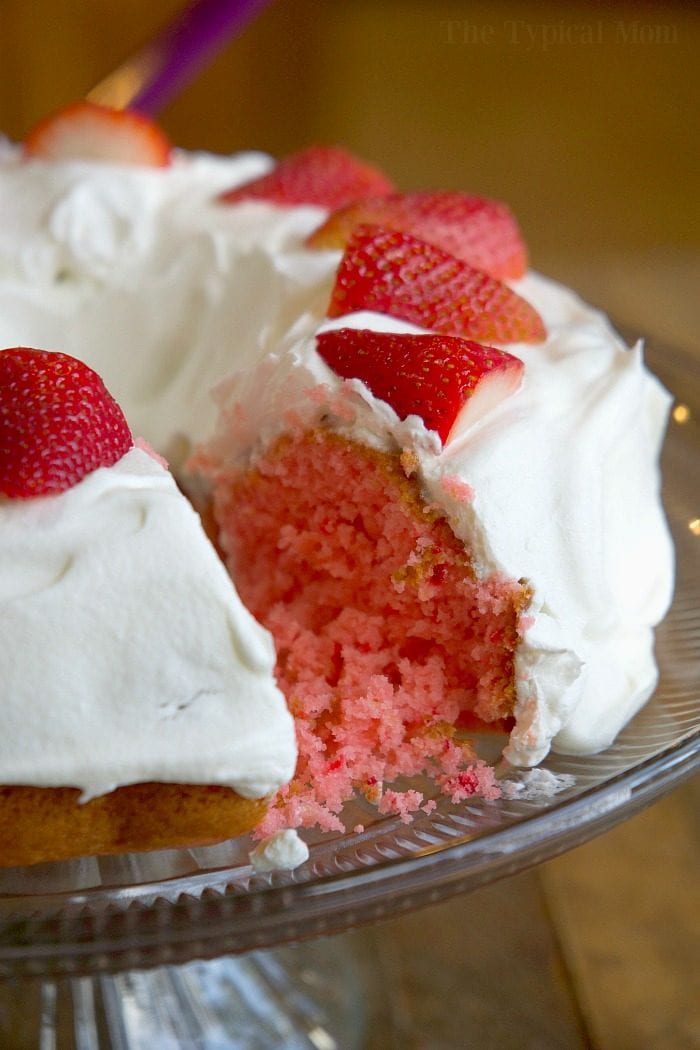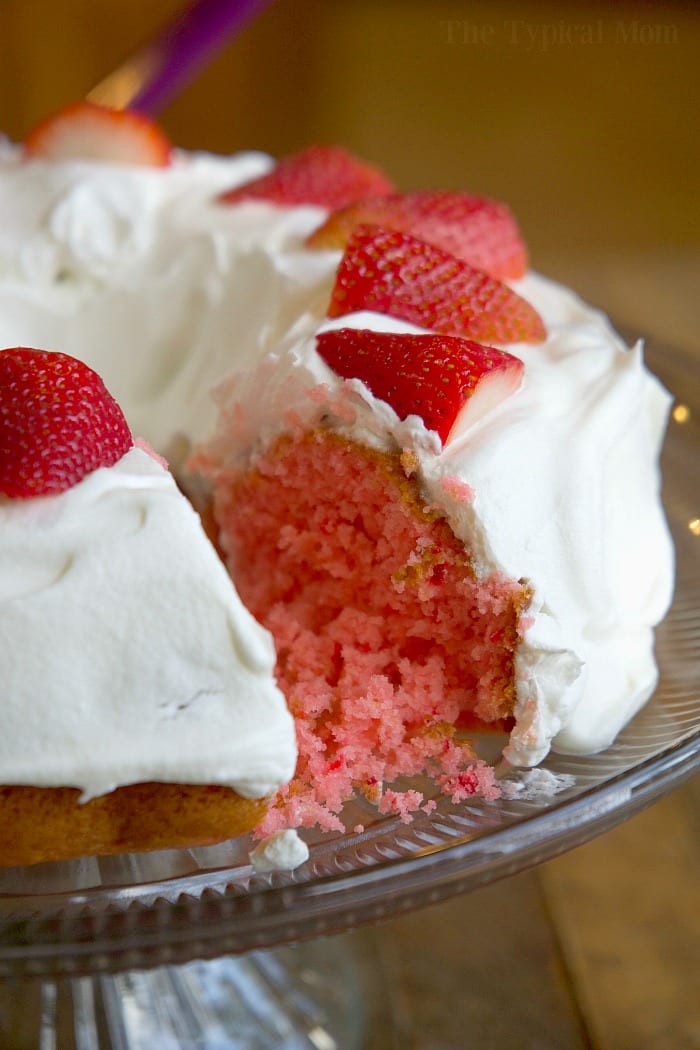 I love easy desserts and just recipes in general, that is where this 2 ingredient strawberry cake comes into play. You know when you are planning on baking something but realize you are out of eggs (or can't eat eggs), or you're supposed to bring a treat to this afternoon's potluck and you have less than an hour to do it in. Well this cake is perfect for that, or to make just because. It's super moist, has fewer calories since you need no eggs or oil to make it, and if you use a light version of everything you can really call it a skinny cake! It reminds me of the strawberry cake in a mug we make pretty often, just in a larger form so you can share. 😉 (affiliate links present)
Want to know what's in our 2 ingredient strawberry cake?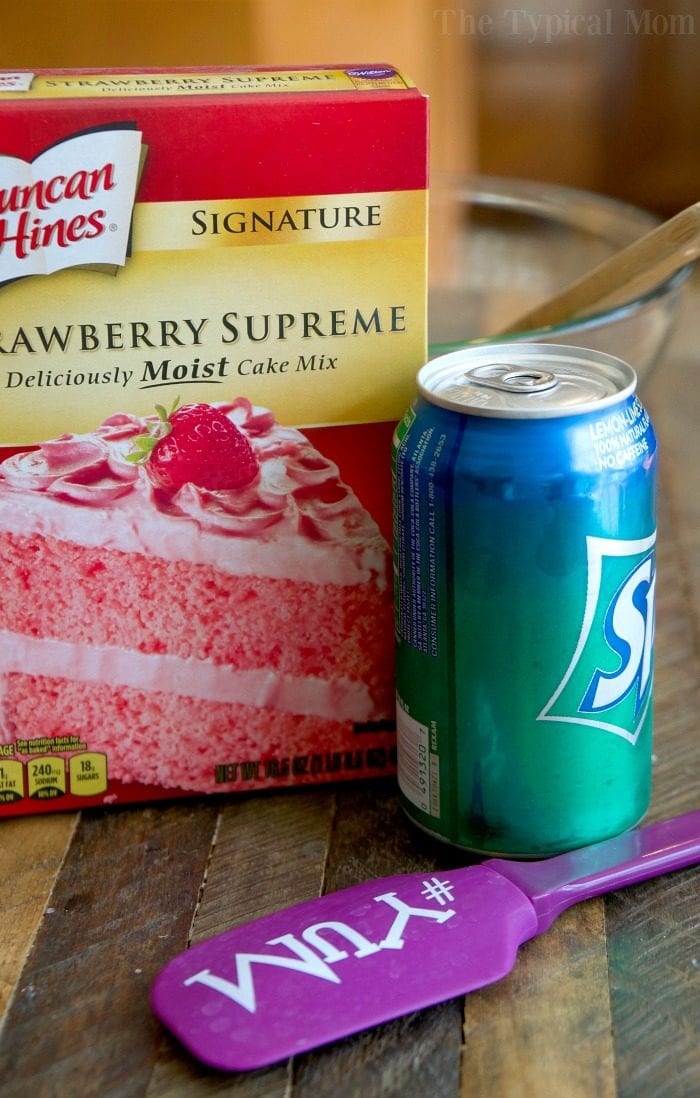 It's not brand or even flavor specific. Meaning you could use Sprite or 7 up, and even use chocolate cake instead of strawberry if you'd rather.  I have to tell you I was a bit skeptical when my friend mentioned she had made this and it was pretty good, so I had to try it myself. It's not as though I am necessarily watching my weight, but if I could have a bit more…..I'd be down with that. 😉 Use a 13×9 pan or a I prefer using a pretty bundt pan for cakes myself.
You could use a lot of different frostings for this 2 ingredient strawberry cake too.
Melt a tub of ready made frosting and pour it on
Mix powdered sugar and water and pour that "frosting"/ glaze on
Use whipped topping (light or regular, like I did)
Here are a few other 2 ingredient soda cake mix combinations that have worked out well too!
Chocolate cake mix + chocolate soda
Chocolate cake mix + Coke (I did this and made peanut butter filled cupcakes in jars with it)
Lemon cake mix + lemon lime soda
Spice cake mix + ginger ale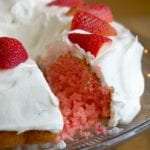 2 Ingredient Strawberry Cake
This 2 ingredient strawberry cake is amazing and so easy to make! It's egg free, moist, and lower in calories, but you won't miss a thing.
Ingredients
1

can

Lemon Lime soda

12 oz.

1

box

cake mix

1

tub

whipped topping

optional

sliced fruit to top

optional
Instructions
Add cake mix and soda in a bowl.

Use a mixer on low to mix and make sure no lumps are left.

Spray bundt pan or cake pan with non stick spray and pour cake mixture in.

Set oven to time on cake box (ours was 350) and bake for approximately 30 minutes or until cake springs back when touched in the middle.
Nutrition Facts
2 Ingredient Strawberry Cake
Amount Per Serving
Calories 67
Calories from Fat 18
% Daily Value*
Total Fat 2g 3%
Sodium 17mg 1%
Potassium 79mg 2%
Total Carbohydrates 10g 3%
* Percent Daily Values are based on a 2000 calorie diet.
I will say it a bit more dense than a traditional cake with egg and oil but it is a very slight difference in our opinion (asked kids too). Garnished with some fresh fruits it is really a pretty cake and perfect for picnics, barbecues, and especially during the Summer when there are tons of fruits to choose from! Use lemon cake mix and make a tropical version with coconut sprinkled on top and pineapple tidbits.
Looking for more easy recipes using cake mix?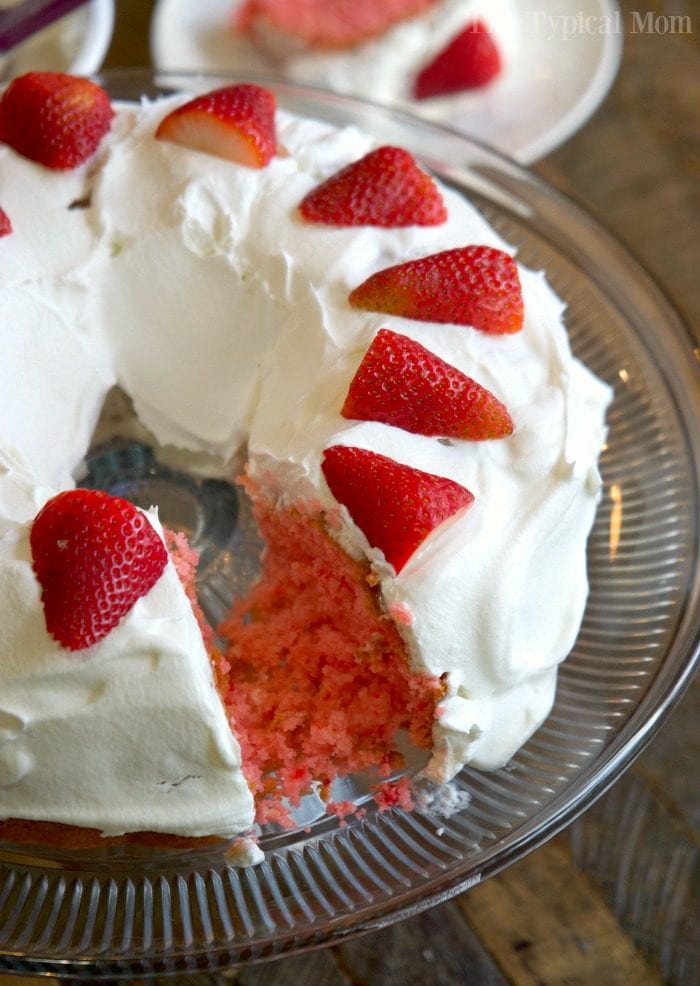 For more easy recipes, tips and free printables please LIKE The Typical Mom on Facebook and follow me on Pinterest! You can also sign up for my free weekly newsletter which is packed with goodies I know you'll love. 😉