Do you love a warm bowl of soup and some delicious bread on the side on chilly evenings, us too!! I found a few soups that are easy to make, and made some bacon cheese pull aparts to along with them the other night and boy was it delicious! Let us show you just how easy this meal is to make, believe me you'll want to try it when we're done. 😉 Special thanks goes out to Idahoan® Premium Steakhouse® Potato Soups for sponsoring this post so we could share our dinner idea with you.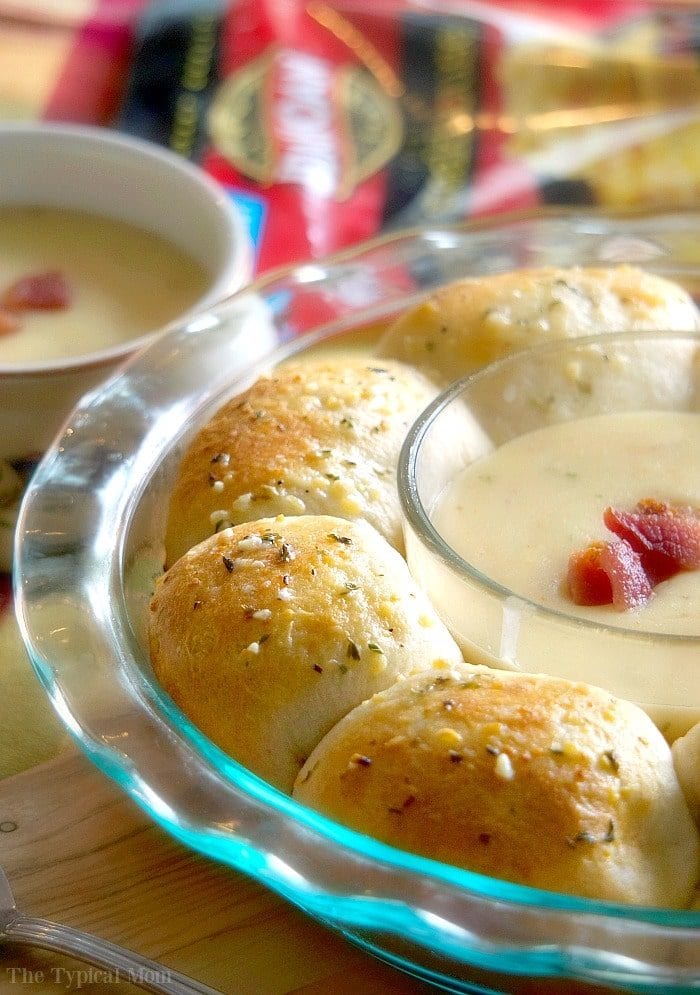 I know…amazing right??!! Served together with Loaded Potato soup in the middle kept warm by the bacon cheese pull aparts around it, it's really the perfect comfort food meal! Unlike other soups loaded with goodies like bacon bits and more it can take you hours and hours to cook and simmer until it's one, but not with Idahoan® Premium Steakhouse® Potato Soups! Each one just takes 5 minutes  to finish and you only need water to make them. Fabulous when you have a busy family like ours, but want a hearty meal when you get home.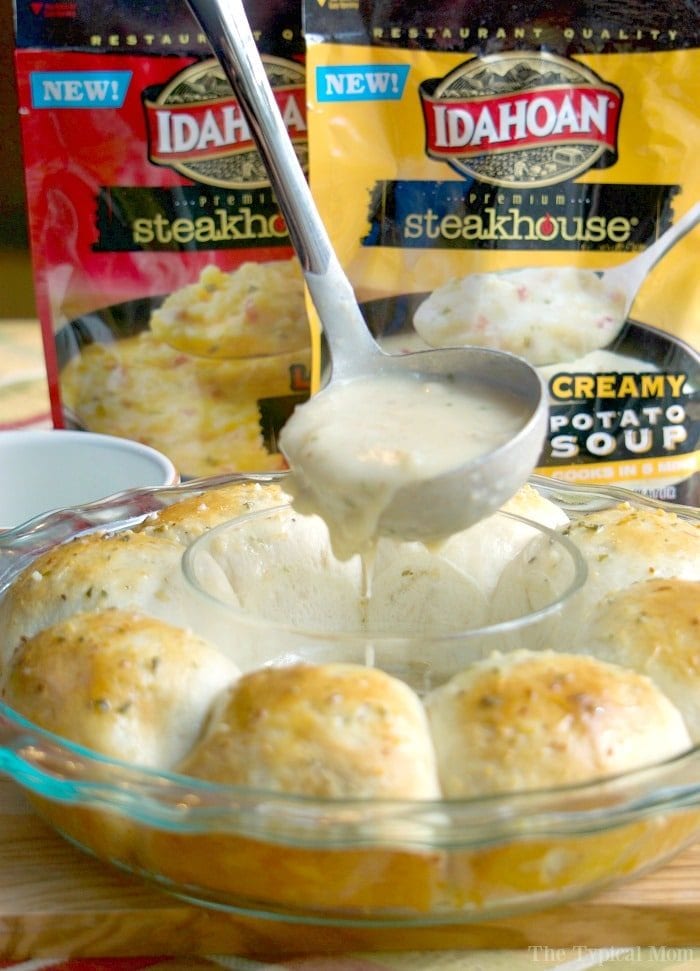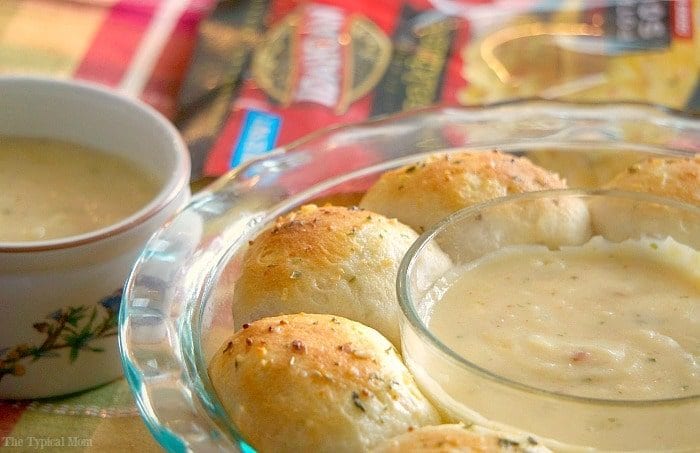 If you're looking to recreate a steakhouse experience at home you can do it easily! Using one glass dish and a glass bowl in the middle it is easy to make these bacon cheese pull aparts to serve with your hearty soup. Once they're baked and ready you just pour your soup in the middle and serve the whole thing. It's perfect for two if you're making a "romantic evening" together without the kiddos, or serve in the middle so everyone can share. It's like getting restaurant-quality right in the comfort of your own home…love that. Here's the entire recipe.
Bacon cheese pull aparts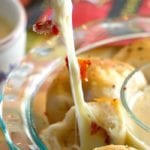 Bacon cheese pull aparts
Bacon cheese pull aparts are a perfect side to any soup! Filled with ooey gooey cheese, garlic, and bacon they taste amazing!
Course:
Appetizer, Side Dish, Snack
Ingredients
1

pouch Idahoan® Premium Steakhouse® Potato Soups

4

cups

water

1

container refrigerated biscuits

3

strips cooked bacon

cut into pcs.

8

lg. pcs. of mozzarella cheese

1/2

stick melted butter

1

tbsp

. minced garlic

1

pinch oregano
Instructions
Flatten 1 large biscuit, place 1 pcs. cheese in middle, sprinkle cooked bacon, put about 1/2 tbsp. melted butter/minced garlic mixture in middle. Fold 2 sides up, pinch. Fold other 2 sides of biscuit up and pinch well so contents of biscuit are well sealed. Spray pie plate with non stick spray. Place soup bowl that is safe to put in oven in middle. Put sealed portion of biscuit on the bottom and on the perimeter of your soup bowl. Continue with this until all 8 are done. Brush with melted butter/garlic mixture on top of biscuits. Put in oven at 350 degrees for approx 15 minutes or until top of biscuits are browned. Boil 4 c. water, then add pkg. of Idahoan® Premium Steakhouse® Potato Soup and reduce heat to low/medium. Cook for 5 minutes stirring occasionally. Take off burner. Pour soup into soup bowl when biscuits are done. Serve.
Nutrition Facts
Bacon cheese pull aparts
Amount Per Serving
Calories 82
Calories from Fat 54
% Daily Value*
Total Fat 6g 9%
Cholesterol 10mg 3%
Sodium 160mg 7%
Potassium 38mg 1%
Total Carbohydrates 3g 1%
Protein 2g 4%
* Percent Daily Values are based on a 2000 calorie diet.
Once you've made your soup and poured it in the middle of your dish with your cheesy pull apart bread you're ready to serve! There are several other varieties of Idahoan® Premium Steakhouse® Potato Soups like Cheddar Broccoli, Three Cheese Chipotle, and Creamy Potato…they all sound amazing and super easy to prepare.