This totally loaded baked potato soup in the crockpot is super easy recipe to make and so delicious! You only need a few ingredients and it only costs about $10 to feed up to 6 people. Stovetop and pressure cooker potato soup instructions included too so you can cook it any way you want.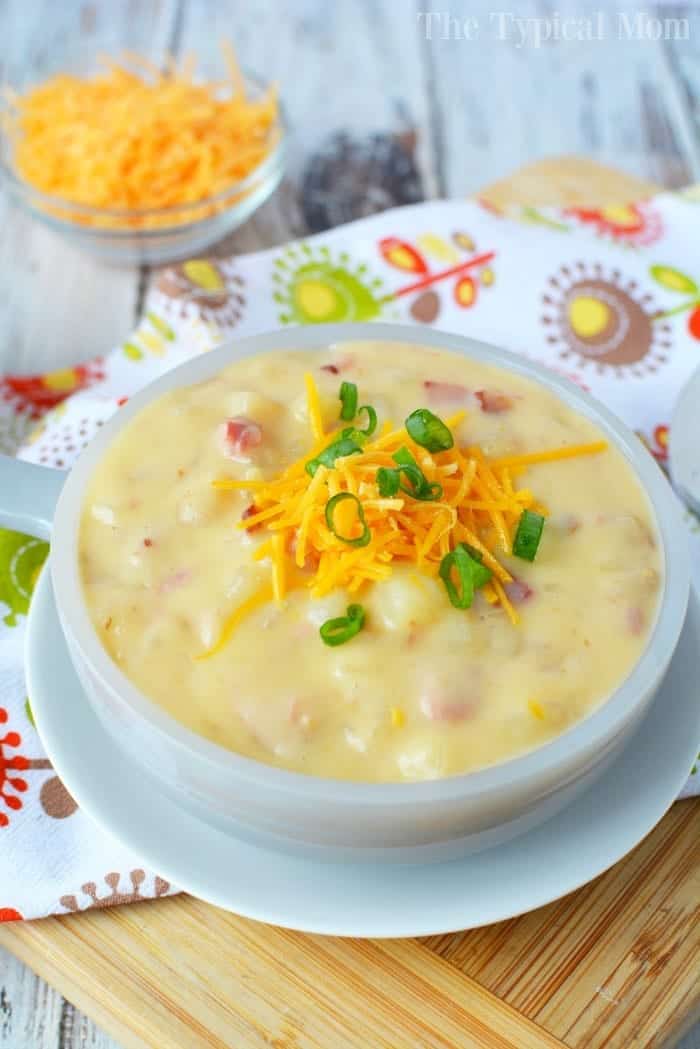 Ok, so I'm a little addicted to my crockpot….can you blame me??!! With 3 busy kids, a household to take care of, a husband, and working full time, there isn't a lot of time to cook, that's why I love my slow cooker. There are a few favorite crockpot recipes we all love but this slow cooker loaded baked potato soup is one of the top 3 and we make it year round, even in the summertime.  Here's the recipe. This post brought to you by Hormel Foods. The content and opinions expressed below are that of The Typical Mom. (originally published 8/15, updated photos)
We make this meal quite often, especially when it's cool outside, because there are only a few ingredients and everyone just loves it. It is quite inexpensive to make as well which I love, and the perfect slow cooker soup recipe to make when you have leftover ham after Easter or Christmas time.
That makes it really yummy.
Often I buy a ham steak like you see below just to make it because well….it's on the menu a lot!
Here is what you will need to make this easy potato crockpot soup recipe.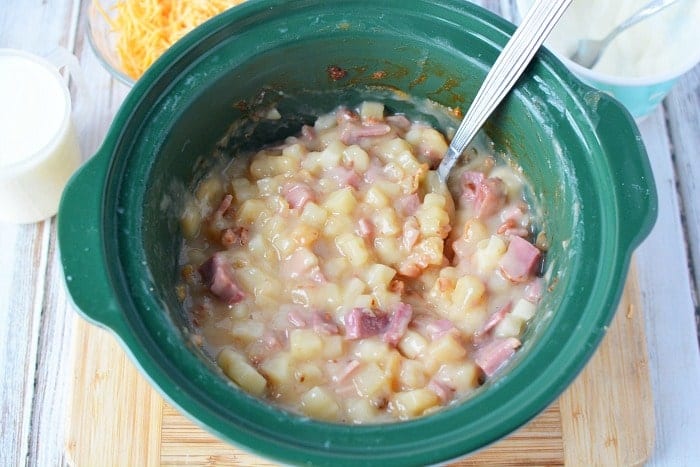 What you'll need to make this easy loaded baked potato soup
Potatoes – I like using red potatoes
Cheese – we like sharp
Cream of mushroom soup – use canned, make your own, you can opt for cream of potato if you prefer
Sour Cream
Milk
Extras

Ham
Chives
Bacon bits
It is a really easy recipe which I love and even better that all 5 of us love it, we even make it in the middle of summer because it's just that good.The first thing you want to do is dice the potatoes. They don't need to be perfect but just cut the potato in half and then criss cross cut so they are diced.
Try to keep all the pieces the same size so they cook evenly. If you like a chunkier soup make the pieces a bit bigger (but still diced or they won't cook thru), and if you like it smooth then make them quite fine.
Put the diced potatoes in your crockpot on low and add 2 cans of cream of mushroom soup. Any brand will do, I usually just use whichever is on sale. 😉 Add a dash of salt now if you wish.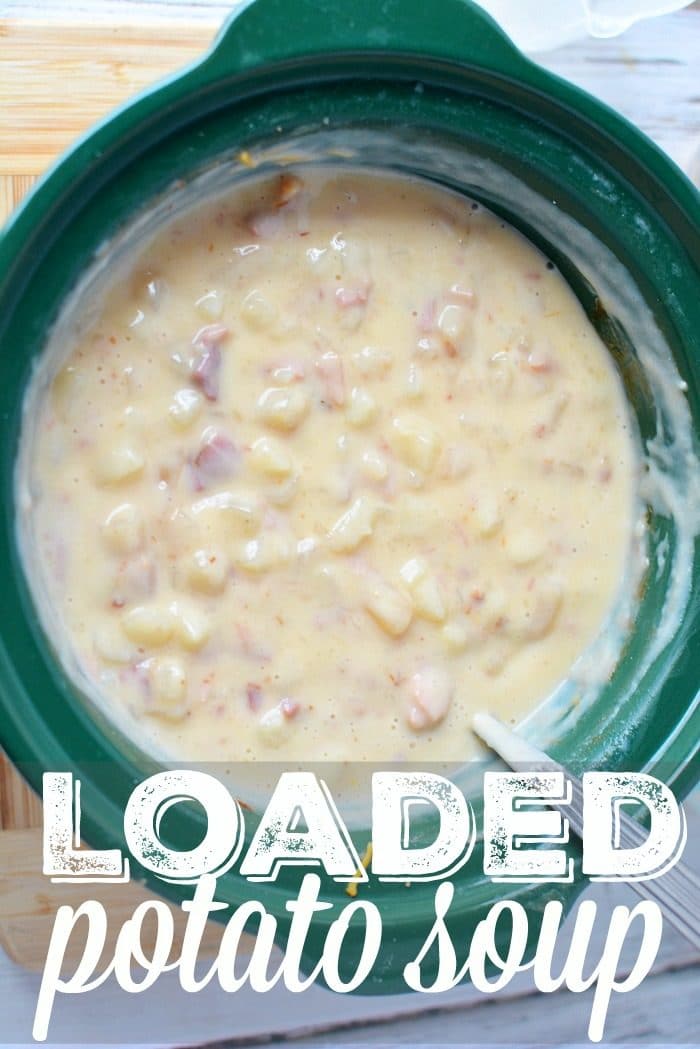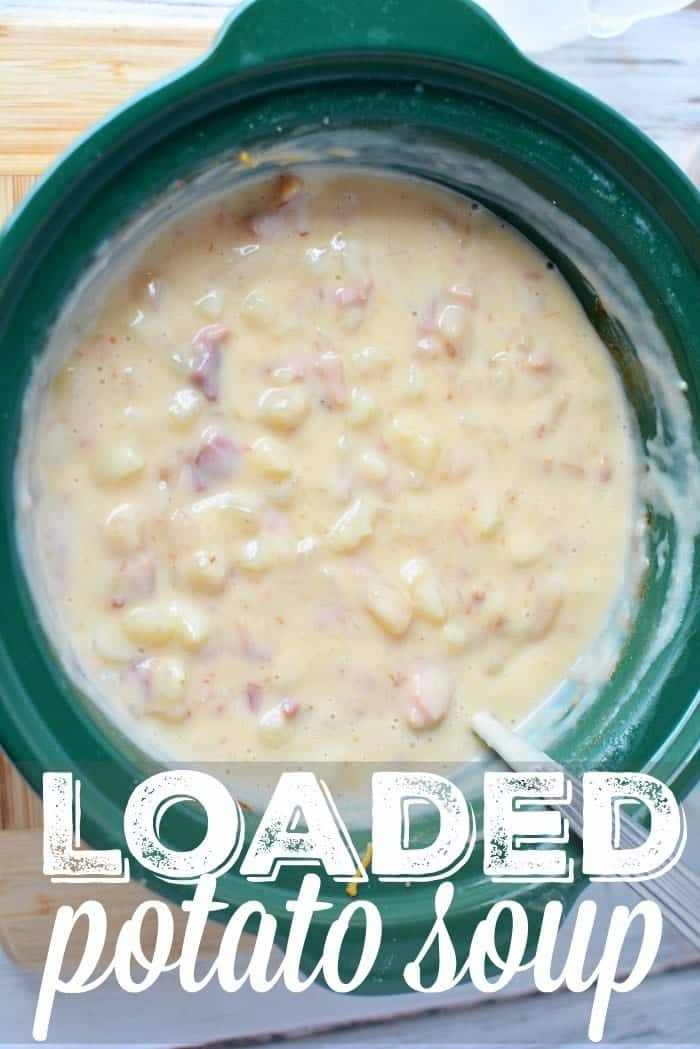 If you want to make this on the stovetop just follow the directions but in the first part instead of letting it cook slowly in your crockpot you'll need to put the soup, potatoes and ham/bacon in a pot on low and continue to stir until the diced potatoes are very tender.
Then add your milk, sour cream and cheese and continue to stir on low until the cheese melts and the soup is warm again with the cold milk added to it. Then serve.
If you're in a real hurry you can make this Instant Pot potato cheese soup recipe too!
Here's a video showing you how we make potato cheese soup.
Loaded Baked Potato Soup
This totally loaded baked potato soup in the crockpot is super easy recipe to make and so delicious! You only need a few ingredients and it only costs about $10 to feed up to 6 people. Stovetop and pressure cooker potato soup instructions included too so you can cook it any way you want.

Total Time
6
hours
15
minutes
Ingredients
1 1/2

c

ham

cubed

5

red potatoes

diced, skinned or partly skinned

1 1/2

c

cheddar cheese

shredded

2

cans

cream of mushroom soup

could use cream of potato too

2

tbsp

bacon bits

1

c

sour cream

1 1/2

c

milk

more or less depending how thick you like it

1

tbsp

chives

topping
Instructions
Dice potatoes and add them to the crockpot with your cans of cream of mushroom soup, bacon bits and ham. Stir well so all is combined.

Let this cook on low all day (at least 6-8 hrs on low, high for 4 hrs but you at least need a good 4 hrs. on high., longer and slower is better).

30 min. before serving add your milk, cheese, and sour cream. Stir and put top back on for about 30 minutes so cheese can melt. Done!
Video
Nutrition Facts
Loaded Baked Potato Soup
Amount Per Serving (8 oz)
Calories 608
Calories from Fat 297
% Daily Value*
Total Fat 33g 51%
Cholesterol 101mg 34%
Sodium 1728mg 72%
Potassium 1451mg 41%
Total Carbohydrates 45g 15%
Protein 31g 62%
* Percent Daily Values are based on a 2000 calorie diet.
The next step to this loaded baked potato soup recipe in the crockpot is to take out your Hormel Cure 81 Ham Steak. We like the taste of this brand, it's lean, and this is the perfect size for this recipe. They have whole and half hams as well if you would prefer to have some leftovers (we've done that before). Here's a quick peek showing you just how easy it is to make!
Now add a shake of Hormel real bacon pieces that are 100% real bacon (no I really don't measure….it's bacon after all), stir the mixture and set it on low with the top on all day!! I use a larger slow cooker for this recipe even though it doesn't completely fill it because it cooks more evenly and doesn't have the tendency of burning than if you used a smaller version.
About 30 minutes before you're ready to eat add the sour cream, milk, and cheese. Stir, recover, and serve 30 or so minutes later with toppings like more sour cream, Hormel Real Bacon pieces, chives, more cheese, and anything else you can think of to complete your loaded baked potato cheese soup recipe.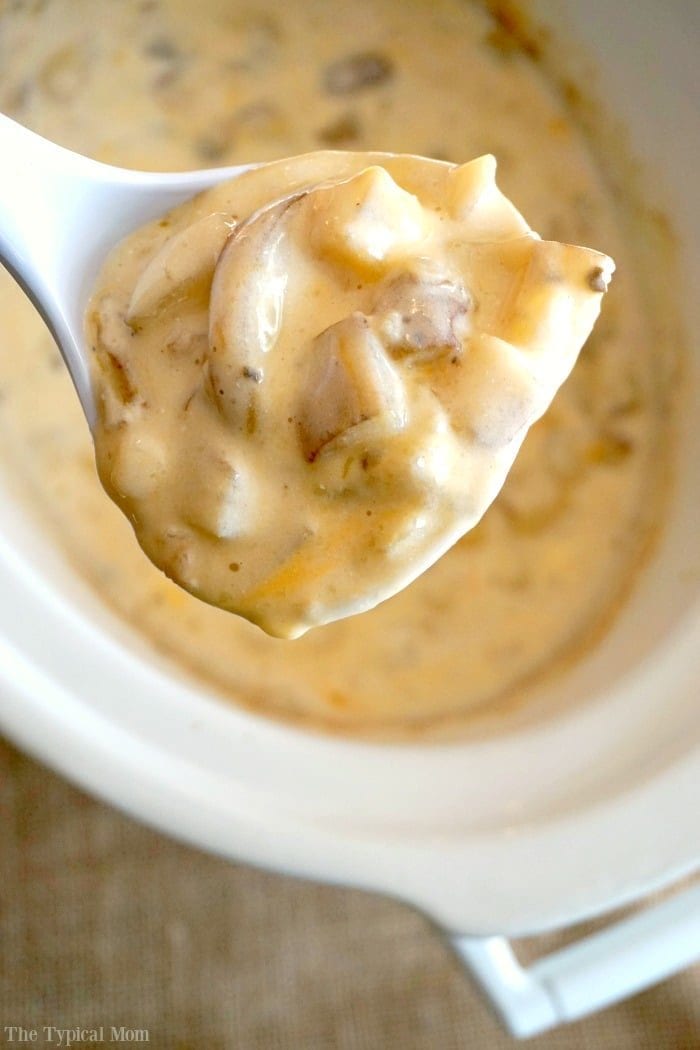 Seriously the best soup ever….and it cooks by itself! All 5 of us clean our bowls when this meal is served for dinner. It is a great meal that warms the belly and can get you talking at the dinner table about other easy meals you might want to try too!
Spark a conversation with your kids (we eat together at least 4 nights a week no matter what), write down meals they want to try, and add a new easy recipe to your monthly recipe routine. I would encourage you to do it…..I'm so grateful we did years ago.  For some ideas you could suggest, visit Easy Recipe Ideas and Visit Hormel Foods for some great easy suggestions! Anything that all 5 of us love, is quick, and down home goodness gets thumbs up from us!!
For more easy recipes and crafts please LIKE The Typical Mom on Facebook, sign up for my newsletter, and follow me on Pinterest!