Air fryer red potatoes with dill and garlic are the best side dish with any dinner. Inexpensive yet full of flavor, you've got to try these tonight.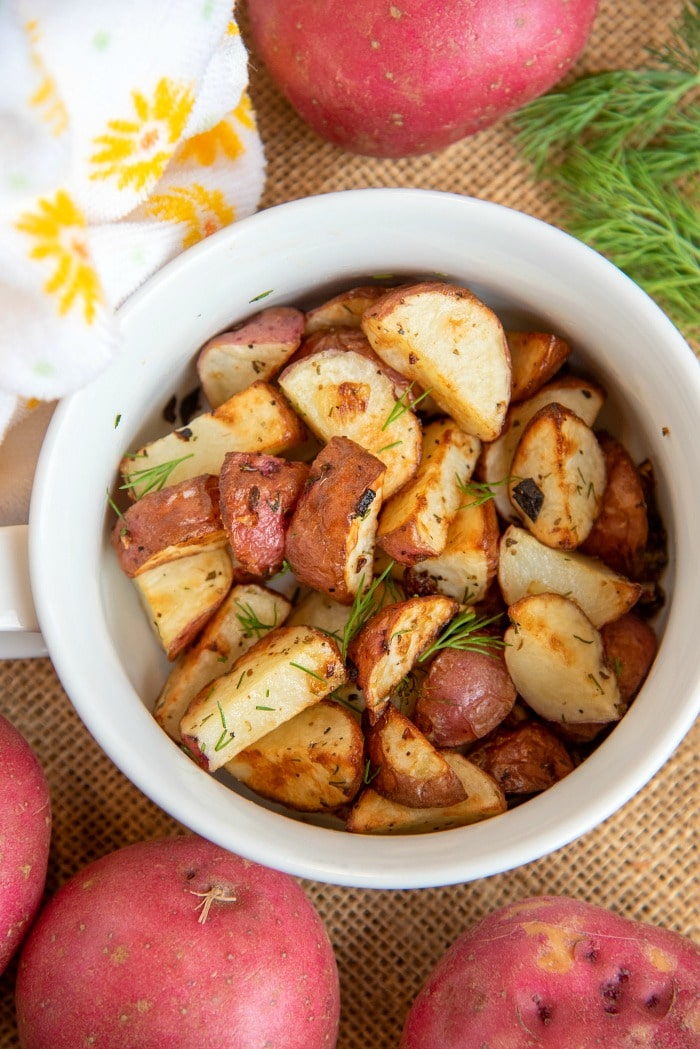 Wow did these air fryer red potatoes come out good!! I was trying to come up with a yummy and cheap air fryer recipe and voila, it's now one of my kids' favorite side dishes! Special thanks goes out to WA Potatoes for sponsoring this post.
Red Potatoes in Air Fryer
Whether you're new to this handy kitchen appliance, or want an easy Ninja Foodi recipe or other brand for quite some time now, you'll love this one.
The main ingredients are Washington potatoes with some olive oil, and all the seasonings you love.
If you love air fryer recipes too, here are some resources to start with: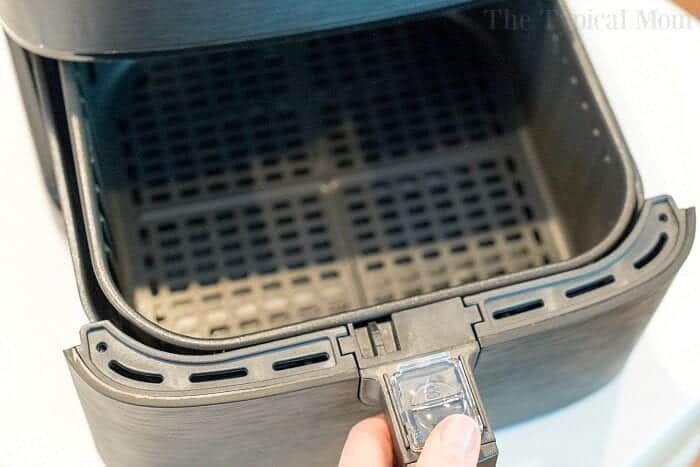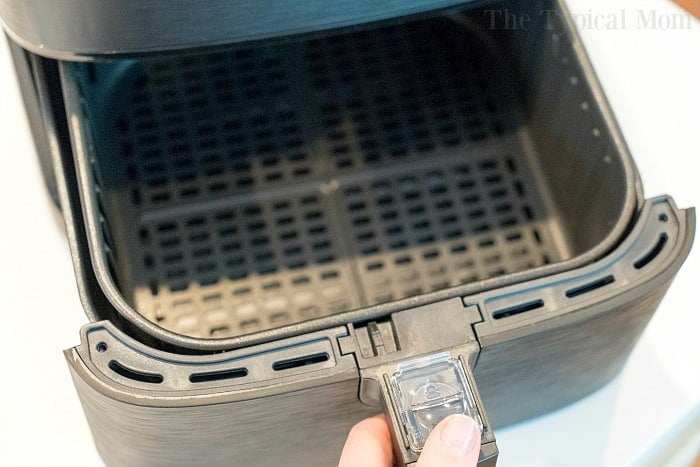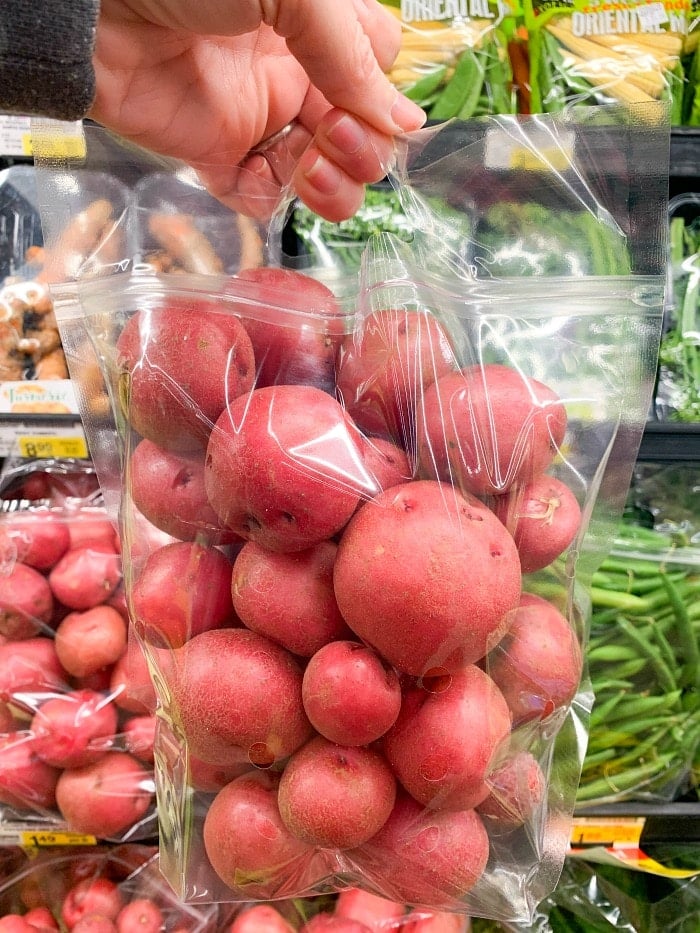 EASY peasy right??!! Now grab a few of these beauties at the store and let's get going. 😉
Small or large, red potatoes are great to use. Yes we make air fryer baked potatoes often with russets but when I am in a hurry THESE diced potatoes come out perfect in just minutes.
The key is to slice your pieces so they are all a similar size.

If not, some won't be tender yet and others will be too brown.

I show you here how I cut each of my petite potatoes, about 9 pieces each. If you choose small baby red potatoes I would cut them into fourths.
Quick and easy to do, just throw them into a large bowl when you're done.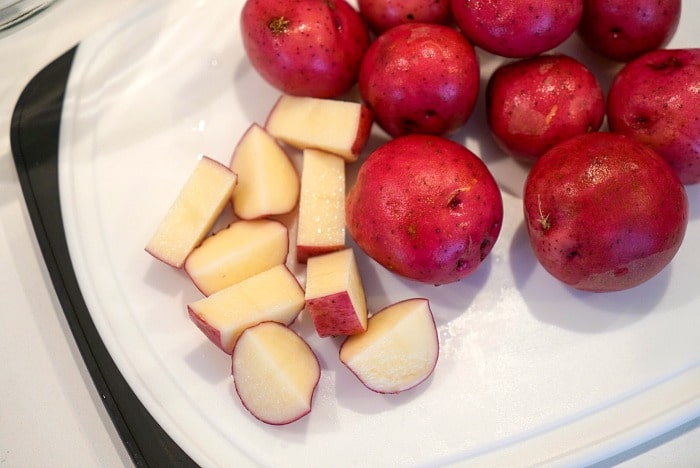 Red Potatoes in the Air fryer
Red potatoes

yes you could use Yukon golds, diced sweet potatoes, russet, or mix a few different varieties
just realize some are firmer than others and may get done faster if you mix them

Olive oil
Garlic salt
Salt and pepper
Fresh dill
Oregano
Thyme
Any other seasonings you like on diced potatoes
Serve with a slice of air fryer rump roast for a nutritious meal.
Air fryer roasted potatoes
Time needed: 12 minutes.
Potatoes in air fryer
Prepare potatoes

Dice red potatoes into 1.5″x1.5″ pieces (approximately = 9 pieces per medium potato)

Add seasonings

Put them into a bowl with your olive oil and toss. Season with salt, garlic powder, garlic salt, thyme, 1/2 teaspoon dill, salt and pepper, and whatever other seasonings you love.

Preheat

Toss to coat and preheat your air fryer to 400 degrees right now.
Pour contents into your air fryer basket so they're in one layer and not overlapping.

Cook

Cook at 400 degrees for 12 – 15 minutes or until you have crispy potatoes on the outside, and tender inside to your liking.
Air fryer cooking is the best!! Yes, I still love my Instant Pot and once you fall in love with these you should make our Instant Pot cheesy bacon potatoes too.
BUT an air fryer potato has that crunchy skin you love with fluffy tender insides that rock!
How many different kinds of potatoes are there
?
There are actually more than 200 varieties of potatoes in the United States. Each of these varieties fit into one of these categories: russet, red, white, yellow, blue or purple, fingerling and petite.
Where are potatoes grown in Washington State
?
Primarily in eastern Washington and the Skagit Valley you can find some of the best taters! The climatic conditions are great, it has rich volcanic soil, lots of water available, and yields long growing seasons.

Did you know that Washington State has the world's highest potato yield per acre??!!
By themselves, the red variety have a thinner skin and a very subtle, sweet flavor. The waxy like outside texture helps them stay firmer when cooked.
This makes them ideal for stews, soups, salads, and make for a colorful side dish.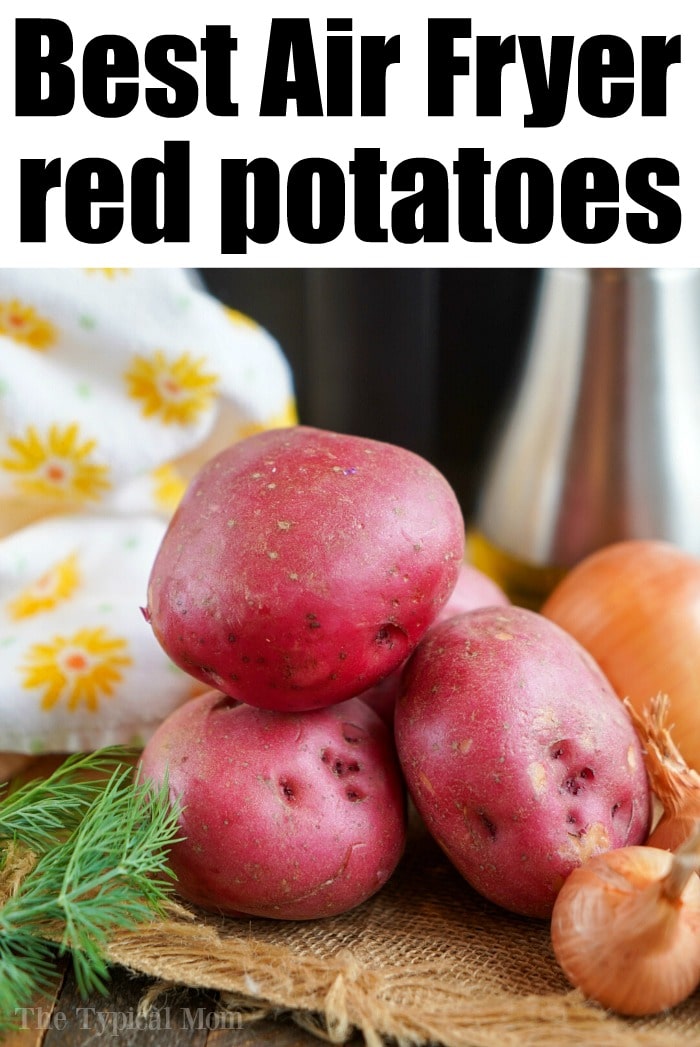 Are air fried potatoes healthy?
Compared to traditionally deep fried foods submerged in oil, this method is much healthier, yes!
They are lower in fat, calories, and don't have the after taste you get when they're fried in oil. BUT if you do want crispy potato skins, this method works much better than if you were to bake them.
The only close second is when we made smoked potatoes, but those took hours and hours to get done.
With hot air circulating around your tater pieces, you now can have exactly what you're looking for in under 20 minutes flat!
Best thing is, you can always find a wide variety of potatoes from Washington in your local grocery store no matter what time of year it is!
Should you soak potatoes in salt water before frying?
Before frying potatoes some people like to rinse them in cold water to remove excess starch. This can cause the potatoes to stick together and if done so tends to allow the fries or diced pieces to become crispier.
Note that I don't tend to do this because I am all about FAST and easy dishes under 30 minutes including prep time.
However for our air fryer hashbrowns I always do.
Feel free to do so if you'd like. 😉
For crispier potatoes, soak the potatoes in salt water for several minutes before cooking.
Looking for more air fryer potato recipes or other potato recipe ideas? Try our cheesy potato casserole recipe here and then try others below next!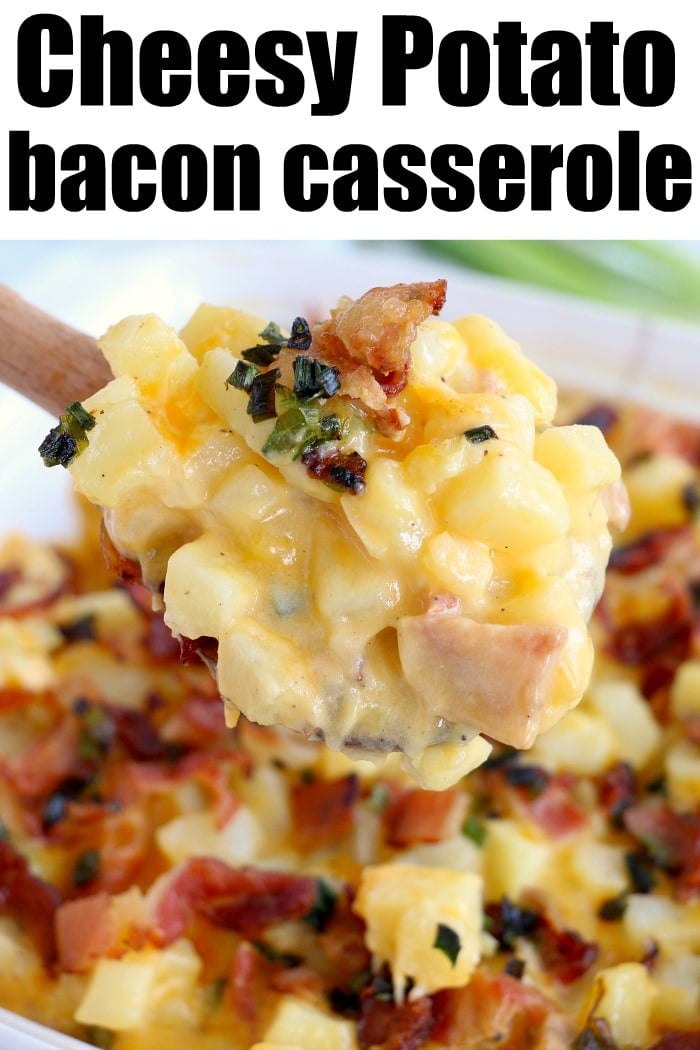 Air Fryer Cubed Potatoes
YES you can double or triple this recipe, just remember each batch should be in one layer and not overlap for best results.
Want to see a few of my favorite things that I am totally obsessed with?? Take a peek and see how many you might already have…twinsies!
Looking for more easy family recipes and tips? LIKE The Typical Mom Facebook page?
Then sign up for my free newsletter, and follow me on Pinterest! 😉
***** If you LOVED this recipe give it 5 Stars below and let everyone know what you thought about it. 😉
Air Fryer Red Potatoes
Air fryer red potatoes with dill and garlic are the best side dish with any dinner. Inexpensive roasted potatoes and full of flavor.
Ingredients
Instructions
Dice potatoes into small equal pieces, about 1.5" in size (9 pieces per small/med. size potato). Put into a bowl and drizzle on olive oil. Toss together.

Sprinkle in all seasonings and toss so everything is coated well.

Preheat air fryer to 400 degrees for 5 minutes.

Pour potatoes into air fryer basket, close, and set to 12 minutes.

After 6 minutes, open and toss contents.

After 12 minutes check and see with a fork if insides are as tender as you'd like and outsides are as crispy as you'd like. If not, toss again and set for 1-2 more minutes.
Nutrition Facts
Air Fryer Red Potatoes
Amount Per Serving (2 oz)
Calories 100
Calories from Fat 45
% Daily Value*
Fat 5g8%
Sodium 499mg22%
Potassium 369mg11%
Carbohydrates 13g4%
Protein 2g4%
Vitamin C 7mg8%
Calcium 8mg1%
Iron 1mg6%
* Percent Daily Values are based on a 2000 calorie diet.