How to cook Instant Pot red potatoes whole to fluffy and ready to stuff with our 5 ingredient chili or serve as a healthy gluten free side dish. You will never use your oven after baking them in your pressure cooker again.
Red potatoes in Instant Pot are game changers. If you typically only buy russets this is a nice change with a better flavor and firmer texture to them. Slice, cube or stuff them whole with dinner tonight and let us know what you think of this easy InstaPot recipe. (affiliate links present)
Ninja Foodi Red Potatoes
You can follow these directions using a Ninja Foodi or Crockpot Express machine too. We're going to use the pressure cook high function for these but if you do have the ability to air fry you could use that too. You can either just use that or just at the end with a bit of olive oil spray to crisp the skins, both are great options.
Diced our air fryer red potatoes are amazing with chicken too. Just depends on your desire for texture and whether you're using them as a vessel to hold fixings for an entire meal. Both are great, cheap, and always a family favorite dish made in one pot.
FIRST – You should sign up for my free newsletter so you get new posts emailed to you twice a week and never miss out on anything! Now let's start with a few basic tips:
Make sure to Bookmark our InstaPot recipes page. We add new ones each week!
Then PRINT this —–> Instant Pot cooking times cheat sheet that will help you understand how long meat, vegetables and beans take to cook in your pressure cooker.
For reference, this is the pressure cooker I have (a 6 quart) and use for all recipe creations.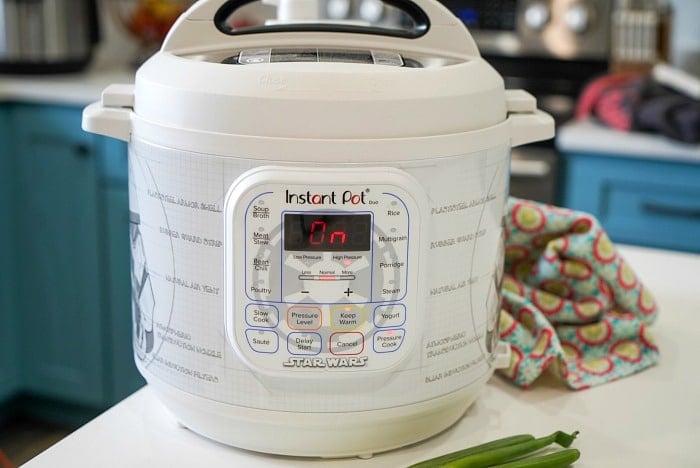 Red Potatoes Instant Pot
This is kinda' the same technique as making Instant Pot beets. All you need is a trivet or steamer basket to keep them off the bottom. Left whole will take the longest, but still not too bad. It is important that you allow for a natural release at the end to continue to heat them to the very center. If you quick release at te end it won't get all the way done.
An important thing to remember when baking baked potatoes any which way is you want to poke holes in them all the way around. Use a fork or sharp knife to do so. Secondly you want to try to cook the same sizes so they are all done at the same time. If some are way small and others are large some will be too soft and others will be firm.
Are raw potatoes safe to eat? I mean if you ate a bite of it while still firm in the center you may get a stomachache but beyond that you should be fine. It won't taste all that great and the texture will throw you off, not ideal for fluffing up and making into a meal but not fatal in moderation. Wouldn't recommend it though. 😉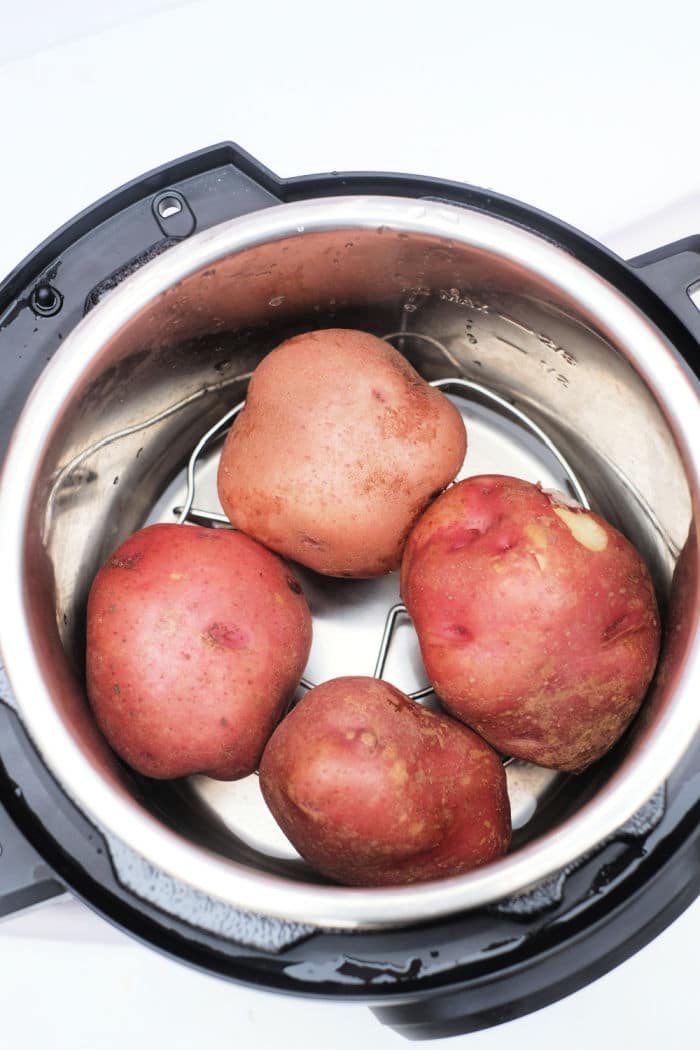 Pressure Cooker Red Potatoes
There isn't much of a difference whether you cook russets, sweet, Yukon Gold, baby potatoes or fingerlings other than the difference in cook times. The smaller they are the faster they will cook. Typically I will slice small ones in half or I have cubed larger ones if I am going to toss it with seasonings or top with goodies like our cheesy bacon ranch potatoes.
Use a sharp knife and poke holes all the way around each one

about 6 in each for the steam to release.

Add potatoes into electric pressure cooker on top of a trivet with 1.5 cups of water.
Cook on high pressure for 15 minutes
Then let pressure release naturally for 20 minutes when done.
Release remaining steam by opening steam valve.
Use tongs to lift out, slice on top and fluff insides with a fork.
Butter is a given as far as adding moisture and flavor. Chili is a must if we are serving these as our main meal, and cinnamon and sugar with some butter works for baked sweet potatoes cooked in this baby.
Red Baked Potatoes
Now let's talk about two other dishes you might want to make with these pretty pieces. If you wanted to make red mashed potatoes I would suggest peeling half of the red skin off, or all of it if you are totally opposed to any. I like just a bit for it's health benefits and a bit of added texture too. You don't need a trivet for this because it is easier if you cut each one into 8-12 pieces.
With 1/2-3/4 cup of broth right in the pot itself they will steam to tender in just 6-8 minutes this way. Something else you might want to make would be potato salad. Once again diced is best for this potato recipe. You wouldn't smash the pieces when done for this one rather cool them, toss with mayo, mustard salt and pepper and you're set.
Can you eat the skin of red potatoes?
Yep, they are actually better than brown if you ask me. If you want to crisp them at the end you can preheat air fryer to 400 F, dry outsides and rub with avocado oil or olive with a sprinkle of sea salt / Italian seasoning too. Give it 4-5 minutes or until they get as browned as you'd like.
What to fill them with is up to you but steamed broccoli with a cheese sauce, beans, etc.. If you want to make red potato skins when done you just slice, scoop out the center, mix with your fixings, fill them back up and then air fry or broil until crisped. There you have it, a dinner, lunch, snack or an appetizer all using the same tater. Bonus!!
The basic instructions are below for you to print recipe and keep handy or just come back each time you need them.
Want to see a few of my favorite things that I am totally obsessed with?? Take a peek and see how many you might already have…twinsies!
Looking for more easy family recipes and tips? LIKE The Typical Mom Facebook page?
Then sign up for my free newsletter, and follow me on Pinterest! 😉
***** If you LOVED this recipe give it 5 Stars below and let everyone know what you thought about it. 😉
Instant Pot Red Potatoes
How to cook Instant Pot red potatoes to fluffy and ready to stuff with chili or serve as a healthy gluten free side dish.
Instructions
Use a sharp knife and poke holes all the way around each one, about 6 in each for the steam to release.

Add potatoes on top of a trivet with 1.5 cups of water. Cook on high for 15 minutes and let natural release for 20 minutes after that. Then release remaining steam.

Use tongs to lift out, slice on top and fluff insides with a fork.
Nutrition Facts
Instant Pot Red Potatoes
Amount Per Serving (1 oz)
Calories 149
Calories from Fat 3
% Daily Value*
Fat 0.3g0%
Monounsaturated Fat 0.01g
Sodium 38mg2%
Potassium 969mg28%
Carbohydrates 34g11%
Protein 4g8%
Vitamin A 15IU0%
Vitamin C 18mg22%
Calcium 21mg2%
Iron 2mg11%
* Percent Daily Values are based on a 2000 calorie diet.