How to cook frozen corn on the cob on the stove boiled, in the microwave, Instant Pot or slow cooker. Tender kernels cooked on the cob or niblets to tender.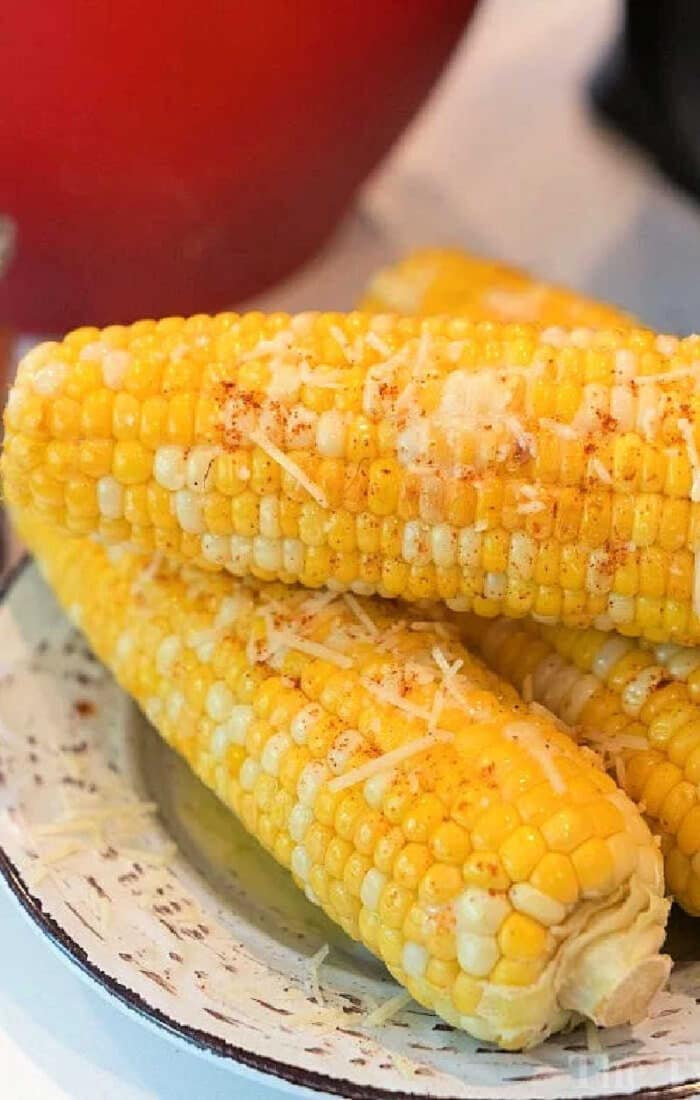 Especially during the winter time cooking frozen vegetables is kinda' where it's at right?? This is how to cook frozen corn on the cob perfectly a number of different ways. Choose your favorite and you'll always have a healthy side dish with dinner. (affiliate links present)
How to Cook Frozen Corn
You don't have to buy it still on the cob either. Sometimes, especially if you have smaller kids at home kernels are better. We will go over them all because I make both. First off these stay for quite some time if packaged up properly in freezer bags. SO if you find them on sale you should definitely load up!
Removed from the cob is quicker, but not always as fun to eat right? You can either buy both of these fresh, package them up and freeze or buy packaged. There isn't a difference really in the outcome of either as long as they are stored properly in appropriate packaging. Let's talk about a few different cooking methods.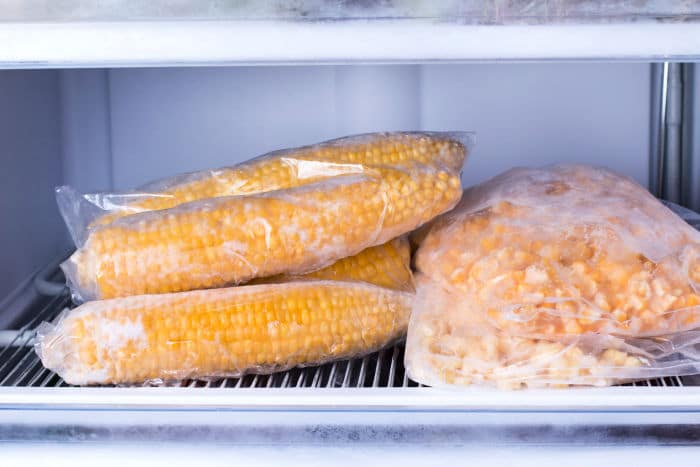 Instant Pot Frozen Corn on the Cob
You can follow our Instant Pot frozen corn instructions for that one. We have used our Ninja Foodi to do this too. The latter gives you the option to air fry it too though. If you want it as tender as possible though steaming is the way to go. Probably use this the most often in our house.
How Long to Cook Frozen Corn on the Cob
Boiled frozen corn takes less than 10 minutes, but that is once your pot full of water reaches a rolling boil. That in itself will take about 15 minutes or so you should keep that in mind. Once it does carefully set them inside and boil 5-7 minutes or until hot and the kernels are fork tender.
Corn in Pressure Cooker only takes 3 minutes but that too takes 10 minutes or so to reach pressure and the timing doesn't start until then. You can use any brand you might have at home for this method. Doesn't matter whether it is frozen or fresh actually to make it this way. Surprising but true.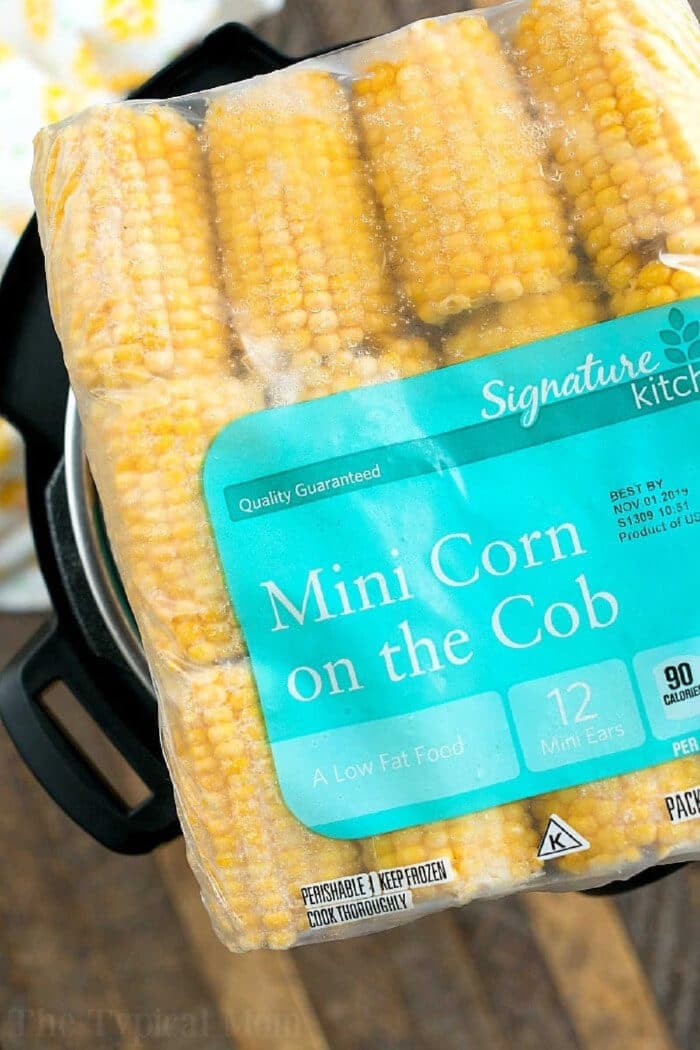 Air Fryer Frozen Corn on the Cob
Now you would need to add about 2 minutes to the cook time for frozen air fryer corn to get this done. Know that the texture will be different than boiled or under high pressure. Not a huge change but the outside will be slightly firmer if you air fry your cobs. Only takes 5 minutes to preheat and then 10ish minutes from there.
You will need to do a bit more paying attention to this as after 5 minutes turn them over and cook until tender. It is faster than dealing with filling a large pot and waiting for it to boil for sure, we prefer this method to that for sure. When done you can cool and then continue with seasoning for corn ribs.
From there you can put those little cob handles on either end so you can hold it without burning your fingers or cut off the pieces. Your best bet if you have a child with braces or little ones is to hold one end and place the other into a bowl. Slice kernels off so when they fall off they don't go everywhere and make a mess.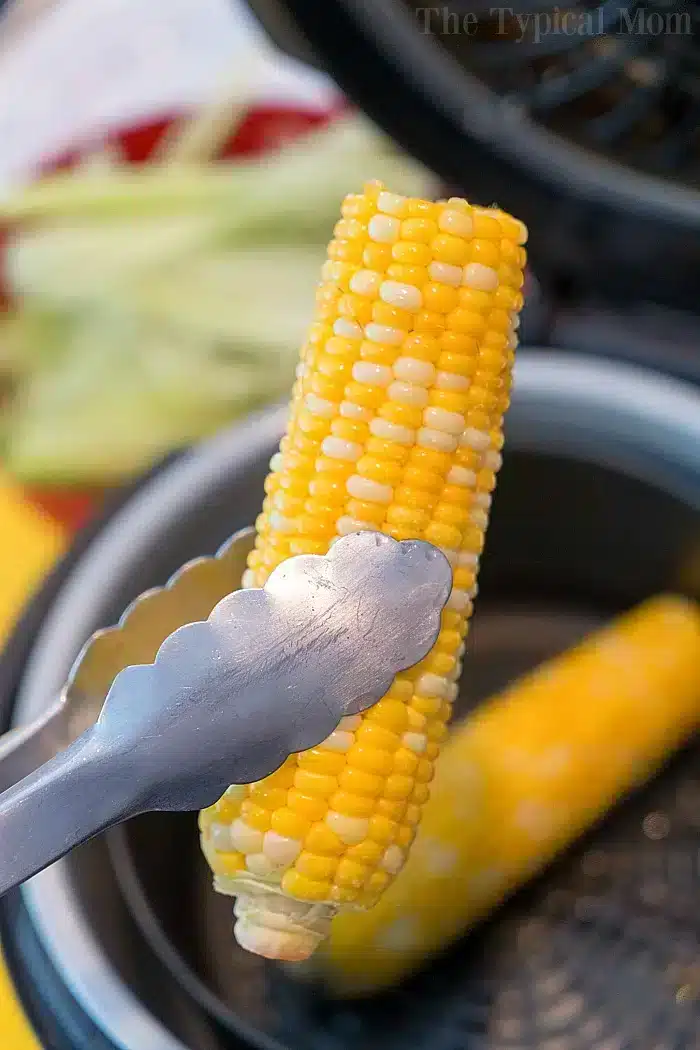 Boiled Frozen Corn
If you want to boil corn kernels you will do the same as if it were left on. You don't need nearly as much boiling water so it won't take as long. Salt it, wait until it is a constant boil and then pour it in. Boil for 3-4 minutes or until as tender as you'd like. Drain, add butter and salt and then enjoy.
You could do the same thing in a pressure cooker with a cup of water in the pot, a vegetable basket, and steam vegetables for about 2 minutes. You won't need to drain this since the food isn't submerged, just steamed.
Frozen Corn on the Cob in a Slow Cooker
You need some water or milk, salt and butter to make frozen slow cooker corn. Again you will be steaming these this way but it takes longer. I always suggest slow cooking rather than putting it on the high setting because that is the whole point of this machine.
Set husked 4-8 ears of corn in pot
Pour 3/4 cup of water or broth inside
Slice or melt 1/2 cup of butter

lay pats on top
or pour melted butter over the top

Sprinkle with salt and pepper
Cover your pot and cook for 3-4 hours on high, or 5-6 hours on low (recommended) until the corn is bright yellow in color and pops when poked with a fork so it's tender. Use tongs to remove cooked corn and top fresh corn with things like parmesan cheese, red pepper flakes and/or more salt.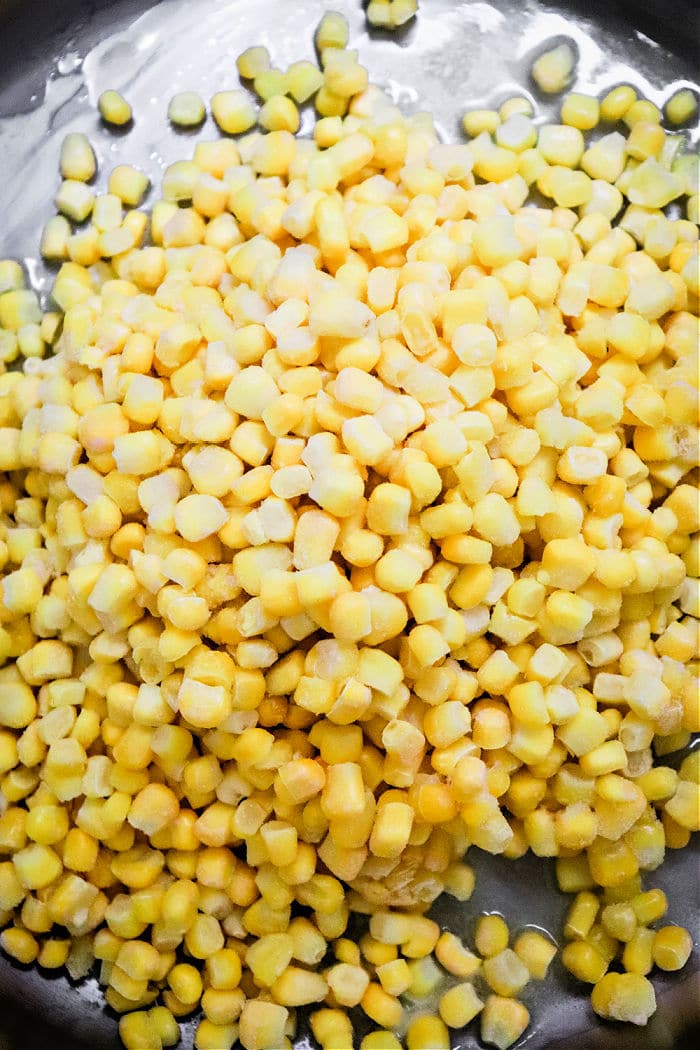 I have only smoked corn in a husk but would imagine you could follow the same instructions but wrap them in aluminum foil. I would throw some butter in there too since they would be steaming and need a bit of liquid of some kind to do so.
Alternatively you could use our cast iron skillet corn recipe and set it on your grate if you wanted to use kernels. This creates a honey sweet corn dish that everyone seems to love. You can put this on alongside your proteins, stir every time you lift up the lid and remove once it's warmed. Doesn't take long.
How to Microwave Frozen Corn on the Cob
Ok so this would be the last method you could try. This would be a bit like cooking carrots in microwave. You would want a microwave safe dish where you could pour a bit of water into the bottom. Place pieces on top and cover tightly with plastic wrap. Heat for 8 or so minutes for ears – or until tender.
I hope we were able to help you learn how to cook frozen corn today. Our favorite method is listed below in the recipe card but feel free to try them all and decide for yourself.
Want to see a few of my favorite things that I am totally obsessed with?? Take a peek and see how many you might already have…twinsies!
Looking for more easy family recipes and tips? LIKE The Typical Mom Facebook page?
Then sign up for my free newsletter, and follow me on Pinterest! 😉
***** If you LOVED this recipe give it 5 Stars below and let everyone know what you thought about it. 😉
How to Cook Frozen Corn on the Cob
How to cook frozen corn on the cob on the stove, Instant Pot, boiled or air fryer to tender.
Instructions
* pressure cooker * Pour 1 cup of water into pot and put a vegetable steamer in the bottom. Open basket and lay cobs inside overlapping as little as possible.

Close lid and steam valve and set to high pressure for 3 minutes. Do a natural release for 1 minutes and then release rest of steam.

Use tongs to remove cobs, spread on butter and salt and enjoy.

* boiled * Fill a large pot with water, cover with a lid until it reaches a rolling boil. Set cobs in with tongs, remove lid and boil for 5-7 minutes or until kernels are fork tender.
Nutrition Facts
How to Cook Frozen Corn on the Cob
Amount Per Serving (2 oz)
Calories 77
Calories from Fat 9
% Daily Value*
Fat 1g2%
Sodium 16mg1%
Potassium 243mg7%
Carbohydrates 17g6%
Protein 3g6%
Vitamin A 168IU3%
Vitamin C 6mg7%
Calcium 4mg0%
Iron 0.5mg3%
* Percent Daily Values are based on a 2000 calorie diet.