How to smoke corn on the cob with husks perfectly on your grill. Tender fresh sweet corn smoked right in the husk makes the perfect side dish with any meal. Traeger corn for the win.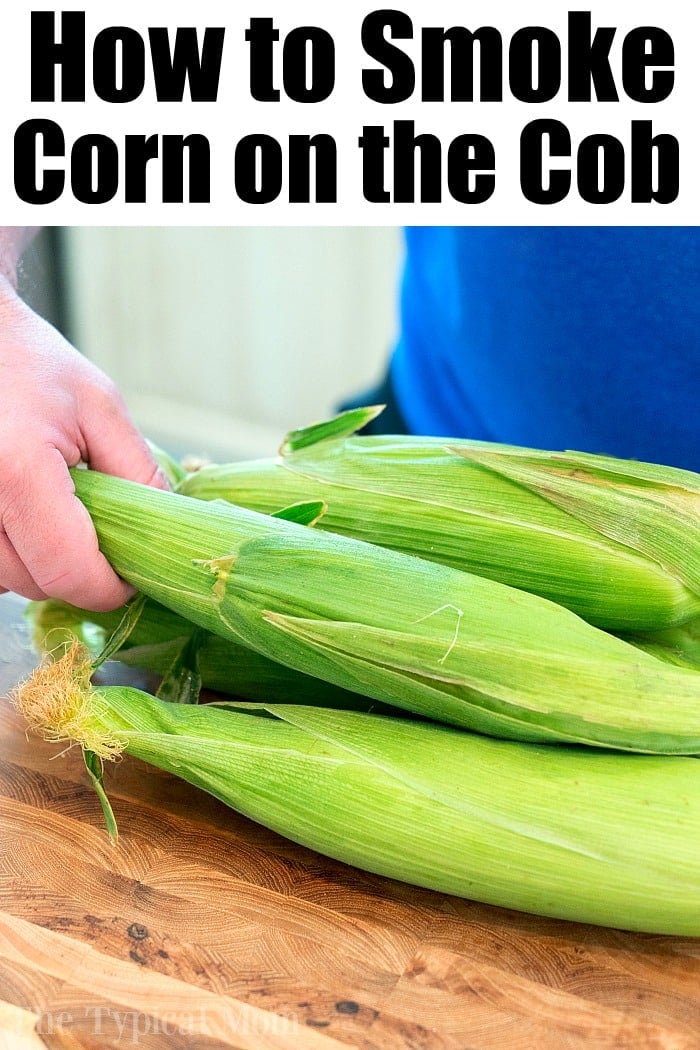 We are rapidly adding to our roundup of easy smoker recipes so you can enjoy them once summertime arrives! This is how to smoke corn on the cob so you can pair it with your dinner tonight. (originally published 5/19, affiliate links present)
Smoked Corn
Tender kernels cooked right along side your beef or chicken main dish, it comes out perfect every time we make it. We like it in the husks but you can certainly make smoked corn on the cob without husks too, just wrap in foil instead. The latter can have butter and seasonings added so it all soaks right in.
If you have only boiled water to get this tender you are in for a real treat. It not only tastes better but doesn't lose nutritional value submerged in water. You can use an electric smoker or pellet grill to make this. Set them right next to your smoked pork steaks and have yourself the best dinner ever.
FIRST – You should sign up for my free newsletter so you get new posts emailed to you twice a week and never miss out on anything!
To get your meats absolutely perfect we have this printable meat smoking chart to refer to so each and every time it will be fork tender.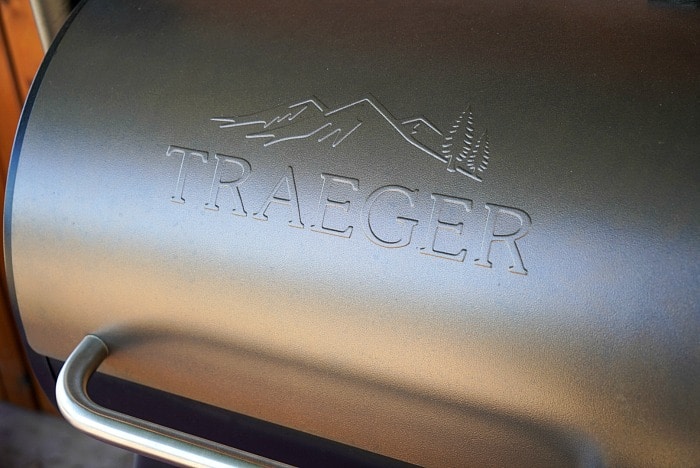 Traeger Corn on the Cob
Use what brand you have at home. We started with an inexpensive Charbroil electric smoker and now we have a larger Traeger. Either way this timing and temperature works great
When you think of summertime do you think of barbecuing? We do! Well that and smoking "all the things".
There isn't anything better than a well seasoned hunk of meat thrown in the smoker. You will need an easy side dish to go with it though!
Why not cook them together so dinner is done at the same time and everything is perfectly tender and delicious. Corn is kinda' the best too. It's cheap year round, and I haven't found anyone who doesn't like it. Easy to find in the summertime like you see here below, fresh is always best.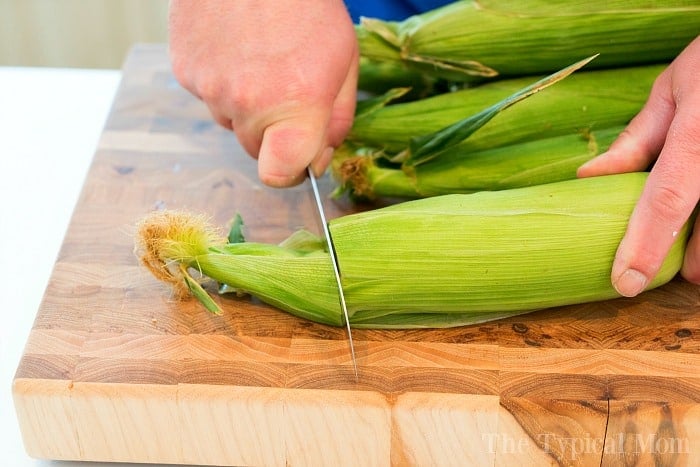 Smoked Corn on the Cob
Of course you can boil it the "old fashioned" way, or make Instant Pot corn. But when the weather gets warm and we uncover the pool we are all about using our electric smoker. We just bought a Green Mountain pellet grill / smoker too! Whether you have a Traeger or other brand, this corn recipe will work great.
Traeger Corn
First you're going to grab a bunch of corn with the husks still on, a must.
For Traeger smoked corn on the cob with husks
You'll want to preheat your smoker to 350 degrees so it's ready when you are.
If you're cooking anything else you'll want to time it so the last hour the corn will be popped on.
Then as you can see above you're going to cut off the very tip so it is somewhat open at the end but don't peel anything back.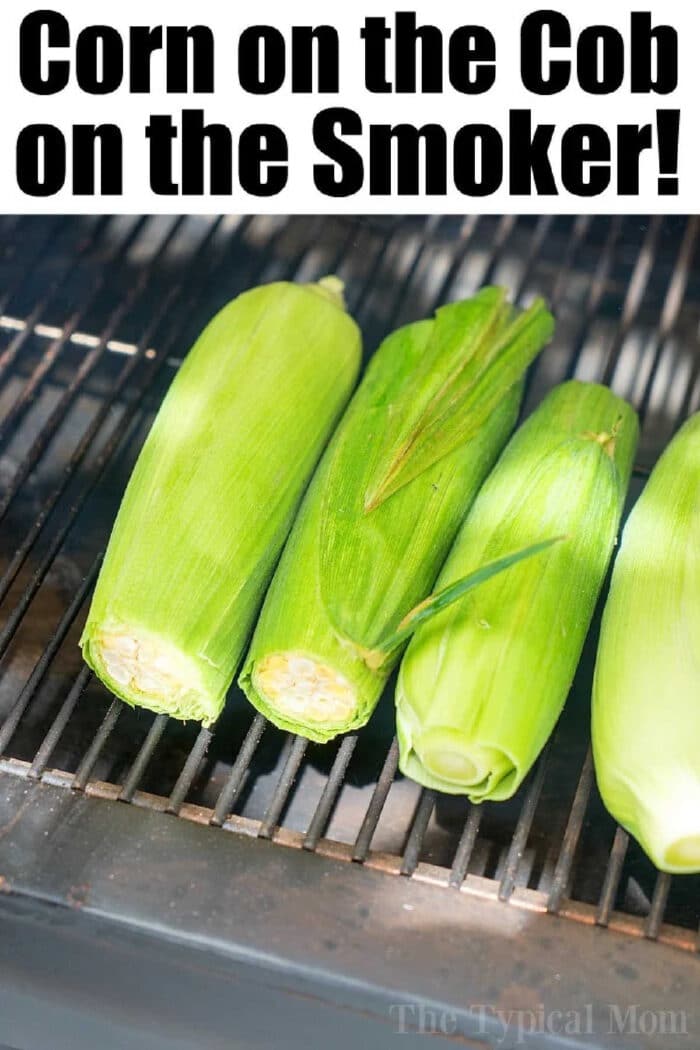 Smoking Corn on the Cob with Husks
Now just throw them right on the grate and close the lid. Give them a good hour to cook so the kernels get nice and tender. That is the minimum amount of time for med./large ears of corn.
I prefer along the lines of 1 hour 30 minutes to get them a bit more tender. Once you make smoked corn on the cob once you'll be able to determine whether your optimal time is an hour or a bit more.
Keeping the lid closed is important as well. If you lift the lid at all it will take that much longer for your grill to get back up to 350 degrees. Resist the urge my friends.
Smoked Corn on the Cob without Husks
If you'd rather take the outside off at the beginning you certainly can. Instead wrap a few in foil with some butter and salt inside there. It will take about the same timing that way.
Why is smoked corn is the best corn side dish
You don't have to heat up your house when it's summertime.
There is very little prep. Leaving the husks on saves a lot of time and mess.
Removing the husk after cooking is easier than if it were uncooked.
If you have a compost bin you can throw them right in there and it works great.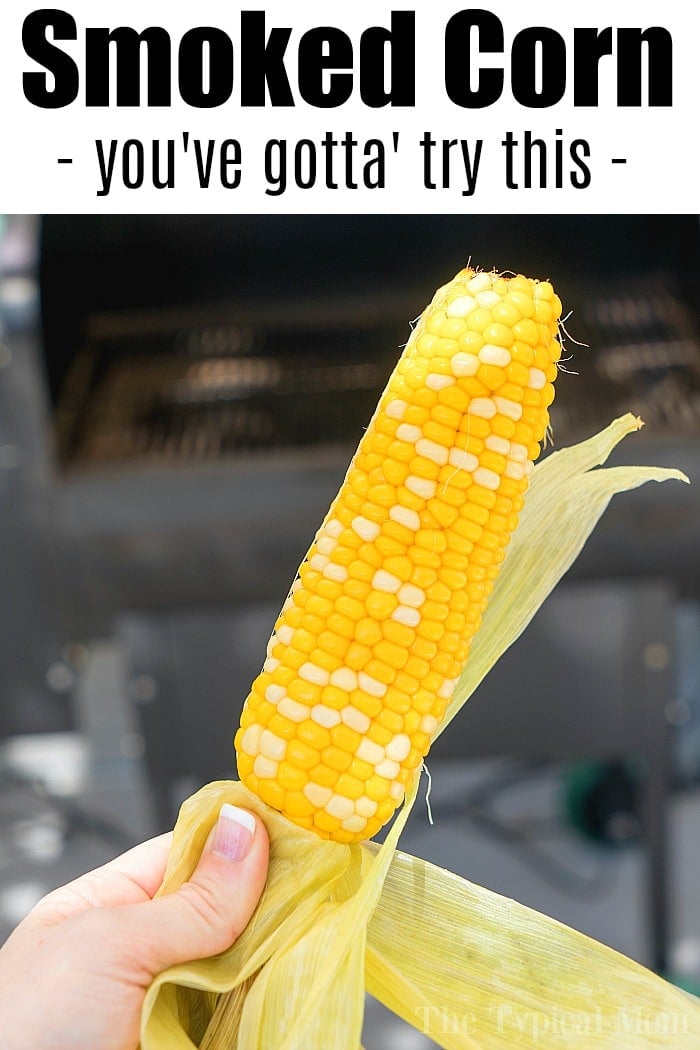 How to Smoke Corn on the Cob on a Pellet Grill
Then just pull husks back and it is kinda' a nice holder so your hands don't get too hot. Remove the silks (they kinda' all come off with the husks, butter, sprinkle on some salt and pepper on your kernels and bite right in!
It's a perfect pairing and talk about the ultimate barbecue feast! You can also melt in a small bowl a butter mixture with some garlic salt and pepper so it can be dipped right in. We do go over how to cook frozen corn on the cob but typically you cannot find cobs with the husks still in tact. In that case you could still do it but would need to wrap them in foil with butter and let them defrost, cook that way.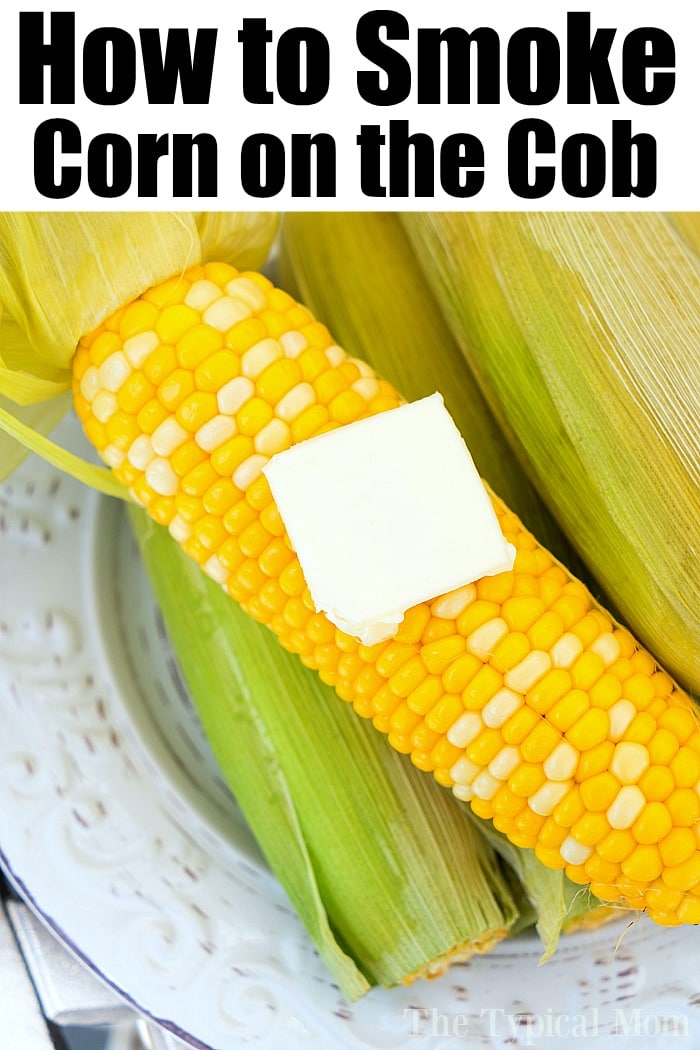 Smoked Corn on the Cob with Husks
A smoker
Pellets or wood chips to put inside
Corn on the cob with the husks in tact
Butter and salt when it's done
Above, here are the things you're going to need. There isn't much. If you wrap in foil you can add the butter and seasonings right in there at the get go, if not just add later.
Preheat your smoker to 350 degrees F. Use wood pellets or chips as required for the model you have.
Cut 1.5″ off end of corn that is open. Leave rest of husk in tact.
Allow to cook for 60-90 minutes. Timing will depend on how tender you like your kernels. 60 minutes is minimum and good but 90 will give you much softer corn on the cob. Great cooked alongside meat.
Remove from grill and allow to cool slightly so you can remove husks easier. Peel husk back and discard silk. Butter and salt your corn and enjoy!
If you have those with braces of course you'll have to cut the kernels off for them before eating. 😉 If you put it into a bowl they will get caught easier and not roll all over the place.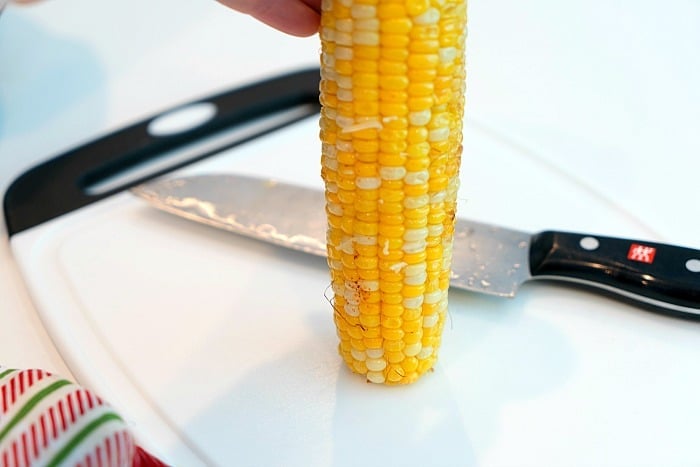 Here are a few questions you might have before you get going. You can choose leaving the husks on, which we do, or taking them off first.
How long does it take to smoke an ear of corn
This is a nice change vs. boiling corn since that to me tends to take away a lot of the sweet and delicious flavor. Cook time is about 1 1.5 hours. It takes a bit longer if you leave the husk in tact.
Can you smoke corn without the husk
?
Yes you can: Without the husks you can peel them off and them remove silks. Spray each ear with olive oil or butter spray and wrap in aluminum foil all the way around tightly. Then you can grill and/or make smoked corn as stated here timing wise.
How long do you grill corn on the cob in the Big Green Egg
?
You just add charcoal, light it and close the lid. Set the temperature at 325 degrees and cook for 30 – 45 minutes.

Best method for this mode of cooking is to place ears directly on the grates and close the lid. Turn the ears often so they grill evenly on all sides.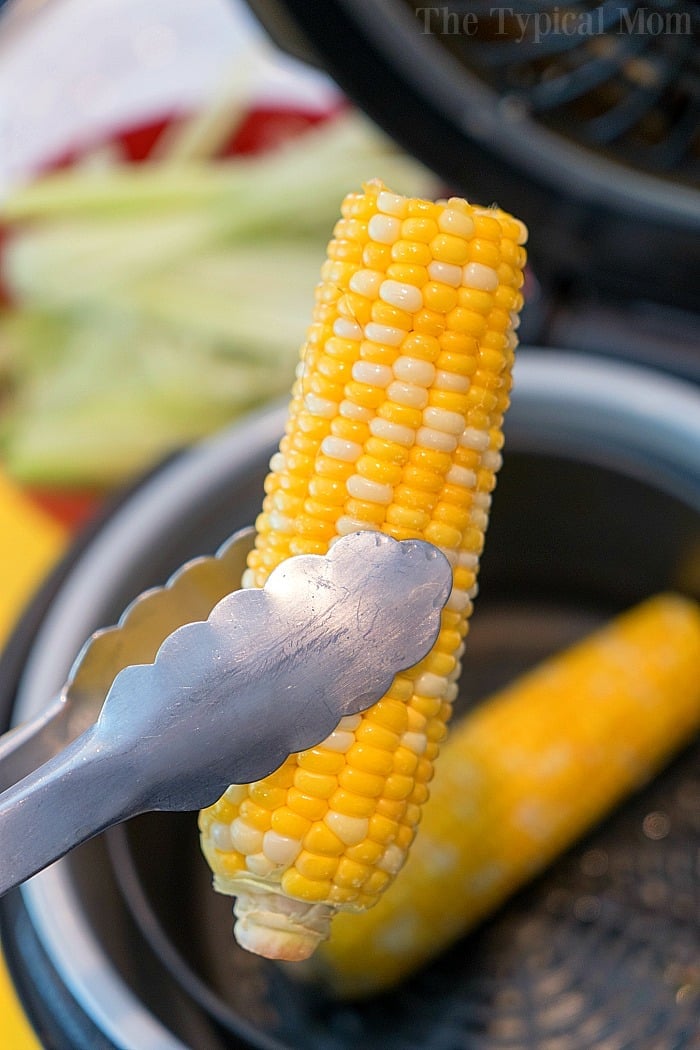 Want to see a few of my favorite things that I am totally obsessed with?? Take a peek and see how many you might already have…twinsies!
Looking for more easy family recipes and tips? LIKE The Typical Mom Facebook page?
Then sign up for my free newsletter, and follow me on Pinterest! 😉
***** If you LOVED this recipe give it 5 Stars below and let everyone know what you thought about it. 😉
How to Smoke Corn on the Cob
How to smoke corn on the cob perfectly a Traeger or electric smoker. Tender fresh sweet corn in the husk or out makes the perfect side dish.
Instructions
On a cutting board cut the ends off of your ears of corn on the cob, about 1.5″ off the end.

Preheat your smoker to 350 degrees.

Place ears with husks on on to your grill.

Close lid and leave closed for 60 – 90 minutes. 60 is the min. time it will take for kernels to become slightly tender, 90 minutes if you prefer them tender.

Carefully pull back husks and remove silks (will be hot). Butter, salt, and enjoy.
Nutrition Facts
How to Smoke Corn on the Cob
Amount Per Serving (3 oz)
Calories 212
Calories from Fat 144
% Daily Value*
Fat 16g25%
Cholesterol 40mg13%
Sodium 1310mg57%
Potassium 243mg7%
Carbohydrates 16g5%
Protein 3g6%
Vitamin A 640IU13%
Vitamin C 6.1mg7%
Calcium 6mg1%
Iron 0.5mg3%
* Percent Daily Values are based on a 2000 calorie diet.