This smoked meatloaf recipe stuffed with bacon and cheese is so amazing! If you're looking for the ultimate comfort food that oozes with flavor, try this on your Traeger or Green Mountain smoker today!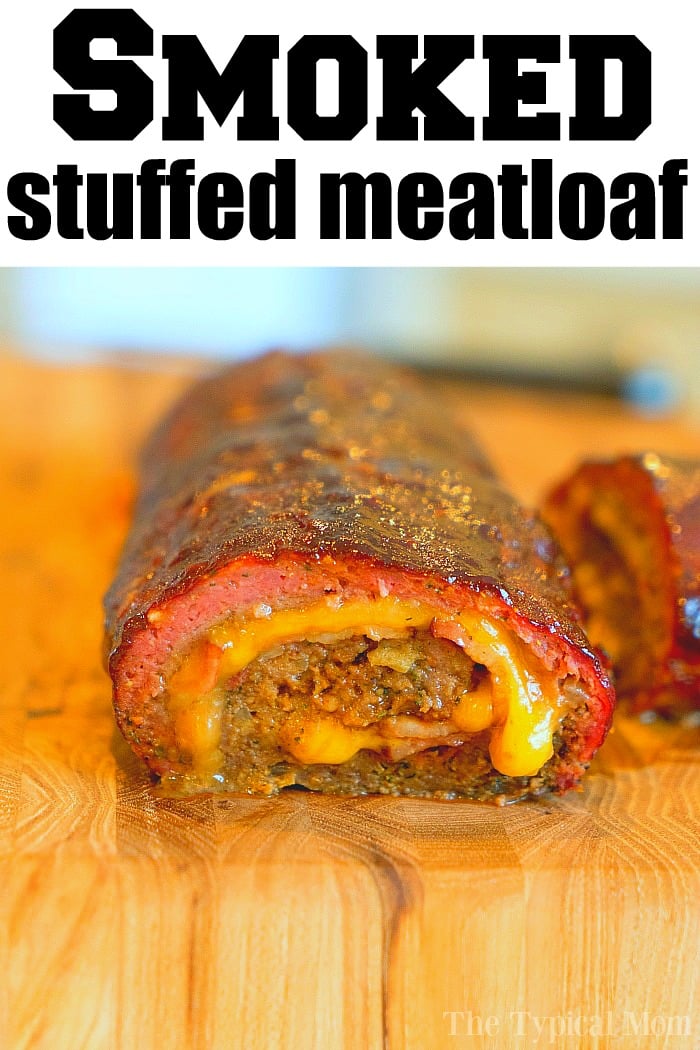 Are you starting to smoke meats again this year?? We are, and this smoked meatloaf recipe is now listed as one of our favorite smoker recipes here on The Typical Mom. It. Is. Incredible!! You can see that in the photo above I am sure. (affiliate links present, originally published 4/19)
Let's start with the basics of what you will need:
Wood chips or Pellets

– We buy this variety pack to make our electric smoker recipes. We also love these Jack Daniel's wood chips. Apple pellets were used to make this particular one in our Green Mountain smoker.

Smoker

– we have a simple electric smoker and just purchased this larger pellet grill & smoker!

Timing

– you'll need this meat smoking chart to know what temp and how long to cook each meat. If your smoker doesn't have a built in digital thermometer you'll want that too.
Now let's get started…..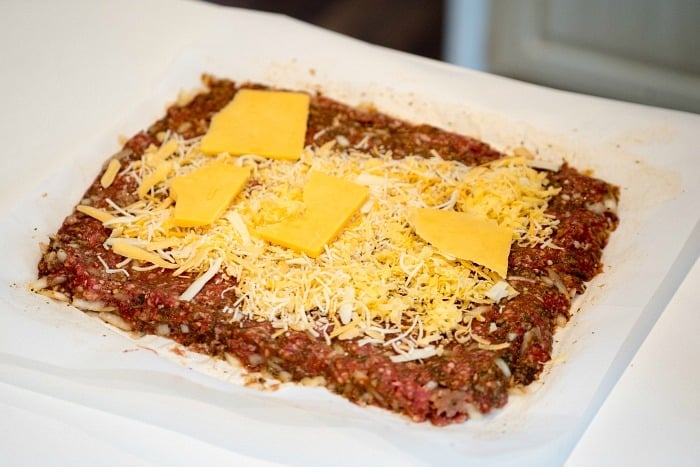 Our stuffed meatloaf recipe with cheese has bacon inside too!
Yes you can leave both of these items out but seriously, just go all in and give yourself a treat this evening.
We added both shredded sharp cheddar cheese and a few thicker slices too so it would really ooze out. Your meat mixture will be amped up with spices and diced onion so every bite will be PACKED with flavor. One slice will do ya'. 😉
Here are a few step by step photos to show you how to make this amazing meat loaf recipe. We will include oven directions as well below.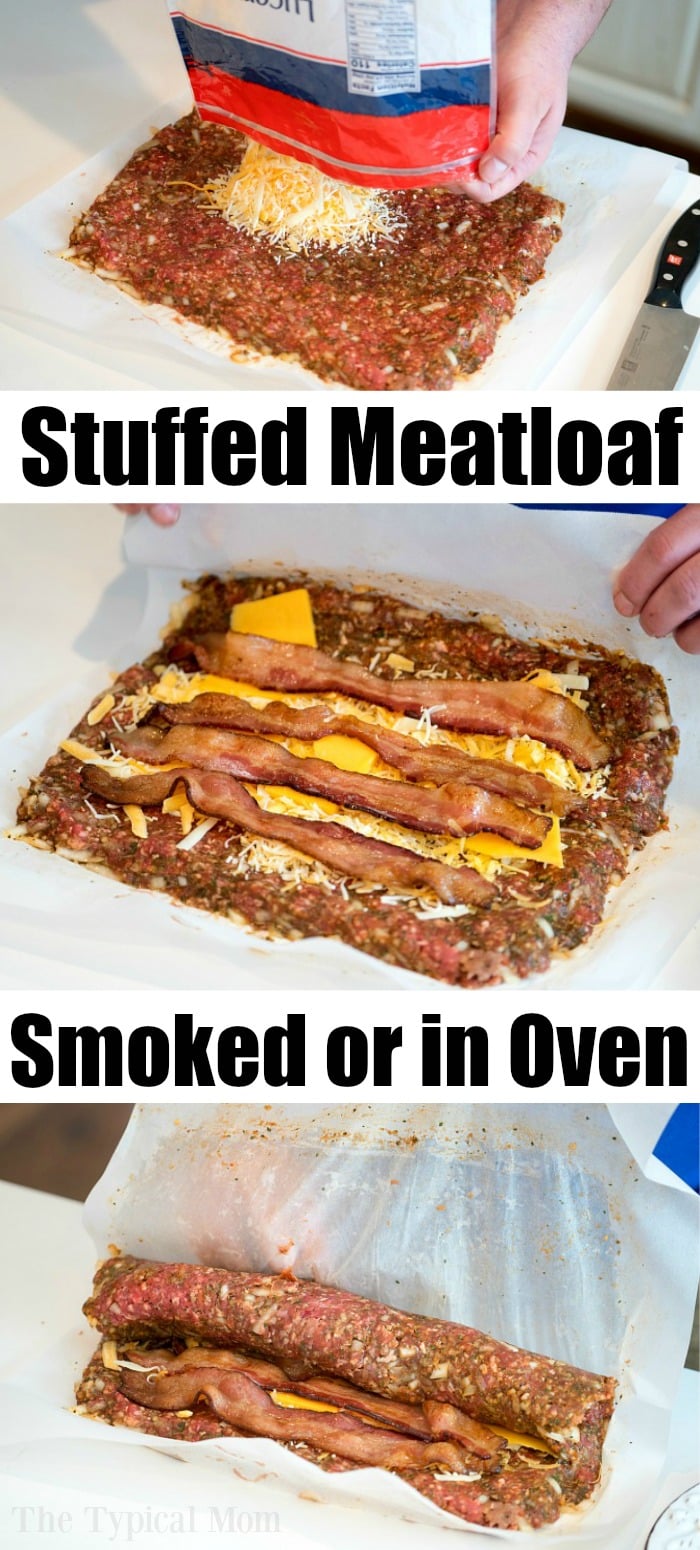 Smoked meatloaf with bacon
A large bowl for mixing
Grill pan or silicone mat to place on your grate inside your smoker
I guess wax paper would do too but I prefer this for rolling your meat loaf up. A baking sheet is handy too if you're making this in the oven. A loaf pan could be used if you're making a smaller/shorter version of this if that's all you have on hand.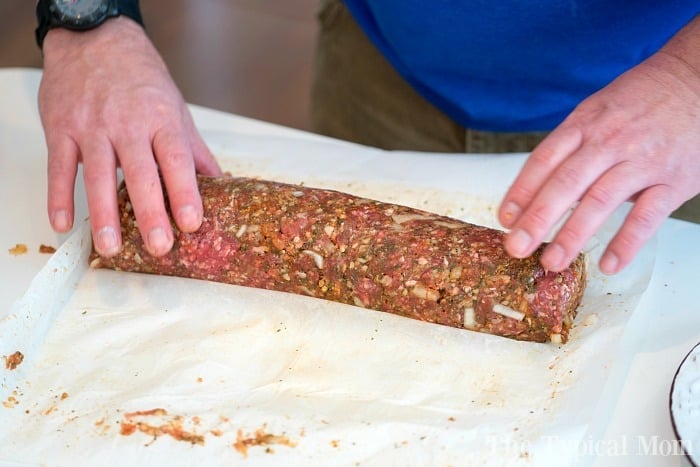 Ingredients we used:
Ground beef
Onion
Eggs
Onion powder
Paprika
Cayenne pepper – adjust to your desired heat level
Salt and pepper
Cheese – sharp cheddar is our preference
Bacon – precooked, we smoked bacon right before we made this and used that
BBQ sauce – if using one with heat be prepared for it to REALLY heat up, we prefer this honey style to bring a bit of sweetness in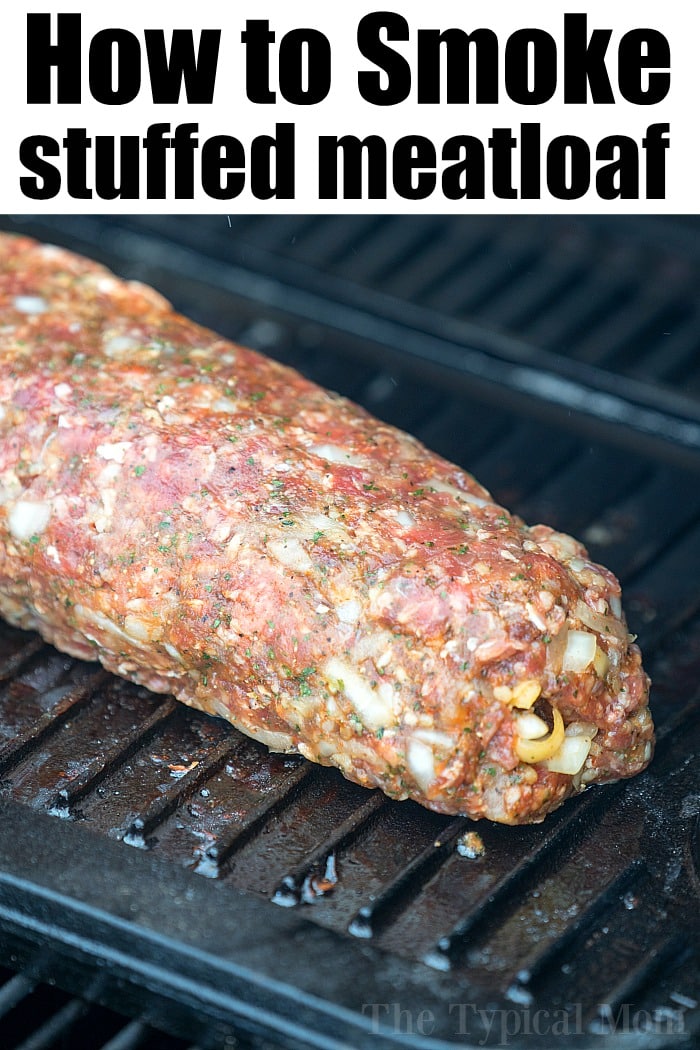 Traeger Stuffed Meatloaf
Preheat your smoker to 150 degrees

or preheat oven to 350 degrees

Mix together your meatloaf ingredients well
Lay down your parchment paper and spread out meat into a large square

about 3/4″ thickness across

Sprinkle cheese, then lay down slices
Place precooked bacon down, spread out
Pick up one end of paper and start rolling

keep paper out of roll, you will be throwing this away

Pinch ends together so cheese doesn't escape
Lay meat log on silicone mat or grill pan and on to your smoker, or in your oven
Smoke for 2-2.5 hours until internal temperature reaches 150 degrees

Add smoked corn for last hour of cooking
oven cook time is approx. 60 minutes

Turn up heat to 400 in order to reaches 150 degrees internally, and crisps outside

You can add 1/4 cup bbq sauce to top add once you turn up the temp.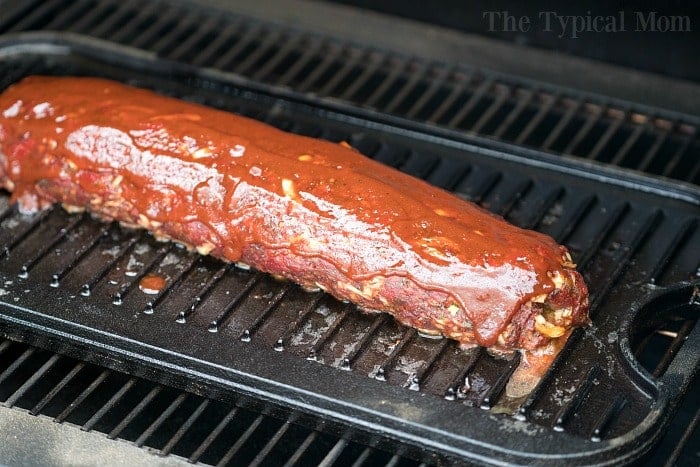 Let's talk choosing a bbq sauce.
The first time we made this stuffed meat loaf we added this barbecue sauce which we buy all the time. It was SPICY! We think it amplified the little bit of spice it had in it while it was crisping up in the smoker. Now we use this honey style.
Learn from us. If you really like heat then by all means use a spicy or somewhat hot sauce. Just know that the heat will be amplified in the last stages of cooking/smoking.
Also, you can adjust the amount of cayenne pepper added to the meatloaf mixture itself. We do a like a bit of a kick but 1 tsp is great for myself and the kids.
If my husband was making it just for himself he'd opt for 2 tsp.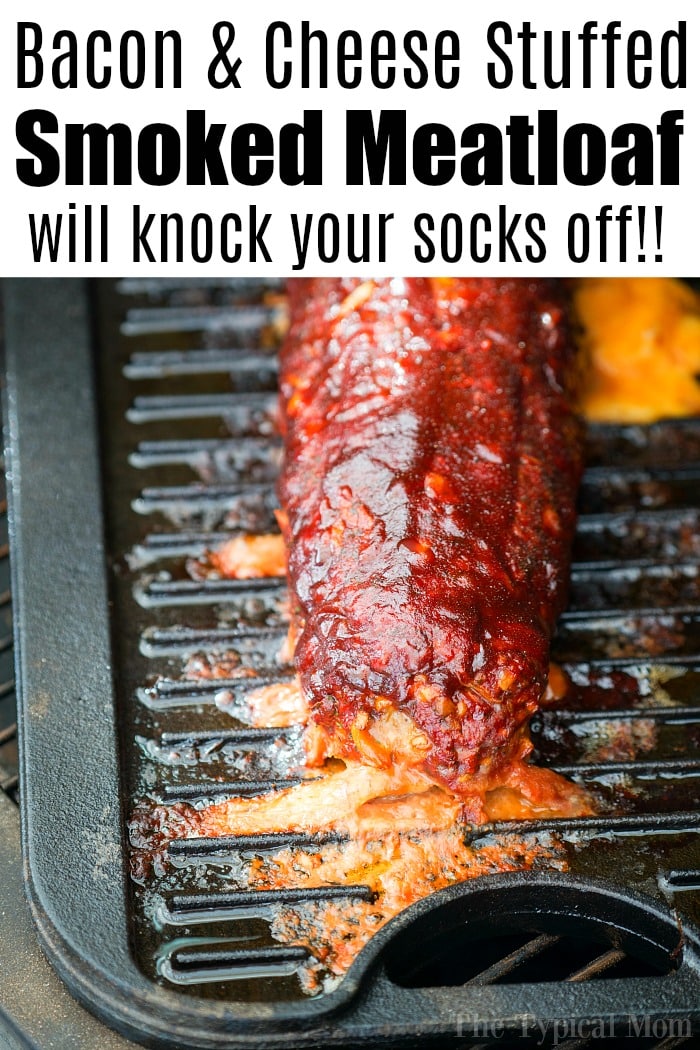 Why we like a grill pan vs. a silicone mat or baking sheet.
Some people swear by silicone but I am not a fan. First off I'd rather use cast iron vs. any sort of plastic type of material for baking or grilling.
Secondly, I love that this griddle/grill pan has ridges so a lot of the grease is kept away from the meat.
If you flip it over it is a flat cast iron griddle too. Perfect for making pancakes on the stovetop, it's super versatile.
Smoked bacon wrapped meatloaf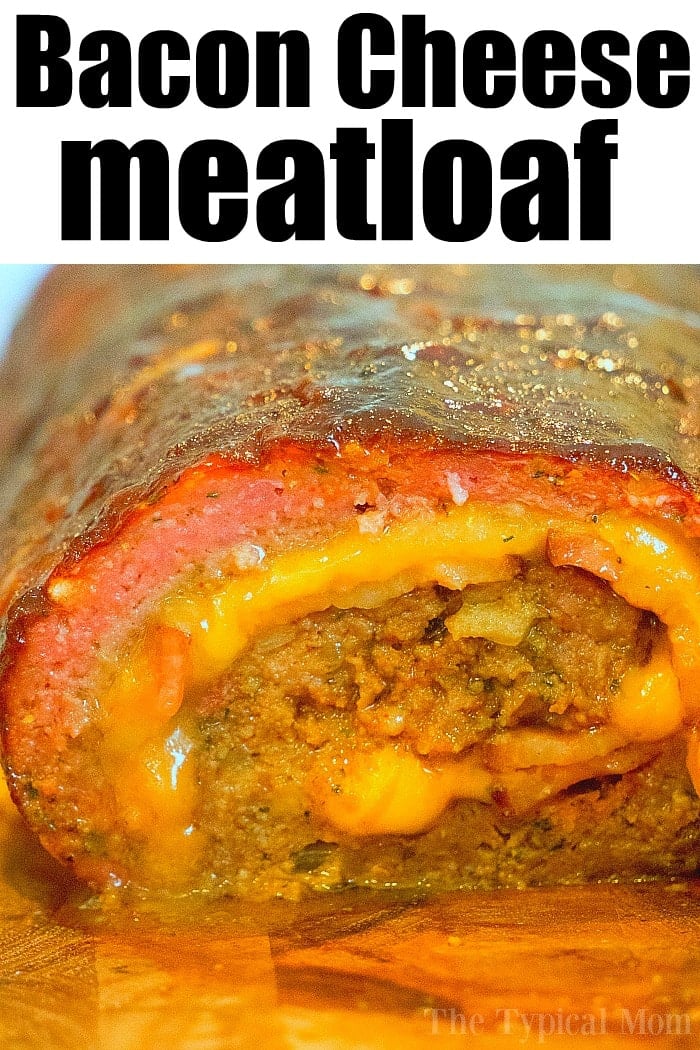 Smoked meatloaf recipe
Ensure that your meatloaf mixture is the same thickness all the way across in the initial flattening out process.
Preheat your smoker or oven.
Do not open the smoker for the first 2 hours so it cooks evenly.
Want bbq meatloaf? Add it before you turn it up to 400 degrees at the end to add even more flavor!
Always check internal meat temperature before serving.
Allow meat log to rest for at least 10 minutes so it stays in tact when you slice it.
Enjoy and don't count the calories on this one. 😉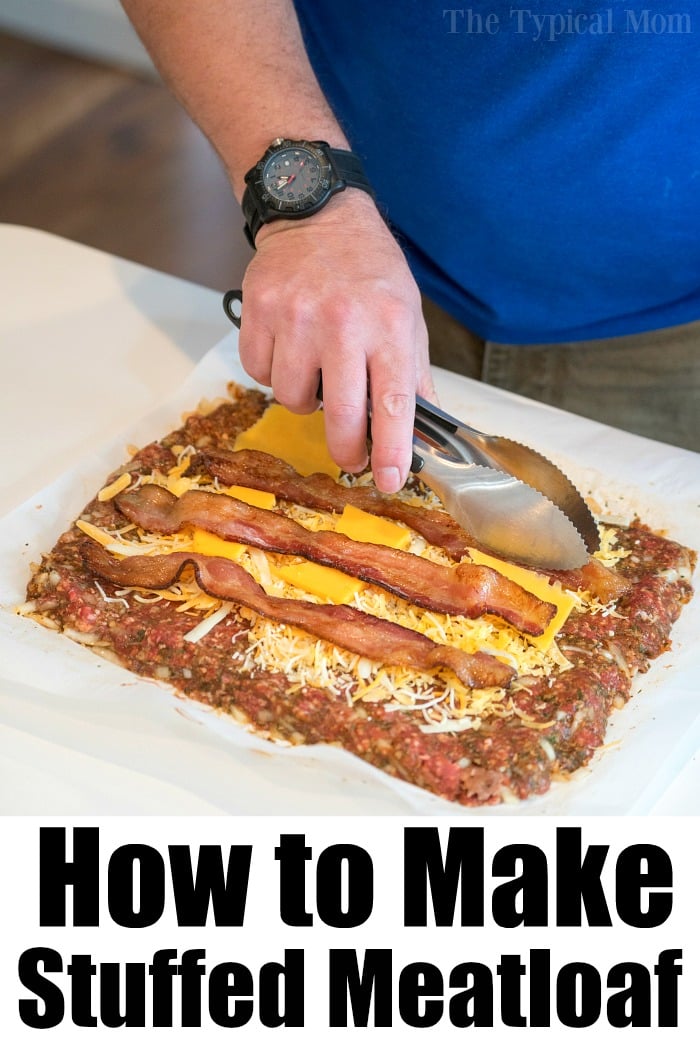 Serve with the best garlic bread recipe or our garlic smoked bread and enjoy!
You can print the recipe here:
Smoked Meatloaf
Want more easy recipes and tips from The Typical Mom blog? Sign up for my free newsletter, and follow me on Pinterest!
***** If you LOVED this recipe give it 5 Stars below and let everyone know what you thought about it. 😉
Smoked Meatloaf Recipe
This smoked meatloaf recipe stuffed with bacon and cheese is so amazing! If you're looking for the ultimate comfort food that oozes with flavor, try this!
Instructions
Preheat smoker to 150, or oven to 350 degrees. Make sure there are pellets or wood chips inside your smoker. Enough to last almost 3 hours. We used apple for this smoked meatloaf recipe.

In a bowl add all ingredients except bacon and cheese. Mix together well.

Set out a piece of parchment paper on to your countertop. Lay your meatloaf mixture down and spread out so it forms a square and is about 1/2″ thick all the way across.

Sprinkle your shredded cheese on top, then place your sliced pieces of cheese (if you decide to add more) on top of that spread out.

Lay your precooked slices of bacon down, spread out evenly.

Lift one end of your parchment paper up and begin to roll this into a long log of sorts.

Roll up in such a way that you can remove the parchment paper when you're done.

Once completely rolled up pinch the ends of your meatloaf roll so the least amount of cheese escapes in the smoking process.

Lay meatloaf log on to a silicone mat or long grill plate as you see we used in this post.

Place inside your smoker, on grates, in the middle. If baking in your oven it will take approx. 60 minutes to reach 150 degrees internally.

Close lid and smoke for 2 hours 15 minutes.

If you want to add barbecue sauce on to the top pour some on at this time. Now turn your smoker/grill up to 400 degrees until it crisps on the outside as much as you'd like and internal temp reaches 150 degrees. (times may vary on this depending on how thick your meatloaf is)

Take off griddle and place on cutting board. Allow smoked meatloaf to rest for at least 10 minutes before slicing.
Nutrition Facts
Smoked Meatloaf Recipe
Amount Per Serving (3 oz)
Calories 406
Calories from Fat 144
% Daily Value*
Fat 16g25%
Cholesterol 74mg25%
Sodium 1103mg48%
Potassium 205mg6%
Carbohydrates 45g15%
Protein 17g34%
Vitamin A 540IU11%
Vitamin C 2.3mg3%
Calcium 339mg34%
Iron 3.5mg19%
* Percent Daily Values are based on a 2000 calorie diet.