This is how long to cook meatloaf at 400 degrees F in your oven to perfection. Whether you are making it the old fashioned traditional way, or low carb meatloaf without breadcrumbs these are our tips to keep it moist.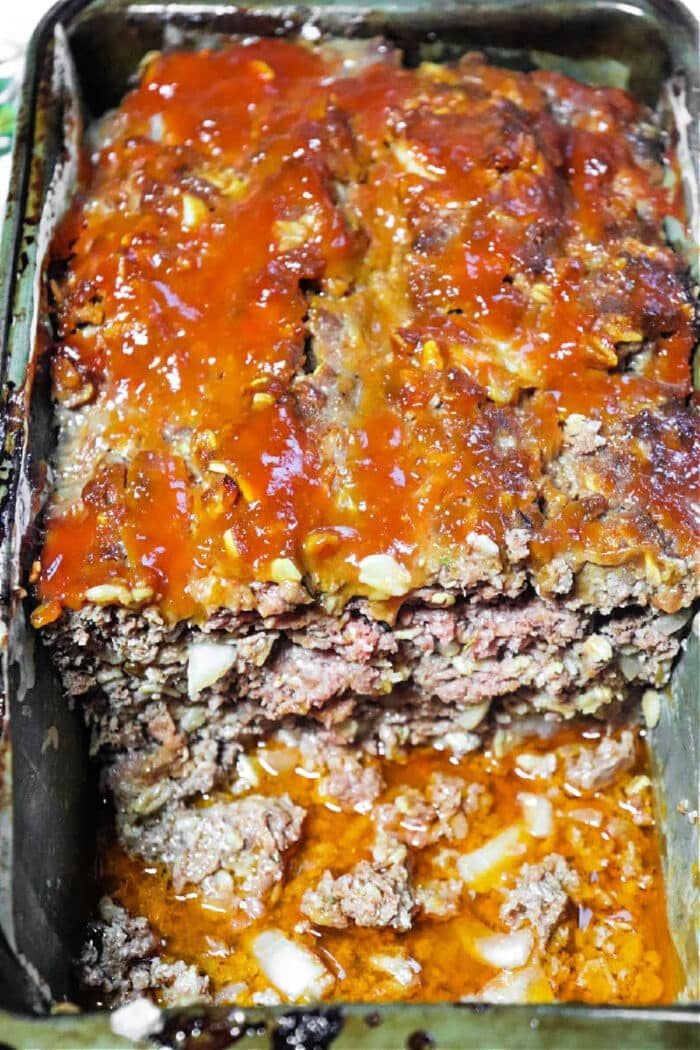 We're going to be cooking meatloaf at 400 degrees today. A higher temperature vs. 350 will give you a bit of a crust on the top which can be amazing. This is how to keep the meat moist and tender while baking some sauce on the top too. (affiliate links present)
How to Make Meatloaf
A basic meatloaf mixture typically consists of ground meat. Most people usually use beef, but other meats like pork, turkey, or a combination can be used. You will need breadcrumbs or another type of binder to keep it together. You could also use crushed crackers, oatmeal, or cooked rice and eggs to help bind the mixture together. Seasonings like salt, pepper, and onion powder are added for flavor.
There isn't a huge difference when cooking a meatloaf at 350 vs 400. The biggest being the texture on the top. More than the temp. is the amount of meat you choose to cook in your loaf pan.
Thicker will take longer, and how well done you want the middle to be. If you are using beef it can be left a bit pink in the center, but not much. Ground turkey or pork would take a bit longer to ensure it was safe.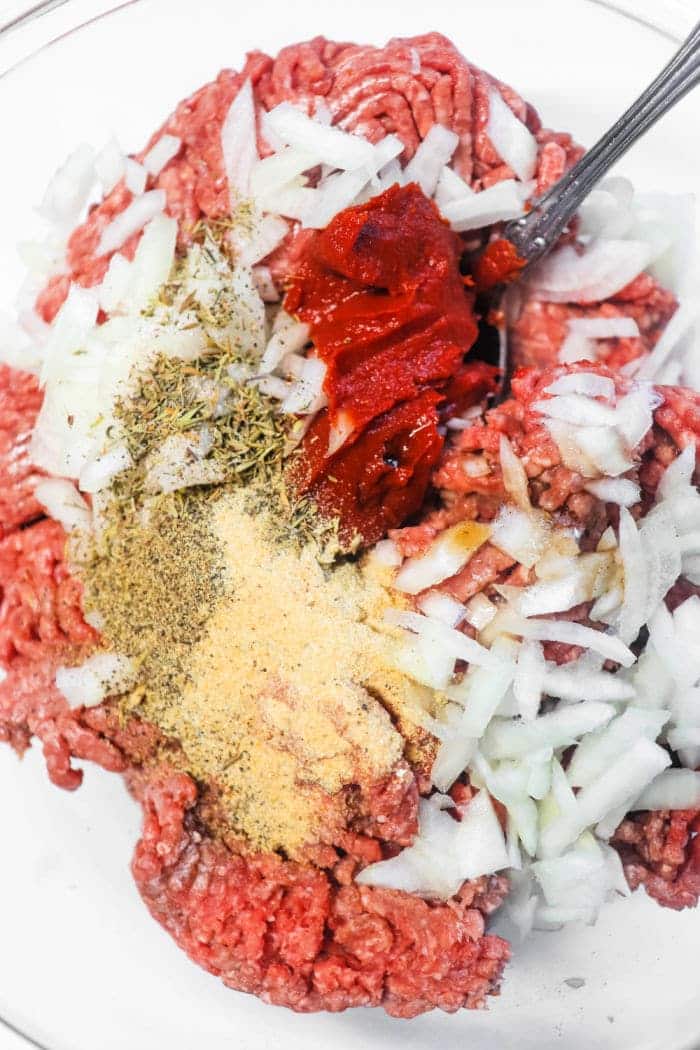 How Long to Cook Meatloaf at 400
The cooking time for meatloaf can vary depending on several factors. If the thickness of your loaf is more than the norm it will take longer. The type of protein used whether it be beef or turkey meatloaf, and the oven.
As a general guideline, meatloaf cooked at 400 degrees Fahrenheit or 205 degrees Celsius usually takes around 40 – 60 minutes. This will get the center to reach a safe temperature.
It's important to note that the internal meat temperature should always reach 160 degrees F. This is in order to ensure that it is fully cooked and safe to consume. You can use a meat thermometer to check the temperature in the center. Always do this after removing it from the heat source to get an accurate read.
Additionally, you may want to consider covering the top of the pan with foil for the first 20 – 30 minutes. I recommend this to prevent the top from over browning. After that, you can remove the foil, add sauce like with our Spicy Meatloaf Recipe and continue baking until the center is fully cooked and browned on top.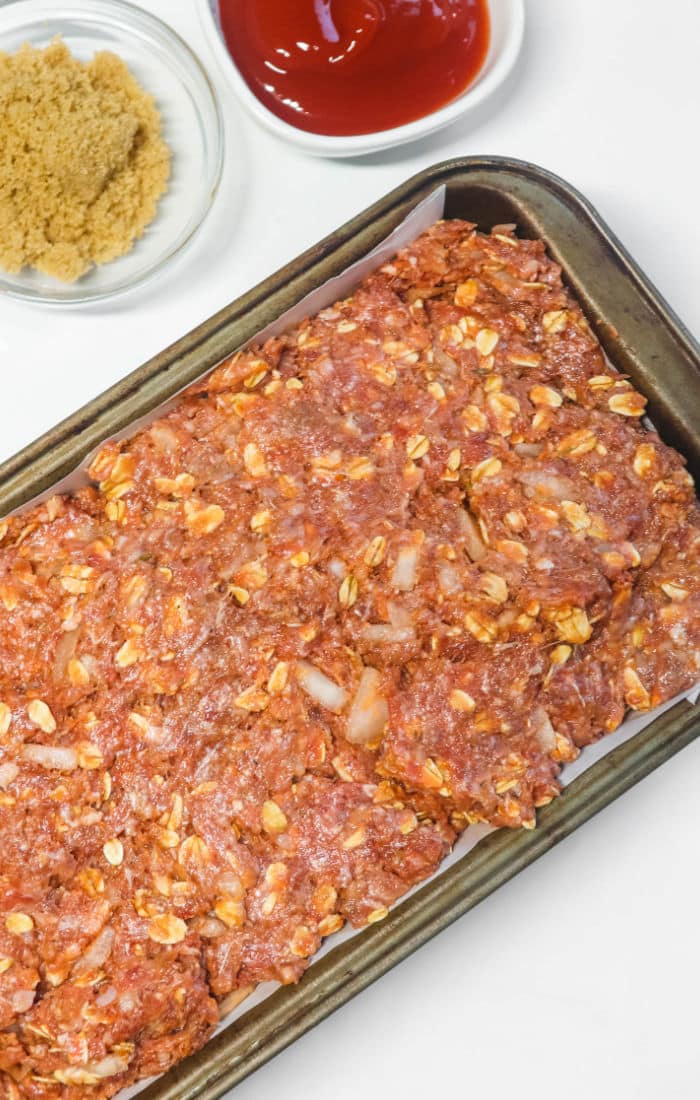 Should You Cover Meatloaf with Foil
It is common to cover meatloaf with foil for part of the cooking time. This is order to prevent the top from becoming too browned or dried out. I do not do this with our Bundt Pan Meatloaf because I want the glaze to caramelize on the top. This is how to cover a meatloaf with foil to bake in the oven, and when to remove it.
Remember to preheat the oven first so it cooks at the same temp. the entire time.
At the beginning of cooking I highly recommend that you cover the top of your loaf pan with foil for the first 20-30 minutes or so, about halfway thru. This will allow the meat to cook through and prevent the top from getting too brown while the inside is still raw.
Halfway through cooking is when the foil should be removed and put to the side (for later use) to brush on some sauce (if desired) and crisp the top a bit.
How to cover meatloaf with foil: All you need to do is simply place a sheet of aluminum foil over the top of the loaf pan or baking dish.

crimp the edges tightly around the sides to create a seal.
this will help to trap steam and moisture, keeping the meat tender and juicy
Note: Some people prefer not to cover it with foil at all. Reason being is they like the slightly caramelized and crispy top that forms during cooking. This works best if you are only baking 1 pound of meat or making out muffin tin meatloaf. With smaller and thinner amounts of protein that isn't as much of an issue.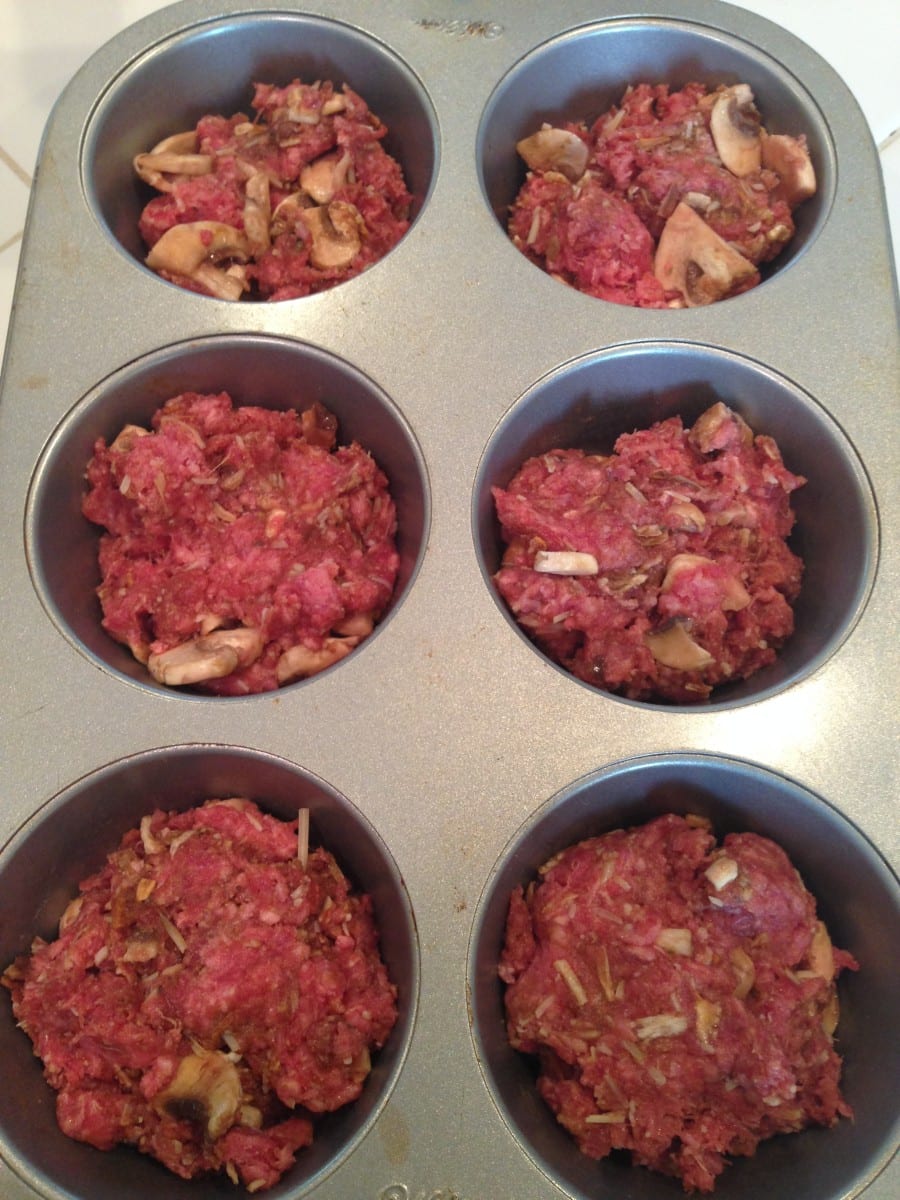 What temperature is a 2 lb meatloaf done?
It really doesn't matter how many pounds you are cooking at a time the temperature remains the same. To determine when a 2 pound meatloaf is fully cooked, use a digital meat thermometer.
Remove from the oven to accurately check the internal temperature. It should reach 160° F to ensure that it is safe to eat. This temperature applies to meatloaf made with any type of meat, including beef, pork, turkey, or a combination of meats.
To use a meat thermometer, insert the probe into the center to check the temperature of your meatloaf. Make sure it reaches the thickest part. Wait for the temperature reading to stabilize, which may take a few seconds. If it reads 160 or higher using an instant read thermometer, the center is fully cooked and safe to consume. Remember it will rise another 5 degrees while it rests so remove at 155.
The cooking time for a 2 lb meatloaf can vary. Factors depend on the oven temperature and the thickness of the meat in the loaf pan. As a general guideline, 2 lbs made into a moist meatloaf in a loaf pan will take approximately 40 minutes to 60 at most. That is unless you're making a Ninja Foodi meatloaf, that's faster.
What can you add into meatloaf mixture
Adjust the amount of binder (such as bread crumbs or oatmeal) with your eggs to ensure that the mixture holds together well. I recommend that you use your hands to mash it all together. You can then really feel how well it is going to hold together and adjust as needed.
Vegetables: Finely chopped vegetables such as onion, garlic, bell pepper, and celery can add flavor and texture to the bowl. Saute them before adding to soften and bring out their sweetness.
Cheese: Grated cheese such as cheddar, Parmesan, or mozzarella can add richness and a savory flavor to something like our smoked meatloaf.

You can either mix the cheese into the meat mixture, roll it out and add slices like we did above, or sprinkle it on top before baking so it melts.

Herbs and spices: Fresh or dried herbs such as parsley, thyme, oregano, or rosemary can add depth of flavor. Spices such as paprika, red pepper flakes, cumin, or chili powder can add heat and complexity.
Add a sauce or condiments: Ketchup, mustard, Worcestershire sauce, barbecue sauce, or soy sauce can add moisture and tangy, sweet, or savory flavors to the overall dish.

I recommend that you wait and bake your meatloaf halfway thru the timing first covered with foil
Then pour or brush on to the top once uncovered and continue baking until it is done.
ALWAYS take it out, cover with foil to keep warm for 15 minutes before slicing. This will keep it from drying out. Have leftovers? It saves quite well if you wrap it in foil and store in the fridge for up to 48 hours. Then you can reheat as is or we have made a bunch of easy leftover meatloaf recipes you can try.
How to Freeze Meatloaf
If you have leftovers, don't throw them out! Wait until they are cool and transfer into a freezer bag and into the fridge. Reheat with a bit of gravy, broth or bbq sauce on the top for about 1 minute.
Want to see a few of my favorite things that I am totally obsessed with?? Take a peek and see how many you might already have…twinsies!
Looking for more easy family recipes and tips? LIKE The Typical Mom Facebook page?
Then sign up for my free newsletter, and follow me on Pinterest! 😉
***** If you LOVED this recipe give it 5 Stars below and let everyone know what you thought about it. 😉
How Long to Cook Meatloaf at 400
This is how long to cook meatloaf at 400 degrees F so it stays moist baked in the oven but with a bit of crisp on the top too. Perfect dinner
Instructions
Preheat your oven to 400 degrees F. Add all ingredients into a bowl and use your hands to incorporate. If you think it is a bit too wet you can sprinkle in a bit more breadcrumbs.

Spray loaf pan and add meat mixture. Spread out so it is the same thickness all the way across. Cover with foil.

Bake in middle rack for 25 minutes. Then remove foil and I like to pour on 1/4 cup of barbecue sauce on the top, brush on.

Return to oven uncovered for 15-25 more minutes or until the center reaches a 155 degrees F. (temp will rise another 5 degrees while resting)

Once temp is right remove and set on cooling rack with foil placed back on top to keep warm for 15 minutes.

Slice and serve with more sauce or ketchup on the side.
Nutrition Facts
How Long to Cook Meatloaf at 400
Amount Per Serving (2 oz)
Calories 297
Calories from Fat 180
% Daily Value*
Fat 20g31%
Cholesterol 97mg32%
Sodium 257mg11%
Potassium 329mg9%
Carbohydrates 10g3%
Protein 19g38%
Vitamin A 1675IU34%
Vitamin C 1mg1%
Calcium 48mg5%
Iron 3mg17%
* Percent Daily Values are based on a 2000 calorie diet.