Easy red cabbage coleslaw recipe you can use as a side dish or on sliders! Simple vegetable dish with a tangy and sweet dressing you'll love.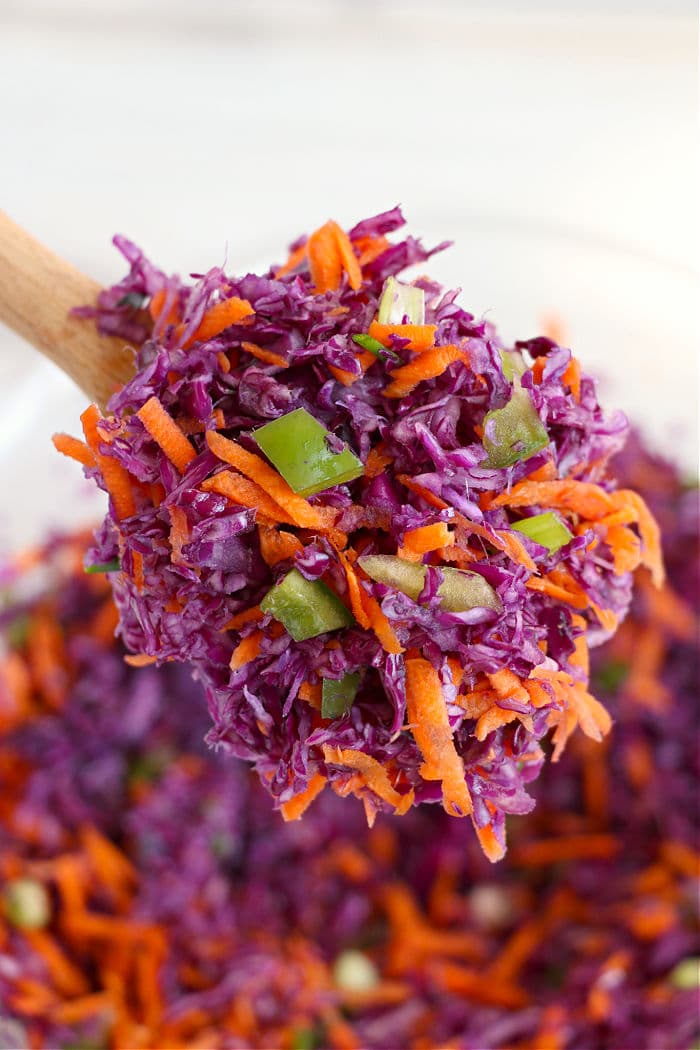 Slaw with red cabbage is not just a side dish. Added inside your favorite sliders it adds some crunch and a ton more flavor. Give this easy side dish a whirl and let us know what you think! (affiliate links present)
Red Cabbage Coleslaw No Mayo
I was not always a lover or simple cabbage recipes growing up. My grandmother cooked it in some way for every meal though, so I did try a few.
Fast forward to me turning 40 and I don't know what happened, I love everything about it now!! I usually use green cabbage for everything but this color is so much prettier.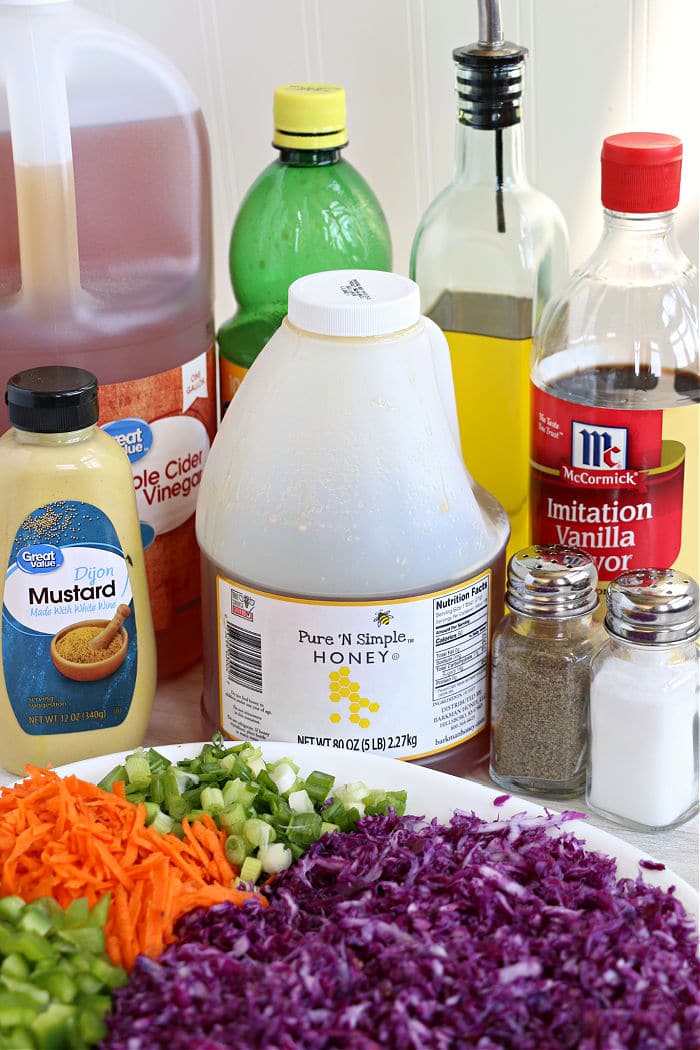 Red Cabbage Slaw Recipe
There is a lot you can add into this for flavor, or omit depending on your taste buds. When it comes to seasonings it is really up to you but I will always add what was used this time in the recipe card below.
Head of red cabbage

this is how to cut cabbage for cole slaw

Carrots
Green onion
Bell pepper
Dijon mustard – add amount listed, then taste and adjust as needed
Apple cider vinegar or white wine vinegar if you prefer
Fresh lemon juice
Honey
Olive oil
Vanilla – just a touch is great but can omit
Some like celery seeds with salt and pepper
Some like to add a bit of mayonnaise to create a creamy coleslaw version. Of course you'll need a large bowl to toss it all together too. Tongs are helpful too.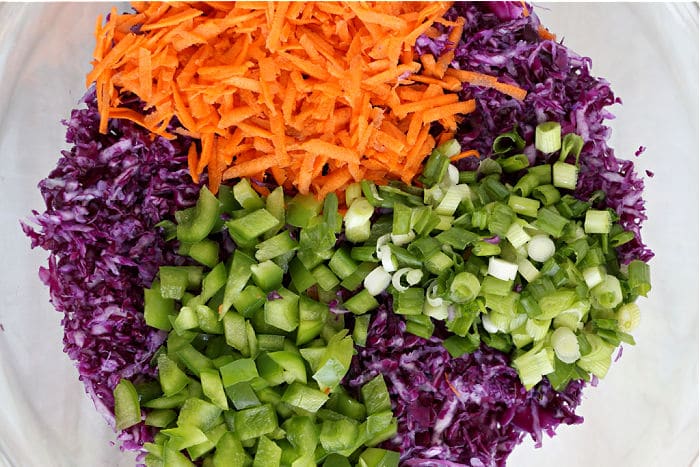 Red Cabbage Salad
You'll want to get chop chop chopping now, with all the things. Thinly slice or dice it all so it can be served alongside hamburgers or put on top of pulled pork sliders.
How do you shred red cabbage for coleslaw
It doesn't matter whether it is red or green, you should slice the head in half when making easy cole slaw. Slice the cabbage in half again and remove the core. Put the flat side down and cut at a diagonal. You could use a mandolin too once it's cut into quarters if you'd rather.
Can you shred cabbage with a cheese grater
You could if you wanted the pieces to be really really fine. I prefer to use this to just shred carrots to include inside.
To create the uber flavorful cole slaw dressing it is easiest to use a large mixing cup that has a spout like you see here already. Then you can just pour it on and toss well. Or use a large bowl to whisk together.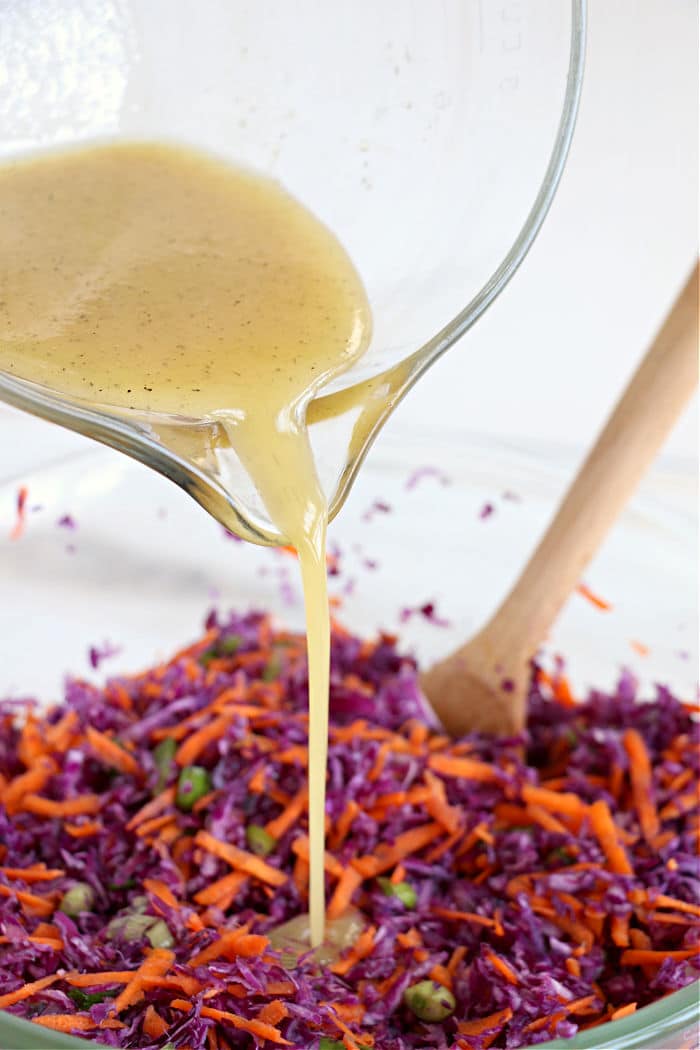 Purple Cabbage Coleslaw
It is called both things, I know…it is not really red. I am not sure where that popular term even came from but it is what it is. We love this recipe so much I tell you, it's so versatile depending on what I have on hand.
Rinse and dry cabbage, carrots and all veggies you're using. Slice, shred, dice, or chop your cabbage any way you like. Some prefer it very fine while others like their pieces a bit larger.
Mix together all vegetables. In a bowl whisk together liquids to create the dressing.
Pour dressing on top and stir so each piece is nicely coated.
This tastes best if it's refrigerated for at least 30 minutes before you serve it however you'd like.
How long do you let coleslaw sit
The minimum for me is 30 minutes, I think 1-2 hours is ideal. Chilled while it is soaking in nicely is the ideal way to make it if you ask me.
Once it's chilled nicely in an airtight container you'll be ready to enjoy it. I wouldn't leave it open in the fridge or it will dry out a bit. Same goes for when you're making our simple potato salad no mayo recipe too.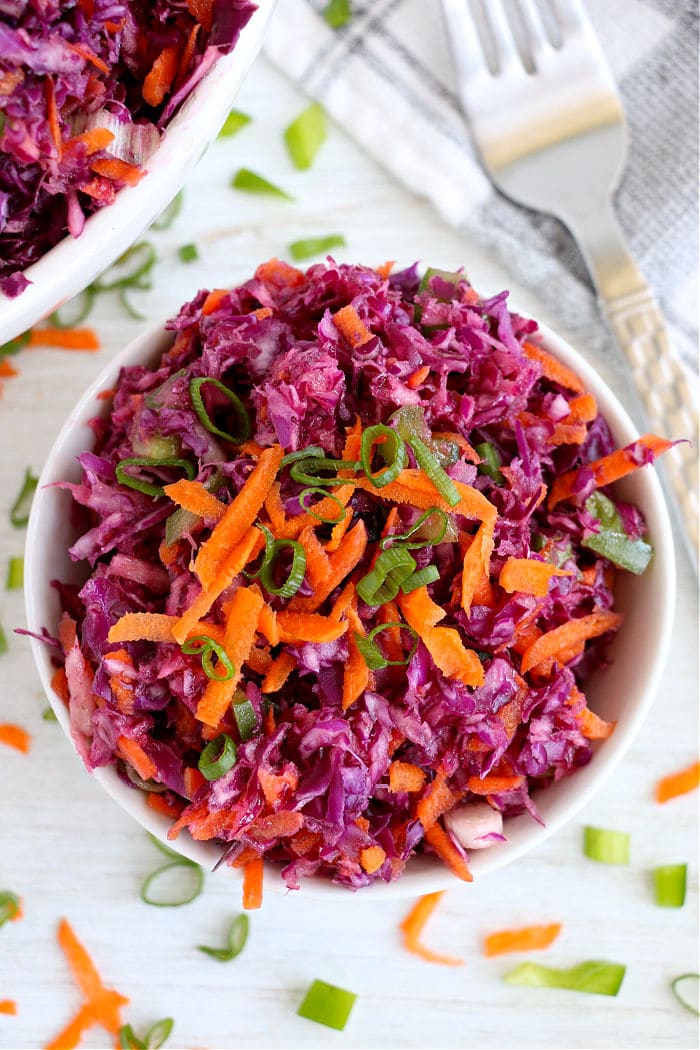 What food goes with coleslaw?
Well if you love cabbage as much as we do I would make it in other ways other than just a side. You can make lots of main dishes with it too like Crockpot red cabbage soup. Want a warm way to make another head of this and serve with your favorite protein? Give our roasted red cabbage steaks a whirl too.
You can just serve it with the best baked pork chops or a cooked frozen roast for dinnertime. 😉 Easy peasy idea.
If we make air fryer hamburgers they can be topped with this as well.
Served alongside of tilapia you'll have a healthy meal for everyone.
Meatloaf is something I make a few times a month and that is fantastic with this. Add a dollop of mayo to make it creamier.
I told you our favorite way is to put a big dollop of it on top of our Ninja Foodi pulled pork sliders. It brings some coolness and freshness to the meal for sure and makes them so pretty when served during a party.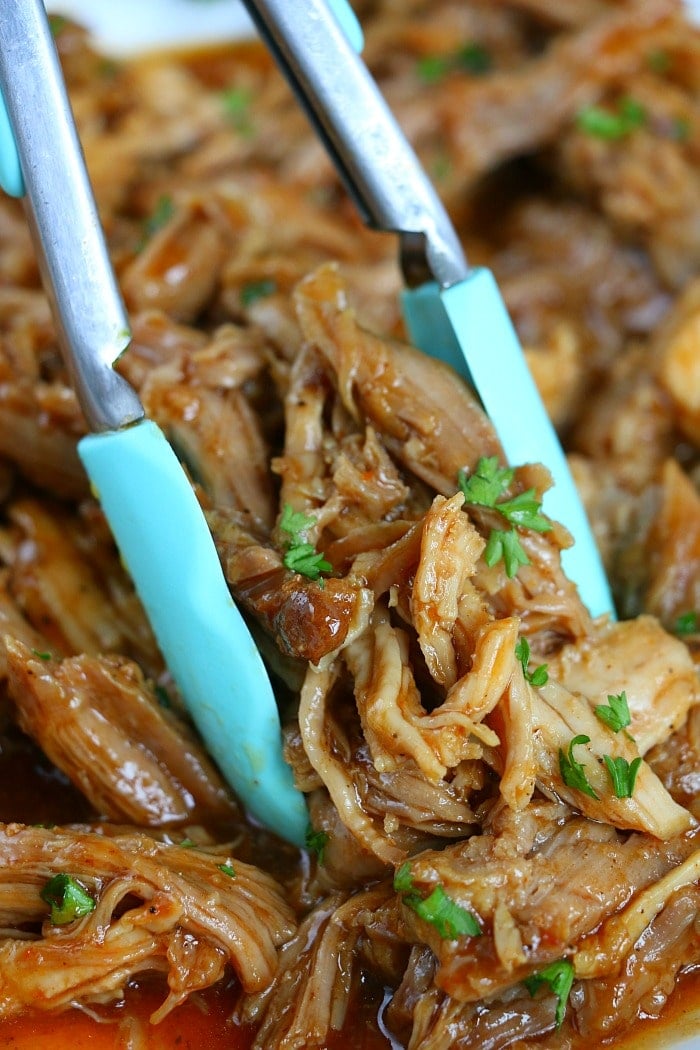 How long will red slaw last in the fridge?
If stored properly in a well sealed container this and our pickled red cabbage will easily last up to 5 days. Keep in mind though, the longer it sits the less crispy each bite will be. For me I only like it a day after with leftovers warmed up, after that I'm done.
How do you know if coleslaw has gone bad?
Obviously if there is mold present, throw it out. If the colors have changed that is another bad sign. Smell it, is there a strange odor? Toss it if it tastes bad too. You can kinda tell though, it will get kinda' sticky and wilted looking.
Can you mix coleslaw the night before?
You can. Just remember that sitting beyond a few hours will make it less crisp and crunchy but if you're trying to meal prep for a large gathering this could be something prepared beforehand and covered.
Want to see a few of my favorite things that I am totally obsessed with?? Take a peek and see how many you might already have…twinsies!
Looking for more easy family recipes and tips? LIKE The Typical Mom Facebook page?
Then sign up for my free newsletter, and follow me on Pinterest! 😉
***** If you LOVED this recipe give it 5 Stars below and let everyone know what you thought about it. 😉
Red Cabbage Coleslaw
Easy red cabbage coleslaw recipe you can use as a side dish or on sliders! Simple vegetable dish with a tangy and sweet dressing you'll love.
Instructions
Mix together all vegetables. In a bowl whisk together liquids to create the dressing.

Pour dressing on top and stir so each piece is nicely coated.

Best if refrigerated for at least 30 minutes before serving.
Nutrition Facts
Red Cabbage Coleslaw
Amount Per Serving (2 oz)
Calories 148
Calories from Fat 81
% Daily Value*
Fat 9g14%
Sodium 213mg9%
Potassium 378mg11%
Carbohydrates 16g5%
Protein 2g4%
Vitamin A 5107IU102%
Vitamin C 76mg92%
Calcium 61mg6%
Iron 1mg6%
* Percent Daily Values are based on a 2000 calorie diet.