How to cut cabbage into cubes, shredded for cole slaw or quartered. Then you can make all the cabbage recipes we will share here on The Typical Mom blog.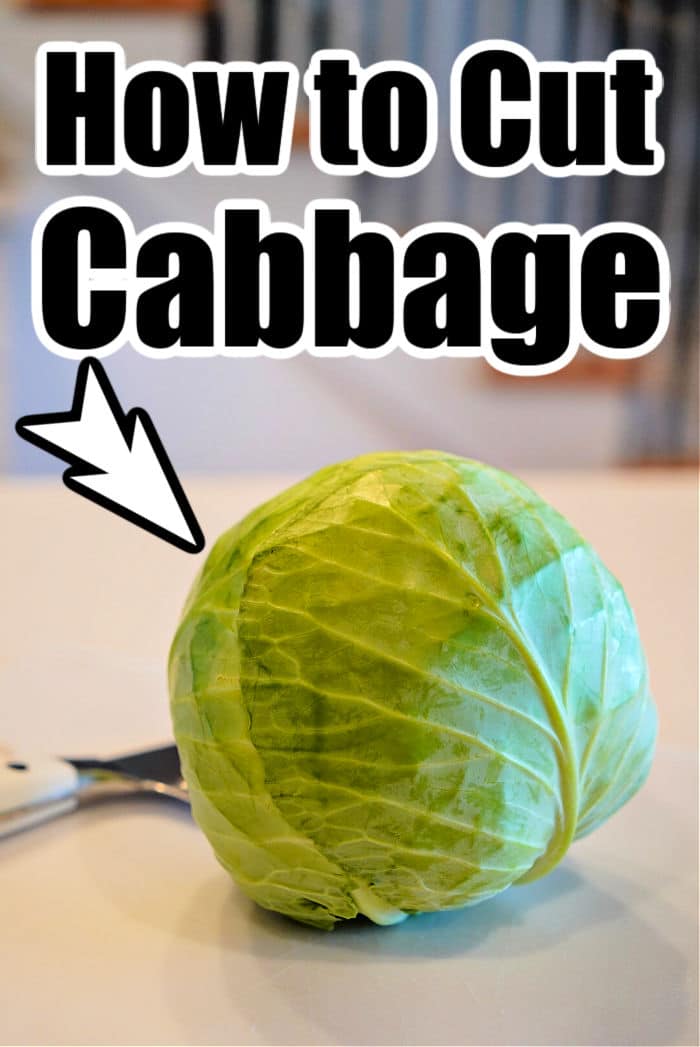 We have tons of simple cabbage recipes on our site. Typically only thought of around St. Patricks Day this is actually a great green vegetable to cook with. First see here how to cut cabbage, then you can cook it with bacon or vegetarian side dishes. (affiliate links present, originally published 3/21)
How to Cut a Cabbage
I didn't acquire a love for this until I was in my late 30s. It was my Grandmother's all time favorite thing to cook with, probably because it was cheap and she had a lot of kids. Never would any of it enter my mouth when I was a kid but every time I buy it now I think of her.
Fast forward 10ish years since I stepped foot into her house and now I can't get enough of it. It's one of the best easy side dishes ever that you can add a ton of flavor into. Using diced kielbasa sausage, ham and bacon of course is our favorite but even if you want a meat free option you can still make it taste amazing.
Here's a step by step guide on all the different methods you'd want. You can use the same for red or green. Napa cabbage isn't as firm thus that one really needs to be sliced for best results.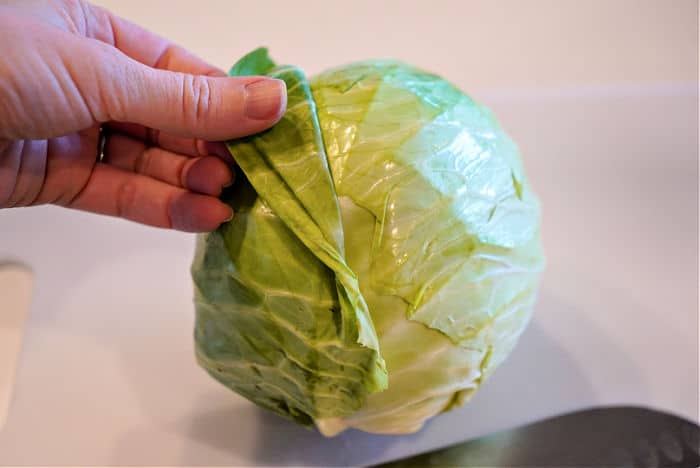 How do you remove cabbage leaves without breaking them?
This is only necessary if you are making our slow cooker stuffed cabbage rolls and want them large and whole. If you're slicing or shredding, do NOT do this. For whole cabbage leaves, freeze the whole head for 3-4 hours first. Remove and sit on counter for 1 hour. Then slice the end off at the base where it was attached to the plant.
Start from the very end with the outer leaves one at a time. Slide your finger down to the base and lift off. Lay on paper towels on your countertop and allow them to come to room temperature and dry the cabbage too.
If you want them a bit softer you can microwave for 15 seconds before filling with your filling and wrapping them up.
You could also blanch leaves VERY quickly to really soften them up.
I don't use this method very often. Cubed is what I do to make my Instant Pot fried cabbage, unstuffed cabbage and lots of other recipes I'll share within this post.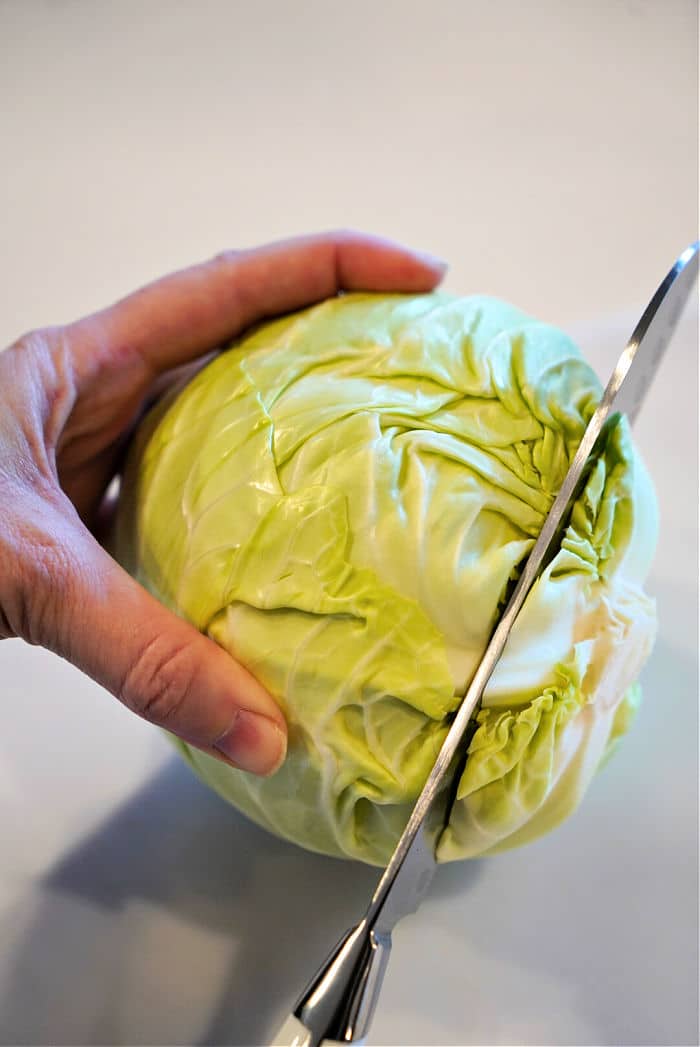 How to Cut up a Cabbage
If you are going to shred cabbage or cut into squares (cubed I call it) you still will want to remove and discard the end. It is hard and there is like no way to make it edible. This does two things, gets rid of the inedible piece AND creates a flat spot so it will sit nicely on your cutting board.
Sit it down with the cut side on your board. Use a sharp chefs knife for this so you aren't sawing. Slice thru the middle of it as you see here. Then separate the two pieces so you can lay them correctly for the next steps.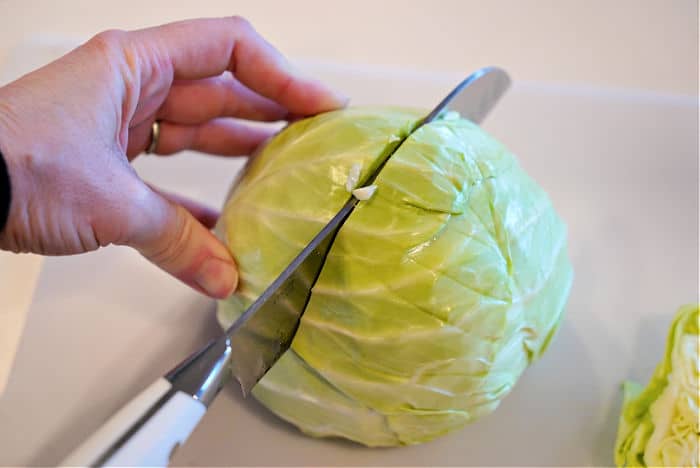 How to Cut Cabbage for Slaw
When it is sliced like you see below have two choices, basically. If you want to make red cabbage coleslaw you wouldn't use your knife any longer, instead slice it on your mandolin or slicer like this so you get thin strands almost like shredded lettuce.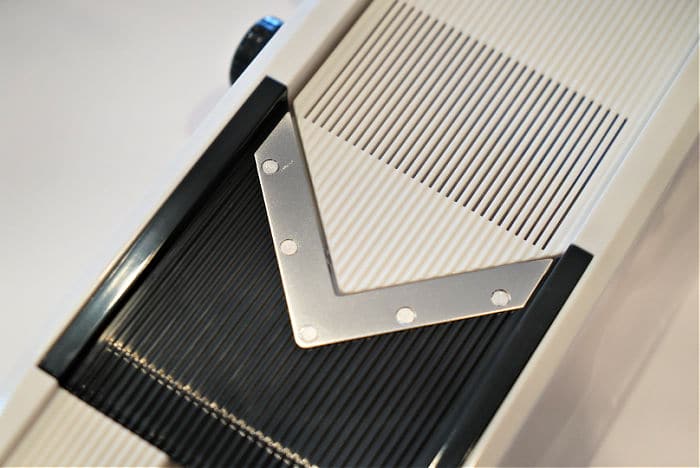 How to Cut Cabbage Steaks
To make cabbage steaks you would turn your half to it's side, and slice into the thickness you want.
Something to remember: The larger your pieces are the firmer they will be when you cook it. Like if I'm making any of our Instant Pot cabbage recipes I make them a bit bigger, closer to 1.5-2″ pieces since pressure cooking really softens fast.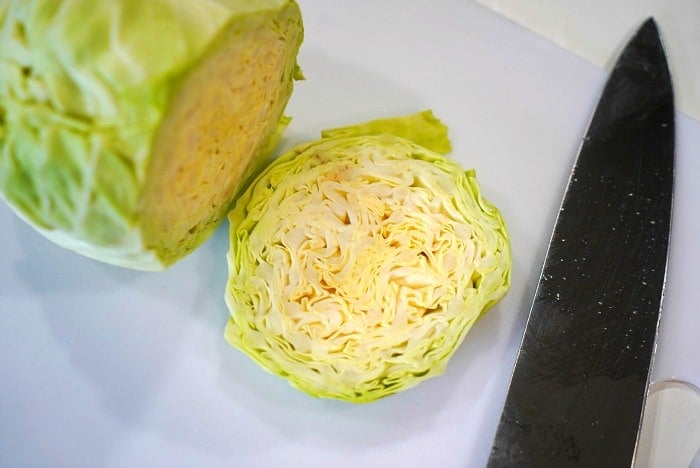 Cut Cabbage
Like I said, normally I cut into 1×1 inch squares to make almost everything. To do this you'll want to sit both pieces on the flat side facing down. Makes sense to do this so it doesn't roll around. I use the same technique when showing how to cut a watermelon.
Now follow along for these directions and all the things I make with this size…..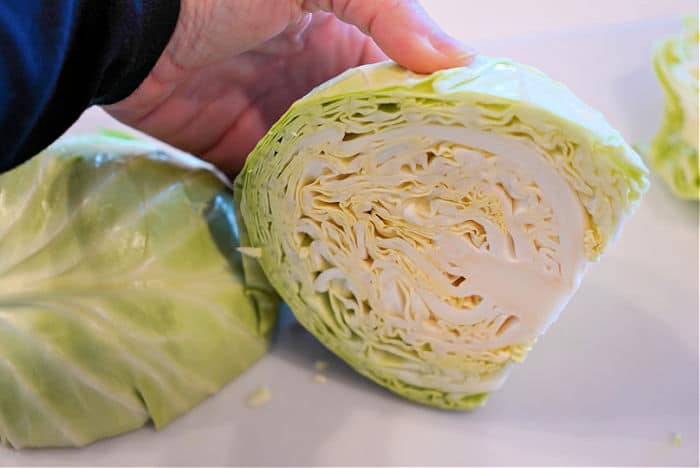 How to Cut Cabbage into Wedges
I only really slice cabbage quarters when making Ninja Foodi cabbage because I pressure cook and air fry after that step which means it needs to be large and in charge. 😉
If not it would get mushy but I'm telling you this is amazing. If you are looking for new and easy Ninja Foodi recipes you should give this one a whirl for sure. As you can see you will get 4 equal pieces in one head. Half is usually plenty for one person so you're good to feed 8 which means a really cheap side.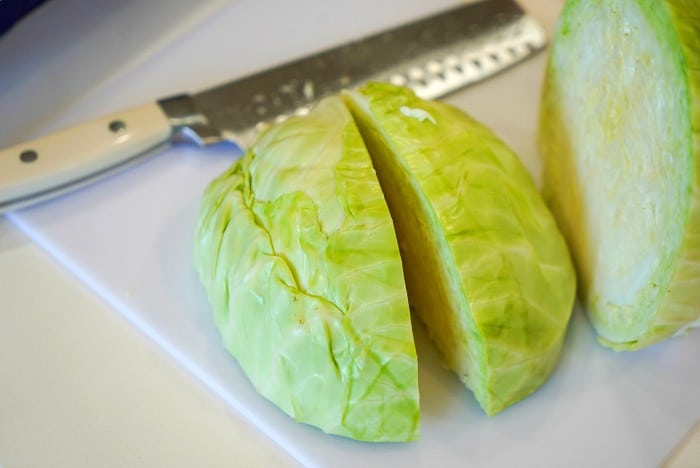 How to Cut Up a Cabbage
Back to cubes……
So you have two halves set down flat. Slice about 5 times across, then rotate and slice again so you get your cabbage squares of sorts. When you're done pick them up and try to break them apart when adding into your pot so they all cook evenly.
Some of the middle sections will be whiter and stiff. I tend to discard those few. If you just transfer into your pan as is in big chunks it will take longer to soften and won't absorb whatever seasonings and/or sauces you use.
Adding those are necessary because stand alone this is quite bland. Soy sauce and a bit of heat are usually musts.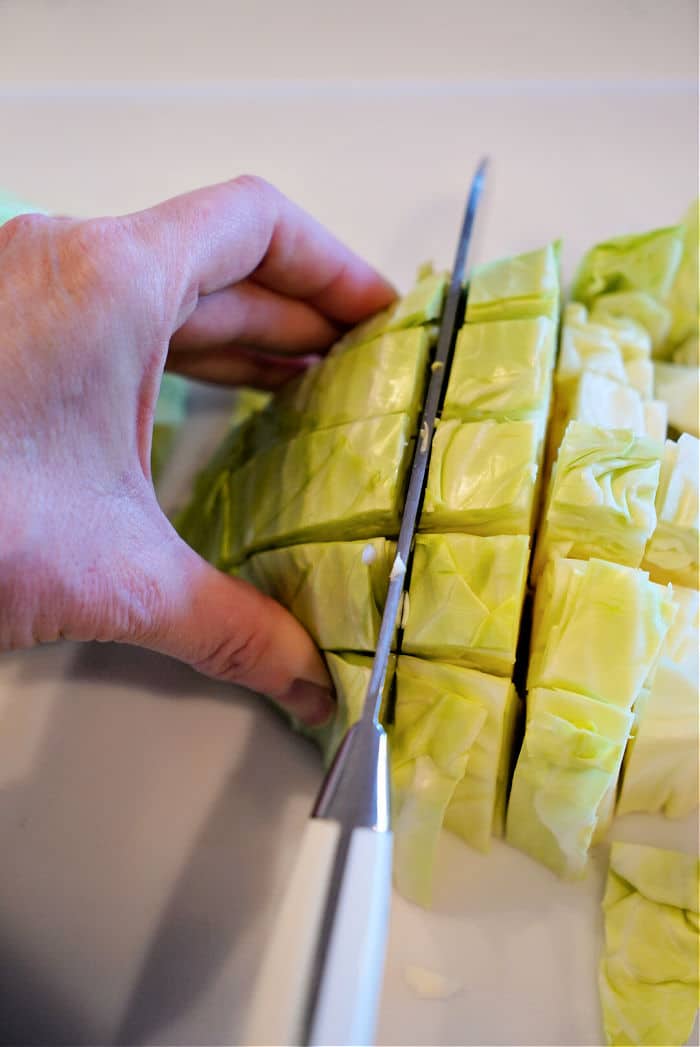 I will recap below after mentioning a few of our favorite creations:
Cabbage Recipes
Use a few varieties including Napa cabbage to make chicken stir fry on the stovetop or pressure cooker.
Time needed: 5 minutes.
How to cut a cabbage
Remove

First remove the top 2 large leaves from the outside, they are likely dirty and may have some damage. Rinse and pat dry with paper towels.

Slice

Put the whole cabbage on it's side and slice the hard end off where it attached to the plant. Discard this piece, you won't want to eat this.

Half

Now you want to sit the cabbage on the flat end you just cut off on to your cutting board. Put your knife at the top of the head and slice in half.

Shred or slice

Make a decision now as to whether you want shredded cabbage for cole slaw or cubed to make buttered cabbage or a variety of other recipes. If you want to shred it then you don't need to use your knife any longer. Just sit the flat end down on a mandolin and carefully shred into small skinny pieces.

Cube

If you do want to cube into 1×1″ pieces (usually the way I like it) then lay your halved head of cabbage with the flat side down on your cutting board. Hold one end with your hand and use a sharp knife to slice 1″ slices. Then turn it to cut again into 1″ pieces so you will have a bunch of squares like this.

Cook

Add into a pan or dutch oven with butter, broth and bacon to simmer until softened to your liking.
Want to see a few of my favorite things that I am totally obsessed with?? Take a peek and see how many you might already have…twinsies!
Looking for more easy family recipes and tips? LIKE The Typical Mom Facebook page?
Then sign up for my free newsletter, and follow me on Pinterest! 😉
***** If you LOVED this recipe give it 5 Stars below and let everyone know what you thought about it. 😉