We love Instant Pot cabbage recipes for dinner! If you love cabbage too, and obsessed with your pressure cooker we have a week worth of easy and delicious recipes here!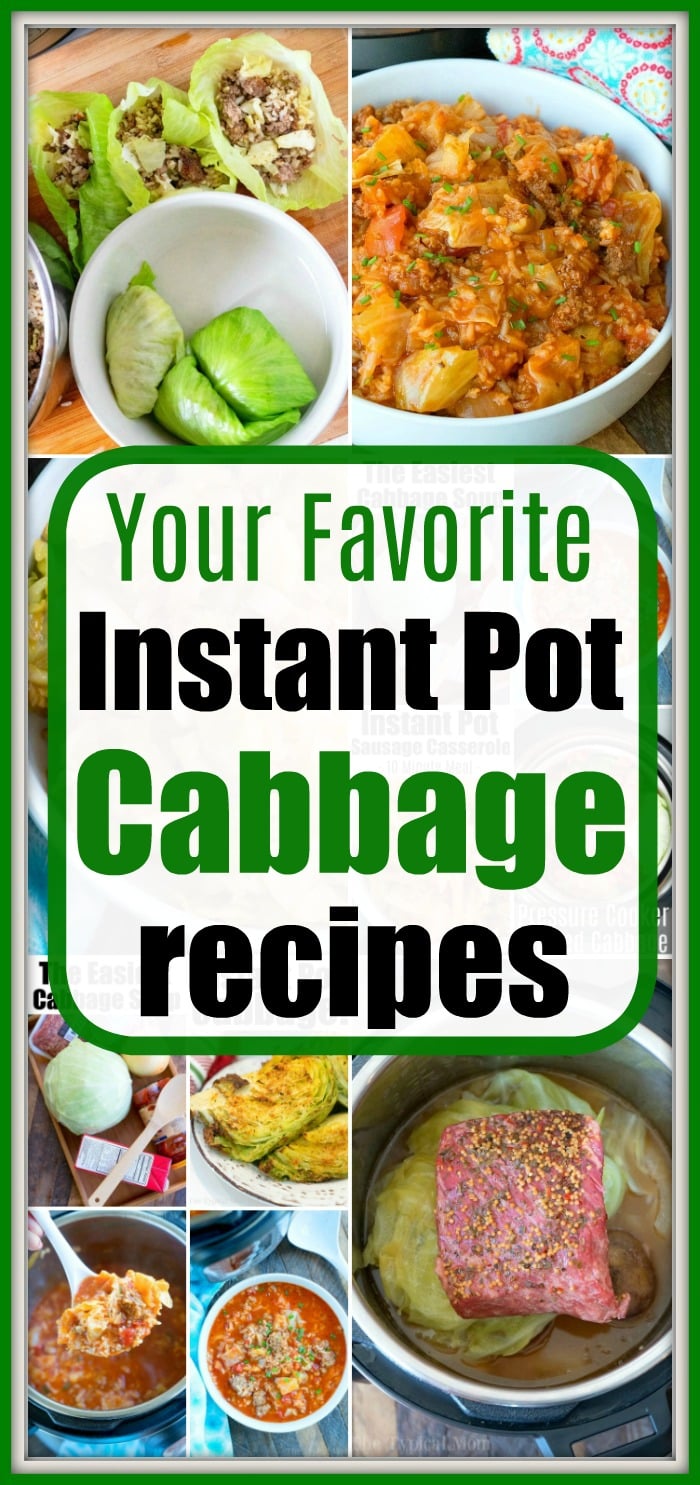 Looking for a few Instant Pot cabbage recipes? It's one of our favorite vegetables now, and so versatile! Serve it for dinner or a side dish, hearty with sausage or vegetarian without meat. Any way you serve it it's just so good. Find more recipes ideas on our Instant Pot recipes post and let us know which one is your fave. (affiliate links present)
If you love quick and easy simple cabbage recipes we have a lot to try in your pressure cooker!
PLUS we will share how to make Instant Pot buttered cabbage below.
You will be amazed just how creative you can get with this (sort of) neglected vegetable.
One of our favorite chopped cabbage dinners is our pressure cooker stuffed cabbage soup! We also have one that is a bit thicker and heartier.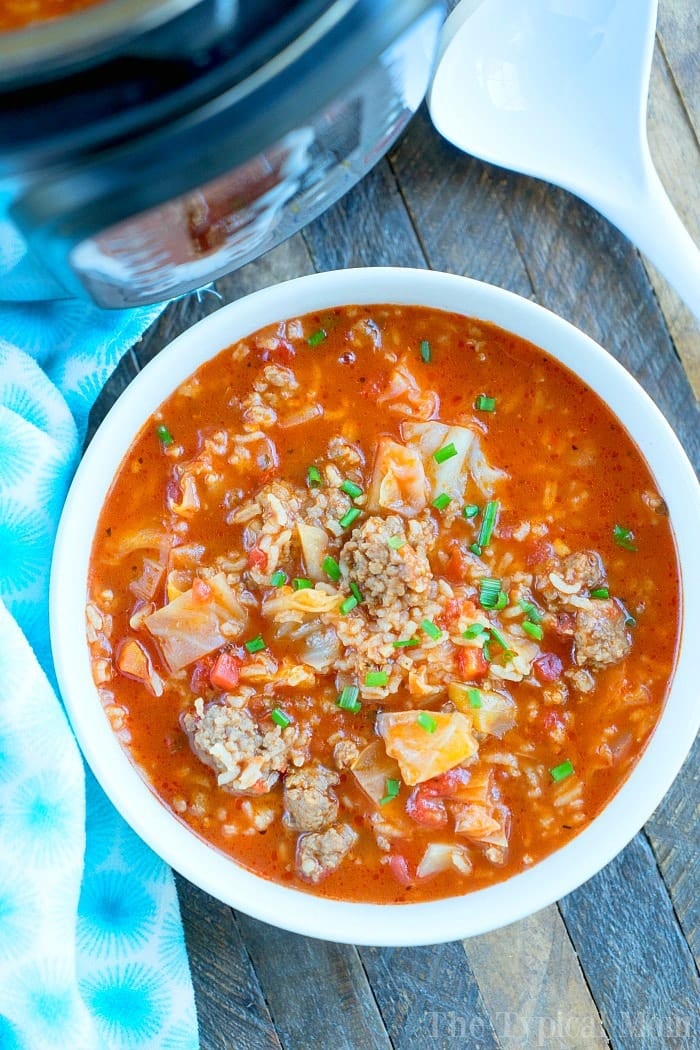 We call this our Instant Pot stuffed cabbage casserole! It's super easy with a quick cooking time. Everyone including my youngest daughter loved this recipe.
You will need:
Ground sausage – 1/2 spicy + 1/2 regular is my preference

or ground beef

Cabbage
Beef or chicken broth
Spaghetti sauce
Rice – uncooked jasmine
Garlic
Can of tomato soup
Worcestershire sauce
Salt and pepper to taste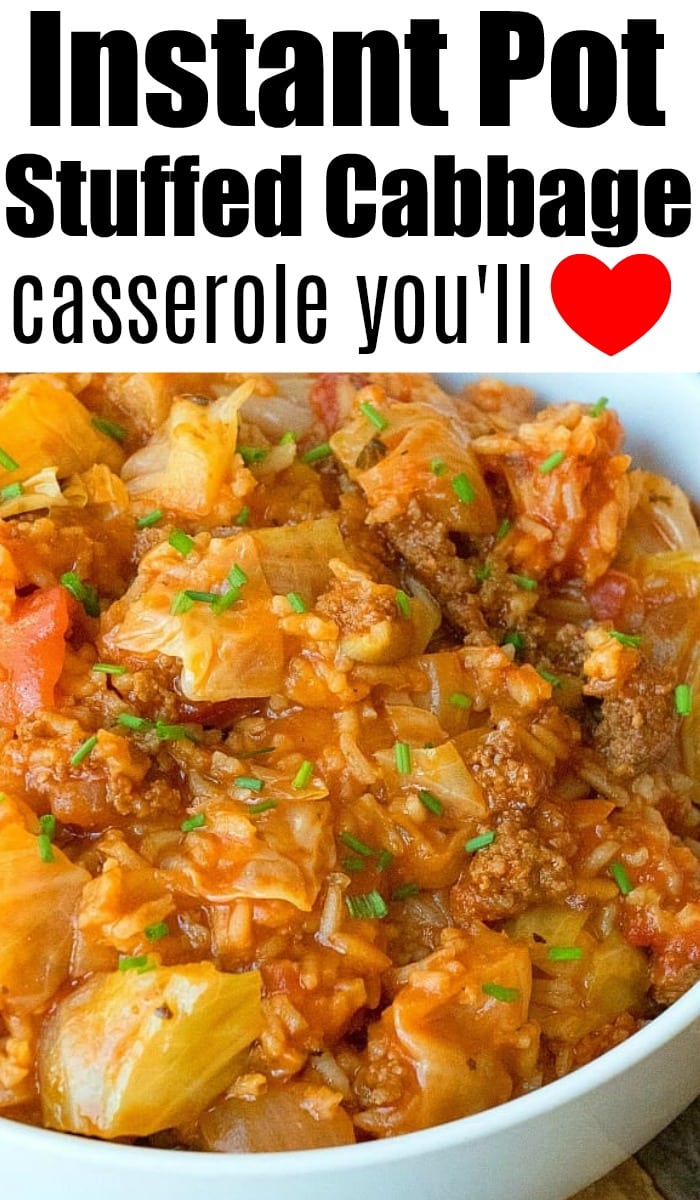 Try our Instant Pot sausage and cabbage recipe!
You will need:
Instant Pot pressure cooker
Cabbage
Ground sausage
Noodles
Broth
Onion
Diced tomatoes
Olive oil
Garlic
If you want a vegetarian version try our pressure cooker cabbage and noodles recipe and omit the bacon.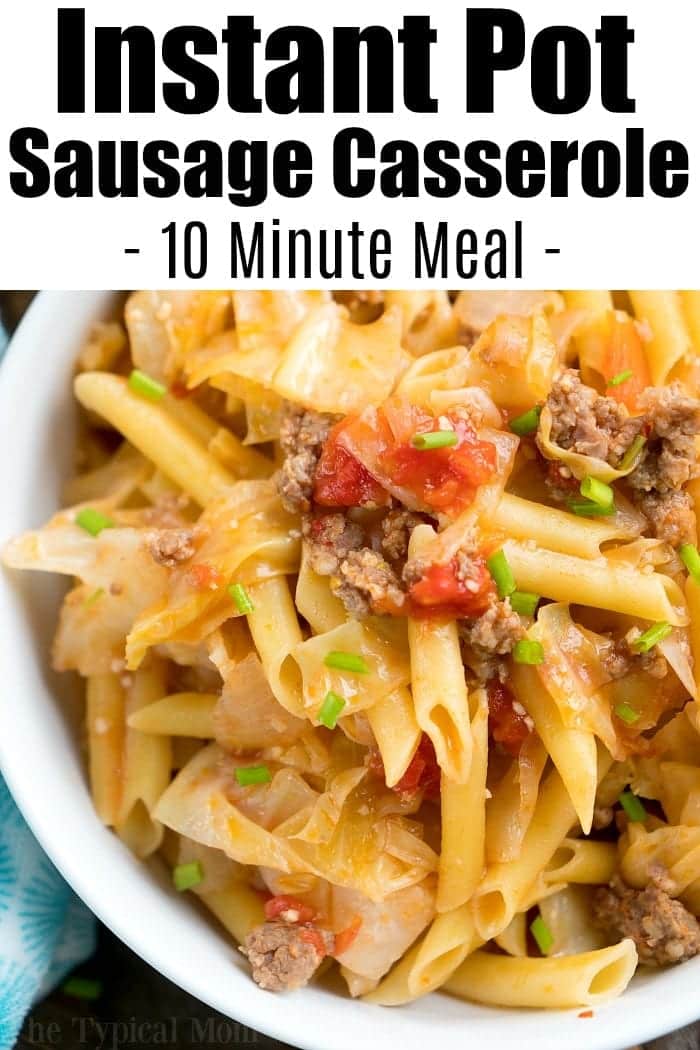 Then we'll move on to a classic dish. The best fried cabbage you'll ever make.
YES, this Instant Pot fried cabbage base is from my grandma and I just adjusted it to make it in my "quick pot".
Here's what you'll need to make this:
Head of cabbage
Soy sauce
Bacon
Olive oil
Broth
Onion
LOTS of yummy seasonings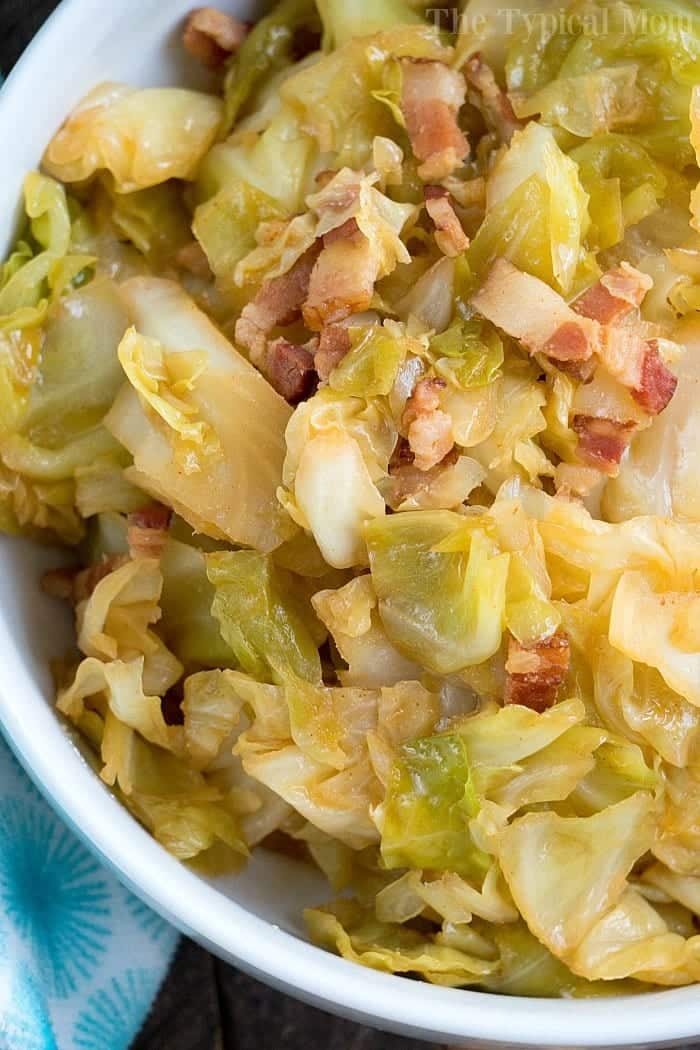 Now if you just want to make Instant Pot cabbage with simple seasonings I have a recipe for that too! Sometimes you don't want to go through the mess of making Instant Pot stuffed cabbage and just want a simple side dish.
This comes in handy for that!
Ingredients you'll need:
1 head of cabbage – cut the cabbage into quarters for best results
1 cup water or vegetable broth
3/4 tsp Old Bay seasoning
1 tsp garlic salt
CrispLid if you want to turn your Instant Pot into an air fryer and crisp it right inside the pot

or can put under your broiler if you want crispy ends

You can make Ninja Foodi cabbage all in one (pressure cook to soften + crisp in the same pot) if you have one of these machines
With a quick release it's a perfectly easy recipe that's super healthy.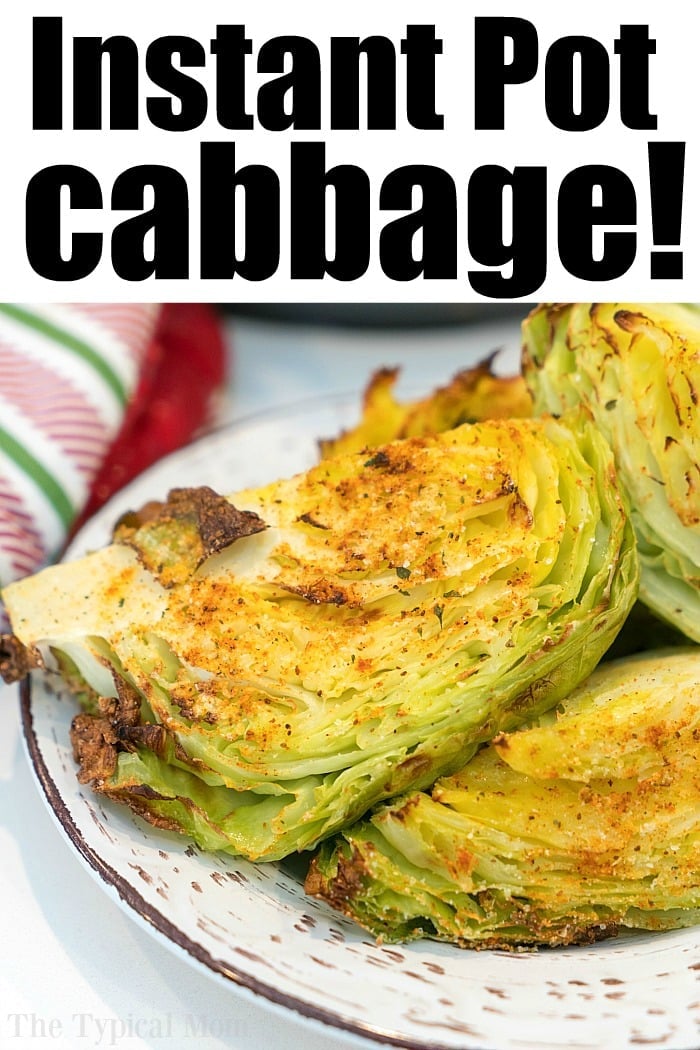 NOW we're going to share how to make a batch of our DELICIOUS Instant Pot buttered cabbage! The full printable recipe is below but I like to explain how to make recipes in a pressure cooker step by step in case you're new to this.
This one is SO easy and only requires 3 main ingredients. I add a bit of garlic salt at the end but seasoning with salt and pepper etc… is really up to you. Everyone likes theirs with more of less of this or that so I like it add that at the end.
Here is what you'll need:
Pressure cooker

Ninja Foodi
I always recommend this non stick pot if you have an Instant Pot

Head of cabbage
Stick of butter
Broth – I use what I have on hand so this time it was vegetable broth

chicken broth and even beef broth lends a lot of flavor to this, use what you like best

Seasonings such as:

garlic salt
salt and pepper
I actually love a sprinkle of Old Bay myself
You could even add a few tbsp. of real bacon bits in to the mix when it's being cooked to add salt and BACON flavors!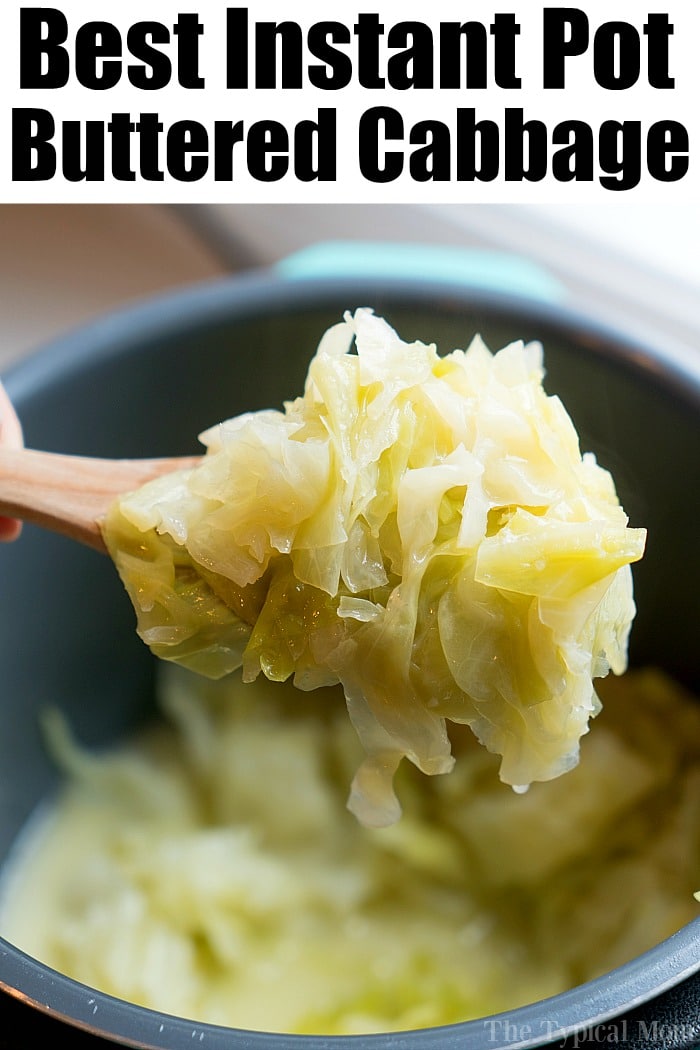 Now this is so easy you can literally prep everything and start your pot in under 5 minutes. If you are used to making buttered cabbage on your stovetop this isn't much different except that you use a lot less liquid which means it comes out with a lot more flavor.
How do you cut cabbage for boiling?
We're not really boiling it using this method but you kinda' follow the same rules as the "traditional method". You'd cut cabbage into 1.5″x1.5″ squares. Of course this is an approximate measurement but you can see it below for your reference.
On the stovetop you would bring a large pot of salted water to a boil, then add cabbage. Once it reached a boiling point you'd cook for about 5 minutes for shredded cabbage and 8-10 minutes for squares or wedges.
We cooked for 4 minutes in the pressure cooker and it was perfect for us.

If you like it a bit firmer I would set to 2 minutes with the same 2 minute natural release time.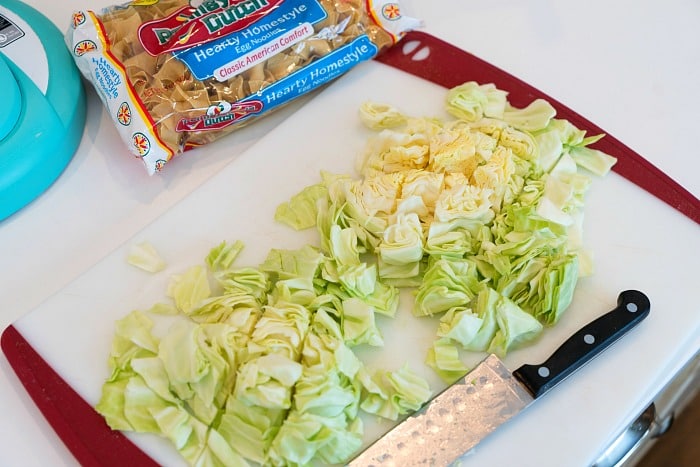 Here are the basic steps to make Instant Pot cabbage
Cut the end off of your head of cabbage first (the hard part where it was connected to the plant, you don't want to eat that).
Then, cut it in half, put the flat end on your cutting board and cut a few time vertically, then a couple time horizontally so you cube cabbage into squares like you see here.
Pour your broth into the inner pot of your pressure cooker with your stick of butter.
Throw your cubed cabbage leaves in on top of that.

I like to kinda' separate the leaves a bit when I add them
Discarding pieces that are very hard, near the end you cut off is a good idea too. They don't have much flavor and aren't my favorite personally.

If you want to add bacon bits add those to the very top
Close your lid and steam valve.
Set to high pressure for 4 minutes with a 2 minute natural release. Then do a quick release when done to release rest of pressure.

For a bit firmer leaves set to 2 minutes initially with a 2 minute natural release

Gently stir once top is off, season to your liking and serve immediately for best results!

1/4 tsp of garlic salt is all I tend to add and it's perfect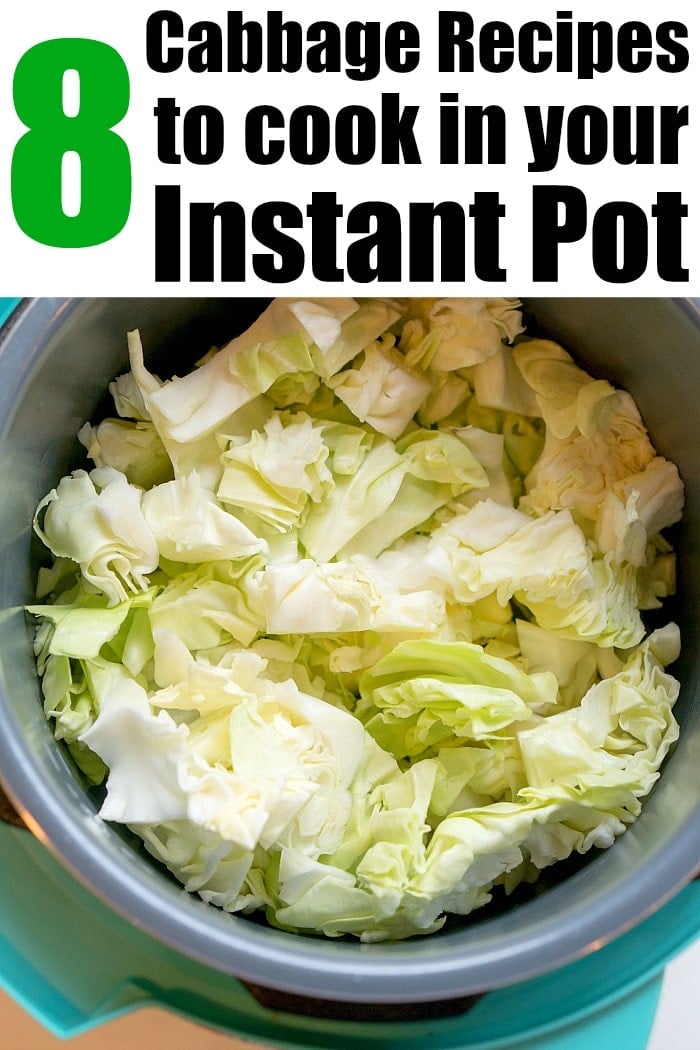 If you wanted larger chunks you could cut the hard end off and then just quarter your head of cabbage as well. I don't think this turns out quite as well because it won't soak up the butter the way this does cut into smaller pieces.
Do you need to wash cabbage before cooking?
Even though the inside of cabbage is usually clean since the outer leaves protect it. You still may want to clean it with a quick gentle trip under the faucet. To preserve its vitamin C content you should only cut and rinse cabbage right before cooking or eating it, not beforehand.
Generally when I buy it from the produce section of our local grocery store there is a plastic wrapping over it, unlike lettuce. This will keep it a bit cleaner but as with any vegetable it may have a bit of dirt and/or debris on the outside.
I like to discard the 2 top leaves covering the outside because those are generally what has the dirt on it.
Do cabbage have worms?
No, they actually don't. If you do find a surprising pest inside or on the surface it would be a tapeworm, you wouldn't want to ingest those either though. These have a tendency to eat a number of plants from the cabbage family and whose larvae feed on cabbages and other cole crops.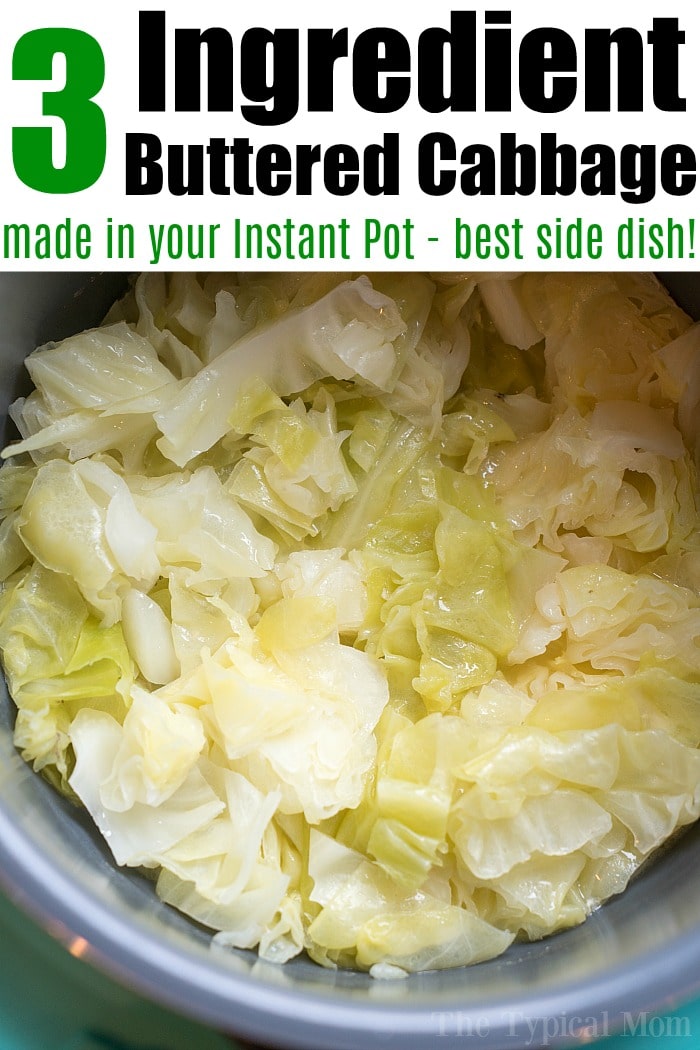 This is what it looks like when it's done!! Tender leaves that have soaked up all the flavors of the broth and butter below. Taste it first and see if you really want to add salt and pepper. A pinch of garlic salt or Old Bay is our favorite but you don't need a lot so use a light hand if you do.
So how long do you cook cabbage for?
In a pressure cooker, not long. Less than 5 minutes usually does it.
As you can see a whole cabbage cut into 4ths only takes 3 minutes to become tender.
Steamed cabbage, or in the oven is closer to 12 minutes.
What goes well with cabbage?
Honestly you could easily add diced up precooked sausage into this buttered cabbage recipe below and it would add protein and a heartiness to the meal.
The obvious choice would be to make Instant Pot corned beef and cabbage for St. Patricks's Day. That cut of meat is full of flavor so you don't even need to add seasonings to it other than the spice packet included in the meat bag. SO good this should really be cooked year round, not just during the Irish holiday. 😉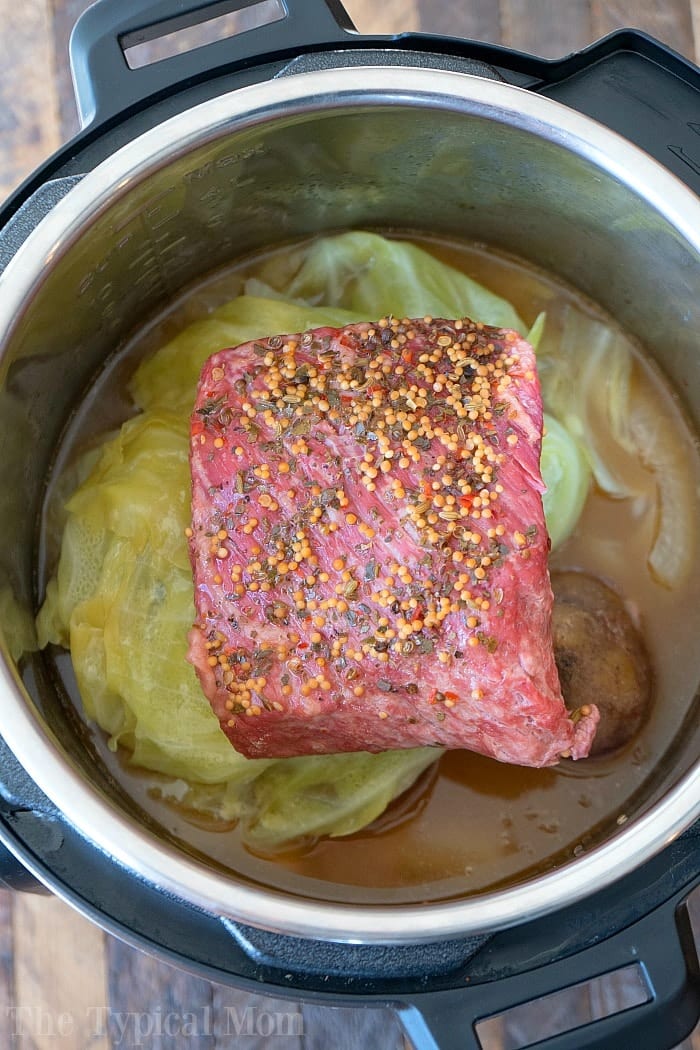 What can I do with a head of cabbage?
I suspect you already have a few favorites, and now you have more since we've shared 8 of our favorites here. Slaws and salads are traditionally made with it but you can really think outside of the box with it! You can eat it raw or cooked which opens up an array of possibilities.
Many are amongst our favorite Instant Pot side dishes but here are a few other ideas.
Sesame cole slaw
Stuff cabbage rolls with burrito ingredients instead of using tortillas
Apple slaw with honey lime dressing
Pork and cabbage baked together
Unstuffed cabbage casserole is one we shared above but you could make that on your stovetop too
Pasta and potatoes with cabbage leaves cubed like we did here.
Basically, if you want to add a bit of crunch to any meal, and have a vegetable included, cabbage is a great choice. It is VERY inexpensive and after a few times serving it to my kids they now love anything I make with it. I encourage you to do the same, you may be surprised if you add some great seasonings your children might aquire a taste for it too.
Have you had enough Instant Pot cabbage recipes??
Well our printable recipe for Instant Pot cabbage is below, let us know what you think below in the comments when you try it! Find more pressure cooker recipes here!
Instant Pot Butter Cabbage
Instant Pot butter cabbage comes out perfectly with just 3 ingredients. Buttered cabbage has never been easier to make than in your pressure cooker with some seasonings.
Instructions
Cut end off cabbage and cut into cubes approx 1.5"x1.5" squares.

Pour broth and put stick of butter into pot with cut cabbage on top.

Close lid and steam valve and set to high pressure for 4 minutes followed by a 2 minute natural release.

Then quickly release rest of pressure. Taste and season with salt and pepper as desired. Serve immediately for best results.
Nutrition Facts
Instant Pot Butter Cabbage
Amount Per Serving (2 g)
Calories 38
Calories from Fat 9
% Daily Value*
Fat 1g2%
Sodium 417mg18%
Potassium 257mg7%
Carbohydrates 9g3%
Protein 2g4%
Vitamin A 148IU3%
Vitamin C 55mg67%
Calcium 62mg6%
Iron 1mg6%
* Percent Daily Values are based on a 2000 calorie diet.