Easy Crockpot cabbage recipes you'll love are here! From soup to casseroles, plain butter cabbage in slow cooker and with corned beef too. There are so many varieties of how to cook cabbage but this specifically uses the low and slow method.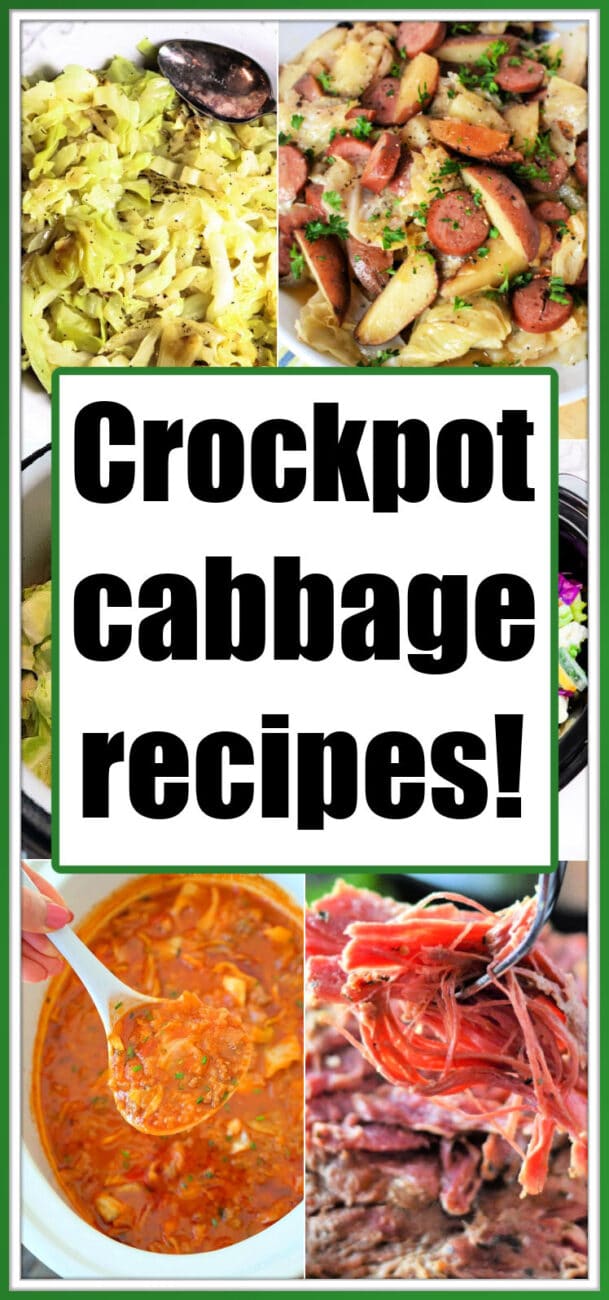 We have a bunch of Crockpot cabbage recipes for you to try here. They are so good you should make them year round, not just during St. Patricks Day. Cheap one pot meals that even your kids will love. Try these and then go on to our other easy Crockpot recipes these cold winter months. (affiliate links present)
Slow Cooker Cabbage Recipes
I don't know about you but I was not a fan of this crunchy green vegetable when I was younger. My mom ate it a lot as a child because my Grandmother was obsessed with it but I think she had had enough all those years. I guess since I didn't grow up eating it I was turned off…..until I turned 40!!
Now I cannot get enough and have made a TON of simple cabbage recipes in the oven, pressure cooker, and now in your Crock pot. Not sure where to start? Let's chat about the star of all of these dishes a bit before continuing shall we??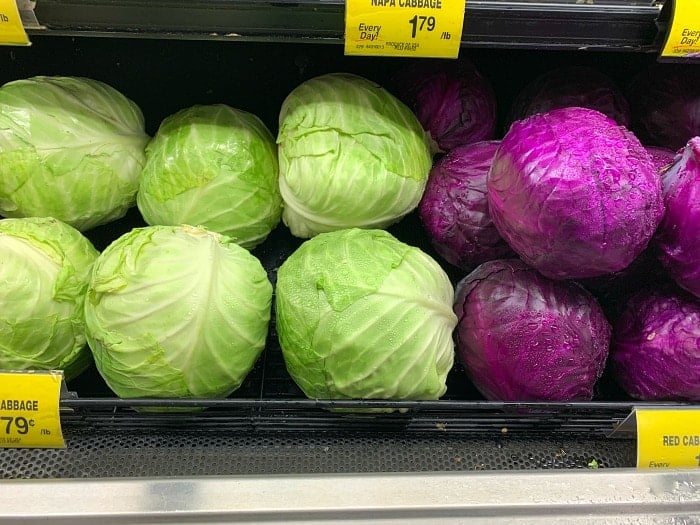 This is what you will see at your local grocery store. I know, super cheap! You can get red cabbage but green is more popular and gets a bit more tender. Red can also be called purple cabbage but for all of my Instant Pot cabbage recipes I use green, always.
When you get home, decide what you want to make. If you want the easiest you can just make our slow cooker whole cabbage recipe. NO prep and literally 2 ingredients. If you want it in smaller forms then read our post on how to cut cabbage.
Healthy Cabbage Recipes
Because this is a very low calorie, high in fiber food it is quite healthy. Some of these are lower in calories and fat than others but overall they can be a great addition to your new healthy diet. Of course any and all of these can be altered slightly meaning if you want to omit the meat to make it vegetarian then by all means do.
Slow Cooker Cabbage Recipes Vegetarian
Let's start with the easiest and most basic of them all, Slow cooker cabbage itself. Using just a bit of broth (or water), butter and salt and pepper you can make it tender and delicious. Perfectly simple side dish that goes with just about anything and everything. You could use a butter alternative to make it vegan as well.
We also have this meat free Crockpot cabbage soup that is just loaded with veggies.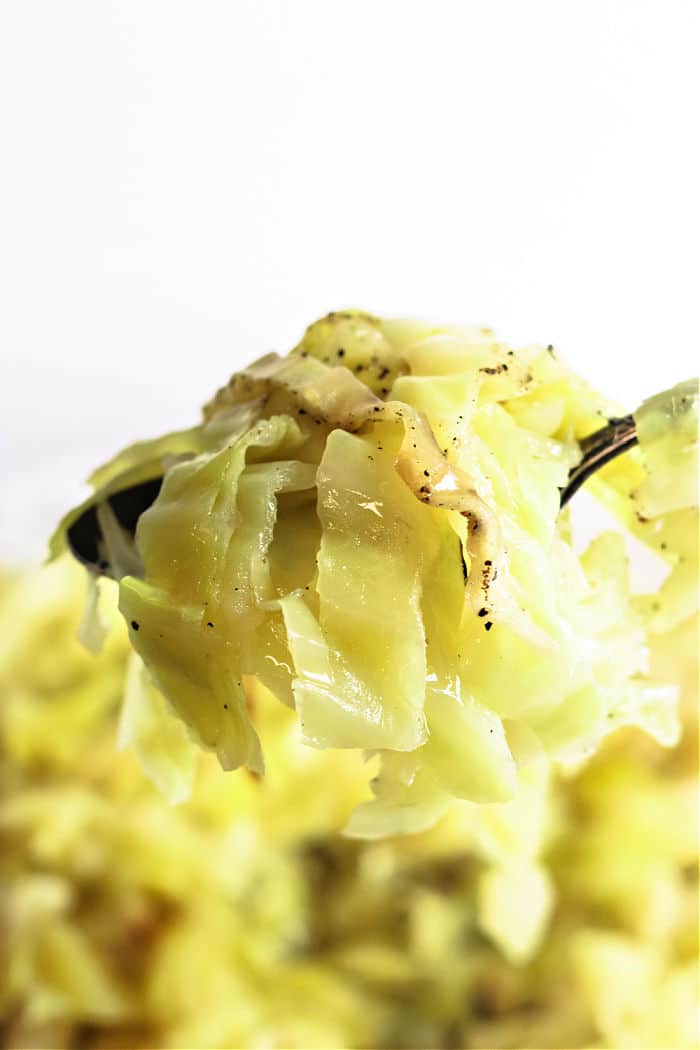 How long to cook cabbage in slow cooker
That depends on what else you're adding. If you just have the shredded veggie itself like you see above it can be as quick as a few hours on high or about 5-6 hours on low. If you're cooking a whole cabbage in Crockpot you'd want to quarter it and cook closer to 6-7 hours on low but it will be firmer than if you cut it into smaller pieces.
Basic rule of thumb is the smaller it is sliced the quicker it will cook, I mean duh? I love mixing in some meat and potatoes to make it a really hearty meal though. If you haven't done it, February might be a great month to do so. With or without your corned beef it is always a hit.
Cabbage and Potato Recipe
Here you can see our Crockpot cabbage and sausage dish. OH MY right?? A complete meal that is fantastic, and reheats great the next day too if you do have leftovers. We have made cabbage and ham with leftovers too.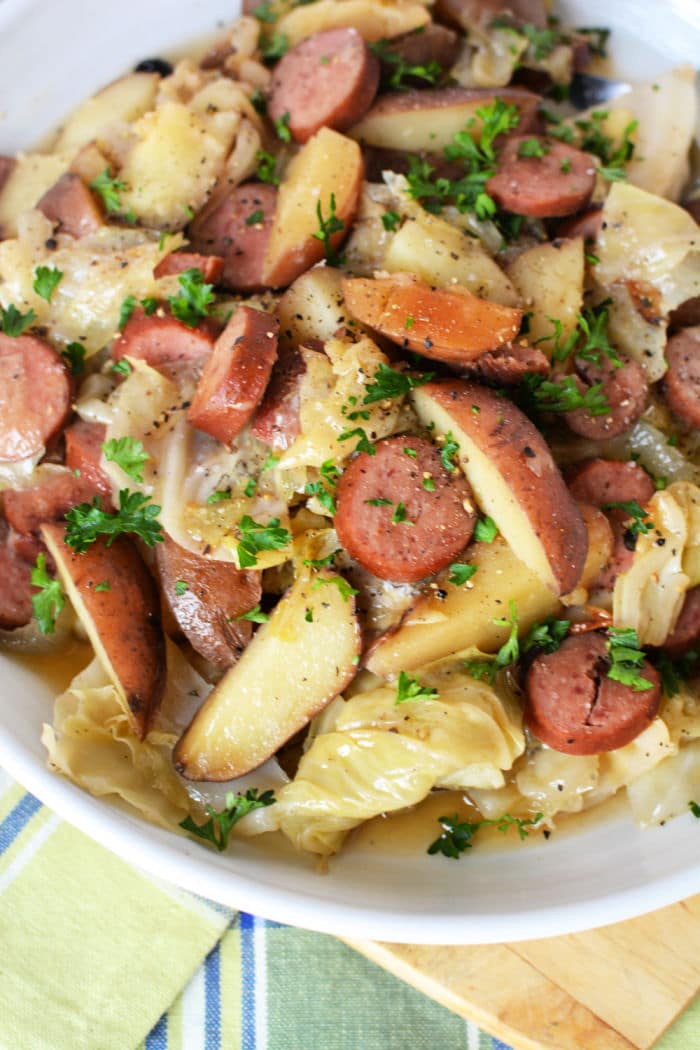 Savory Cabbage Recipes
I actually can't think of how you would make this leafy green sweet so yes everything here is going to be on the savory spectrum of things. Instead of slicing and dicing it you could use the whole leaf, this is how to blanch in order to slightly soften, and then fill it with goodness too.
You might immediately recognize this "old fashioned" dish as stuffed cabbage right??!! You may have a signature recipe for it already but just wondering how to cook it instead of in the oven. We have instructions for you right here. It is my husbands' favorite meal and I use his Grandmother's recipe from back in the day.
Figured out how to adapt that into slow cooker stuffed cabbage and yes, it is amazing. Go ahead and buy 2 heads of cabbage and make two of these babies next week. 😉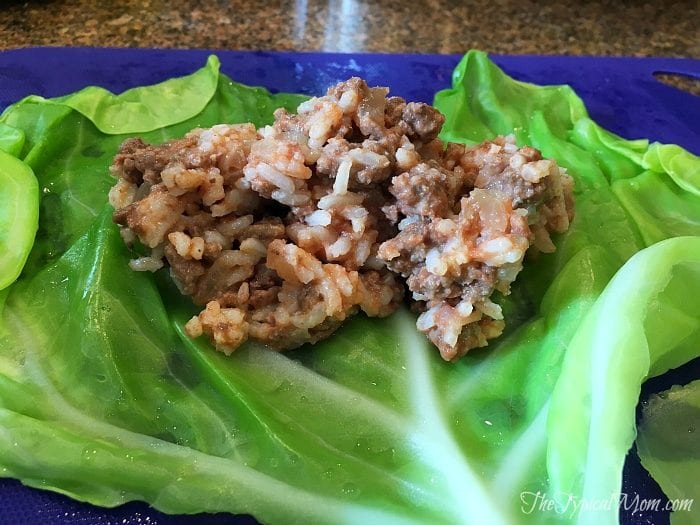 For that you will need to use a large skillet to brown the meat first. The cooking time is similar to all of the other cabbage dishes here but the prep is a bit longer as you can imagine. Adding diced onions and a bit of minced garlic while cooking your white rice will make it a bit more efficient.
Once you get everything prepped though all you have to do is cover and cook all day. I never recommend to cook on high, low and slow is the key….and whole point of this machine right??
Easy Cabbage Recipes
If you love that so much and you want to make it another way, we have slow cooker stuffed cabbage soup as well you can try. Using chopped cabbage you are really just softening all the ingredients up. Using chicken broth vs. water will really add a lot more flavor in a cheap way. A bit of bacon grease while cooking your sausage is fab too.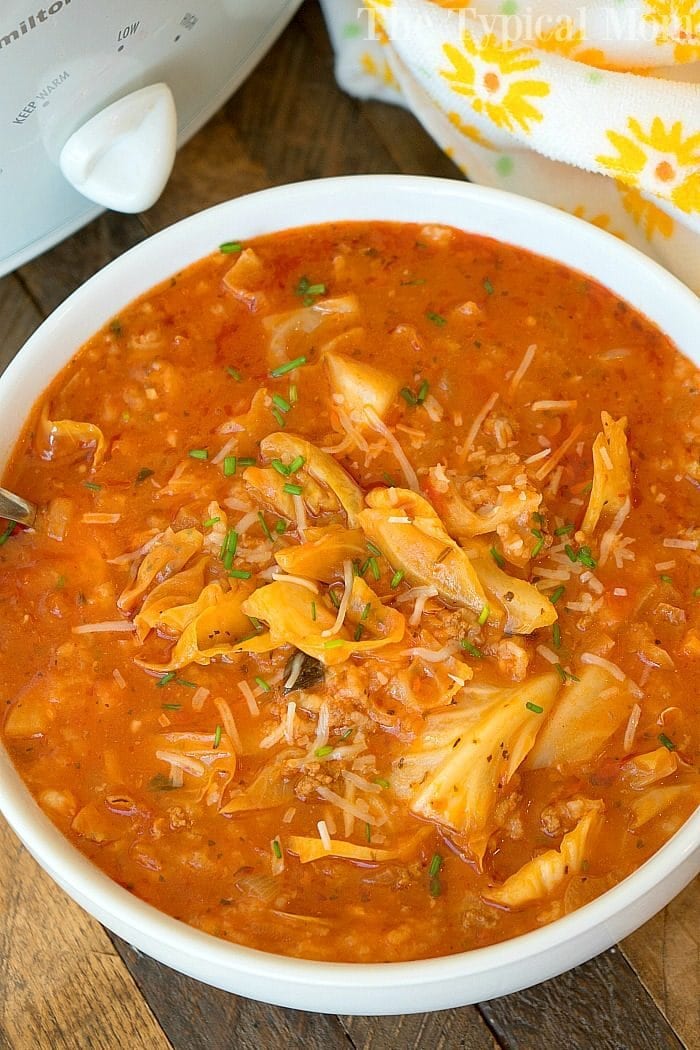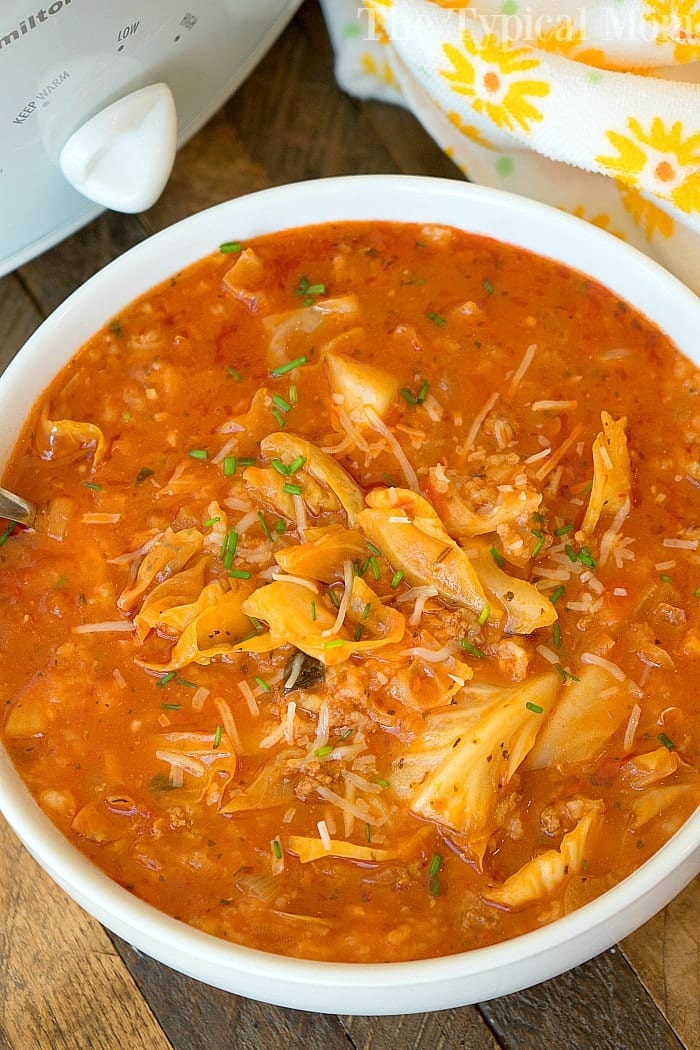 Now let's move on to the holiday you correlate with this vegetable shall we. It's in February…..yes all of these are great St. Patricks Day recipes for sure.
The one you probably think of first though and immediately would be brisket. Not any sort of brisket though, the brined pink meat with the little spice packet right??
Yep, we have that too. I have several other ways to make this but I will tell you that I use our slow cooker corned beef recipe each and every year. You just can't duplicate how tender this turns out cooked all day long.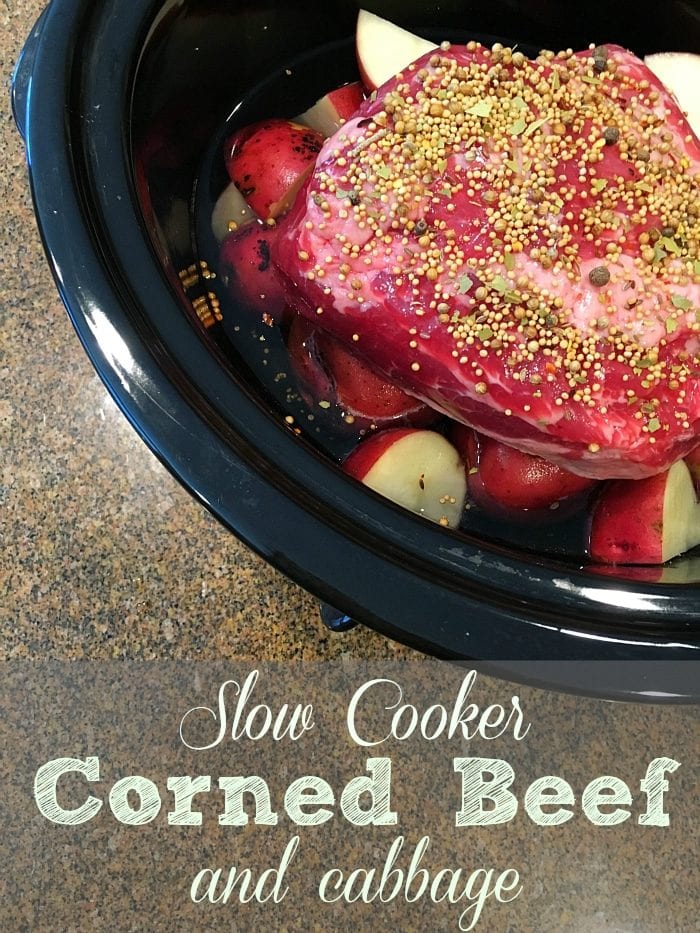 I do have a few using the other color though. I say red but you might think purple cabbage recipes, it is the same thing y'all. This type is much tougher than their counterpart I guess I would explain it. For that reason I use it more often in cold coleslaw type of dishes.
Red Cabbage Recipes
Here are three I would stand by and try to see if you enjoy both varieties. Making cabbage soup with it works well since it has ample time to really get tender. Therefore you could swap it out with any of the ideas above that submerge it in quite a bit of broth.
German red cabbage is sweet and savory, great as an alternative to sauerkraut with air fryer sausage on hoagie rolls.
Next to that I would highly recommend making red cabbage cole law with it. Sliced thin with some finely diced onions and garlic with an easy dressing it's a great side dish with burgers.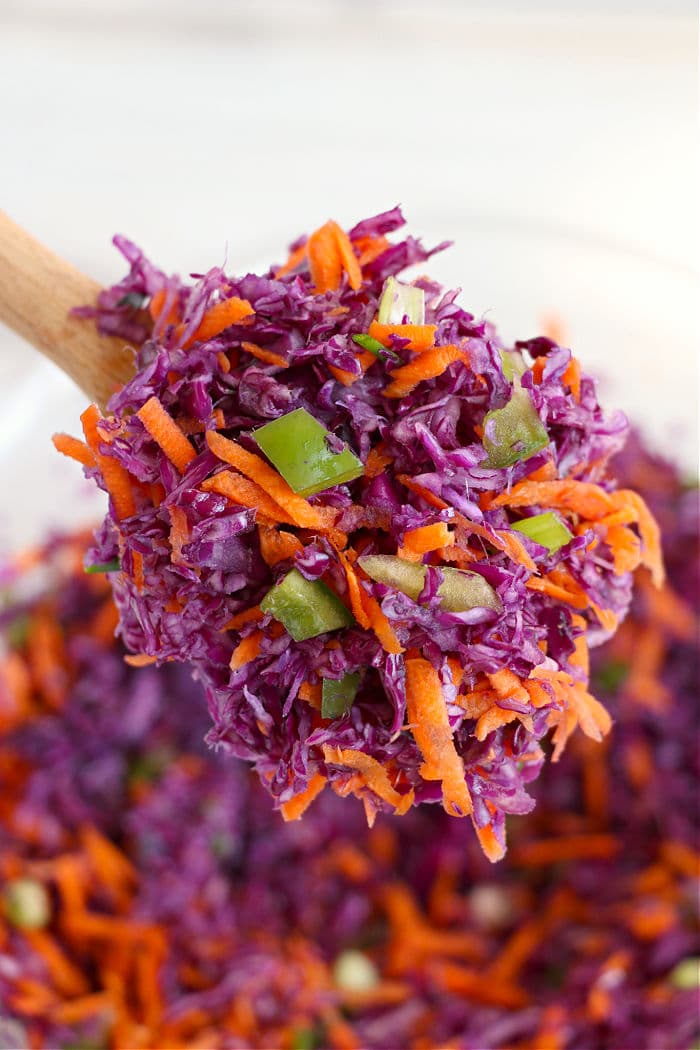 Now click on any of the blue links above that you want to try. A new tab will open and you can use the jump to recipe at the top of the page for instructions. All have the option to print recipe at the bottom and are low in saturated fat.
Want to see a few of my favorite things that I am totally obsessed with?? Take a peek and see how many you might already have…twinsies!
Looking for more easy family recipes and tips? LIKE The Typical Mom Facebook page?
Then sign up for my free newsletter, and follow me on Pinterest! 😉
***** If you LOVED this recipe give it 5 Stars below and let everyone know what you thought about it. 😉
Crockpot Cabbage Recipes
Easy Crockpot cabbage recipes you can make vegetarian, with ham or just buttered served as a side dish.
Instructions
Slice cabbage and break apart, put into slow cooker. Pour broth on top and sprinkle in all the seasonings.

Slice butter into pats and place on top all over. Cover and cook on low for 6 hours or until as tender as you'd like it to be.
Nutrition Facts
Crockpot Cabbage Recipes
Amount Per Serving (1 oz)
Calories 133
Calories from Fat 108
% Daily Value*
Fat 12g18%
Cholesterol 31mg10%
Sodium 419mg18%
Potassium 197mg6%
Carbohydrates 7g2%
Protein 2g4%
Vitamin A 593IU12%
Vitamin C 42mg51%
Calcium 50mg5%
Iron 1mg6%
* Percent Daily Values are based on a 2000 calorie diet.