If you haven't made a whole head of cabbage in slow cooker it's so easy! Gets it tender to the core in just a few hours. Just one healthy side dish on our list of easy cabbage recipes.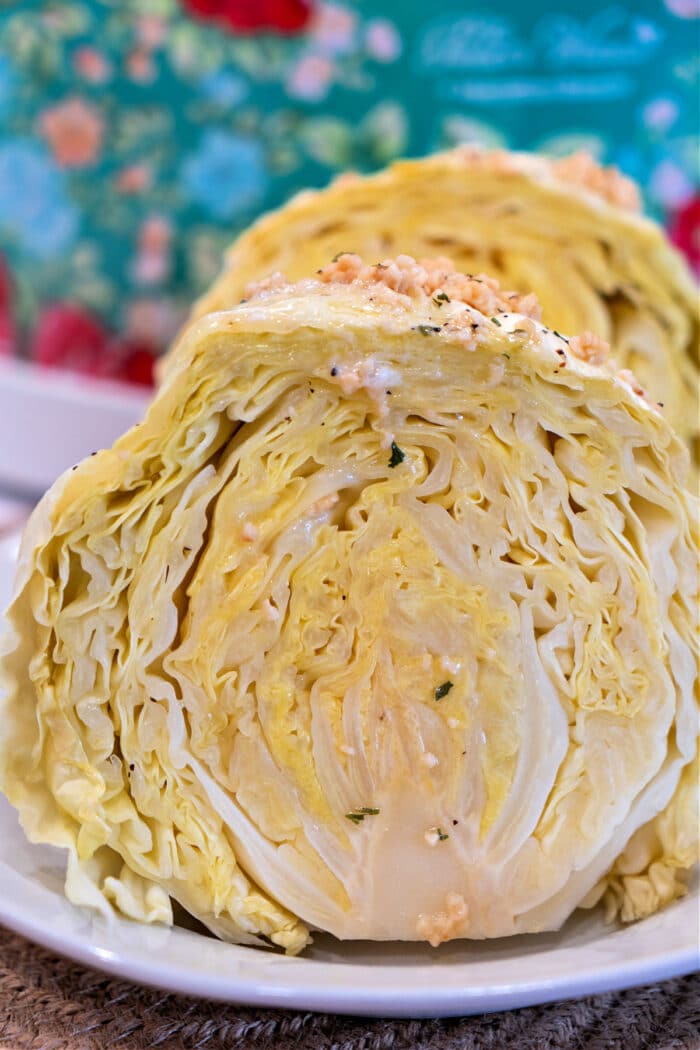 Like my Grandmother did, I just love this green (or red) vegetable! There are tons of ways to saute, steam and cook it with ham or bacon. For this one we are keeping it simple and cooking a whole cabbage in a Crockpot this time. OMG it was just so easy y'all. (affiliate links present)
Slow Cooker Whole Cabbage
Ok so I started this journey with our pressure cooker, that worked fabulous as well. You can find those instructions in our how to cook a whole cabbage post. I thought I would add to that in case you didn't have that machine and wanted to share the "old fashioned" method too. You don't need much.
That is right, you are essentially steaming cabbage with this pot and it only takes a few hours. I have two so many times I will make a main dish in one and this in the other. Unlike proteins you will want to start this around 3pm so everything is done at the same time for dinner.
FIRST – You should sign up for my free newsletter so you get new posts emailed to you twice a week and never miss out on anything! Let's talk a little bit about slow cooking shall we?? First off I have a few different varieties and I love them all. Each one has an occasion to be used like….
This is my favorite 6 quart programmable one with a locking lid so it's great for bringing to a potluck too.
If you just want to serve a few appetizers you should get this one that sit side by side one another.
I prefer not to use liners, but rather just spray olive oil inside before adding my food for easier cleanups.
Let me give you a peek of my pretty thang I bought recently. It goes with my kitchen so I can just leave it out on the countertop all the time. 😉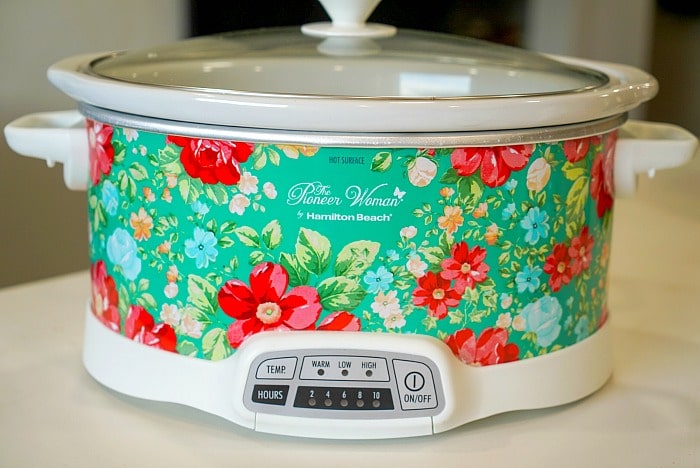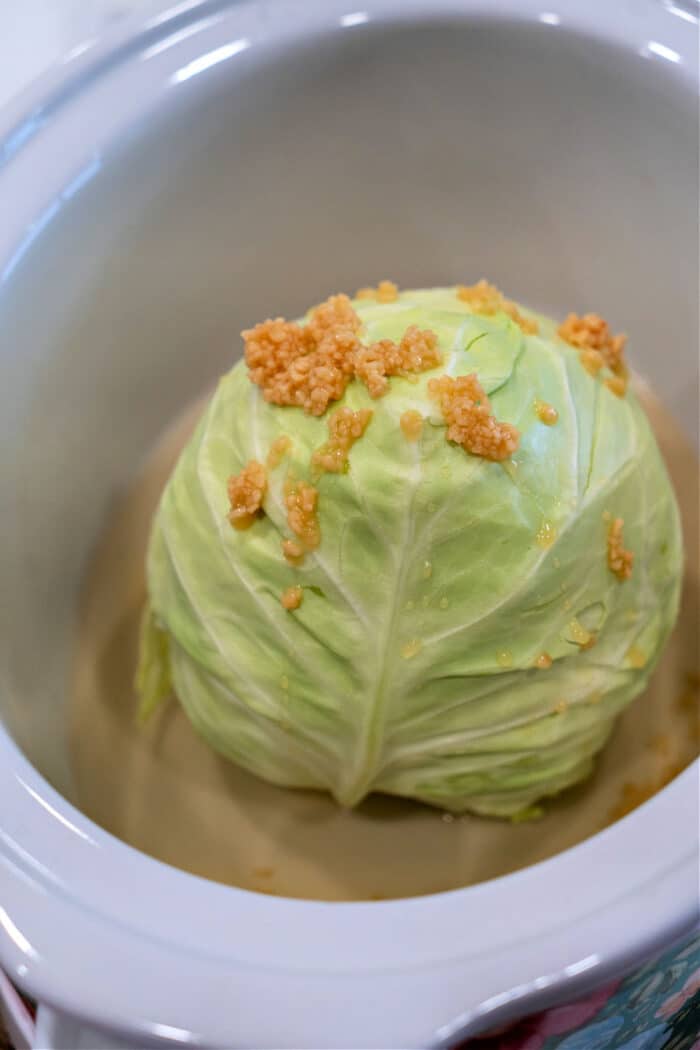 Whole Cabbage and Ham in Slow Cooker
If you wanted to make everything all at once you could add some leftover ham around it too. Since that is precooked and essentially you are just warming it up it will only need 3 hours as well so you'll be good to go. Then just slice the head into 4-6 pieces and serve up the meat and BAM, your meal is served.
Now if you wanted it all mixed together I would dice and add ham next to your whole head. Then use the timing in our Crockpot cabbage recipe that is buttered and all the flavors will meld together. This go around I am going to explain the basics, you can take it from there.
I just used minced garlic, salt and pepper but you could definitely add what you wanted from there. Chicken broth is what I had on hand but vegetable broth would work great too. Water is effective but won't add flavor to the dish. Decide for yourself.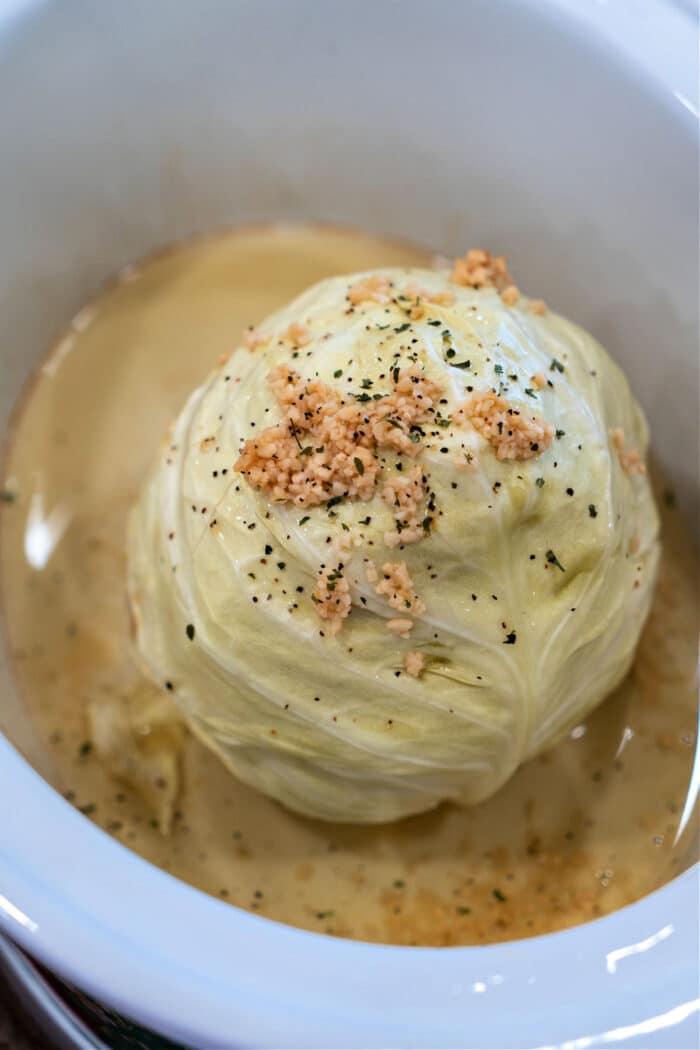 What is a good seasoning for cooked cabbage
Ok so like I said I am sure you have a few of your favorites that you add to vegetables in general. The first isn't out of a bottle but a must for us, salted butter. That will add a lot of flavor and make it super tender. Beyond that salt and pepper are a given and I always add some sort of onion and/or garlic whether it be minced, powder or garlic salt.
Some swear by bacon grease drizled on top Especially when chopped I will sprinkle on some Old Bay. That is right, this isn't just for seafood, I use it for all the things, all the time. I will add some at the beginning but you will want more once you slice it because it won't seep into the middle at all.
Whole Red Cabbage in Slow Cooker
You could follow the same instructions here for red or cooking a whole purple cabbage. You may want just a bit more time for this type since it is a bit more firm but that is subjective. That goes for both of these really. Some love it really soft where I like a little "bite" to it. SO timing will vary from 3-4 hours depending on your preference.
Whole Head of Cabbage in Crockpot
Ok so let's get to talking about the way we make all of our slow cooker cabbage recipes. I always prefer low vs. high setting because foods just tenderize better that way.
Cut the bottom of the cabbage head flat so it sits nicely on the bottom of the pot.
Put into pot with your broth.
Sprinkle garlic and seasonings on the top.
Cover and cook on low for 3 -4 hours cook time (give or take depending on how tender you want it) or until you think it is the right texture to your liking.
Remove and slice into wedges, small bits, or slices.
If you wanted a vegetarian meal and have more than one pot you should make our slow cooker rolls with this too. Cheap, simple, and always a favorite with everyone in our house.
If you wanted it to really fall apart and be really limp in the same time then yes you could cook on high for 3 hours instead. I don't like it that texture but to each their own right? Now jump to recipe and see what you think! What is the perfect timing for your family? Have another favorite seasoning you love that we should try on our next go around? Let us know below!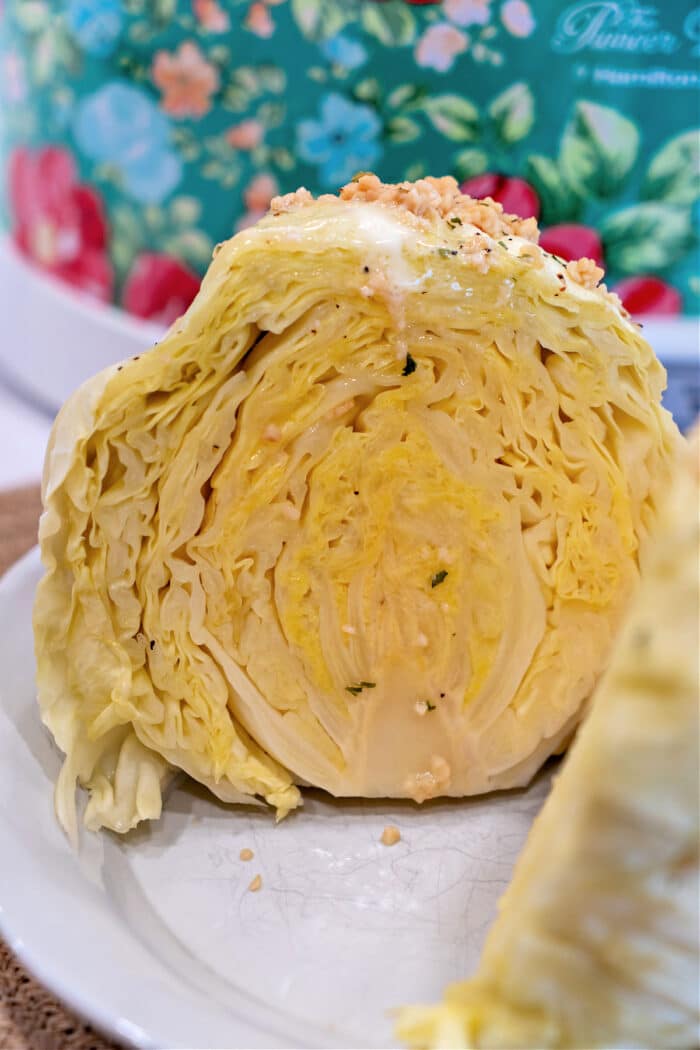 Want to see a few of my favorite things that I am totally obsessed with?? Take a peek and see how many you might already have…twinsies!
Looking for more easy family recipes and tips? LIKE The Typical Mom Facebook page?
Then sign up for my free newsletter, and follow me on Pinterest! 😉
***** If you LOVED this recipe give it 5 Stars below and let everyone know what you thought about it. 😉
Whole Head of Cabbage in Slow Cooker
If you haven't made a whole head of cabbage in slow cooker it's so easy! Gets it tender to the core in just a few hours. Healthy side dish.
Instructions
Cut the bottom of the cabbage head flat so it sits nicely. Put into pot with broth. Sprinkle garlic and seasonings on the top.

Cover and cook on low for 3 – 4 hours or until you think it is tender enough to your liking. (3 will be tender but still a bit firmer in the center, our preference)

Remove and slice into wedges or cubed. Put a pat of butter and salt and pepper on to each serving and enjoy.
Nutrition Facts
Whole Head of Cabbage in Slow Cooker
Amount Per Serving (1 oz)
Calories 1
% Daily Value*
Fat 0.05g0%
Polyunsaturated Fat 0.003g
Monounsaturated Fat 0.004g
Cholesterol 0.4mg0%
Sodium 154mg7%
Potassium 4mg0%
Carbohydrates 0.1g0%
Protein 0.1g0%
Vitamin A 1IU0%
Calcium 1mg0%
Iron 0.02mg0%
* Percent Daily Values are based on a 2000 calorie diet.