Buttered slow cooker cabbage recipe that is the perfect vegetable side dish to serve with any meal, not just corned beef brisket at St. Patricks Day.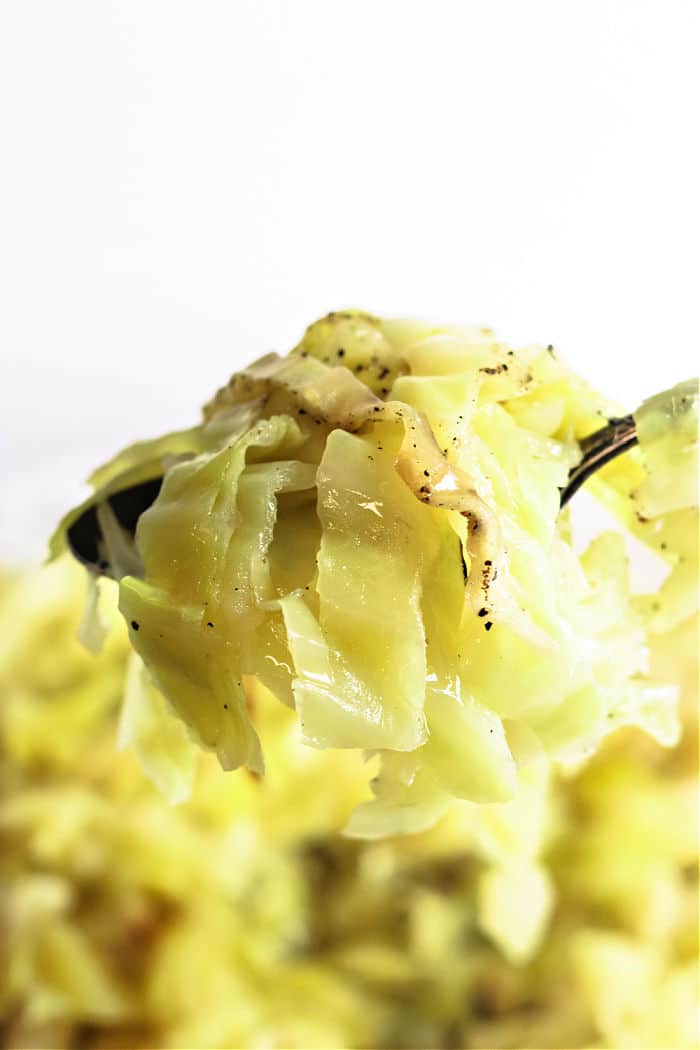 If you're looking for a vegetarian Crockpot recipe, this slow cooker cabbage is great. We eat meat and love this just the same. Throw in your favorite seasonings with or without salted butter and it will surely make your mouth water. One of our favorite easy Crockpot recipes on our site. (affiliate links present, originally published 12/21)
Cabbage in Crockpot
If you only think about this green vegetable during St. Patrick's Day, shame on you! There are SO many great and simple cabbage recipes you can make all year long. We make air fryer cabbage with chicken all the time, and even my kids clean their plates. 😉
I mean buttered cabbage just melts in your mouth and is so easy to throw together. If you want to spend less time standing at the stovetop, let it cook in your slow cooker instead!
FIRST – You should sign up for my free newsletter so you get new posts emailed to you twice a week and never miss out on anything! Let's talk a little bit about slow cooking shall we?? First off I have a few different varieties and I love them all. Each one has an occasion to be used like….
This is my favorite 6 quart programmable one with a locking lid so it's great for bringing to a potluck too.
If you just want to serve a few appetizers you should get this one that sit side by side one another.
I prefer not to use liners, but rather just spray olive oil inside before adding my food for easier cleanups.
Let me give you a peek of my pretty thang I bought recently. It goes with my kitchen so I can just leave it out on the countertop all the time. 😉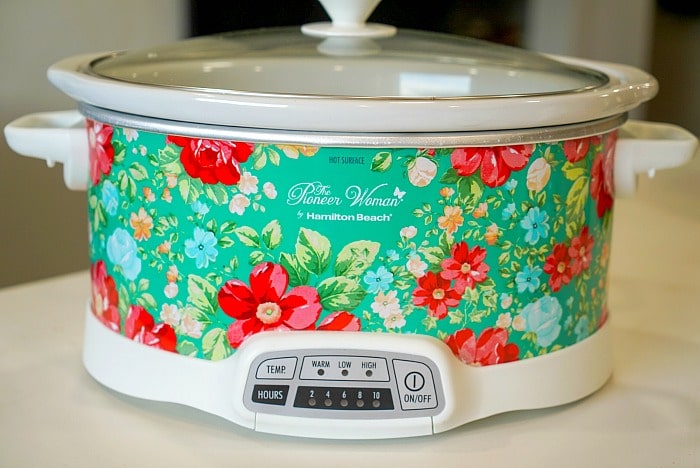 I was not a fan of this growing up. Every time I went to visit my Grandmother she served this with everything, I mean every thing. It literally took me into my late 30s before I bought a head myself and started working with it. I found that the leaves really soaked up a lot of flavor, but you had to find the right consistency for sure.
You don't want it too firm or wilted and soggy. A fine balance for sure is necessary to really enjoy it but once you get the hang of that perfect cook time you'll be a new cabbage lover too I tell you.
Slow Cooker Cabbage and Ham
If you wanted to transition this from a side to a main dish you could add diced up leftover ham to the mix at the beginning to make cabbage and ham too. It will give your leaves even more flavor with the broth and seasonings.
You can add chicken too like we did with old fashioned cabbage soup. Want to keep it vegetarian? Use vegetable broth and just some garlic salt.
What are the benefits of eating cabbage?
It's packed with nutrients and is actually said to reduce inflammation. Improving digestion because of the fiber, it is also a great keeper of Vitamin C believe it or not. It's been said to lower cholesterol and blood pressure levels so overall there isn't a reason you shouldn't enjoy it on a regular basis.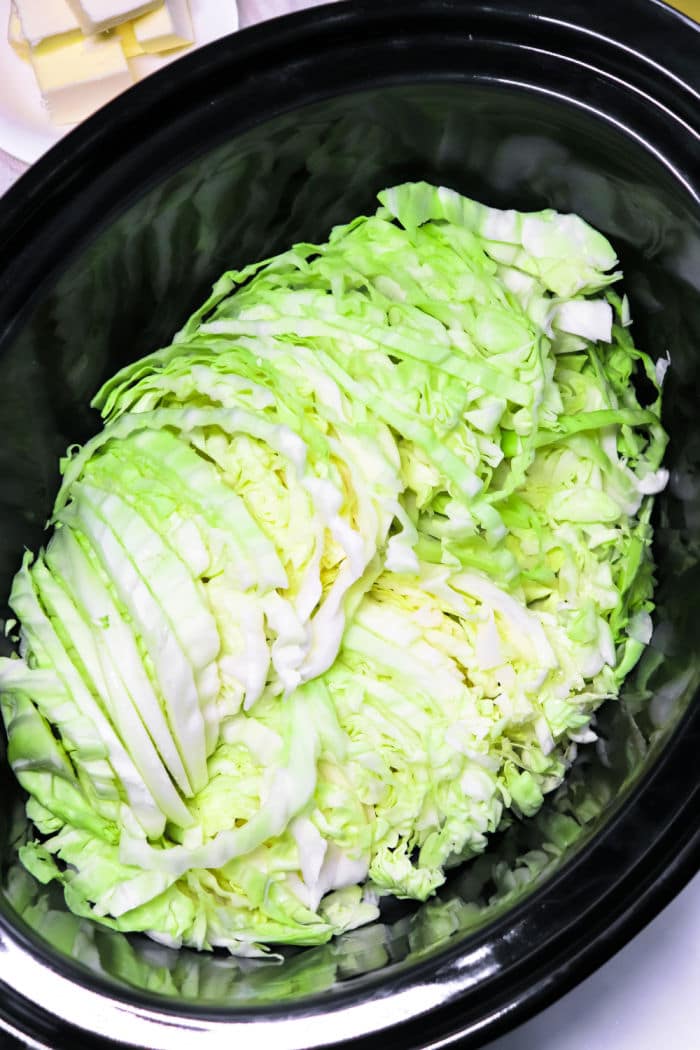 Buttered Cabbage
I mean a stick of butter makes everything taste out of this world right? Especially with this veggie it's kinda' a must if you ask me. When we make these baked cabbage steaks I put a thick slice on top of each one. It gets to seep in and just melt in your mouth when they're done.
Throw in some salt and pepper and that's really all you need, but you could season it up more with whatever you wish of course.
Head of cabbage sliced with stem removed
Stick of salted butter
Seasonings of your choice
We use chicken broth
Diced onions and garlic are optional
You could add bacon bits and a bit of bacon grease while you're at it for an over the top wow
For a heartier dish you can add protein like we did with our Crockpot cabbage and sausage recipe.
Depending on how much you want to make and how large your pot is you may use only 1/2 or the whole head. This is very simple to double if you have a really large machine for sure. Only want enough for dinner, use a casserole Crockpot and cut this in half, simple.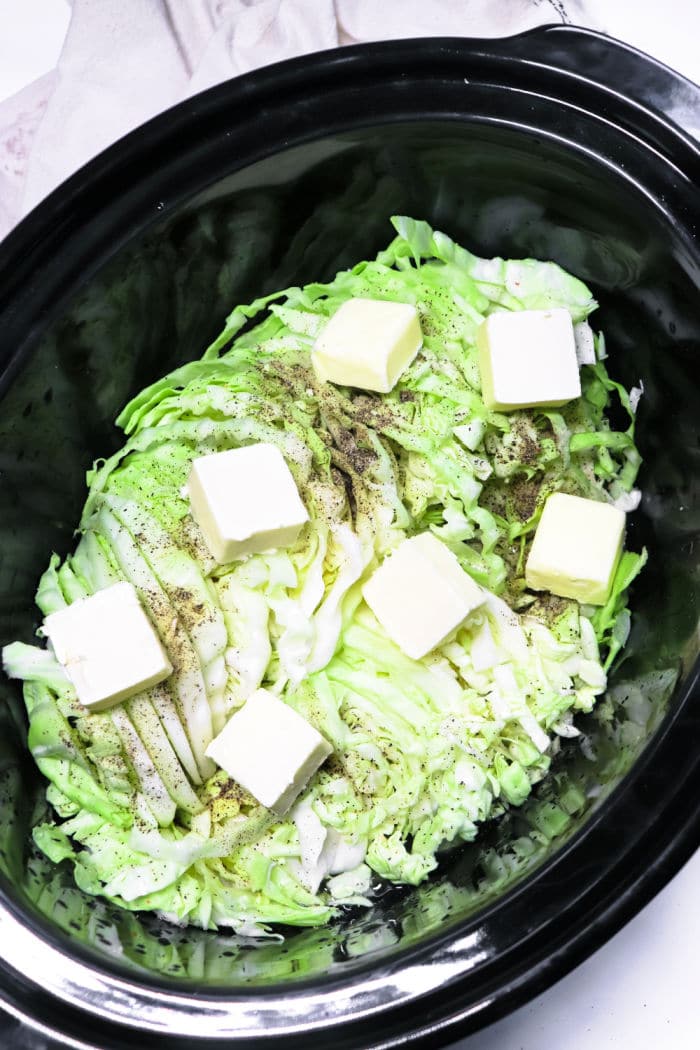 How do you make cabbage not soggy?
Well I mean you do want it to get soft, but not too much. Cook time and the amount of liquid it is sitting in will change the texture of it the most. If you don't want it as soft then cut the timing, you can also gently move the bottom layer to the top so the texture is more evenly distributed.
Steaming it quickly can also keep it a bit firmer. Try a few of our Instant Pot cabbage recipes and see which you prefer too and go with that.
With tons of flavor but low in calories and carbs it's kinda' the perfect easy side dish. Now there are different colors of this baby too, sometimes. The most popular is green as you see here but you can find red or purpleish colorwhich is much firmer and used more in things like red cabbage coleslaw.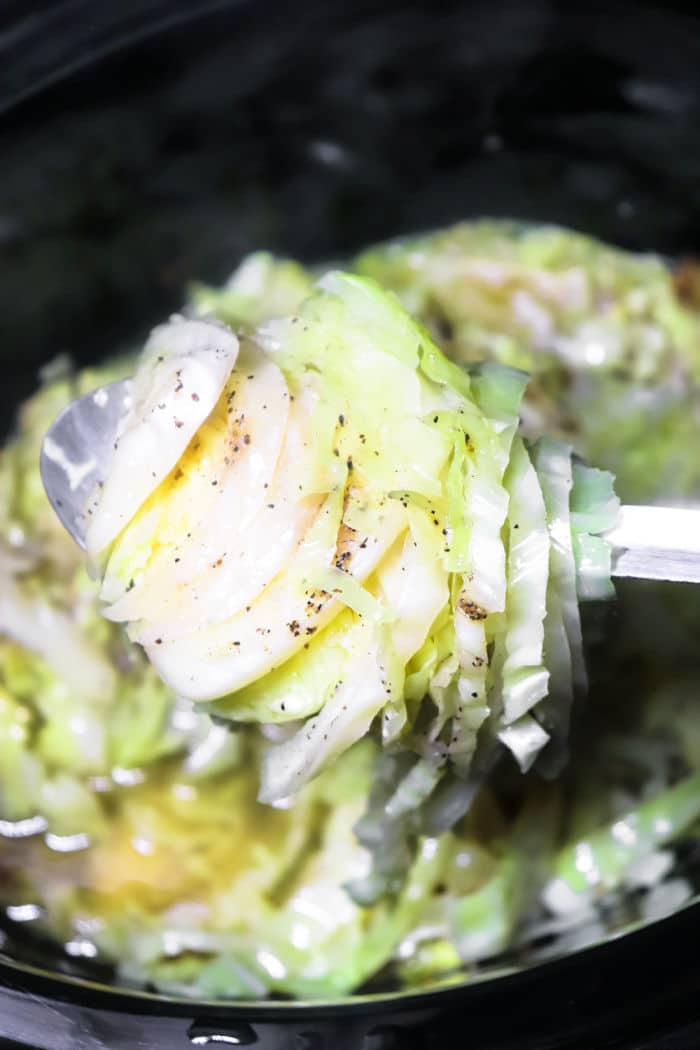 Slow Cooked Cabbage
This is kinda' a throw it all in, cover and cook sort of dish. The seasonings are up to you but the ones used here are listed below and simple. Here's a quick rundown but please refer to the printable recipe card at the bottom of this post with exact ingredients and instructions.
First you'll want to remove the hard stem from cabbage and slice in half. Then chop again into 3/4″ ribbons. Put into Crockpot.
Pour in broth. Slice butter into 6 equal pieces and place on top sprinkled with salt and pepper.

minced garlic is great too if you love that flavor

Cook on low for 6 hours. If you can, fold ingredients together halfway thru cook time.
Crockpot Cabbage
This cabbage cooks all day long so when you're ready for this favorite recipe it will be ready. At times I will slice petite potatoes in half and have a cabbage and potatoes dish for dinner. You could add leftover ham to it too for meat or leave vegetarian.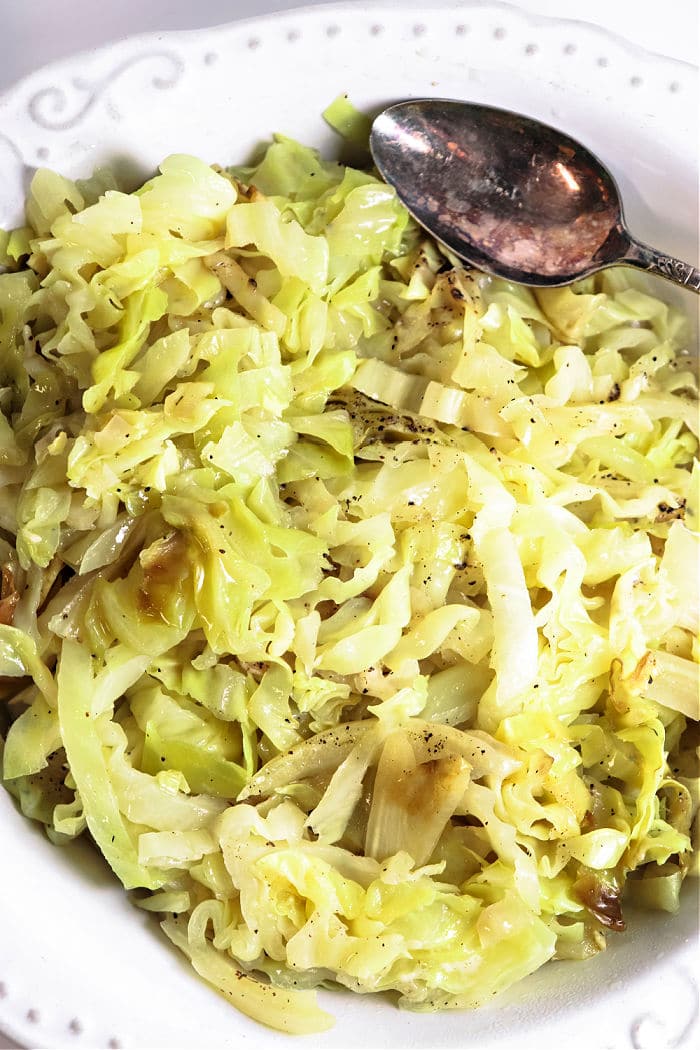 Buttered Cabbage in Crockpot
Looking for more Crockpot cabbage recipes? Check out our roundup of more here.
Jump to recipe below and get your cabbage and onions all prepped. There is nutritional information there too with calories, saturated fat, etc… You could fry up some fresh bacon and chop it up, or throw in some already precooked out of a bag. Print recipe to keep it handy or just come back time and time again. 😉
Want to see a few of my favorite things that I am totally obsessed with?? Take a peek and see how many you might already have…twinsies!
Looking for more easy family recipes and tips? LIKE The Typical Mom Facebook page?
Then sign up for my free newsletter, and follow me on Pinterest! 😉
***** If you LOVED this recipe give it 5 Stars below and let everyone know what you thought about it. 😉
Slow Cooker Cabbage
Buttered slow cooker cabbage recipe that is the perfect vegetable side dish to serve with any meal, not just corned beef brisket.
Instructions
Remove stem from cabbage and slice in half. Then chop again into 3/4" ribbons. Put into Crockpot.

Pour in broth. Slice butter into 6 equal pieces and place on top sprinkled with salt and pepper.

Cook on low for 6 hours. Ideally fold together halfway thru cook time.
Nutrition Facts
Slow Cooker Cabbage
Amount Per Serving (2 oz)
Calories 160
Calories from Fat 144
% Daily Value*
Fat 16g25%
Cholesterol 41mg14%
Sodium 437mg19%
Potassium 187mg5%
Carbohydrates 4g1%
Protein 1g2%
Vitamin A 552IU11%
Vitamin C 31mg38%
Calcium 38mg4%
Iron 1mg6%
* Percent Daily Values are based on a 2000 calorie diet.