Air fryer cabbage steaks or quarters come out tender yet crispy on the edges with LOTS of flavor. If you love this vegetable, this is a new way to try it.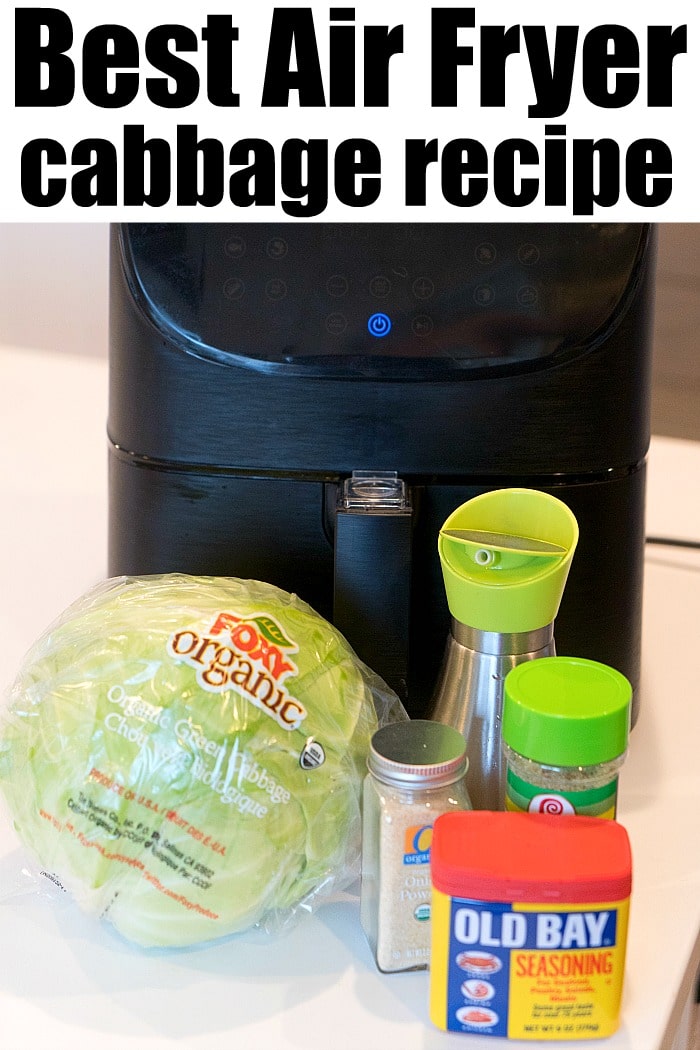 Air fryer cabbage is yummy and there are tons of possibilities on what seasonings you add. It's a keto friendly, low carb side dish we love. Throw in some bacon and take this easy air fryer recipe to the next level! (affiliate links present, originally published 2/20)
Air Fryer Cabbage Steaks
Do you love cabbage steaks too?? I will be honest, it took me until about 40 years old to love this often neglected vegetable.
You can make tons of cabbage recipes in any air fryer or Ninja Foodi machine you own. They all basically work the same with a temperature setting and basket for your food. The biggest differences are the color on the outside and the size of the basket itself. Larger will cook bigger batches at once of course.
Okay so I have 3 different styles and love them all. I can't remember the last time I used my oven to cook anything.
Cabbage in Air Fryer
Here is the biggest tip for cooking vegetables in an air fryer that are firmer like this and air fryer broccoli too.
You need a bit of water underneath your basket to steam it while it's being crisped! You may have never heard or have to do this before but it kinda' makes sense if you think about it. Really firm foods need a bit of steam to break down and become less firm. Just take my word on this okay?
How Long to Air Fry Cabbage
Air fryer tips – This is what I mean. With every machine I've had, excluding this large hot air fryer, there is a pot below the air fryer basket.
You'll want to lift the basket with holes on the bottom out
Then pour 1/4 cup of water into the bottom bin
Put air fryer basket back in
Preheat to the desired temperature
Follow recipe, put food in and cook
Easy right??!! It's a small step that will make a big difference.
This isn't really necessary when you're making soft water filled veggies like zucchini or cauliflower, but for tougher varieties it is a must.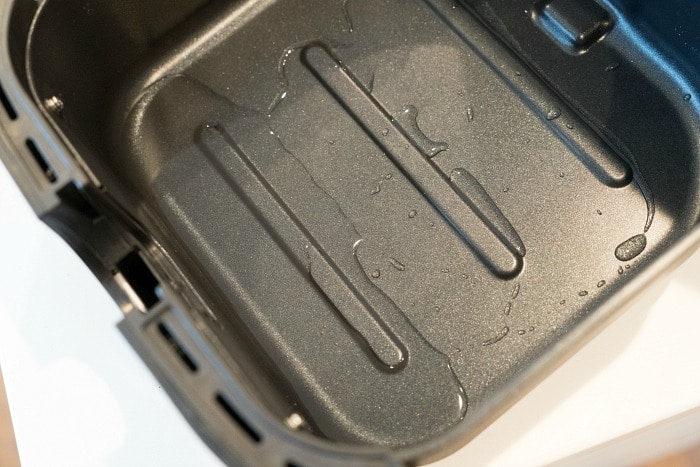 This small amount of water will do the trick for about 2 rounds. So if you do more than 2 rounds of air fryer cabbage steaks or quarters you'll want to drain what's left and pour in a new 1/4 cup.
How do you know how long to cook something new in your hot air machine?
There are 2 ways I have made cabbage in an air fryer. This one is focused on cabbage steaks, meaning you start slicing the end without the hard base into pieces like you see here.
I didn't measure them but I'd say they were about 1″ thick.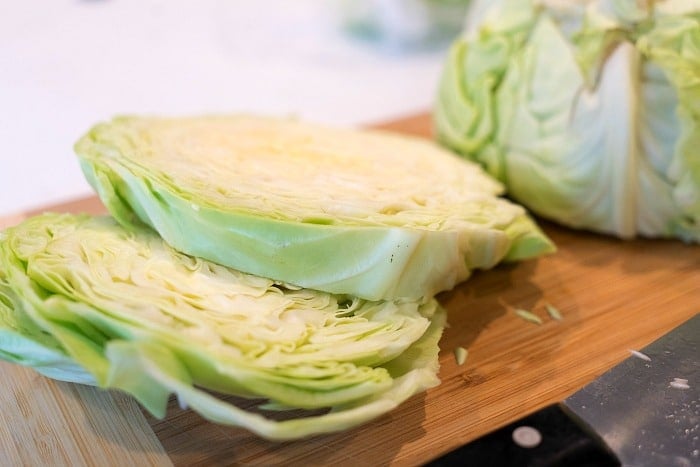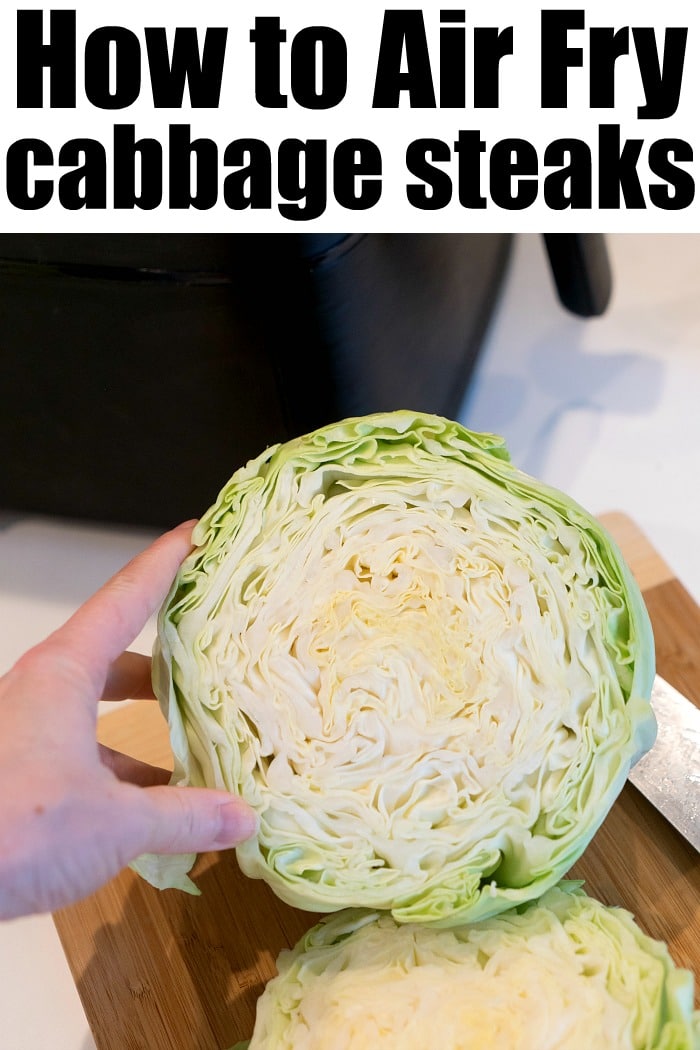 Only one will fit at a time so you may need to make several batches for your low carb lunch.
If you are following a low calorie keto friendly diet this one is great to serve as a side dish or snack.
Here is what you'll need to make air fryer cabbage
Head of cabbage
Old Bay seasoning

I'm obsessed with these flavors, you can even find more Old Bay recipes here too

Garlic salt
Onion powder
Olive oil or butter

we will share both ways
it is up to you which one you prefer
When it comes to cabbage seasonings it is really up to you.
We will share here the combination that we enjoy but if you want a little kick you could easily add a bit of dry Sriracha or chili powder.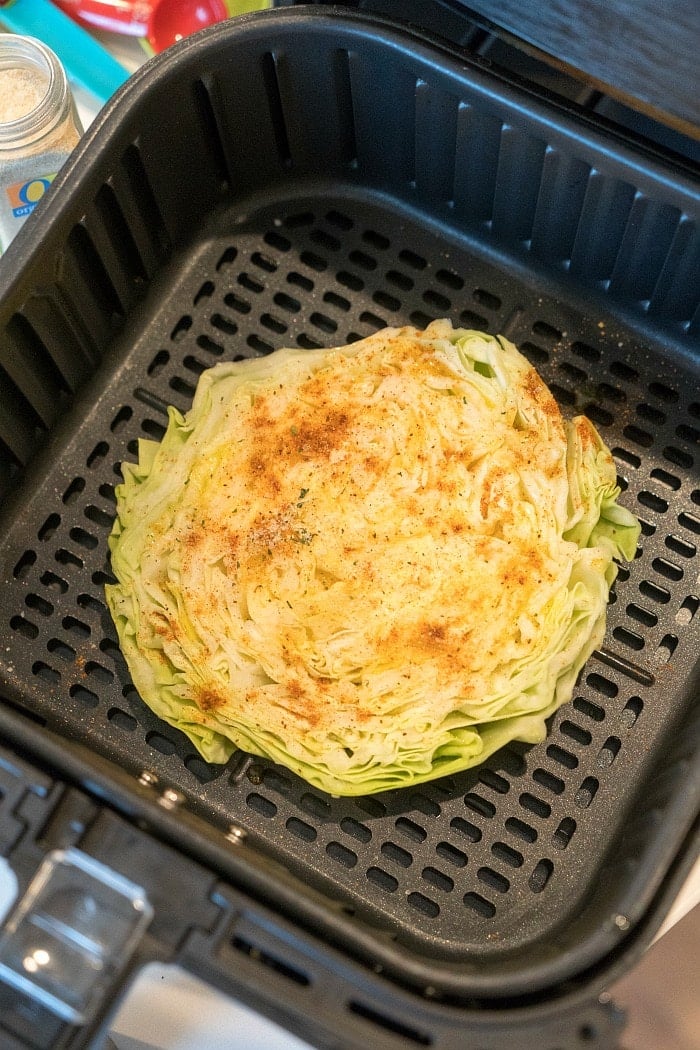 Here are the steps to take when making air fryer cabbage
Pour 1/4 cup of water into the bottom container of your unit, then put basket back on top.

there will be a space between the two so they won't touch, just helps to steam it

Preheat your air fryer to 360 degrees F
When cutting the cabbage make sure your slices are just about 1″ thick, any thicker and it will take a while to soften and crisp evenly.
Place slice of cabbage into basket like you see here and drizzle olive oil on, or place a pat of butter in the middle

sprinkle with seasonings
add salt and pepper to taste as well as anything else you love on your green vegetable

Close basket and set to 8 minutes.
This time worked great for us but if you want it crispier you can check and then add additional minutes until it's your kinda' perfect.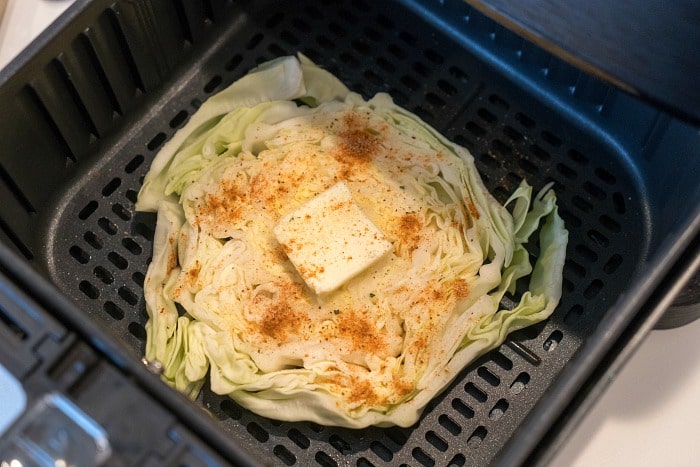 Ninja Foodi Cabbage
This shows one round where we added 1 tbsp. of salted butter instead of olive oil. I thought they both tasted pretty similar actually, but it is your choice.
When done after 8 minutes it will look like this.
I did not flip it over because I knew it would just fall apart.
There is plenty of seasons on the top where you don't need to add any to the bottom to make it great.
Want to make more simple cabbage recipes beyond this?? Our next favorite is this Instant Pot corned beef and cabbage dish.
If you need to make this in larger batches in the oven you can follow our baked cabbage steaks recipe too. It's so good we cook it way more often than just for St. Patricks Day.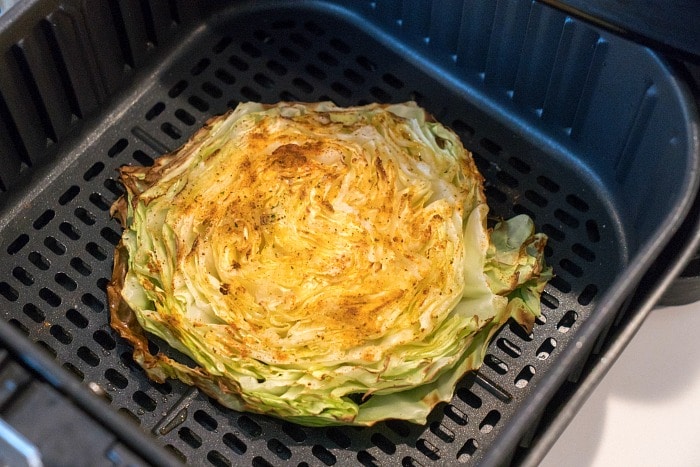 The only thing to remember if you're making cabbage wedges is to ensure it fits with the drawer closed.
Some smaller machines may not allow for it to be cut this way.
Looking for other air fryer vegetable recipes? Our eggplant air fryer recipe is the bomb I tell you! Then you'll have to make air fryer okra and let us know which you like better.
And our air fryer steak bites are killer.
If you want to make Ninja Foodi cabbage cut into quarters like you see below, we have a simple recipe here. This one pressure cooks it first but if you only have an air fryer you can skip that and just make sure to add water to the bottom like we've directed here.
Looking for more easy Instant Pot cabbage recipes? We have a lot if you're using your Instant Pot instead.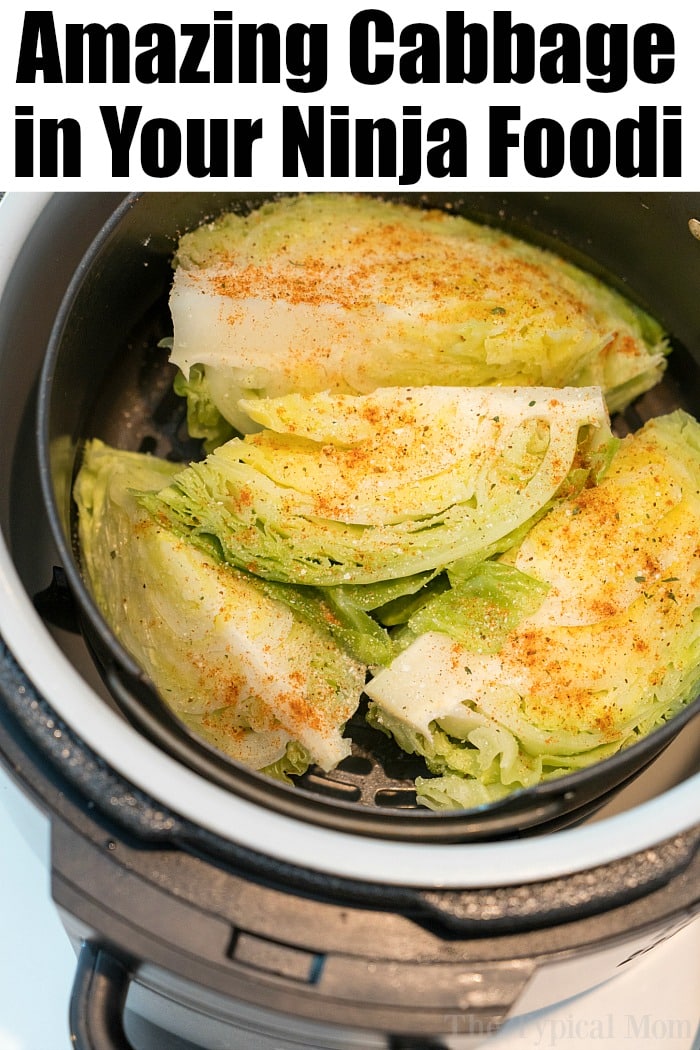 ** If you want very tender cabbage follow the pressure cooker recipes above!
The one below will slightly soften it with the butter but will still leave it with a bit of crispness.
Want to see a few of my favorite things that I am totally obsessed with?? Take a peek and see how many you might already have…twinsies!
Looking for more easy family recipes and tips? LIKE The Typical Mom Facebook page?
Then sign up for my free newsletter, and follow me on Pinterest! 😉
***** If you LOVED this recipe give it 5 Stars below and let everyone know what you thought about it. 😉
Air Fryer Cabbage
Air fryer cabbage steaks or quarters come out tender yet crispy on the edges with LOTS of flavor. If you love this vegetable, this is a new way to try it.
Instructions
Pour 1/4 c water underneath your air fryer basket. Preheat air fryer to 360 degrees for 5 minutes.

Slice cabbage 3/4" thick so you have a slice of it.

Place cabbage steak piece into preheated air fryer basket and top with 1 tbsp butter in the middle of each piece, or drizzle with 1 tbsp olive oil. Then sprinkle seasonings of choice (we use what is listed above) on top.

Close basket and set to 8 minutes.

Open basket, if you want edges crispier add 2 more minutes and check again. Enjoy immediately for best results.
Nutrition Facts
Air Fryer Cabbage
Amount Per Serving (3 oz)
Calories 44
Calories from Fat 18
% Daily Value*
Fat 2g3%
Sodium 57mg2%
Potassium 193mg6%
Carbohydrates 7g2%
Protein 1g2%
Vitamin A 111IU2%
Vitamin C 42mg51%
Calcium 45mg5%
Iron 1mg6%
* Percent Daily Values are based on a 2000 calorie diet.