This eggplant air fryer recipe is so good! Lightly breaded vegetable snacks or a side dish that will make you buy this purple veggie way more often.
Have you made eggplant air fryer dials yet? They are incredibly delicious, and one of our easy air fryer recipes we've made here on The Typical Mom blog. (originally published 5/20, affiliate links present)
Air Fryer Fried Eggplant
I have both a Ninja Foodi machine and traditional electric air fryer too. It doesn't matter what brand you have, the directions are the same for them all.
NOW you'll be able to get that great crispy deep fried taste with just a light spray of oil. No submerging or extra calories needed to get that great crunch!
First grab one of these babies from the store….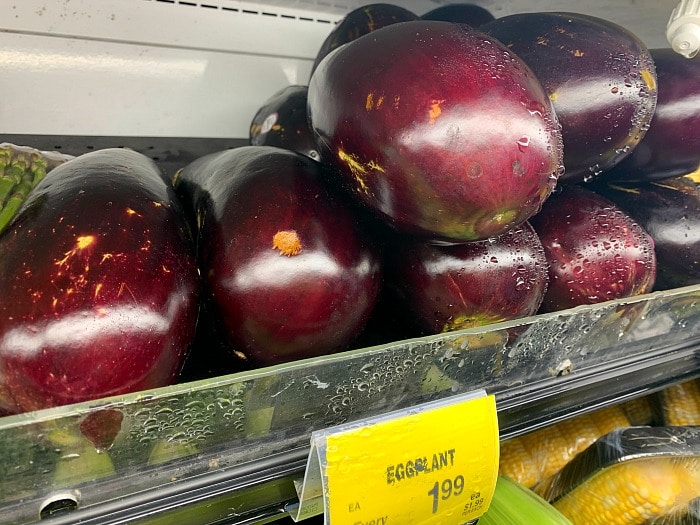 Eggplant Air Fryer Recipe
If you don't know what to look for you should just choose a medium size. Feel around the outside and make sure there isn't a soft or mushy spot.
Think of it like a big bell pepper kinda', as far as the texture. If there's a wrinkled or soft area you don't want that. Nice and firm and not too large.
If you love air fryer recipes too, here are some resources to start with: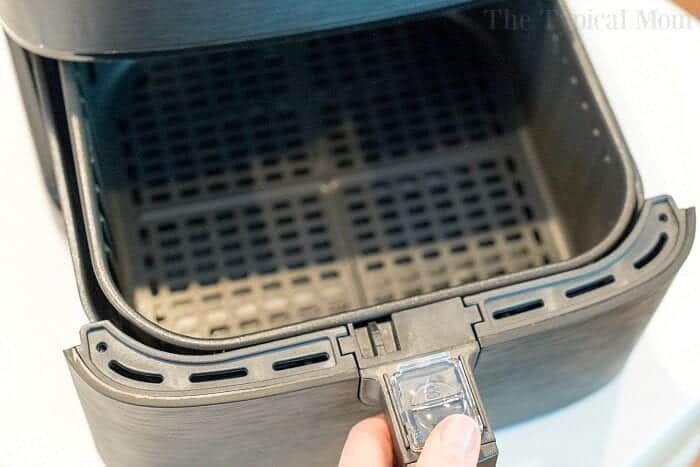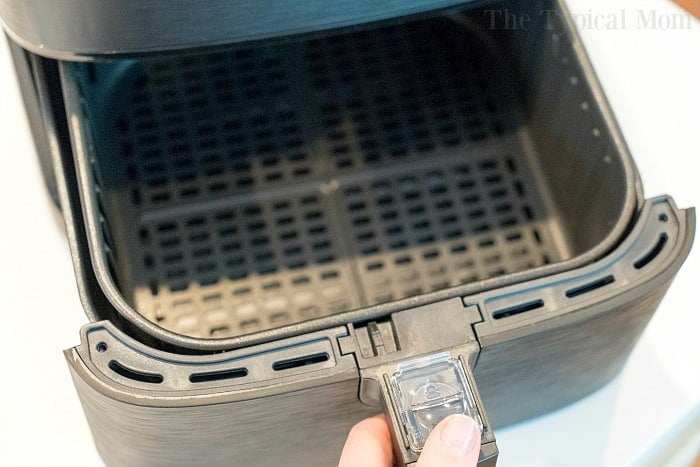 What are the benefits of eating eggplant?
They are actually rich in a number of important nutrients and high in antioxidants.
It is said that this vegetable may reduce the risk of heart disease and promote healthy blood sugar control.
If eaten simply without breading it could help with your weight control and may have cancer fighting benefits as well.
Ninja Foodi Eggplant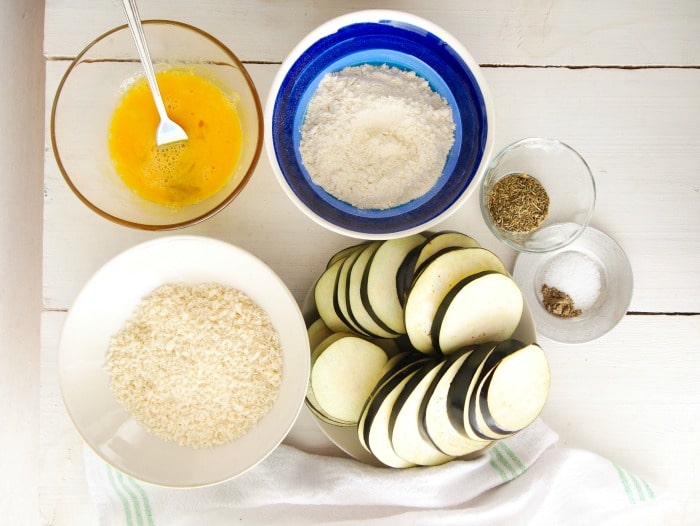 Before you go any further, make sure to LIKE our air fryer recipe Facebook page here.
There you'll get a new meal or snack to try each and every day. All will be simple and include "normal" ingredients found at your local grocery store.
I think this large purple vegetable is highly underrated and overlooked. If you've been intimidated to try and cook it you've gotta' try this!
It is similar to our ever popular air fryer zucchini chips but with a new veggie.
Air Fryer Eggplant
2 shallow bowls
Eggplant – cut into dials
All purpose flour
Egg
Italian seasoning
Salt and pepper
Olive oil cooking spray will make it ultra crispy.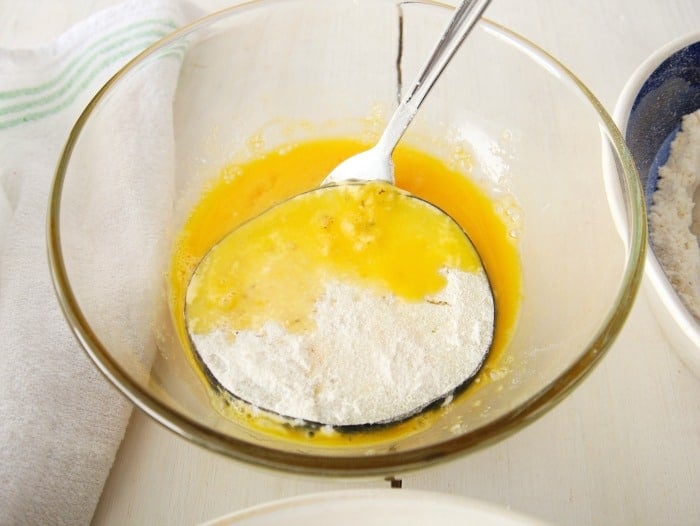 We will with the eggplant sliced into 1/4 inch slices. Make sure each piece is the same thickness. They will likely be different sizes as the top is generally narrower than it's base but that is okay.
Should eggplant be peeled?
Generally it is said that yes you should because the skin can be a bit bitter but in this case we didn't.
Since it is sliced this way there is very little on each piece and the breading masks any negative flavors.
Then a quick trip into the flour to coat the outside and into the egg it goes.
Next you'll want to dip your air fryer eggplant into your seasoned breadcrumb mixture so each piece is nicely coated.

you could add a bit of grated parmesan cheese into the mix too for more of an eggplant parmesan taste
I always like to preheat my machine for 5 minutes at the correct temperature beforehand so the food cooks evenly.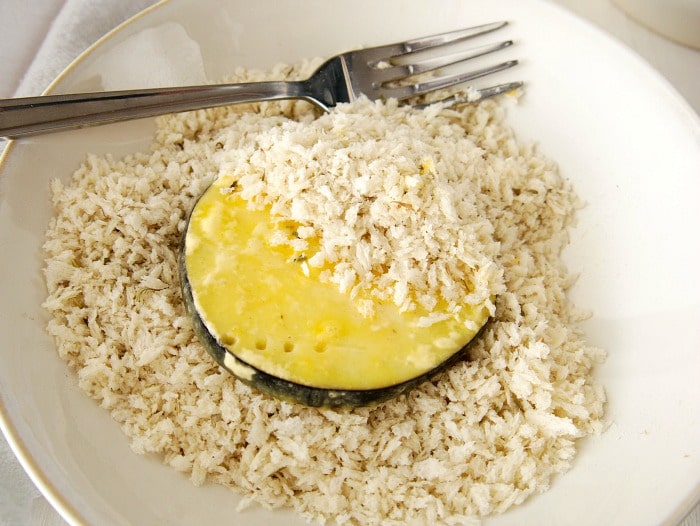 Eggplant in Air Fryer
Lay them into your air fryer basket in a single layer so they're not overlapping. This will ensure you get that crispy crunchy fried eggplant texture.
Set to 380 degrees for 8 minutes, then flip to the other side for a 3 minute cook time. This will give the ultimate air fried crunchy texture on both sides.
Remove when they are golden brown to your liking and enjoy as is or with some marinara sauce for dipping.
How do you know when a mini eggplant is ripe?
Ideally you should pick them when skin is glossy. Dull fruit indicates that it may be over ripe already.
Both under and over ripe picks tend to taste more bitter. Pick white eggplants before skin turns yellow
Could you make gluten free fried eggplant? Yes you could use a gluten free flour and alternative bread crumbs like these instead. That way everyone can love on them together!
Eggplant air fryer recipe
And if you forget to defrost dinner you can still make air fried frozen shrimp to perfection tonight.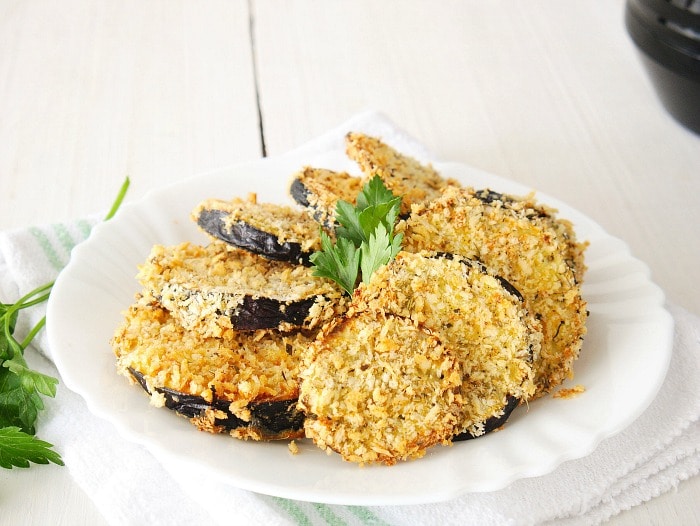 If you love this then we have a few more goodies you need to try out next:
Air fryer green beans rock too. You may not believe it but my kids love these so much they'll eat an entire plate as a snack.
Want to see a few of my favorite things that I am totally obsessed with or visit my Etsy shop?? Take a peek and see how many you might already have…twinsies!
Looking for more easy family recipes and tips? LIKE The Typical Mom Facebook page?
Then sign up for my free newsletter, and follow me on Pinterest! 😉
***** If you LOVED this recipe give it 5 Stars below and let everyone know what you thought about it. 😉
Eggplant Air Fryer
This eggplant air fryer recipe is so good! Lightly breaded vegetable snacks or a side dish that will make you buy this purple veggie way more often.
Instructions
Use 3 shallow bowls. Whisk the egg in one, put flour in another and mix Panko breadcrumbs with seasonings in the third.

Preheat air fryer to 380 degrees for 5 minutes.

Slice stem end off, discard. Slice into 1/4" rounds. One at a time dip into the flour, then into egg, then press breadcrumbs on both sides so they're nicely coated.

Put into preheated air fryer basket so they're not overlapping, spray lightly with olive oil spray.

Cook for 8 minutes, flip and spray tops lightly, then cook for another 3 minutes (times will vary depending on how thick they are and how brown you want them).
Nutrition Facts
Eggplant Air Fryer
Amount Per Serving (2 oz)
Calories 150
Calories from Fat 18
% Daily Value*
Fat 2g3%
Cholesterol 27mg9%
Sodium 207mg9%
Potassium 251mg7%
Carbohydrates 28g9%
Protein 6g12%
Vitamin A 78IU2%
Vitamin C 2mg2%
Calcium 68mg7%
Iron 2mg11%
* Percent Daily Values are based on a 2000 calorie diet.