Air Fryer Ninja Foodi kale chips are the most delicious and healthy snack that even my kids love! Crispy and the best kale chips in just 5 minutes flat.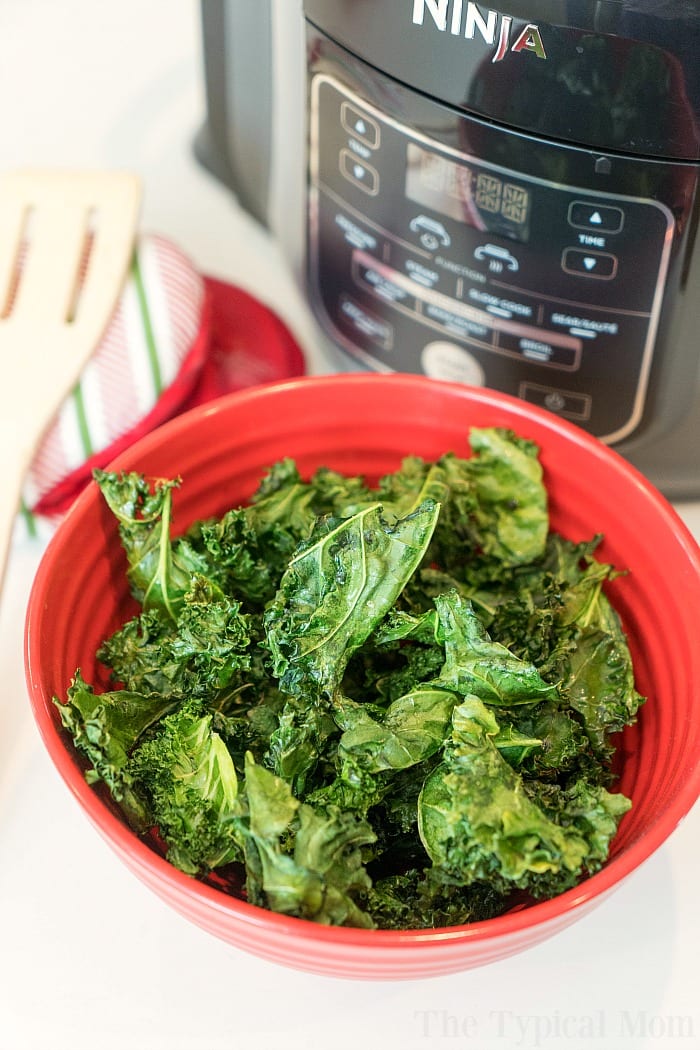 I love my new appliance and have been busy creating easy Ninja Foodi recipes like this one! Of course you can make these air fryer kale chips in any brand you might have at home but this is mine here. If you're ready to love Ninja Foodi kale chips I'm here to show you how easy they are to make! (originally published 1/19, affiliate links present)
What is this nifty new 3 in 1 Ninja I have here?? Well let me share with you briefly.
We've made Ninja Foodi french fries and now we're here to share the best kale chips you will ever make!
They're 100x better than store bought, gluten free and super low carb!
What do I do with kale you might ask??
I know, if you've never tasted them before and are not big on dark leafy vegetables you were probably like me and thinking "yeah, that can't be good I'll pass"….but wait!! Let me convince you!
I made this easy kale chips recipe in the oven years ago when I first heard about them and was so curious I had to buy a bunch at the store.
I was SHOCKED that I actually loved them. What made me even more surprised was that my kids gobbled them up. Like seriously they were gone in less than 15 minutes!
SO if you ask me what you do with it is to try this recipe. It is the ONLY way I've found to like it and seriously I could eat it daily if I had it on hand. We even grew it in our vegetable garden this year so we could make it more often. 😉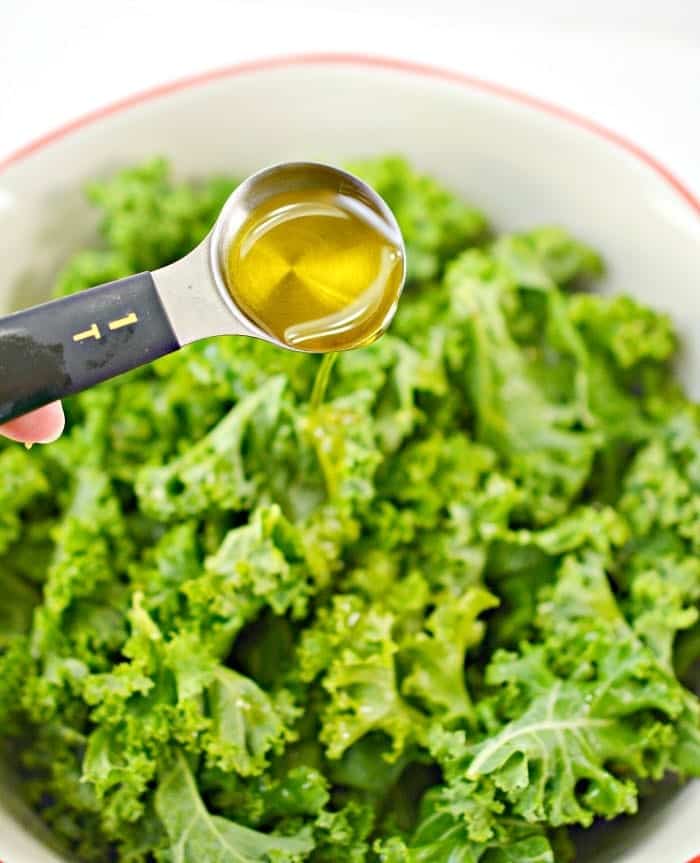 Does cooking kale destroy nutrients? Let me share some kale chips nutrition with you.
Are kale chips a healthy snack?
Roasting won't affect the vitamin K in it which is good for your bones and heart. On the other hand, you'll lose some of the beta carotene and vitamin C. Since it is so high in these vitamins to start out with though, it's still a good source after the kale has been cooked.
Kale is high in these vitamins

Vitamin B6
Calcium
Potassium
Copper
Great source of Vitamin A
Vitamin C
Vitamin K
Manganese

Kale is high in fiber which aids digestion and lowers cholesterol levels
Benefits of olive oil used on this air fryer kale chips recipe

Antioxidants
Olive oil has anti inflammatory properties
The nutrition doesn't make me love them though..it's the taste (the benefits are just an added benefit).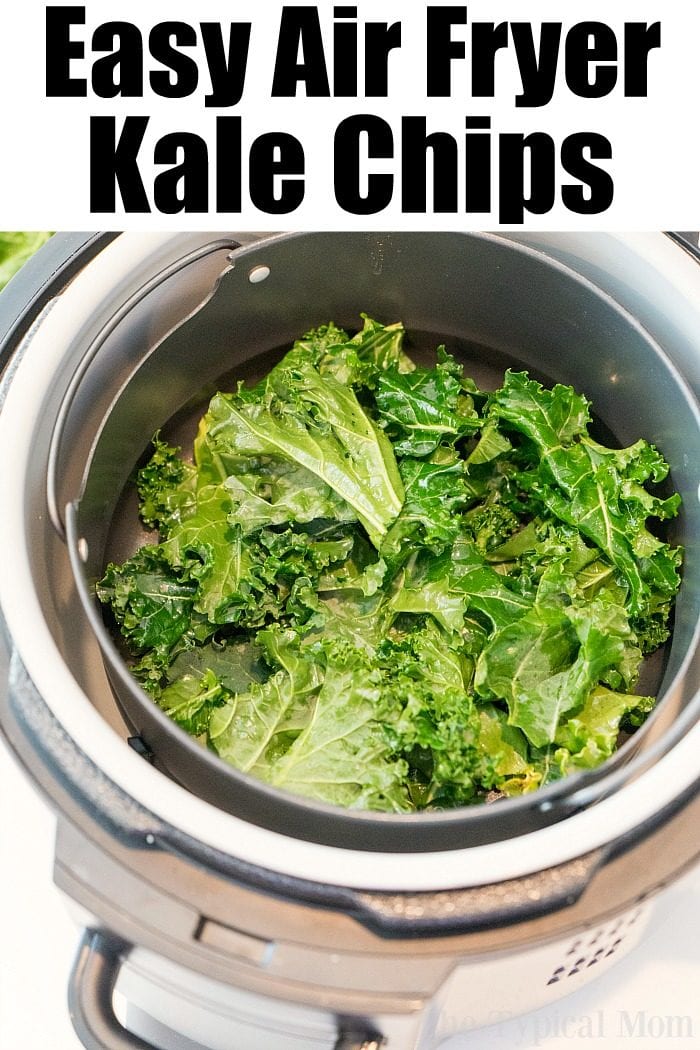 Trick to making the best kale chips ever:
Make sure your kale is completely dry after washing the leaves
Remove the entire stalk in the middle
Don't saturate your kale chips with olive oil, a little goes a long way

Do not use too much salt either, you can always add a bit more at the end but you can't take it away once it's added

Cut kale leaves into larger than bite size pieces because it will shrink in the air frying process
After 2 minutes shaking the basket halfway is best to ensure both sides get nice and crispy
Eat them immediately

Crispiest when eaten right out of your air fryer (not an issue at my house, they disappear immediately)
Let's go y'all….have I convinced you yet??
This is what you need to make these easy Ninja Foodi kale chips in your air fryer:
1 bunch of fresh kale – use fresh, I like curly kale variety
Olive oil
Seasoned salt – or dry ranch dressing mix
Salt and pepper
Paper towels to dry leaves
Large bowl
Air fryer basket
If you want to make some easy kale recipes in a regular oven here are those directions. You'll need baking sheets for this method. You can see ours below made this way.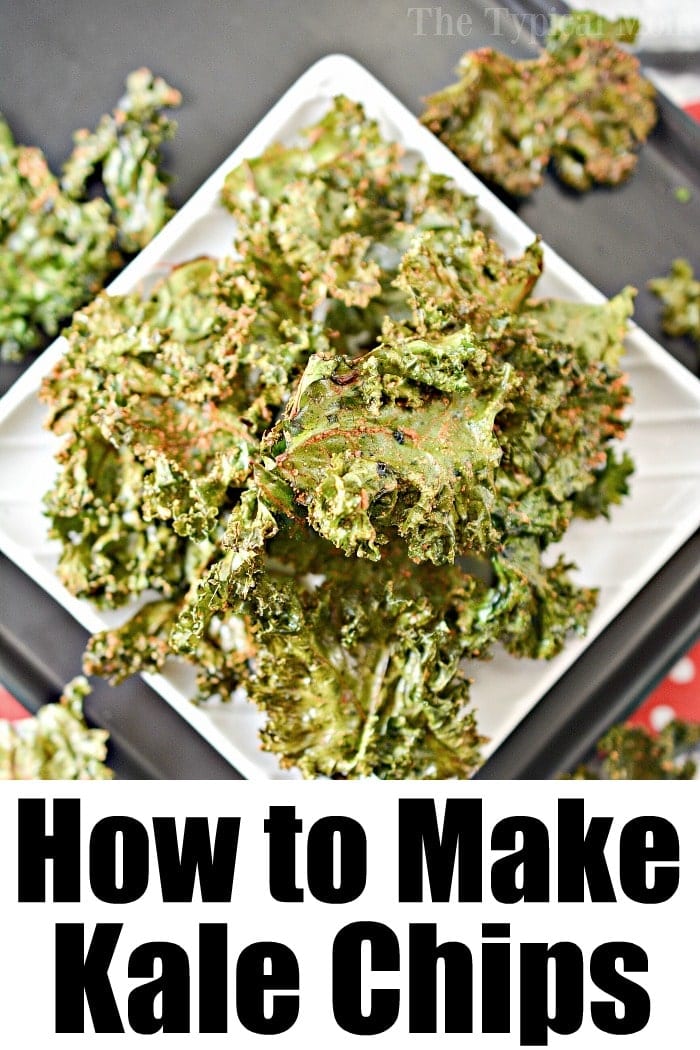 How do you keep kale chips crispy?
Personally I do not like them unless they are really fresh and right out of the machine, or oven. As they sit they'll lose a lot of the crispy nature. BUT if you do want to keep them as fresh as possible, this is what to do.
To store leftover kale chips, place them in an airtight container after they've cooled down from being baked. Seal the container and keep it at room temperature for a week and enjoy.
Ninja Foodi Kale Chips
Air Fryer Ninja Foodi kale chips are the most delicious and healthy snack that even my kids love! Crispy and the best kale chips in just 5 minutes flat.
Ingredients
1

bunch

kale

curly kale is best, washed, dried, remove stems

2

tbsp

olive oil

1/4

tsp

seasoned salt

or 1/2 tsp. dry ranch dressing mix
Instructions
Wash your kale and set out on countertop on paper towels to completely dry.

Remove middle stems and cut leaves into large bite size pieces, they will shrink.

Put pieces into a bowl and drizzle olive oil on, sprinkle on seasoned salt or ranch dressing seasoning.

Use hands to massage salt and oil on to leaves.

Put half your prepared bunch into your air fryer basket

Close your air fryer lid (attached on Ninja Foodi), press air crisp at 390 degrees for 2 minutes.

Lift lid and flip kale chips on to the other side to crisp evenly.

Re set air crisp at 390 degrees for another 2 minutes (or set to 4 minutes and flip halfway through). Then remove and do the same for the 2nd half of your batch of prepared kale.

Kale chips should be crispy on both sides, if you have a bit larger bunch you may need to add another minute at the very end to ensure all pieces are very crispy like chips. Enjoy immediately for best results.
Nutrition Facts
Ninja Foodi Kale Chips
Amount Per Serving (2 oz)
Calories 51
Calories from Fat 36
% Daily Value*
Fat 4g6%
Sodium 105mg5%
Potassium 106mg3%
Carbohydrates 1g0%
Vitamin A 2165IU43%
Vitamin C 26mg32%
Calcium 33mg3%
Iron 0.3mg2%
* Percent Daily Values are based on a 2000 calorie diet.
For more easy recipes, tips and free printables please LIKE The Typical Mom on Facebook and follow me on Pinterest! You can also sign up for my free weekly newsletter which is packed with goodies I know you'll love. 😉