Easy baked kale chips recipe for everyone, even you non believers! We'll convince you that baked kale chips are delicious and the perfect healthy snack.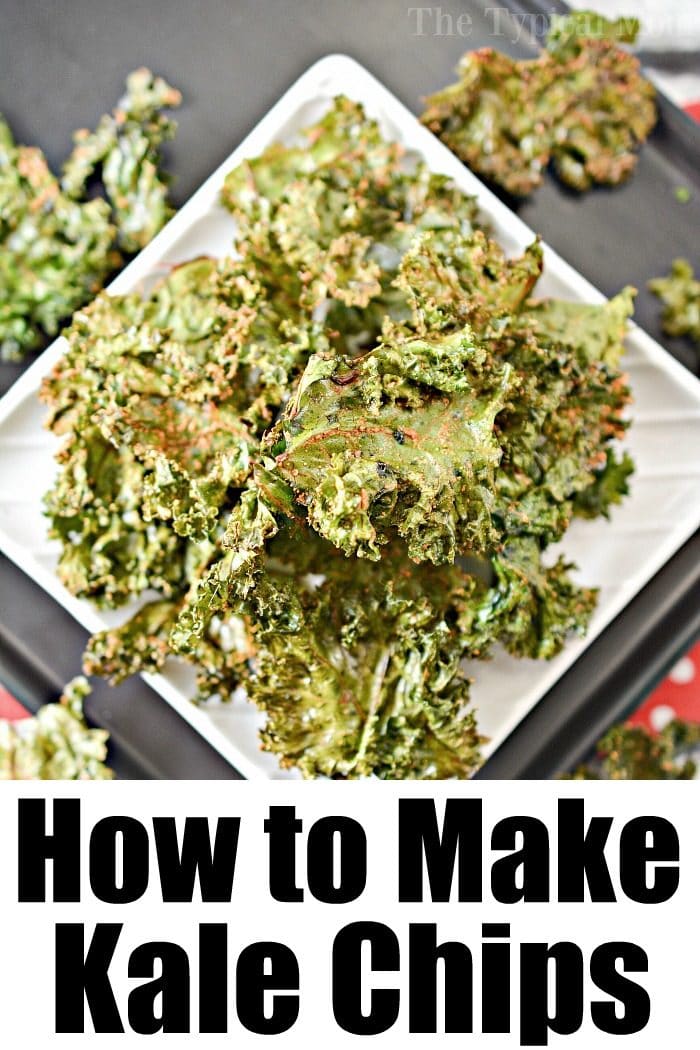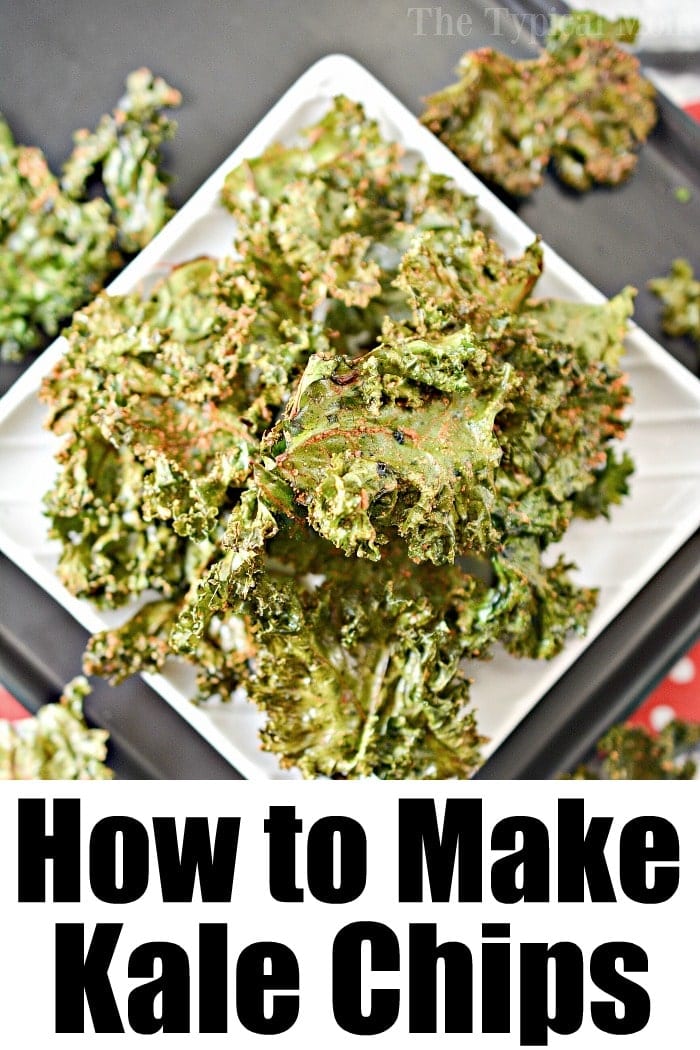 "Kale Chips are Great" I kept hearing……"yeah right" I thought. Well, I'm not one to judge. We are trying to be smarter snackers, and my kids like those little packages of dried seaweed so I thought I'd try it. At $3 a bag I thought I'd try to make them myself. What do you know, we loved them!! Here is our easy Kale Chips recipe for you to become a believer too! (originally published 3/15, affiliate links present)
How to Make Kale Chips
I heard from a few people years ago how good kale chips were and like some of you my face cringed and thought "no way!"…..then I got curious.
I bought a bunch of kale at the store
Brought it home
Rinsed all the leaves off really good and put them all out on a paper towel to dry (needed to be really dry).
Even left them for a few hours to make sure there wasn't any moisture left
I cut the middle rib off each piece (that wouldn't be tasty) and ripped the leaves into larger bite size pieces
Then I seasoned with Lawry's and garlic salt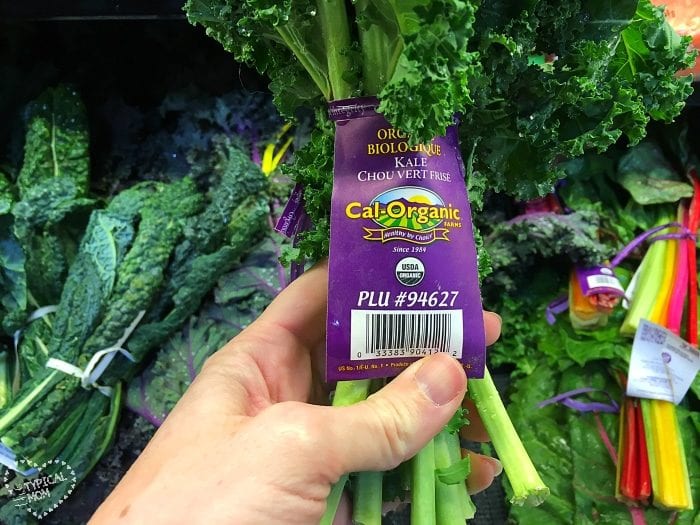 How to Cook Kale Chips in the Oven
Later on I experimented with Ranch dry seasoning and that came out great too, shared below. I use Lawry's seasoning for just about everything so I used that with my olive oil
Kale is a tricky vegetable. If prepared wrong you won't like it…and it might detract you from ever trying it again. It is VERY tough if not steamed, cooked, or baked (air fryer kale chips are amazing too). There are different kinds of kale and they are quite different in their thickness and taste.
Baked Kale Chips
The best kale for kale chips is curly kale, in my opinion of course. The leaves are thinner with a lighter taste than other varieties.

Benefits of eating kale?
If you have only eaten or made russet potato chips with potatoes you may just think of this type of food as junk food. Not true in this case at all!!
Dark leafy greens are VERY healthy for you, spinach chips are amazing too

High in iron (even more than eating beef)
Kale has a lot of vitamin k in it (helps with blood clotting)
It is high in vitamin a and c

Kale has a lot of fiber which is great for digestion
It is high in antioxidants
Eating kale (and our baked cabbage steaks) are great detox foods
Here's a picture of our easy kale chips recipe in progress.
Can I use any type of kale for making kale chips?
Yes, you can use any type of kale for making kale chips. Common varieties include curly kale and Tuscan (or lacinato) kale. Both work well, but some people prefer the texture of curly kale for making chips.
Can I use a microwave to make kale chips?
While it's possible to make kale chips in the microwave, they may not turn out as crispy as oven-baked or air-fried versions. Microwave cooking tends to make them softer rather than crispy. However, if you prefer a softer texture, you can experiment with microwaving them in short intervals until they reach your desired texture.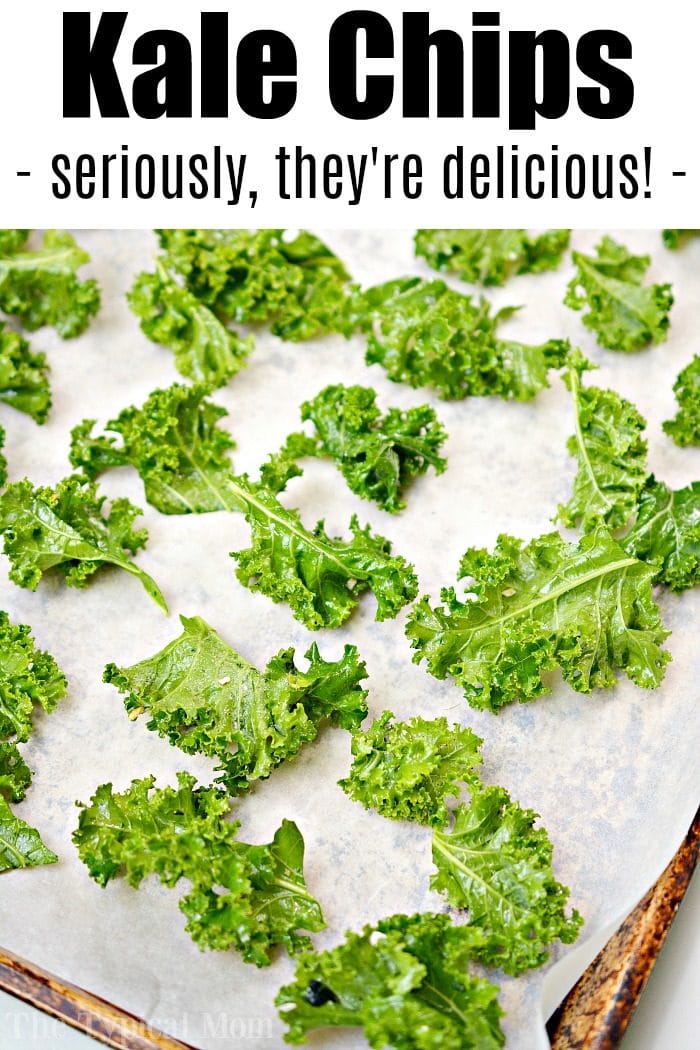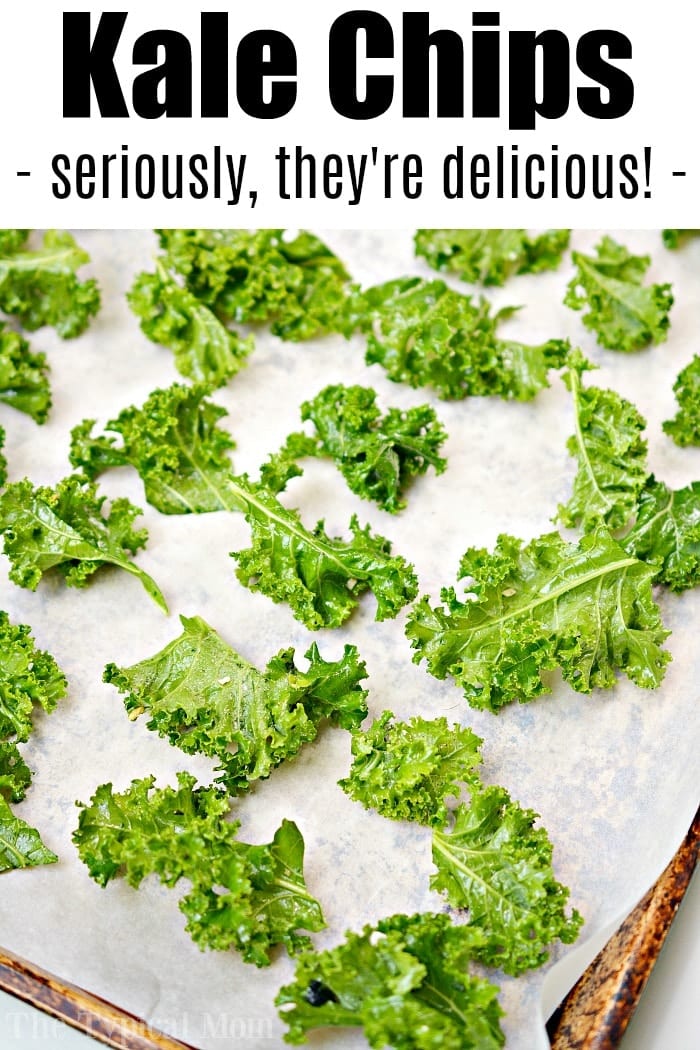 Baked Kale Chips Recipe
Biggest thing to remember is you want the leaves to be really dry before rubbing on that oil. Any moisture left on the outside will mean that it won't get as crispy as they would otherwise.
Wash your kale well removing the dirt
Spread them out so they dry completely (I use paper towels)
Remove the hard stalk in the middle of each piece of kale
Cut the kale leaves into large bite size pieces (so each piece is relatively the same size so they cook evenly, they will shrink)
Do not use too much olive oil or salt

Use the amounts I suggest below for an entire bunch of kale
Ranch Kale Chips
If you want to tweak the original to add a twist of yum to it that is super easy to do, you just:
Use seasoned salt or Ranch dressing dry mix
(dry) instead of seasoned salt
Delicious and a twist on traditional kale chips
Chips come in so many forms way beyond just using potatoes. This is one great example, and after you fall in love with this idea, try air fryer pasta chips too.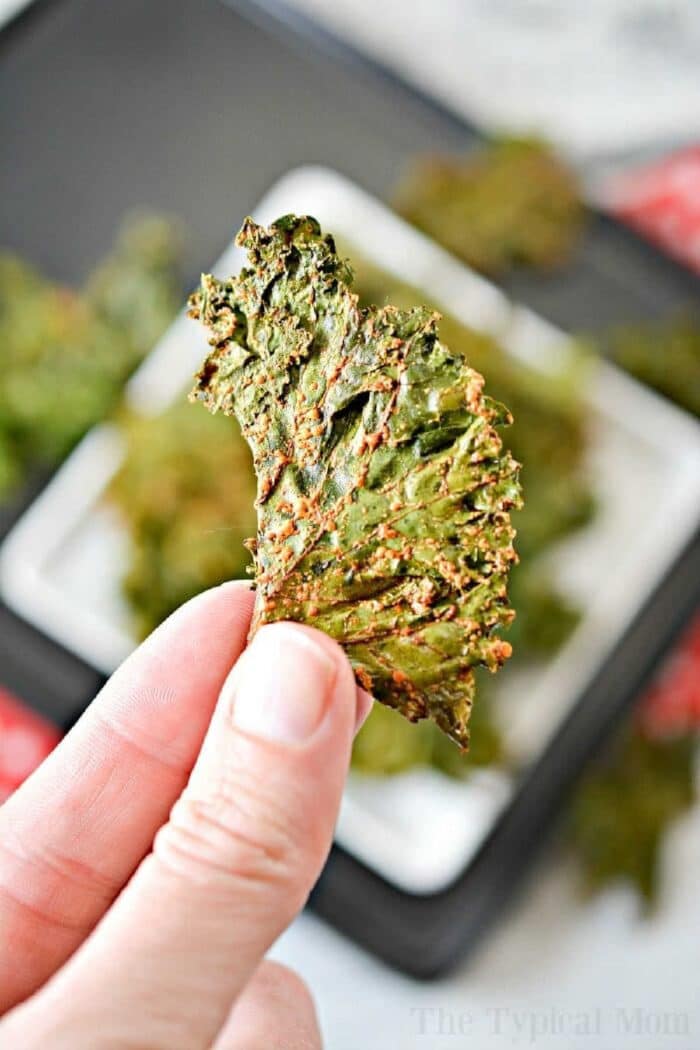 Kale Chips Ingredients
Just like making homemade tortilla chips there is a bit of prep work at the beginning. Each step is important to getting the perfect texture, which would be crispy crunchy as ever.
1 bunch of kale – some varieties of kale are very dark and others have thinner leaves. I prefer the thinner leaves if I can find it
Olive oil
Lawry's seasoned salt or just some sea salt, onion powder and pepper
Here are quick step by steps but there is a printable recipe card at the bottom with exact amounts you will need for crispy kale pieces.
Preheat your oven to 275. Wash your fresh leaves and dry them completely.

Either lay them in a single layer on paper towels, press down to absorb water and leave there for a few hours.
OR use a salad spinner and then lay on paper towels to try the same way.

Remove middle rib pieces. Cut each leaf into slightly larger bite size pieces. (will shrink when baked)
Put leaves in a large bowl and massage olive oil into leaves with seasonings like garlic powder, salt, pepper, etc.

some even like adding some nutritional yeast

Spread kale pieces on to a baking sheet so they aren't overlapping. This will make them crispy like potato chips.
Bake for 10 minutes, then best if kale chips are turned over and baked an additional 10 minutes cooking time, until they are lightly browned and crispy. 20 minutes total time is usually ideal give or take a few.
They turned out perfect this way as a healthy snack, even the kids rave over these.
Here is how to make this easy kale chips in the oven below in the recipe card as well as how to make air fryer kale chips here!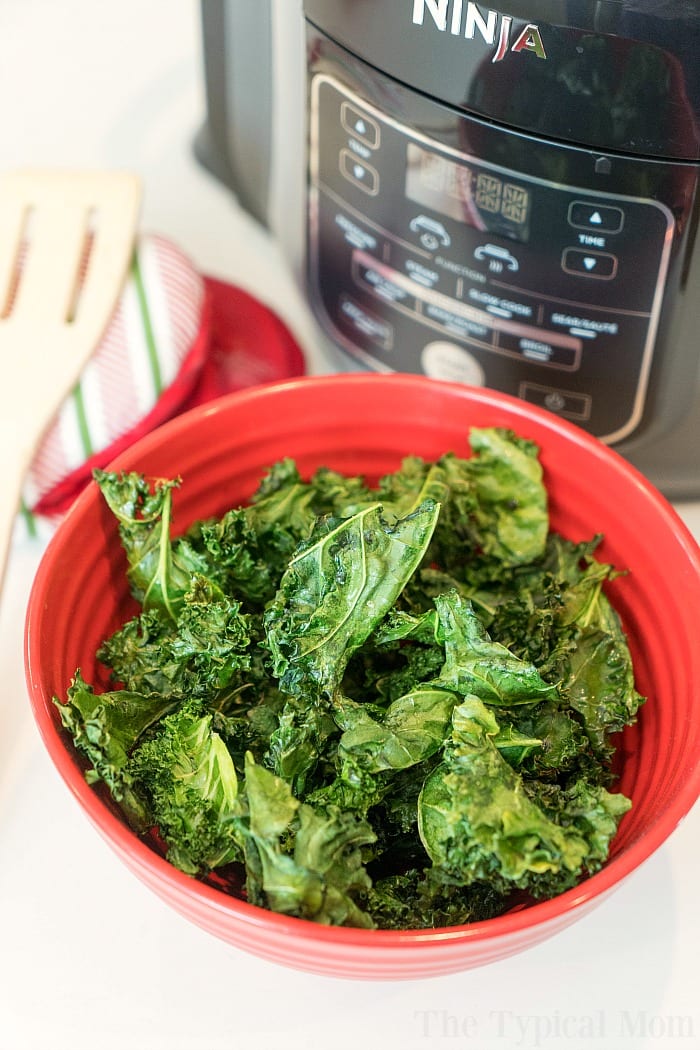 How to save leftover homemade kale chips
This is big. When these are room temperature they are best to eat IMMEDIATELY. If you have some left just leave them on the counter and see if they get eaten up later on in the day. The only way I have found to save these and have them be "okay" the next day is to put them in a baggie and suck, suck, suck all the air out.
Mind you this is the best way to keep air out so they won't get totally stale but they will still change texture in this short amount of time, there's no way around it. Your little ones may not tell the difference as much as you will but it is a no go for us. We have tried it over and over again many ways and we just know to eat them that day.
If you find something different let me know but it just is what it is. I will say we rarely if ever have anything to save but have experimented and this is what we have found friends. Here are a few other easy kale recipes like this superfood green smoothie with pineapple and kale juice to try when you're done.
Want to see a few of my favorite things that I am totally obsessed with?? Take a peek and see how many you might already have…twinsies!
Looking for more easy family recipes and tips? LIKE The Typical Mom Facebook page?
Then sign up for my free newsletter, and follow me on Pinterest! 😉
***** If you LOVED this recipe give it 5 Stars below and let everyone know what you thought about it. 😉
Baked Kale Chips
Easy baked kale chips recipe for those of you, like me, who weren't believers. They really are good and tasty, even my kids liked them!
Instructions
Preheat oven to 275. Wash your fresh kale and dry the leaves completely.

Remove middle rib pieces. Then cut each leaf into slightly larger bite size pieces. (will shrink when baked). Lay on paper towels for a few hours ideally to dry out.

Put leaves in a bowl and massage olive oil into leaves, using hands is best.

Sprinkle seasoned salt (or Ranch seasoning) over leaves and massage in as well so every leaf is coated well.

Spread kale pieces on to a baking sheet so leaves aren't overlapping.

Bake for 10 minutes, then flip them over and bake an additional 10 minutes or until they are lightly browned and crispy.

Enjoy, immediately is best.
Nutrition Facts
Baked Kale Chips
Amount Per Serving (2 oz)
Calories 41
Calories from Fat 27
% Daily Value*
Fat 3g5%
Sodium 589mg26%
Potassium 106mg3%
Carbohydrates 1g0%
Vitamin A 2165IU43%
Vitamin C 26mg32%
Calcium 33mg3%
Iron 0.3mg2%
* Percent Daily Values are based on a 2000 calorie diet.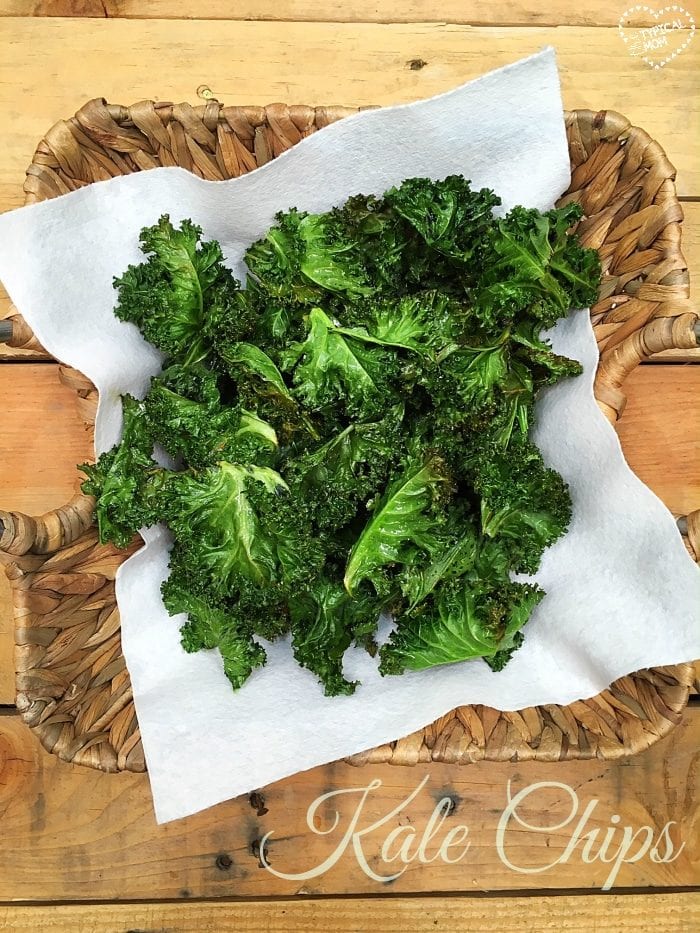 For more easy recipes, tips and free printables please LIKE The Typical Mom on Facebook and follow me on Pinterest! You can also sign up for my free weekly newsletter which is packed with goodies I know you'll love. 😉