Here are a few easy kale recipes including a kale juice blend and how to make kale chips which are so amazing even my kids eat them up! If you haven't liked kale before I guarantee you will enjoy it in one of these forms. It can be so tasty and oh so healthy for you too.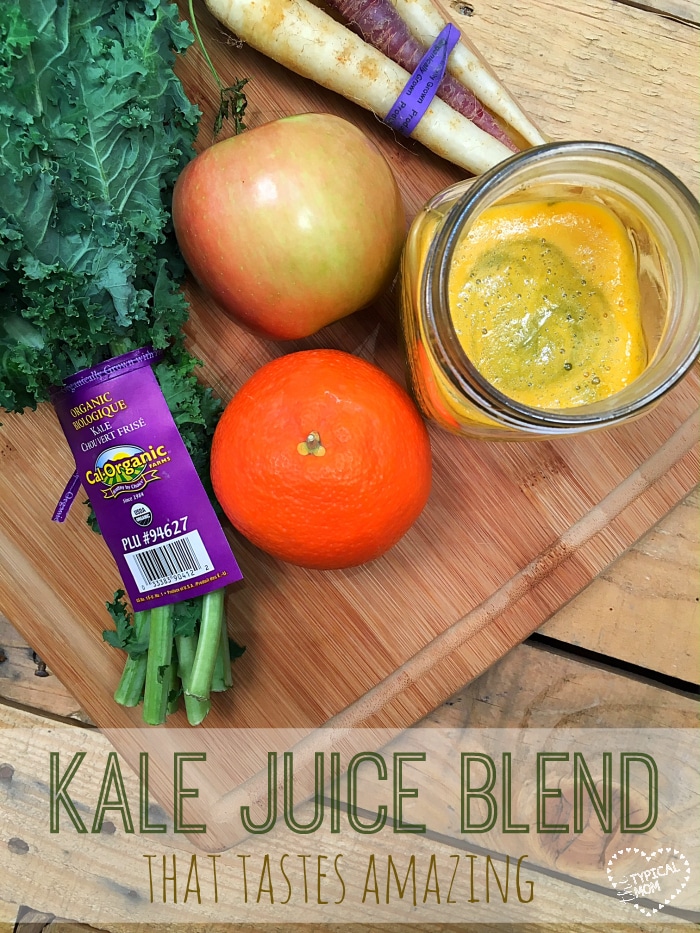 I love coming up with easy kale recipes using local California produce found at our local farmers market, and grocery store. There is so much you can make with kale, and can incorporate it into recipes so you an get the benefit of this dark leafy vegetable. Let me show you a few of our favorites that are really easy to make, use locally grown fruits and vegetables, and taste amazing! (originally published 3/16)
Like I said, I love buying locally grown California produce for many reasons. First of all….why not support the state in which we live in! The food that is grown in California drives the state and U.S. economy, California farming is one of the largest employers in our state, and overall is a vital part of our local communities….so it just makes sense to buy local right??!! 😉 You may think you need to visit a farmers market in your area but actually there are many items at your local grocery store so you too can help cultivate California.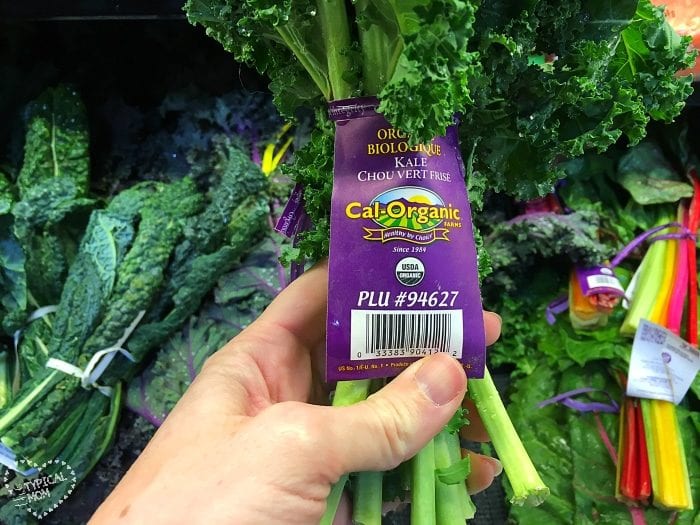 We live in the beautiful city of Temecula, and although we have amazing wine & wineries here we also have farms that grow fruits and vegetables. At a grocery store just down the road they focus on organically and locally grown produce and you can find many things that are either from Temecula, or have been grown on a California farm. As you can see they are priced very comparably to other produce items grown outside the state so it just makes sense to buy LOCAL!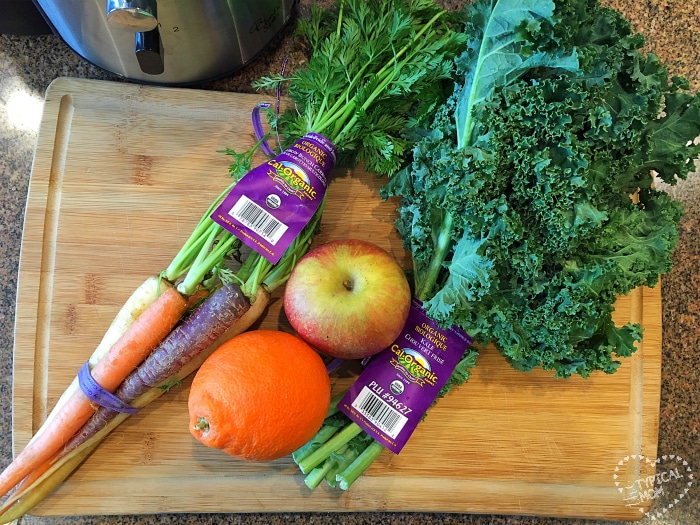 I picked up the kale I would need for both of my easy kale recipes as well as some carrots, locally grown tangelo tangerines and California grown fuji apples I would use for my kale juice blend.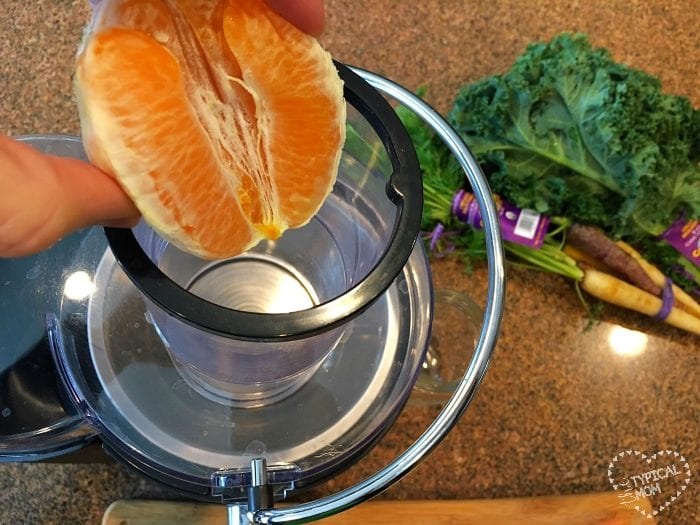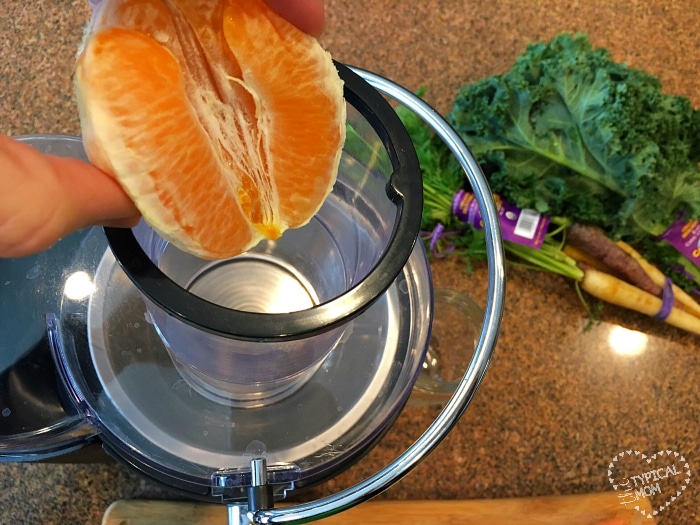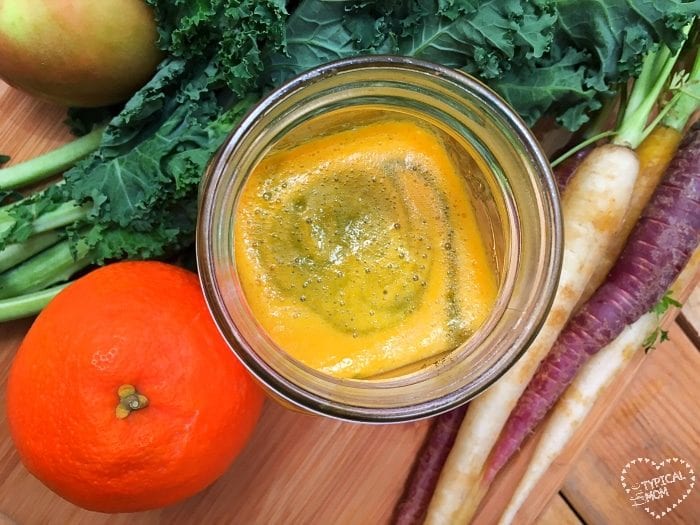 Get our your juicer and you'll need 2 of each item above (2 large leaves of kale, not two bushels).
Peel your tangelos, cut the core out of your 2 apples, cut the tops off your carrots and take the thick stem off of your 2 leaves of kale.
Put them in your juicer and it will come out this pretty color! Seriously….even my kids love this easy kale juice blend.
You really can't taste the kale and it has a really clean flavor (you may never buy bottled juice again after you've tasted how amazing this is).
Now here is another tasty way to use kale, make kale chips…..seriously, kale chips are totally amazing!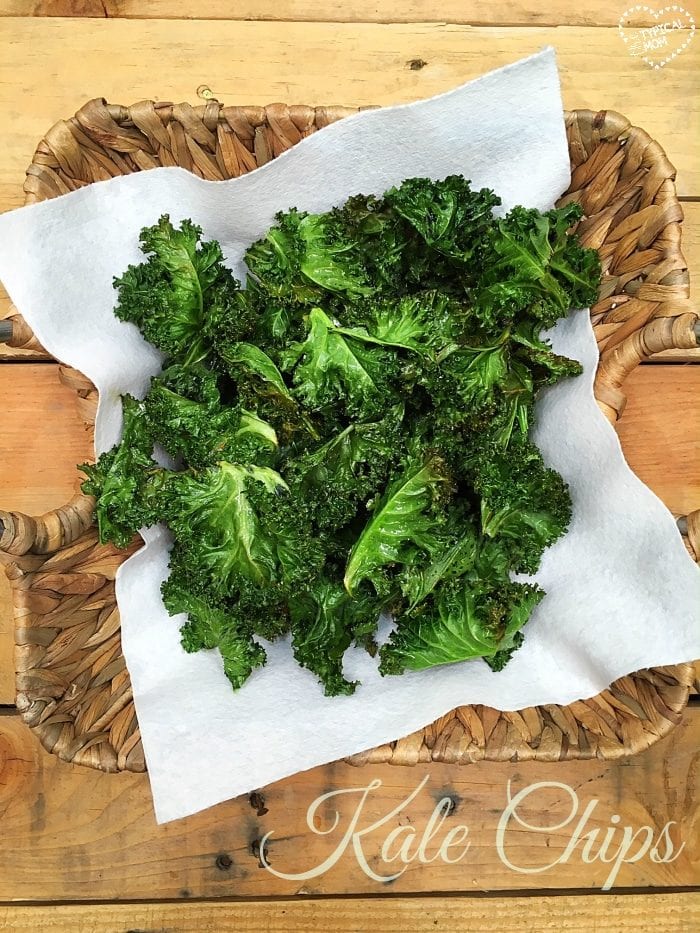 If you've never had kale chips but want to try and eat healthier and incorporate more dark leafy green vegetables into your diet (and your children's diet), this is a fun and tasty way to start.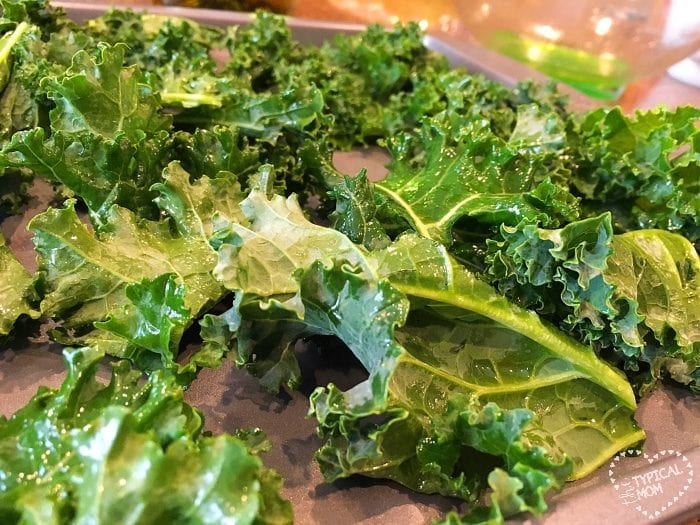 You literally only need 3 things to make kale chips
a bunch of kale
olive oil
seasoned salt
Rinse your bunch, then cut the center stem off of your kale leaves and cut them into pieces about this size (above).
Use a few paper towels to remove a lot of the water left after rinsing
Then add leaves to a bowl and massage with olive oil just so the leaves are coated slightly like you see here on the pan.
Sprinkle some seasoned salt on them and lay them on a baking sheet so they do not overlap.
Preheat your oven to 375 and cook for about 10 minutes flipping 1-2x during that time so both sides get crispy and lightly browned on the edges
Take out when they are a chip crisp consistency and crunch in your mouth
Enjoy!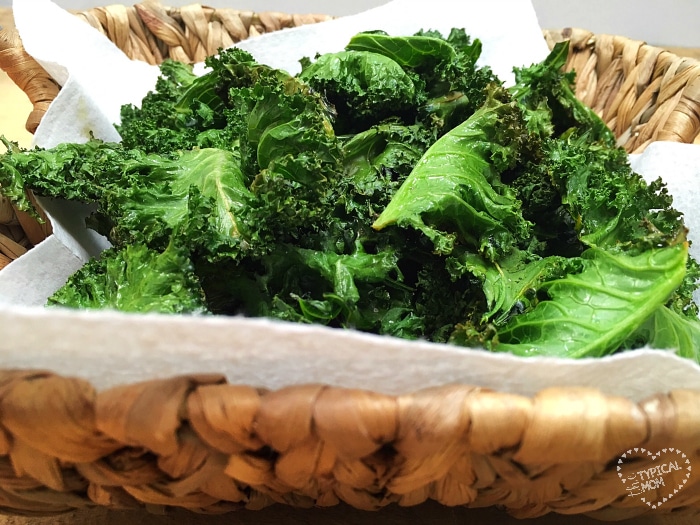 When they're done they shouldn't really be too hot for more than a few minutes so you can enjoy them almost immediately. They will shrink up a bit so don't be alarmed. They have a great crunch to them and the taste is amazing I tell you, even my 9 year old chows down on these kale chips. Using local produce gives it a super fresh flavor! California farmers and ranchers play a critical role in growing the delicious, healthy, safe and affordable foods that feed families across California and the U.S. so help cultivate California whenever you can. 😉

Learn more about California farming and ranching by checking out cultivatecalifornia.com!
I was selected for this opportunity as a member of Clever Girls and the content and opinions expressed here are all my own.