Best superfood green smoothie with pineapple recipe that actually tastes great! With pineapple for sweetness and green vegetables like spinach and kale for health, we will share how to make a thick smoothie here that is healthy and also tastes great. You have got to try this one this week.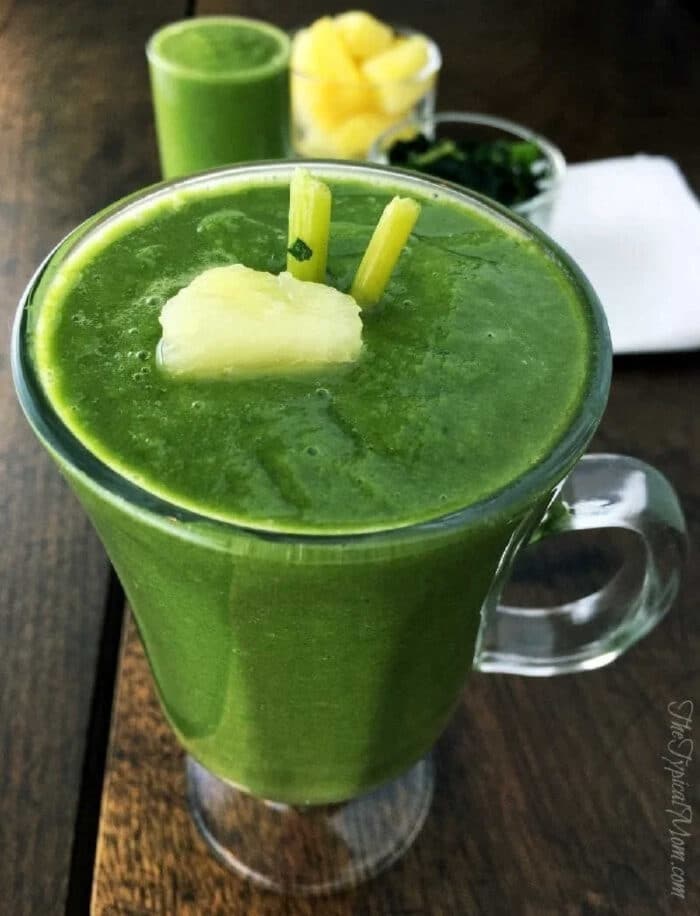 Are you looking for a pineapple green smoothie recipe that actually tastes good??!! Yes, I have had some not so good ones, and THIS one actually IS yummy AND has great super food ingredients in it. Here is the best smoothie recipe if you're looking for one with healthy greens in it. (originally published 2/16, affiliate links present)
Superfood Green Smoothie
So of course you need to add fruit to pretty much any superfood smoothie recipe to make it sweet. Pineapple is what we used here. Fresh or frozen can be used depending on what you can find.
It's always best to use natural sugars in fruit as opposed to adding sugars if at all possible. Pineapple does a nice job of adding the right sweetness. Our watermelon juice is a great one too.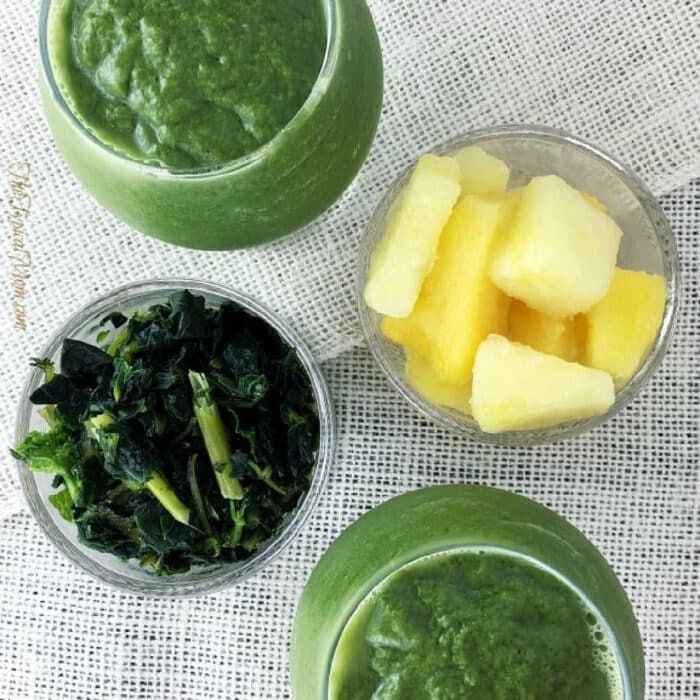 We have a Nutri Ninja which works really well. It has this special button your can push and it pulses on and off long enough to make it just the right consistency. A regular blender would work as well.
You can use fresh or frozen ingredients. Depending on what time of year it is, you could find fresh kale, spinach and pineapple but during the winter you might be better off using frozen. Either way works. Here is the green superfood smoothie recipe that tastes good!
Green Smoothie with Pineapple
It is great when everything is fresh. On the other hand it is kinda' nice to have frozen because it makes it more slushy-like and really cold!
Like I said this is the general recipe for a great green smoothie. But when it comes to all recipes you make it your own according to your taste. I hope you enjoy this tasty superfood smoothie!
Pineapple Superfood Smoothie
If you're craving a refreshing and nutritious beverage that transports you to a tropical paradise, look no further than the Pineapple Superfood Smoothie. Packed with the goodness of fresh fruits and other superfood ingredients, this smoothie is not only delicious but also provides a boost of essential nutrients.
These are the ingredients for our superfood pineapple smoothie;
Green Smoothie with Kale
A high power blender will be needed if your fruit is frozen. Most high speed blenders will work but if yours is an older model it may struggle so defrosting a bit may be helpful. Once you try this to start your day you will want to make this healthy pineapple drink over and over again. Beyond it's health benefits it is just delish!!
What are some common ingredients in a green smoothie with pineapple?
In addition to delicious pineapple, you can include leafy greens (such as baby spinach, kale, or Swiss chard), a liquid base (such as water, coconut milk, or almond milk).
A source of healthy fats (such as avocado or chia seeds). Other great but optional add-ins would be banana, cucumber, ginger, or lime juice.
Can I use frozen pineapple in a green smoothie?
Yes, frozen fruit in a green smoothie works well. It adds a frosty texture and helps keep the smoothie cool without the need for ice cubes. Frozen pineapple and frozen bananas also provides a sweeter taste compared to fresh pineapple spinach smoothie, which some people prefer.
Can I add protein to a green smoothie with pineapple?
Yes, you can add protein to a green smoothie with pineapple. Options include adding a scoop of protein powder (such as plant-based protein or whey protein), Greek yogurt, silken tofu, or a handful of nuts or seeds. Protein helps make the smoothie more satisfying and can support muscle recovery and growth.
Jump to recipe and let us know if you choose to add something else that turns out to be a hit. Additional sweeteners can be added at the beginning when you are getting used to the flavors. A few options are liquid sweet n low for a sugar free option, agave nectar or a drizzle of maple syrup even.
Want to see a few of my favorite things that I am totally obsessed with?? Take a peek and see how many you might already have…twinsies!
Looking for more easy family recipes and tips? LIKE The Typical Mom Facebook page?
Then sign up for my free newsletter, and follow me on Pinterest! 😉
***** If you LOVED this recipe give it 5 Stars below and let everyone know what you thought about it. 😉
Green Smoothie with Pineapple
Best superfood green smoothie with pineapple recipe that actually tastes great! With pineapple for sweetness and green vegetables for health you should try this one.
Ingredients
Instructions
Add kale, spinach, pineapple, coconut water, and avocado to your blender. If you choose to add cayenne you can add at this time. Blend for a min. or two or until it is smooth. You are done! Add more pineapple if you want it a bit thicker and sweeter…just fool around with it but this is the general idea
Nutrition Facts
Green Smoothie with Pineapple
Amount Per Serving (1 oz)
Calories 136
Calories from Fat 54
% Daily Value*
Fat 6g9%
Sodium 205mg9%
Potassium 789mg23%
Carbohydrates 21g7%
Protein 3g6%
Vitamin A 2239IU45%
Vitamin C 64mg78%
Calcium 105mg11%
Iron 1mg6%
* Percent Daily Values are based on a 2000 calorie diet.