Pasta Chips air fryer style are fun snacks to serve with dips. Crunchy and crispy lasagna noodles covered in parmesan cheese are delicious. We will share how long to cook pasta in air fryer with you so you can make this TikTok recipe yourself.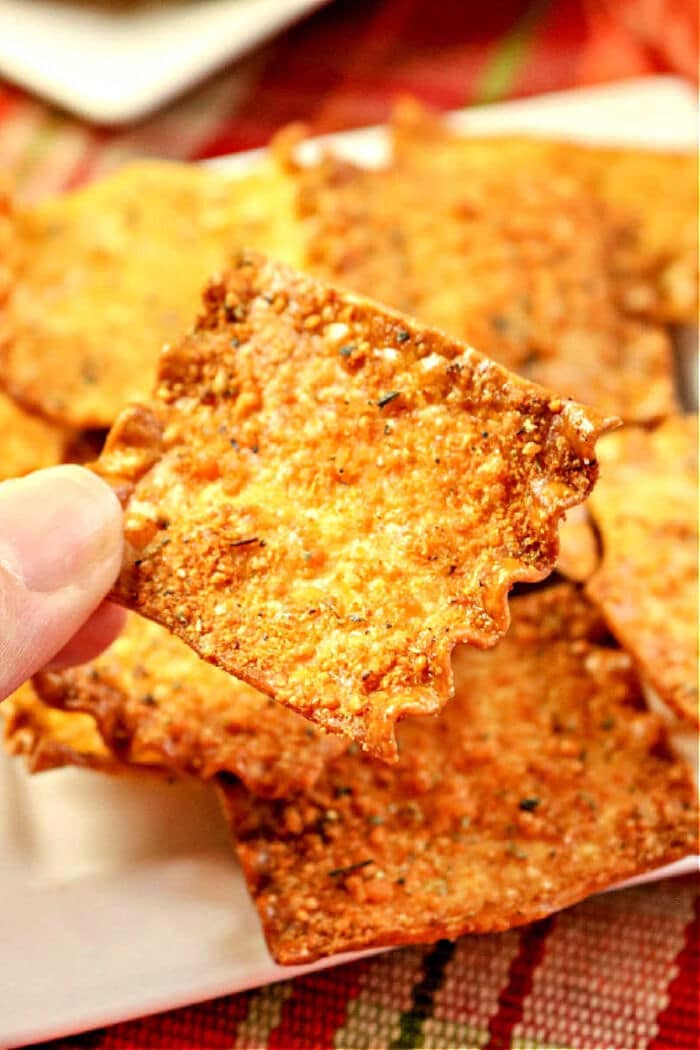 Have you seen chips made with noodles online recently? We were curious about how good pasta chips air fryer style could really be, and they were actually pretty good! If you are looking for a new and easy air fryer recipe to make for your family, give these a whirl. (affiliate links present, originally published 4/22)
Air Fryer Pasta Chips
We have cooked noodles in air fryer before. It was our air fryer macaroni and cheese which was fun, and delicious too. Those weren't crunchy of course, so pretty different. If you think about homemade tortilla chips this would be the closest comparison. Flat pasta instead of tortillas are used instead but could be served with the same stuff.
You'll want to start out with a pot of boiling water as you would if you were making traditional lasagna. This time you'd want to break the long strips into 5ths or so giving them more of a finger food size. It isn't necessary to cook them all the way until tender though, al dente is better.
FIRST – You should sign up for my free newsletter so you get new posts emailed to you twice a week and never miss out on anything! Now let's start with a few basic tips:
Make sure to Bookmark our InstaPot recipes page. We add new ones each week!
Then PRINT this —–> Instant Pot cooking times cheat sheet that will help you understand how long meat, vegetables and beans take to cook in your pressure cooker.
For reference, this is the pressure cooker I have (a 6 quart) and use for all recipe creations.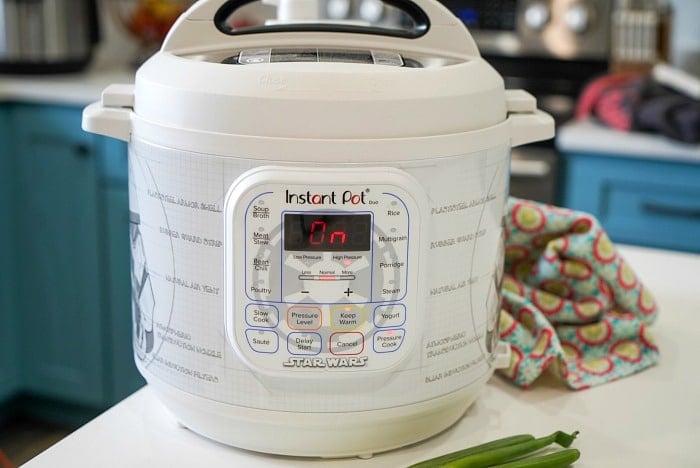 Tik Tok Pasta Chips
If you are active on social media you may have seen how to make tortilla chips in air fryer and some made this way. If you are curious about whether they're really something worth making, they are. Obviously I'm online a lot but didn't see these as a craze until after it was really big. I too was like huhhhhhh?? And my kids were all over it.
My girls are now teens (eeeek) and love making new things in the kitchen, so we went with it. For one thing this is super cheap to make, so there's not really a downside if you're like ehhhh at the end of it. Cooking with your kids is always a good thing, so I try to involve them any way I can.
We had everything at home already actually (win) and I even got them to snap pictures along the way. This is what was used, seen here below.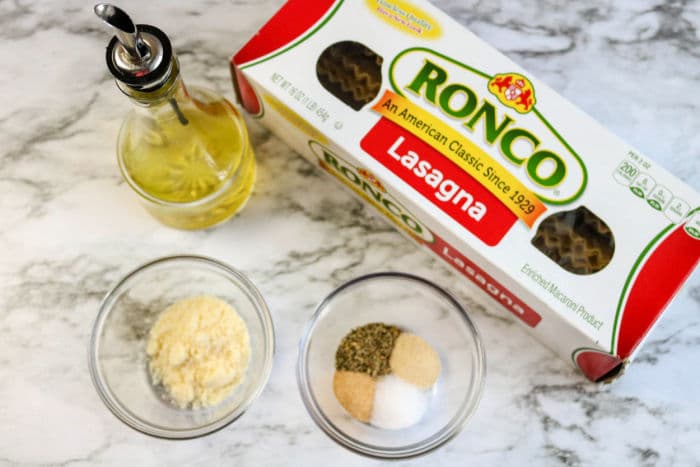 Ninja Foodi Pasta Chips
Any oil will do once you have al dente noodles but I use olive oil for everything so we went with that. It adds just a slight bit of flavor vs. vegetable oil which I like anyway. If you needed a dairy free version you could omit the parmesan. We are a HUGE cheesy family so that is a must for us.
There is a printable recipe card at the bottom of this post but here is a quick step by step:
Fill a large pot with about 8 cups water. Add salt and bring to a rolling boil. Break noodles into chip sizes and drop in to cook for about 5 minutes.
Preheat your air fryer machine to 390 degrees F for 5 minutes. Cook the pasta until noodles are tender but still a bit al dente. Drain pasta from the water.
Add the pasta in one layer on a baking sheet with parchment paper on top. Brush some olive oil on each piece.
In a small bowl mix parmesan with seasonings. Sprinkle this on top of noodles so it sticks nicely.
Lay in a single layer into your air fryer basket and cook 6-8 minutes. Remove when they are as crispy and golden brown as you'd like.
Serve air fried chips in a large bowl with marinara sauce, salsa verde or our copycat Lawsons chip dip on the side.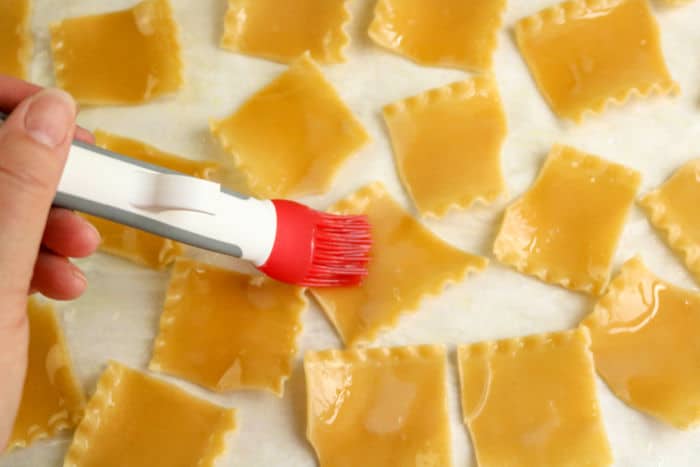 If you don't eat them in one sitting you can save them but make sure they are in a sealed bag with all of the air sucked out. That will keep them crunchy and not go stale. Keep them on the countertop at room temperature for best results. When you open and enjoy a few remember to reseal really tightly.
Pasta Chips in Air Fryer
As for the seasonings you could really use whatever. Italian seasoning, garlic powder, onion salt, use whatever you like. I have never used gluten free pasta but I would imagine it would work the same as described here. It just doesn't take as long to cook those so keep a closer eye on them and remove before they get really floppy.
Are pasta chips healthier than potato chips?
If you air fry both of them there isn't a huge difference in fat content really. Noodles though have more protein and are cholesterol free. I would make a batch of both. Air fryer sweet potato fries will bring a whole new flavor and you could have a fun blind taste test with everyone to see which is their favorite type.
To really amp up the protein content you could use chickpea pasta noodles instead. That will add even more flavor too. Change it up a few times with the coating, seasonings, and types of pasta used.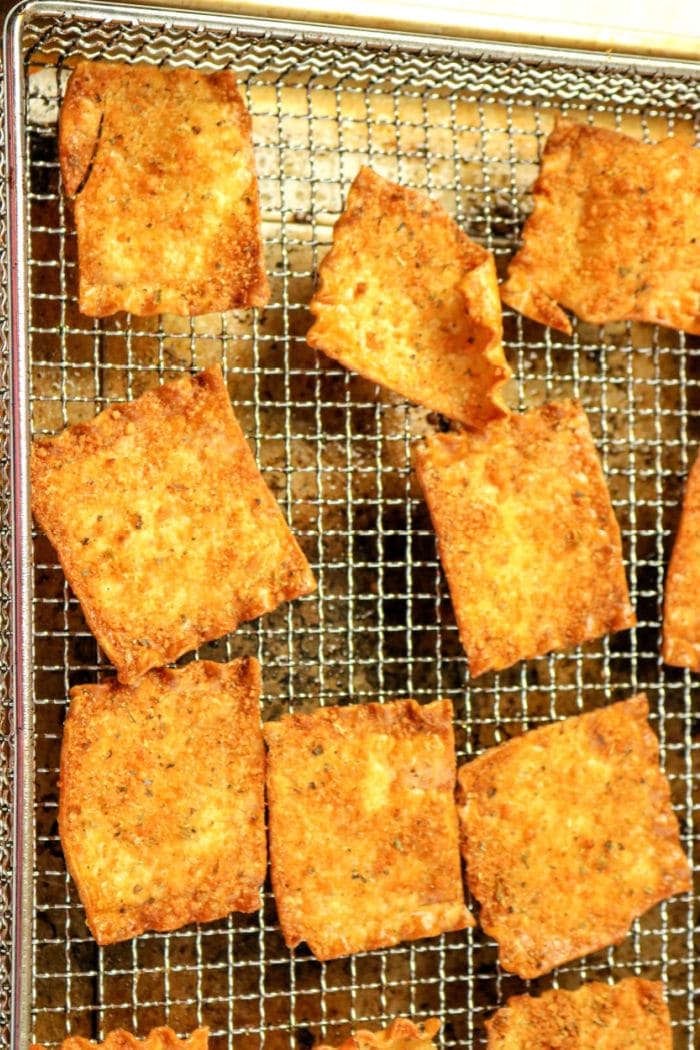 Are chips better in an air fryer than an oven?
You can cook pasta chips or ones with tortillas both ways and both are great. Some benefits to chips in air fryer is you don't have to heat up your whole house, they get crispier and doesn't take as long either.
Should I boil my chips before air frying?
You don't have to but in our pasta chips recipe I recommend parboiling just for a few minutes for a better texture. You can though just break into pieces, add a bit of olive oil and seasonings and air fry.
Can you deep fry pasta?
You could use this same method but submerge it in oil instead, but why??? If you did you'd have to wait to coat the outside until after they were cooked. Then brush on the oil and coat with cheese, bread crumbs or whatever you want. You could make them a sweeter version too I guess with a cinnamon and sugar blend.
Now let's talk about the best dip recipes you should make and serve with these for a party get together;
If you're looking for really fun Super Bowl party snacks I would totally make these in a large batch with a TON of dips next to it.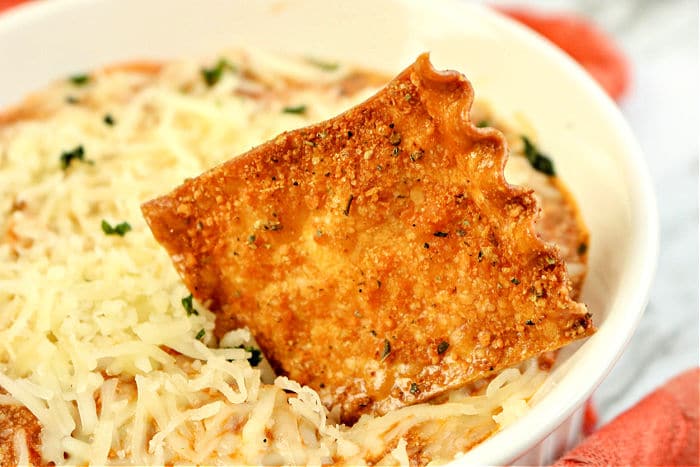 Want to see a few of my favorite things that I am totally obsessed with?? Take a peek and see how many you might already have…twinsies!
Looking for more easy family recipes and tips? LIKE The Typical Mom Facebook page?
Then sign up for my free newsletter, and follow me on Pinterest! 😉
***** If you LOVED this recipe give it 5 Stars below and let everyone know what you thought about it. 😉
Pasta Chips Air Fryer
Pasta Chips air fryer style are fun snacks to serve with dips. Crunchy and crispy lasagna noodles covered in parmesan cheese rock.
Instructions
Fill a pot with 8 cups water, add salt and bring to a rolling boil. Drop in broken noodles and cook for about 5 minutes.

Preheat air fryer to 390 degrees F for 5 minutes. When noodles are cooked but still a bit al dente drain them from water.

Lay noodles in one layer on a baking sheet lined with parchment paper. Brush on olive oil on each piece.

In a small bowl mix parmesan with seasonings and sprinkle this on top of noodles so it sticks nicely.

Lay in a single layer into your air fryer basket and cook 6-8 minutes until as crispy as you'd like. Remove, cool and enjoy.
Nutrition Facts
Pasta Chips Air Fryer
Amount Per Serving (1 oz)
Calories 86
Calories from Fat 18
% Daily Value*
Fat 2g3%
Cholesterol 1mg0%
Sodium 115mg5%
Potassium 50mg1%
Carbohydrates 14g5%
Protein 3g6%
Vitamin A 12IU0%
Vitamin C 1mg1%
Calcium 13mg1%
Iron 1mg6%
* Percent Daily Values are based on a 2000 calorie diet.