Sweet potato chips air fryer style! Crispy homemade snacks with a sweet and savory taste. Sliced thin, you and your kids will rave about these. Like how we made our russet potato chips but orange and a bit sweet and savory at the same time.
Sweet potato chips air fryer style are great. Easy homemade potato chips with the seasonings you love can now be one of your favorite air fryer recipes too. Serve with dinner or just enjoy as a healthy snack. (affiliate links present, originally published 7/20)
Air Fryer Sweet Potato Chips
Yes you can use regular potatoes for this but these add a bit of natural sweetness to them. Just like our air fryer sweet potato cubes, sometimes you just need a bit of sweet in your life. 😉
Sprinkle on some sea salt and get that sweet and salty goodness everyone loves. You can of course enjoy them as a fun snack but with dinner the kids just love them as something a bit different. With a neat natural orange color you can make these sweeter with cinnamon and sugar or savory with salt.
FIRST – You should sign up for my free newsletter so you get new posts emailed to you twice a week and never miss out on anything! If you love air fryer recipes too, here are some resources to start with: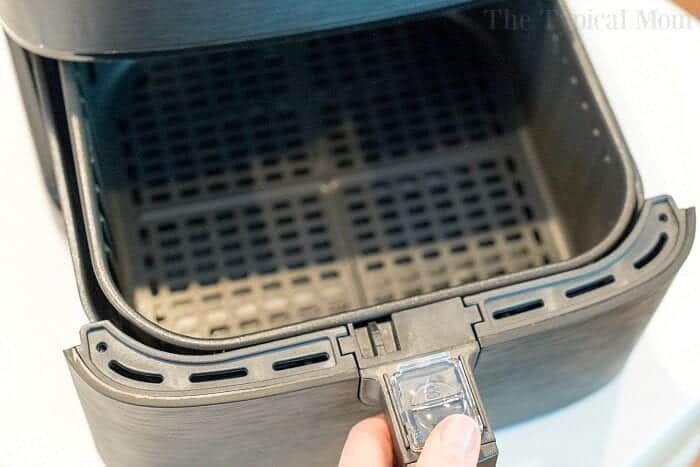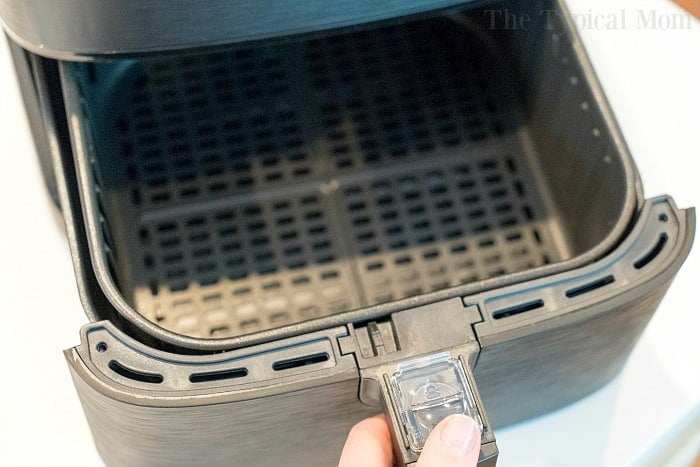 Ninja Foodi Chips
You're going to want to make sure each piece is the same thickness, that is how you're going to ensure they are each just as crispy. I would suggest a mandoline for this. Just be careful as those are very sharp but does a great job. Here are a few questions you might have in mind before you get started:
Are sweet potato chips healthy?
If you buy them already processed and bagged in the store they may not be. If you use your electric air fryer though you don't need to fry them in oil at all. There are tons of foods you can actually turn into chips really. We love air fryer pasta chips. Similar to our air fryer apple chips, they're a fun snack that comes out super crispy.
Do you need to peel sweet potatoes?
No, the skins are safe to eat both raw and cooked. However, it's important to wash the outside to remove any dirt, pesticides, or debris. The first step is to wash, dry, and then slice them. You can use russet or sweet taters.
How do you make sweet potato chips from scratch?
THIS is the best and healthiest way to make them for sure! You can deep fry them but it will increase the fat content and may create an oil after taste.
You can use any brand of machine you like. I would suggest you get a slicer or mandoline so each piece is thinly sliced and the same size. This will guarantee that they're done at the same time and are perfectly crispy.
As for seasonings, that is really up to you. Salt and pepper is simple enough and a good choice. If you want them sweeter you might opt with a cinnamon and sugar mixture. Old Bay is another favorite we have tried before with some garlic powder and OMG so good.
Air fryer potato chips
These are the basic ingredients you're going to need in order to get going on all the things!!
Sweet potatoes
Olive oil
Salt and pepper or other seasonings you like
You can use russet potatoes to make "regular" potato chips this same way too. We like to enjoy both with our copycat Lawsons chip dip.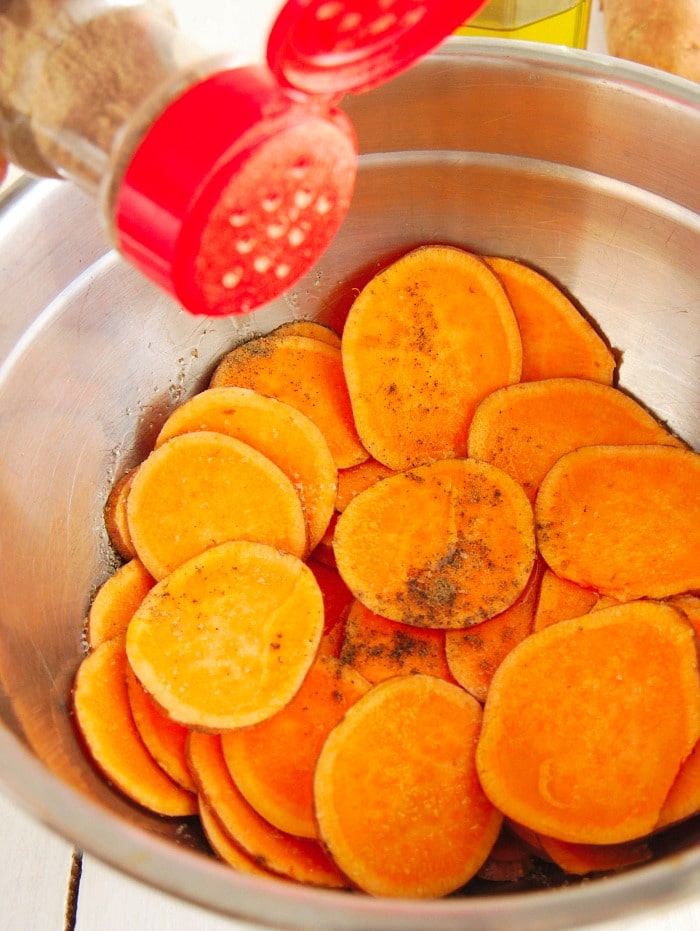 TIP: After slicing you need to make sure you absorb the water so they're fairly dry before drizzling on the oil like you do wit baked kale chips. This will allow them to get much crispier, faster. Rinse, dry, and create sweet potato slices. You can put them in a large bowl of cold water as you work. Once done place on paper towels and wrap to absorb water.
Preheat air fryer to 380 degrees F for 5 minutes.
Place sliced and dried slices in a bowl. Lightly coat with olive oil and sprinkle on seasonings like salt and pepper, could add garlic powder too.
Spray air fryer basket with non stick cooking spray and place in a single layer without overlapping. Set to 380 for 6 minutes. After 3 minutes check and make sure they aren't overlapping still.
After 6 minutes flip them over (shaking the basket won't flip them all over, do it manually). Continue to air fry for 1 more min. of cooking time.
Homemade Sweet Potato Chips
It is a bit of a time consuming process, maybe 20 minutes to 30 minutes from start to finish, but they are really delicious.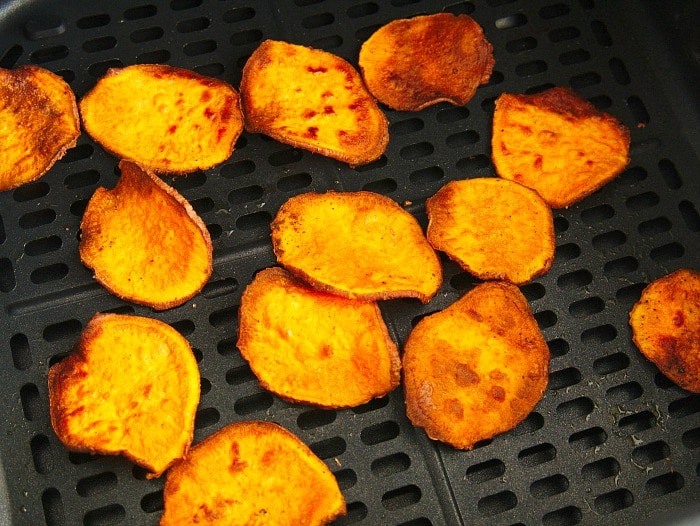 Potato Chips in Air Fryer
Remember that cook times will vary depending on how thin you slice them. If you use a mandoline you can get them paper thin and it takes no time at all. Using a knife can only get them so small safely.
If you're looking for a few great under 15 minute easy air fryer recipes you might want to try:
Air fryer zucchini chips are one of our favorites. Doesn't take a long time at all to make either. With a light breading it is my daughter's go to ask. Yes you can buy sweet potato chips but they are a lot cheaper when you make them at home. Plus you can add any seasonings you like, and even add a bit of heat if you want.
How do you store sweet potato chips
You want to wait until these are totally cooled so they'll be as crisp as possible. Then transfer into an airtight container. Leave on the countertop for up to 3 days and enjoy. Beyond this time the texture will change, not in a good way.
Want to see a few of my favorite things that I am totally obsessed with?? Take a peek and see how many you might already have…twinsies!
Looking for more easy family recipes and tips? LIKE The Typical Mom Facebook page?
Then sign up for my free newsletter, and follow me on Pinterest! 😉
***** If you LOVED this recipe give it 5 Stars below and let everyone know what you thought about it. 😉
Sweet Potato Chips Air Fryer
Sweet potato chips air fryer style! Crispy homemade snacks with a sweet and savory taste. Sliced thin, you and your kids will rave about these.
Ingredients
4

sweet potatoes

use long thin ones, or small russet potatoes

3

tbsp

olive oil

or about 1 tbsp per potato

1/2

tsp

salt

to taste

1/4

tsp

pepper

to taste
Instructions
Preheat air fryer to 380F for 5 minutes. Rinse the sweet potatoes. Use a mandolin slicer to slice sweet potato to 1/8 inch thick. Put on paper towels and wrap up to absorb all the water on the outside.

Place in a bowl then pour 1 Tablespoon of olive oil over the slices, then sprinkle in the salt and black pepper (o rany other seasoning you're using), give the ingredients a good stir to try to coat the slices as best as possible.

Arrange sweet potato slice into the air fryer basket, do only one single layer and don't let them overlap onto each other.

Set temperature to 380F and time to 6 minutes. At the 3 minute mark make sure to check on them and if the chips have moved rearrange them. Allow to cook remaining time. Next flip the chips over and cook them for 1 more minute.

After the minute is up the chips should be crisp and a bit browned. If your chips don't look like that you can cook for another minute at a time until they do. Once finished allow to cool on a wire rack to crisp up even further. Enjoy as a healthy snack or side dish to a sandwich.

* Please note that every air fryer is different so it's important to keep an eye on your chips and check them throughout the cooking process to avoid burning.
Nutrition Facts
Sweet Potato Chips Air Fryer
Amount Per Serving (2 oz)
Calories 192
Calories from Fat 63
% Daily Value*
Fat 7g11%
Sodium 277mg12%
Potassium 508mg15%
Carbohydrates 30g10%
Protein 2g4%
Vitamin A 21375IU428%
Vitamin C 4mg5%
Calcium 45mg5%
Iron 1mg6%
* Percent Daily Values are based on a 2000 calorie diet.