Air Fryer zucchini chips are crunchy low carb snacks that are much healthier than our deep fried salt and pepper zucchini chips but with the same crispy breaded texture! Try them in your Ninja Foodi or other brand today for a snack.
Air fryer fried zucchini chips breaded and crispy are so much easier than I thought they'd be to make. Yes we have been busy creating a ton of easy air fryer recipes because I'm a bit obsessed! (originally published 6/19, affiliate links present)
Air Fryer Zucchini Chips Parmesan
I love making crunchy food without the need of artery clogging oil. This machine has been a game changer. Now we can make our favorite deep fried foods way healthier but the same taste. You can top with parmesan or tip in marinara or ranch to serve. Just one of many of our best air fryer zucchini recipes here on our site.
If you are like me and want to serve vegetables to your family at every meal, you need a few new ideas. Yes tossed with olive oil and seasoning is great but that can get boring and the kids may not be excited about it. This one they will love!
FIRST – You should sign up for my free newsletter so you get new posts emailed to you twice a week and never miss out on anything! If you love air fryer recipes too, here are some resources to start with: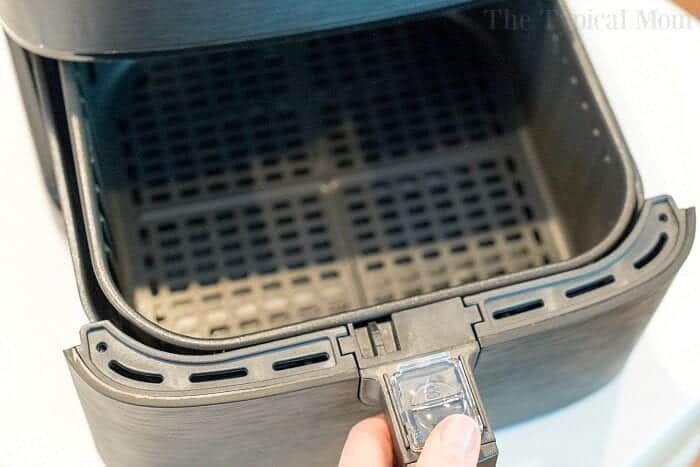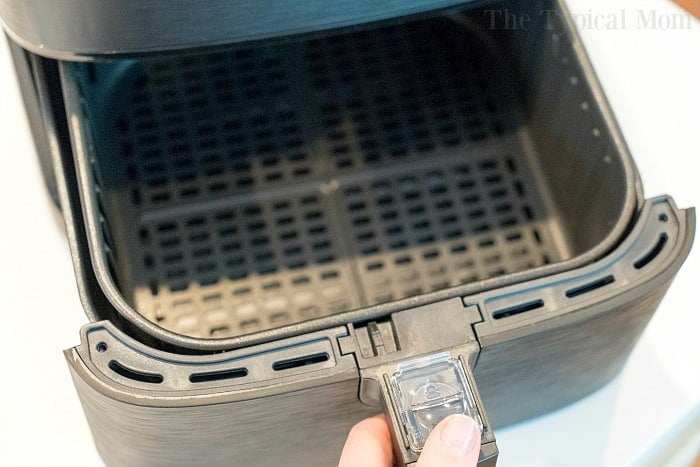 Air Fryer Zucchini Chips Breaded
If you only have a pressure cooker, did you know you could turn your Instant Pot into an air fryer too? Yes! You can actually use this CrispLid (or their new IP lid) on top with a special basket that comes with it to make these as well. Years ago we made fried zucchini chips with our easy homemade tempura batter. BUT they were fried.
Air Fryer Zucchini Chips No Breading
Yes you could make these more like russet potato chips super thin with just salt and pepper but I mean…..these are better. You can certainly try both methods and see which you prefer. With no breading you would want to use a mandolin and slice really thin. Dry outsides and rub olive oil on with seasonings.
Then you can't cook too many at a time because they have to lay flat one next to the other. You can read the post above where we did the same thing with potatoes and go from there.
Can you cook veggies in an air fryer?
Yes!! We're here to show you how to make zucchini chips in air fryer and more. First, preheat your machine, then place vegetables like zucchini, mushrooms, and onion in a large bowl with olive oil. Use whatever seasonings you like and air fry for just a few minutes. NO breading is necessary, but we did a light one for these.
Is an air fryer healthy?
Air fried zucchini is a healthier alternative that comes out just as crunchy as deep fried without any oil. If you haven't tried this method it's so amazing. I got hooked when we made this air fryer wings recipe with a dry rub and my family gobbled them up quicker than I could make another batch.
Can you air fry without oil?
Well, no oil is needed when making foods inside your air fryer, just spray for the outside of your food. Adding cooking oil in a spray form before air frying will add an extra crunchy layer to your food. I like olive but I have found and used avocado oil as well.
Placing vegetables in an even layer into the air fryer basket, and not overlapping pieces is key. Air fryer vegetables cook in as little as 5 minutes, stirring halfway through cooking time.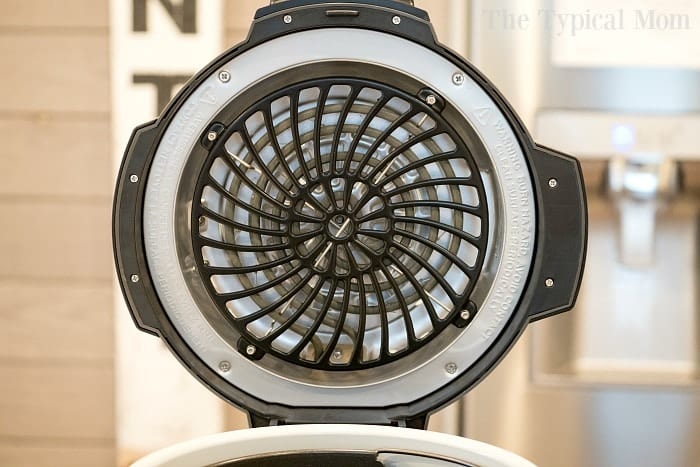 Air Fryer Zucchini Chips No Egg
If you cannot use this you could brush some yogurt or mayo on the outsides instead. You just need something that will allow the crumbs to stick nicely.
Though they may be a better alternative to deep fryers, limiting your intake of fried foods altogether is the best option of course when it comes to your health. You can make items with no breading too though. Compared to deep fried foods, an air fryer can reduce the amount of fat and calories into your food.
Just remember the thinner each sliced piece is the crispier it will become, and the less time it will take.
The key to making everything as crispy as possible I found was a can of olive oil spray! You also want to make sure that each zucchini dials are the same thickness. This will ensure that they are all the same crispiness. You could really use yellow squash, or make half and half.
Mixing up your air fryer vegetables is great, and gives your kids something new to try.
We used this similar method to make air fryer eggplant too. These were a hit even though my girls had never ever tried it, now they're obsessed.
The breading mixture is super versatile.
Really you should season the breadcrumbs as you wish, below is just a suggestion but comes out amazing.
Air Fryer Zucchini
Here is what you should grab from the grocery store. Most items you probably already have in your cupboard. Mixing yellow and green squash is great too, use whatever is fresh.
2 med./large zucchini

I prefer large with 1/2″ zucchini slices
Could slice like air fryer zucchini fries too

Panko bread crumbs

There is a gluten free version out too if needed

Old Bay seasoning

I'm obsessed with these flavors, you can even find more Old Bay recipes here too

Garlic salt
Olive oil cooking spray
Air fryer basket or trivet baking rack
Parmesan cheese is optional
If you're wondering how to make zucchini in an air fryer this is the way to go. My kids even love this as a snack, now that is a win.
Breaded Vegetables in Air Fryer
Directions to make these golden brown as you see here: First I preheat my air fryer for 5 minutes at 350 degrees. Then whip up your egg in a bowl. In another shallow bowl combine bread crumbs and seasoning, or use a plate and mix.
Slice into thin or thicker pieces, the thinner the crispier they will be.
Dip each zucchini slice into your egg mixture on both sides, then cover with bread crumbs.
Once machine is preheated, place coated zucchini in the basket of the air fryer.
Make sure they are placed in a single layer so they get as crispy as possible.
Spray with olive oil Set for a total of 13 min. If your pieces are quite thin I might set to 7 minutes and check.
After 10 minutes flip to the other side and spray with olive oil again
Enjoy immediately for the best zucchini chips ever with ranch or homemade bang bang sauce.
This was made in my Foodi which doesn't have a basket but rather a rack with an air crisp lid you close down. Works the same as any other.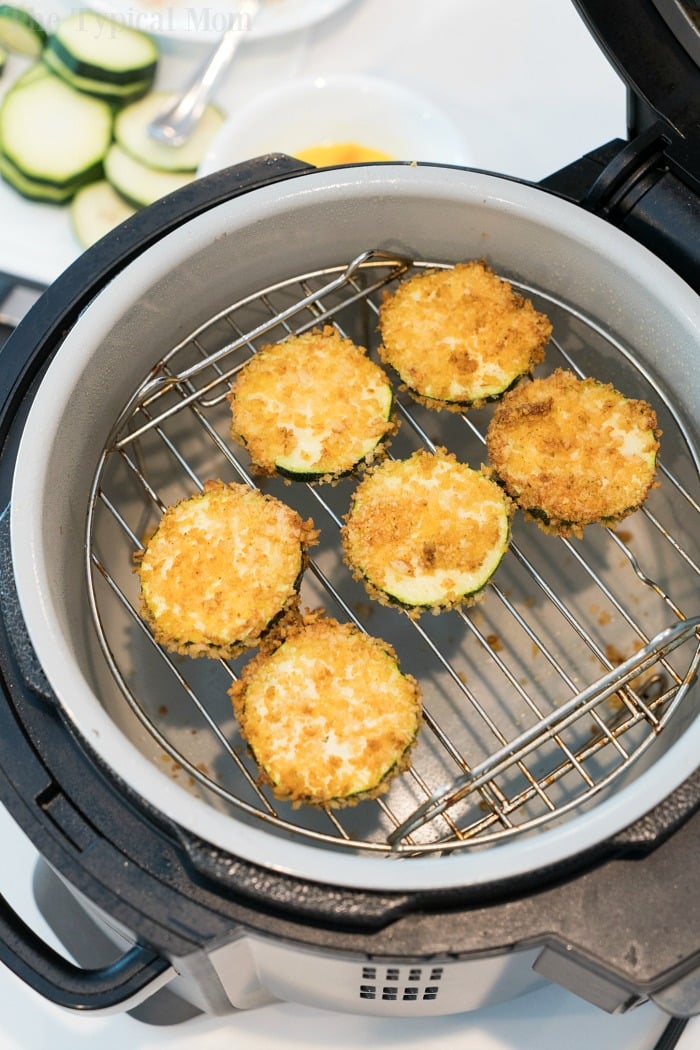 Zucchini chips air fryer recipe
What if you wanted to make air fryer zucchini chips no breading? Well, it would taste a lot like our air fryer vegetables, simple with just oil and seasonings. We have done that and I would suggest that you follow these directions to do so.
I wouldn't call these chips though as most people will think crispy and crunchy if you refer to them as that.
Yes the edges will get browned and "crisp" in a way but really, using a light coating like Panko doesn't add that many calories and makes them so much better.
Do what you think you'd prefer. Plain would work too, just watch them carefully as they'll brown rather quickly without anything on the outside.
They become healthy vegetable finger foods my kids actually beg me to make as often as possible.
I'd try both methods and let us know which your family prefers below.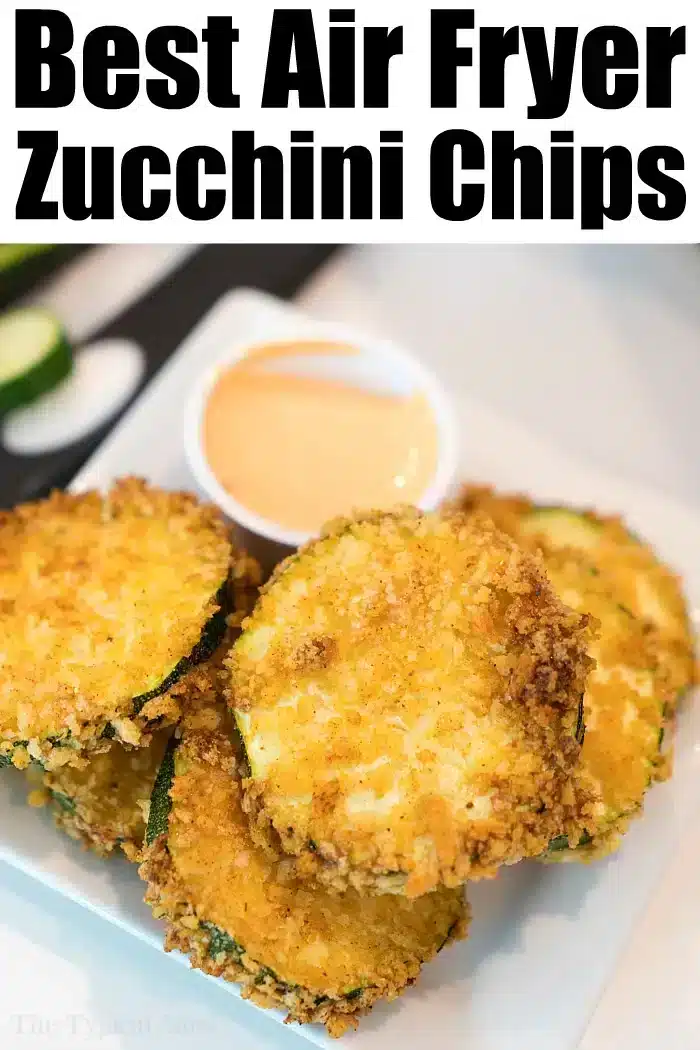 Looking for other Ninja air fryer recipes? I know, we have become crazy over this new "magical machine" lately too. I haven't found anything that doesn't taste better air fried quite frankly.
Fried zucchini dipping sauce
Fry sauce and even marinara is so yummy
Ranch dressing is a given
Some love blue cheese dressing
Marinara sauce warmed in the microwave is pretty great too
It is VERY rare I ever even turn on my oven nowadays. Between this and my Instant Pot I can cook literally anything I want. We love these stuffed air fryer zucchini boats and air fryer zucchini fries too. If you have a ton of extra pieces I would try our salt and pepper zucchini chips with homemade 3 ingredient tempura batter too.
You do have to fry these in oil but it is a fun alternative if you want to try something different. Of course you can add any seasonings you want but simple is sometimes best. Use this batter for just about any vegetable but it is not to be used in your hot air machine.
Dry coatings need to be used in your machine or you'll have a huge icky mess. This could make a great addition to a vegetarian Air fryer dinner recipes too.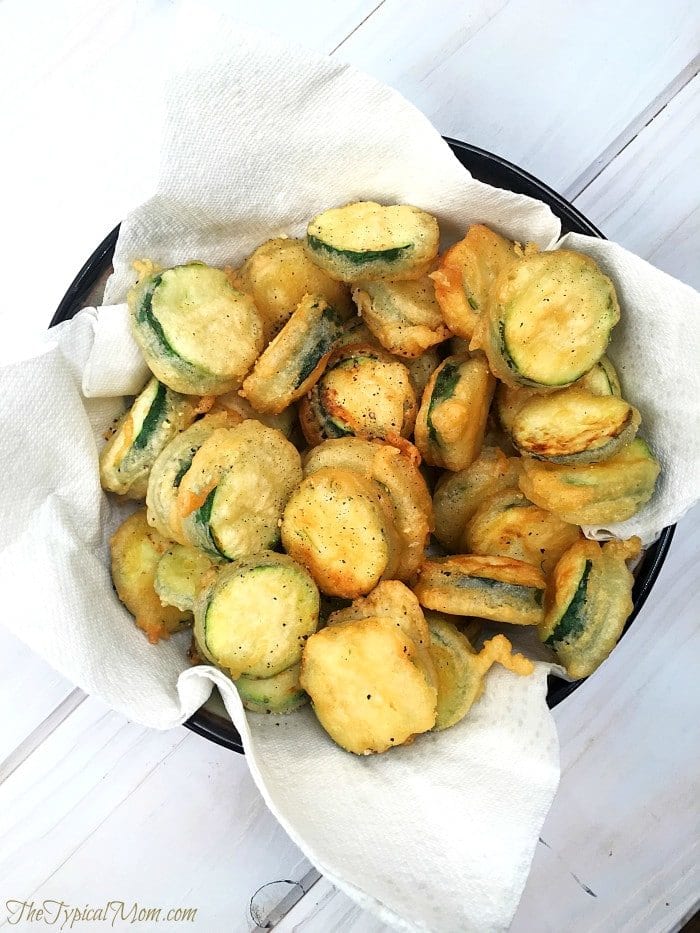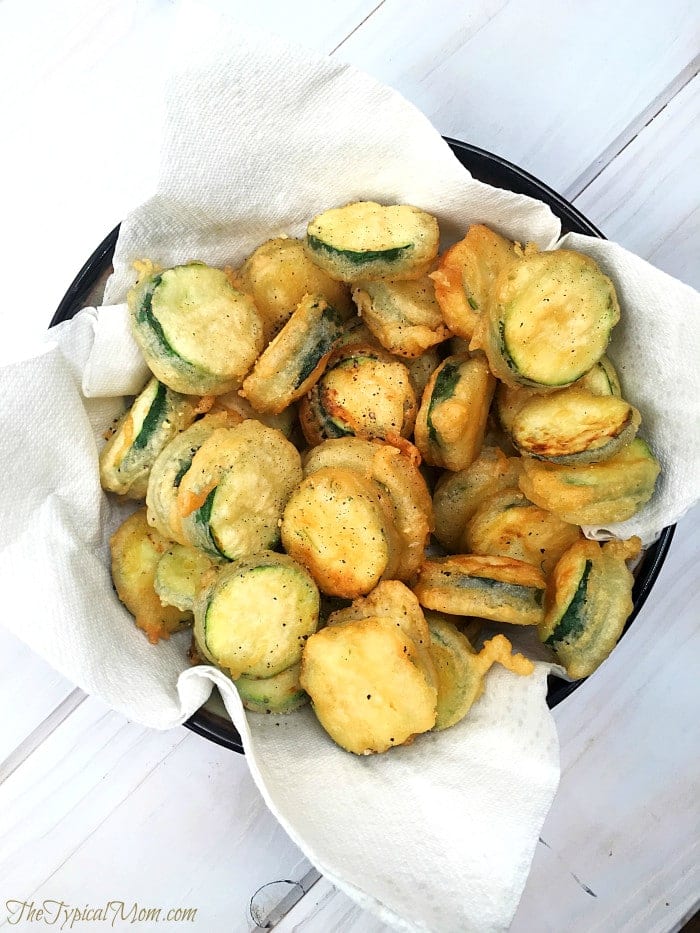 Want to see a few of my favorite things that I am totally obsessed with?? Take a peek and see how many you might already have…twinsies!
Looking for more easy family recipes and tips? LIKE The Typical Mom Facebook page?
Then sign up for my free newsletter, and follow me on Pinterest! 😉
***** If you LOVED this recipe give it 5 Stars below and let everyone know what you thought about it. 😉
Air Fryer Zucchini Chips
Air Fryer zucchini chips are crunchy low carb snacks that are much healthier than deep fried but have the same great taste you love!
Instructions
Cut ends off zucchini and slice into 1/2" dials. Thinner they are the crispier they will get so thickness is up to you. This is what we like. Preheat air fryer to 350 degrees while you're preparing these.

In a bowl whisk your egg. On a plate add your Panko and seasoning, mix so it is combined.

Dip zucchini pieces one at a time into egg, then coat all sides with bread crumb mixture and when air fryer is preheated add them in one layer to your trivet inside your machine (if you have a trivet).

Once trivet is loaded up with pieces that aren't overlapping spray all of them with olive oil. Then close air crisp lid and continue cooking at 350 degrees for 13 minutes total, flipping after minute 10. (add more minutes for more crispy outsides)

If your dials are small you could do 10 minutes total flipping after 8 minutes.

Remove and enjoy immediately, then add another batch!
Nutrition Facts
Air Fryer Zucchini Chips
Amount Per Serving (2 oz)
Calories 41
Calories from Fat 9
% Daily Value*
Fat 1g2%
Cholesterol 27mg9%
Sodium 453mg20%
Potassium 25mg1%
Carbohydrates 6g2%
Protein 2g4%
Vitamin A 40IU1%
Calcium 20mg2%
Iron 0.6mg3%
* Percent Daily Values are based on a 2000 calorie diet.