You've got to try air fryer mushrooms! All you need is some olive oil, seasonings and parmesan cheese on top makes this the best side dish.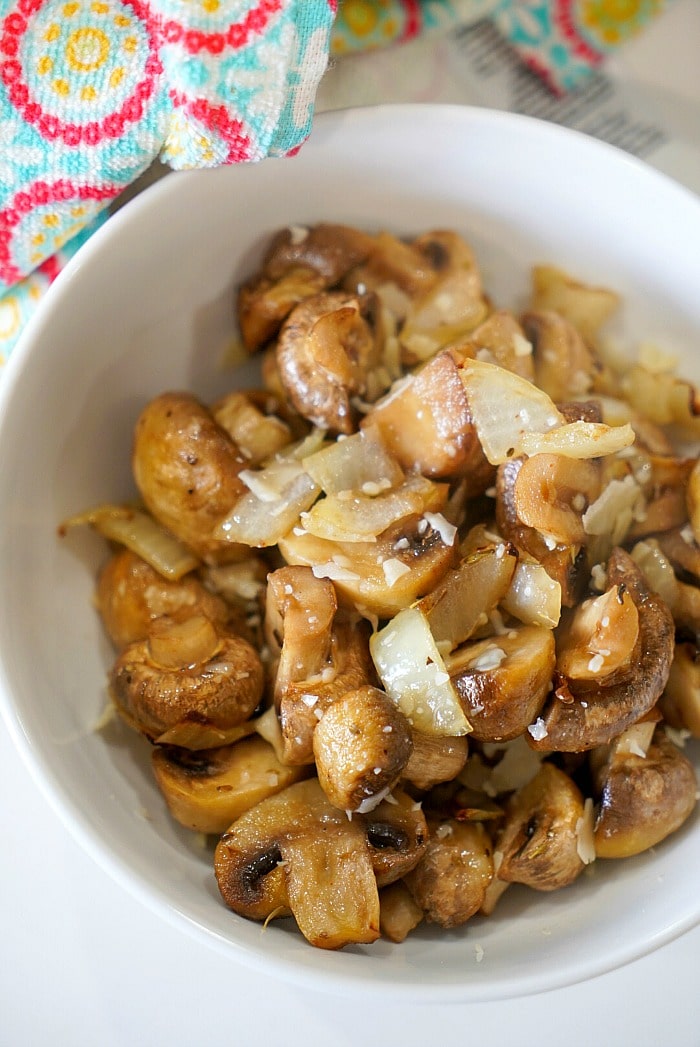 Ok so I wasn't so sure how air fryer mushrooms would turn out but OH MY!! Even my kids who weren't mushroom lovers cleaned their plate last night! Just one of the easy air fryer recipes here on our site. (affiliate links present)
So we have made air fryer stuffed mushrooms before. Those were good but more like an appetizer than a side dish.
It was time to make sauteed mushrooms in our hot air machine!
If you love air fryer recipes too, here are some resources to start with: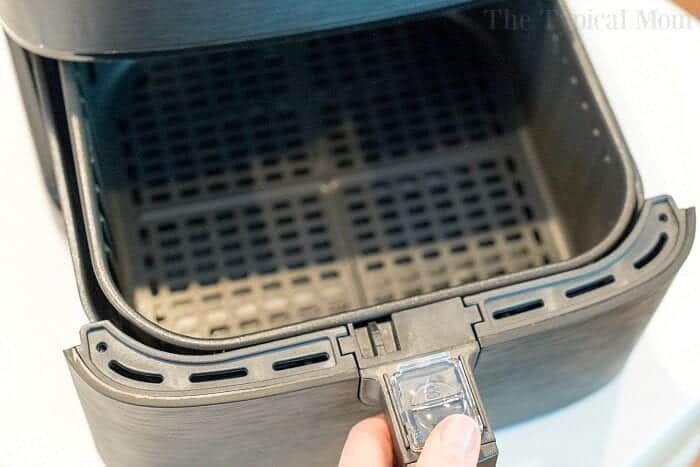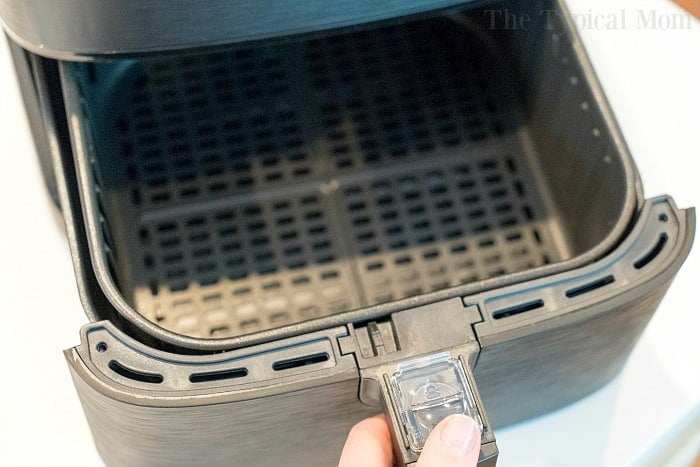 I don't know about you but it took me into adulthood to like this vegetable. Now I add them to chicken and beef tips dishes all the time.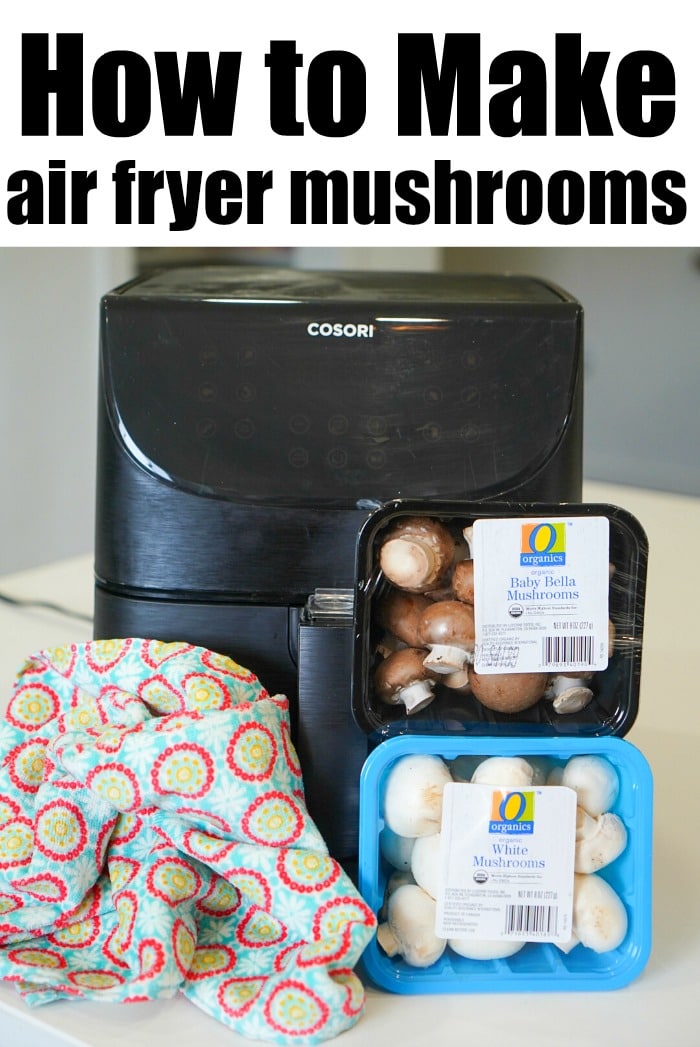 There are many different types of mushrooms out there but I stick to white and baby bellas. Both are defined as button mushrooms because of their shape but have a very different texture.
You can use either type, the white becomes much softer though. Bellas I typically use in dishes where the other would become too soft and just fall apart. They're much firmer and won't fall apart with other ingredients like in our Instant Pot mushroom rice and others.
The key to air frying mushrooms and getting them to reach perfection is they need to be dry.
This is the case for anything really, I say this in our air fryer fried shrimp recipe too.
If you leave water on the outside it won't allow the outside to get to the right consistency.
Now since there is no breading here you won't get a crunchy exterior. That wasn't my plan.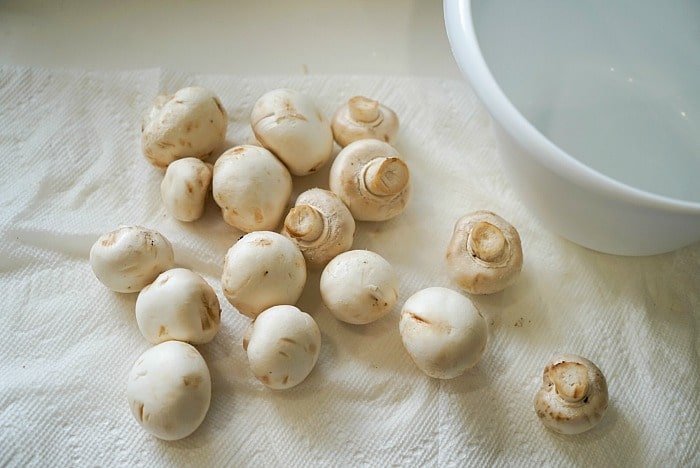 I may create crunchy breaded mushrooms in an air fryer recipe later but this time I just wanted them sauteed essentially.
Is it ok to eat raw mushrooms?
There is debate online as to whether store bought shrooms should be eaten without being cooked first. We have without issue but it is said that they may have a small amount of toxins and could make you sick.
Is it okay to eat mushrooms every day?
For sure. It is said that eating them cooked is good for you. Cooking them increases their nutritional benefits.

Whether you microwave, air fry, grill or pan fry them it doesn't matter.
Should you wash mushrooms before cooking?
I've heard both ways. My answer is yes, if they're whole. Remember that the flesh will absorb water like a sponge though so that's why I dry them.

Only rinse before using or they'll turn slimy.
Air fried mushrooms recipe
Package of button mushrooms
Onion
Garlic salt
Italian seasoning
Seasoned salt
Oil and garlic powder if you like
Salt and pepper to taste at the end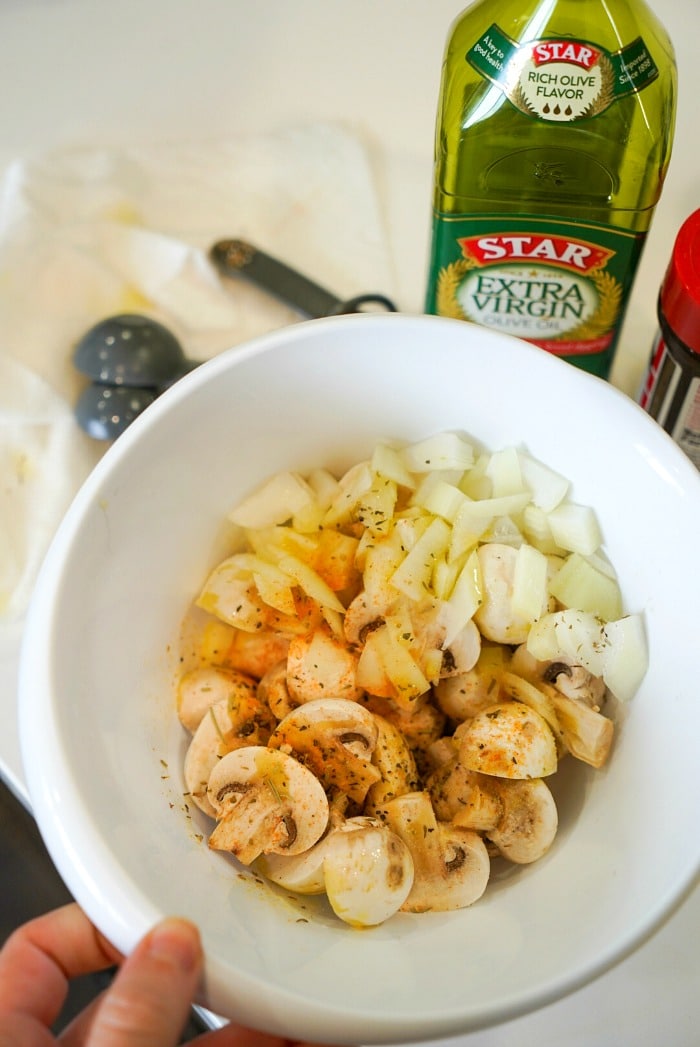 I like these garlic mushrooms because well I add garlic and onions to everything I make really.
If you're used to deep frying food this method is so much better! It's the same cooking time generally but much healthier.
How to cook mushrooms and onions in air fryer
Time needed: 10 minutes.
Air Fryer Mushrooms
Gently wash and dry

With cold water gently wash each piece. Set them on a few paper towels and gently roll so water on outsides is absorbed.

Dice and slice

Dice onions and put into a bowl. Cut mushrooms in half and add those with all of your seasonings and olive oil into the bowl too. Gently toss to combine all ingredients.

Preheat air fryer

Preheating your air fryer to 400 for 5 minutes is an important step. Once that is done pour your mixture in a single layer into the air fryer basket.

Cook

Close basket and cook for 5 minutes total, toss the mushrooms in the basket after 3 minutes. Then serve with a sprinkle of parmesan cheese on top!
This is what they'll look like when they're done and perfect. Like I said, I add some parmesan to melt at the end but you can omit that.
Some like a few drops of soy sauce on top when they're served. That is up to you.
Use whatever seasonings you really love but I will tell you that this comes out amazing. If you print it below you can make recipe notes if you choose to add or omit anything for next time.
If you want to try a different method next, our Instant Pot mushrooms are great too.
What do you eat sauteed mushrooms with?
Well they're a great side dish with just about any protein really.
You should try our Air fryer eggplant is amazingly too!
Do cooked mushrooms freeze well?
YES, they can be frozen. For the best outcome you'd do so as any other dish. First allow them to cool completely, then transfer to an airtight container or freezer bag.
When you want to enjoy them again, allow them to thaw out in your fridge. Then toss in a pan with a bit of butter, or microwave in 30 second intervals. As with anything else, they will taste best when cooked fresh vs. reheated.
Printable recipe is below including nutritional information as well.
Want to see a few of my favorite things you might want to write on your Christmas list this year??!! 😉 Take a peek and see how many you might already have…twinsies!
Looking for more easy family recipes and tips? LIKE The Typical Mom Facebook page?
Then sign up for my free newsletter, and follow me on Pinterest! 😉
***** If you LOVED this recipe give it 5 Stars below and let everyone know what you thought about it. 😉
Air Fryer Mushrooms
You've got to try air fryer mushrooms! All you need is some olive oil, seasonings and parmesan cheese on top makes this the best side dish.
Instructions
Gently rinse mushrooms with cold water to remove any dirt on outside. Lay all on a paper towel and wrap gently to remove water from outsides.

Cut mushrooms in half and put into a bowl with all other ingredients. Gently mix together so they're coated.

Preheat air fryer to 400 degrees for 5 minutes.

Then pour coated mushrooms into air fryer basket in one single layer.

Set to 400 degrees for 5 minutes total, tossing after 3 minutes.

Serve with a sprinkle of parmesan cheese!!
Nutrition Facts
Air Fryer Mushrooms
Amount Per Serving (2 oz)
Calories 77
Calories from Fat 63
% Daily Value*
Fat 7g11%
Sodium 221mg10%
Potassium 190mg5%
Carbohydrates 3g1%
Protein 2g4%
Vitamin C 2mg2%
Iron 1mg6%
* Percent Daily Values are based on a 2000 calorie diet.