Pressure cooker chicken mushroom casserole is comfort food packed with vegetables and tender chicken pieces. Make it in your Instant Pot or Ninja Foodi!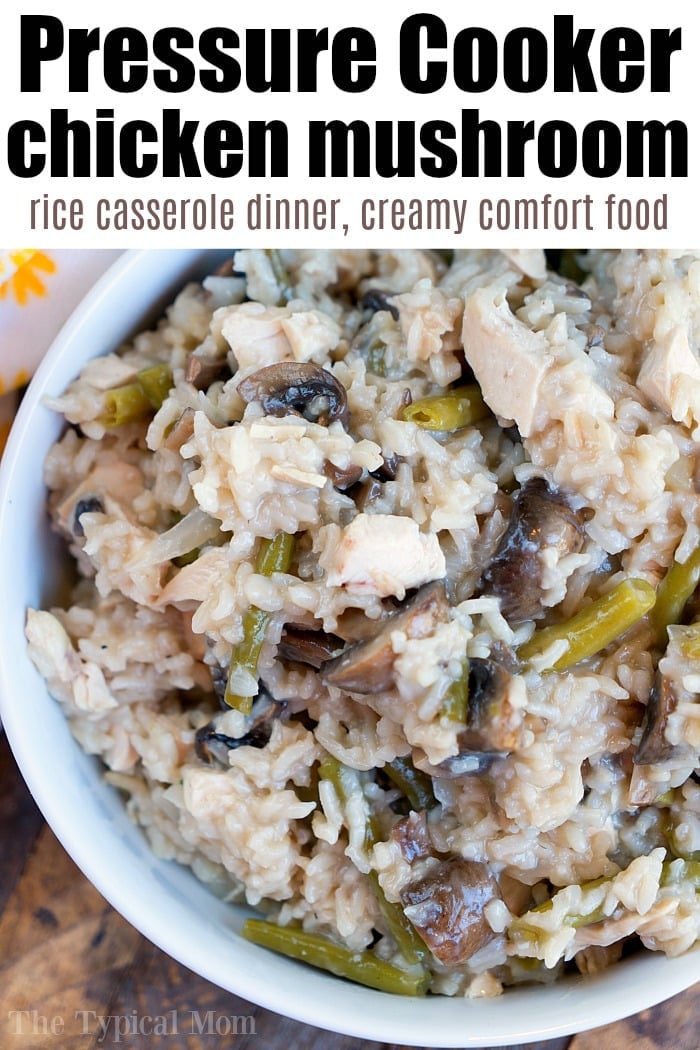 This pressure cooker chicken mushroom casserole was created somewhat out of necessity and mistake last week! It turned out so great when we made it in our RV that I just had to share it with all of you though. It's now one of our go to Instant Pot recipes for dinner, and we keep the ingredients on hand for busy nights. (affiliate links present)
You can use fresh diced chicken breasts or thighs as well as canned chicken for this recipe. That is why it's so great.
As I said, we were living in our travel trailer for a few weeks while we renovated a house we bought and all I used was my pressure cooker. It was a game changer for coming up with easy rv meals for the 5 of us. I bought a bunch of dry ingredients, as well as canned chicken and tuna so one night I threw a bunch of things together with a package of mushrooms and fresh green beans I found at the store and voila! We're calling this Instant Pot chicken mushroom rice but anything works really.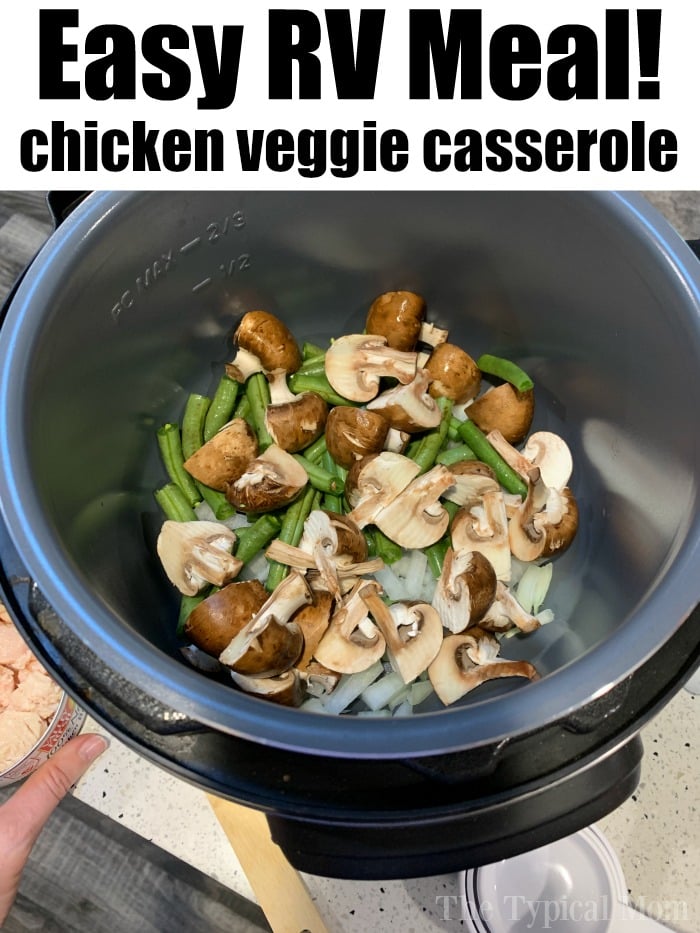 If you're new and wondering what can you cook in an Instant Pot pressure cooker?
I'm here to say you can make ALL THE THINGS in it! You can find over 101+ on my Instant Pot recipes pages so enjoy!
I will start by saying I am all about easy Instant Pot casseroles. Maybe it is because I am a child from the 70's, but using up leftovers is a must in our house. I also typically use fresh ingredients like I did with my pressure cooker chicken and rice dish, but when you're traveling or in a tight spot precooked works just fine.
Things to remember: when you are cooking with rice do NOT stir it in! Of course if you are JUST cooking rice that is different, but if it is added to a dish like this one you want to add it last and gently submerge it into the liquid at the top.
This will prevent it from burning and sticking to the bottom and ruining your dish. Nobody wants to see the dreaded burn notice on your pot, so take note.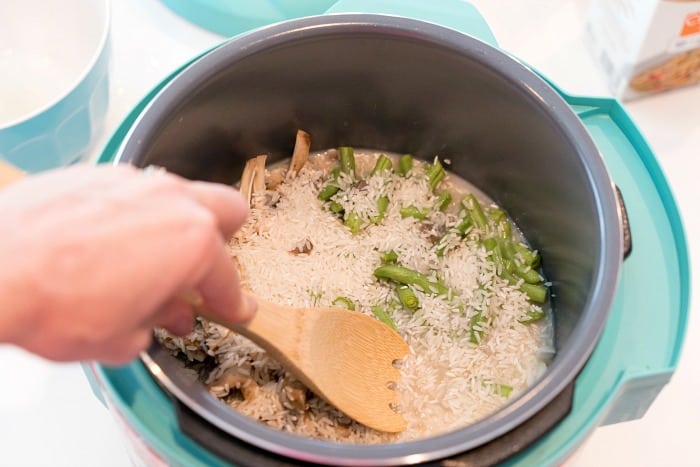 Ingredients you need to make pressure cooker chicken mushroom casserole
Pressure cooker

If you have an Instant Pot I HIGHLY recommend getting a non stick pot like you see here
You can use your Ninja Foodi or Crockpot Express too

Chicken

Fresh, diced into bite size pieces, don't use more than 1 lb. boneless skinless chicken breasts or chicken thighs
Leftover rotisserie, cut into small pieces
Canned chicken, drained

Chicken broth – or water
Long grain rice – NOT instant
Cream of mushroom or chicken soup

or make your own homemade cream of mushroom

Onion
Cheese – optional but fantastic add in
Garlic salt
Salt and pepper
This became one of our favorite August Instant Pot recipes. There wasn't any left that night and I made it twice that week.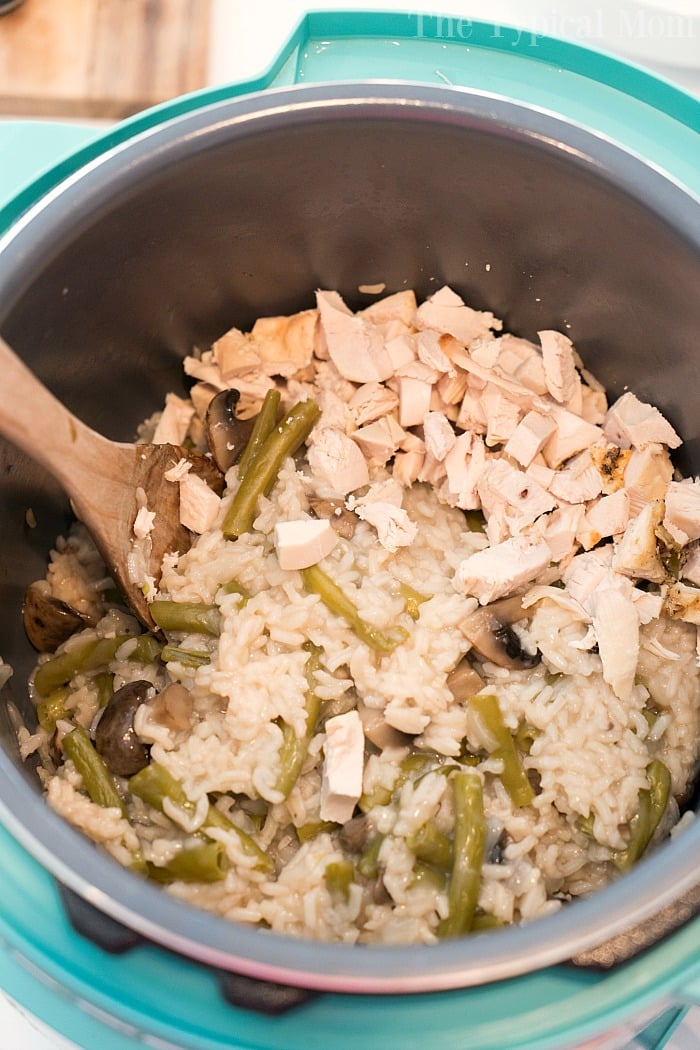 Basic steps for making a pressure cooker chicken rice casserole like this one with vegetables.
Yes you can substitute different veggies BUT you need to choose ones that will cook at about the same time like these did. Broccoli doesn't work unless you don't mind it completely falling apart and becoming almost mush when it's done.
Green beans and these small baby bellas are on the firmer side and worked perfectly. Both came out as tender as the rice did so I would personally stick with those. Small diced carrots would probably be fine too.
First prep all your ingredients:
If using 1 lbs. of diced fresh chicken = set pot to saute with some olive oil and cook until outsides are no longer pink. Skip this step if using precooked meat.
Add mushrooms, green beans, onion, seasonings, and diced precooked chicken now to your pot.
In a separate bowl whisk together your soup and broth until smooth, pour this in.
Then sprinkle rice on the top but do NOT stir. Just gently submerge it into your liquid.
Lock lid and set to high pressure for 9 minutes.
Allow to naturally release steam for 2 minutes, then release any remaining pressure.
If you want to make a vegetarian version just omit the chicken and use cream of mushroom soup instead of chicken. Vegetable broth can be used for the liquid as well. With a sprinkle of onion and garlic powder on the top for added flavor it's a hearty meal for all. If others want meat then add the diced precooked chicken at the end for a chicken and mushroom recipe.
That's how versatile this recipe is. Keep an extra 1/2 cup of cheese on the side to sprinkle on the top for extra pressure cooking goodness. Total cook time for this is about 15 minutes so it's done in a jiffy and like I said is great when you're traveling in an RV too.
Looking for more Ninja Foodi recipes or your family?
How long can you safely keep leftovers?
Three to four days in the refrigerator is safe. If you don't think you'll eat them that quickly then you should freeze them immediately.
Can you freeze cooked casseroles?
The short answer is yes, but don't use the container you cooked it in. Instead put leftovers in plastic containers or freezer bags. Let out the air and put it into your freezer that way. When reheating remove from your freezer container and put into a microwave safe dish. Reheat for 30 seconds at a time, stirring in between. Use broth to thin it out if it becomes too thick when reheating.
Pressure Cooker Chicken Mushroom Casserole
Pressure cooker chicken mushroom casserole is comfort food packed with vegetables and tender chicken pieces. Make it in your Instant Pot or Ninja Foodi!
Ingredients
1

chicken breast

fresh diced into small pieces, precooked, or 10 -12 oz. canned chicken

1

container

mushrooms

baby bellas are best, 8 oz. total, cut into fourths

.5

lb

green beans

fresh, ends removed, cut in half

1/2

onion

diced

1.5

tsp

garlic salt

1/8

tsp

pepper

1

can

cream of mushroom soup

2.5

c

broth

chicken or beef

1

c

rice

NOT instant, white long grain, uncooked

3/4

c

cheese

shredded, optional
Instructions
If using fresh diced chicken add to your pot with a bit of olive oil on saute and cook until outsides are no longer pink. Then turn pot off. Now add your prepared mushrooms, green beans, onions, precooked chicken (if that is what you're using), and seasonings into your pot.

In a separate bowl whisk together your broth and cream of mushroom soup, add this into your pot.

Sprinkle your uncooked white rice on to the top and do NOT stir, just gently press down into the liquid. Close lid and steam valve and set to high pressure for 9 minutes.

Allow to naturally release pressure for 2 minutes before letting out remaining steam.

Add cheese and chicken (if you haven't already) into your pot and stir so cheese melts. Serve!
Nutrition Facts
Pressure Cooker Chicken Mushroom Casserole
Amount Per Serving (3 oz)
Calories 265
Calories from Fat 63
% Daily Value*
Fat 7g11%
Cholesterol 41mg14%
Sodium 1577mg69%
Potassium 346mg10%
Carbohydrates 33g11%
Protein 17g34%
Vitamin A 680IU14%
Vitamin C 6mg7%
Calcium 130mg13%
Iron 1mg6%
* Percent Daily Values are based on a 2000 calorie diet.