All different kids of cheese are explained, and how they are best served. From slicing and eating it with crackers or baking, they're great.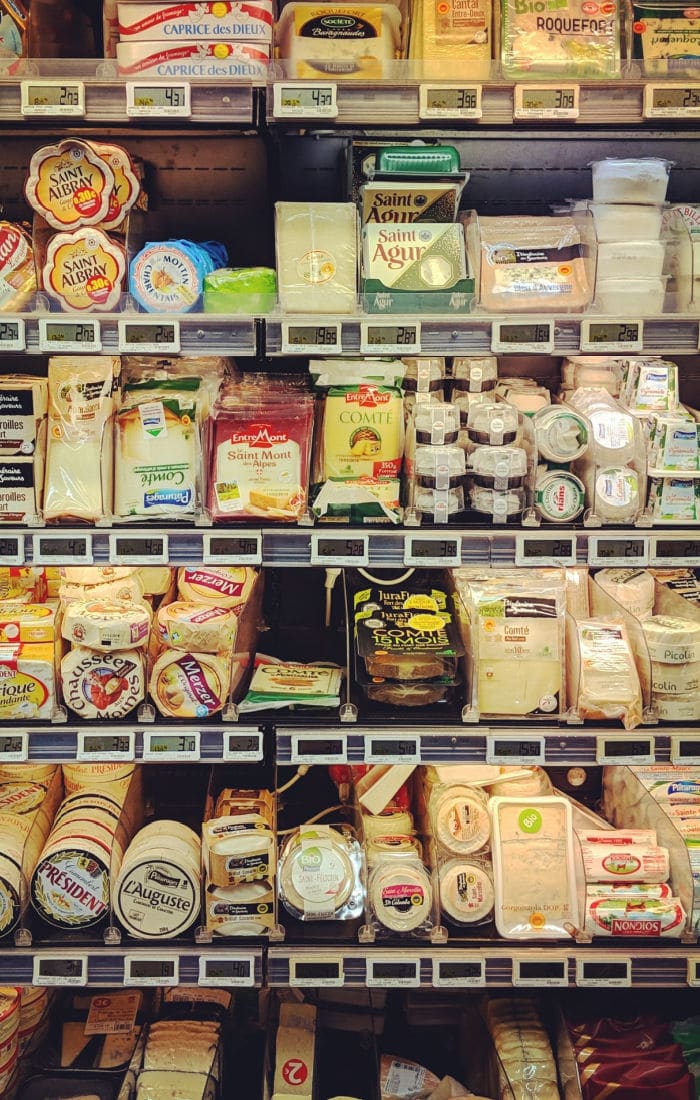 Have you ever sat down and thought about some of your favorite cheeses? There are really so many different kinds of cheese out there! From mozzarella to nutty flavors. There's literally a popular flavor for every type of taste buds. (originally published 3/21)
Hard to believe that something made from cow's milk can taste so different. If you're addicted to that creamy texture just like I am, let's dive in and find out about all the different types today.
Different Kinds of Cheeses
It's hard to believe that I pretty much love every variety but it really is the truth. Every recipe can pair up perfectly with it stirred inside, or melted on top. One of our favorite dinners, Ninja Foodi spaghetti, does both. With mozzarella cheese on top and stirred into the dish itself it is just loaded with it and so good.
Want JUST the goodness coated with a little crunchy coating? Try air fryer cheese curds sometime, OH MY.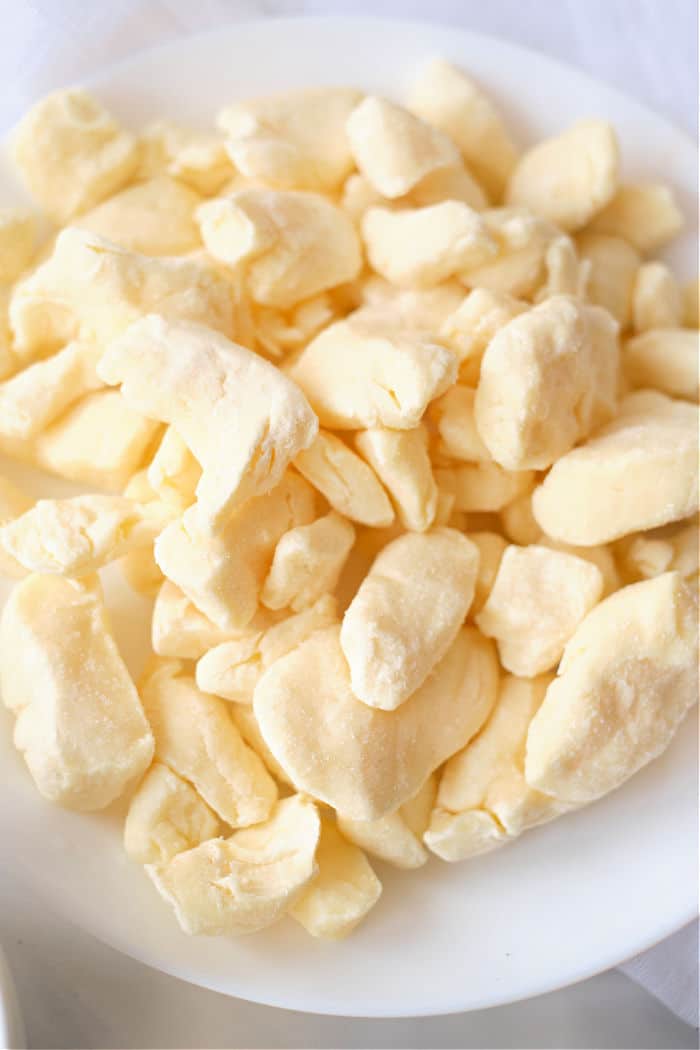 Popular Cheeses
Since there are so many options, it's hard to say what is the most popular. Here are a few that I think would be at the top of everyone's list:
How Many Types of Cheese are There
There are 1800 varieties, no we aren't going to talk about them all. I mean there are popular types that we will go into depth with and how to use them best.
Mozzarella
This is most commonly thought of as what you put on pizza but there are so many more possibilities. Air fryer frozen mozzarella sticks or homemade air fryer mozzarella sticks are a favorite snack around here. It's great inside baked potatoes too.
How is Cream Cheese Different from cheese
I use this for just about everything. From things like our crack chicken dip to baked into desserts, this very soft variety is a great way to make a creamy dish fast. It's also really good to add on celery and eat as a snack, too.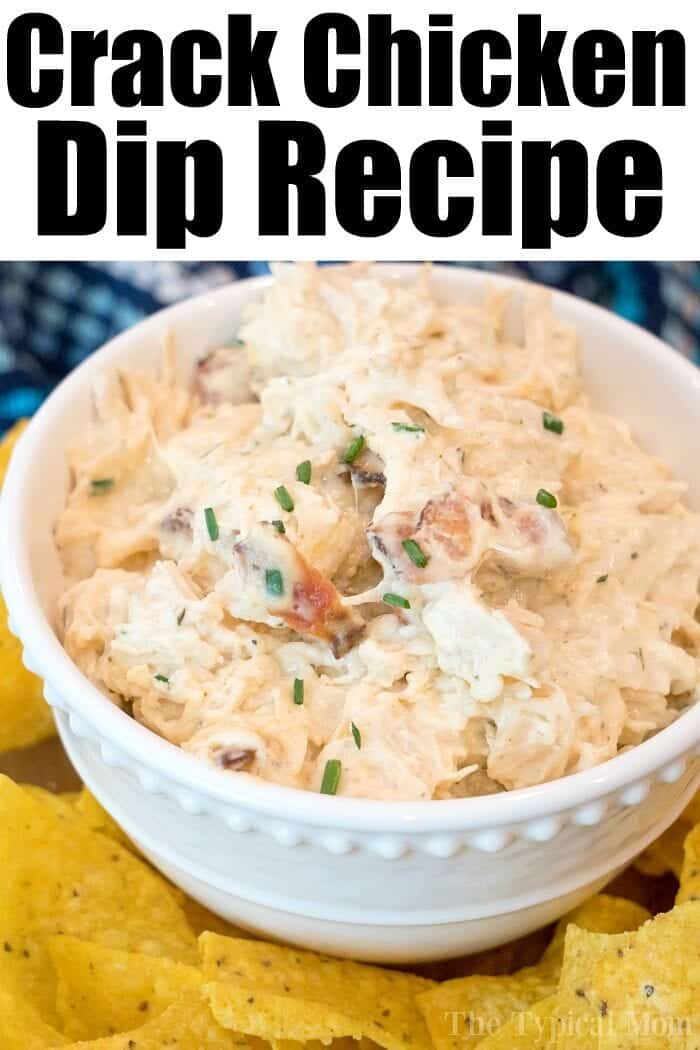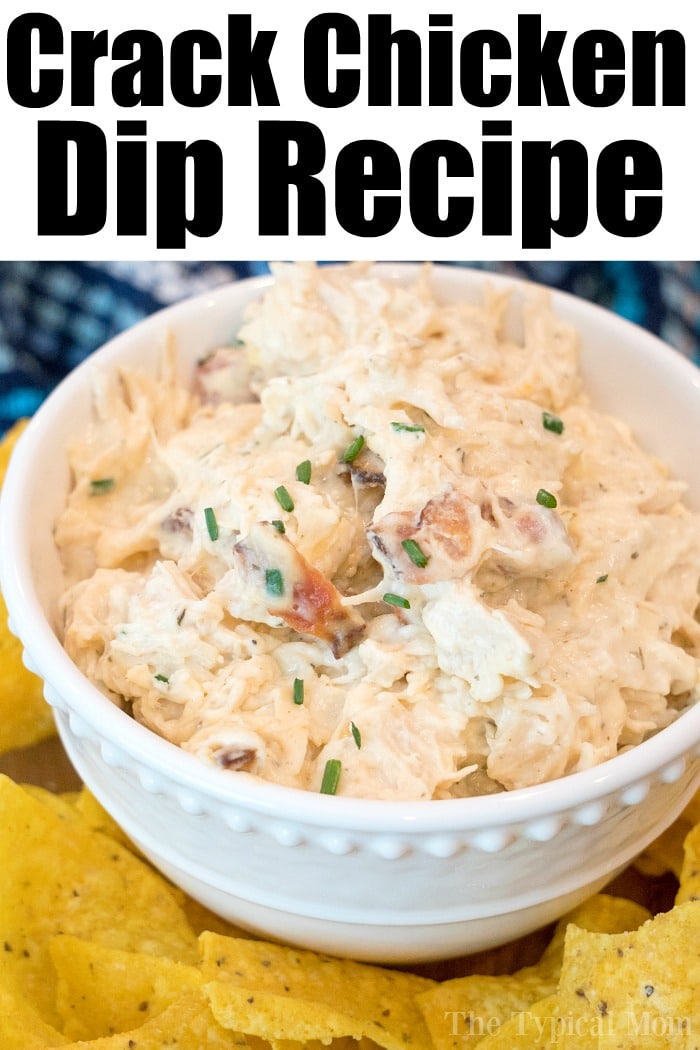 What is Cheddar Cheese Used For
People love shredded cheddar for salads and sandwiches. Let's not forget adding some with mozzarella to your smoked pizza too though. Cheddar comes in more bold choices like sharp but also medium which has a milder flavor.
Sliced and served with fresh apples is a really great snack idea for the kids, too. Most commonly shredded, it is an easy to take on the go if you're camping or hiking. Here are a few more ideas using this type;
Of course grilled cheese in air fryer is easy to make.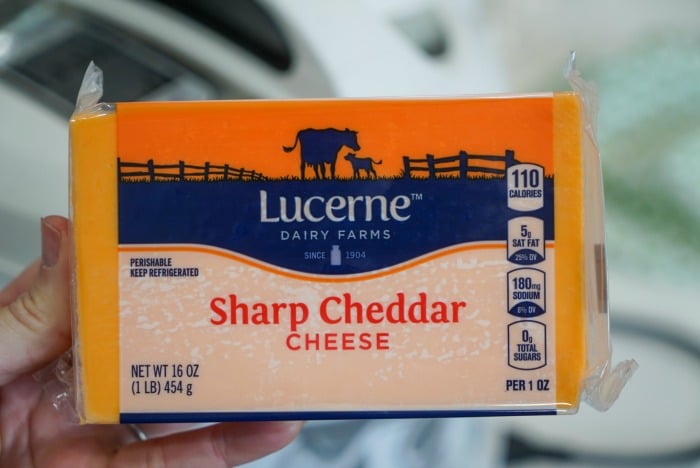 What to Serve with Blue Cheese
People tend to have a love/hate with blue cheese. As it stands by itself, it's a bit much to handle. (plus don't get us started on the smell) But when you pair blue cheese with other food items like salad or even in a dip, the flavor is quite amazing.
Blue cheese is great crumbled on steak, in side dishes like blue cheese cole slaw as well as stuffed into olives, too.
How are Cheese Curds Different from cheese
You haven't lived until you've had these fresh. The way that you know they're fresh is that they literally squeak as you bite into them. They aren't fried or breaded at all, unless you want them to be like air fryer cheese curds. They're literally just little niblets of fresh cheese.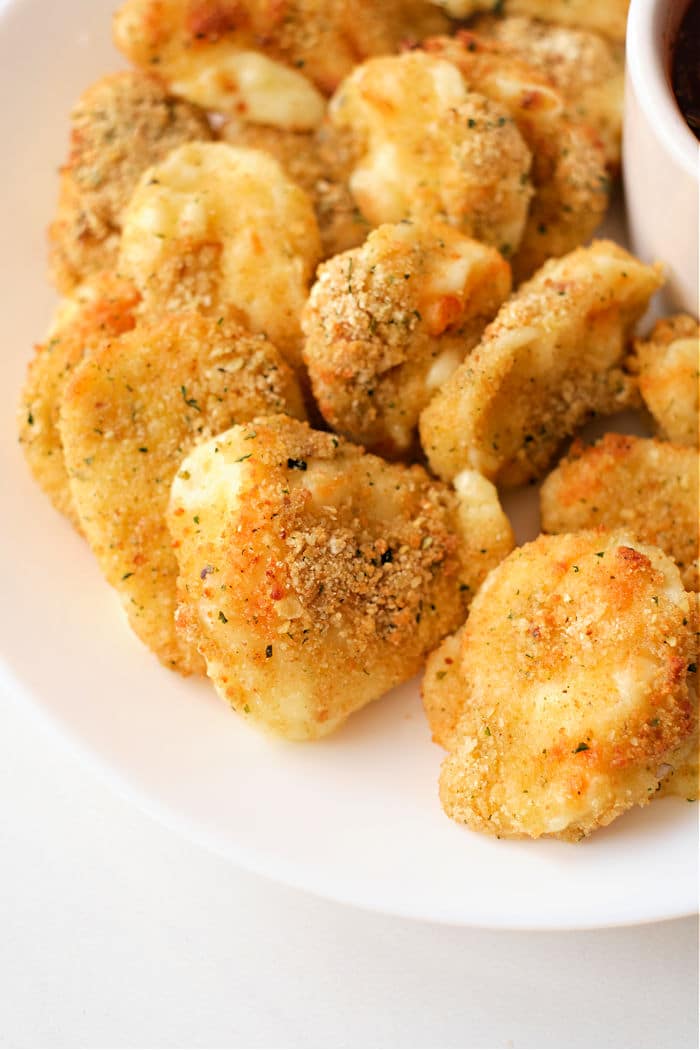 Types of Cheese and Use
Now that we've gone over a few of the best cheese options that tend to be popular, let's talk about a few other cheese varieties.
How to Use Swiss Cheese
Those who love swiss cheese love the distinct taste and flavor. It's good on certain sandwiches but not a cheese that is necessarily one to grab from the fridge and eat without being paired up with something else.
The most common use for this at our house is making spinach quiche as a breakfast or brunch option.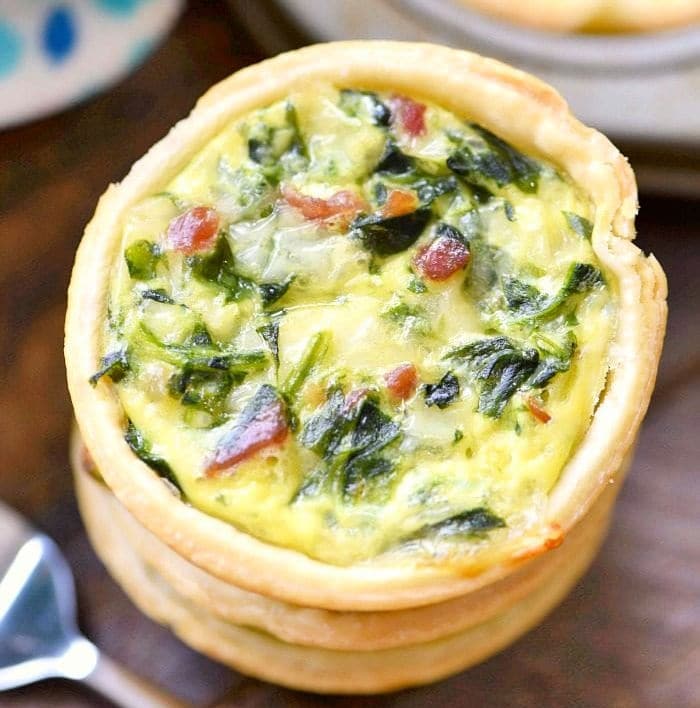 What do you eat Cottage Cheese with
Cottage cheese is so versatile! It's one of those cheeses that you just have in the fridge for all occasions. It's great to add to lasagna's and I love to add a scoop to my soup or chili as well.
It also pairs up perfectly with fruit-like peaches and there's nothing like a bowl full of cottage cheese as the perfect side dish to any meal.
Another fun way to use it is to use it as a dip for your chips. I know, it might sound crazy but it tastes so good with air fryer chips or kettle varieties too. A great substitution for ricotta as well if you are making any sort of lasagna.
Room Temperature Soft Cheeses
There are some cheeses that can actually be left out of the fridge for longer periods of time. While most types need to stay in the fridge to stay cool, soft varieties such as brie can be left out of the fridge for up to 4 hours of time.
While that might sound like a long time, it's really not for this type. Brie is one of those that you place on the table surrounded by crackers or chips and let everyone nosh on it for a period of time.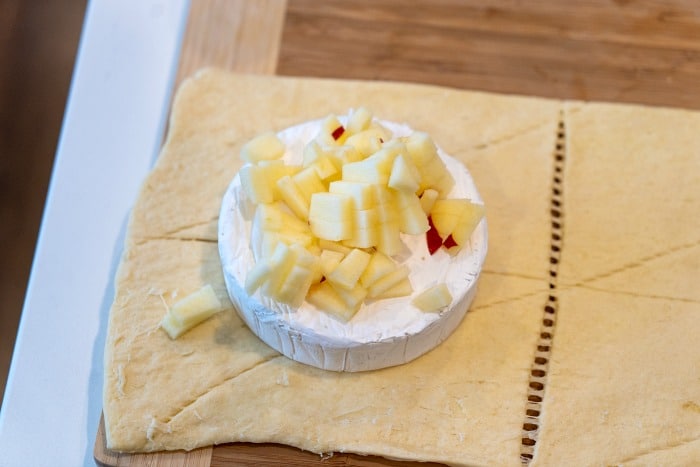 Best Cheese for a Charcuterie Board
This is why it's a good type as an appetizer. Reason being is that it can set out for several hours without the worry of it going bad or spoiling. Most others can only be out for a short time before their taste and texture start to be affected.
If you've ever witnessed one "sweating", this is a big indicator that it's been sitting out too long and is getting too hot.
Washed rind cheese is another example that can have to be soft or hard but this type does need to stay cool in the fridge. You'll know it's a rind variety because it literally has wrapped around the end of the piece when you slice it.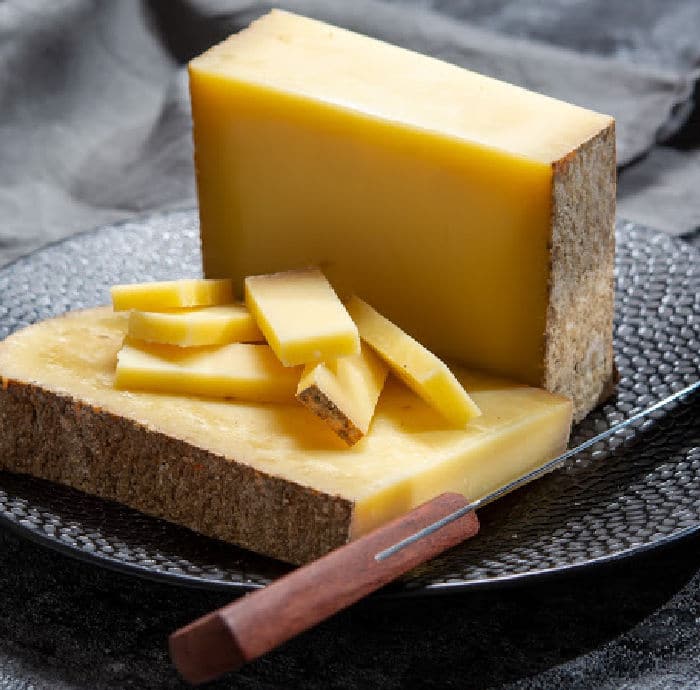 Last but not least is the Parmigiano Reggiano. This type is very popular in Italy and is used there in the same way that we use parmesan here. The difference? Parmigiano Reggiano is made without lactose and is additive-free, too.
Uses of Cheese
This is simply delicious and would pair nicely on potatoes, salads, and even as a topping for all pasta dishes, too. It's not a cheese that melts but has more of a grated consistency and texture.
Due to how this is made, it's quite expensive but will last a long time. It can be found at many specialty cheese stores either in a chunk or already grated up, ready to sell.
As you can see, there are so many different varieties of cheese options to consider. Even though I listed some of the most popular and well-known, there are so many more to consider as well!
Treat yourself and your tastebuds to try a new flavor that you've never tried before. Who knows, you just might find that there's a whole world you've never even heard of.
Want to see a few of my favorite things that I am totally obsessed with?? Take a peek and see how many you might already have…twinsies!
Looking for more easy family recipes and tips? LIKE The Typical Mom Facebook page?
Then sign up for my free newsletter, and follow me on Pinterest! 😉
***** If you LOVED this recipe give it 5 Stars below and let everyone know what you thought about it. 😉