Easy baked brie with apples recipe that is the most AMAZING appetizer you will ever cook or bring to a potluck. Sweet and savory cheese wrapped in filo.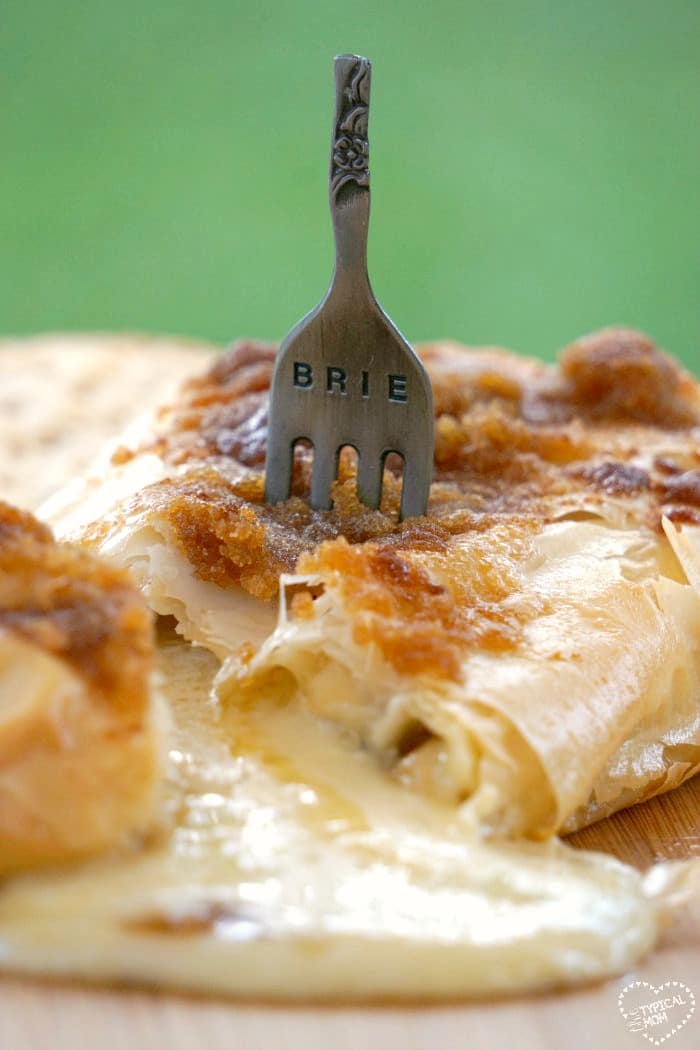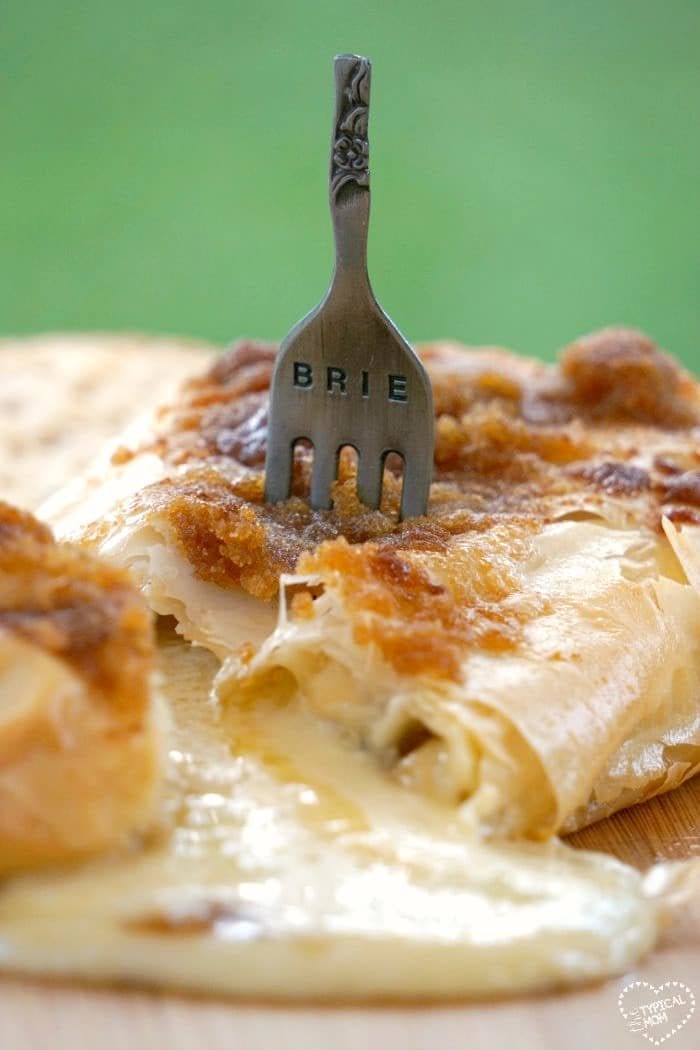 Ok so a friend of mine made a version of this at least five years ago and every time we think of that couple we think of this baked brie dish they had!! I couldn't remember exactly how she made it but knew the general ingredients so I tinkered with them a bit and made the most amazing easy baked brie ever….and it actually became our dinner that night as opposed to an appetizer (eeeeek). (republished 12/16)
Oh yes, seriously every time I think of this I just want to host a party of some kind just so I have an excuse to make it. LOL.
The nice this about this baked brie recipe is you can add as many add ins as you want or just keep it really simple like we did here.
You only need four ingredients which is nice and it's ready from start to finish in about thirty minutes…and is the most amazing appetizer you will ever eat!! Here is how you make it.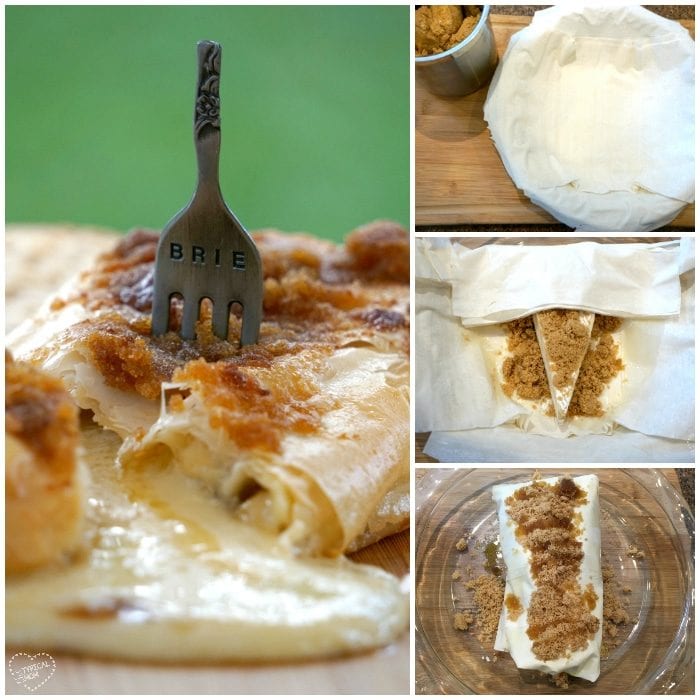 So you will need some filo dough. I had never used it before but it's quite easy, like tissue paper. It's in the freezer section and came two rolls to a box. Take one roll out and put it on the counter so it defrosts and can unroll easily.
You are only going to use about 3 pieces to lay lengthwise and 3 pieces widthwise in your pie plate (that is what I used).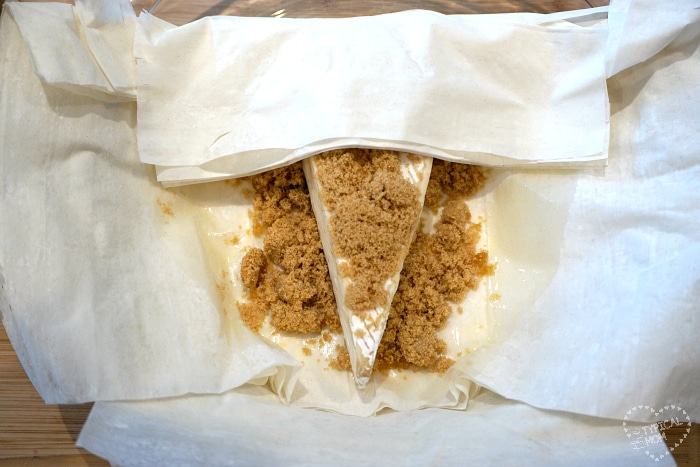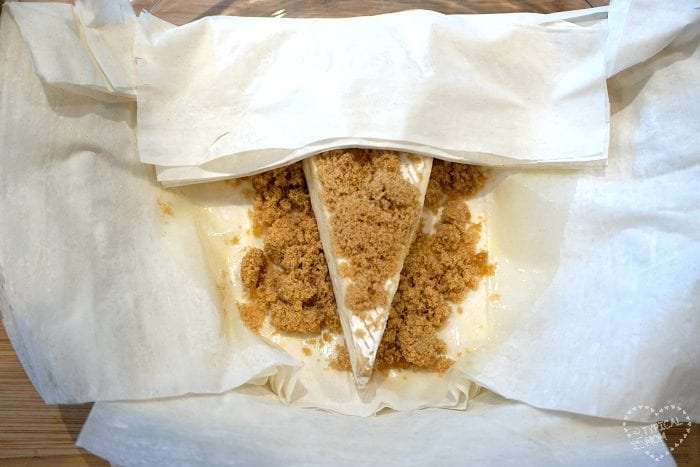 It is kinda' like wrapping a present or a burrito, if you think of it like that it's easy to wrap up. Put about 3 tbsp. of brown sugar in the middle, put your piece of brie cheese on top of that, then 2 more tbsp. of brown sugar sprinkled on top. Melt 2 tbsp. of butter and pour that right over the top of your brie/brown sugar, now you're going to wrap. Now here is where you can add in more things. You can substitute the 2 tbsp. of butter inside here with 2 tbsp. of honey instead (that is fantastic), add chopped walnuts, diced apples, or even cranberries are a wonderful addition.
Easy baked brie
Brie
Filo dough – in freezer section
Butter
Brown sugar
Walnuts
Diced apple
Honey
Crackers or baguette
Easy Baked Brie
Easy baked brie with apples recipe that is the most AMAZING appetizer you will ever cook or bring to a potluck. Sweet and savory cheese wrapped in filo.

Ingredients
5

tbsp

butter

melted

1

piece

brie

usually comes in 1 size/slice

4

pieces

filo dough

8

tbsp

brown sugar

crackers / sliced baguette

Optional:

1/4

c

walnuts

chopped

1/4

c

dried cranberries

1/4

c

honey

1/2

c

apples

skinned and diced
Instructions
Lay 2-3 pieces of filo dough lengthwise and then widthwise in a pie or square pan.

Put 3 tbsp. brown sugar, slice of brie on top of that, 2 tbsp. brown sugar over that and top with 3 tbsp. melted butter. If adding apples, walnuts, and/or cranberries add these on top of brie as well.

Wrap this up in filo dough like a burrito so all ends are closed. Put folded end underneath so it doesn't unwrap.

Top with 3 tbsp. brown sugar and 3 tbsp. melted butter. Put in oven at 350 degrees for about 20 minutes or until filo dough is slightly browned and cheese is melted. Serve
Nutrition Facts
Easy Baked Brie
Amount Per Serving (3 oz)
Calories 276
Calories from Fat 153
% Daily Value*
Total Fat 17g 26%
Cholesterol 47mg 16%
Sodium 247mg 10%
Potassium 88mg 3%
Total Carbohydrates 25g 8%
Protein 6g 12%
* Percent Daily Values are based on a 2000 calorie diet.
You want to bake this easy baked brie just long enough where the cheese is melted inside and it pours out when cut and the filo dough is just barely browned, do not overcook it.
Slice a baguette or serve with crackers on a board with cheese tools/servers, either way this baked brie is incredible!!!
To make baked brie with apples and honey just dice 3/4 of a green apple (without the skin) and add it to the top of the brie with 2 tbsp. of honey instead of adding the brown sugar to the top before wrapping it up as in the recipe you see above….it is Amazing this way!!!
If you love this easy baked brie recipe you'd also got to try our savory monkey bread that's a great side dish to any meal, especially pasta.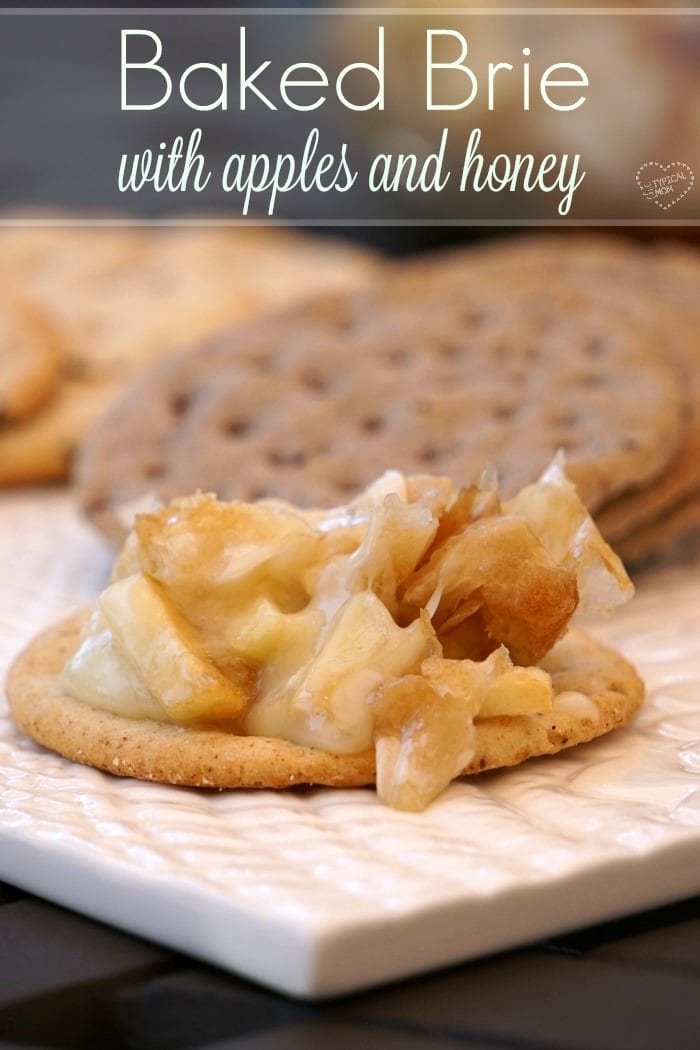 For more easy recipes, tips and crafts please LIKE The Typical Mom on Facebook and follow me on Pinterest! You can also sign up for my free weekly newsletter which is packed with goodies I know you'll love. 😉
Visit The Typical Mom's profile on Pinterest.