Easy baked brie with phyllo and apples is the most AMAZING appetizer you will ever cook or bring to a potluck. Make it sweet with fig jam with this melted savory cheese.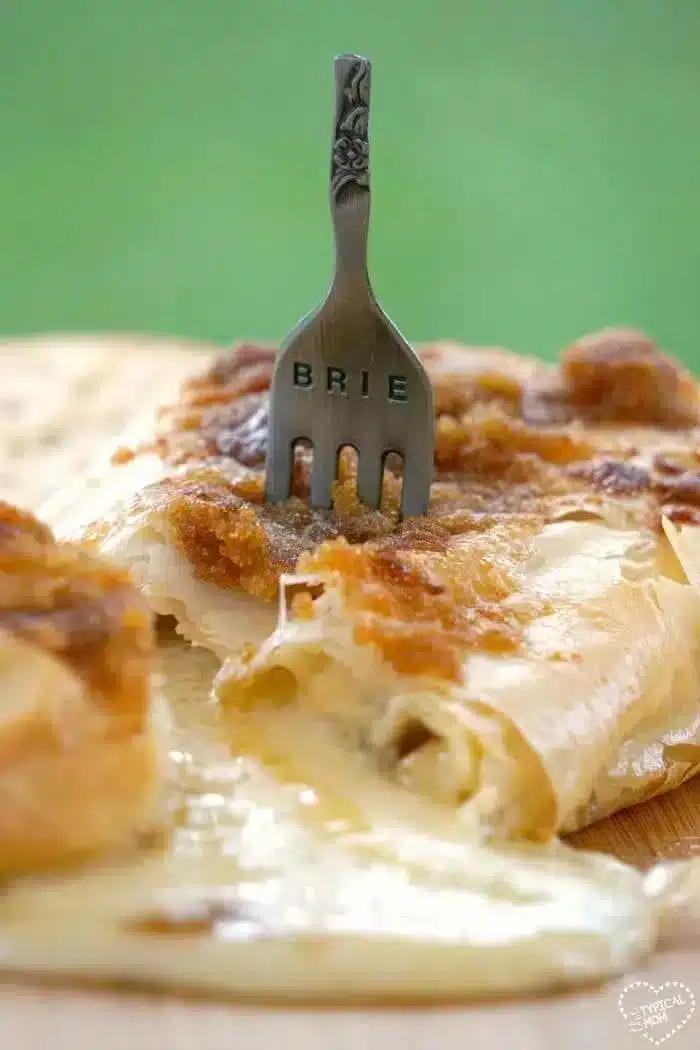 Ok so a friend of mine made a version of this at least five years ago and every time we think of that couple we think of this easy baked brie dish they had!! I couldn't remember exactly how she made it but knew the general ingredients so I tinkered with them a bit and made the most amazing baked brie ever. It actually became our dinner that night as opposed to an appetizer. (originally published 12/16, affiliate links present)
Quick and Easy Baked brie Recipe
Oh yes, seriously every time I think of this I just want to host a party. Any kind, just so I have an excuse to make it. LOL. The nice this about this baked brie recipe is you can add as many add ins as you want or just keep it simple.
You only need four ingredients which is nice and it's ready from start to finish in about thirty minutes. This is seriously the most amazing appetizer you will ever eat!! If you love brie you're gonna' flip over this.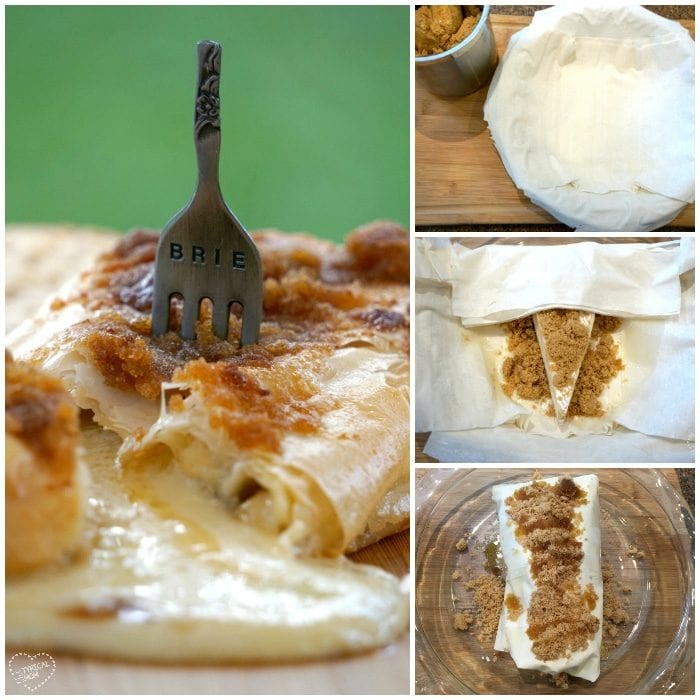 How do I make baked brie?
You will need some filo dough to start with. I had never used it before but it's quite easy. It's a bit like tissue paper. You'll find it in the freezer section with two rolls inside each box.
Take one roll out and put it on the counter so it defrosts and can un roll dough easily.
You are only going to use about 3 pieces to lay lengthwise and 3 pieces widthwise in your pie plate (that is what I used).
Do you take the rind off brie before baking?
I do not cut the rind off before baking. If you didn't know, it is perfectly edible. You actually don't notice it much after your brie is baked. If you're eating brie unbaked and don't enjoy it the taste of the outside, you'll be surprised at the difference here.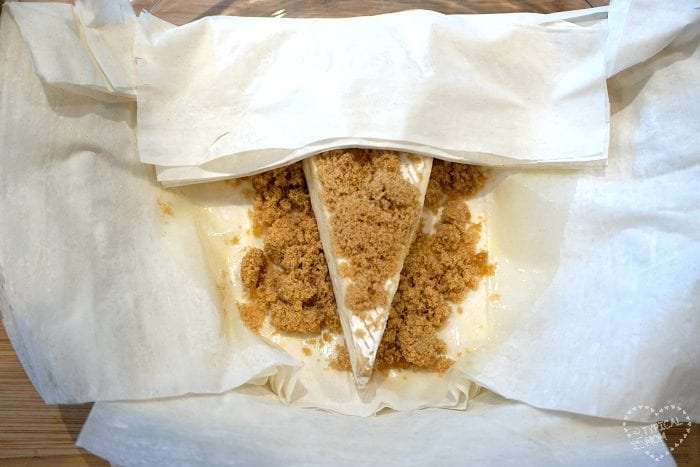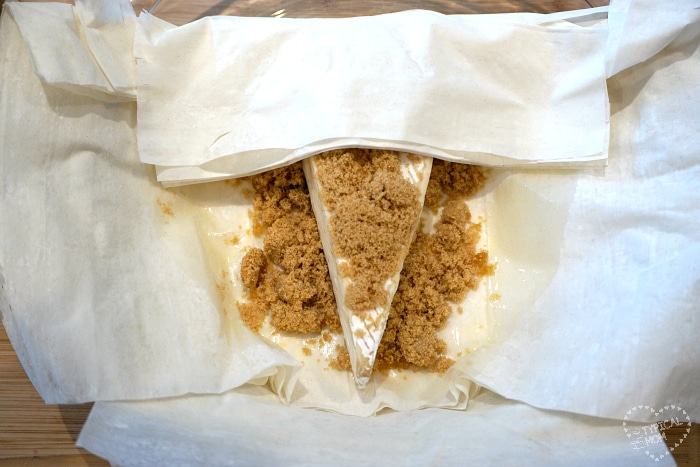 Baked Brie Recipe with Fig Jam
If you're throwing a party you can make a cheese theme of sorts. Serve this as the warm dish and our burrata caprese as the cool one. It is kinda' like wrapping a present or a burrito. If you think of it like that it's easy to wrap up. Put about 3 tbsp. of brown sugar in the middle
Then put your piece of brie cheese on top of that
Add 2 more tbsp. of brown sugar sprinkled on top.
Melt 2 tbsp. of butter and pour that right over the top of your brie/brown sugar
Now you're going to wrap.
Here is where you can add in more things.

You can substitute the 2 tbsp. of butter inside here with 2 tbsp. of honey or fig jam instead (that is fantastic)
add chopped walnuts, diced apples, or even cranberries too
Baked brie
Brie
Filo dough – in freezer section, a puff pastry

I have yet to try this with crescent dough but others have had luck

Butter
Brown sugar
Walnuts
Diced apple
Honey
Parchment paper on a baking sheet
You want to bake this easy baked brie just long enough where the cheese is melted inside and it pours out when cut and the filo dough is just barely browned, do not overcook it.
Slice a baguette or serve with crackers on a board with cheese tools/servers, either way this baked brie is incredible!!! Served with some baked figs on the side is the perfect duo.
Baked Brie Tik Tok Recipe
To make baked brie with apples and honey just:
Dice 3/4 of a green apple (without the skin)
Add it to the top of the brie with 2 tbsp. of honey

do this instead of adding brown sugar to the top before wrapping it up. it is Amazing this way!!!
Baked Brie Bombs
Instead of using the whole chunk you could make bite size finger food pieces instead. You'd just want to slice the wheel into pie piece shapes and then cut the dough into pieces large enough to wrap around each one. Lay on a baking sheet and heat for maybe 10 minutes or until the inside is melted.
If you love this easy baked brie recipe you'd also got to try our savory monkey bread that's a great side dish to any meal, especially pasta.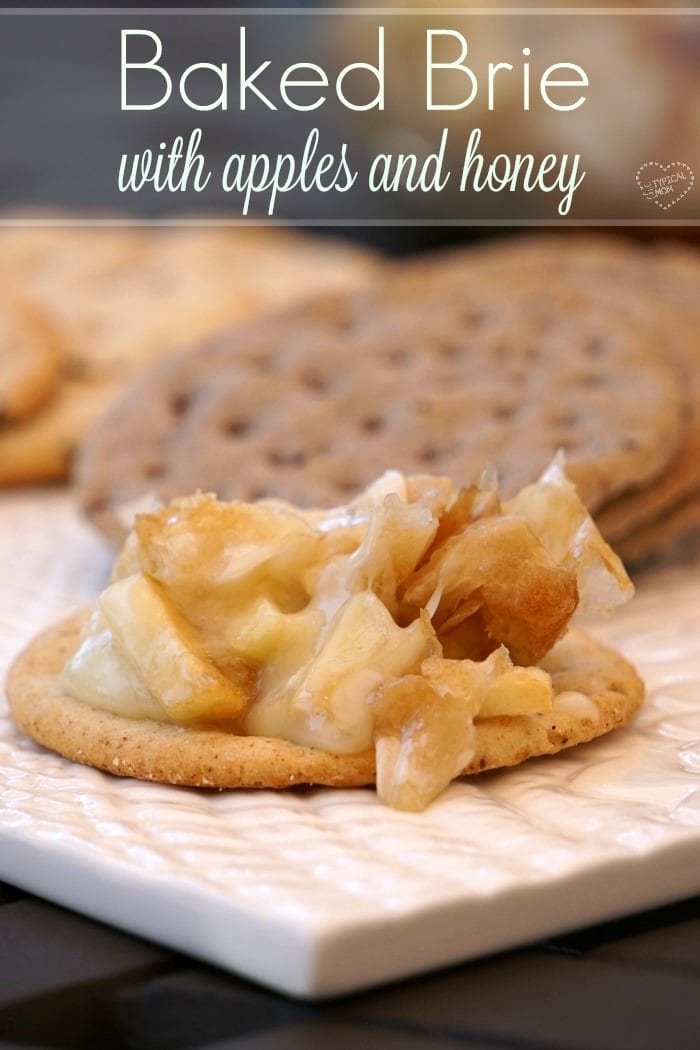 As I said above, I haven't used crescent rolls instead of phyllo dough. If you do have success please share it below. I personally like the texture of the latter for this as well as it's lighter consistency.
Home cooks of America I beg you to make this for Christmas brunch this year and get all the cheers!! Want to try air fryer baked brie next?? It is amazing. This time I used crescent rolls and it came out heavenly.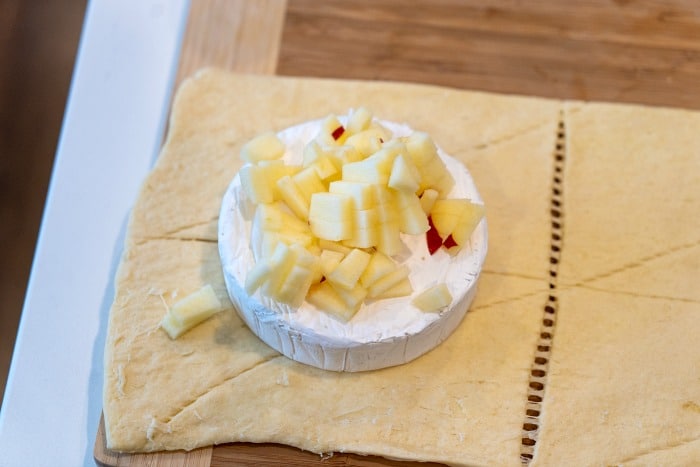 Looking for more easy side dishes or appetizers for your get together? We have a lot like this holiday cheese ball you can decorate for any occasion, and easy egg rolls.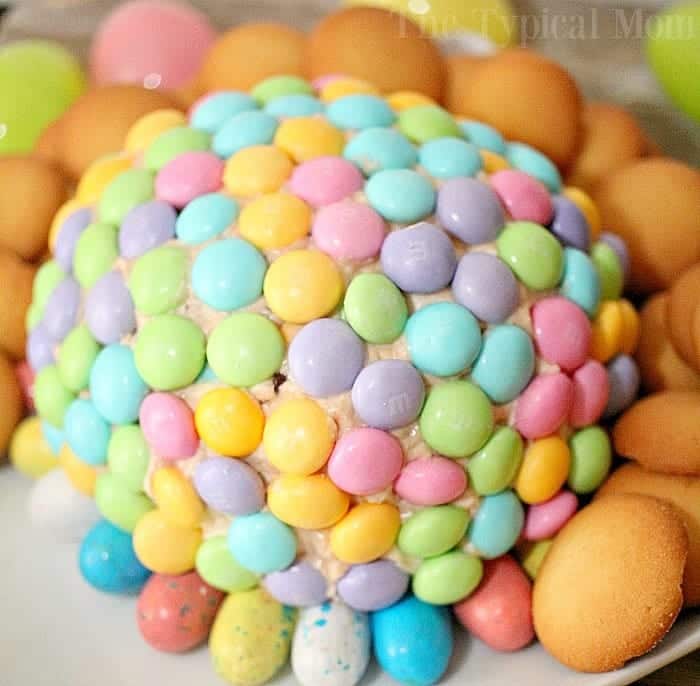 Baked Brie in Phyllo
Tips to making this perfectly; Make sure you preheat oven before placing it inside. Butter is essential for the top to get golden brown, I would use salted for added flavor.
Biggest tip is to serve it warm!
To enhance flavors you can spoon some cherry jam on top too
Have several choices for spreading

crackers
sliced baguette
pita chips
sliced apples
You can put it on a charcuterie board with lots of other finger foods like baked frozen chicken wings for a party or fun evening.
Want to see a few of my favorite things that I am totally obsessed with?? Take a peek and see how many you might already have…twinsies!
Looking for more easy family recipes and tips? LIKE The Typical Mom Facebook page?
Then sign up for my free newsletter, and follow me on Pinterest! 😉
***** If you LOVED this recipe give it 5 Stars below and let everyone know what you thought about it. 😉
Easy Baked Brie
Easy baked brie with apples recipe that is the most AMAZING appetizer you will ever cook or bring to a potluck. Sweet and savory cheese wrapped in filo.

Instructions
Lay 2-3 pieces of filo dough lengthwise and then widthwise in a pie or square pan.

Put 3 tbsp. brown sugar, slice of brie on top of that, 2 tbsp. brown sugar over that and top with 3 tbsp. melted butter. If adding apples, walnuts, and/or cranberries add these on top of brie as well.

Wrap this up in filo dough like a burrito so all ends are closed. Put folded end underneath so it doesn't unwrap.

Top with 3 tbsp. brown sugar and 3 tbsp. melted butter. Put in oven at 350 degrees for about 20 minutes or until filo dough is slightly browned and cheese is melted. Serve
Nutrition Facts
Easy Baked Brie
Amount Per Serving (3 oz)
Calories 276
Calories from Fat 153
% Daily Value*
Fat 17g26%
Cholesterol 47mg16%
Sodium 247mg11%
Potassium 88mg3%
Carbohydrates 25g8%
Protein 6g12%
Vitamin A 390IU8%
Vitamin C 0.3mg0%
Calcium 68mg7%
Iron 0.4mg2%
* Percent Daily Values are based on a 2000 calorie diet.