Air Fryer baked brie is the most amazing appetizer you will ever make! Warm ooey gooey cheese with apples and brown sugar is something you must make ASAP!
Ok so we're obsessed with this appetizer. Making air fryer baked brie was a new method, but the recipe is something I've made for years! If you're ready to take air fryer recipes to the next level, try this ooey gooey sweet cheese! (originally published 1/20, affiliate links present)
Ninja Foodi Baked Brie
Have you had this bite of heaven at a restaurant and wondered if you would make it at home? I did and I just dreamed about it after I ate it one night.
We first baked baked brie in puff pastry in the oven and yes that is beyond amazing. This isn't better, but just a different way to cook it in your small countertop appliance. If it is summertime you may want to keep away from adding heat into your house so this is hands down better.
FIRST – You should sign up for my free newsletter so you get new posts emailed to you twice a week and never miss out on anything! If you love air fryer recipes too, here are some resources to start with: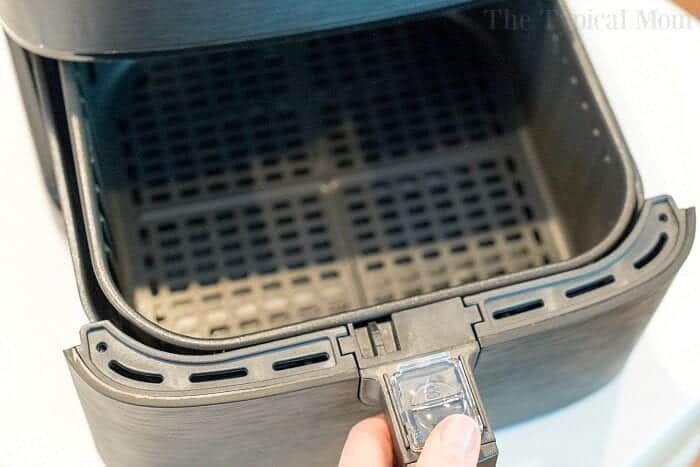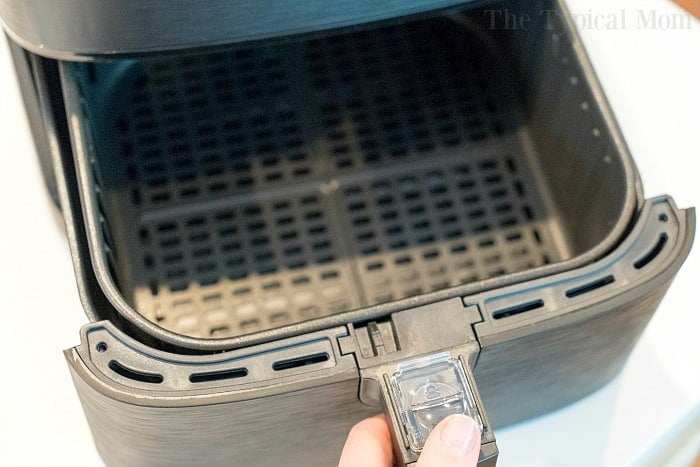 How Long to Cook Brie in Air Fryer
8 minutes using crescent rolls, or puff pastry sheet is better and takes 15 min instead to reach a golden brown. This is the only air fryer accessory I used to make this baked brie in an air fryer. I use it for so many other things too so it won't go to waste. You can also place directly inside the air fryer basket.
I mean you could go without it, as long as it doesn't leak out of your sealed dough. I just think it makes this easier to lift in and out of the basket too. We have left the dough off entirely with our air fryer halloumi cheese which you could do with the firm skin if you wanted to.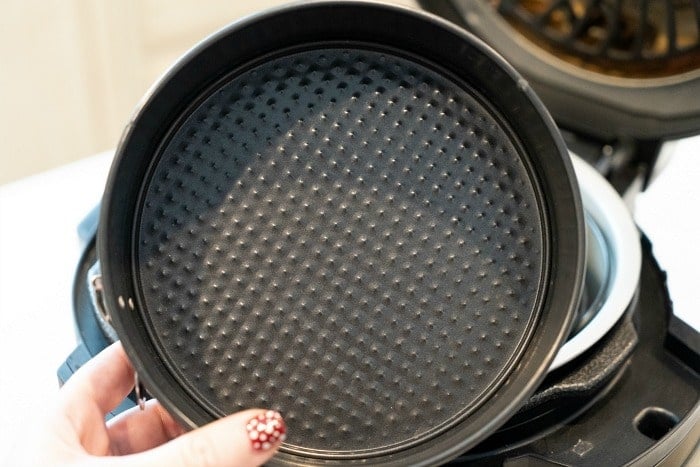 Air Fryer Brie
So when I am having people over I like a great mixture of warm and cold apps. You can have the cheese theme of sorts but serve in tons of different ways. This one would be hot while like a platter full of Burrata Caprese would be a cooler choice.
Sheet of pastry dough is best

can use a package of refrigerated crescent rolls
if you can find a crescent sheet without the perforations, even better

8 oz. of brie cheese

ours was a circle, if you can only find a triangular slice that's fine too

1 apple

we used a Fuji apple, peeled and finely diced

Brown sugar
Honey
Olive oil spray
Air Fryer Brie with Crescent Rolls
If you don't have a springform pan you could put it inside your air fryer basket. The reason why I think using this pan is best is so that it doesn't get punctured and mangled trying to take it out. It's not that expensive, just get one.
Baked Brie in Air Fryer
We made this twice and got 2 different results, choose which one you'd prefer before you prep. This is in regards to using a round piece of brie like you see here.
Method 1

– Place in the center of one side and dump other ingredients on top following the directions below. The outcome of this will be that when you slice it it will be like a pie with the cheese staying in tact, but still warm.

We actually liked it this way, eating it with the flaky crescent roll outside as an appetizer.

Method 2

– Cut your wheel in 4 equally sized pieces, the put back together and place in the center of your crescent roll half. You can alternatively slice a thin layer of the rind off the outer edges. Then follow instructions below.

Outcome of this was that the cheese was hotter, oozed out when we sliced into it and kinda' falls apart. This way you scoop it on to crackers to serve and is the traditional way you've probably had baked brie.
Both ways were actually amazing, it just depends on what sounds best to you. If you can only find a triangular slice where the cheese is exposed on the sides it will ooze out no matter what.
With the larger piece it requires more heat because the rind inhibits the cheese from flowing.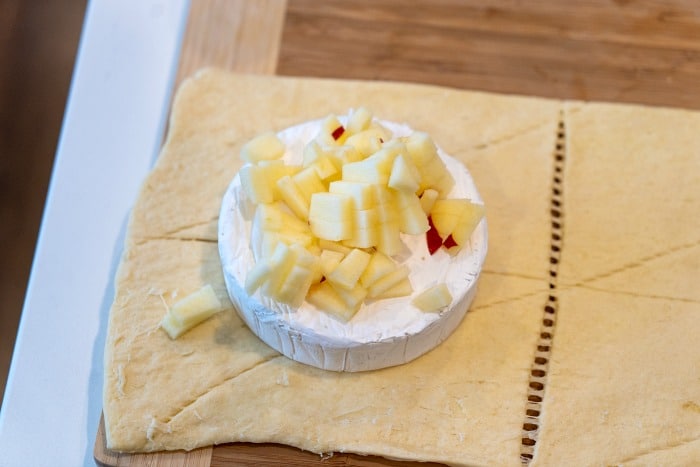 Brie in Ninja Foodi
Once you unroll your rolls as you see here you will want to pinch together the diagonal perforations, leave the middle one alone. You just don't want liquid oozing out while it's cooking.
Place your wheel of brie in the center and your other ingredients on top of that.

if you want it to really ooze out when done slice the sides of rind off because that won't melt

The second half on the right will then be pulled off and put on top of your cheese
Roll sides together pinching all the way around so it is totally enclosed
Put inside of your springform pan, spray with non stick spray beforehand so it's easy to get out
Spray top of crescent with olive oil spray and set inside your preheated air fryer at 350 degrees

you could alternatively use a light egg wash

Bake for an 8 minute cook time which will get it to the point where the breading is cooked through, golden brown, and cheese is warm

using pastry dough wrap like a present
bake at 375 F for 15 minutes until browned
Remove your air fried brie and undo the side clasp on your pan. Then use a spatula to lift out piece on to a plate for serving. Serve immediately for best results. If cheese isn't as melted as you'd like just put plate in microwave for 30 seconds.
Of course there are a lot of options as far as what you add inside your "package". I always choose a sweeter blend of diced apples, brown sugar and honey. If you wanted a more savory dish you could add herbs and seasonings.
Air Fryer Brie Honey
You can see our brie present of sorts here. It is quite easy to pinch together the perforations so it is one sheet essentially. I have found crescent roll sheets before but that isn't as common.
The version above is made in your oven.
We used puff pastry vs. crescent roll dough for that version.
I plan on trying pastry dough in this air fryer recipe in the future and will add directions for that when I do. You can make this in your Ninja Foodi as well.
Can you eat the outer layer of brie?
Yes!! You can eat the rind of Camembert, Brie, or any soft ripened cheese. This thick white layer gives these cheeses their characteristic bloomy rind look. The rind unlike oranges is totally edible and adds texture and flavor too.
Does the rind on brie melt?
No. Known as a smooth flowing melting cheese, to achieve this you might want to cut off the outer rind or the brie cheese won't melt as much as you'd like.
Don't remove too much, just enough so the rind is no longer seen.
Baked brie with cranberry
That would be a great Thanksgiving cranberry recipe for sure! I might use a large scoop of canned cranberry sauce with the whole fruit, not jellied. Some small diced walnuts with it would be probably a great duo. Some baked figs alongside it are great too.
Use your imagination when it comes to your holiday get together and what your tastebuds are craving.
I kid you not this is our favorite air fryer appetizer ever and I guarantee your guests will ask for the recipe. 😉
After you cut your brie, what should you serve this with?
Crackers
Sliced baguette
Thinly sliced apples
Pita chips
Now are you ready to air fry everything?
Want to see a few of my favorite things that I am totally obsessed with?? Take a peek and see how many you might already have…twinsies!
Looking for more easy family recipes and tips? LIKE The Typical Mom Facebook page?
Then sign up for my free newsletter, and follow me on Pinterest! 😉
***** If you LOVED this recipe give it 5 Stars below and let everyone know what you thought about it. 😉
Air Fryer Baked Brie
Air Fryer baked brie is the most amazing appetizer you will ever make! Warm ooey gooey cheese with apples and brown sugar is something you must make ASAP!
Instructions
Preheat air fryer at 375 degrees for at least 5 minutes. Peel and finely dice apples and set aside. Unfold your sheet of puff pastry (best wrapper). Or pop open your refrigerated crescent rolls package and roll out flat on a cutting board.

Pinch together perforations that are diagonal so you have 2 pieces of crescent sheets with one vertical perforation down the middle dividing the 2 pieces.

If cheese is one large round piece and you want it to be soft and ooze out when done, slice the rind off of the outer edges of the circle (leave top and bottom on) and cut in half.

Place brie in center of one side/piece. Pour apples on top of brie piece, followed by brown sugar, and then drizzle honey on top of everything.

Pull the 2nd half of crescent sheet apart and place it on top, then fold in the sides, roll them in and pinch all the way around so it looks like a present with all holes pinched together. Or fold puff pastry around like a present.

Place "package" inside a 7" springform pan or directly inside air fryer basket sprayed with olive oil.

Cook at 350 degrees for 8 minutes so it is golden brown on top and insides are warm for crescent rolls or 375 for 15 minutes for puff pastry dough until browned.

Remove pan, place on cutting board and undo clasp on side, remove outer ring. Use a spatula to move baked brie from pan on to a plate.

Slice and eat, or put on crackers and serve. If cheese isn't gooey enough, or it sits and you want it to be runny again you can put plate into the microwave for 30 seconds to warm again.
Nutrition Facts
Air Fryer Baked Brie
Amount Per Serving (2 oz)
Calories 149
Calories from Fat 81
% Daily Value*
Fat 9g14%
Cholesterol 19mg6%
Sodium 267mg12%
Potassium 32mg1%
Carbohydrates 13g4%
Protein 5g10%
Vitamin A 112IU2%
Vitamin C 1mg1%
Calcium 36mg4%
Iron 1mg6%
* Percent Daily Values are based on a 2000 calorie diet.