Have you tried a pressure cooker turkey yet in your Instant Pot? It's easier than you think and frees up your oven on Thanksgiving Day! Take a look.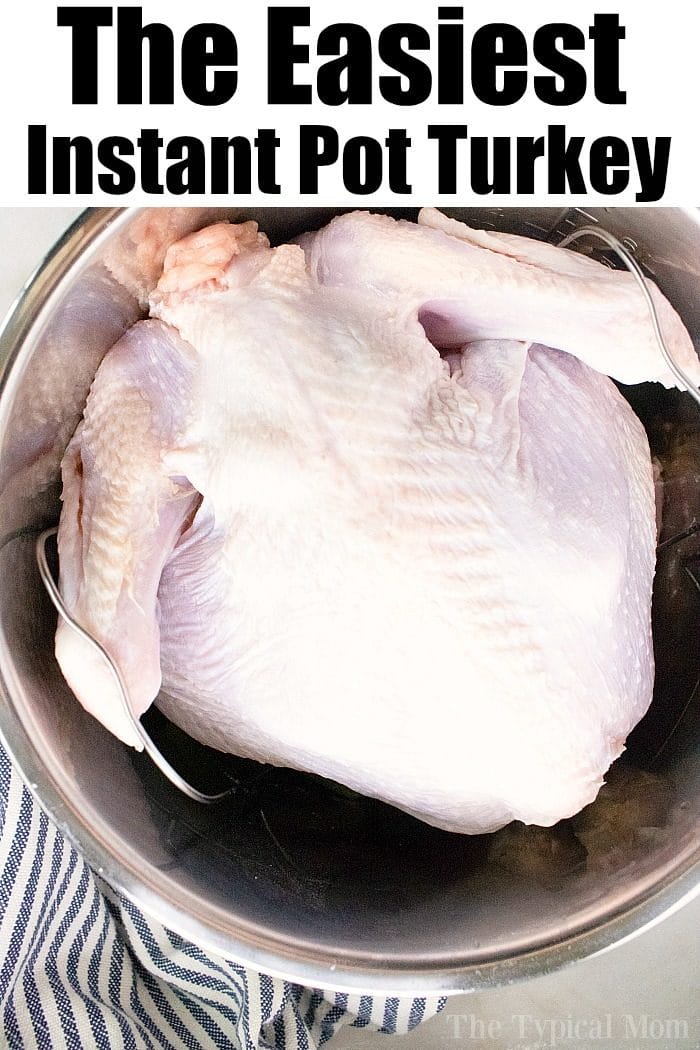 We have 101+ easy Instant Pot recipes here on The Typical Mom blog but now that it is nearing the holidays it was time to cook a pressure cooker turkey! I am serious, it is possible to cook a turkey in your Instant Pot and it comes out so moist and full of flavor in less than an hour! No more bags to use to keep in the moisture when cooking a turkey in the oven. Just pop it in for a 45 minute cook time with some broth and vegetables and you can walk away. It will come out perfect every time. (affiliate links present)
I bet you never thought of making a pressure cooker turkey huh?
If you follow my blog at all you know I am all about easy Instant Pot recipes, especially during the holidays when you have multiple dishes to cook. I started by cooking this Instant Pot ham and was amazed at how easy it was and just how juicy it came out!
You may still not believe it and wonder why you'd bother using your pressure cooker to cook your turkey, well here are my thoughts on that;
Why would you cook a turkey in an Instant Pot
It frees up your oven during the holidays
Great idea for those living in small spaces or if you're celebrating Thanksgiving in an RV
Cooks much faster than in an oven
Allows you to cook turkey more often because it takes less than an hour
Pressure cooker turkey comes out moist without having to put it in a bag
Here is what the pot looks like before you lower your turkey inside your Instant Pot.
It's filled with cut up vegetables and vegetable broth. Of course you could use water instead but I use broth every chance I can because it has so much more flavor.
You also have the ability to add more or less depending on how large your turkey is. If you're looking to cook a turkey breast recipe in your Instant Pot we'll share those instructions too.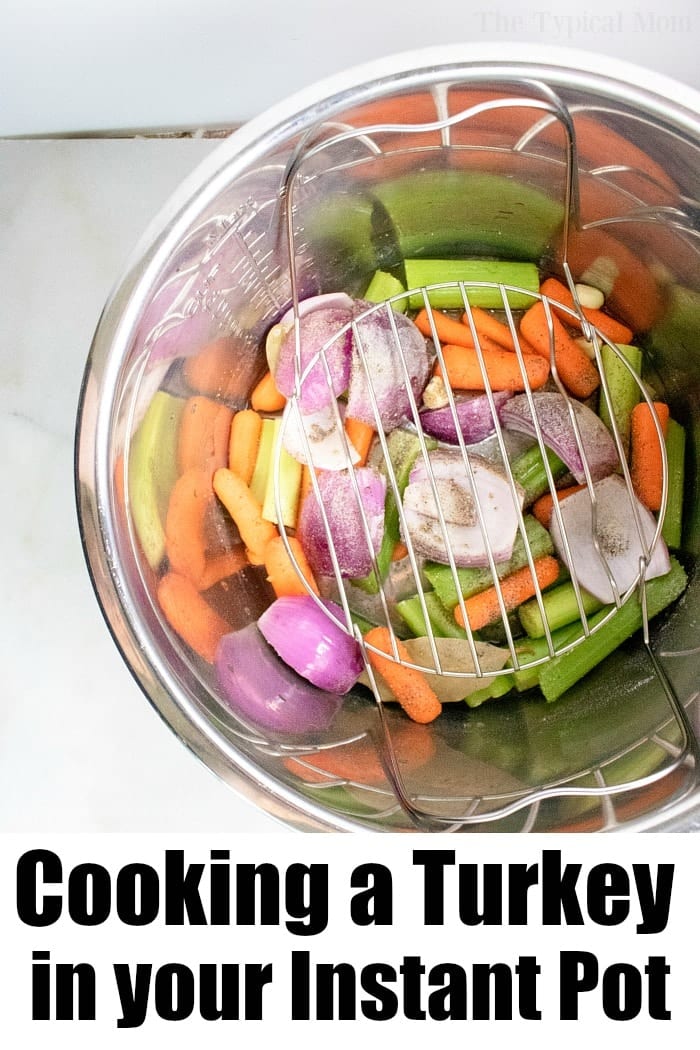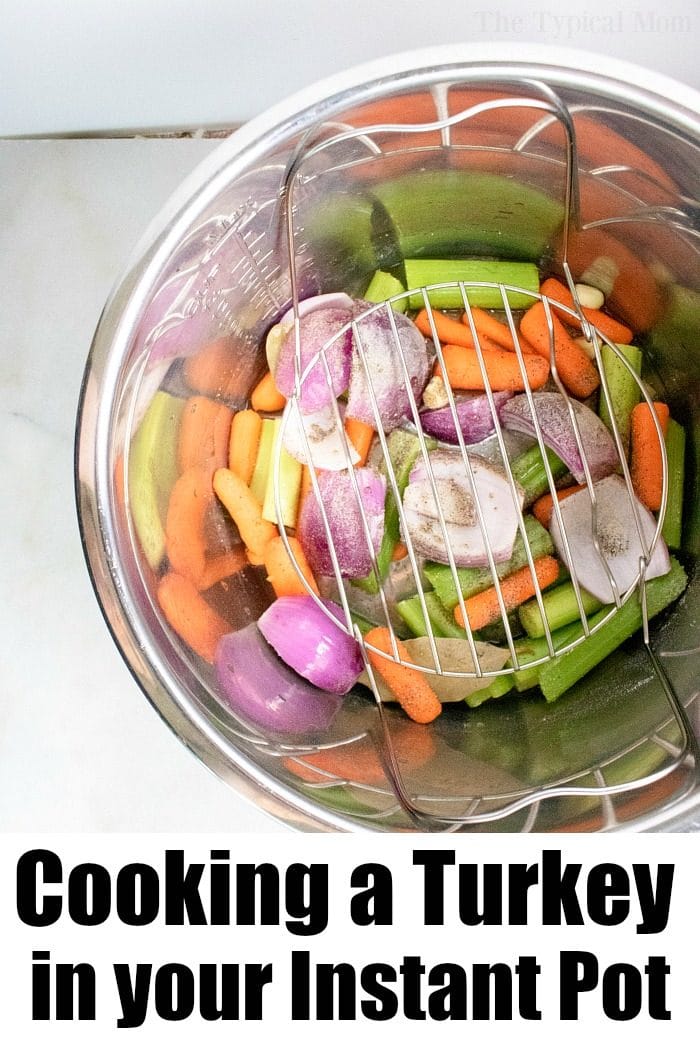 Equipment you'll need to make a turkey in electric pressure cookers
8 qt. Instant Pot– 6 qt. would work for just a pressure cooker turkey breast. Some pressure cookers have 10 qt. sizes so you could fit a larger bird in that
Trivet – the one that comes with your Instant Pot works great, you can get a replacement trivet here
Pressure cooker turkey ingredients needed
Turkey – thawed, 8 pound turkeys will fit in an 8 qt. pot
Carrots
Onion
Celery
Garlic whole cloves
Vegetable broth – way better than using water
Spices – rub on outside skin, or leave turkey plain if desired

Seasoned salt and black pepper
Garlic powder and/or salt
Thyme
Have slid slices of lemon under the skin too

Trivet – I like this one with handles
If you are looking for an alternative way to cook a 1 hour turkey try our sheet pan turkey directions too!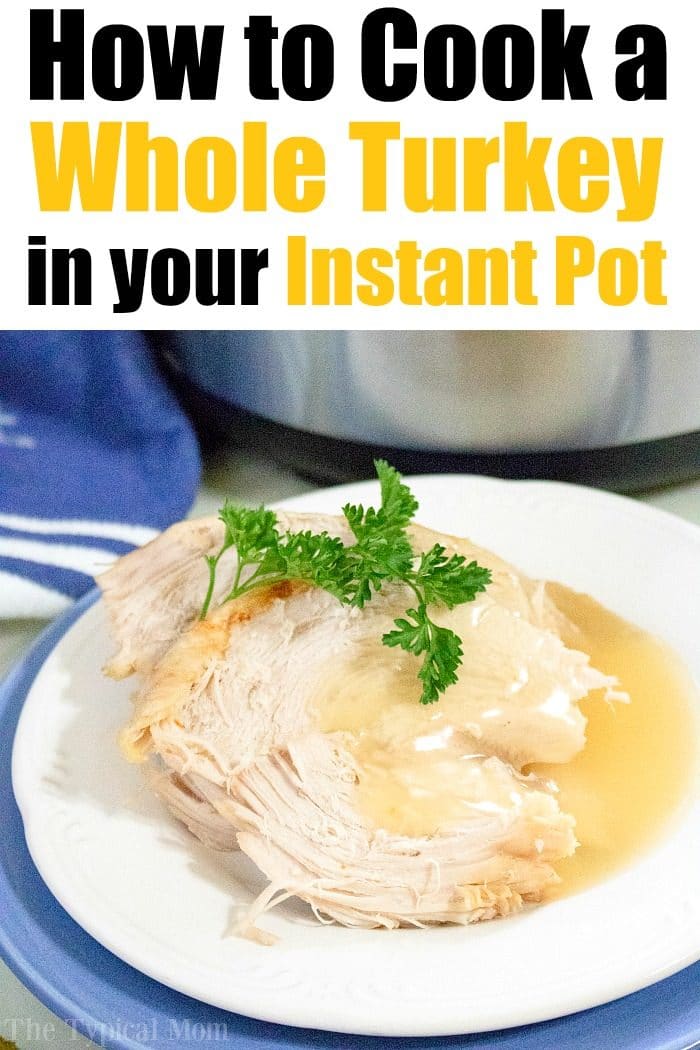 I'm sure you've learned by now, but cooking in a pressure cooker makes everything so moist without a bag needed (yay). This is the only way I make Instant Pot whole chicken now, it just turns out fall off the bone delicious in 1/3 of the time it would in the oven and is so tender.
Once your pressure cooker turkey is done you'll have amazing drippings in the bottom of the pot. So you can add those to a pot and make turkey gravy if you wish.
I think everyone has their own gravy recipe handed down from years ago but in case you don't you can follow this turkey pressure cooker gravy recipe.
Remember that you can use the saute function to make your gravy instead of dirtying another pan and making it on the stove. That is up up to you.

Put it on saute using the drippings already inside your pot. Remove vegetables, and add other ingredients to make a thick sauce for your gravy if you desire.
Pour some generously over your moist white meat and dark meat and enjoy a wonderful meal.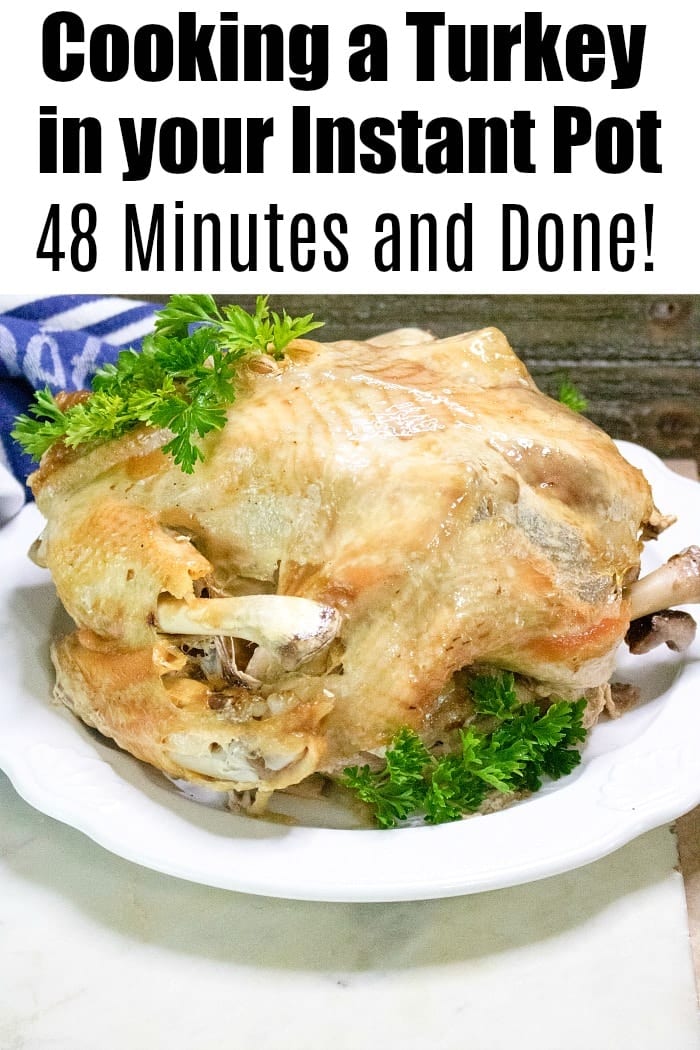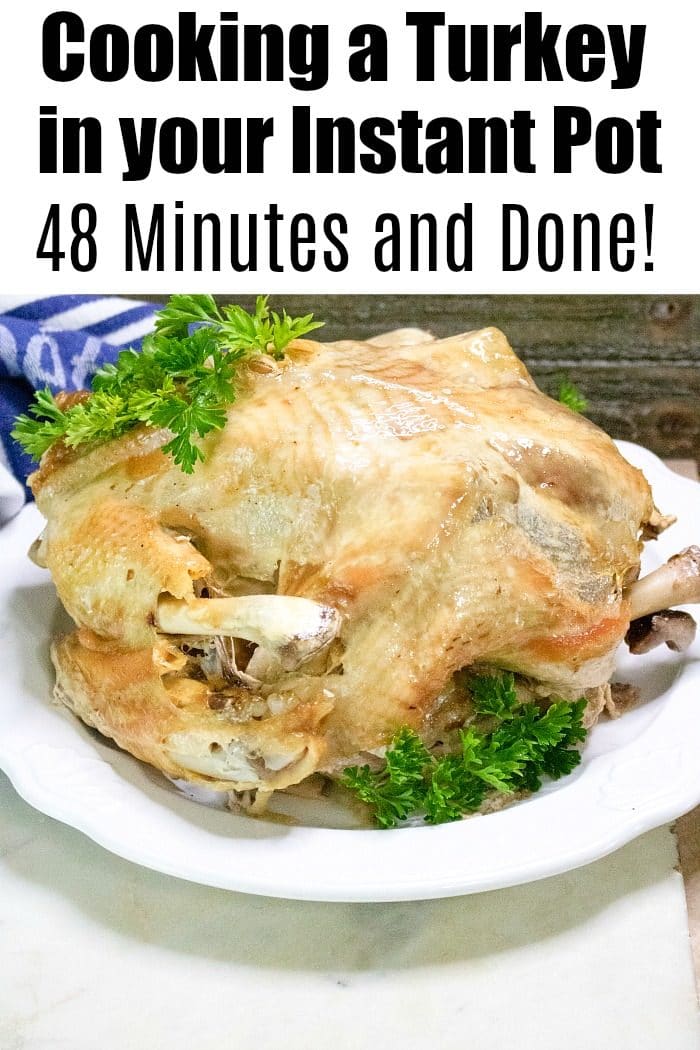 The general rule for cooking a turkey in your Instant Pot is to cook it for about 6 minutes per pound so this one was set for 48 minutes, 45 probably would've been fine too.
If you don't have a pressure cook this is how to roast a turkey in the oven!
Set to high pressure with a cook time of just 30 minutes to 60 minutes (depending on size) it's a great way to cook holiday dinners.
More Instant Pot Thanksgiving Recipes
and Christmas brunch menu ideas here too!
Pressure Cooker Turkey
Have you tried a pressure cooker turkey yet in your Instant Pot? It's easier than you think and frees up your oven on Thanksgiving Day! Take a look.
Ingredients
8

lb

turkey

must be thawed, this size fits into an 8 quart pressure cooker

1

c

vegetable broth

3

stalks

celery

cut into large chunks

3

carrots

cut into large chunks

1

onion

sliced, large pcs.

4

cloves

garlic
Instructions
Add your vegetable broth (could use water), celery, carrots, onion and garlic cloves into your pressure cooker pot.

Put a trivet on top of your vegetables and broth so it is flat.

Rinse your turkey and remove all items from inside cavity.

Rub any spices you'd like on the outside skin of your whole turkey if you desire, or leave plain.

Set turkey on your trivet with neck facing up as shown in top photo of post.

Close your lid and steam valve and set on high pressure for 6 minutes per pound so at 8 pounds (pretty close to as large as an 8 quart could really handle) you'll set it for 48 minutes (think 45 minutes is better, comes out a bit more moist).

Do a natural release for 10 minutes, then release rest of pressure.

Serve or if you'd like the skin to crisp up a bit put your pressure cooker turkey on a baking sheet and under your broiler for about 3 minutes until it crisps to your liking.
Nutrition Facts
Pressure Cooker Turkey
Amount Per Serving (3 oz)
Calories 316
Calories from Fat 108
% Daily Value*
Fat 12g18%
Cholesterol 154mg51%
Sodium 337mg15%
Potassium 573mg16%
Carbohydrates 3g1%
Protein 46g92%
Vitamin A 2755IU55%
Vitamin C 2.2mg3%
Calcium 37mg4%
Iron 1.9mg11%
* Percent Daily Values are based on a 2000 calorie diet.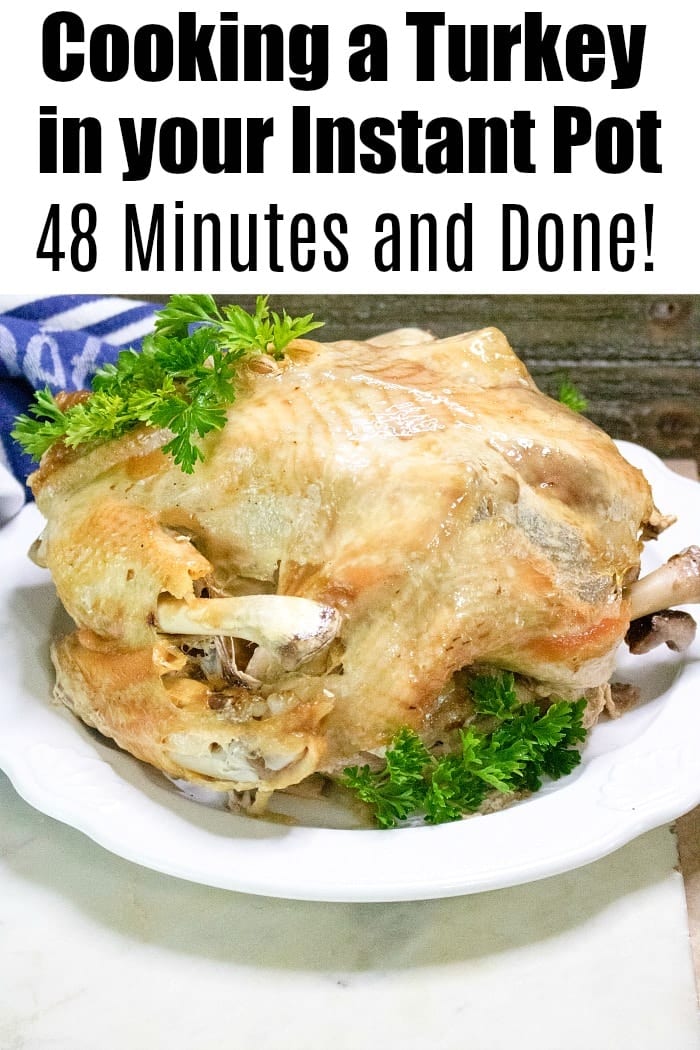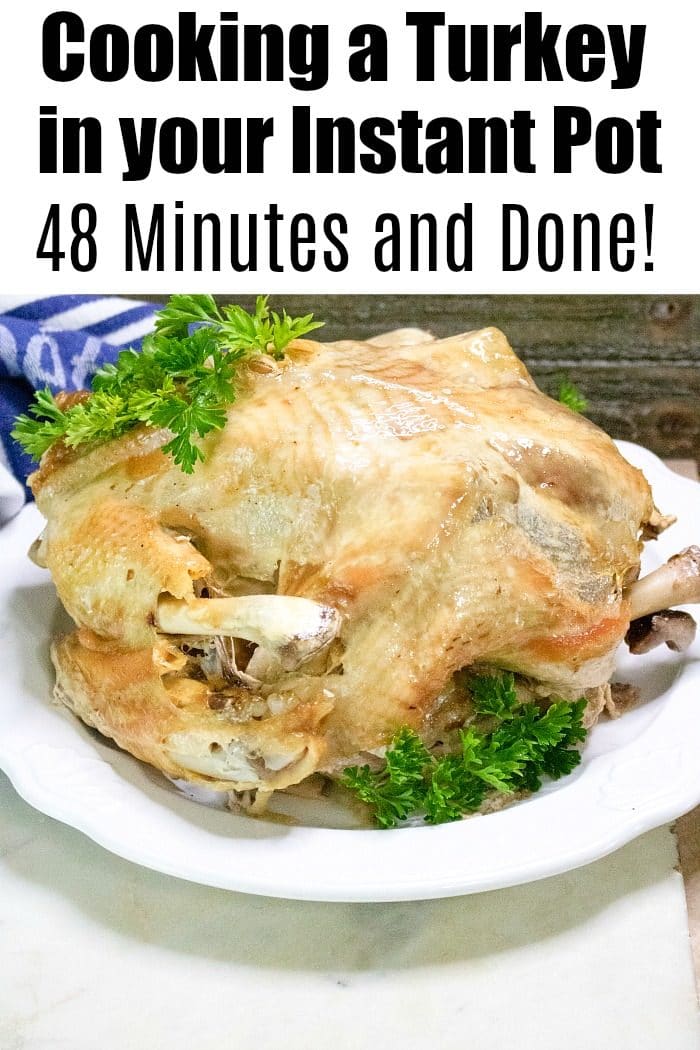 For more easy recipes, tips and free printables please LIKE The Typical Mom on Facebook and follow me on Pinterest! You can also sign up for my free weekly newsletter which is packed with goodies I know you'll love. 😉