Have you tried a pressure cooker turkey yet in your Instant Pot or Ninja Foodi yet? It's easier than you think and frees up your oven on Thanksgiving Day! Take a look.
Time to understand how to cook a pressure cooker turkey! I am serious, it is possible to cook a turkey in Instant Pot and it comes out so moist and full of flavor in less than an hour! 101+ easy Instant Pot recipes here on The Typical Mom blog you can enjoy too. (originally published 9/18. affiliate links present)
Ninja Foodi Turkey
It doesn't matter what brand you have at home. You can use a Mealthy, Crockpot Express or make it as an easy Ninja foodi recipe. The latter offers you more because then you can air fry the skin at the end.
No more bags to use to keep in the moisture when cooking a turkey in the oven. Just pop it in for a 45 minute cook time with some broth and vegetables and you can walk away. It will come out perfect every time.
FIRST – You should sign up for my free newsletter so you get new posts emailed to you twice a week and never miss out on anything! Now let's start with a few basic tips:
Make sure to Bookmark our InstaPot recipes page. We add new ones each week!
Then PRINT this —–> Instant Pot cooking times cheat sheet that will help you understand how long meat, vegetables and beans take to cook in your pressure cooker.
For reference, this is the pressure cooker I have (a 6 quart) and use for all recipe creations.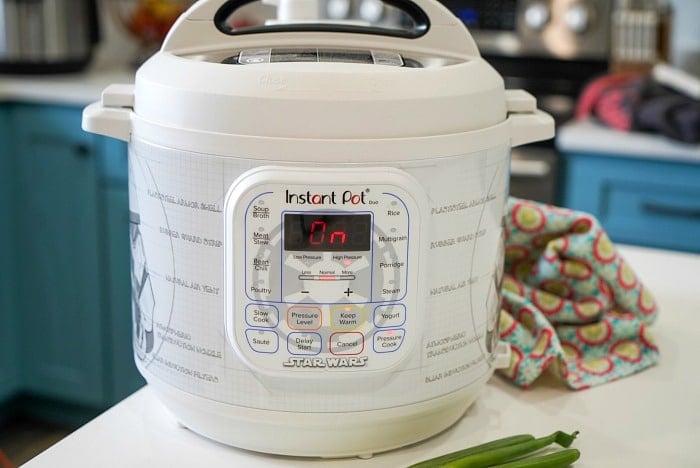 Instant Pot Turkey
If you follow my blog at all you know I am all about easy Instant Pot recipes, especially during the holidays when you have multiple dishes to cook. I started by cooking this Instant Pot ham and was amazed at how easy it was and just how juicy it came out!
Turkey in Pressure Cooker
This is probably going to blow your mind. I have other ways of cooking this same bird below to choose from in case you end up with a bunch of guests but for a smaller group like 4-5 of you this is great. You don't need a huge bird y'all unless you want a ton of leftovers.
What size turkey will fit in an Instant Pot?
An 8 lb. turkey fit in our 8 qt. pot. I wouldn't buy one larger than that.
You need the lid to shut and a bit of space in between the meat and the top too to cook properly.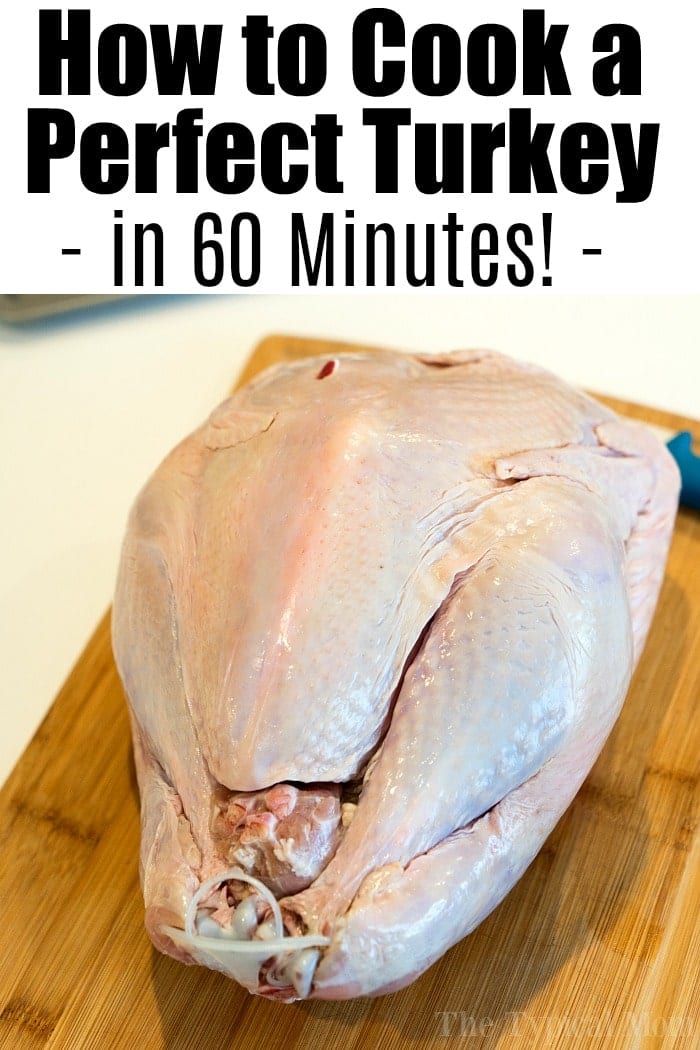 Whole Turkey in Instant Pot
Now why would you even bother doing this anyway?? I mean for years you made it in your oven so why should you consider doing it this way instead? This;
It frees up your oven during the holidays
Great idea for those living in small spaces or if you're celebrating Thanksgiving in an RV
Cooks much faster than in an oven
Allows you to cook turkey more often because it takes less than an hour
Pressure cooker turkey comes out moist without having to put it in a bag
Here is what the pot looks like before you lower your turkey inside your Instant Pot.
It's filled with cut up vegetables and vegetable broth. Of course you could use water instead but I use broth every chance I can because it has so much more flavor.
You also have the ability to add more or less depending on how large your turkey is.
If you're looking for how to cook a moist turkey breast recipe in your Instant Pot we'll share those instructions too.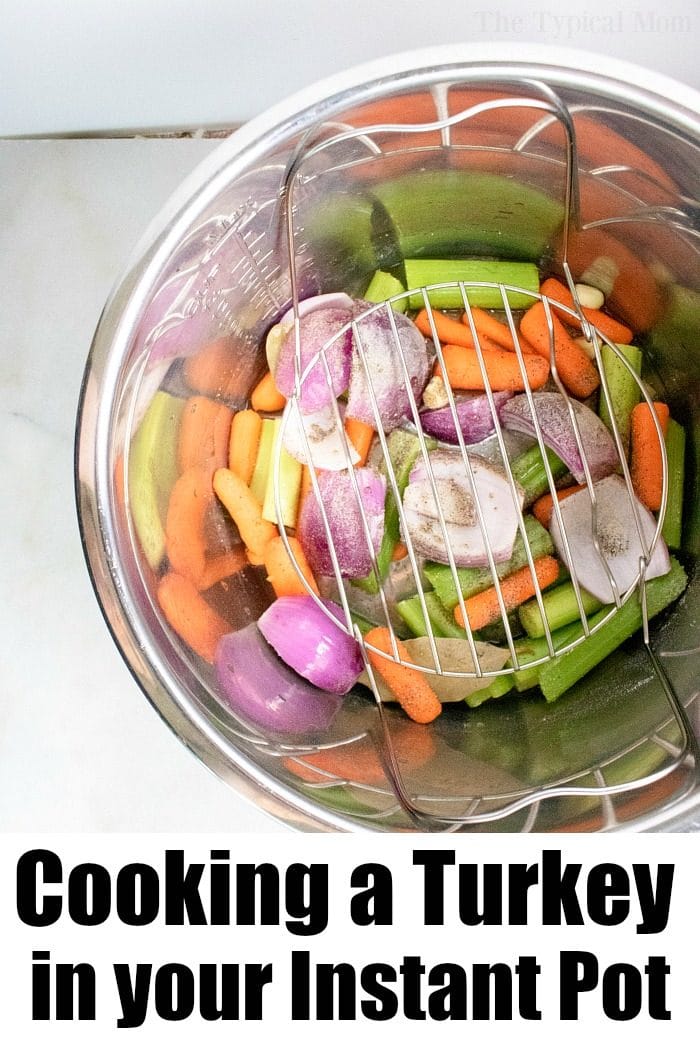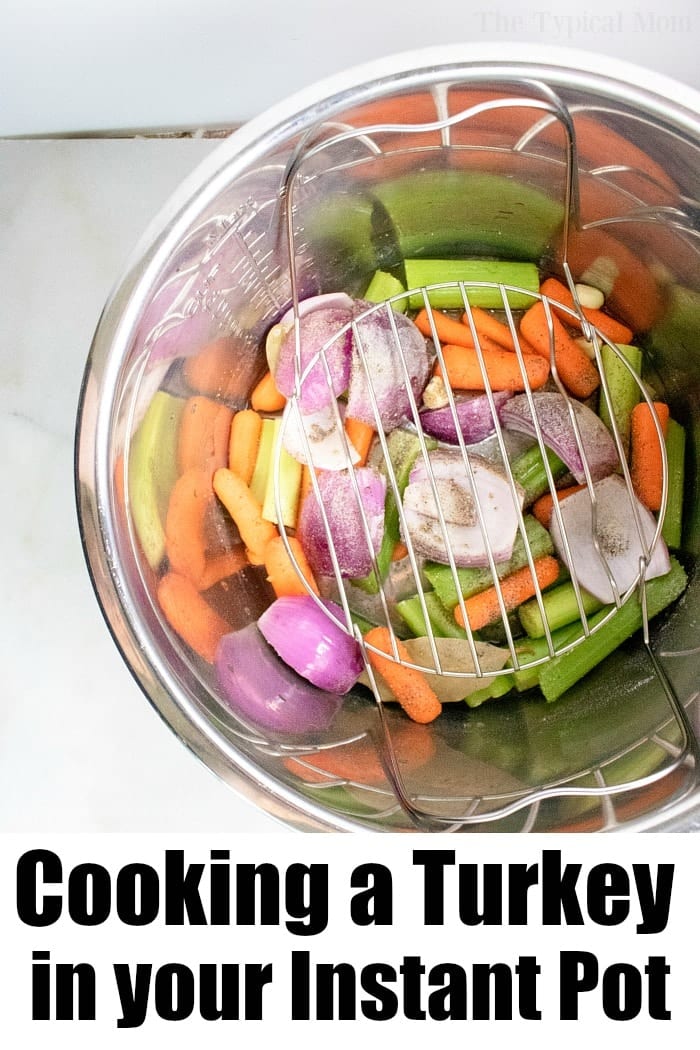 How to Cook a Turkey in an Instant Pot
Equipment you'll need to make a turkey in electric pressure cookers isn't a lot but you do want to keep the bird off of the bottom so you will need a little lift.
8 qt. Instant Pot- 6 qt. would work for just a pressure cooker turkey breast.

Some pressure cookers have 10 qt. sizes so you could fit a larger bird in that

Trivet – the one that comes with your Instant Pot works great, you can get a replacement online if you lost yours
Internal meat temperature chart and thermometer
If you want bold seasonings you can use this mixture we made for our smoked turkey recipe. You can also just use salt, pepper, and garlic. That part is totally up to you. If you crisp the skin after it's cooked you'll want to add a bit of additional seasonings before you do that so it really sticks.
Pressure Cooker Turkey
This is what you're going to want to get out to get started on this. Seasonings are of course up to you but the basics are here below.
Turkey – thawed, 8 pound turkeys will fit in an 8 qt. pot
Carrots
Onion
Celery
Really you can use any veggies you like. Just cut them quite large so they don't disintegrate during the longer cook time.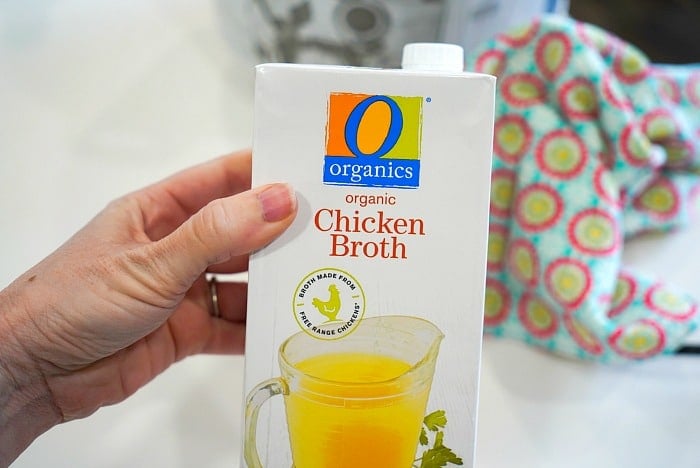 Spices – rub on outside skin, or leave turkey plain if desired.
Use our turkey dry rub recipe

Seasoned salt and black pepper
Garlic powder and/or salt
Thyme
Have slid slices of lemon under the skin too
Trivet – I like this one with handles is a game changer, so much easier to get everything out with pot holders.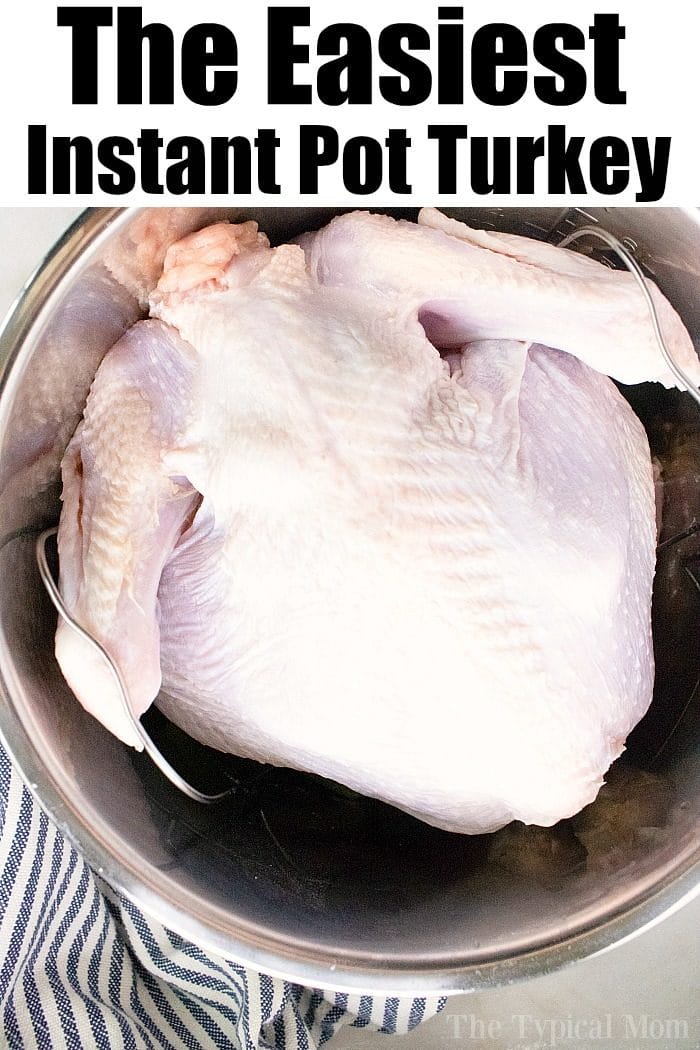 Instant Pot Turkey Recipe
I'm sure you've learned by now, but cooking in a pressure cooker makes everything so moist without a bag needed (yay).
This is the only way I make Instant Pot whole chicken now, it just turns out fall off the bone delicious in 1/3 of the time it would in the oven and is so tender.
I think everyone has their own gravy recipe handed down from years ago but in case you don't you can follow this turkey pressure cooker gravy recipe.
Remember that you can use the saute function to make your gravy instead of dirtying another pan and making it on the stove. That is up up to you.

Put it on saute using the drippings already inside your pot. Remove vegetables, and add other ingredients to make a thick sauce for your turkey gravy if you desire.
Pour some generously over your moist white meat and dark meat and enjoy a wonderful meal.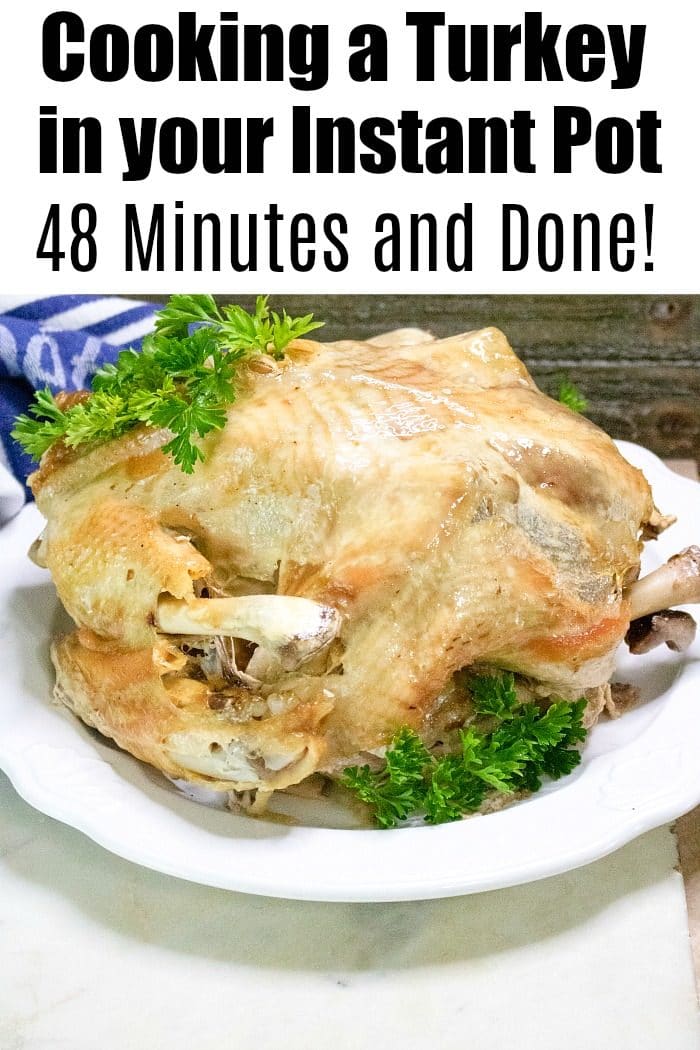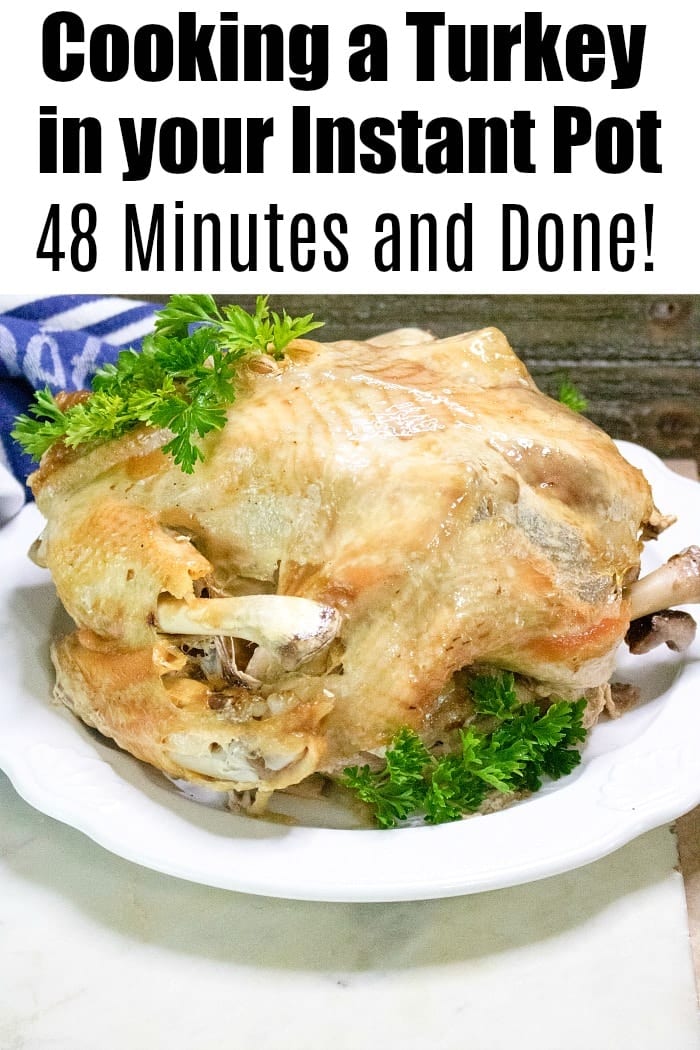 Whole Turkey Pressure Cooker
The general rule for cooking a turkey in your Instant Pot is to cook it for about 6 minutes per pound so this one was set for 48 minutes, 45 probably would've been fine too.
A key to keeping it moist is to allow a natural release for 10 minutes before letting out remaining pressure.Always allow it to sit for 25 minutes or so before carving to keep the moisture in as well.If you don't have a pressure cook this is how to roast a turkey with just salt and pepper in no time in the oven!
Set to high pressure with a cook time of just 30 minutes to 60 minutes (depending on size) it's a great way to cook holiday dinners.
More Instant Pot Thanksgiving Recipes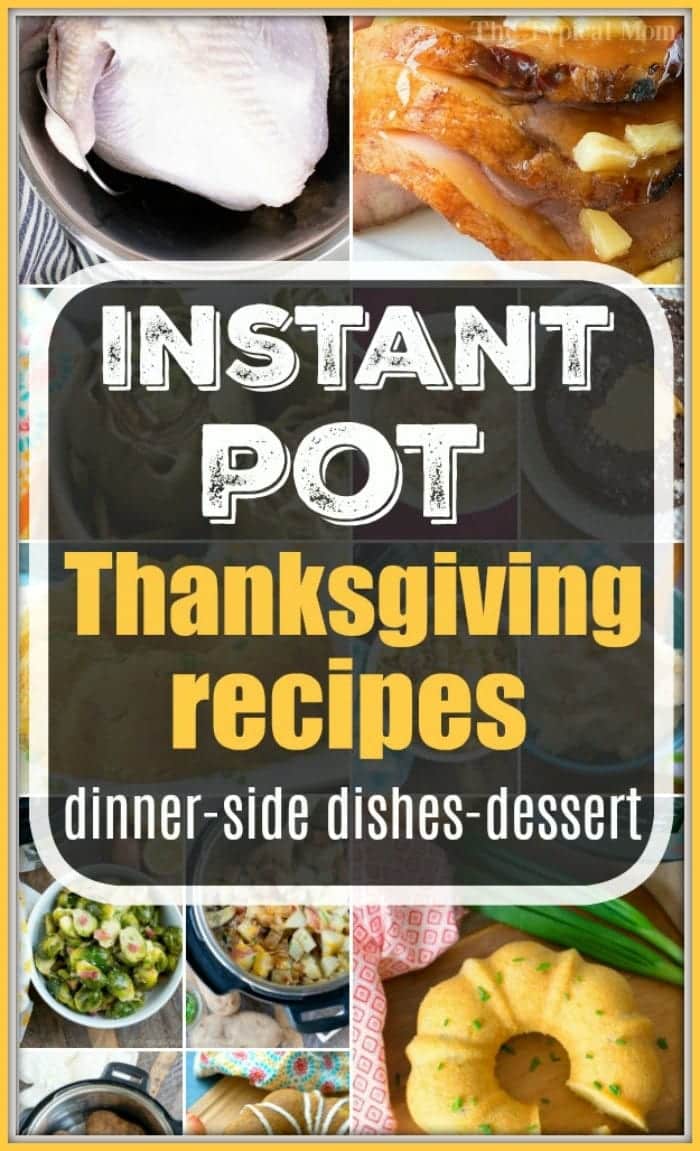 What are the most important steps to remember when making an Instant Pot turkey?
Natural pressure release at the end.
What does NPR mean for Instant Pot?
Just this, allowing steam to naturally release.

That means do NOT touch the steam valve for 10 minutes once timer beeps.
After that, then flip it so the rest bellows out to release remaining pressure

Allow meat to sit before carving.
If you are looking for an alternative way to cook a 1 hour turkey try our sheet pan turkey directions too! The skin gets REALLY crispy that way and you can really layer on the herbs and seasonings.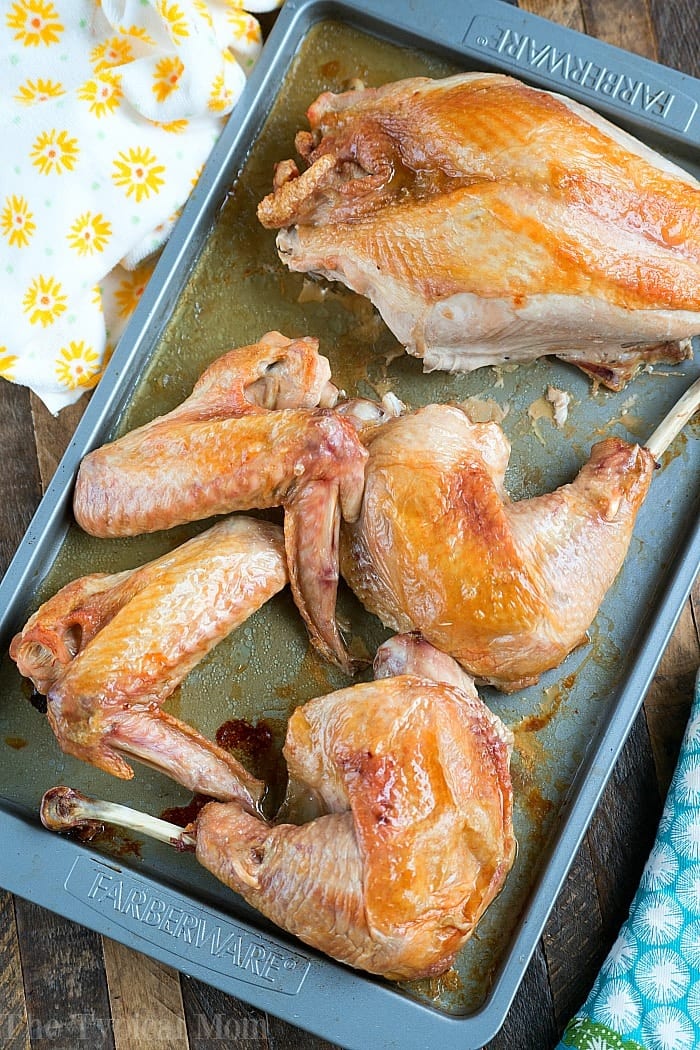 What do you serve with Thanksgiving dinner?
Here are a few easy Christmas brunch menu ideas too!
You don't have to use more Instant Pot recipes for side dishes, but I do. Use your oven if you wish, I just like cooking everything at the same time so it's all warm when dinnertime arrives.
Best sweet potato casserole can be made in your pressure cooker or Ninja Foodi too
Whatever you serve it with I guarantee this will turn out fall apart tender and delicious for everyone. You may never cook a turkey in your oven ever again!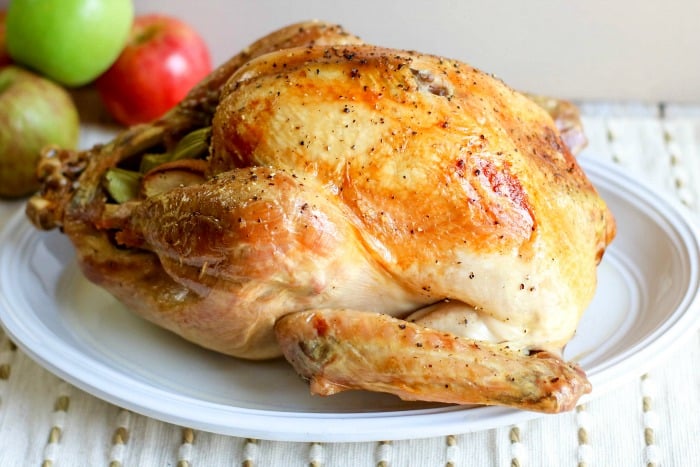 How do you get crispy turkey skin?
Let's start by saying that if you LOVE crisp turkey skin you may want to smoke it or roast it in the oven to begin with. You can get it crispier than when you pull it out of your pot, but it will be a bit different than oven roasted.
First things you'll need to do are:
Spray skin with olive oil, this will be necessary for crisping
Sprinkle seasonings over the top and all around to give it additional flavor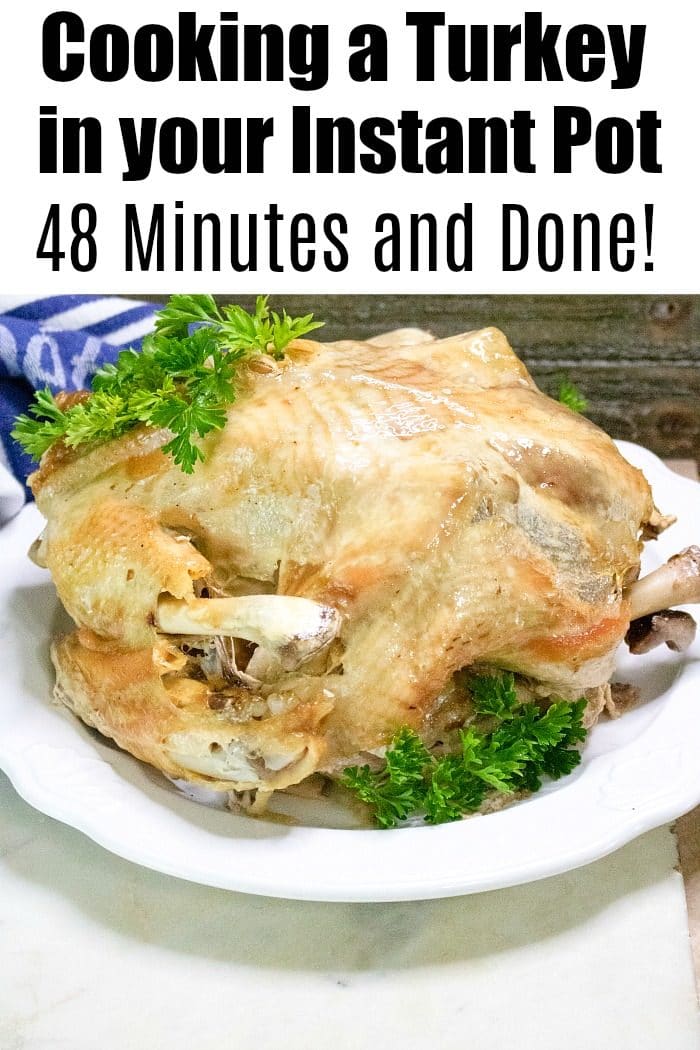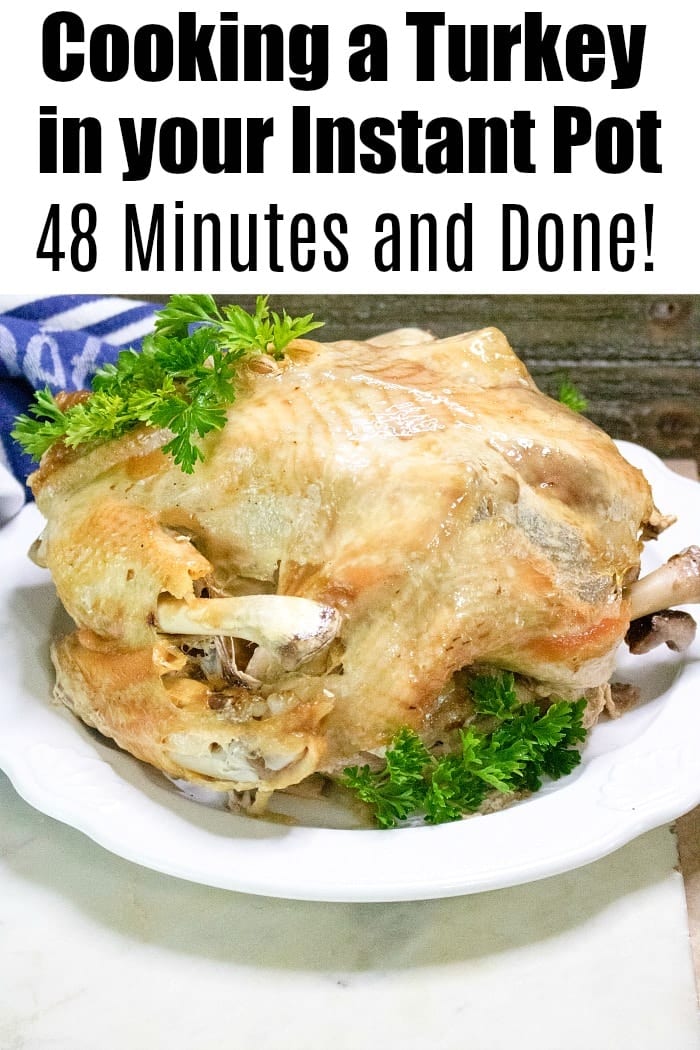 Here are your options:
You can crisp the skin at the end using the CrispLid for Instant Pot

Rotating the bird would be necessary for this
It is not going to brown it evenly because it needs to be facing neck up in order to fit

The best option is to transfer it to a large pan and throw it under your broiler
For a smaller option, you can follow our Instant Pot turkey tenderloin recipe too. Need to make an Instant Pot frozen turkey breast? We have instructions for that as well.
If you have a Ninja Foodi just set to air crisp at 400 degrees for a few minutes until it's browned as much as you like. OR make a pressure cooker turkey breast.
Want to see a few of my favorite things that I am totally obsessed with?? Take a peek and see how many you might already have…twinsies!
Looking for more easy family recipes and tips? LIKE The Typical Mom Facebook page?
Then sign up for my free newsletter, and follow me on Pinterest! 😉
***** If you LOVED this recipe give it 5 Stars below and let everyone know what you thought about it. 😉
Pressure Cooker Turkey
Have you tried a pressure cooker turkey yet in your Instant Pot? It's easier than you think and frees up your oven on Thanksgiving Day! Take a look.
Ingredients
Instructions
Add your vegetable broth (could use water), celery, carrots, onion and garlic cloves into your pressure cooker pot.

Put a trivet on top of your vegetables and broth so it is flat.

Rinse your turkey and remove all items from inside cavity.

Rub any spices you'd like on the outside skin of your whole turkey if you desire, or leave plain.

Set turkey on your trivet with neck facing up as shown in top photo of post.

Close your lid and steam valve and set on high pressure for 6 minutes per pound so at 8 pounds (pretty close to as large as an 8 quart could really handle) you'll set it for 48 minutes (think 45 minutes is better, comes out a bit more moist).

Do a natural release for 10 minutes, then release rest of pressure.

Serve or if you'd like the skin to crisp up a bit put your pressure cooker turkey on a baking sheet. Spray top with olive oil, sprinkle with seasonings and put under your broiler for about 4 minutes until skin crisps to your liking.
Nutrition Facts
Pressure Cooker Turkey
Amount Per Serving (3 oz)
Calories 316
Calories from Fat 108
% Daily Value*
Fat 12g18%
Cholesterol 154mg51%
Sodium 337mg15%
Potassium 573mg16%
Carbohydrates 3g1%
Protein 46g92%
Vitamin A 2755IU55%
Vitamin C 2.2mg3%
Calcium 37mg4%
Iron 1.9mg11%
* Percent Daily Values are based on a 2000 calorie diet.