This Instant Pot cranberry sauce is a show stopper! The best cranberry sauce I've ever made in just 1 minute using only 4 ingredients. A Christmas and Thanksgiving side dish must have! Use your Ninja Foodi or Crockpot Express pressure cooker too.
Are you ready for the holidays??!! We are! Bring on the good stuff like this easy Instant Pot cranberry sauce made with just 4 ingredients. Cranberries aren't just for Thanksgiving and Christmas time but that's what they're known for. On our long list of easy Instant Pot recipes so you can make it too. (originally published 10/18, affiliate links present)
Ninja Foodi Cranberry Sauce
Takes just a few minutes to cook from start to finish and is SO Much better than canned at the store. I wasn't a huge fan of this at all until I made it myself and WOW is it my favorite side dish now.
You can make this in a Crockpot Express or Ninja foodi too. You are just using the high pressure cooker function which all of these have. Stay close though because it cooks really fast.
FIRST – You should sign up for my free newsletter so you get new posts emailed to you twice a week and never miss out on anything! Now let's start with a few basic tips:
Make sure to Bookmark our InstaPot recipes page. We add new ones each week!
Then PRINT this —–> Instant Pot cooking times cheat sheet that will help you understand how long meat, vegetables and beans take to cook in your pressure cooker.
For reference, this is the pressure cooker I have (a 6 quart) and use for all recipe creations.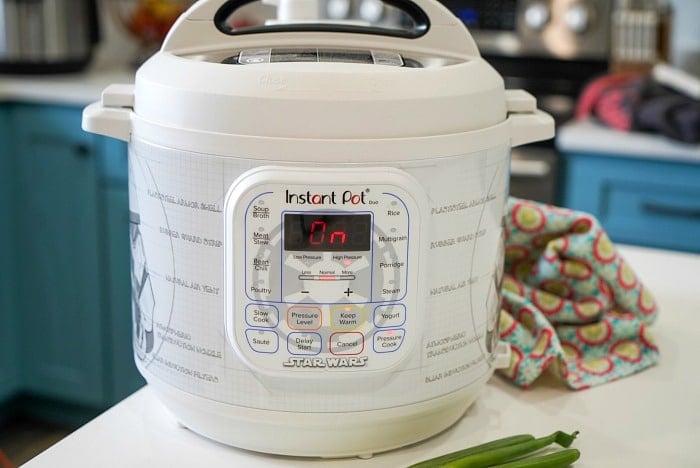 How to Make Cranberry Sauce
Seriously this is easier than you might have ever thought if this is totally new to you. We will walk you thru the whole thing, don't worry.
If you had ever made homemade cranberry sauce on the stove top that is simple too. I hadn't until a few years ago and it was a game changer!!
It was time to figure it out in our pressure cooker this year though.
You can find them fresh at the grocery store and they're really cheap.
Super cheap and kinda' passed by for years by many, they can really taste great if you know how to make them. A bit intimidating at first I thought I'd give it a whirl when I got my multi cooker for Christmas.
There are so many tweaks you can make to it too depending on what you like. A cinnamon stick is a given but our cranberry sauce recipe with orange juice has always been a hit as well.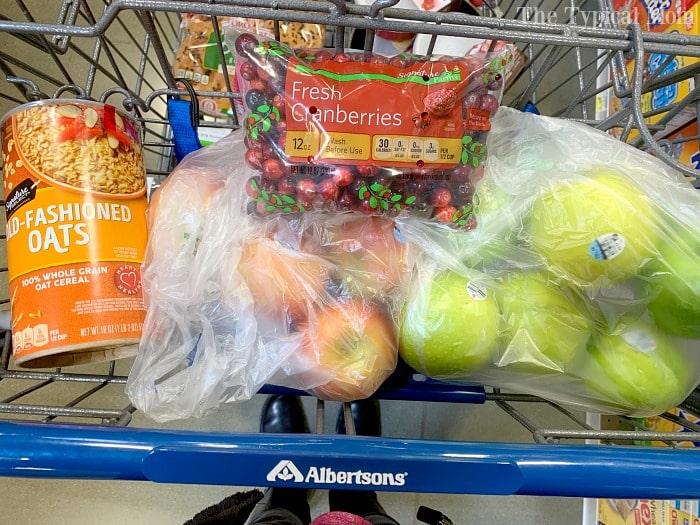 Pressure Cooker Cranberry Sauce
I always thought that red blob in the middle of the table that came out of a can was just ehhhhh, until I made it myself. OH MY Goodness cooking cranberries fresh was a difference from canned! From scratch you can now tweak to be sweeter or more tart to your liking and it is beyond fresh!
Ok so there are a lot of recipes out there and you may have one of your own you love but you just want to make it in your pressure cooker this year.
Then all you need is the instructions on timing. That is totally fine, take a peek at that below and have at it!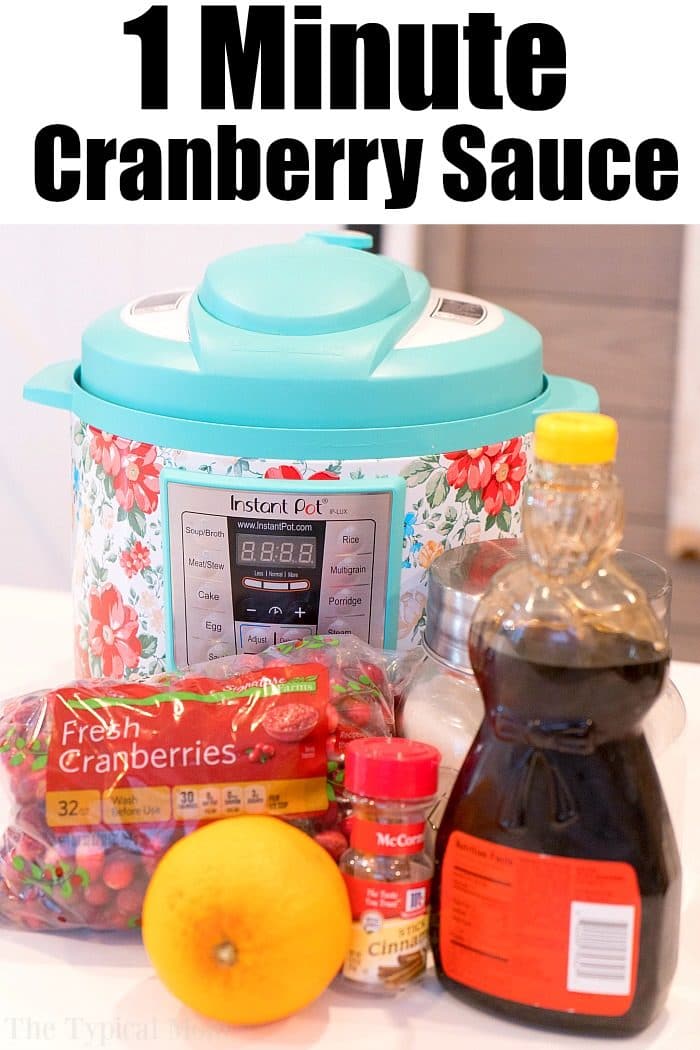 Instant Pot Cranberry Sauce
If you have never made this on your own and looking for the best cranberry sauce recipe to use, then try mine! I have made mine several different ways, adding a variety of things such as:
Using spiced apple cider
Adding fresh squeezed orange juice and/or orange zest
Including a fresh cinnamon stick
Eliminating cinnamon all together
My favorite combination is using spiced apple cider vs. 1/2 cup water for added flavor as the liquid. I put a whole cinnamon stick in when I pressure cook this too.
It doesn't give it an intense cinnamon flavor, don't worry about that, but it does give it a hint and I think that is nice.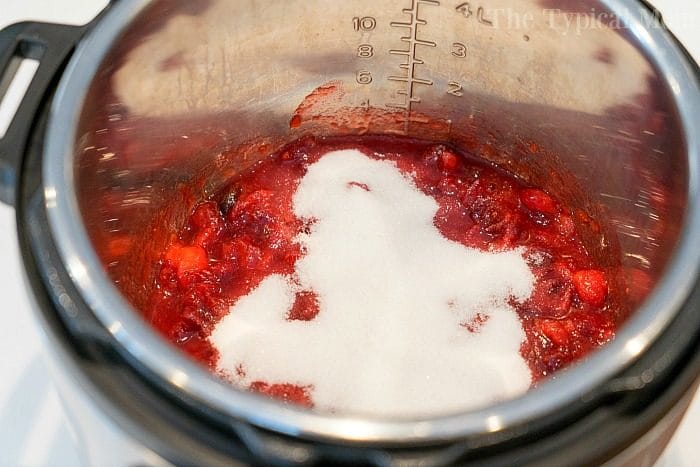 How much sugar do you add to homemade cranberry sauce?
I preferred the apple cider to orange juice just because it makes it a bit sweeter and again it includes more of that Fall flavors I love, but I give you those swaps in case you want to try it a few different ways or you LOVE orange then go for fresh squeezed juice for goodness sake. 😉
It depends on how tart you want it

Tart cranberry sauce = 24 oz. cranberries add 1/2 to 3/4 c. sugar
Sweet but still has a hint of tartness (my fave) = 24 oz. cranberries add 1 cup sugar

you can always add more sugar depending on your preferences
I would suggest adding 1/2 cup right when you press saute, stir, allow it to dissolve and then taste it.
If you want it sweeter add 1/4 cup at a time allowing it to dissolve in between to see how much you want up to 1 cup. I wouldn't add more than that.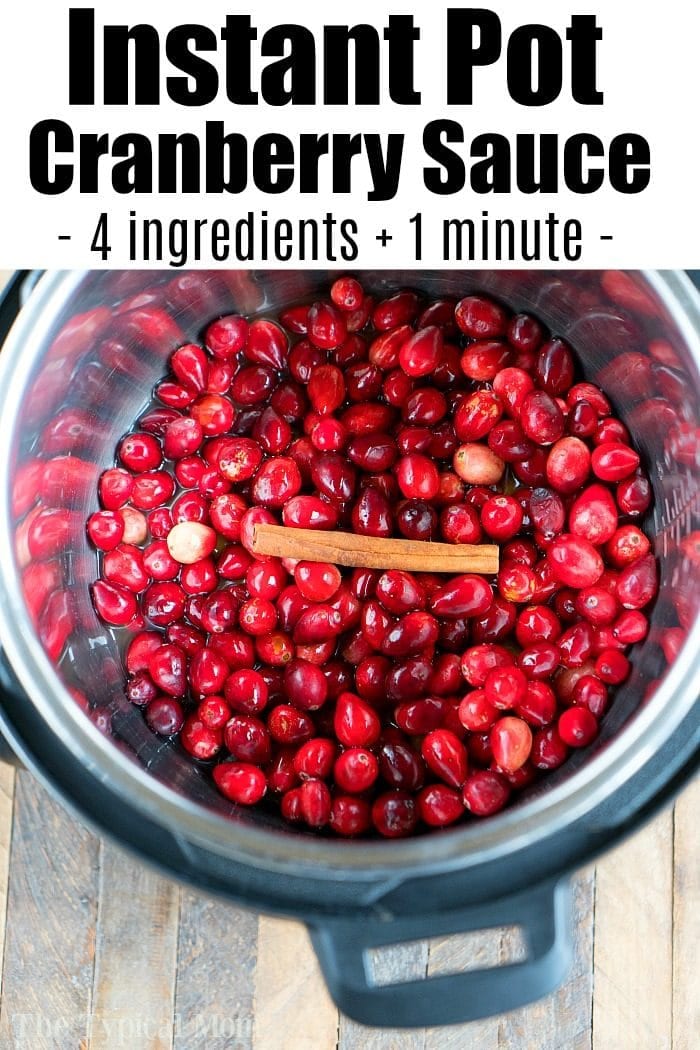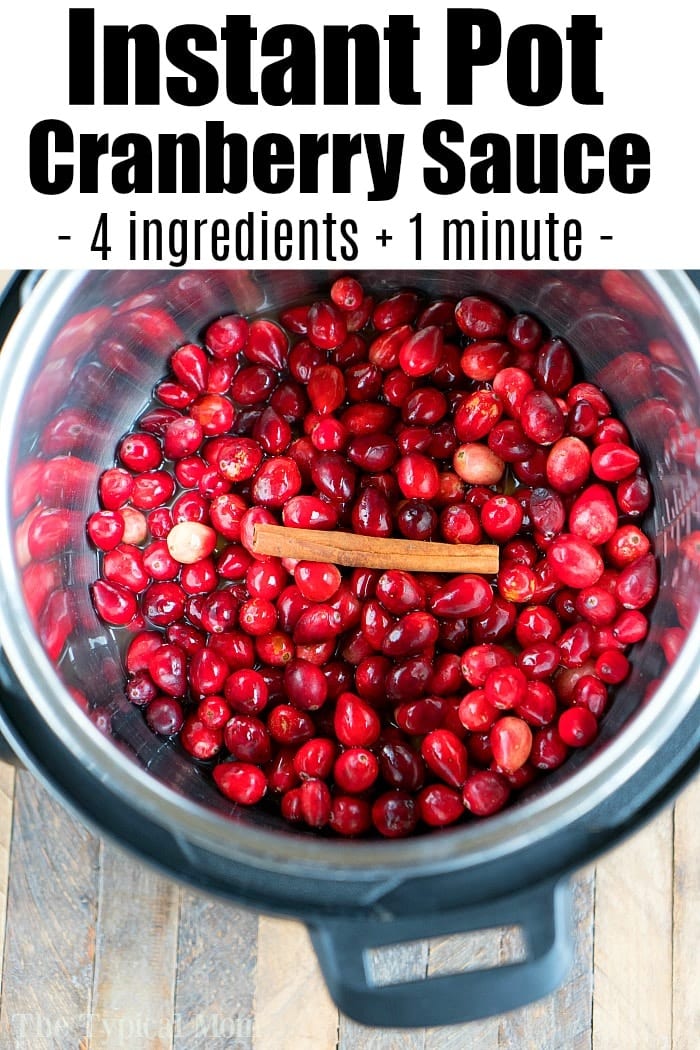 Cranberry Sauce Instant Pot
This will change once you add the last 4 ounces at the very end. This will give it more texture when it is done and there's some whole(ish) cranberries in the mix. It looks better that way and provides an array of consistencies.
The whole cranberries will begin to POP when your cranberry sauce starts bubbling on the saute step which is kinda' fun.
You will see the skins crack open. I allow 4-5 or so of them to pop open and then it is my sign to turn my pressure cooker off.
It will continue to bubble and cook a bit once it is completely turned off, and more will pop during that time too.
I don't want my Instant Pot cranberry sauce to be complete soup so it is important if you want some whole cranberries and some cooked down to not leave it on the saute much longer than directed once it begins bubbling.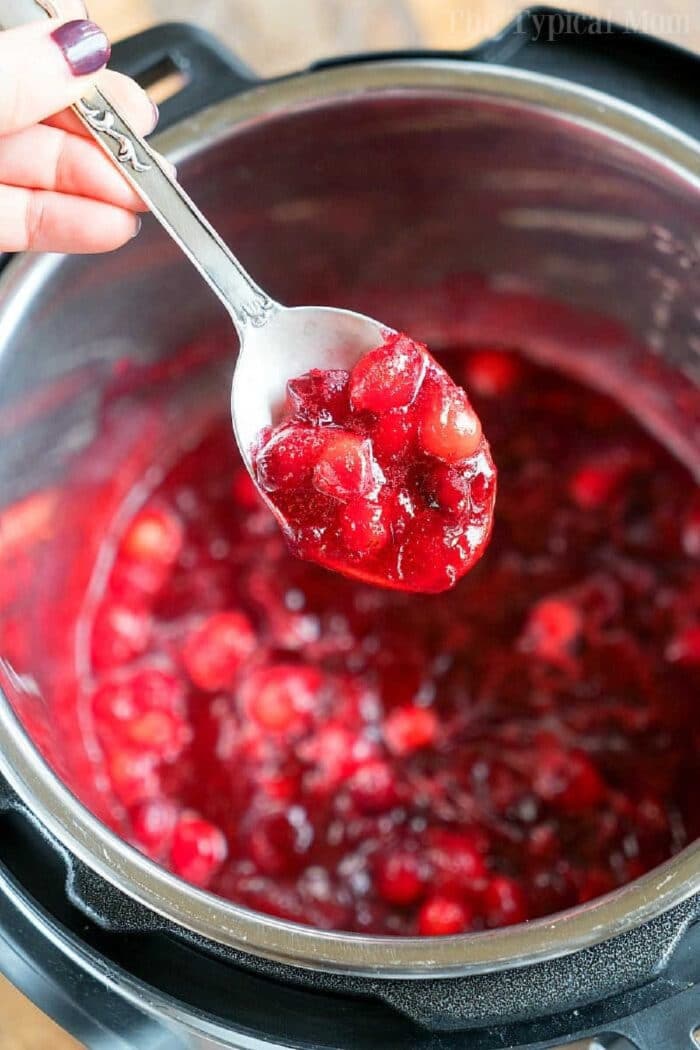 Homemade Cranberry Sauce
This is what it should look like when it is done……and it will continue to thicken as it cools down too a lot! all you need to make this is below;
Bag of fresh cranberries – found in the produce section, they usually have them at the end of October
Spiced apple cider – or you can use fresh squeezed orange juice if you'd rather
Maple syrup
Sugar
Adding a Cinnamon stick is a great addition too. Just remember to take it out after that minute which is plenty of time to emit the Fall flavors into the dish that you love.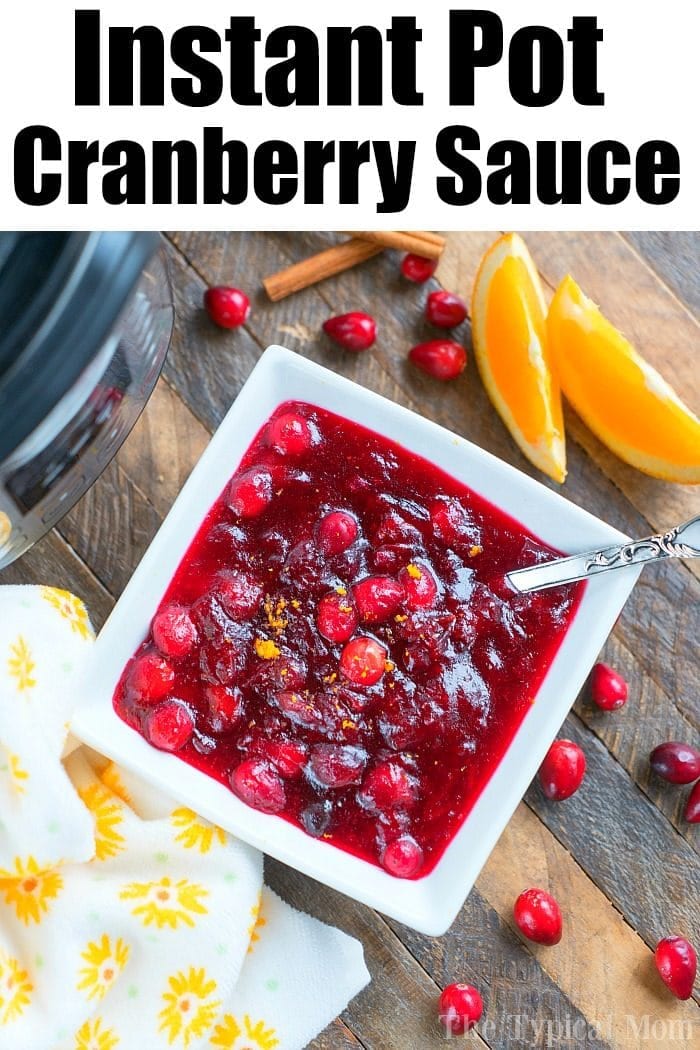 Looking for other Instant Pot cranberry recipes for Thanksgiving, or side dishes for your gathering?
We have a bunch of other great Instant Pot Thanksgiving recipes here and Instant Pot side dishes too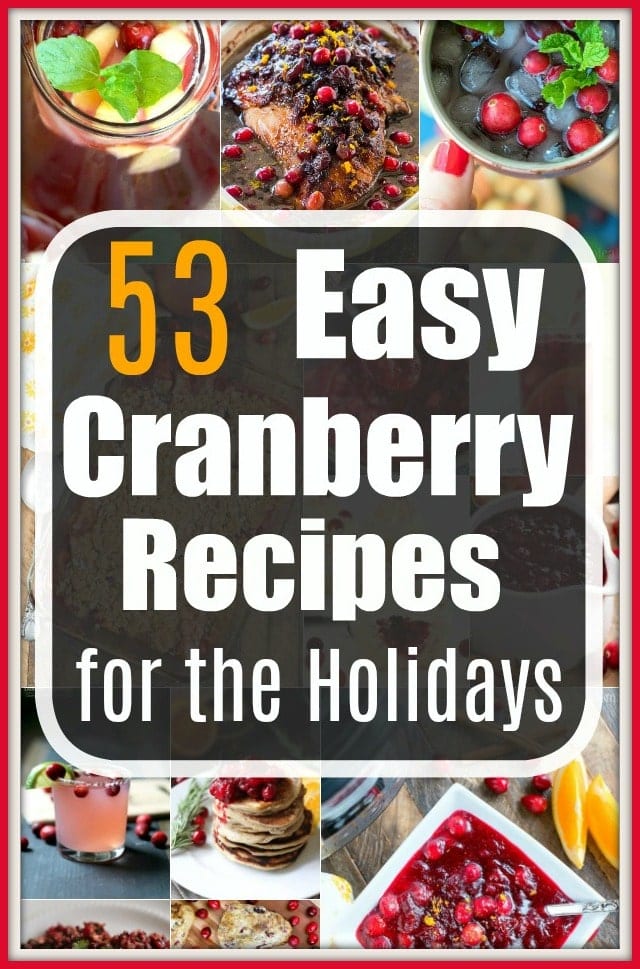 Can you use frozen cranberries to make cranberry sauce
I haven't done that, and fresh is always better. If that is all you can find it would still be way better than canned so go with that.
Tips for getting the best results:
Do not cook longer than 1 minute on high pressure, or it will be mush
Allow to naturally release the steam for 3 full minutes
Add some whole cranberries at the end to bring some texture to the dish
Remember that once it cools completely it will be much thicker than when it's hot
Then if you do have some left here's a great leftover cranberry sauce recipe we call cranberry apple cobbler you'll have to try!
So get to cooking your smoked turkey or Instant Pot turkey breast and enjoy your spread! Here is a video below in the recipe card showing you how we made it and the printable recipe for you as well: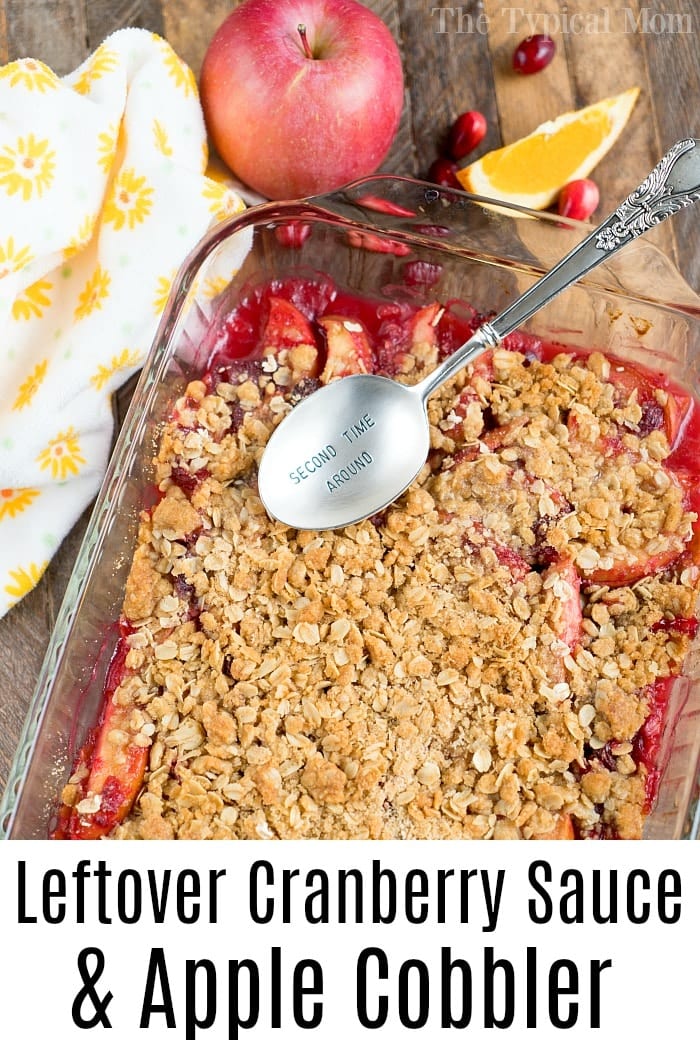 Want to see a few of my favorite things that I am totally obsessed with?? Take a peek and see how many you might already have…twinsies!
Looking for more easy family recipes and tips? LIKE The Typical Mom Facebook page?
Then sign up for my free newsletter, and follow me on Pinterest! 😉
***** If you LOVED this recipe give it 5 Stars below and let everyone know what you thought about it. 😉
Instant Pot Cranberry Sauce
This Instant Pot cranberry sauce is a show stopper! The best cranberry sauce I've ever made in just 1 minute using only 4 ingredients. A Thanksgiving must!
Instructions
Add your spiced apple cider and 20 oz. of your fresh cranberries into your pot.

Drizzle your maple syrup on top and put your cinnamon stick in the middle.

Close your lid and steam valve and set to high pressure for 1 minute.

Allow to naturally release for 3 minutes.

Release rest of steam and lift lid making sure water/steam on inside of lid doesn't dump into mixture.

Turn pot off and then set to saute, normal.

Sprinkle in your last 4 oz. of fresh cranberries and cup of sugar, stir.

Allow to bubble for about 1-2 minutes, stirring intermittently, until a few of the fresh cranberries begin to pop (you will literally hear them start popping open).

When you hear 3-4 pop open turn your Instant Pot off and allow it to continue to bubble and thicken your cranberry sauce as it cools down and sits.

Serve immediately or let it sit and thicken more before serving.

Makes a total of about 2 cups, so if you want to double it for a larger crowd feel free.
Nutrition Facts
Instant Pot Cranberry Sauce
Amount Per Serving (1 oz)
Calories 157
% Daily Value*
Sodium 3mg0%
Potassium 98mg3%
Carbohydrates 40g13%
Vitamin A 50IU1%
Vitamin C 11.5mg14%
Calcium 17mg2%
Iron 0.3mg2%
* Percent Daily Values are based on a 2000 calorie diet.