Cranberry Sauce Recipe with Orange Juice is so easy to make as a Thanksgiving or Christmas side dish. Sweet and tart at the same time.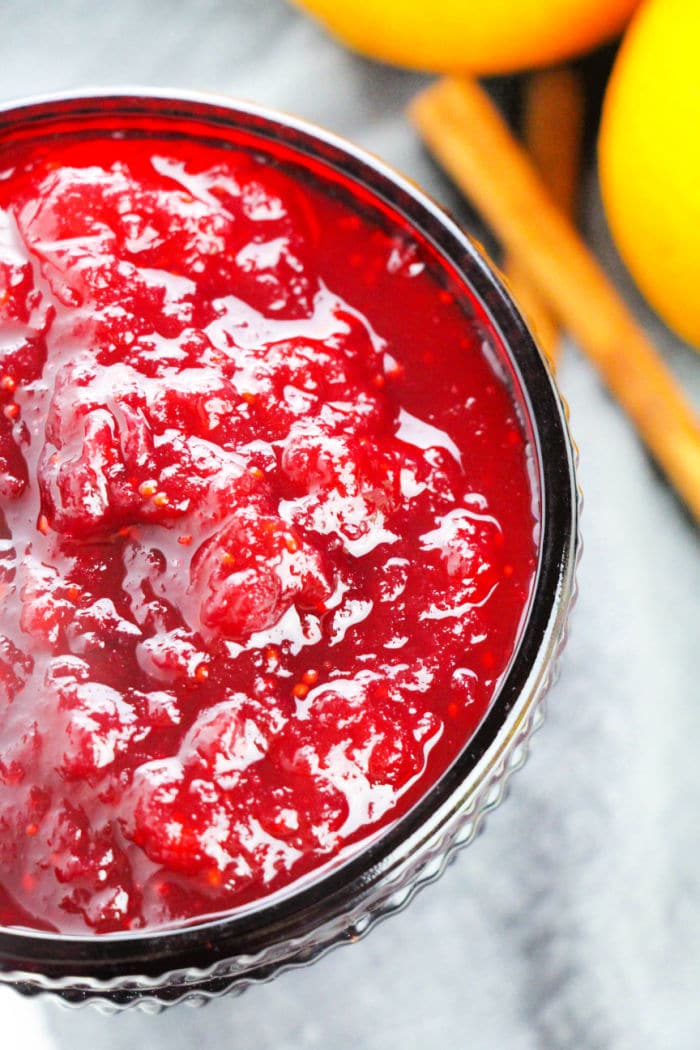 There are a few things that MUST be homemade during the holidays. Homemade cranberry sauce with orange is one of them. You'll never eat or serve canned again after making this. One of many easy side dishes here on our site. (affiliate links present)
Cranberry Sauce Recipe with Orange
Why would you add another flavor to this classic turkey side dish? Well, because they compliment each other quite well but you could make two batches. It's so simple to make that there could easily be a plain and amped up version like this one served as a Christmas brunch item.
A few years ago I made and shared how to make Instant Pot cranberry sauce. That literally takes 1 minute. If you have that machine I would suggest trying the timing for that with these ingredients.
Come late October you will start seeing bags of fresh berries like these in the produce section. They are really cheap and last quite a while.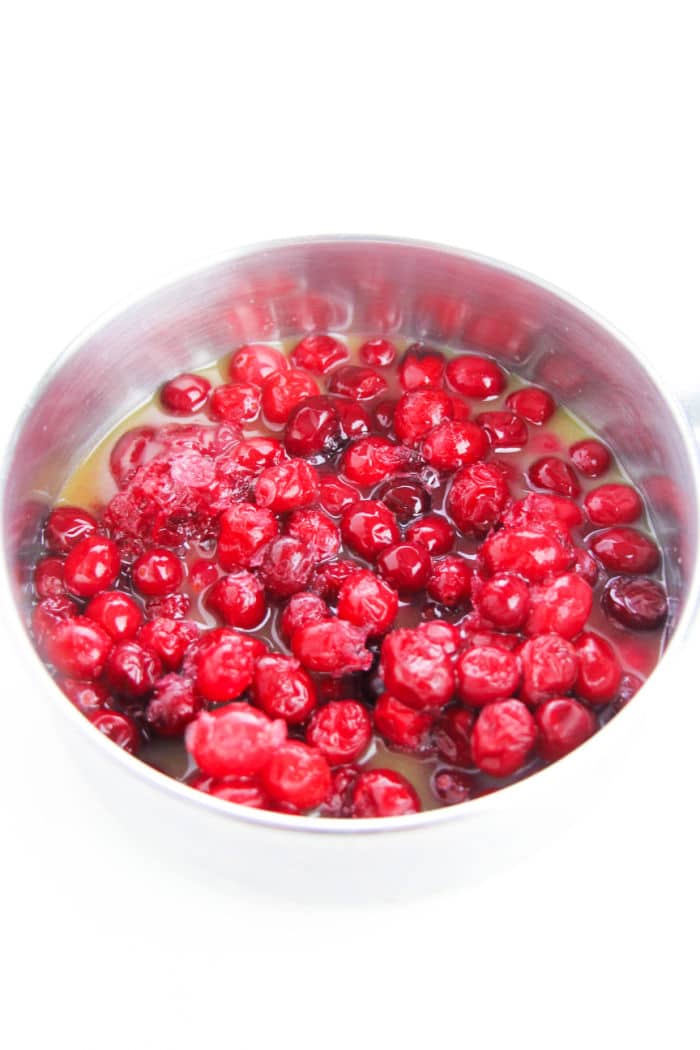 How long do fresh cranberries last in the fridge?
Put them in with your lettuce with the bag sealed and they'll stay great for a good 3-4 weeks! That means if you see them you should grab a bag, you don't know if they'll run out nowadays. You only need a few other ingredients to make them into a delicious sauce.
Should cranberry sauce be hot or cold?
That depends whom you're asking. Personal preference. If you serve it straight out of the can it is almost always served cold. Making homemade cranberry sauce is hot but could easily be cooled down if you would rather have it that way. I think it is pretty great either way but cooling it does help it to make it more thick.
I mean you could have two bowls so everyone at the Thanksgiving dinner table could choose for themselves. Best way if you ask me because if I make turkey I like warm but with roasted duck I prefer cold. It is cheap enough where you could easily make two batches fast.
Perfect Cranberry Sauce
3 cups fresh cranberries
Cup of orange juice and orange zest is nice on the top when serving your holiday meal
1 c. sugar
Cinnamon stick is a nice add in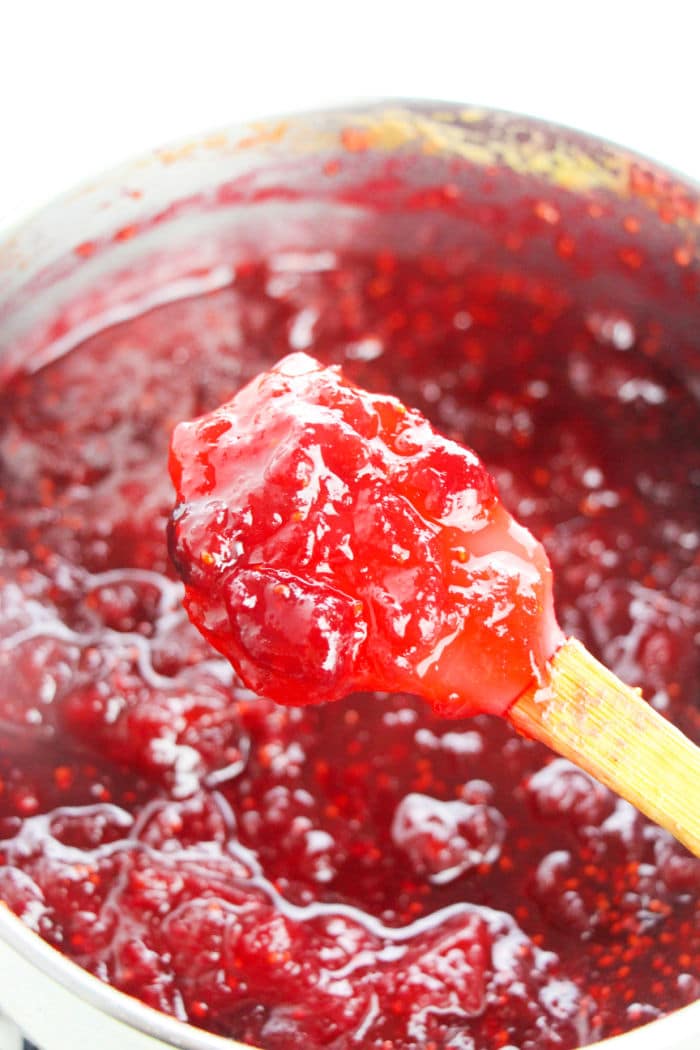 When it comes to the orange juice, you could tone down the potency. Just substitute 1/2 water and half juice so the flavor isn't as strong. You will need 1 cup of liquid though so keep that in mind. For another option you could use apple cider for a different flavor entirely of course. That is fantastic as well.
Cranberry Sauce with Orange Juice
This is how you make it real quick on the stovetop in a saucepan. It is fine to make ahead of time and juice put a lid on it. It will cool down a bit as your sweet potatoes and main dish cooks but that is ok, you don't want it scalding. Figure each person will take 1/4 cup so you could double if necessary.
Bring to a boil your cranberries, sugar, juice and cinnamon into a medium sized saucepan over medium heat and stir. Heat over medium heat until it comes to a boil.
Reduce and simmer for about 15 minutes or until cranberries burst (yes you will hear the sound). Stir occasionally your mixture doesn't burn.
Remove from heat when berries are as broken down as you'd like them to be. I like to leave some in tact for texture but you could use a hand mixer to make it really smooth.
Remove cinnamon stick and allow to cool. Remember that your sauce with thicken as it cools and reaches room temperature so you really don't need any sort of thickener in my opinion.
How do you make cranberry sauce thicker?
Like I said, I don't think it needs anything once it is cooled. Then it will have the consistency of the canned whole berry jellied type (a little looser but not much). If you have leftovers the next day it will become even thicker after sitting in the fridge overnight.
If you really don't believe me or want it to happen faster then whisk together 1 tsp of cornstarch with some cool water and dump that in while it's still bubbling. Stir and about 2 minutes later it will quickly be much firmer in consistency.
After your get together if you do have some left, make our leftover cranberry sauce recipe you see here. A type of apple crunch with what was left from the day before it came out great. It's a great way to make any sort of apple crisp a bit more punch and flavor.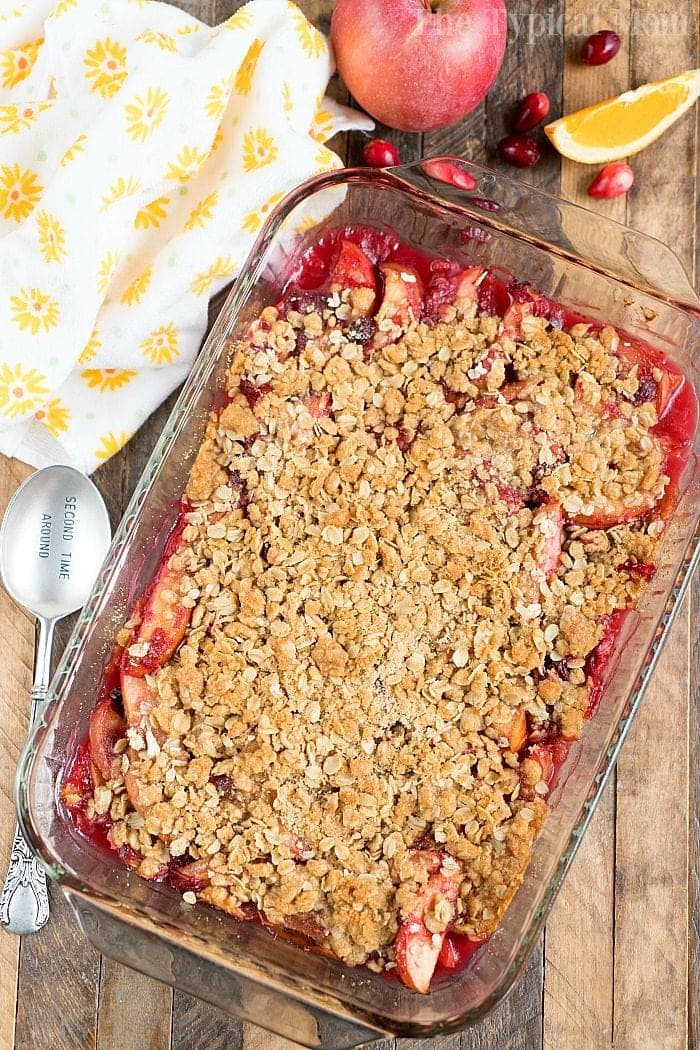 You could easily double the recipe and/or decrease the sugar if you wanted to get the perfect balance for you. After you are done with it for that day don't throw it out!! You can heat it up or eat cold with your leftovers for sure, or transform it into another dessert entirely the next week like this one above.
Cranberry Orange Sauce
Make sure that you do refrigerate what is left so you can make this or serve it alongside turkey slices the next day. Store in a freezer bag or plastic container once it is cooled so it stays moist and ready to reheat and enjoy again. If you love this year round you could even freeze servings the same way.
Allow to thaw fresh cranberry sauce in fridge before serving.
Want to see a few of my favorite things that I am totally obsessed with?? Take a peek and see how many you might already have…twinsies!
Looking for more easy family recipes and tips? LIKE The Typical Mom Facebook page?
Then sign up for my free newsletter, and follow me on Pinterest! 😉
***** If you LOVED this recipe give it 5 Stars below and let everyone know what you thought about it. 😉
Homemade Cranberry Sauce with Orange
Homemade cranberry sauce with orange juice is so easy to make as a Thanksgiving or Christmas side dish. Sweet and tart at the same time.
Ingredients
3

c

cranberries

fresh, whole

1

c

sugar

1

c

orange juice
Instructions
Put all ingredients into a saucepan and stir. Heat over medium heat until it comes to a boil.

Reduce heat and simmer for about 15 minutes until cranberries begin to pop open. Stir occasionally so it doesn't burn.

Remove from heat when berries are as broken down as you'd like them to be. Allow to cool. Sauce with thicken as it cools and sits.
Nutrition Facts
Homemade Cranberry Sauce with Orange
Amount Per Serving (1 oz)
Calories 103
Calories from Fat 9
% Daily Value*
Fat 1g2%
Sodium 1mg0%
Potassium 77mg2%
Carbohydrates 27g9%
Protein 1g2%
Vitamin A 69IU1%
Vitamin C 16mg19%
Calcium 9mg1%
Iron 1mg6%
* Percent Daily Values are based on a 2000 calorie diet.