Cast iron apple crisp is to die for! Tender cinnamon baked apples bubbling in your oven with a oat crumble on top makes the best breakfast or dessert!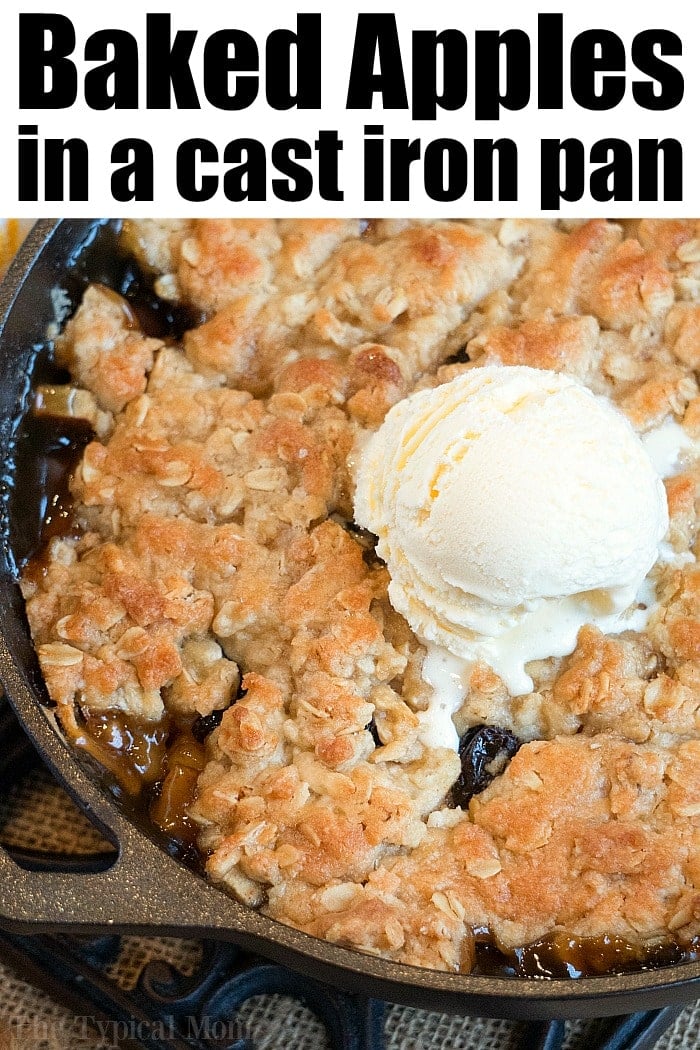 Have you ever baked in a cast iron pan before? If you love this method of cooking you're going to fall in love with our cast iron apple crisp recipe! It's probably our favorite dessert recipe ever. (originally published 6/20, affiliate links present)
Skillet Apples
I don't know about you but I love using this pan for all the things. If I am cooking on the stovetop whether sweet or a savory dish it creates an even cook and can be served as is with a trivet below. A rustic way but popular nowadays when you're having a get together. Plop a scoop of vanilla ice cream on top for extra wow and yum.
I have made this many different ways. Our baked apples with brown sugar are similar but made in the oven. The same takes just one minute in a pressure cooker, scary but true. You can follow our Instant Pot apple crisp recipe for that version.
What can I make with a bunch of apples
This is the cast iron wok we used for this go around and worked so well. I LOVE this thing!! If you just went apple picking or just want a great fresh apple recipe, this is it! Of course there are other methods that soften this popular fruit, some are listed below
Homemade apple sauce is so much better than what you find in the jar. You can make applesauce spice cake with it too when done.
This smoked pork recipe is great with slices on top of it
Apple butter is amazing and easier to make than you might think.
You can dehydrate apples in a machine or oven
Classic apple pie is a given
Apple monkey bread is such a great brunch or breakfast item
Pumpkin apple bread is amazing
Apple stuffing for Thanksgiving dinner is always a great one, or make caramel apples, unless you have lots of crowns like me. Nowadays that is a no go.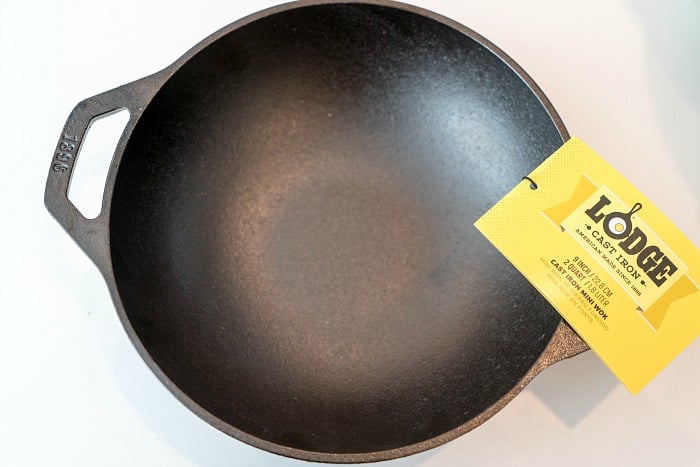 Cast iron apple crisp no oats
You can certainly skip the topping with oats entirely. As is without it you will still have a wonderful treat that is similar to a copycat Cracker Barrel baked apple dish.
This is the 9″ cast iron wok baking dish is what we used

timing below appropriate for that size

Medium bowl
Apples – I like a mix of Fuji and Granny Smith apples
Brown sugar
Old Fashioned oats
Flour

remember how to measure flour properly
use this as a gluten free alternative

Melted butter
Sugar
Cinnamon, nutmeg and salt is optional
Apple cider or water
Optional add ins and ons
Raisins
Chopped nuts
Ice cream
Whipped cream
Caramel sauce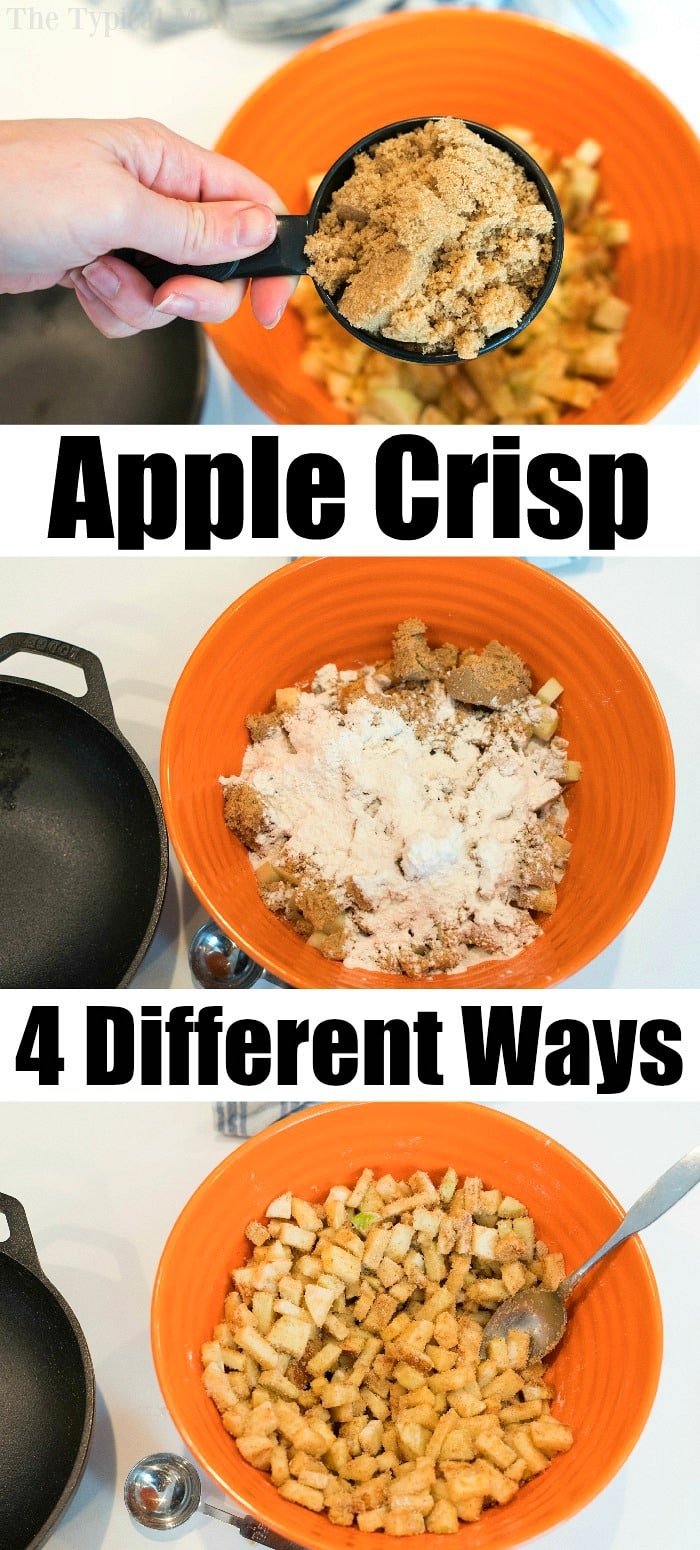 Skillet Apple Crisp for Two
As you can see, this is an easy apple crisp with oats recipe. If you're in need of a gluten free version you can omit this entirely and use the flour alternative above. Only want enough for two, you could cut this in half and use the same pan or a bit smaller.
Core, peel and dice apples on a cutting board.
The smaller they are the softer they will become. 1″x1″ to be is perfect, you don't want them to become applesauce – mush.
Inside one bowl I combine my diced peeled and cored apples with the flour, brown sugar, cinnamon and salt is optional. I don't tend to add that to many desserts but it is preference I guess.
Once these are tossed and nicely coated with the ingredients listed below in the recipe card, I pour them into my cast iron wok.
If you have a large cast iron skillet that would work too.
Prepare crumble in a separate smaller bowl I make my crumble topping.
You can melt the butter in the microwave until soft, or use room temperature butter with a pastry cutter to combine.
Lay crisp ingredients on top of your skillet apple crisp. Cover with foil and put into a preheated oven at 400 for 40-45 minutes.
If you want the top to become golden brown then remove foil and bake for another 5-10 min. Scoop into bowls and serve with ice cream too on top if you want.
Fried Apple Slices
Like I stated above, if you're using a traditional cast iron skillet instead of a wok the timing may be closer to 30 minutes. This is because the pan is shallower and the apples will become tender faster. You can slice instead of dice but that would further increase the timing to get them tender.
Can a cast iron skillet be put in the oven?
Yes!! To get the best results preheat the pan over the flame so it has time to absorb the heat.
As an added bonus the cast iron is oven-safe, so you can take it from the stovetop directly into the oven.
Can I cut apples ahead of time?
I do not, that is my personal preference. This is good if you need to do some party prepping ahead of time though.
Slicing apples isn't hard, but it can be time consuming if you have a lot to do. I have tips below on how to prevent them from turning brown.
Preparing this initially doesn't take a lot of time. Once you peel the apples you should be ready to bake in about 15 minutes. It only takes about 5 minutes once you take the foil off to brown on top too. Don't take your eyes off of it because it gets perfect in no time at all and you don't want it overdone.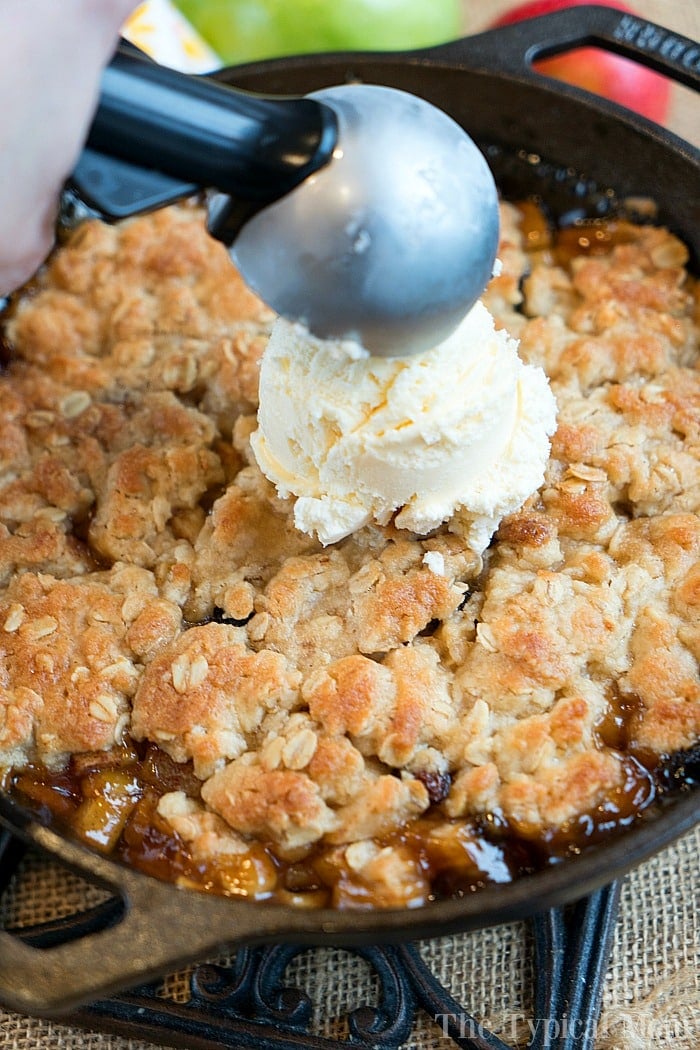 How to keep apples from turning brown
Slice your apples. You can leave the skin on or off for this apple preserving process.
Put them in a bowl submerged in Sprite soda for 3 minutes, then drain.

some use lemon juice but that drastically alters the taste of your fruit and I really don't recommend it

Fill pint or gallon freezer bags with your apples and suck as much air out as humanly possible.

I squeeze the air out, sip 90% closed, purse the spot that is open and use my lips to suck the remaining air out so it's airtight. Better yet use a vacuum sealer!
Refrigerate and they should look the same tomorrow or within 3 days as when you sliced them.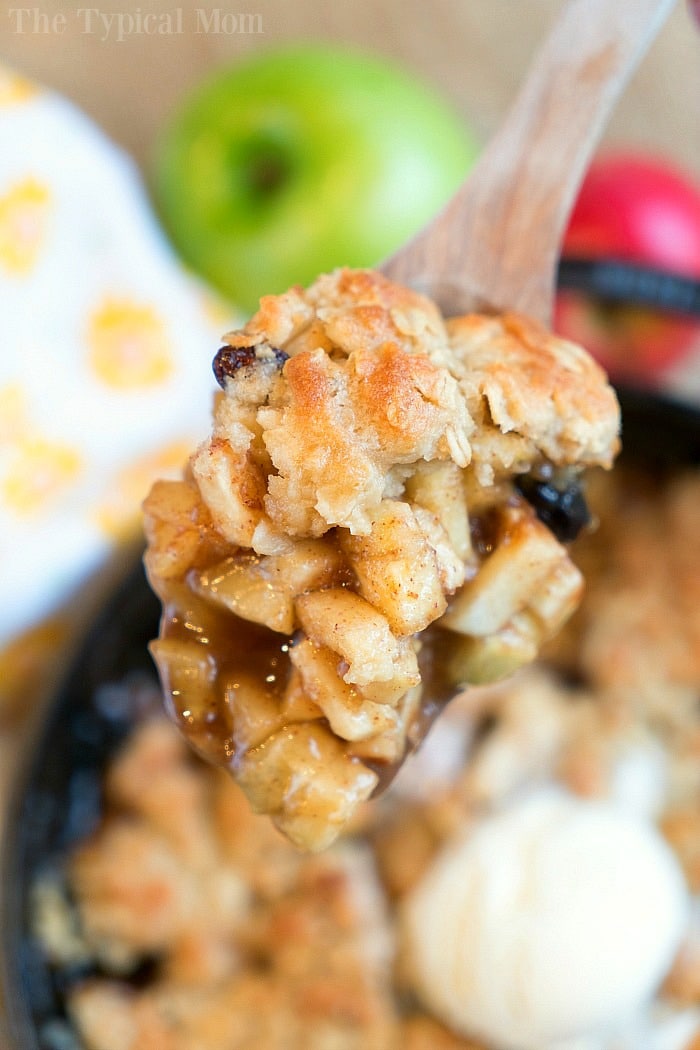 Can you bake a cake in cast iron?
You may wonder about baking a cake in a cast-iron skillet until you're reminded that traditional upside-down cakes are almost always prepared this way. To do your regular cake recipe in a skillet simply pour your prepared batter into a well-greased skillet and bake as directed. Love dutch oven recipes too?
You should try dutch oven corned beef and cabbage sometime, and our dutch oven stew.
Looking for other apple crisp recipes?
Once you're done, here's some information on cast iron skillet care. You don't wash these pans like everything else. If you're not done yet and want to try other fruits, give our cherry crisp and huckleberry cobbler a whirl next.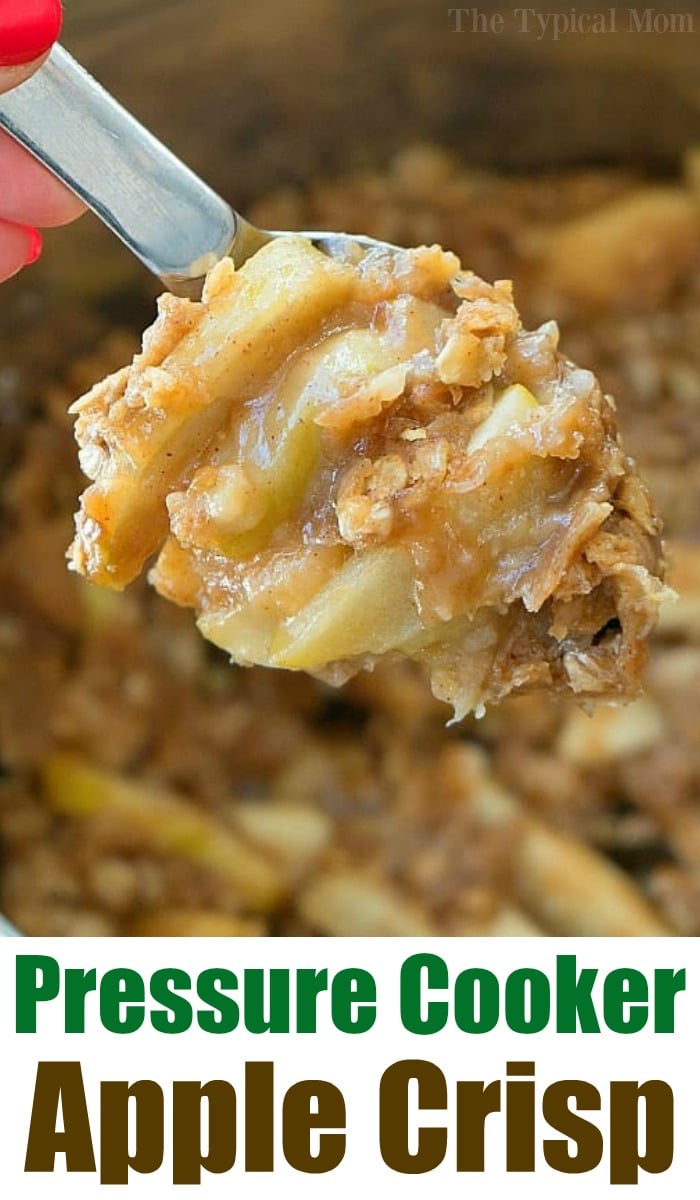 Want to see a few of my favorite things that I am totally obsessed with?? Take a peek and see how many you might already have…twinsies!
Looking for more easy family recipes and tips? LIKE The Typical Mom Facebook page?
Then sign up for my free newsletter, and follow me on Pinterest! 😉
***** If you LOVED this recipe give it 5 Stars below and let everyone know what you thought about it. 😉
Cast Iron Apple Crisp
Cast iron apple crisp is to die for! Tender cinnamon baked apples bubbling in your oven with a oat crumble on top makes the best breakfast or dessert!
Instructions
Add diced apples and all other ingredients (EXCEPT water/cider) at the top of the recipe card together in a bowl. Fold together so fruit is nice and coated.

Pour this into your cast iron pot or skillet.

In a bowl soften your butter and add all other crumble ingredients. Mix so everything is combined well.

Put this on top of your apples spreading it out as much as possible so it covers as much of the top as you can. Pour your cider or water over the top of everything.

Cover with foil and put into a preheated oven at 400 degrees F. for 45 minutes or until apples are softened to your liking.

Remove foil and turn oven to 425 degrees. Continue cooking for approx 5-8 minutes or until the top is a nice golden brown. Take out, allow to sit for 5 minutes to thicken and serve.
Nutrition Facts
Cast Iron Apple Crisp
Amount Per Serving (2 oz)
Calories 404
Calories from Fat 108
% Daily Value*
Fat 12g18%
Cholesterol 30mg10%
Sodium 115mg5%
Potassium 252mg7%
Carbohydrates 74g25%
Protein 3g6%
Vitamin A 402IU8%
Vitamin C 5mg6%
Calcium 48mg5%
Iron 2mg11%
* Percent Daily Values are based on a 2000 calorie diet.