You've got to try this crustless crockpot apple crisp pie! It tastes like the warm apple pie filling without the crust and cooked in your slow cooker all day too which makes it so easy!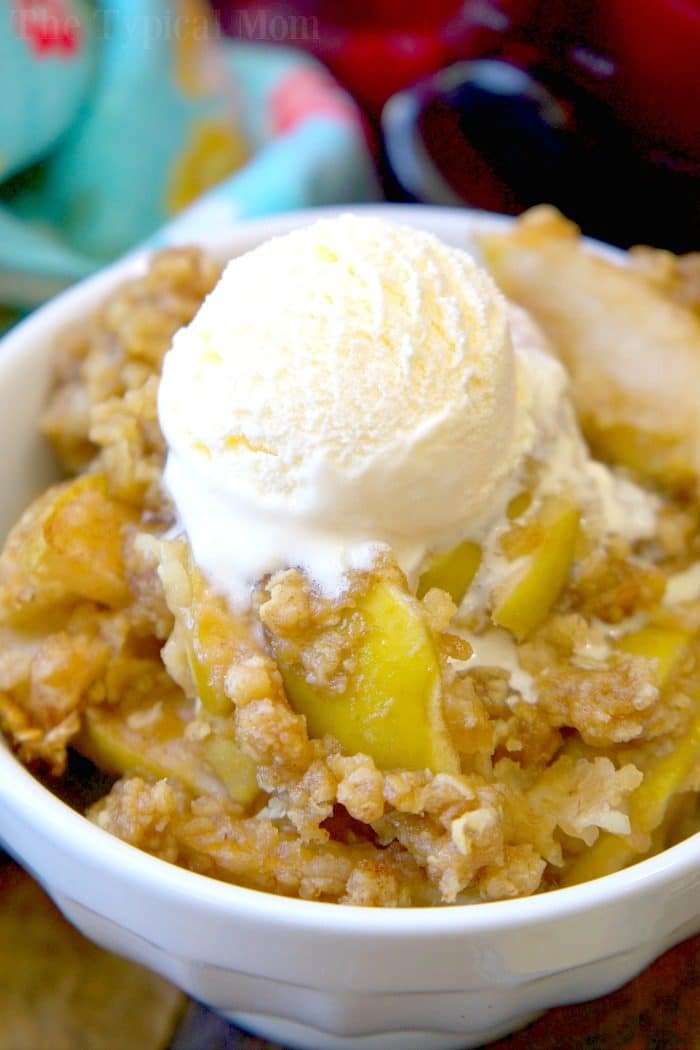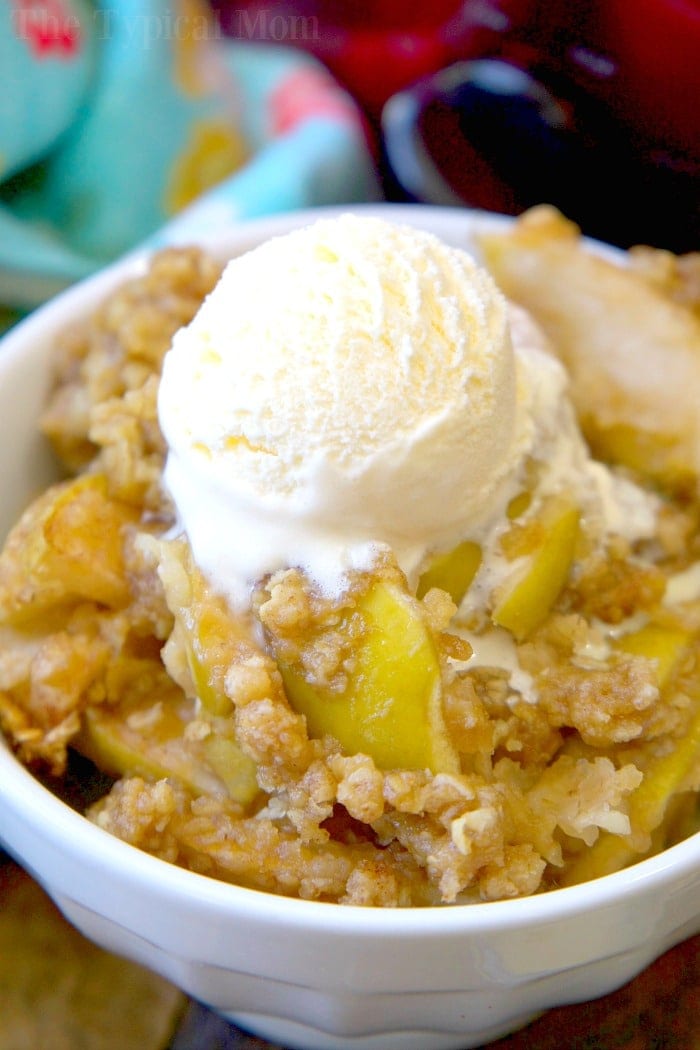 This crockpot apple crisp pie is just what you need! If you're like me and love a warm apple dessert but don't want to cook, your slow cooker is the answer. It just does the work for me! Find this and other dessert crockpot recipes here. (originally published 10/15, affiliate links present)
Crock Pot Apple Crisp
Everyone loves fresh apple recipes right?? Well I do for many reasons but my favorite part is the inside of an apple pie, I mean who really cares about the crust. We made this fast with our air fryer apple crisp recipe but not everyone has that new appliance so we went with the "old fashioned" next. 😉
Most will admit they could kinda' care less about the outside. I also love my slow cooker especially during the summertime. When I don't want to turn on my oven but still want dessert after dinner. I can't say enough about this dish y'all.
FIRST – You should sign up for my free newsletter so you get new posts emailed to you twice a week and never miss out on anything! Let's talk a little bit about slow cooking shall we?? First off I have a few different varieties and I love them all. Each one has an occasion to be used like….
This is my favorite 6 quart programmable one with a locking lid so it's great for bringing to a potluck too.
If you just want to serve a few appetizers you should get this one that sit side by side one another.
I prefer not to use liners, but rather just spray olive oil inside before adding my food for easier cleanups.
Let me give you a peek of my pretty thang I bought recently. It goes with my kitchen so I can just leave it out on the countertop all the time. 😉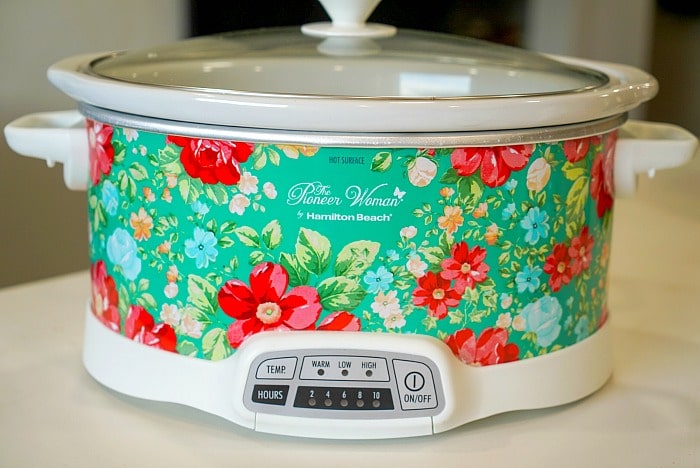 Slow Cooker Apple Crisp
The two names mean the same thing right? Don't worry if you have another brand on your counter. As long as it has the low heat function it is fine. If you just want baked apples without the brown sugar oats topping this is great too. Very similar to the Cracker Barrel version if you love that restaurant too.
Crockpot Apple Crisp with Oats
I will say that the topping is out o this world delicious though. Takes it from yum to OMG this is incredible. Yes it does add some calories and such to the overall nutrition but this is a dessert y'all, just enjoy it. Ok so I have eaten some of this for breakfast too if there are any leftovers.
It saves really well to enjoy up to 3 days later too. We are guilty of making a double batch so we can make sure that we can have it after dinner and then for a few days after that too.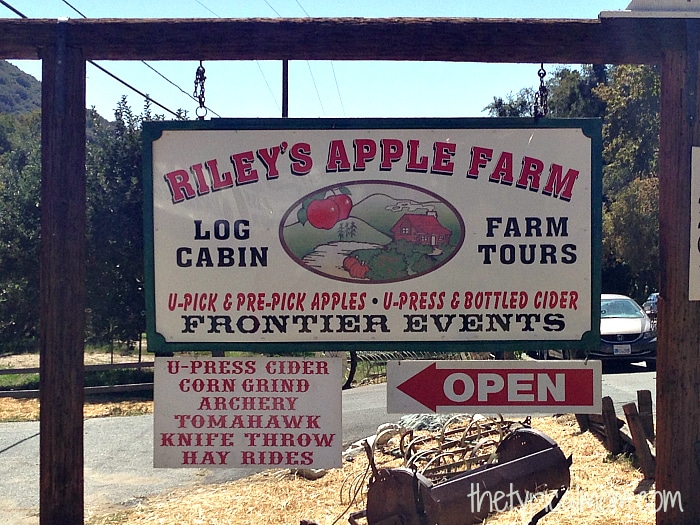 What can I do with lots of apples?
One year when we visited Julian, a California apple farm we came home with 10 pounds of fruit. Then we moved to Idaho a few years later and picked 65 pounds!!
Needless to say we went crazy with all the apple recipes like this pressure cooker apple pie filling recipe, apple monkey bread and many batches of this!! I admit I have several crockpot sizes. For this apple crisp recipe I used my 6 quart slow cooker. If you wanted to double it you could use an 8 qt. as well.
Is apple crisp and apple crumble the same?
Apple crumble in the UK is apples baked with a topping of flour, butter and sugar. In the US, it's basically the same thing. However, the topping is made primarily with rolled oats rather than flour.
It's almost always made with cinnamon and sometimes nuts are added to it as well.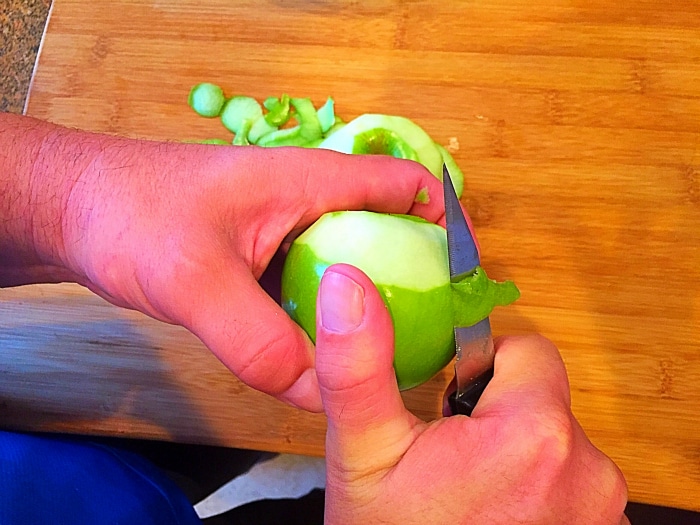 First: Remove apple skins. If you leave some on it won't be as soft in the end. Use an apple peeler or a sharp knife as seen over a paper towel or cutting board. Discard
Then: Slice 4 sides off and slice into thinner pieces after that.
If peeling apples ahead of time you might want to spritz with lemon juice so they don't brown.
What apples are best for apple crisp?
It's best to go with a crisp, tart variety that stands up well to baking. Granny Smith is always what I choose but Honey crisp might work well if you couldn't find those.
How do you slice apples for apple crisp?
The thicker the slices the firmer they will be when after you cook it. You can see the size we use here. Too thin will cause them to soften too much and become a bit mushy.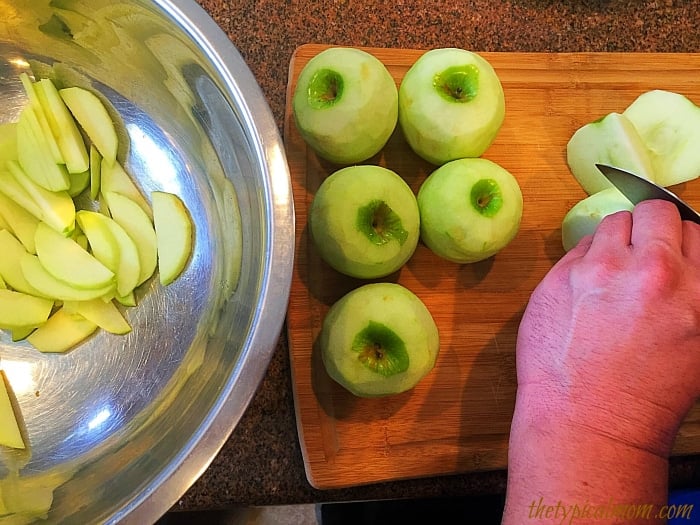 Slow Cooker Apple Crumble
This healthy easy baked apples dessert is great for Christmas morning, on the weekend, or for dessert year round really.
You can easily throw this in when you get up early and have it ready when everyone wakes up this year! Cooking times will remain about the same no matter what size pot you use.
Can you double slow cooker apple crisp?
I would not. If you have too too many pieces of fruit inside some will get overdone and others will still be a bit harder. You would need an awfully large pot too to do this. I use my 8 quart typically for a batch like this, it feeds 6 – 8 people easily.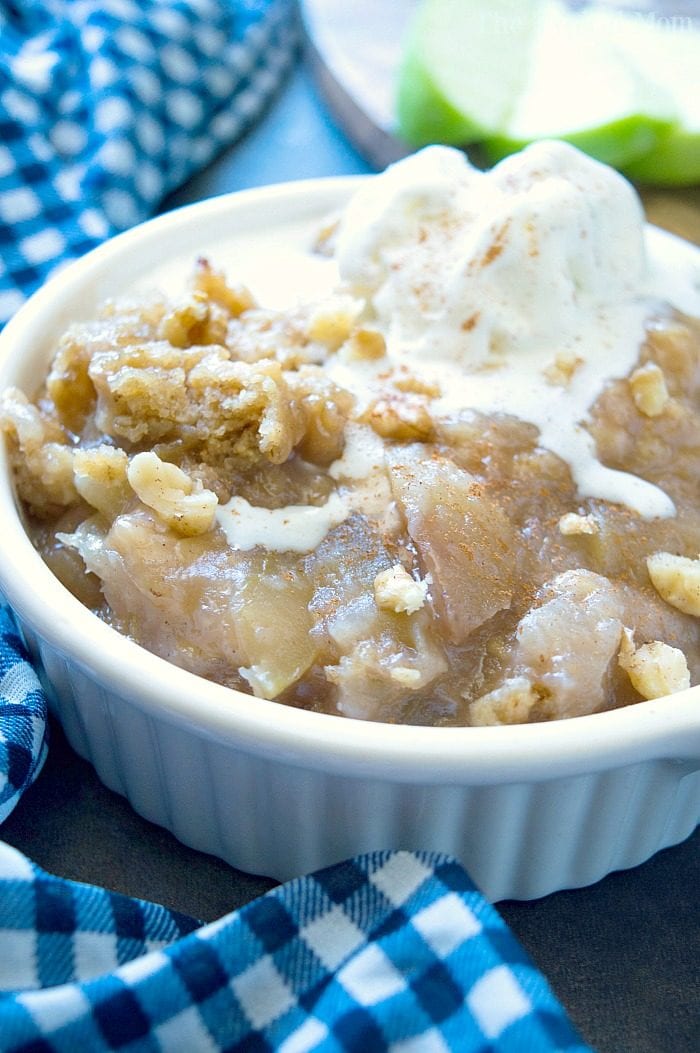 Crockpot Baked Apples
With the apples left in larger slices it is a bit like a copycat Cracker Barrel fried apples. Remember the one you get as a side dish if you choose to do so and they are absolutely amazing, yeah..kinda' like that!
You can grab the Granny Smith apples, flour, brown sugar, cinnamon and everything you need at your local grocery store.

You could substitute gluten free flour if needed
I haven't tried this but it should work just the same

I like 1/2 cup of vanilla ice cream on top of the apples too if I'm going all in. 😉
There are many ways of creating the crumble or "crisp" on top but what I like to use is a cinnamon and brown sugar oat mixture mentioned below.
The oats used in the crumble on top bring a bit of texture to this slow cooker apple crisp. You could easily add walnuts inside or into the topping or sliced apples too if you'd like!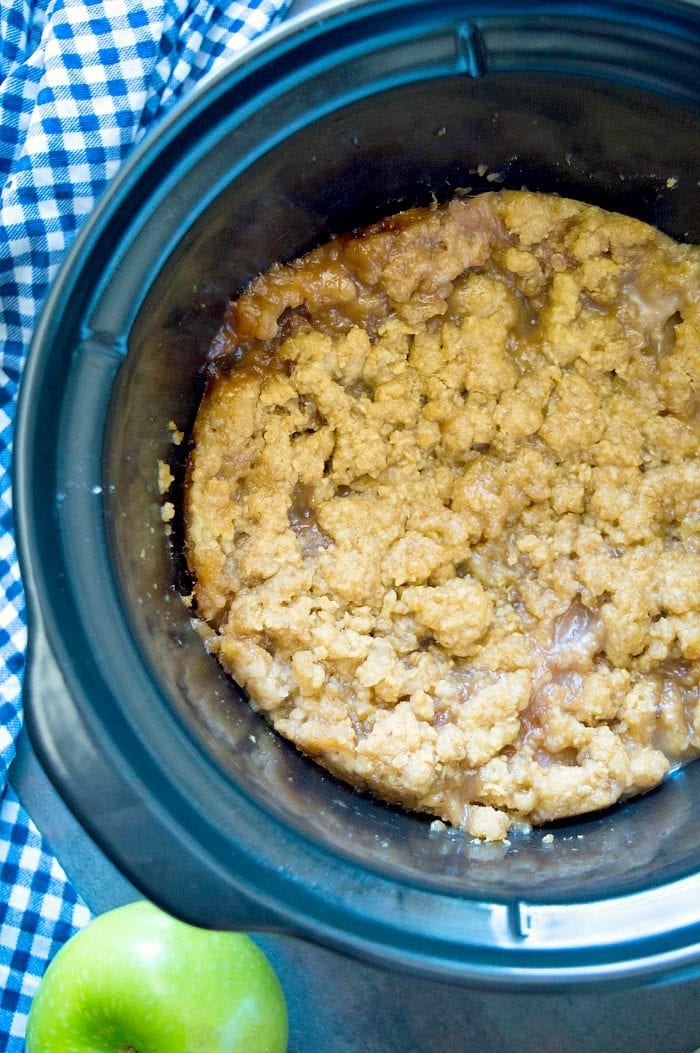 Crockpot apple crisp recipe
8 Green apples (green stay a bit more turgid and don't mush up as much as red when cooked, but your choice)
Butter
Flour
White sugar
1/2 teaspoon cinnamon

could add a bit more into your topping mixture

Brown Sugar
Cornstarch
Walnuts and even raisins are optional and could be added to the topping mixture
If you're want baked apples in the oven we have instructions for that. Then try this Instant Pot apple crisp. Our pressure cooker baked apples taste similar and everyone loves them.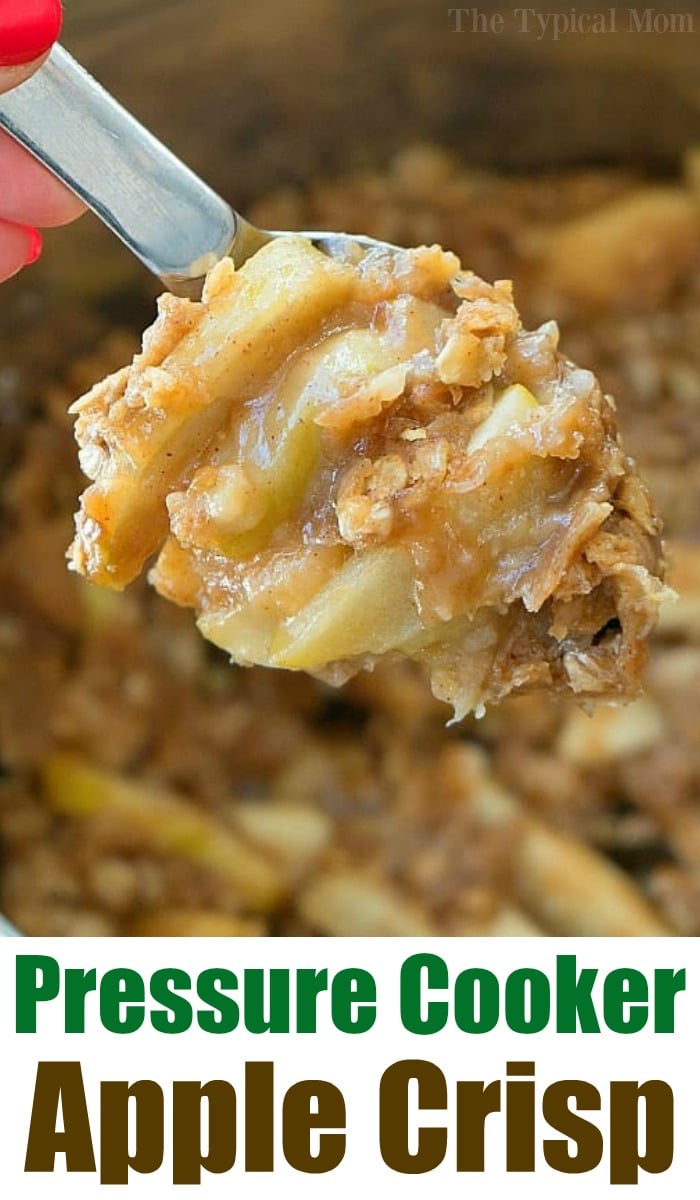 Baked Apples in Crockpot
Looking for more easy crockpot recipes?
Ready for your house to smell amazing to bring everyone to the table? I guarantee that everyone will love apple crisp and apple pie once they take the very first bite!
Tip: Do not cook 1 hour on high. It is best on low for about 2.5 hours. Fruit doesn't take long to cook. You don't want it to become mush at all, texture is really important with this.
How long is apple crisp good for?
I will say we never have leftovers! But if you do, store in an air-tight container, in the fridge, for up to one day.
Here is a printable recipe as well.
Crockpot Apple Crisp
You've got to try this crustless crockpot apple crisp pie! It tastes like the warm apple pie filling without the crust and cooked in your slow cooker, easy!
Instructions
Core, peel and thinly slice your apples (a bit thicker makes them a bit firmer, really thin makes it mushier). I peel half of the peels off because I like the taste, up to you if you want all peels off. Put them in a bowl.

Mix together your cinnamon, 3/4 c of flour, 1/2 c. oatmeal, 1 c. brown sugar and your cornstarch. (add raisins and/or walnuts if desired)

Add your apples and fold together until all apples slices are coated well.

Spray the inside of your crockpot with non stick spray, or use a liner.

Pour apple mixture inside. Pour apple juice/cider on top of them.

In another bowl mix together 1/2 c. of flour, 1/2 c. brown sugar, salt, your butter – melted, and remainder of your old fashioned oats 1/4 c.

Sprinkle this mixture on top of the apples in your slow cooker.

Put lid on and set to low for 2 1/2 hours.

Serve as is or top with vanilla ice cream.
Nutrition Facts
Crockpot Apple Crisp
Amount Per Serving (8 oz)
Calories 330
Calories from Fat 63
% Daily Value*
Fat 7g11%
Cholesterol 12mg4%
Sodium 110mg5%
Potassium 154mg4%
Carbohydrates 65g22%
Protein 3g6%
Vitamin A 140IU3%
Vitamin C 0.4mg0%
Calcium 41mg4%
Iron 1.5mg8%
* Percent Daily Values are based on a 2000 calorie diet.