Easy homemade pressure cooker apple pie filling recipe you can make in about 20 minutes in your Instant Pot or a bit longer using our stovetop directions!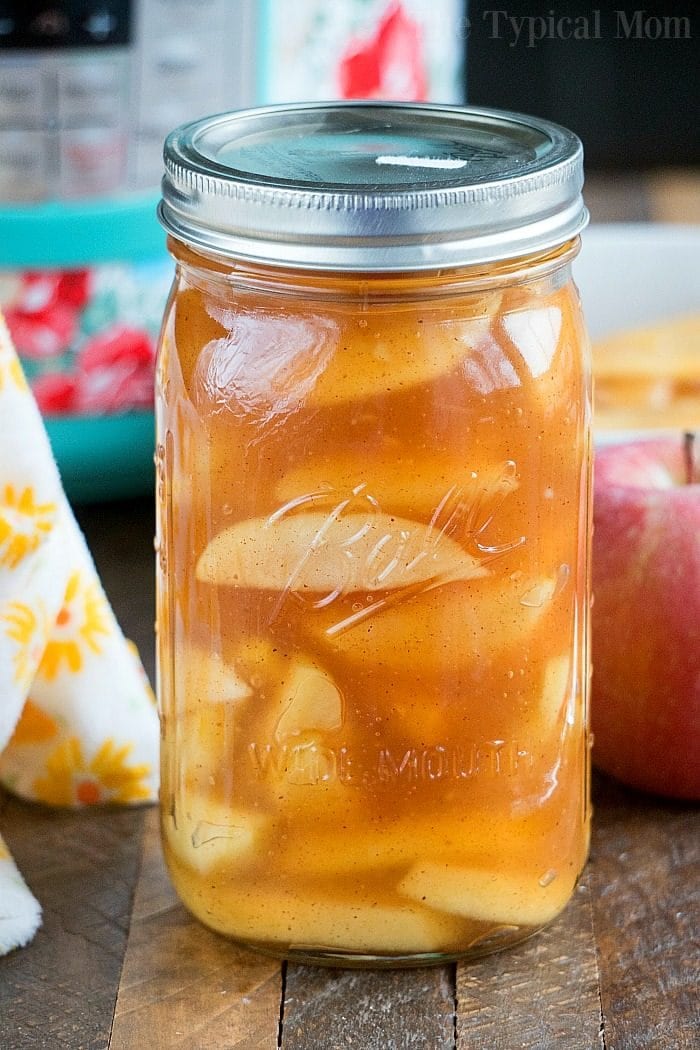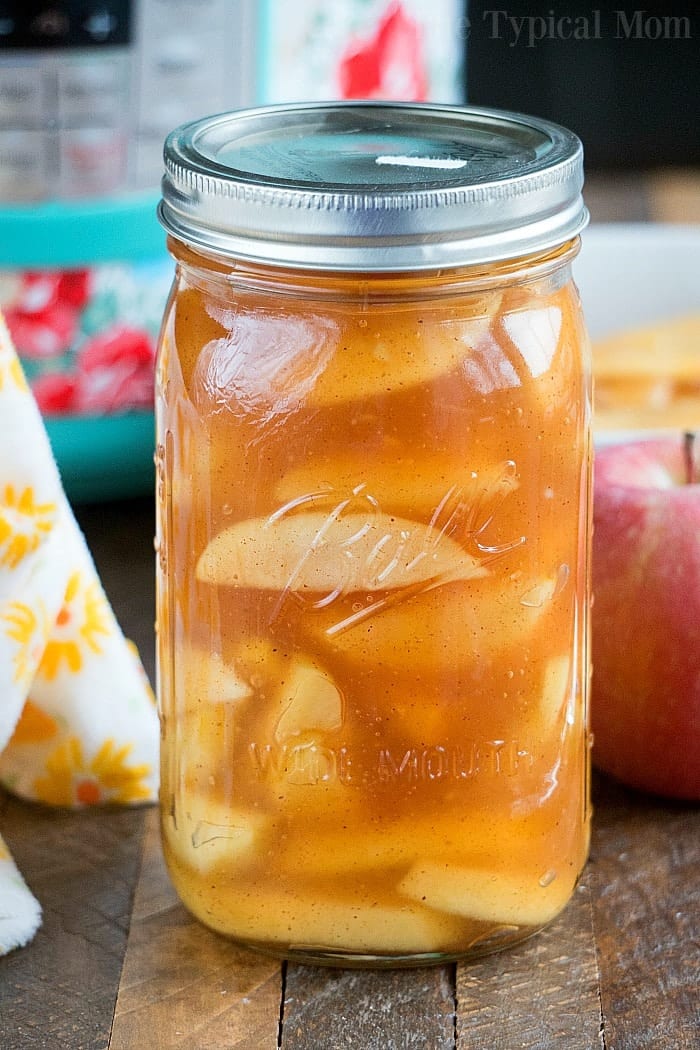 If you have about 20 minutes and a bowl full of apples you can make this easy pressure cooker apple pie filling at home! Just another favorite added to our long list of easy Instant Pot recipes. (originally published 11/18, affiliate links present)
Have you ever made an easy apple pie filling recipe before? You may think it's complex and opt for canned but it is really SO easy!
If you don't have an Instant Pot, you can make homemade apple pie filling in your Ninja Foodi too!
Let's start with a few basic tips:
For reference, this is the pressure cooker I have and use for all recipe creations.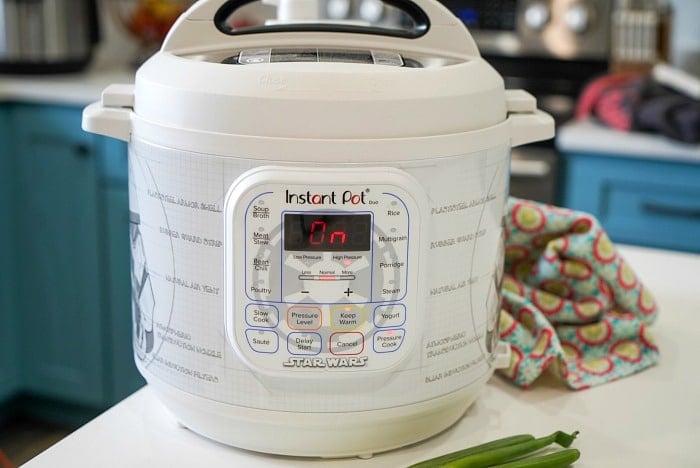 If you've been a fan of The Typical Mom Facebook page, or have been reading my blog recently you know we went apple picking and loaded up on 65 lbs. of Fuji apples!
Needless to say we've been busy with apple everything, and this was the latest creation (we've still got about 20 lbs. left so stay tuned for more). 😉
Pressure cooker apple pie filling
Apples – duhhhh, you choose the variety but I love Fuji, red and yellow varieties aren't as firm if you prefer really soft apples
Sugar
Lemon juice – I rarely have fresh on hand and just use this
Cinnamon
Nutmeg
Vanilla – not necessary but I like the addition, this is how you make homemade vanilla extract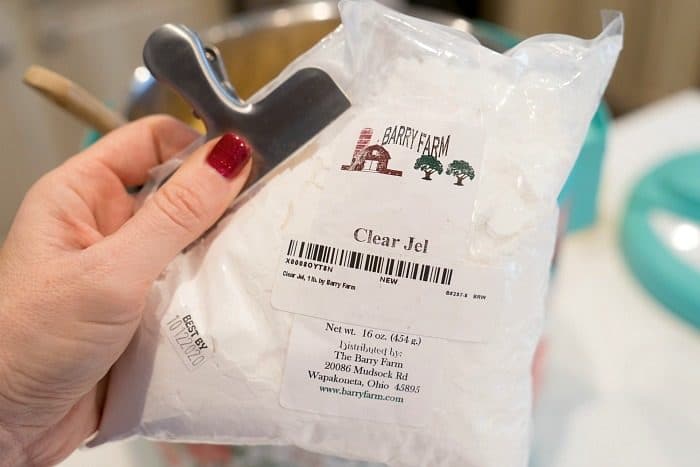 Clear Jel – you probably don't have this but can grab this small bag you see here

This is a necessity and no other substitution will do, I have tried other thickening options but this is what works
If you're canning you'll need mason jars

Instant Pot doesn't recommend using their pot for canning, here's a post on canning 101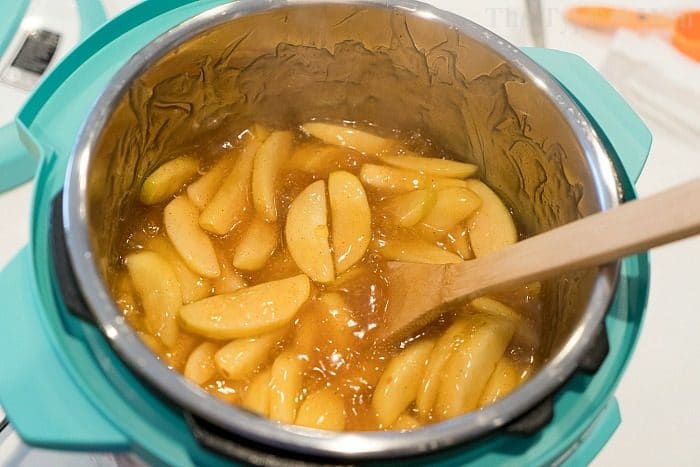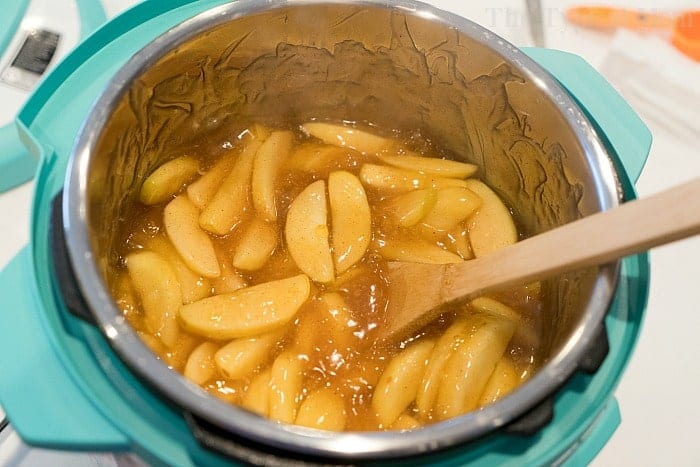 Why would you want to make your own homemade apple pie filling?
If you use pie filling a lot and make a large batch you will save money in the long run
You can avoid the preservatives found in canned apple pie filling
Choose the type of apples YOU love to make it perfect for your recipe.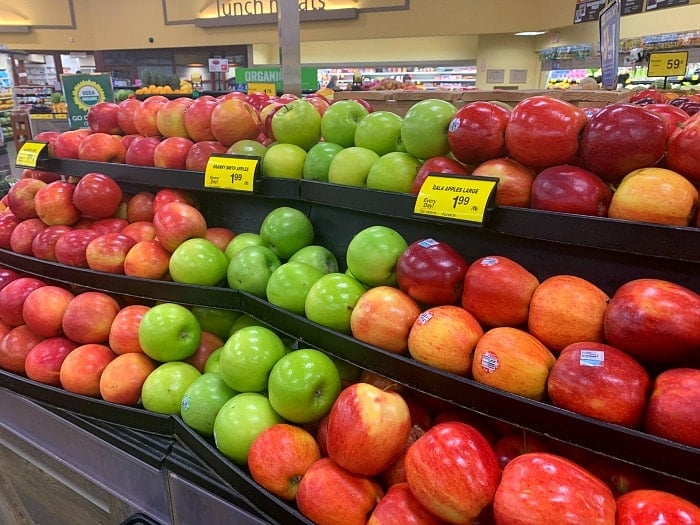 Making your own pie filling allows you to control how soft or firm your apples will be
Add as little or as much sugar as you'd like to control the sweetness
If you want to can apple pie filling using mason jars you can do it yourself which means you can use the freshest apples during the winter months, can them, and enjoy it all year long!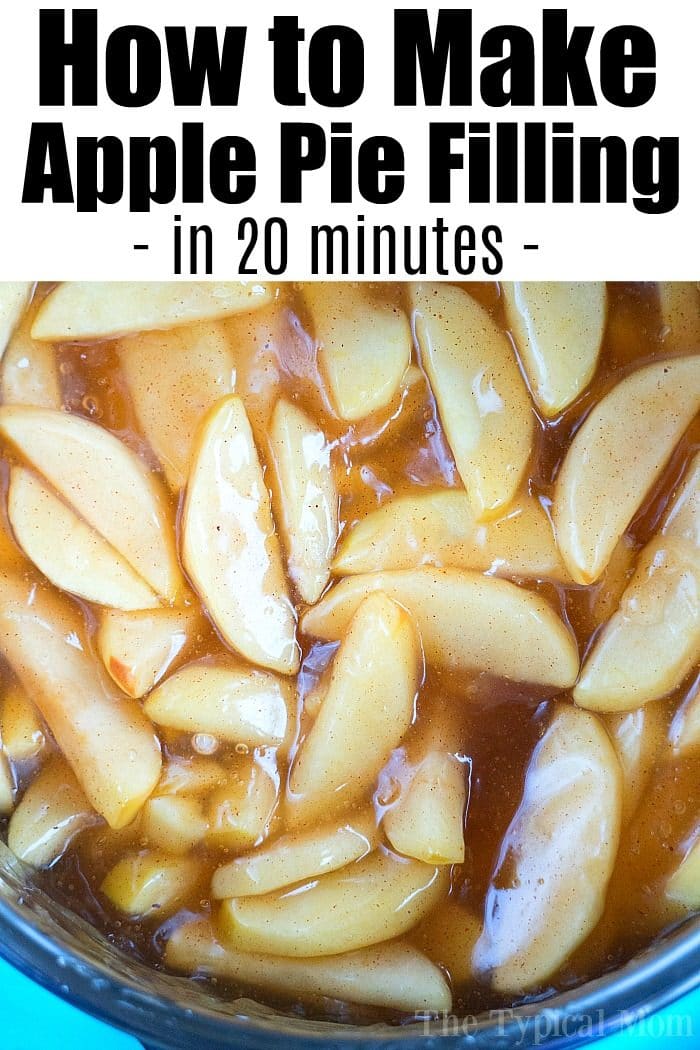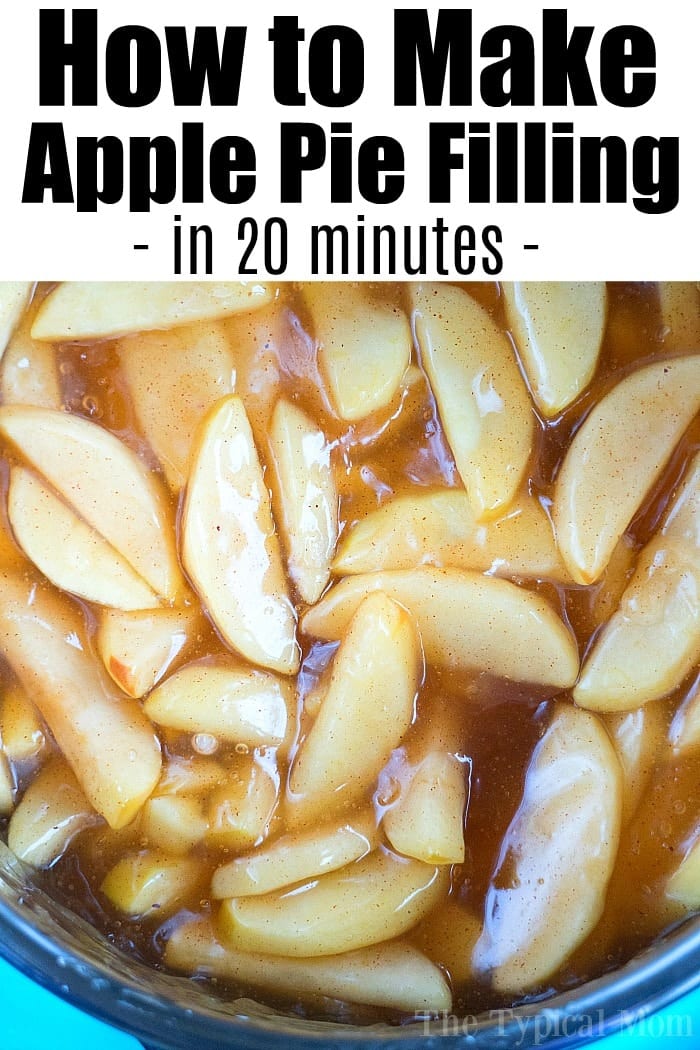 I say this easy apple pie filling recipe takes about 20 minutes. Of course time with vary depending upon how long it takes you to peel, core, and slice your apples.
Also time will vary a bit in the last step when the liquid and apples are bubbling together.
I prefer my apples to still have a bit of firmness to them. So I don't cook them as long.
If you love really tender apple pie filling then by all means just allow it to bubble longer. Just remember to stir intermittently so it doesn't burn at the bottom.
Tenderness is a personal preference so make it however you like, that is why I love this pressure cooker apple pie filling recipe!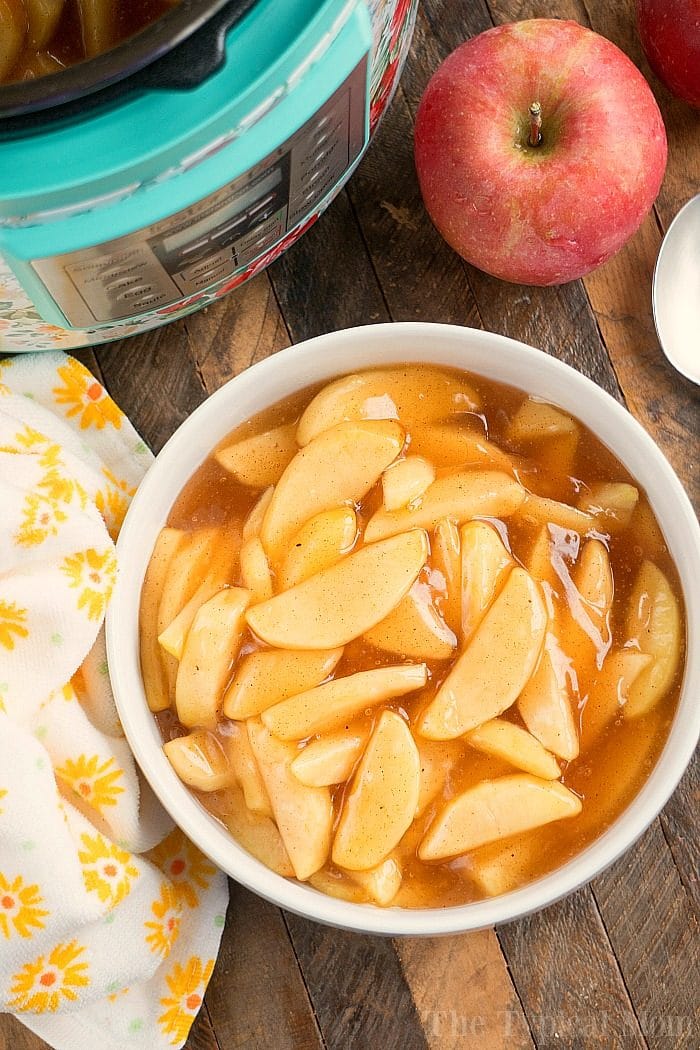 Homemade apple pie filling
This is how you would do it on the stovetop:
Use a pot on medium heat
Follow directions listed below in the recipe card
Instead of using the saute setting on your pressure cooker you are merely using the medium heat on your burner
It will turn out just as yummy!
What would you use pressure cooker apple pie filling for?
Oh let me list the ways……I use it a lot in my easy dump cake recipes
AND our most popular recipe will be a hit in your house if you love this one as much as we do because it uses fresh apples.
It is OH SO amazing, we call it Instant Pot apple crisp and must be tried immediately after you make this apple pie filling.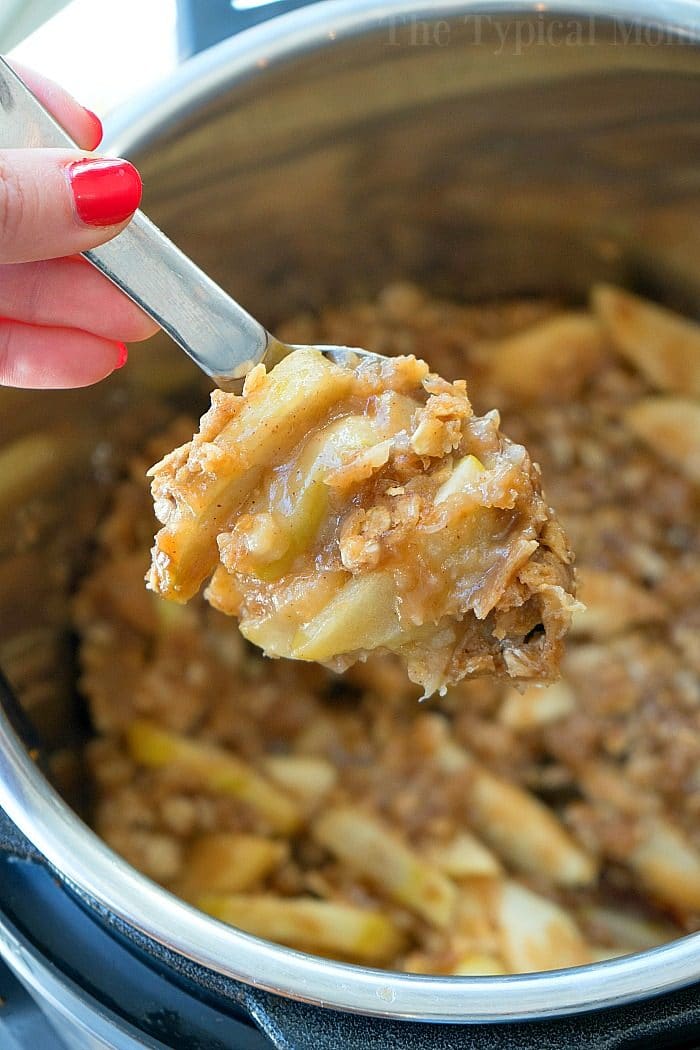 Instant Pot apple pie filling
Want to see a few of my favorite things you might want to write on your Christmas list this year??!! 😉 Take a peek and see how many you might already have…twinsies!
Looking for more easy family recipes and tips? LIKE The Typical Mom Facebook page?
Then sign up for my free newsletter, and follow me on Pinterest! 😉
***** If you LOVED this recipe give it 5 Stars below and let everyone know what you thought about it. 😉
Here's the printable recipe to follow as well.
Pressure Cooker Apple Pie Filling
Easy homemade pressure cooker apple pie filling recipe you can make in about 20 minutes in your Instant Pot or a bit longer using our stovetop directions!
Ingredients
Instructions
Core, peel and slice your apples (thinner if you want them soft or thicker if you prefer them to be on the firmer side). Set your pressure cooker to saute, normal, setting. Add your water.

Once your water begins to boil stir in your sugar, wait for other ingredients until it begins to dissolve.

Sprinkle in your clear jel and use a whisk to mix together until it is smooth and starts to bubble and thicken. Whisk in your cinnamon, nutmeg and vanilla.

Once mixture starts to continually bubble, while stirring regularly, pour in your lemon juice and stir.

Allow this mixture to bubble once again, mixing intermittently so it doesn't burn, for about 1 minute or so.

Then add your bowl of sliced apples and stir together.

Allow thickened apple pie filling mixture to bubble again and stir apples about every 30 seconds so sauce doesn't burn but long enough for apples to soften.

Do this continuously until apples are the consistency you desire. I prefer mine to stay a bit firmer so it takes me about 5 minutes of this process, may take longer if you like your apples soft.

Once they're perfect for you turn your Instant Pot off and allow to cool, or use immediately in a pie or otherwise.
Nutrition Facts
Pressure Cooker Apple Pie Filling
Amount Per Serving (2 oz)
Calories 317
% Daily Value*
Sodium 8mg0%
Potassium 153mg4%
Carbohydrates 82g27%
Vitamin A 75IU2%
Vitamin C 9.2mg11%
Calcium 17mg2%
Iron 0.2mg1%
* Percent Daily Values are based on a 2000 calorie diet.