These apple pie stuffed cinnamon roll waffles are the perfect breakfast or dessert! Great twist on traditional waffles with a punch of cinnamon and apples.
Do you love cinnamon rolls, waffles, and apples? Wish you could combine them all? These apple pie stuffed cinnamon roll waffles will satisfy all your cravings this year! Sponsored by Pillsbury. (originally published 12/17, affiliate links present)
Cinnamon Roll Waffles
Yes, I'm sure you've made cinnamon rolls in the oven before, and made homemade waffles in your waffle iron too. BUT this takes it a step further. Have you used these sweet rolls in the waffle maker yet?? OMG it is such a delicious breakfast recipe your family will love.
Using cinnamon rolls INSIDE your waffle iron creates a whole new level of yumminess for breakfast (or dessert), and the cream cheese frosting comes with it too so you can drizzle it on when they're all done.
Cinnamon Rolls in Waffle Iron
Ready to dig in to this amazing waffle recipe with filling inside??!! With or without the cream cheese frosting these apple pie cinnamon roll waffles will make you drool!
What's great though is inside your roll of Pillsbury Grands with Cream Cheese Icing is…..the FROSTING!! No need to make your own or buy a separate tub, it's all there for you to make a dish of cinnamon rolls in the oven, or try them in your waffle iron like we did here!
It's simple really. Once you unwrap your container and it POPS open you can begin the process of transitioning your cinnamon rolls into apple pie stuffed cinnamon roll waffles. If you used a bag of frozen you could and it would work just as well. Biggest difference would be the timing. You need 45 minutes to defrost those so they can be rolled out.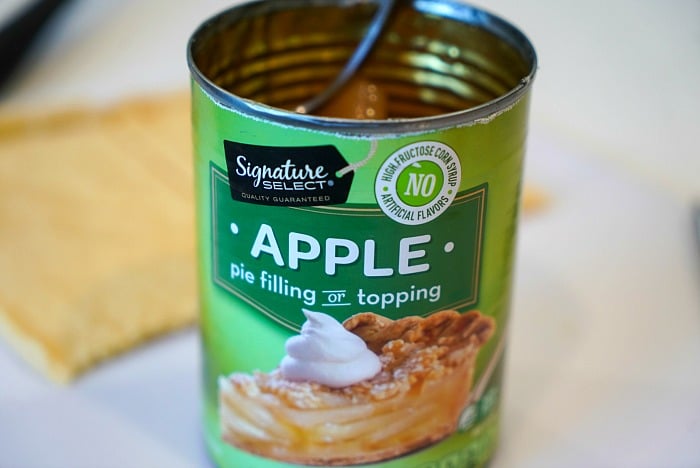 Cinnamon Roll Stuffed Waffles
Put 1 Pillsbury Grands in your hand and pinch it all the way around so it is nice and flat making sure the rolls are pinched together kinda' like a pancake with no holes
Do the same thing to your second one
Spoon 1 tbsp. of apple pie filling into the center of your first flattened Cinnamon Rolls
Place your second flattened roll on top of that
Pinch the edges of your sweet roll sandwich so they are sealed and the apple pie filling is kind' puffy in the center
Wait until your waffle iron is ready (set to medium temperature if you're able to adjust its heat). Some larger ones can make more than 1 or 2 like ours but you should leave a bit of space between each one.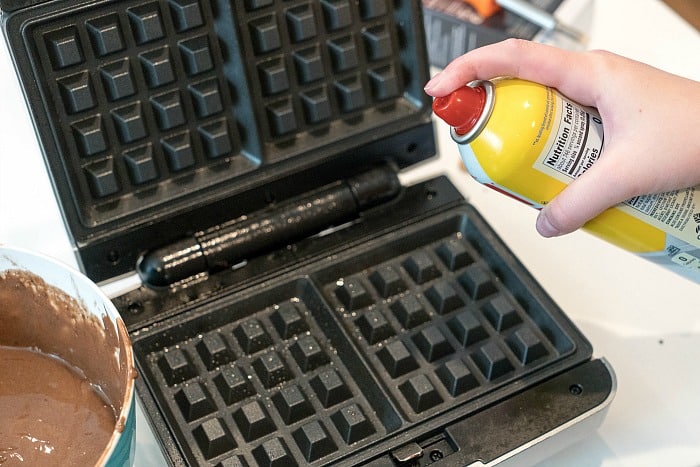 Waffles with Cinnamon Rolls
You can use refrigerated cinnamon rolls or frozen cinnamon rolls, defrosted for this one. Those need about 45 minutes to defrost first so keep that in mind. Then you can flatten easily and go from there. Those are a bit smaller as well so they can hold less filling in the middle.
Spray grate of waffle maker with non stick cooking spray
Place in the very center of your preheated waffle iron
Put a spoonful of pie filling in the middle with another flattened roll on top
Let go of the top allowing it to slowly move down on top, not pressing down
Wait approximately 4 minutes or until the top is golden brown to cook waffle and the edges are cooked
Remove, serve with the glaze or sugar and cinnamon on top. Powdered sugar works too.
Serve on a plate drizzled with the cream cheese icing included in your container. You can make something similar we call air fryer dumplings with this same filling as well as their crescents.
Cinnamon Roll Waffles Pillsbury
Yes….THIS is the key to the perfect apple pie stuffed cinnamon rolls turned into waffles! Big enough to hold all that apple pie goodness that is synonymous with Fall.
This holds memories of my grandmother in the kitchen. We have all had Pillsbury Rolls right??
We've probably made them for our kids too, but we love is thinking outside of the box when we are planning our weekend breakfasts together and putting a fun twist on the otherwise traditional dishes. This breakfast, turned into a dessert at times, is probably one of our favorites.
Can I use cinnamon rolls to make waffles?
Yes! Skip mixing dry ingredients with melted butter and brown sugar to make homemade batter. Instead pop open a tube of Pillsbury Grands, flatten, and you can even stuff each one with apple pie filling like we did here!
Can I use a regular waffle iron to make cinnamon roll waffles?
Absolutely. The process is the same as making traditional waffles, but instead of using batter, you use a flattened roll as the dough. Homemade dough would work just as well but may be softer than refrigerated Grands we used here.
What fillings can I use for stuffed waffles?
Fillings for stuffed waffles is endless and depends on your preferences. Some popular sweet options include Nutella, peanut butter, jam, chocolate chips, fruits, or even marshmallows.
For savory options, you can try cheese, ham, bacon, cooked eggs, or vegetables. We used pie filling here!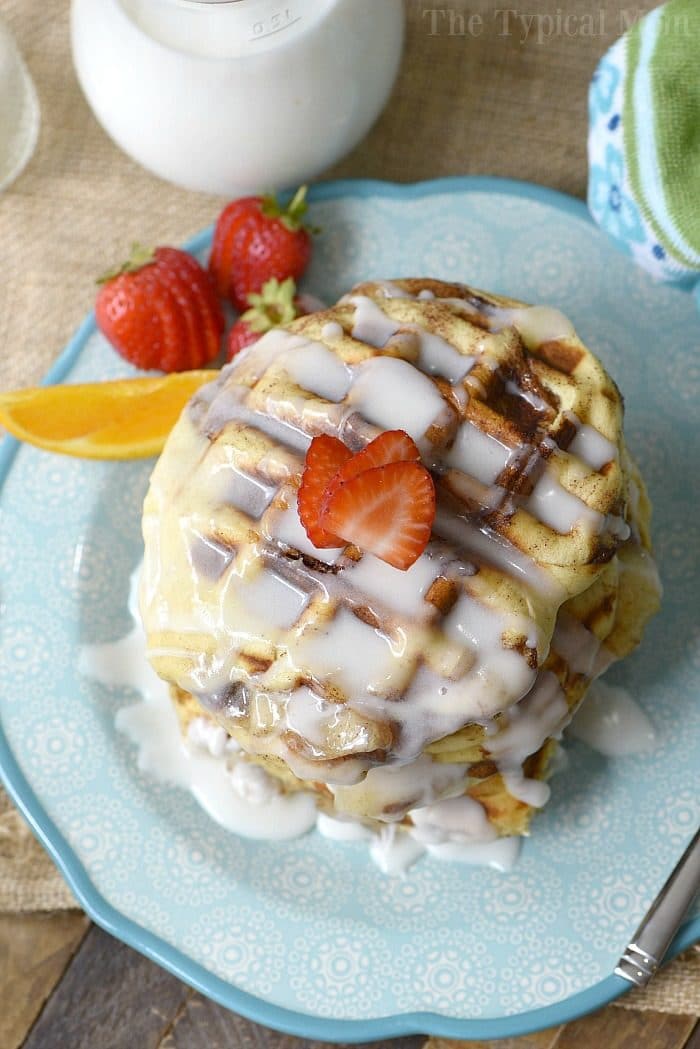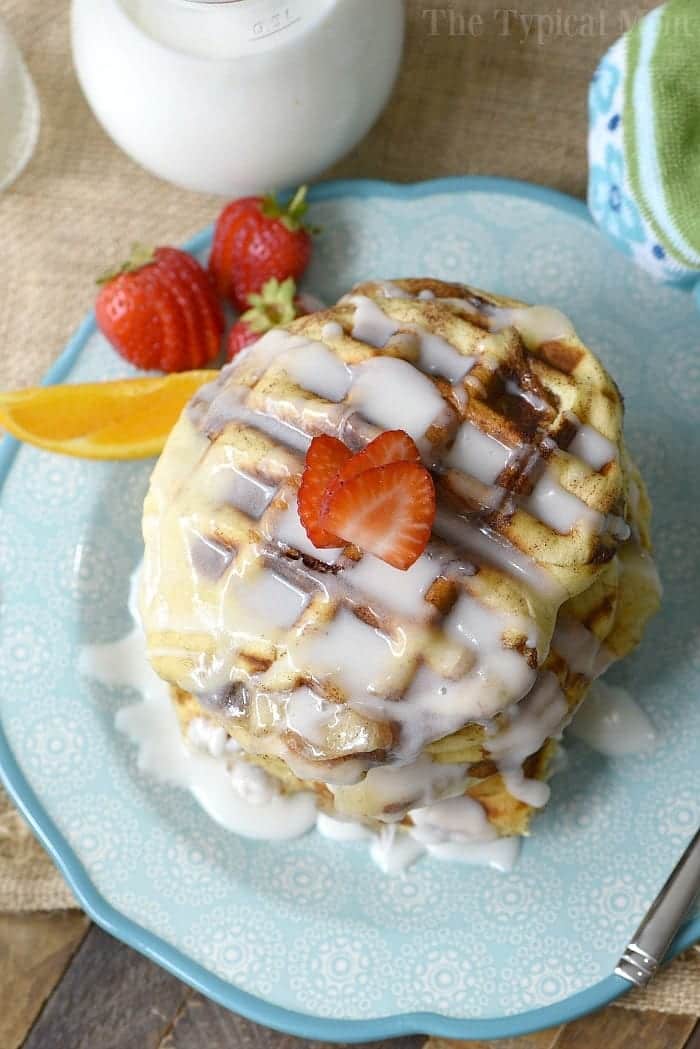 How to Save Leftover Waffles
If you added a filling they will get mushy and wouldn't be worth saving unless you enjoyed again for breakfast for dinner that day. In the case that you didn't stuff them you could save the cooked pieces in an airtight or vacuum sealed bag and in the fridge. Reheat by throwing them in the toaster to warm!
How to Cook Cinnamon Rolls in a Waffle Iron
If you and your family have breakfasts together, and you want to surprise them with something special in the morning you should give our easy apple pie cinnamon roll waffles too!
Let us know what you and your family thinks when you enjoy them together. Do you have a special morning treat you like to cook together too?? 😉
Want to see a few of my favorite things that I am totally obsessed with?? Take a peek and see how many you might already have…twinsies!
Looking for more easy family recipes and tips? LIKE The Typical Mom Facebook page?
Then sign up for my free newsletter, and follow me on Pinterest! 😉
***** If you LOVED this recipe give it 5 Stars below and let everyone know what you thought about it. 😉
Cinnamon Roll Waffles
Cinnamon roll waffles stuffed with apple pie filling is the best sweet breakfast that is easy to make.
Instructions
Use your hands or a gentle rolling pin to flatten Grands cinnamon rolls. Spoon some apple pie filling into center of 1 and lay a 2nd on top.

Use fingers to seal edges and any small openings you may see so filling doesn't leak out.

Preheat waffle iron and when it is hot spray with olive oil. Lay filled cinnamon roll inside and gently close lid.

Watch carefully and remove when top and bottom rolls are browned.

Open frosting packet included with cinnamon rolls and drizzle on top when serving.
Nutrition Facts
Cinnamon Roll Waffles
Amount Per Serving (2 oz)
Calories 149
Calories from Fat 9
% Daily Value*
Fat 1g2%
Sodium 71mg3%
Potassium 67mg2%
Carbohydrates 39g13%
Protein 1g2%
Vitamin A 36IU1%
Vitamin C 3mg4%
Calcium 6mg1%
Iron 1mg6%
* Percent Daily Values are based on a 2000 calorie diet.