These apple pie stuffed cinnamon roll waffles are the perfect breakfast or dessert! Great twist on traditional waffles with a punch of cinnamon and apples.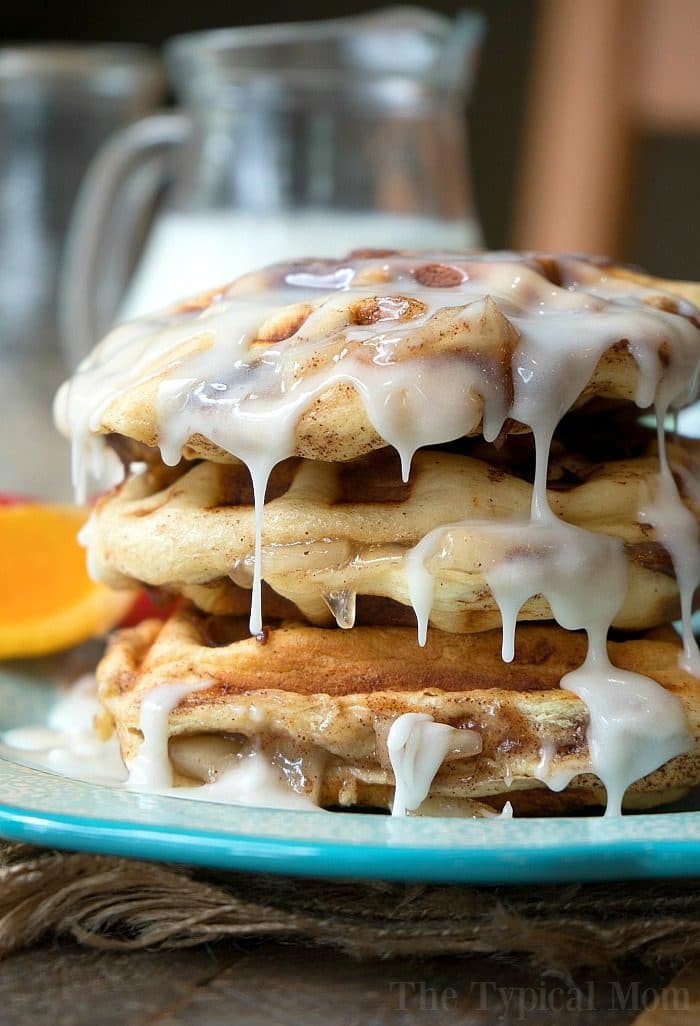 Do you love cinnamon rolls….and waffles….and wish you could have a piece of apple pie in the morning…well, I have you covered!! These apple pie stuffed cinnamon roll waffles will satisfy all your cravings and have you dreaming of them the next morning too! Yes, I'm sure you've made cinnamon rolls in the oven before, and made traditional waffles in your waffle iron too, but this takes it a step further. Using cinnamon rolls INSIDE your waffle iron creates a whole new level of yumminess for breakfast (or dessert), and the cream cheese frosting comes with it too so you can drizzle it on when they're all done. I know, amazing right??!! Special thanks goes out to Pillsbury™ and Walmart for sponsoring this post so we could share our sweet recipe idea with all of you. 😉
You're ready right??!!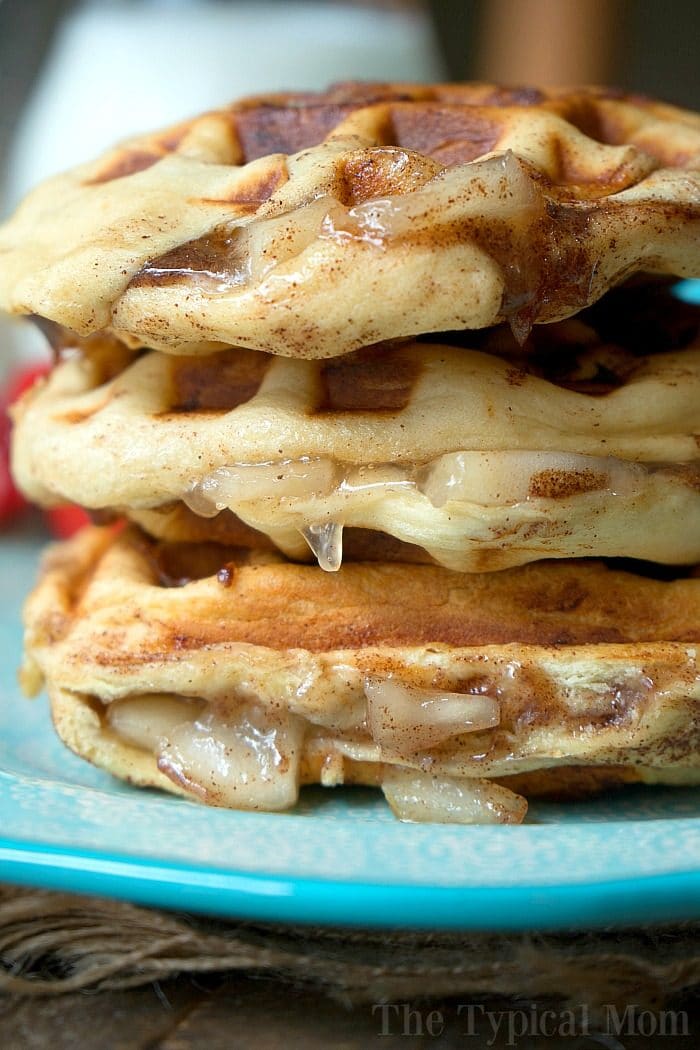 Ready to dig in??!! With or without the cream cheese frosting these apple pie filled cinnamon roll waffles will make you drool! What's great though is inside your roll of Pillsbury™ Grands!™ Cinnamon Rolls with Cream Cheese Icing is…..the FROSTING!! No need to make your own or buy a separate tub, it's all there for you to make a dish of cinnamon rolls in the oven, or try them in your waffle iron like we did here!
It's simple really. Once you unwrap your container and it POPS open (my kids' favorite part) you can begin the process of transitioning your cinnamon rolls into apple pie stuffed cinnamon roll waffles. This is how it is done:

Put 1 Pillsbury™ Grands!™ Cinnamon Roll in your hand and pinch it all the way around so it is nice and flat making sure the rolls are pinched together kinda' like a pancake with no holes
Do the same thing to your second cinnamon roll
Spoon 1 tbsp. of apple pie filling into the center of your first flattened Grands!™ Cinnamon Roll
Place your second flattened cinnamon roll on top of that
Pinch the edges so they are sealed and the apple pie filling is kind' puffy in the center
Wait until your waffle iron is ready (set to medium temperature if you're able to adjust its heat)
Place in the very center of your waffle iron
Let go of the top allowing it to slowly move down on top of your apple pie stuffed cinnamon roll waffle, not pressing down
Wait approximately 4 minutes or until the top is golden brown and the edges are cooked
Remove
Serve on a plate drizzled with the cream cheese icing included in your container
Enjoy!!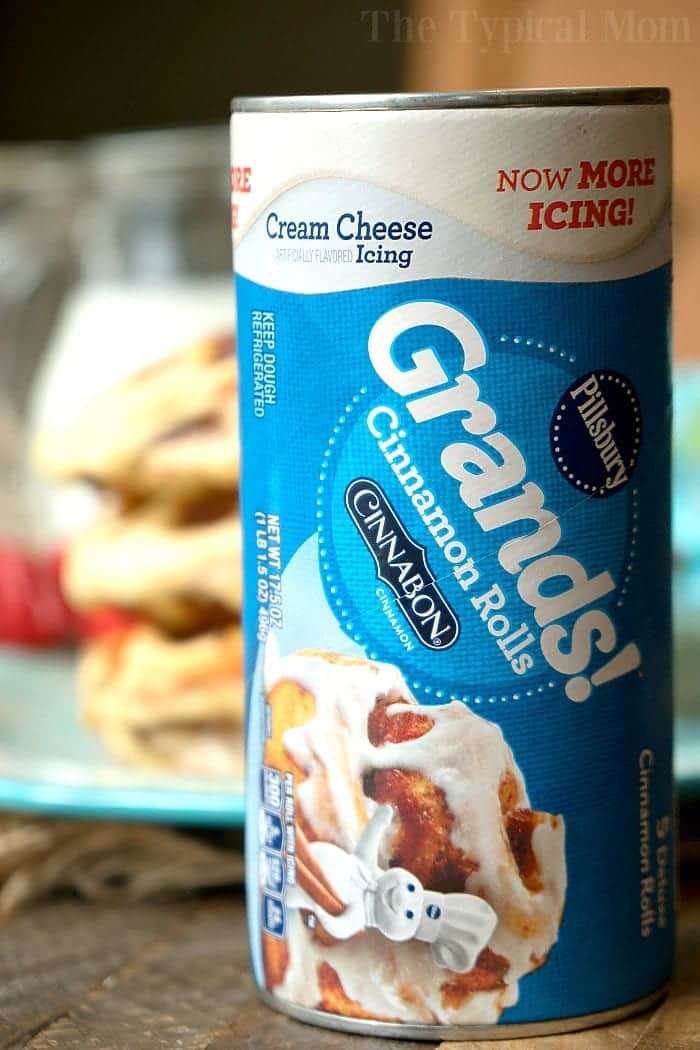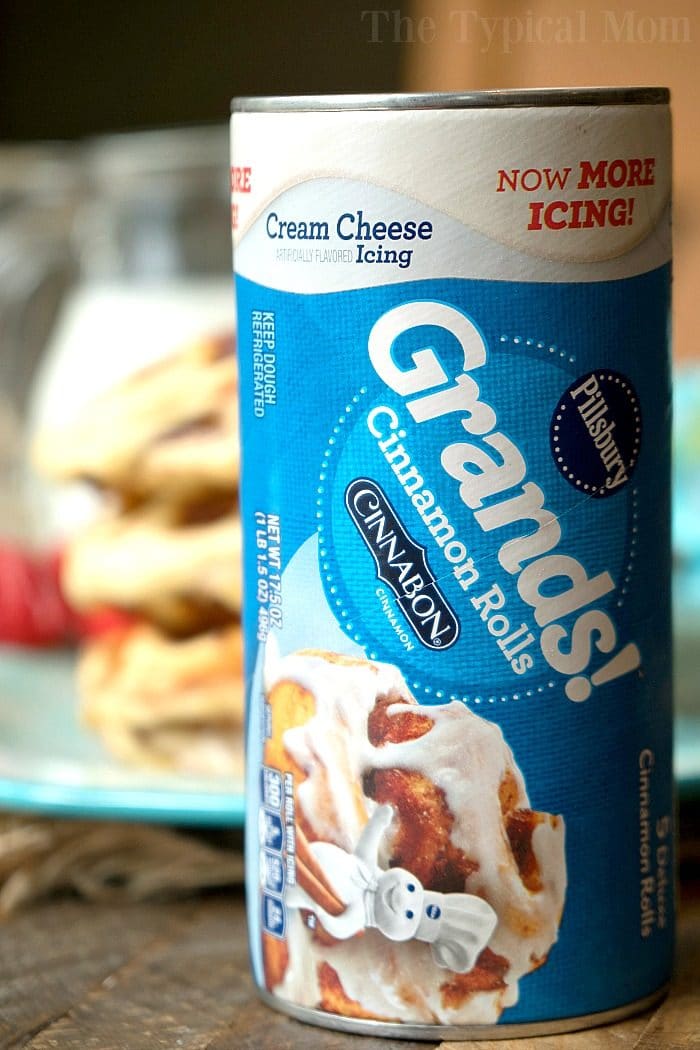 Yes….THIS is the key to the perfect apple pie stuffed cinnamon rolls turned into waffles! Big enough to hold all that apple pie goodness that is synonymous with Fall, and holds memories of my grandmother in the kitchen. We have all had Pillsbury™ Cinnamon Rolls right?? We've probably made them for our kids too, but we love is thinking outside of the box when we are planning our weekend breakfasts together and putting a fun twist on the otherwise traditional dishes.
This breakfast, turned into a dessert at times, is probably one of our favorites.
If you and your family have breakfasts together, and you want to surprise them with something special in the morning you should give our easy apple pie cinnamon roll waffles too! Let us know what you and your family thinks when you enjoy them together. Do you have a special morning treat you like to cook together too?? 😉