Air fryer corn on the cob fresh or frozen is cooked to perfection in your Ninja Foodi or other brand in just minutes! Tender kernels, perfect side dish!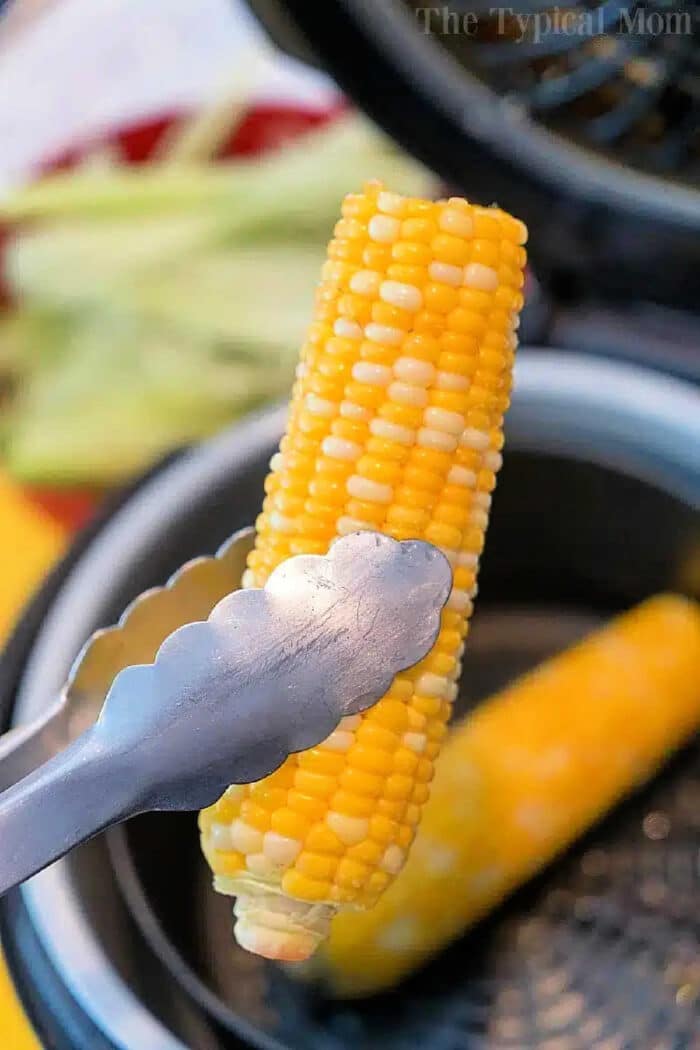 Now that I've made easy air fryer corn on the cob I don't think I will ever boil water to make it again!! If you too want to skip that step and go straight to enjoying tender kernels we have some directions for you. A favorite air fryer recipe. (originally published 6/19, affiliate links present)
Ninja Foodi Corn
I kid you not, this is a real game changer. It's so easy we make it this way at least once a week for dinner. Fresh or frozen works too, depending on what you have on hand. Of course fresh is best. 😉
You can make this as an easy Ninja Foodi recipe as you see here or use any other brand of pot you might have. They all work basically the same, some just have larger baskets than others.
FIRST – You should sign up for my free newsletter so you get new posts emailed to you twice a week and never miss out on anything! If you love air fryer recipes too, here are some resources to start with: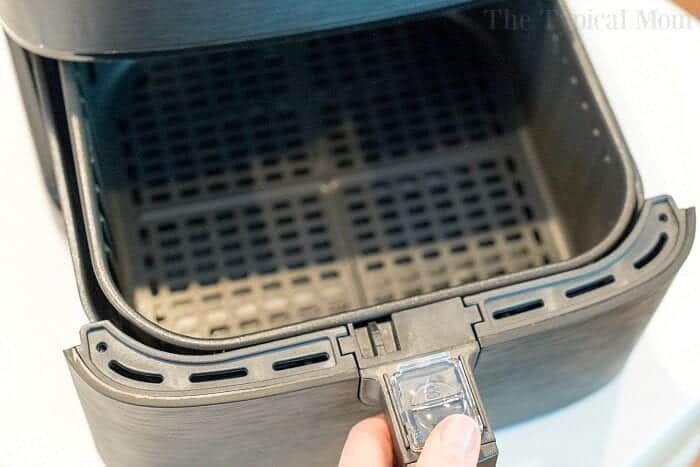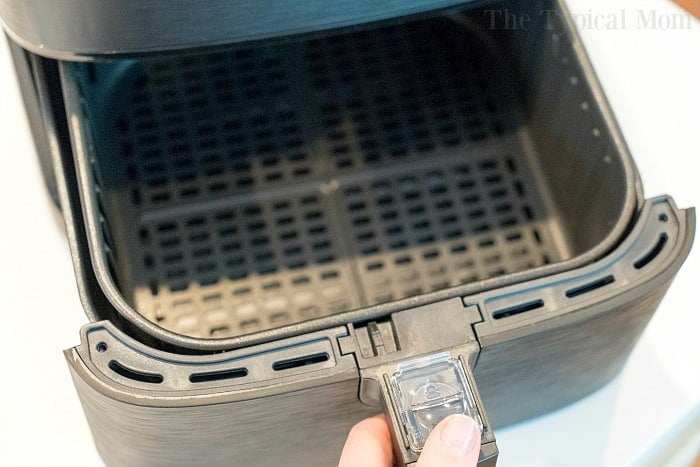 AirFry Corn
Summertime is the best because vegetables are so fresh and cheap. I feel like corn is one of those veggies though that you can find year round.
Buying them with the husk still on will keep it fresher a bit longer I feel. I would definitely pull the top down though right there in the store. I have had many times where it looked fine but when I was ready to cook it and peeled the husks down I was really disappointed.
You want large kernels that are juicy looking and not shriveled or dried up at all. If it is starting to get dry looking it is no good and you shouldn't buy it, just wait until it's more in season.
Once you're ready to air fry corn on the cob you can then pull the outside leaves off when you're ready. Throw as many as you want to serve into your basket, and in less than 10 minutes it's done to perfection. Let's get going…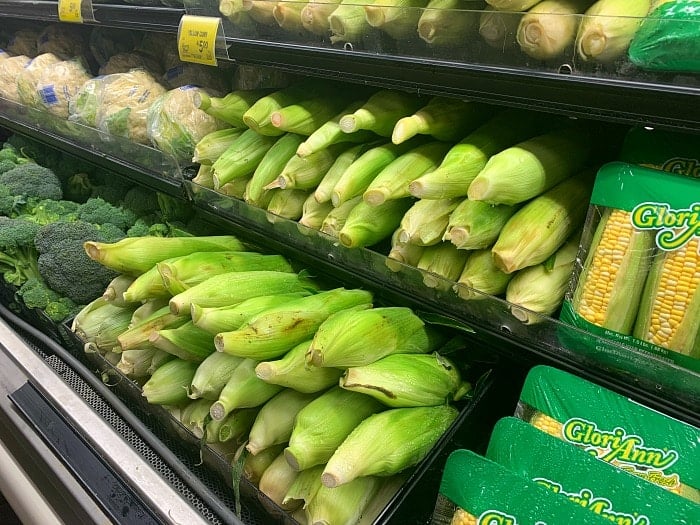 How long to cook corn on the cob in Ninja Foodi
Timing and temp doesn't change with the type or brand of machine you have. The same goes for all of them, biggest tip to get them done in this time is to not overlap them as they need area for the hot arir to rotate around the whole cob, or make our corn ribs recipe. Here are a few questions you might have before you get started:
Can you reheat corn on the cob in an air fryer?
You could but it will dry out a bit and get a bit crispy on the outside. For a fast quick idea you can though. I'd set to 390 for 3 minutes.
The nice thing about this is you can choose to either pressure cook it, or air fry it. Both ways are delicious and WAY easier than the "old fashioned" method you saw growing up.
Does boiling corn take away nutrients?
Yes! I mean it makes sense that it would submerged in water. Corn is a good source of Vitamin B6, Iron, Magnesium and Calcium. High temperatures and longer cook times degrade vitamins that are sensitive to heat. If you had two side by side, once boiled and one air fried you'd notice the difference.
The latter right out of your Cosori or Ninja Foodi will have a lot more of the natural flavor to it. As you can imagine, hot water just sucks out a lot of everything which is why you'll feel the need to add a bunch of butter and salt. Air fried you don't need as much, just enjoy the sweetness as is.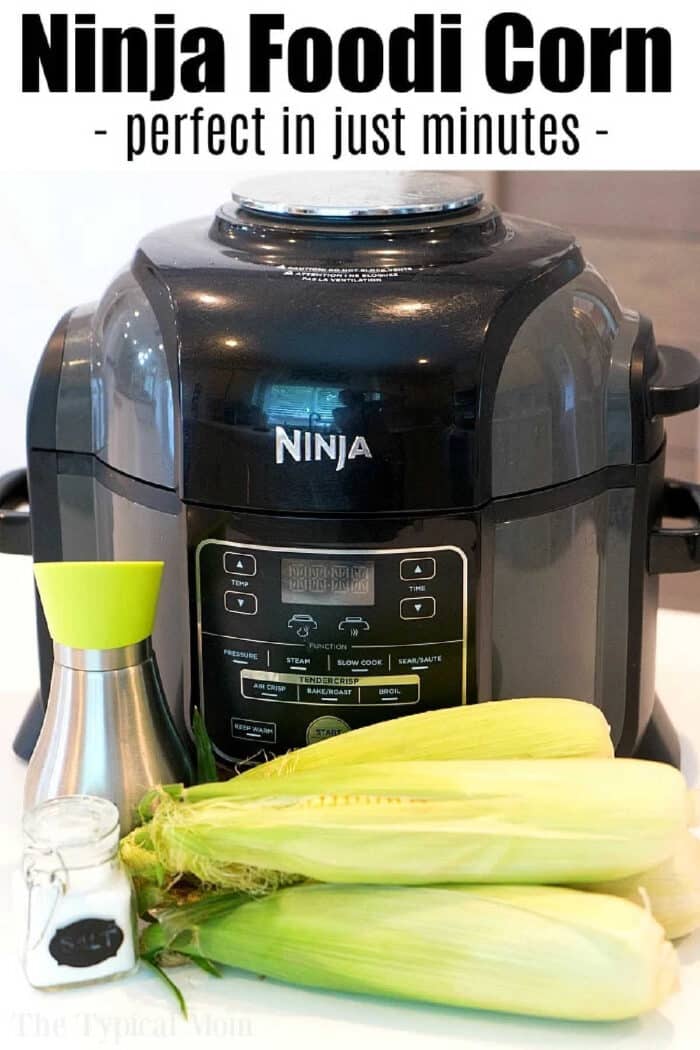 Ninja Foodi Corn on the Cob
The directions for this are no different. Just remember the lid that is attached is for air frying, and the other is for pressure cooking.
Air fryer corn on the cob
It doesn't matter if you buy shucked or with the husk still in tact. You will need to remove it if they haven't done it already for you before cooking.
Fresh ears of corn

you can use frozen corn but fresh is so much better

Olive oil
Salt and pepper if desired
Tongs
Butter when it is done
Chili powder and lime juice are optional to use at the end
Literally that is it. After I made pressure cooker corn I was hooked because there is NO need for boiling anymore.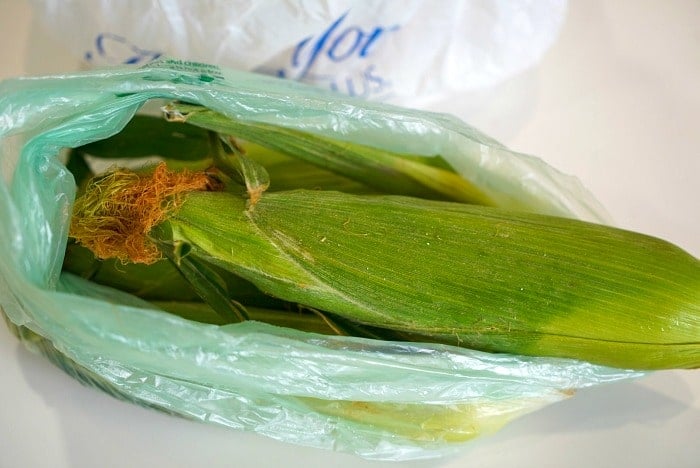 Corn in Air Fryer
You can use those directions in your Instant Pot, Mealthy or Crock Pot Express.
Only takes 3 minutes that way!
Then you could put your cob in an air fryer for a few minutes to crisp.
I haven't decided whether I like the previous method or this one better. I would say they are neck and neck but SO much better than heating up a bit pot of water on the stovetop.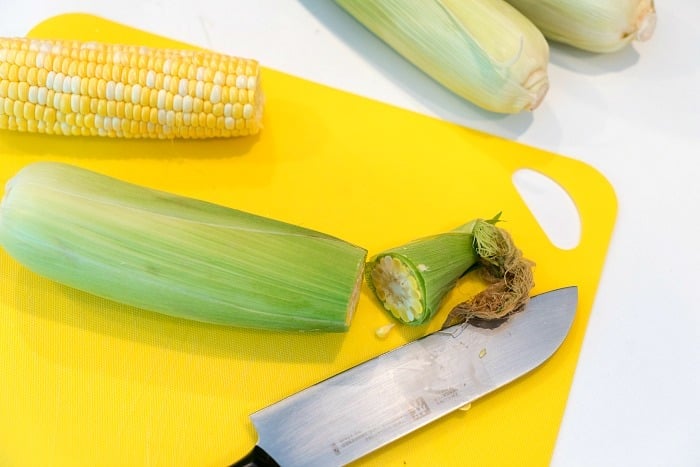 Frozen Corn in Air Fryer
You could use either frozen or fresh for this. Cook time may have a difference of a minute or so but really isn't a lot. A great option during the wintertime when you may not find fresh in season.
Here's a quick step by step but I also have a printable recipe card at the bottom of this post for your convenience. If you want to make this into more of a complete meal, follow our air fryer shrimp boil recipe. That uses corn, seafood and potatoes together!
Time needed: 8 minutes
Corn in Air Fryer
Preheat

Preheat air fryer to 390 degrees for 5 minutes.

Remove husks

Then you'll want to cut the corn with the husk on at the very tip like you see here. Remove all the husks and silks.

Cook

Put into your air fryer basket making sure they don't overlap. You could cut them in half if you want but we don't. Air crisp for 8 – 10 minutes total, flipping halfway through.

Add toppings

Rub butter on outside, sprinkle on salt and pepper and/or some parmesan cheese too.
Air Fryer Mexican Street Corn
When done mix the following 5 ingredients together and brush it on each one:
1/4 c. mayonnaise & sour cream
1/2 tsp chili powder
1 tbsp. lime juice
1/2 c. cotija cheese
Mix together the ingredients above well, and brush on each cob, enjoy!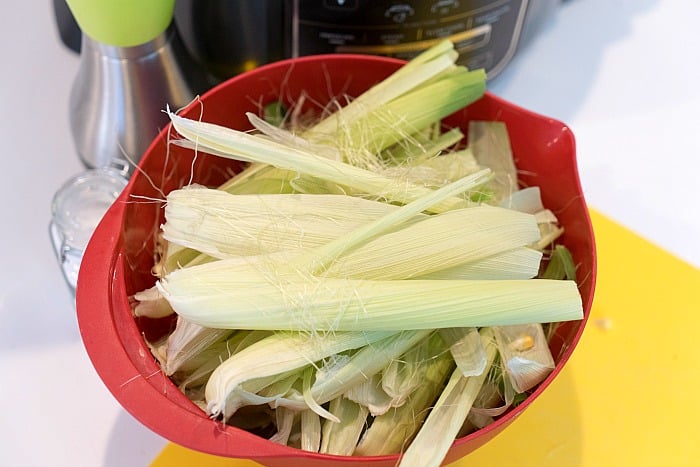 Ninja Air Fryer Corn on the Cob
Now first you're going to want to remove the husk and silks. Yes you can pressure cook with them on but it takes longer and with air fryer corn you'll need to remove them. BUT don't throw them in the trash can!!
What can I do with corn husks?
Most people just throw these away but believe it or not there are many uses for them so maybe think twice, you could;
We throw ours in our compost bin!!

They're great for decomposition and creating nutrient rich soil to use in our vegetable garden.

You can also use dried corn husks to make tamales!
They're great to make corn husk angels for the holidays.
Use them to wrap food for grilling or steaming. Similar concept as using banana leaves for cooking.
Allow them to dry out and use corn on the cob as fire starters!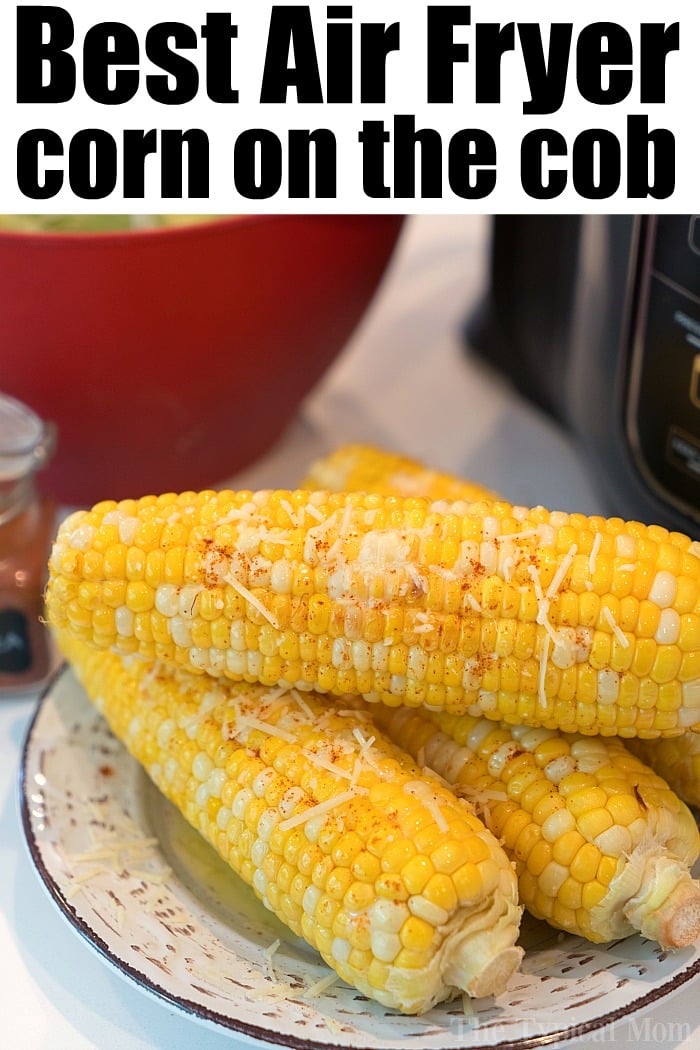 Does corn have any nutritional value?
Of course any fresh fruit or vegetable has nutrients, this one is higher in carbs than others but still good for you.
Sweet corn is also packed with fiber which is great if you have high cholesterol.
It's also low in fat and provides about 17% of Vitamin C for the day.
Lower in protein it still is a healthy side dish I would say if you're coming up with a summer menu.
Using your air fryer or pressure cooker will keep those vitamins in tact and takes a fraction of the time too! You figure it takes a good 15 minutes for a large pot of water to start to boil, then at least 15 minutes to soften the kernels.
Using either method here you'll have perfect corn on the cob in about 10 minutes flat!
This is how to cook fresh corn 4 other ways too. Roasted corn on the smoker is fun too with melted butter and salt on the top. Try them all y'all! 😉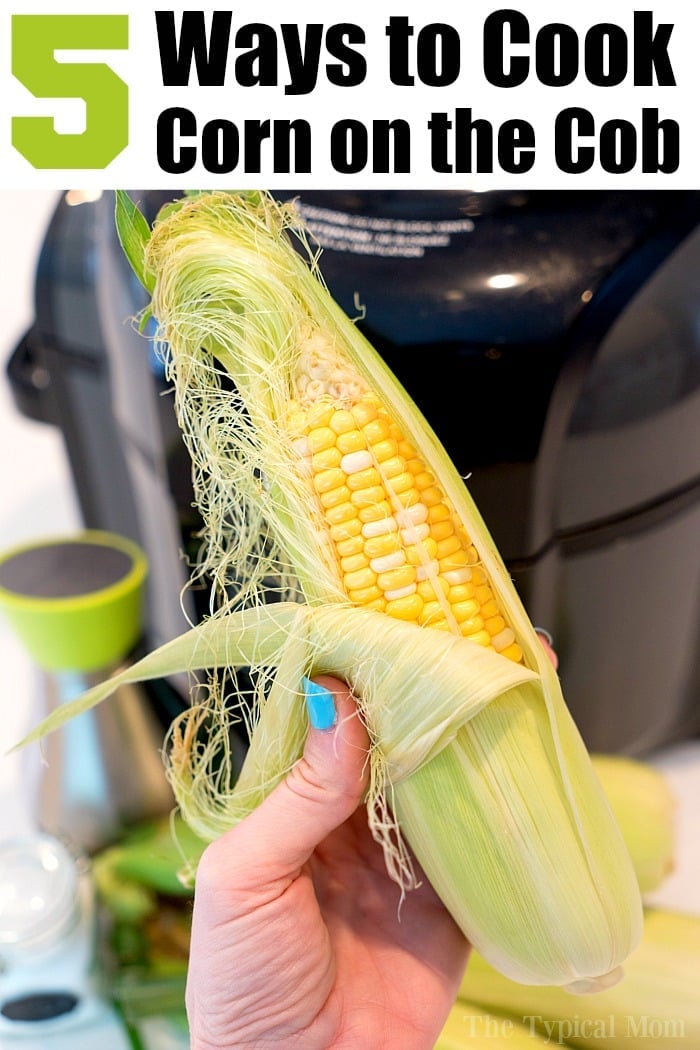 We prefer these 2 methods vs. boiled corn because I questioned….. Other recipes you'll love are these air fryer french fries and air fryer zucchini chips that are homemade and done in under 30 minutes!
Can you cook frozen corn in air fryer?
YES! Just cook for 12 minutes on 400 degrees and it should be perfect. Of course size is going to vary the timing but this is pretty good to go.
After this, give our air fryer eggplant a whirl and let us know which one you like best! Cooking corn has never been easier than this!! You will likely never make it another way again. It's quick and easy + the texture is perfect. You no longer have to heat up the house on hot summer nights.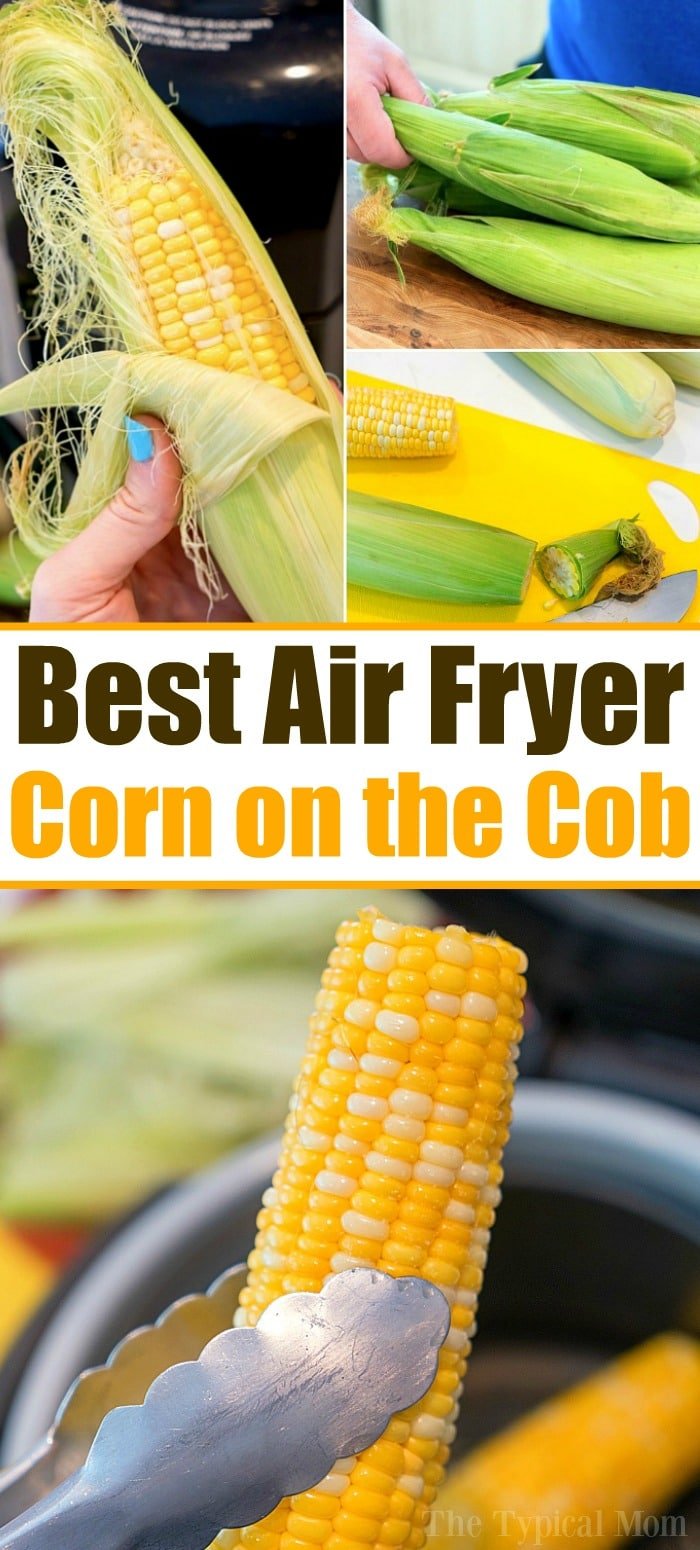 Want to see a few of my favorite things that I am totally obsessed with?? Take a peek and see how many you might already have…twinsies!
Looking for more easy family recipes and tips? LIKE The Typical Mom Facebook page?
Then sign up for my free newsletter, and follow me on Pinterest! 😉
***** If you LOVED this recipe give it 5 Stars below and let everyone know what you thought about it. 😉
Air Fryer Corn
Air fryer corn on the cob fresh or frozen is cooked to perfection in your Ninja Foodi or other brand in just minutes! Tender kernels, perfect side dish!
Instructions
Cut 1.5" off of tip of each ear of corn. Remove husks and silks from ears of corn.

Generously rub olive oil all over 2 ears of corn and put inside air fryer basket. (optional, can omit if you prefer but it will keep kernels moist)

Close air fryer lid and set to 390 degrees for 8 minutes total.

Flip ears of corn half way through cooking process.

At end of time if you want kernels a bit softer just add 2 more minutes or so. Add another 2 ears in if you have additional batches.

Melt butter and pour over ears of corn when they're all done. Season with salt, pepper and paprika. Some grated parmesan is good too.
Nutrition Facts
Air Fryer Corn
Amount Per Serving (3 oz)
Calories 182
Calories from Fat 153
% Daily Value*
Fat 17g26%
Cholesterol 15mg5%
Sodium 58mg3%
Potassium 122mg3%
Carbohydrates 8g3%
Protein 2g4%
Vitamin A 260IU5%
Vitamin C 3.1mg4%
Iron 0.3mg2%
* Percent Daily Values are based on a 2000 calorie diet.