This is how to make red tamales from scratch at home. Homemade masa with red sauce and pulled pork inside you're going to want to make these over and over again. Steaming tamales can be done perfectly in just 15 minutes too.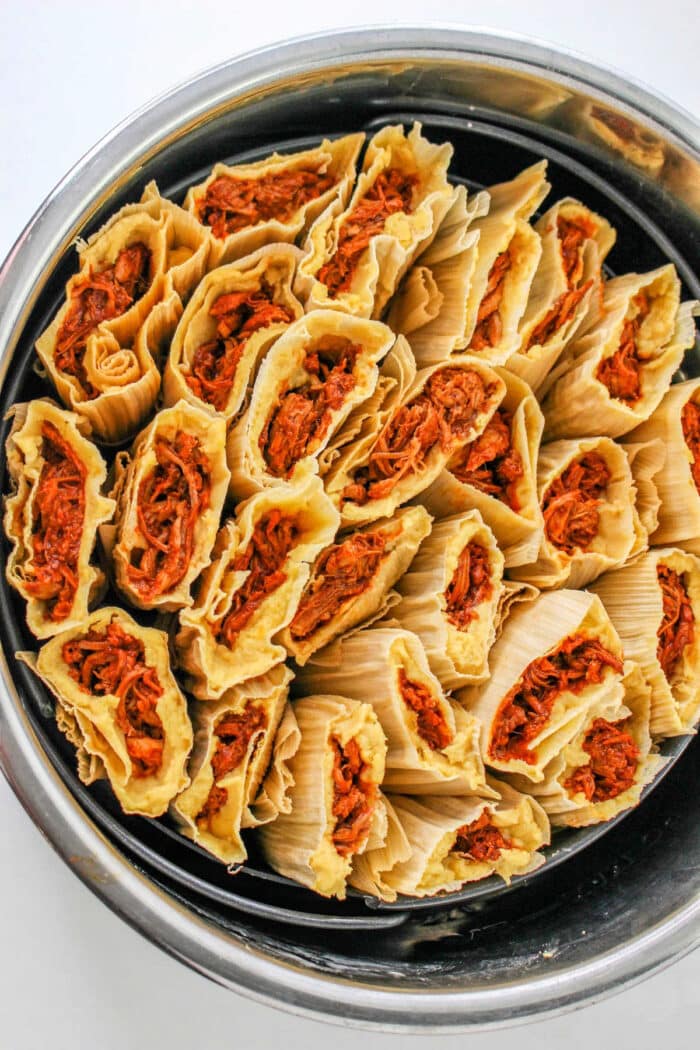 Whether you want to make green or red tamales I have step by step instructions on how it is done. From homemade masa to shredding pork, and cooking them to serve in just 15 minutes. It's possible to make these from scratch so you can enjoy them more often. (affiliate links present)
Masa Tamales
This is a traditional Mexican dish made from a corn-based dough called tamales masa that is filled with various ingredients, such as meat, vegetables, cheese, or beans. Wrapped in corn husks and steamed they are truly a treat with special meanings to many families. To start you will need a package of corn husks, and then the dough with;
Instant corn masa harina
2 teaspoons salt
Baking powder
Vegetable oil
Chicken broth or warm water
Some drippings from the pork you're going to cook
It is easy to make this homemade. You just combine until it reaches a thick sand like texture. Some grocery stores may sell this prepped but it is better to make fresh.
How to Make a Tamale
Then you need to move on to cooking your filling. If you are only using cheese then there is no precooking involved in that. Most people prefer pork for tamales or filled with shredded beef so while your husks are soaking get started on slow cooking or pressure cooking that. We use;
3 pound) pork shoulder, cut into large pieces with excess fat removed
Water or broth
White or yellow onion, chopped
Chili powder
Salt
Minced garlic
Chipotle chili powder
Ground cumin
You may have your own favorite shredded pork butt recipe of your own but this has always been a hit of ours. Have a large bowl ready so when it's blended with your sauce it can cool a bit until you're ready to assemble them.
For something that is cooked in the sauce itself so it has more intense flavors, try our birria tacos meat. That recipe is incredible too.
Green Tamales
Green tamales and red are two different types popular in Mexican cuisines everywhere. The main difference between them is the color and flavor of the sauce used to make them. Green, also known as tamales verdes, are made with a green sauce that is typically made with tomatillos, green chilies, and cilantro.
The sauce gives them a tangy and slightly spicy flavor. Both are often filled with chicken, pork, or cheese inside.
Red, also known as tamales rojos, are made with a red sauce that is typically made with dried red chilies, garlic, and spices. This gives them a deep, rich flavor and a reddish brown color.
Both are typically made with masa dough, wrapped in corn husks before being steamed until cooked through. They are often served with salsa, guacamole, or sour cream as a garnish. Whether you prefer green tamales or red tamales depends on your personal taste and the type of filling you prefer.
Red Tamale Sauce
We are sticking with the traditional authentic Mexican tamale sauce which is red, with heat, and pureed with several different types of dried peppers. You can use a food processor or blender but the latter will get it smoother. Store bought is also an option if you want a quick method or can't find the necessary ingredients.
When you make this sauce you are going to start with 2 cups of chicken broth and the other ingredients into a medium saucepan.
Bring to a boil over medium high heat stirring consistently to break everything down and meld everything together.
Reduce the heat to low, cover the pot, and simmer for about 10 minutes or until the chilies are softened.
Transfer the ingredients in the saucepan to a blender
Blend on high for 2 to 3 minutes or until the ingredients are completely pureed.
If the sauce is not thin enough for your preference, add in the remaining cup of chicken broth.
Stir about 1 cup of the red sauce into the shredded pork to moisten and add some heat. You can add more too but that would be the minimum. The rest should be kept on the side to pour over the top.
How to Wrap a Tamale
Think of this like wrapping a present that is secured in a wrap but left open at the top. In order to make the outsides pliable the husks should be soaked in hot water for 2-5 hours to soften up nicely.
Remember, this isn't a quick dish which is why you don't find them often. It's a bit of love that takes time to come together so don't rush.
To assemble the tamales you want to make an assembly line with all of your ingredients. Once you have everything prepared you will spread a layer of prepared tamale dough (masa) on a soaked corn husk, leaving a border around the edges.
Add a spoonful of the shredded pork filling tossed with red chile sauce to the center
Then fold the husk over the filling and roll it up tightly.

you can tie a piece of twine around the center so they don't unravel

Repeat with the remaining pieces you want to make until complete.
Place the tamales in a steamer basket or a large pot with a steamer insert.

Steam for 10 minutes in a pressure cooker on high
If you want to use a Dutch oven it will take 1- 2 hours on the stove.

Masa needs to be firm and cooked with the filling heated through, timing depends on thickness.
Wondering how long do tamales take to cook? We talk about the best method here so they come out moist and tender. Serve your homemade tamales recipe hot with your favorite toppings and sauces, such as salsa, guacamole, sour cream, or cheese. Enjoy!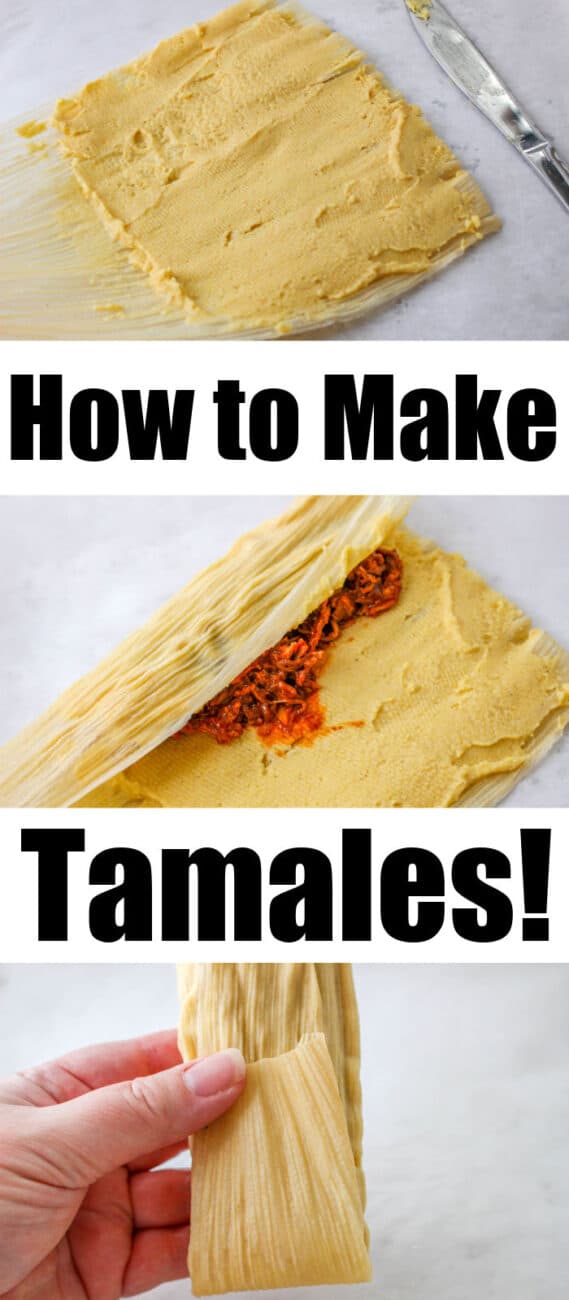 How to Cook Tamales
The best method is steaming. I have a link at the top of this post sharing how we do it in a pressure cooker. I have a brief explanation here as well as in the printable recipe card below. You can do the same thing in a pot with a tight lid as well but it will take up to an hour vs. 10 minutes.
Fill the electric pressure cooker with 1.5 cups of water.
Slide a steamer basket into the bottom.
Stand the prepared tamales vertically in the basket with the open end facing up.
Seal the lid and steam valve closed.
Pressure cook on high for 10 minutes.
Then do a quick release of the pressure.
Let them rest for 10 to 15 minutes before unwrapping and eating
You will want additional sauce beyond what is with the meat inside to pour over the top to moisten and add more flavor.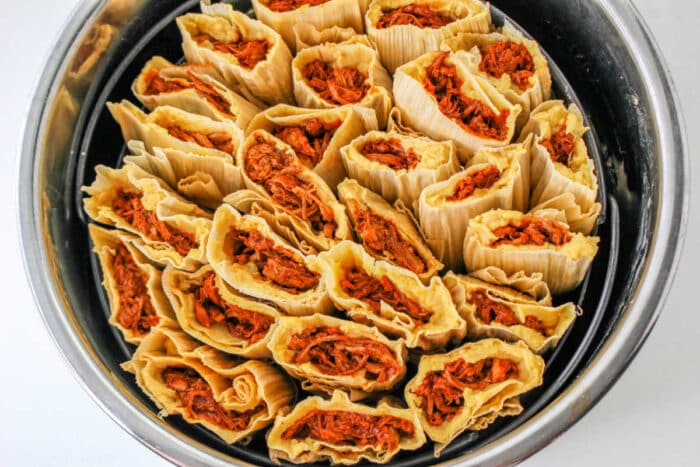 What Goes with Tamales
Not only can be served on their own, with a bunch of ingredients inside with the meat or with a variety of toppings on top too. Here are some ideas for what to add to your dish;
Red and green salsa of all kind add a burst of flavor and freshness to the dish. You can make them spicy or mild depending on your heat preferences.
Guacamole can be another creamy and delicious addition to the top when done and a great way to add some healthy fats to your meal.
Mexican rice can be added inside with the meat or on the side with some melted cheese on top.
A dollop of sour cream can help balance out the spiciness for sure. I have found a dairy free version at the store too so that my husband can enjoy some along with us.
What Should I Put in my Tamales
Always always you need more than a sprinkle of shredded cheese on top, inside and all around of your tamales if you ask my household. Mexican blend is nice because it already has a bit of taco seasoning mixed inside if you can find that.
Chopped cilantro is a great garnish that adds a fresh, bright flavor and makes them prettier too.
Add a few, or more, diced tomatoes to add a juicy sweetness to the dish. they also provide some extra nutrients in there.
Squeezing fresh lime juice over the top can help brighten up the flavors and add some acidity.
Refried beans are the #1 side to this classic dish. They can provide some extra protein and fiber to the meal too. You can air fry bell peppers, onions, and zucchini and add them inside with the meat or sprinkled over the top with your sauce. A side salad with fresh greens and a simple vinaigrette can help balance out the richness too.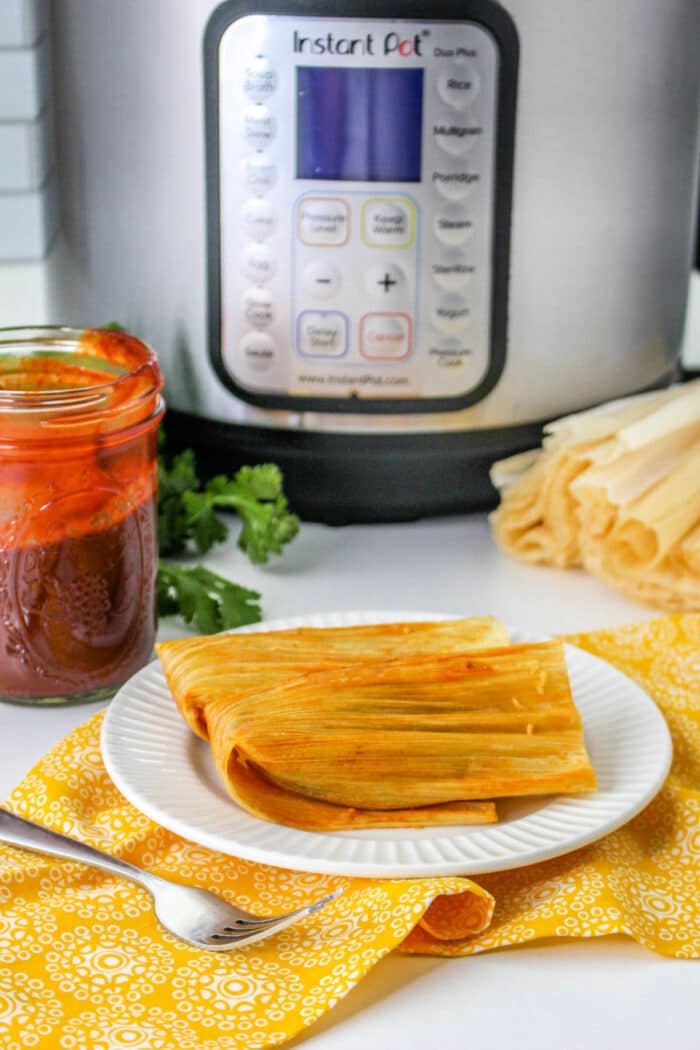 Want to see a few of my favorite things that I am totally obsessed with?? Take a peek and see how many you might already have…twinsies!
Looking for more easy family recipes and tips? LIKE The Typical Mom Facebook page?
Then sign up for my free newsletter, and follow me on Pinterest! 😉
***** If you LOVED this recipe give it 5 Stars below and let everyone know what you thought about it. 😉
Red Tamales
This is how to make red tamales from scratch at home. Homemade masa with red sauce and pulled pork inside steamed perfectly in 15 minutes.
Equipment
Instructions
For the corn husks – Rinse the corn husks well. Place the husks into a deep bowl or Dutch oven. Add enough water to cover the husks. Place something heavy over the husks to press them down into the water. Allow the husk to soak or 2 to 5 hours

For the masa – In a large bowl, add the corn masa harina, salt, and baking powder. Whisk together until blended. Add the oil to the masa and blend until completely mixed. The texture will be like damp sand. Pour the reserved cooking liquid from the pork in until completely mixed. Add the chicken broth about 1 cup at a time until it's like peanut butter.

For pulled pork – Place the pork into an electric pressure cooker. Add the water, onion, and seasonings in Press high pressure cook setting for 50 minutes. When done allow the pressure to naturally release. Remove the pork and shred it with two forks. Reserve one cup of the broth, skimmed, to use in the masa.

For the sauce: – Pour 2 cups of chicken broth and the other ingredients for the sauce into a medium saucepan. Bring them o a boil over medium high heat. Reduce the heat to low, cover the pot, and simmer for 10 minutes until the chilies are softened. Transfer to a blender and blend on high for 2 to 3 minutes or until the ingredients are completely puréed. If the sauce is not thin enough add more chicken broth.

Assemble – Drain the corn husks. Working with one husk at a time, spread about ¼ cup of the masa mixture over the wide end of the corn husk, covering about ⅔ of the husk. Spoon 1 to 2 tablespoons of the pork filling in the middle of the corn masa. Fold the tamale by bringing the sides over the filling, overlapping the edges. then, bend the bottom tip, folding upwards.

Steam – Add 1.5 cups of water into pressure cooker. Put a steamer basket into the bottom. Stand the prepared tamales vertically in the basket. Seal the lid and steam valve shut. Set to high pressure for 10 minutes. Perform a quick release of the pressure when done. Let the tamales rest for 10 to 15 minutes.

Serve – Remove husks, pour sauce over the top and serve.
Nutrition Facts
Red Tamales
Amount Per Serving (1 oz)
Calories 254
Calories from Fat 108
% Daily Value*
Fat 12g18%
Cholesterol 50mg17%
Sodium 739mg32%
Potassium 434mg12%
Carbohydrates 21g7%
Protein 16g32%
Vitamin A 2154IU43%
Vitamin C 5mg6%
Calcium 54mg5%
Iron 3mg17%
* Percent Daily Values are based on a 2000 calorie diet.